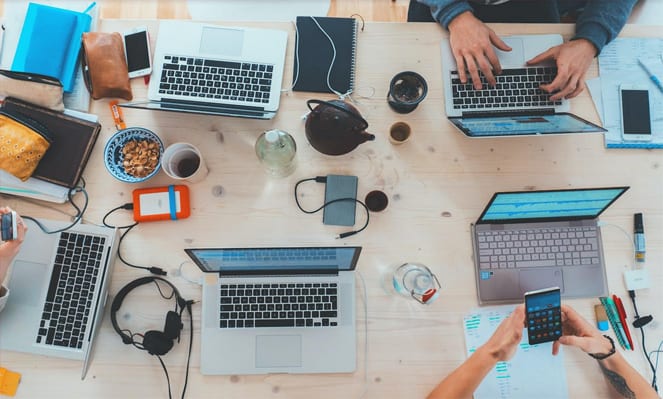 Recently, the PDF file format celebrated its 30-year anniversary , making it one of the oldest formats to still be used in a professional business setting.
That being said, there are still many companies out there that are not yet fully convinced of the PDF's countless benefits, choosing instead to rely on outdated and inefficient document management systems that cost them more time and money with each passing year.
This is why we've decided to take a closer look at another revolutionary invention – the PDF editing software – and examine some of the ways in which it has enhanced the workflows of major global corporations and has led to a noticeable bump in their year-on-year revenues. So, if you're still debating on whether transitioning to a PDF-centric workflow will benefit your internal IT, HR, marketing, or sales department in a good way, here are 6 good reasons you should at least consider giving the immensely popular file format a try.
1. Organize your files more effectively
To this day, many offices still resemble a jumbled mess of paper and digital files – a labyrinth of sorts that employees somehow have to navigate on a daily basis and come out as winners on the other end. And perhaps nothing illustrates this better than a survey carried out by the International Data Corporation (IDC). In it, IDC states that employees spend 1.8 hours every day, or approximately 9.3 hours each week, in an effort to track down the files they actually need, resulting in nearly 21.3% productivity loss.
And even if they do find the files they need, some of them may contain irrelevant data, which they'll have to scroll through to get to the good bits, or could be saved as unsupported file formats. And when it comes to paper documents, we all know just how easy it is to displace those… If all of this sounds like a major headache, that's because it is. Luckily, most PDF software comes equipped with two indispensable tools: converters and combiners.
What this basically means is that you can convert any file to PDF, and then combine all relevant PDFs into a single searchable and perfectly formatted document, which will also take up significantly less space on your device. In fact, software like PDF Extra goes one step further by letting you organize your files prior to combining them, meaning that you can freely rearrange their order, inspect their contents, and even add or delete pages as you go.
When you're done, your files won't be nearly as many as you started thanks to the combiner tool. They will also take up much less space, will be neatly organized according to content, and since you would have converted everything into PDF beforehand, employees will be able to effortlessly find and open the files on any device.
2. Facilitate team collaboration
The good thing about PDFs is that they can be opened on any device without any changes to their layout or formatting. This is why pretty much any file these days is saved in this format, including:
● Receipts and invoices
● Legal agreements
● Financial records
● Business plans
● Product design
● Payroll records
● Marketing newsletters
The even better part is that most PDF editing software features rich markup tools that allow users to comment on and highlight notable content, as well as redact more sensitive passages or even add extra texts, images, or even file attachments. This means that anyone with any device can provide valuable feedback from just about anywhere – from their office, their living room couch, or even on the go since PDFs are mobile-friendly.
The file format also features extensive fill & sign functionalities, which any respectable PDF editing suite will take full advantage of. Among the more important features is the ability to fill out forms and embed handwritten signatures, as well as add digital signatures which will verify that the document has not been altered and has been signed by a trusted party.
3. Archive your work for future generations
According to a brief study published by the PDF Association back in 2018, nearly all (98%) of PDF files found online are aged between 15 to 20 years! This is because the file format has been developed with longevity in mind. In fact, the PDF-A standard, where "A" stands for "archival", even goes one step further and allows to store and reproduce files in their original state centuries down the road, which is why it has become especially popular with large corporations, governments, and universities.
4. Easily sanitize and shrink down your PDFs
So what does it mean to sanitize your PDFs, exactly? Well, one of the ways hackers could potentially access confidential information from PDFs uploaded to the web is by using various scraping tools in order to fetch hidden embedded data. This may include things like:
● Metadata (author name, OS version used, etc.)
● Scripts and hidden layers
● Attached files and interactive form data
● Annotations (comments, reviews, etc.)
● Obscured texts or images
● Unreferenced objects (data from previous revisions)
And the worst part? There are currently thousands of such files out there, just waiting for someone to reveal the secrets they hide underneath. Staying under the hacker's radar, however, is pretty simple: all you have to do is use a PDF compressor .
Generally used as a tool to shrink the file size of PDFs so that they are easier to store and share, what people probably don't know is that these tools also erase all hidden and potentially unsafe data in the process, therefore keeping your files safe from harm. As an added bonus, files sanitized in such a way will stay within email attachment limits, with little to no compromise in their original quality or formatting.
5. Put a sturdy lock on your sensitive files
Hackers are growing smarter by the minute, and sometimes simply scrubbing your PDFs clean might not be enough to protect yourself from a security breach.
In October 2022, Optus – an Australian telecommunications company – was targeted by hackers and 9.8 million customers were robbed of their personal data. Yet this is just a tiny speck in the vast ocean of cybersecurity attacks that we've seen so far in the 21st century, which is why working with well-protected files is more important now more than ever.
On their own, PDFs don't have much going on in terms of security. However, when paired with a capable PDF editor , they offer lots of anti-theft options, such as the ability to add passwords, 256-bit encryption, and watermarks.
Some software also allows employees to restrict certain features, such as copying, editing, or printing PDF files. One such example is to apply a read-only password, which would allow your recipients to view the file, but not interact with it in any other way.
Make your business more efficient with PDF Extra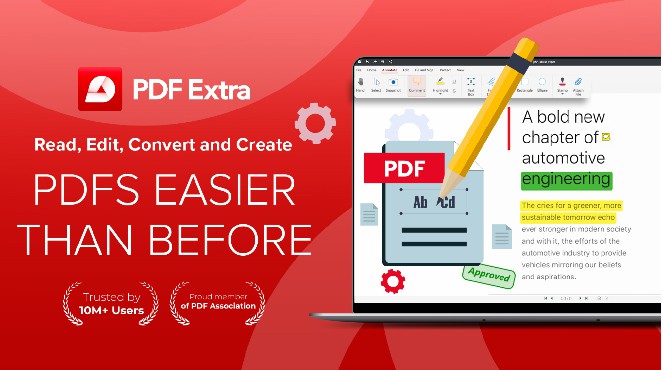 Now that we've hopefully convinced you of the many benefits of using PDF software, it's time to choose the solution that best fits your organization's needs and budget. There's only one problem, though – with so many products to choose from these days, which one would be the right pick for you? Well, let's make a quick analysis.
The free software corner
First off, there are the popular PDF tools that you can freely access online at any time, but the problem with these is that you often compromise your privacy and risk getting your data stolen. And in the rare instances when your internet connection is down, you're pretty much left in the dust, which makes these tools unsuitable for business use.
The expensive do-it-alls
At the other range of the spectrum, you'll find PDF software bundled with all kinds of features and technologies that are supposedly there to make your life simple. Trouble is, these tools are often confusing to navigate and… well, wildly expensive, especially if all you're looking for is to edit PDFs and convert or compress files here and there. So, this leaves us with…
The perfect middle ground
Believe it or not, it exists. There are several tools on the market that offer a good balance between features and costs, all without confusing the end user. One such software is PDF Extra, which comes at an affordable price and offers nearly all of the features listed here, and then some. And the best part is – it's a new product, so it's still early in its development cycle and will only get better in the upcoming weeks and months. Alright, so what can you expect from PDF Extra?
Here is a quick practical summary of what you can expect from the software:
● A flexible viewer: choose between single, continuous and two-page reading modes
● Fully featured editor: change texts, fonts, images, and any other aspect of your PDF
● Sanitize your files: use the built-in compressor to sanitize PDFs and significantly reduce their original size
● Leave a legacy: convert Microsoft Office file formats to PDF to create a reliable database that will remain fully usable months and even years down the road
● Organize and combine files: use the organizer module to preview page content and merge only the documents you need into a single well-structured file
● Collaborate with others: add comments, highlight and redact texts, attach files, and more
● Secure your work: add digital signatures, create strong passwords, and shield your PDFs from malicious actors with 256-bit encryption.
Still not convinced? Try our 14-day free trial and experience the benefits we've just talked about first-hand!