Best Cloud Gaming Xbox and PC Alternatives Like Google Stadia: Google Stadia is a cloud gaming service that offers AAA games that can be played on almost any screen. Furthermore, stadia offers free and paid membership options with a growing range of titles.
What Is Google Stadia Cloud Gaming?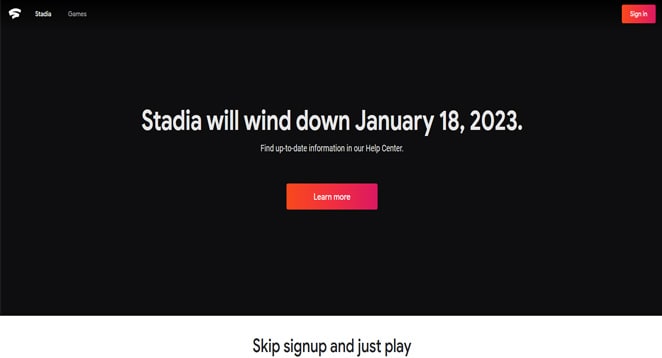 Google Stadia is a cloud gaming service created by Google. Instead of providing attractive unlimited access to a library of games, Stadia needs users to buy games to stream them over the internet.
With a Google Stadia membership, you can stream video games to almost any screen you possess, including your Windows or Mac PC running Chrome and your Android smartphone. Furthermore, Chromecast Ultra can now stream games in 4k resolution to your TV (and future Google TV devices).
Streaming games may be worth considering if you don't already have a console or a powerful gaming PC or if you're traveling and want to play on your phone or tablet. Cloud gaming, or streaming games without generating hard copies, displays games from a remote server. That game is then streamed to your smartphone, and your controller (or mouse and keyboard) input is sent to the server, enabling you to play without a console.
The Google Stadia library is constantly expanding, but depending on what games you're searching for, you may want to check it out to guarantee your favorites are still there. If Stadia still needs to get the games you want, explore another streaming service, such as Xbox Cloud Gaming or Amazon Luna, which provide a variety of titles and discounts.
Website: https://stadia.google.com
What is necessary to run Google Stadia?
It is necessary to have a Google Stadia cloud gaming account, a minimum 10Mbps downstream Wi-Fi/LTE data connection, the Google Stadia app from the Play Store, a Google Chromecast Ultra adapter, an Android phone, or the Chrome web browser on a laptop or desktop.
You'll also need a controller. You may buy the Stadia Controller ($70), a mouse and keyboard, or a supported third-party controller. For example, Microsoft's Xbox controller and Sony's DualShock PlayStation 4 controller work nicely.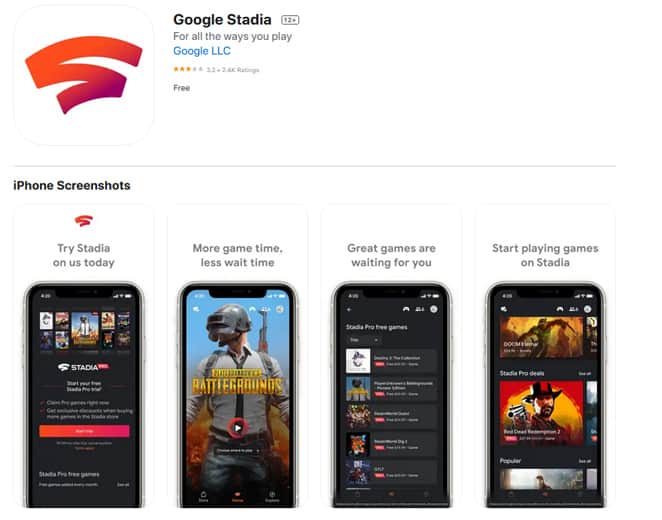 Due to Apple's restrictions, the Google Stadia App Store program only allows the purchase of game titles. The Stadia app cannot directly play games on an iPhone or iPad, but it may be used to manage Stadia on other devices.
Online Gaming and the Library
The game library includes all available games with a Google Stadia account. These games are available for purchase, but Google Stadia Pro subscribers get them free.
Around 50 video games are available for purchase as of November 2020, including renowned titles such as Assassin's Creed: Odyssey, Borderlands 3, Red Dead Redemption 2, and others. Google also updates a blog page with new games as they become available.
What is the price of Google Stadia?
Since its first release, Google Stadia cloud gaming subscription service has experienced various changes. Nonetheless, as of this writing, Stadia has two subscription options: free membership and Stadia Pro membership. Consider the Stadia plan a free service with a limited number of titles available right now, plus the purchase of video games. Unfortunately, there are few free games to pick from, and any game that isn't on the list must be purchased from the Stadia Store.
The Stadia Pro membership is $9.99 a month, and you can claim free titles to add to your collection every month. With the Stadia Pro subscription, you can play 4K HDR games on your Chromecast Ultra or Chrome web browser. Furthermore, the $70 Stadia Controller allows you to listen to and converse with your Bluetooth headphones (not just a wired 3.5mm set).
Google Stadia cloud gaming subscriptions include access to game rewards, the ability to upload gameplay videos to YouTube instantly, and cross-platform voice chat.
If you're satisfied you want to buy the whole package, you may also get the Google Stadia Premiere Edition. The set includes a Google Chromecast Ultra and a Google Stadia controller. The Google Stadia Premiere Edition costs $99.99, while Stadia Pro remains $9.99 per month. A one-month trial of Google Stadia Pro is available if you want to give it a go. You may, of course, cancel your membership at any moment.
Google Stadia cloud gaming compatible devices
Google Stadia does not need a specific device since it may be accessed through any presently connected device.
Computer
Stadia cloud gaming is accessed using a computer's Google Chrome web browser. As a result, it works with PCs, Macs, and Chromebooks without needing extra software or hardware. It's also available on many Smart TVs, including LG and Hisense. Furthermore, Android TV-enabled devices like Sony and Philips may use the Stadia app. You may also add an Nvidia Shield TV, which supports Android TV, to your setup. Other Android TV set-top boxes may be compatible as well. Finally, Stadia games may be accessed through Google's Chromecast Ultra and Chromecast with Google TV devices.
Mobile Devices
For mobile usage, both Android and iOS are supported, but the latter needs a bit of a workaround. All Android phones are compatible, albeit some can only operate in "Experiment" mode. However, they are not officially supported unless they are on the optimized phone and may exhibit particular faults. To play Stadia cloud gaming, compatible phone users may attach an Xbox Wireless Controller or a PlayStation DualShock 4 controller to their mobile through Bluetooth, in addition to the native Stadia controller. Touch controls are becoming more accessible for mobile device gaming, although more complicated games are harder to play using the screen.
Can Stadia games be accessed using mobile data?

In October 2020, Google will officially provide the ability to play Stadia games on mobile devices through a 4G or 5G connection. It was previously accessible in beta but is now fully operational and can be switched off and on in the settings.
What sort of internet connection is required to operate Google Stadia?
Stadia cloud gaming, according to Google, can run games at up to 4K HDR and 60 frames per second. Through Chromecast and the Chrome browser, it also supports up to 5.1 surround sound. Your internet connection, however, will determine all video and audio quality, necessitating a Stadia Pro subscription (standard Stadia membership maxes at 1080p).
A recommended speed of 35Mbps is necessary for the best experience – 4K HDR at 60fps with 5.1 sound. On the other hand, games will continue to run at a bare minimum of 10Mbps. As a result, you'll probably be limited to 720p and stereo, but you should still get 60 frames per second.
Google makes the exciting statement that Stadia cloud gaming can stream in up to 8K and at 120 frames per second in the future. However, it is a long way off and will need far quicker internet connections than many national averages.
NOTE: Stadia game resolution is chosen by the developers and publishers, not by Google. As a result, even if you have a Pro membership and a Chromecast Ultra or a compatible PC running the Chrome browser, a game may not produce a real 4K HDR. While you may get a 4K HDR video, you may find that the game, such as Destiny 2, is limited to 1080p due to performance issues.
Google Stadia is Changing to Expand the Cloud Gaming Concept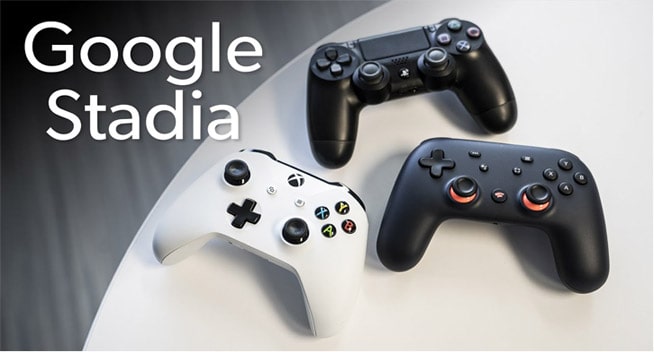 Google has announced many new methods to use the technology behind its Stadia cloud game streaming platform to make it easier for developers to attract gamers into free demos without requesting them to sign up for a Google account.
The upgrade should make it simpler for developers to create game trials that users can access with a few mouse clicks, ideally from advertising to playing the game in seconds.
These free trials and apps will also be available in the Stadia store. All of this will be accessible without needing an account, showing that whatever walls remained around Stadia seemed to be dissolving.
It's a brilliant pitch since both developers and gamers benefit from these free demos, which seem to help both sides as long as the connection is stable and fast enough to run Stadia cloud gaming in the first place.
After all, the site has been offering free game trials for months, but previous trials required users to have a Stadia account and check in; nevertheless, being able to taste a game without being logged in is far more tempting and allows for more spontaneous judgments.
The announcement was made during the Google for Games Developer Summit. Google highlighted on the technical side that it is making it simple to move Unreal Engine and Unity games to Stadia-ready with a boatload of automation.
Best Google Cloud Gaming Alternatives
Stadia, Google's cloud-based game streaming service, will cease operations in January 2023. Numerous people may not be shocked by this, given Google's history of abandoning successful projects, even though Stadia fans are affected. Nevertheless, and with good cause, the service effectively performed its duties. No other cloud based streaming service matched the speed, low-latency gameplay performance, and enhanced clarity we saw. Here is a list of the best Google Stadia alternatives that provide portable cloud gaming in the wake of Stadia's untimely death. In light of this, let's search for a platform comparable to Google Stadia that offers high performance and an extensive game library.
1. Nvidia GeForce Now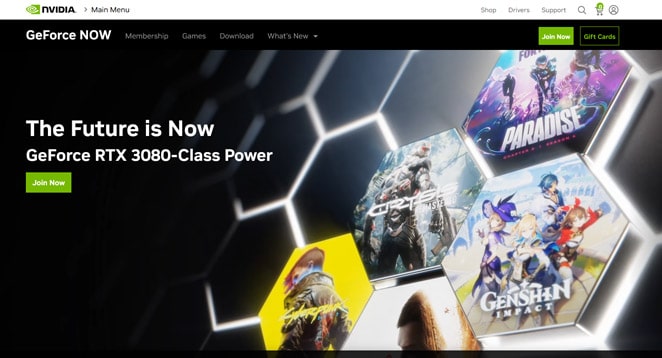 We recommend you use Nvidia's GeForce Now shadow gaming feature as the best Google Stadia alternative. As with Stadia, you may play your favorite games on any device, including an Android phone, Android TV, PC, or Mac. Although its speed and quality may not be as outstanding as Google Stadia, you can access numerous games from various publishers. You may see all GeForce Currently tags by login into your Epic Games, Steam, or other gaming accounts.
GeForce Now hosts popular games such as Fortnite, Cyberpunk 2077, Genshin Impact, and Apex Legends. In addition, Nvidia GeForce Now includes ray outlining capabilities for several plays, while Stadia lacks this feature.
The minimum bandwidth requirements for 720p cloud gaming at 60 frames per second are 15 Mbps. And you need at least 25Mbps of the internet for 1080p gaming at 60 frames per second. Still, GeForce Safari now enables iPhone and iPad users who want to play Fortnite to do so.
Website: https://www.nvidia.com
2. xBox Cloud Gaming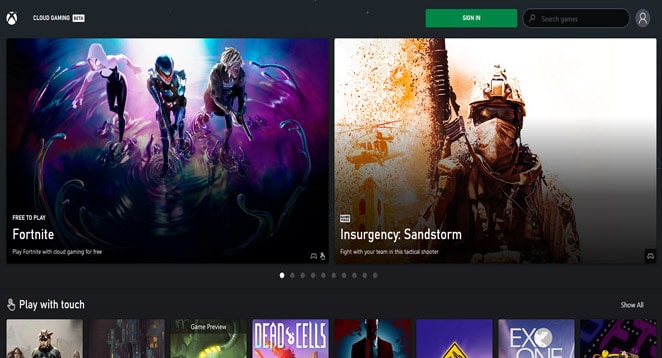 Instead of purchasing a console or gaming PC, consider Microsoft's Xbox Cloud Gaming as an alternative to Google Stadia. It has one of the most extensive game libraries, and iOS devices may be used to play high-quality games such as Fortnite. Xbox Cloud Gaming is a beautiful deal for Xbox Game Pass Ultimate users and is accessible with Xbox Game Pass. The most significant part is that, similar to Stadia, Xbox Cloud Gaming works with any Xbox controller and the wireless Sony DualShock 4 controller.
Astroneer, Far Cry 5, Assassin's Creed Origins, Fortnite, and many more titles are available for streaming. Regarding a wide range of game content, Xbox Cloud Gaming trumps Google Stadia. The only disadvantage, in my opinion, is that Xbox Cloud Gaming's responsiveness is somewhat worse than Stadia's.
The minimum speed needed for Xbox Cloud Gaming is 10Mbps. Finally, the cloud gaming platform for Minecraft is one of the best Google Stadia options, particularly given a large number of games available.
Website: https://www.xbox.com
3. PlayStation Now (PS Now)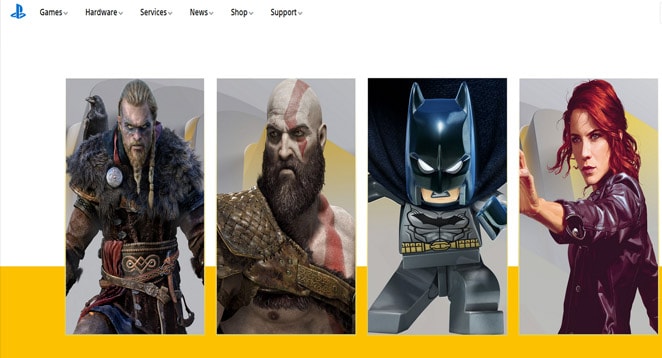 Sony provides PlayStation Now, Google Stadia's alternative. It is a Sony cloud gaming platform that enables you to access an extensive library of PlayStation 4, PlayStation 3, and PlayStation 2 games anywhere. However, because PS Now and PS Plus were recently integrated, you must have a PlayStation Plus subscription to enjoy Sony's cloud gaming service. Furthermore, PS Now is only available on Windows PCs and a limited number of PlayStation devices. Nevertheless, it is another cloud gaming option you should consider.
You may play various popular games such as GTA 5, Unknown 4, God of War, Death loop and the Ghost of Tsushima, and others. To start with Sony PlayStation Now, you just need 5Mbps internet speed. Finally, PS Now is an excellent cloud gaming service with an extensive collection of well-known titles, but it falls short in low latency and lag-free gameplay.
Website: https://www.playstation.com
4. Amazon Luna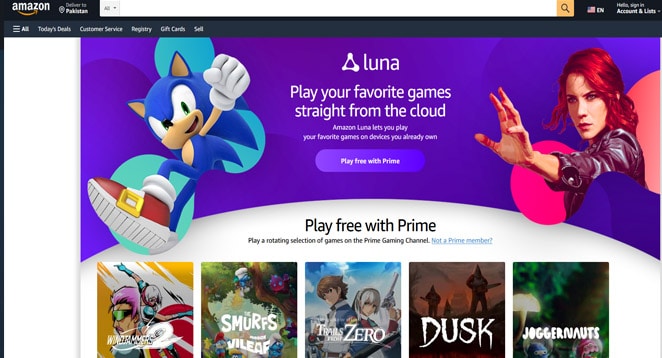 Before their introduction on Google's platform, Ubisoft games were played mainly by Luna Stadia users on Amazon's Luna service. However, now that Stadia is shutting, Luna may become many players' new home. In addition, the service is inexpensive, despite having lower latency and a smaller game portfolio than Google Stadia and GeForce Now.
You may also play Resident Evil 3, Trails from Zero, Samurai Warriors, Aragami, and more games. You also get access to well-known Ubisoft titles not available on other cloud gaming sites, such as Assassin's Creed Mirage. I like that Luna has a wide range of game genres, such as action, adventure, platformer, indie, shooter, role-playing, and others.
Furthermore, the service is compatible with many devices, including Android phones, Fire TV devices, Fire tablets, PCs, Macs, and web browsers. Finally, Amazon Luna is a viable choice if you're looking for a less-priced Google Stadia alternative. It is another cloud gaming option.
Website: https://www.amazon.com/luna
5. Steam Link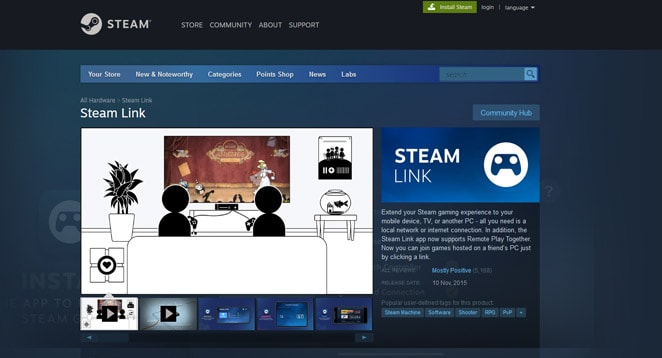 Unlike Google Stadia, a cloud gaming platform, Steam Link is a locally accessible game streaming device. For a rapid wired connection and low latency gaming, you'll need a powerful computer with high CPU and GPU performance and, ideally, an ethernet connection. Now that you have access to a gaming computer, you may stream the game locally from the host server to your phone, TV, tablet, or laptop and play it with minimal latency. Steam's Remote Play feature also enables you to stream games from any location.
The hardware of your host system significantly affects performance, but Steam has also optimized the games for different screen sizes. In addition, the service supports a variety of controllers and user interfaces. If you have a powerful PC, Steam Link is a fantastic method to play games on the go and an excellent alternative to Stadia.
Website: https://store.steampowered.com
6. The Gaming Project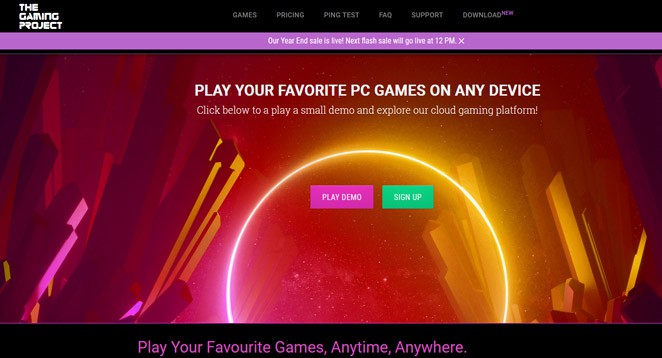 It is another option for cloud-based gaming. If you are an Indian looking for a dependable Stadia alternative for cloud gaming, we suggest you give The Gaming Project a go. The firm operates servers in India's most populous cities: Delhi, Mumbai, and Bengaluru. In addition, a minimum of 10 Mbps Internet connection is required to access it. There is a free tier that allows you to try the service, but the variety of games is limited; thus, you are recommended to acquire the Rs 199 per month subscription plan.
Twenty hours a month can be spent playing games in full high definition. In addition, you may connect your accounts with other game retailers to have fast access to your favorite titles. Overall, it is a good cloud gaming service in India that may be used as an alternative to Google Stadia.
Website: https://thegamingproject.co
7. Parsec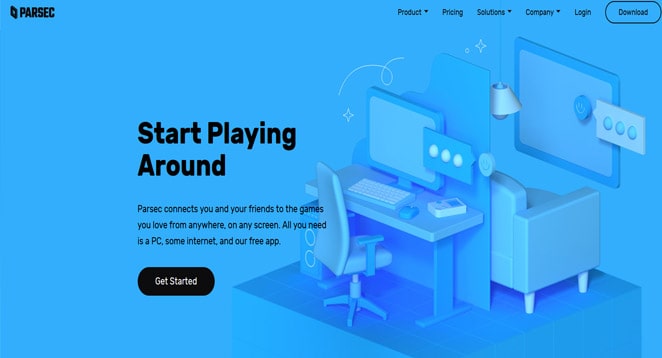 Parsec, a remote desktop application, excels in real-time screen recording and provides low latency and high FPS. In addition, it boasts some of the most advanced remote access capabilities in the industry, allowing you to easily connect to your computer over the internet and begin playing a game. Similar to Google Stadia cloud gaming, Parsec provides lag-free gaming sessions with an average frame rate of 60, even while playing action or first-person shooter games that are very demanding.
The most appealing feature of Parsec is the opportunity to play with your friends. You may easily share your screen by providing a link, connecting your preferred controller, and playing online with friends. You may play multiplayer games with friends, and arcade games are also accessible. Install Parsec on your home computer so you can play games on a cloud-based Windows PC if you have one. It outperforms Steam Link in the majority of games. It is another option for cloud-based gaming.
Website: https://parsec.app
8. Shadow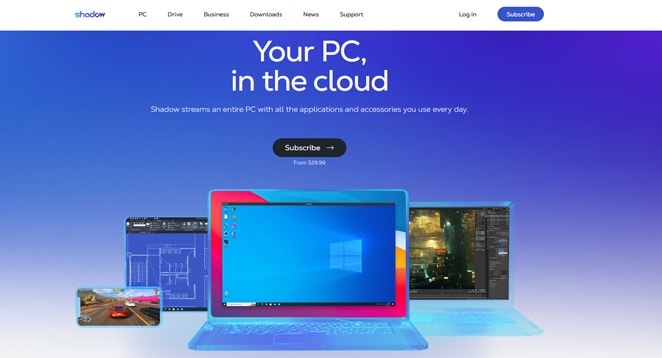 Shadow is not a direct rival to Google Stadia, but because of its cloud computing capabilities, it is the best alternative for cloud-based gaming. Thanks to the purchase of OVHcloud, Shadow now provides a superior cloud gaming solution, allowing you to install and play your favorite game from anywhere. You can access a robust Windows instance from a nearby Shadow data center. You can run professional apps, install games, and edit photographs, among other things.
In addition, the instance provides decreased latency, gamepad compatibility, color improvement, and other characteristics suitable for video games. You may pick from AMD EPYC 7543P CPUs, Radeon Pro V620 GPUs, and GPUs ranging from the Nvidia GeForce GTX 1080 to the RTX 3070 if you're curious about the hardware included with a premium plan. Yes, depending on the package, every premium component is included. Thus, Shadow is a good alternative if you want a cloud-based gaming platform comparable to Google Stadia. It is another option for cloud-based gaming.
Website: https://shadow.tech
Final Words
These are the top alternatives to Google Stadia Cloud Gaming. Stadia surpasses all other cloud gaming services in terms of lower latency and superior playability. However, GeForce Now and Xbox Cloud Gaming provide a greater range of titles, and these services are continually improving. Therefore, there is no question that these services will improve shortly. However, that is all we have to say. If you wish to use Nvidia GeForce Now in India, we have a comprehensive setup tutorial available now. In addition, because Stadia Cloud Gaming will no longer be supported on Chrome OS, GeForce Now may now be used for cloud gaming on Chromebooks. If you have any questions, please leave them in the area below.