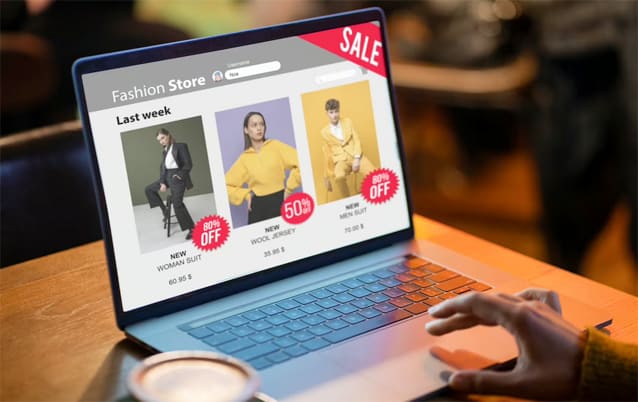 Websites and Apps Similar to Depop: Do you realize that clothing resale is the most fruitful online business idea before exploring other platforms like Depop? There are many websites similar to Depop that you can use to clean out your home and earn reasonable money. As the second hand becomes a global phenomenon with a growth rate of approximately 127% by 2026, there is no better time to join one of the platforms listed below!
We have guided you on as many useful local platforms as feasible so that you may use them to their highest possibilities. We would be delighted if they could help at least one visitor.
Before moving on to the alternatives to Depop, let's briefly review Depop.
What is Depop?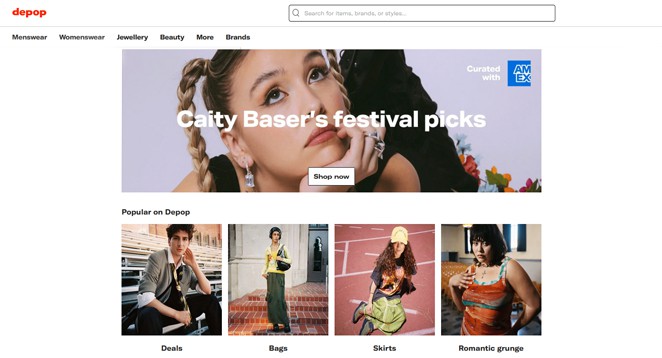 Depop is a social e-commerce platform with headquarters in London and branches in Manchester, Milan, and New York. The business is becoming more well-known in nations worldwide, including the United States of America, the United Kingdom of Great Britain and Northern Ireland, Australia, New Zealand, and Italy. It allows users to purchase and sell products, mainly used and vintage garments and accessories.
Website: https://www.depop.com
How Does Depop Work?
You need just a registered account from which you can make your transactions. Upon registration, you can upload products to your shop, which are then displayed on the feed where potential purchasers can contact you to purchase them. They have over 30 million users registered in more than 150 countries.
How Can You Join Depop?
Download the Depop app (available for both Android and iOS), verify your account information, and create a secure Depop password. Select your products and list them on your portal.
Why You Should Opt for Depop
There are no listing fees, a 10% commission rate, and user-friendly and highly enticing customer service can make Depop one of the finest in its industry.
What Products Can You Sell on Depop?
Men's wear, women's wear, and jewelry are the three most popular product categories on Depop. They may be new, used, or refurbished. Ensure that the products you are selling are in excellent condition, appropriate for the season, on-trend, and, if applicable, brand-specific.
Is Depop Safe?
Considering these ratings, we can be sure that this platform is secure; despite a few problems, such as buyer-seller coordination, you can effectively manage everything with time and effort.
25 Websites and Apps Similar to Depop.com
While compiling this list of applications and websites similar to Depop, we've taken every precaution to ensure that they satisfy the highest standards for reselling businesses and can help you find a suitable replacement for Depop.
1. Mercari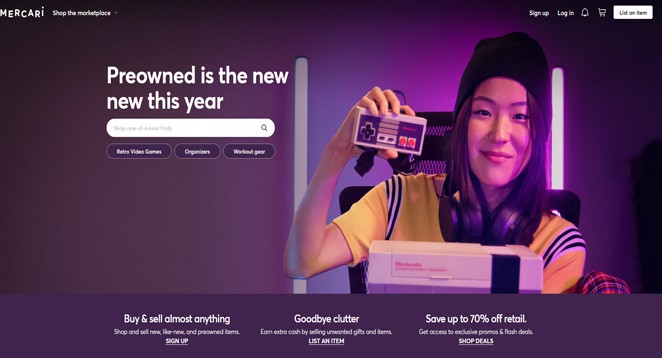 Mercari is one of the most popular purchasing applications comparable to Depop. Here, there are no restrictions on what you may sell. The enticing aspect is that you can receive a $5 coupon for your first listing and have a chance to win a $20 coupon through a random drawing.
If you consider it one of the best places to declutter, you will not lament it because you will be connected with millions across the United States. Regarding commissions, Mercari charges 10% of the purchase price upon sale conversion. In addition, Mercari Instant Pay and Mercari Authenticate service customers will incur a minimal processing fee of 2.9% plus $0.30.
Website: https://www.mercari.com
2. ThredUp
ThredUp is a well-known online salvage store and consignment shop that believes in a sustainable fashion future. As a consumer, its interface helps you locate the best offers on brands. ThredUp is preferred by the majority of individuals for two primary reasons: first, the price-specific listing, and second, the advance payment to the vendor.
This platform's listings contain over 55,000 brands with discounts of up to 90%, and have sold over 137 million products. ThredUp also assists vendors in shipping items to purchasers by evaluating and paying for things in advance. Their payment structure is 100 percent based on consignment and the ultimate selling price. Get 50% off your purchase and Free postage on your first order!
Website: https://www.thredup.com
3. THE REAL REAL
The Real Real offers a $25 site credit immediately after email registration. A positive aspect of this platform is that they offer a $150 Extra* limited-time offer for selling. You can sell anything from shoes to women's clothing and beyond; you can also view their list of approved products for a clearer picture. With increased sales, more incentives and commission payments become available.
It is regarded as one of the best apps like Depop because most sales can be made within 30 days of listing, and you can earn commissions of up to 85 percent of the sale price, three times more than other market competitors. Register and leave the rest to their team of 100+ experts who will handle the post-sale process and earn money deposited directly into your bank account, plus 5% extra site credit.
Website: https://www.therealreal.com
4. Facebook Marketplace
Facebook (Meta) is one of the best locations to launch a successful enterprise. It is a viable alternative to Depop, particularly if you want to buy or sell items. This platform has significantly impacted the online sales industry; according to the statistics, approximately 20% of users prefer Facebook Market Place to sell their products, and over 22% of individuals have a high level of trust towards it.
With more than 1.1 billion monthly users and over 250 million active stores, we consider it one of the strongest competitors for sites like Depop. Add your products using the 'Create New Listing' option and wait for customers to contact you.
5. eBay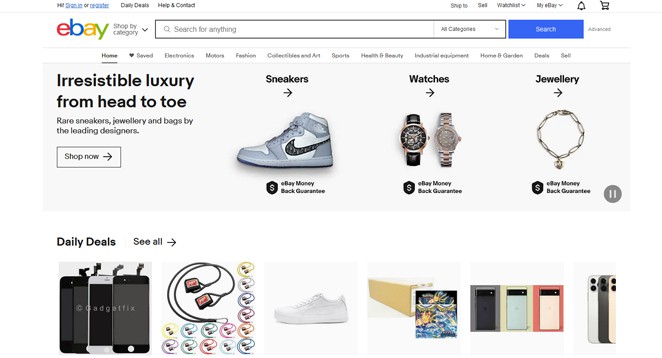 eBay is the first website that comes to mind for those seeking to sell or purchase used items. It is one of the first marketplaces where individuals could sell their goods. Over time, their family has expanded to approximately 135 million active consumers worldwide, where the most expensive item sold to date is a $168 million SuperYacht.
You can favor this marketplace, which accounts for 4.7% of the e-commerce retail market in the United States alone. Join eBay immediately! To become one of their 18 million-plus vendors who operate more than 8,85,000-plus active eBay stores.
Website: https://ebay.com
6. Poshmark
Poshmark is comparable to the top sites like Depop as one of the leading social marketplaces for new and pre-owned fashions, with over 80 million registered users. By empowering everyone, their primary objective is to facilitate commerce centered on people. Over 200 million items have been sold in Australia, the United States, and Canada alone—approximately one sale per second in the United States.
This platform is a purchasing destination and an active community of millions of merchants of healthful personal style products. To get started, you must create an account, post your product on the portal, which takes less than 60 seconds, and share your insights with potential buyers; the more you share, the more sales you generate.
Get a prepaid label from the platform to avoid shipping fees. For commissions, they charge a fixed $2.95 on all transactions under $15 and 20% on all sales over $15.
Website: https://poshmark.com
7. Wallapop
Wallapop has numerous categories where you can purchase and sell used items from the comfort of your sofa. Whether a consumer or a vendor, you can use their classifieds app (the Wallapop app) to generate additional income from items you no longer require. Through their website, you can access a catalog of advertisements to publish your own free of charge.
Register on their website, list your item, quote a price, and negotiate with the client to complete the sale. Take advantage of the opportunity to join over 15 million Wallapop users who have already uploaded over 180 million products.
Website: http://www.wallapop.com
8. Carousell
There is no possibility that a given category does not exist on this platform. Therefore, this is a prominent multi-category entity for secondhand products with a mission to inspire the world to begin distributing and make secondhand products the preferred option. You can also use their classifieds to publish your advertisements and increase sales conversions' reach. Popular categories include women's fashion, electronics, home & furniture, design, crafts, and home appliances.
Carousell provides an Instant purchase badge for no listing fee but a fixed 4% commission on the selling price. Numerous users have reported highly positive records via this insignia, but you must meet a few requirements to earn it. It is the best Depop alternative to consider.
Website: https://www.carousell.sg
9. Varagesale
VarageSale is a famous virtual garage where users can purchase and sell items. Using a manual evaluation procedure, they can identify every single thing. Therefore, this platform will always have great potential for authenticity. You can find listings in their classifieds section and filter out categories based on your interests.
Buyers can view a seller's ratings and evaluations while browsing his offerings. As a result, sellers should be aware that posting is relatively simple following manual verification.
Website: https://www.varagesale.com
10. Vinted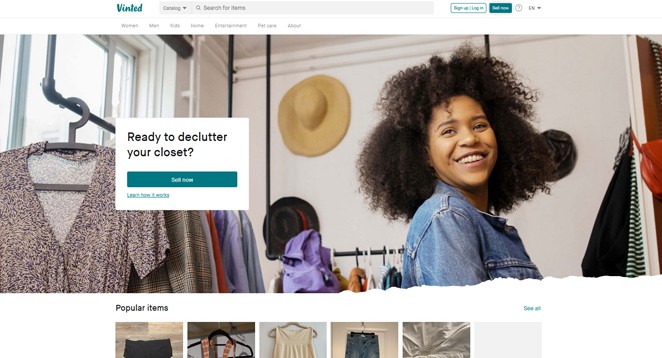 Vinted should be added to the list of alternatives to Depop for all of you seeking alternatives. Most visitors ask, "Why is everything on Vinted so cheap?" This platform will mirror the standard of competition in this manner. Vinted has a user-friendly interface makes it simple to sell, trade, or purchase used or new clothing online. In addition, it does not charge a fee for listing the items.
Download the free Vinted app, select the image of the item, and add it to the list. Exciting candidates will approach with a quotation, or you can price your worth and close the deal. Popular categories for selling on Vintage include accessories, apparel, purses, footwear, cosmetics, toys, and furnishings.
Vinted has now acquired United Wardrobe, one of the largest combined secondhand markets with a population of over 34 million. Join Vinted immediately to maximize this opportunity.
Website: https://www.vinted.com
11. OfferUp
OfferUp is one of the best apps comparable to Depop, as it facilitates the simplest and most reliable methods to purchase and sell locally. Buying or selling products on this platform is very simple; you must capture high-quality images and publish them with a concise description. You can set your price here, and interested purchasers will contact you directly.
The most remarkable aspect is that they do not charge anything for listing items but will charge a service fee of $1.99 or 12.9% for products shipped through them. If your sales conversions fail, you can attempt their premium features, which cost $1.99 for 1-3 days of promotion and can increase daily views by 14 times.
Their unique authentication system, 'TruYou,' verifies every buyer and vendor before designating account details, so you don't have to be concerned about trusted purchasers.
Website: https://offerup.com
12. Swapit
Swapit is a well-known hyperlocal marketplace that connects vendors and consumers of new and used goods. This platform has more than 250,000 registered users. You will love the platform's elegant interface, which provides a seamless client experience. It combines eBay, Pinterest, Foursquare, and conventional flea markets.
From a single entity registered in Hong Kong, this platform now supports more than 148 currencies and has won numerous accolades. You can also receive a free premium day by referring friends, who will also receive a free premium day.
Website: https://swapit.mystrikingly.com
13. Popsy
Popsy is one of the apps similar to Depop listed in the Appstore and Playstore; however, this platform is exclusive to selling refurbished electronics at competitive prices. Their primary objective is to make premium electronics accessible to everyone. Here, prices are so low because consumers are directly connected to refurbished product manufacturers.
As there are no brokers, you can receive up to a 70% discount on products as low as $99. In addition, they offer a 12-month warranty on their products and a support team that can be contacted for assistance.
14. Tradesy
When it comes to marketing or purchasing luxury products for women, Tradesy is unrivaled. You need only download the Tradesy app or visit their website to get started. This platform will help you write the most compelling descriptions for your products, increasing your exposure. Using the in-app messaging system, a buyer and a merchant can negotiate the terms of a sale. You can ship using your materials or Tradesy-provided pre-paid stickers. For purchasers, Tradesy offers $100 off purchases over $500.
Tradesy charges a fixed 20% commission on all sales over $50 and a flat $7.50 on all sales under $50; the remainder is deposited directly into your wallet. You can cash out through PayPal, debit card, or direct bank transfer with a 2.9% transfer fee. It is among the top Depop alternatives to buy and sell products.
Website: https://www.tradesy.com
15. Rebag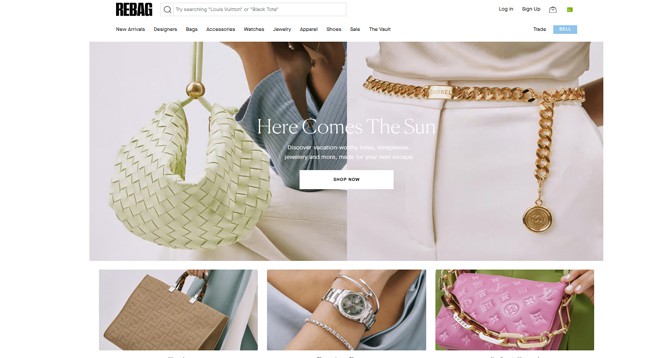 Rebag is one of the 2014-founded websites similar to Depop, where you can buy, sell, or trade luxury accessories such as watches, jewelry, purses, etc. It is a one-stop shop for updating your luxury inventory and currently offers a fixed $200 discount on your first purchase.
(Valid until 01/31) Sellers can now receive a Redbag wallet credit of up to $400 for every item sold over $10,000 and $200 for things worth $3,000. The most fantastic aspect is that you can determine the value of your items by providing information about them.
Additionally, you can leave your funds in the Red Bag wallet, which can grow by 1% per month. In addition, you can earn a 10% spending incentive by contributing funds to a Redbag purchase.
Website: https://www.rebag.com
16. OfferIt
Like Depop, OfferIt is a popular classifieds website where customers and vendors can negotiate via messaging window. You are free to sell your items to individuals in your immediate neighborhood. The app contains numerous features; you can always check the ratings before purchasing.
Register on their website, post images as a consumer, and negotiate with a local merchant. Always double-check the condition of the item you're selling, as failure to do so could negatively affect your feedback rating for future transactions.
Website: https://offerit.co
17. StockX
Similar to Depop, StockX is one of our fave sites to mention here. The mission of this contemporary culture marketplace is to provide access to the world's most desired products in the most innovative manner imaginable. They may include footwear, clothing, electronics, trading cards, accouterments, collectibles, and gaming accessories. The most favored aspect of this platform is that every item sold must undergo a proprietary, multi-step verification procedure with the help of a team of expert authenticators.
In addition, they promote price transparency by providing a user-friendly list of items uncommonly found locally. StockX simplifies customer and vendor duties by managing all product descriptions and fraudsters.
Your data is protected here 24 hours a day, seven days a week, and their highly efficient help center, chatbot, and global support personnel are always available to maintain their high customer service standards.
Website: https://stockx.com
18. Etsy
Etsy is a global marketplace where extraordinary, creative, and one-of-a-kind items are sold. They aim to "Keep Human Connection at the Core of Business." Join Etsy and their community if you want to be one of the many vendors who have used this platform to make their enterprises successful and profitable.
This platform has more than 93 million active consumers. If you have appealing products, you can focus on conversion rates, as nearly 81% of purchases on this platform are repeat purchases. Etsy's most lucrative categories are Bags, Purses, Personal Accessories, Shoes, Crafts, Supplies, Clothing, Electronics, and Collectibles.
Etsy is still profitable in 2023 due to its responsive customer support team, loyal customer base, and user-friendly interface.
Website: https://www.etsy.com
19. Shpock
When discussing listing websites like Depop, Shpock deserves special mention. This classifieds and marketplace platform brings together millions of private merchants and consumers. You have the ability to view a large number of categorized secondhand products across their feed of 11 million+ items. This website has over 10 million active users and over 100 million product searches per month. Start your free trial by creating an account on Shpock to list your products and attract potential customers.
Each listing allows for adding ten completely free images. You can choose their premium subscription, which costs approximately $19.90 per month; with it, you'll receive priority support, an ad-free listing, additional promotions, and a membership badge.
Website: https://www.shpock.com
20. Grailed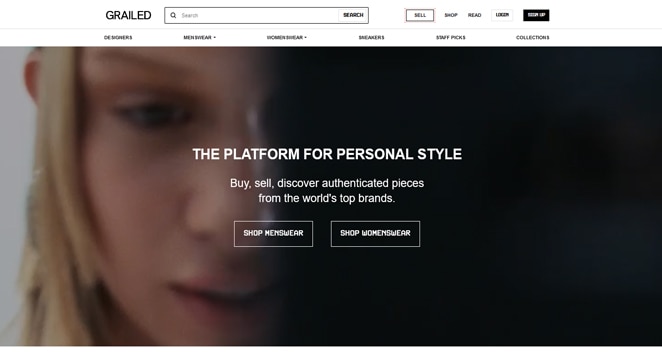 Grailed is one of the most prominent online stores comparable to Depop. You can sell, acquire, and purchase authenticated products from top-tier international brands here. To get started, you must create an account and provide a detailed description of your item, including its size, brand, condition, etc. You can always contact their helpful customer service team with any questions.
The vendor must pay a 9% commission on all items sold on this site. Additionally, you will be charged a processing fee for Grailed and PayPal transactions.
Website: https://www.grailed.com
21. Kixify
Kixify – Buy and Sell Shoes Buy is the largest sneaker marketplace in the world, created and distributed by Kixify. The app is designed for those wanting to earn money from their closet. It is a simple and quick mobile application that allows users to connect, discover, sell, and purchase distinctive footwear.
This platform facilitates discovering and purchasing new and vintage footwear unavailable elsewhere. The app contains millions of sneakers and is constantly updated with fresh content to provide more options. You can follow your preferred store and merchants like other similar applications.
Website: https://www.kixify.com
22. GOAT
GOAT is the finest platform for both consumers and vendors to find the items they desire. It enables users to purchase confidently, as all sellers are screened and all images are verified. GOAT requires all footwear to be uploaded to the app for verification by its specialists before shipment. It is among the best Depop alternative to buy or sell sneakerss.
The GOAT app allows you to sell your sneakerss in minutes by capturing images while setting a price. This application provides data to help you select a price and features that show what consumers are willing to pay to help you sell more rapidly. It is one of the most addictive and finest aspects of this application.
It also included a pre-paid, pre-addressed shipping label to facilitate shipping. The application consists of over 125,000 pairs of shoes and is regularly updated with the newest and most recent. It includes renowned brands such as Nike, Air, Yeezy, and Jorden.
Website: https://www.goat.com
23. ASOS
ASOS is an English mobile fashion and cosmetics app targeting young people. The app distributes over 850 brands in addition to its clothing and accessory lines. With the help of this platform, it is simple to locate and store desired items.
This platform allows you to discover and purchase any product you desire. The app provides an effective search bar enabling you to enter a title, type, brand, color, or price to browse products and purchase the latest trends. It is an alternative app to other fashion applications, with many new features and enhancements that make it superior.
Website: https://www.asos.com
24. 5miles
The app enables you to discover excellent classifieds in your area or elsewhere. From the ease of your mobile phone, you can purchase and sell items precisely, locate a place to reside, engage all local services, and discover new employment opportunities. The 5miles app is among the best Depop alternatives to consider.
It is a free mobile app that enables you to experience a multitude of categories, a sophisticated discovery scenario, and the ability to enhance without cost. As its name indicates, it permits users to purchase and sell items within 5 miles. Compared to the others, which required email, phone, and Facebook verifications, 5 Miles is a secure location.
Website: https://www.5miles.com
25. Listia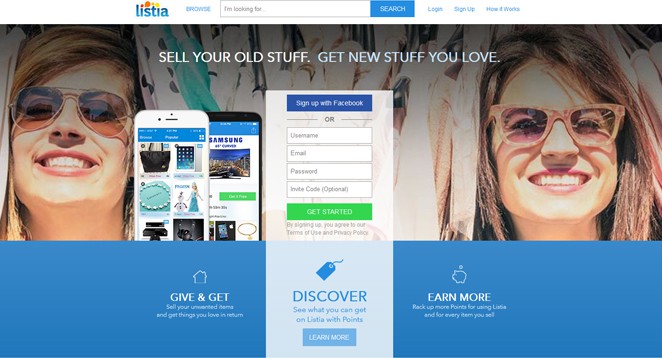 Listia is an exciting approach to purchasing and selling millions of products on this advanced platform. It is one of the finest mobile marketplaces, virtual garages, and yard sales, allowing you to barter unwanted items for free.
It differs from comparable purchasing apps in that it provides novel and thrilling features that enhance the shopping experience. The app enables you to earn credit by designating items you no longer need, which can be redeemed for electronics, jewelry, clothing, and books.
Website: https://www.listia.com
Best Shopping Apps & Sites like Depop Australia
Boohoo
Eluv
The Closet
RetroStar
Revoir
Yordrobe
SWOP
GumTree
The RE: CLUB
Carousell Australia
Selling Sites & Apps Like Depop in Canada
Lululemon
Brandy Melville
Oracle Netsuite
Shopify-Canada
Square Online
Web.com
Depop Alternatives UK
Esooko
eBay-Uk
Etsy-UK
Vinted UK
Final Words
Each app we reviewed has its approach to online sales, showing the diversity of the e-commerce landscape. These applications, like Depop, have reinvented the purchasing experience by including technological and social media elements. In conclusion, the application selection is not limited to a single platform. Explore these outstanding options to discover the one that best suits your preferences.
Whether you are a consumer seeking exceptional bargains or a vendor seeking to reach a larger audience, the world beyond Depop awaits you. So why restrict yourself? Immerse yourself in this enthralling multitude of apps like Depop and experience browsing in ways you never thought possible. Have fun exploring!