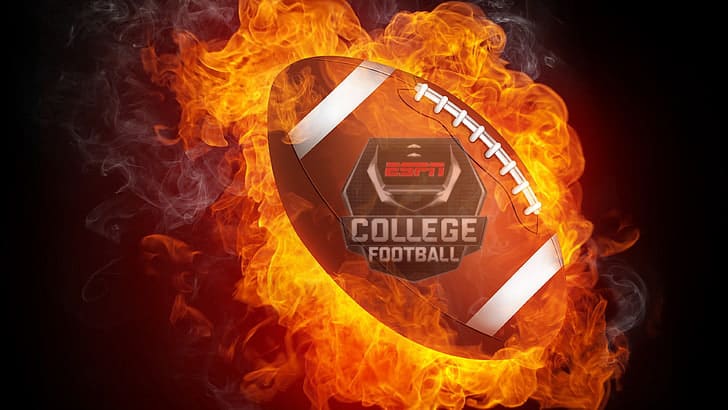 ESPN College Football is the trademark used for NCAA Division I FBS college football broadcasts across all of ESPN's assets. These assets include ESPN, ESPN2, ESPN3, ESPN+, ABC, ESPN Classic, ESPNU, ESPN Deportes, ESPNews, and ESPN Radio. The first season of ESPN College Football aired in 1982.
What is ESPN?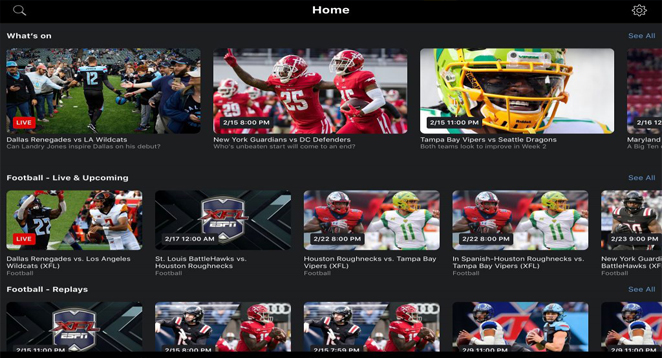 ESPN is a primary cable sports channel that is available in the United States and across the world. It is owned by ESPN Inc., owned by The Walt Disney Company, and Hearst Communications. In 1979, Bill Rasmussen, his son Scott Rasmussen, and Ed Eagan established the corporation that bears their names. ESPN, Inc. is the top international multimedia and sports entertainment brand and has the most expansive set of sports-related multimedia properties. With the helpful ESPN app, you can watch the most exciting moments from your favorite College Football sports in seconds. In addition, within the app, you can watch ESPN for free or at least a portion of its content offerings. It is fantastic for live sporting events, podcasts, and radio stations.
What is ESPN College Football?
Collegiate athletics are so popular in America because they offer pure entertainment. The history, rivalries, tournaments, overtimes, sports betting, and game excitement all add to America's love of collegiate athletics. In college football throughout America, there are several competitions. ESPN College Football or NCAAF is a world-famous sport; you can stream and watch on ESPN channels. ESPN, ESPN2, ESPNU, ESPNEWS, ACC Network, SEC Network, and ESPN Deportes provides you with news and sporting events. On ESPN, you can watch Live Scores, Schedules, Standings, Stats, Teams, Rankings, College FPI, and Total QBR.
How many players can a college football team have?
College football teams might include as many as 125 active players. The maximum for college/NCAA football teams is usually 105. When creating an NFL roster, teams are restricted to 53 active roster players and 12 practice roster players.
Which College Football teams with the most National Championships
In 1869, the first college football national championship was held. That season lasted eight days and included just two games: Princeton vs. Rutgers (which Rutgers won) and Rutgers vs. Princeton (which Princeton won).
Later, the Billingsley Report and the National Championship Foundation proclaimed Yale the first national champion, but Parke H. Davis, a college football historian, decided in 1933 that both Rutgers and Yale were co-champions. We lists the ten teams with the most college football national championships, starting with those with more than five.
Yale — 18
Alabama — 16
Princeton — 15
Notre Dame — 13
Michigan — 9
Southern California — 9
Harvard — 8
Ohio State — 8
Oklahoma — 7
Minnesota — 6
Why Should You Use ESPN College Football?
Why would somebody want to use it from various sites such as ESPN College Football? However, it has some fantastic features that will urge you to try it. Here are the services provided by ESPN.
You receive not just excellent links to a particular game but also in-depth links. For example, you may watch ESPN College Football on ESPN. The website's content is not restricted to a single match.
Even though it is a free content website, the user experience is attractive to anybody. It has a light UI design with a fantastic HD logo to give it a premium feel.
ESPN provides its users with links to HD-quality content.
The website enables error-free switching between several sites with no delays or lags.
How Does ESPN College Football Website Work?
Streaming on ESPN is simple. You don't need to do anything to begin watching your favorite sports on the website. Here's how you can go about it.
Navigate to the webpage (https://www.espn.in/college-football) using your browser.
Enter any sporting event you wish to watch in the search box and begin streaming immediately.
It will instantly stream the requested sports without directing you to any adverts or popups.
How to Watch ESPN College Football Without Cable?
We're not breaking you up with ESPN College Football; we just suggest you should watch other networks! BeinSports is our first suggestion. It, like ESPN, offers the season's top sporting events and gets you behind the scenes to discover more about your favorite athletes. Without cable, you can watch ESPN on Sling Orange, DirecTV Stream, Hulu, Fubo, Fubo Elite, YouTube TV, Vidgo, or Spectrum TV.
Is there 

ESPN College Football App To Watch

Free Sports?
Yes you can find ESPN College Football app for Android and iOS devices on the Google Play and App store. You can also find ESPN apk on Internet. ESPN is your one-stop destination for all the most recent sports news, videos, highlights, scores, standings, and unique commentary for the sports, leagues, and players you love to follow and watch.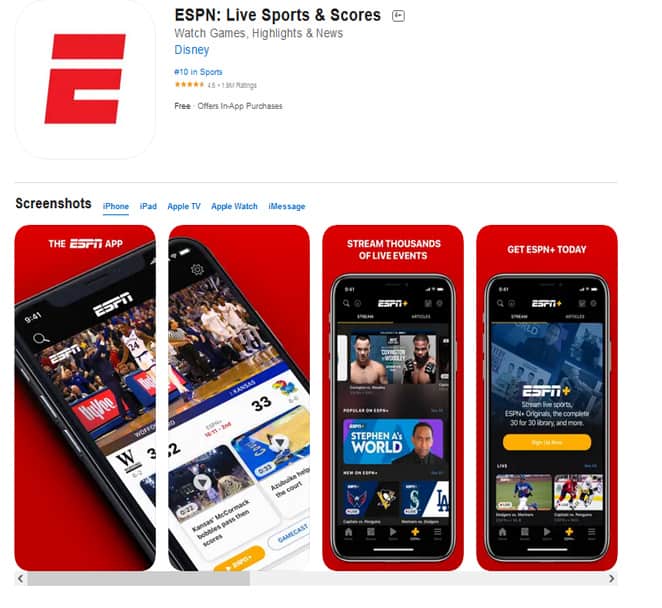 ESPN College Football User Experience
Because to its rapid loading speed, flawless streaming functionality, and different servers to choose from, ESPN College Football can provide you with a delightful watching experience that you won't find anywhere else. In addition, the process is straightforward; you may see information about a sports event right from the ESPN  homepage. Locate your favorite sports and click on it.
ESPN is mobile-friendly, so users may simply explore it on their cell phones. However, the main ESPN College Football website is for premium users. It has a 4.2 out of 5-star rating based on web research and 12 ESPN  reviews. The' review score is determined by user ratings, brand popularity, price competitiveness, and the breadth and quality of features offered to users.
How to Watch ESPN College Football on YouTube TV?
To watch ESPN College Football on YouTube TV, sign up for a free trial and cancel anytime. Stream live TV from ABC, CBS, FOX, NBC and other major cable networks.
ESPN is not down, and we have good access to it. Please use a VPN if you cannot stream the website from your device. If ESPN College Football is not working for you, consider the bestESPN College Football alternatives listed on this page. In this article, we've presented the most recent alternative websites to ESPN These websites are comparable in that they provide almost similar services.
How you Can find ESPN College Football on Internet?
You can find ESPN College Football on internet by using searches below;
ESPN college football
ESPN college football scores
ESPN college football schedule
ESPN college football Gameday
ESPN college football rankings
ESPN college football live stream free
ESPN college football games today
ESPN college football scoreboard
ESPN college football awards 2021
How to Stream ESPN College Football on Roku, iPad, iPhone and FireTV?
Because ESPN College Football is a website rather than an app, you can watch it on any device, including Roku, iPads, iPhones, cellphones, and Fire TV.
How much does a monthly subscription to ESPN College Football cost?
If you want to subscribe to ESPN, the monthly plan will cost you $6.99 a month, and the annual subscription plan will set you back $69.99. You may check out the service risk-free since it has a trial period with monthly and the annual plans.
What are the most incredible sites for free sports streaming?
As the finest free sports streaming sites, we suggest ESPN alternatives like 720pstream, Stream2Watch, VipLeague, StopStream, Feed2all, and SportP2P.
Why do you need to look for ESPN College Football alternatives?
Why should you know the alternatives or listings for the best sites similar to ESPN College Football? To begin, if you are a huge sports fan, it is only natural to want to know where you can access your sports content, especially if it is free. Second, the website provides free Sports events links and streaming services.
Sports followers and fans usually visit sites like ESPN College Football to watch their favorite sports streaming on demand. In certain situations, websites offer not only free streaming videos but also updates and news. Some even have their chat lines where users may connect, communicate, and discuss.
What are the best Alternatives to ESPN College Football

ESPN is one of the websites that provide free sports streaming videos. There are several sports categories from which to pick and get entry. Most sports events are accessible in excellent resolution, which means they will not interfere with your viewing moments or sessions. Furthermore, you should have little trouble accessing and examining the contents. It's a good thing the website has a simple design and easy layout, which makes it even easier to navigate. It's also a good thing that various alternatives, such as ESPN College Football, provide comparable good features and services.
Let's check out the best ESPN alternatives you can use in 2022-23.
USAGoals
What are the top five NCAA sports in terms of viewership?
College sports are a significant business in the United States. While college is considered a place to refine athletic abilities across the globe, in the United States, it is frequently where you must shine the brightest to achieve a professional athletic career. With crowds of more than 100,000 spectators every game and individuals betting on their favorite teams and players on sites like Caesars Casino & Sports, you might be excused for thinking that college sports are among the most popular in the world. Here we discuss the top five NCAA sports in terms of viewership.
1. Football
College football is unquestionably the most popular NCAA sport. It boasts the most players of any sport, and supporters are very loyal to their local teams, supporting them as fervently as they would the pros. The college football playoffs are the seventh highest-grossing US athletic event, generating $5.6 billion in revenue each year. In addition, the Pac-12 Conference ($3 billion), Big Ten Conference ($2.6 billion), and Big 12 Conference ($2.6 billion) also draw large audiences on Fox and ESPN around the nation. After only the NFL, college football is the country's second most popular sport, with 47.6 million spectators attending games in 2017. You can Watch College Football on ESPN.
2. Basketball
Collegiate basketball is a close second in terms of popularity among college sports. Every year, March Madness is one of the most important athletic events in the nation. The championship game was seen by 23 million people on TV in 2017, generating around $8.8 billion in revenue each year. According to a survey conducted in 2017, nearly half of the US population (327.2 million) is at least relatively interested in college basketball.
3. Baseball
Baseball is another NCAA sport that draws large crowds.Louisiana State University (LSU) averaged 10,644 spectators per game in 2017. Ole Miss wasn't far behind, averaging 8,545 fans each game. Mississippi State finished third with 8,029 attendance.
4. Soccer
Soccer is becoming more favored in the US, particularly at the collegiate and professional levels. According to a poll done at the beginning of 2018, soccer is projected to overtake baseball in spectator appeal in the following years. Unique venues equal impressive spectator numbers of up to 7,500 each game in college soccer.
5. Lacrosse
Lacrosse is another sport that generates large audiences, but rather than for every game; fans go to the semi-finals and finals, notably in the Division I men's league. In 2018, 30,616 people watched the semi-finals, while 29,455 people watched the final between Yale and Duke. Again, Yale came out on top.
What are the best NCAA Football Championships Can you Watch on ESPN?
ESPN College Football is the best soccer streaming site. Since the shutdown of Reddit's famed /r/soccerstreams sub, many have been hunting for the same type of alternatives. Here comes the all-new soccer streams portal, the quickest page loading times, and the best links ranking algorithm ensures easy and fast access to live streaming links for every big tournament.
The main page will be your doorway; if you visit ESPN, you will find our new portal where forthcoming matches are displayed according to kickoff scheduled. Matches are separated by leagues, and if you desire a different sport, click on that sport symbol on the site. You can watch the following NCAA Football Championships on ESPN.
AAC Championship
ACC Championship
Big 12 Championship
Big Ten Championship
College Football Playoff
MAC Championship
PAC-12 Championship
SEC Championship
Sun Belt Championship
What are the Best NCAA Teams you can watch on ESPN?
You can watch your favorite team match on ESPN College Football. It includes;
Air Force Academy Falcons
Alabama Crimson Tide
Arizona State Sun Devils
Arizona Wildcats
Arkansas Razorbacks
Arkansas State Red Wolves
Army West Point Black Knights
Auburn Tigers
Ball State Cardinals
Baylor Bears
Boise State Broncos
Boston College Eagles
Buffalo Bulls
BYU Cougars
Cal Golden Bears
Central Michigan Chippewas
Cincinnati Bearcats
Clemson Tigers
College Football
Colorado Buffaloes
Colorado State Rams
Delaware Blue Hens
Duke Blue Devils
East Carolina Pirates
Eastern Michigan Eagles
FIU Panthers
Florida Atlantic Owls
Florida Gators
Florida State Seminoles
Fresno State Bulldogs
Georgetown Hoyas
Georgia Bulldogs
Georgia Tech Yellow Jackets
Harvard
Hawaii Rainbow Warriors
Houston Cougars
Idaho Vandals
Illinois Fighting Illini
Indiana Hoosiers
Iowa Hawkeyes
Iowa State Cyclones
Kansas Jayhawks
Kansas State Wildcats
Kent State Golden Flashes
Kentucky Wildcats
Louisiana Lafayette Ragin Cajuns
Louisiana Monroe Warhawks
Louisiana Tech Bulldogs
Louisville Cardinals
LSU Tigers
Marshall Thundering Herd
Maryland Terrapins
Memphis Tigers
Miami Hurricanes
Miami RedHawks
Michigan State Spartans
Michigan Wolverines
Middle Tennessee State Blue Raiders
Minnesota Golden Gophers
Mississippi State Bulldogs
Missouri Tigers
Navy Midshipmen
Nebraska Cornhuskers
Nevada Wolf Pack
New Mexico Lobos
New Mexico State Aggies
North Carolina State Wolfpack
North Carolina Tar Heels
North Texas Mean Green
Northern Illinois Huskies
Northwestern Wildcats
Notre Dame Fighting Irish
Ohio Bobcats
Ohio State Buckeyes
Oklahoma Sooners
Oklahoma State Cowboys
Ole Miss Rebels
Oregon Ducks
Oregon State Beavers
Penn State Nittany Lions
Pittsburgh Panthers
Princeton Tigers
Providence Friars
Purdue Boilermakers
Rutgers Scarlet Knights
San Diego Aztecs
San Jose State Spartans
Seton Hall Pirates
South Carolina Gamecocks
South Florida Bulls
Southern Illinois Salukis
Southern Miss Golden Eagles
Stanford Cardinal
Syracuse Orange
TCU Horned Frogs
Temple Owls
Tennessee Vols
Texas A&M Aggies
Texas Longhorns
Texas State Bobcats
Texas Tech Red Raiders
Toledo Rockets
Tulane Green Wave
Tulsa Golden Hurricane
UAB Blazers
UCF Knights
UCLA Bruins
UConn Huskies
UNLV Rebels
USC Trojans
Utah State Aggies
Utah Utes
UTEP Miners
Vanderbilt Commodores
Villanova Wildcats
Virginia Cavaliers
Virginia Tech Hokies
Wake Forest Demon Deacons
Washington Huskies
Washington State Cougars
West Virginia Mountaineers
Western Kentucky Hilltoppers
Western Michigan Broncos
Wisconsin Badgers
Wyoming Cowboys
Final Thoughts
ESPN, Inc. is the top international multimedia and sports entertainment brand and has the most expansive set of sports-related multimedia properties. Nearly the entire list of online streaming sites, such as ESPN College Football, is accessible and allows you to watch a variety of sports live for free. All of the sites like ESPN listed on this page have been tested by our experts and are safe to use, allowing you to visit any website easily. However, because all of the above live sports streaming sites are free; So, you may encounter numerous advertisements and popups. We strongly suggest you to use best VPN before streaming any sports site.