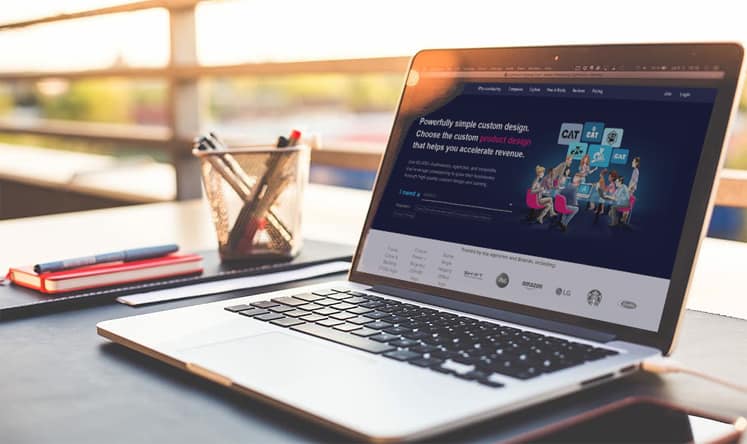 If you're searching for the best free logo maker, we've gathered a list to help you create free logos for your business. Using the best free logo creator online, you can choose from hundreds of professional logo design templates and download them in minutes. No more negotiating with graphic designers, no more waiting time, and no more unfair prices for a unique business logo. Instead, use a free logo maker to have your brand logo downloaded whenever you want, even in the middle of the night! Start today with the quick and simple logo maker by picking one of the websites listed below.
How to Make a Logo Using a Logo Maker
You don't have to worry about anything and don't need graphic design abilities to use Free Logo Maker. Simply follow these instructions to have your business logo designed right now!
Choose a logo template
Start by providing your business name and then selecting your industry. The logo maker will automatically fill in designs that are relevant to your company. Next, browse the collection and choose your preferred logo design template to start customizing in the simple logo maker studio. And if you're worried about being asked for your credit card information, don't worry. These online logo makers are completely free!
Customize logo design
You'll be delighted at what you can create with a basic logo design template in Free Logo maker design studio. Aside from the business name and tagline, you may include fonts, shapes, color backdrops, gradients, and colors to create an excellent brand logo design. If you don't like what you've made, you may use the logo maker to start again for free.
Instant download
When you're ready to download, click the "Download" button, which will ask you to sign up and log in. Again, there is no need to be concerned about payment. They will not ask for your credit card or any other payment information when you use the free logo maker. Simply keep downloading your business logo files for usage. All they ask you to leave a shout-out if you like what you download!
Why Should You Use Free Logo Maker Apps?
Your logo does more than represent your business. It reflects your company's goal and vision. It is why logo is more than just an image. Customers often recognize your brand's logo when they think about it.
Several online logo maker apps available may take your logo to the next level, particularly if you're on a tight budget. These tools are helpful whether you're starting an online business or updating an existing one. And did you know that one of the selling secrets of successful online sellers is generating a free logo?
In this post, we'll look at a variety of the finest free logo maker apps you can use to create a high-quality, professional-looking logo without needing to learn graphic design or pay a designer. In addition, these apps are cloud-based software, so there's no need to download or install anything to use them. Here we discuss why should you use free logo maker apps;
Fast and Easy to use Logo Creator
Free logo maker apps and websites make logo design simple. The quick and free logo creator is a simple DIY logo maker tool that enables you to access logos online, choose from hundreds of logo design templates, and create your logo in minutes. They provide all forms of business logos that are professionally designed and available for free download. To get started, give a business name.
Hassle-Free Logo Maker
Free logo maker apps and websites are your one-stop shop for anything related to free logo creation. They provide business cards and free logo designs, so you can go elsewhere. You may get readymade business card designs, letterheads, envelopes, stickers, and more in minutes after creating your logo using the logo maker apps. Get started today!
Unlimited Free Logo Design
Thousands of free logo design templates are available in the free logo maker tool, which you can access and download anytime. All business logo designs are classified to locate a business logo design for your organization. Then, create an infinite number of logos.
Make a Professional Logo for Your Business Online
Customize a professional logo template to appear precisely how you want your brand's identity to be represented. You can design a logo using the free logo maker in just a few minutes. Customize the design to match your needs, and you'll have your hands on a unique logo.
The logo designs made using the free online logo maker app may be shared, uploaded, and printed as desired. The logo designer free application also makes it easy to apply the logo on your website, or you may print it on a flex, poster, or billboard. The free logo maker does not limit the use of the logos it generates. You can create a logo using the best free logo generator apps in below mentioned Logo Design.
| | | | |
| --- | --- | --- | --- |
| Animated Logos | Business & Consulting | Entertainment | Jewelry |
| Alphabets | Gaming Logos | Fashion & Apparel | Medical & Pharmacy |
| Art & Crafts | Construction | Twitch Logos | Music and Production |
| Attorney & law | Cleaning Services | Health & Nutrition | Pets & Animals |
| Automobile | Communication & media | Home Improvement | Restaurant & Bar |
| Business Flyers | Community & Foundation | Insurance | Real Estate |
| Badge Logos | 3D logos | Discord Logos | Salon & Spa |
Build Your Brand Identity with the Perfect Logo Design
A perfect logo design is essential for developing your brand identity. There's no need to be upset if you're wondering how. All businesses may use a logo maker online to develop themselves as well-known brands. The outstanding variety of logo design ideas here helps users from all industries create an excellent and perfect logo using free logo maker websites and apps.
Logo Styles
It is essential to get your logo correctly to attract clients in a first impression. Learn about the many sorts of logos and choose the one ideal for your company.
Logo Colors
Colors in a logo can boost brand retention. Colors in logos may result in feelings and help buyers remember a business for a long time.
Logo Shapes
Choosing the proper shape is essential in the logo design process. As a result, it's essential to think about logo shapes that may help express a message.
Best Free Logo Maker To Make Stunning Logos in Minutes
Here we discuss the best free logo maker to make perfect logo for your business;
1. Wix Logo Maker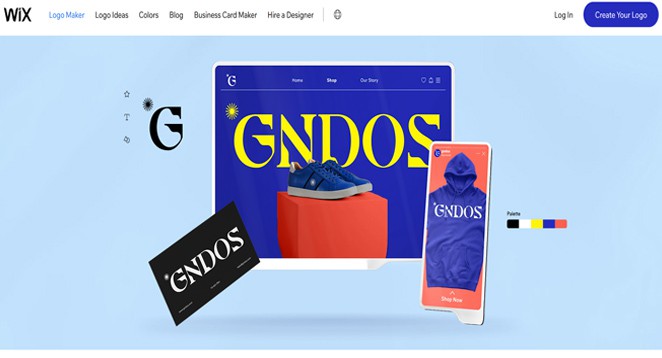 Wix's browser-based free logo maker lets you quickly create high-quality, customized logos.
After creating a Wix account, you can use the logo maker and make the logo by just inputting your company's name. Other possible customization fields are as follows:
Tagline – Some logos feature taglines, whereas others do not.
Industry – Wix uses this for the relevancy of style.
Look and feel – Dynamic, fun, playful, modern, timeless, creative, techy, fresh, formal, and hipster are among the ten style possibilities.
Intent – where you want to use your soon-to-be-created logo
After you've chosen your best-generated template, you may further edit the colors, typeface, and icon of your logo. You can get a free low-resolution copy of your finished logo, or you may buy the basic or advanced logo package.
Website: https://www.wix.com/logo/maker
2. Placeit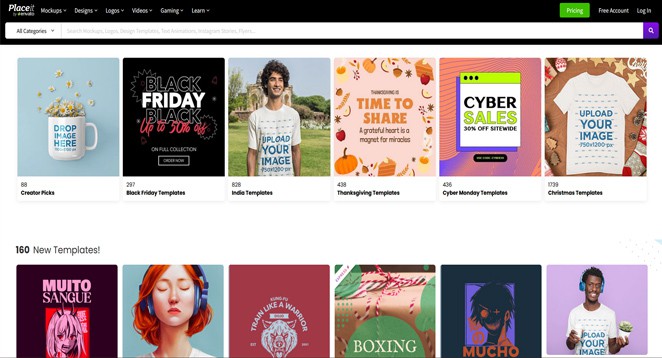 Placeit makes it simple to create logos. Enter your business's name, and thousands of customizable logos will be created. To create it, choose or change the color scheme and drag-and-drop elements.
Once your logo design is complete, you may use it using Placeit's templates, which are helpful for small companies. You may, for example, create branded products such as t-shirts, hoodies, and coffee mugs or design your e-book covers and create 3D images of your book for use on landing pages. You may create professional graphics using this free logo maker such as Instagram Stories, flyers, and business cards.
Website: Placeit.net
3. Shopify Logo Maker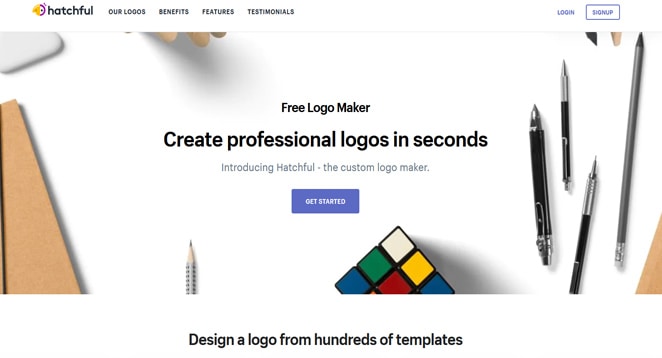 Hatchful by Shopify allows you to create a logo in a couple of seconds. You don't need technical knowledge or a design degree to execute this.
Small businesses and online entrepreneurs just starting may use Shopify's stock images to help them create a unique logo. It has an extensive library of possibilities accessible, and it is constantly expanding.
The main disadvantage of Shopify's online logo maker is that you may need help to ultimately make your idea come to life. You also have the risk of someone else using the most famous icons. However; it is one of the best free logo maker to create professional logos in seconds.
Website: Hatchful.shopify.com
4. Tailor Brands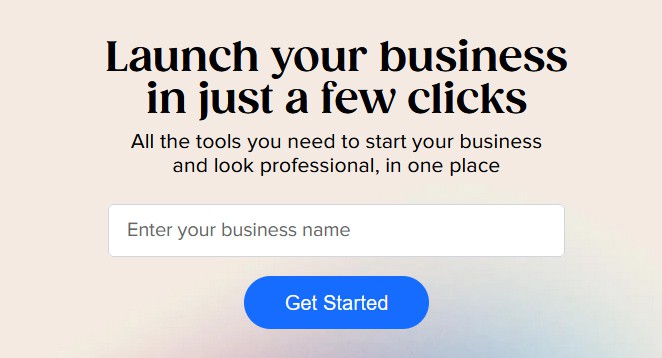 Tailor Brands is a free logo maker app that offers a complete set of simple features for logo design. It offers a 3-minute logo creation time by using AI to create a collection of pre-parameter logo choices.
After selecting the ideal logo, users may choose font options to ensure the typeface is visually beautiful and readable. Then, add any additional customizations it takes to create this one-of-a-kind logo.
Tailor Brands also provides custom logo design services, including many logo versions, till the user is satisfied with the design.
Website: Tailorbrands.com
5. Logo Maker by Ucraft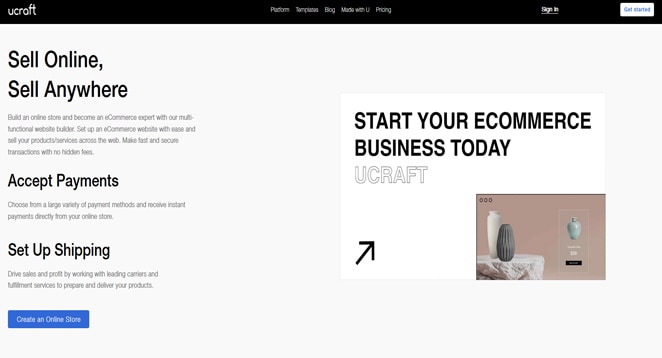 Ucraft's free logo maker is available as a free app. With the help of the different menus that appear on your screen, you can easily create a logo. These logos are more cartoonish in appearance, but they may be an excellent logo maker if you have a target audience that likes them.
The most significant benefit of Ucraft is that when you create your logo using this logo maker, you can download a free transparent, high-resolution PNG file that you may use everywhere. Businesses have created a base logo using Ucraft and then sent it to a professional designer for refinement.
Ucraft's Free Logo generator includes over 2 million royalty-free vector icons to help you create your brand logo. If you need more flexibility, you may get creative with shapes, fonts, icons, and other colors to make whatever logo you like.
Free Logo Maker by Ucraft has an intuitive drag-and-drop interface that is simple to use, even for beginners. This logo maker also provides a complete website builder.
People love using Free Logo Maker By Ucraft's user-friendly UI. Online reviews praise the ease with which aspects of designs may be added and changed, as well as the quick time it takes to create a professional-looking logo.
Website: Ucraft.com
6. GraphicSprings Logo Creator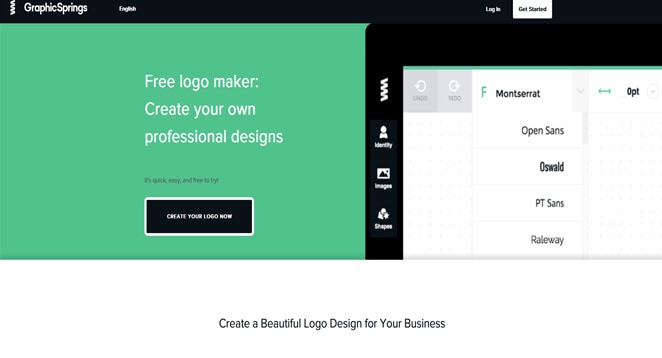 One of the most powerful additions to this list is the GraphicSprings Logo Creator. This logo maker has many of the same features as a professional image editor. This online logo design is an excellent choice for businesses that want greater brand control.
GraphicSprings enables you to create a variety of graphic design elements, such as flyers and business cards. Logos may be classified as abstract or letter-based. This logo maker is attractive, so you can pay someone from their team to create your logo.
The software includes a robust drag-and-drop editor with a simple but complete toolset. However, although the logo-creation process is free, users who want to use the logo must pay $19.99 to export or download the logo for actual use since the free version does not enable downloads or exports.
GraphicSprings user reviews highlight the simplicity of use of this free logo maker. Users are also satisfied with the company's support team's customer service and the platform's accessibility.
Website: Graphicsprings.com
7. DesignHill Logo Maker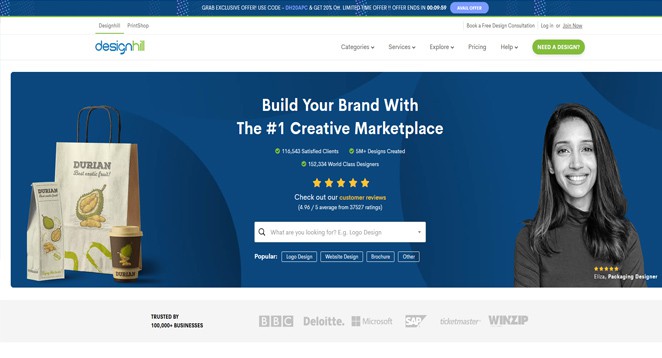 DesignHill is different from the other logo makers on this list. It's a three-step procedure, but DesignHill is more than just a free logo generator.
To start, Design Hill provides a free logo maker. With Design Hill's extensive collection of shapes, icons, images, and more, you can quickly create web-ready graphics using a powerful drag-and-drop editing system. Design Hill also provides an AI logo maker, which uses advanced artificial intelligence to create logos in seconds. Finally, Design Hill provides a useful email signature generator to help you create a unique and professional email presence.
DesignHill asks you to provide as much information as possible regarding your desired logo. The higher the accuracy, the better. It's a design contest in which you choose the best design. It's also a terrific approach to discovering a prospective professional designer.
Online reviews of Design Hill regularly speak to the platform's high-quality designs. In addition, people like the many design options available to them, the excellent communication offered by Design Hill, and the efficiency with which their orders are delivered.
Website: https://www.designhill.com
8. Canva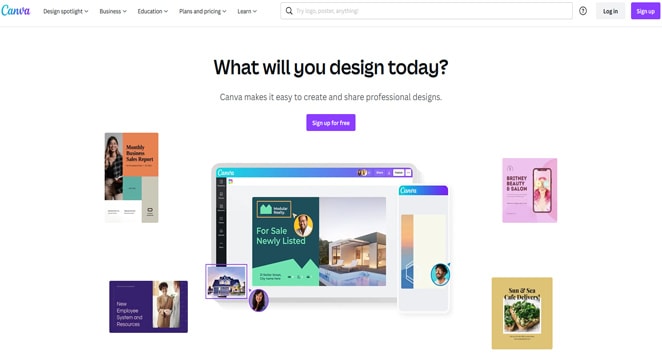 Canva is a free logo maker with a huge following that has grown recently due to its simplicity of use and high-functioning free mode. However, suppose you want high-quality graphics for business cards, social media marketing, or general online applications. In that case, Canva has a lot to offer, even if you don't upgrade to the expensive version.
Canva is easy to use, with a variety of options provided. It plans to emulate many of the features of professional design tools, and there are several similarities to Adobe Photoshop. However, Canva's uniqueness comes from its simple drag-and-drop interface, which enables anybody to create stunning logos with only a few clicks.
Several templates are available, including birthday cards and business cards, among many more. Canva also offers an extensive collection of stock images, symbols, and icons for user projects. It also features collaboration tools for team-based design, though this is only available with the Canva Pro subscription.
Canva users like the platform's simple user interface and clear design. In addition, many online reviews of this logo maker mention its ability to meet users' needs and the ongoing upgrades provided by its design staff to keep the application new and up to date. Other advantages mentioned in Canva reviews are its low cost and extensive template collection.
Website: Canva.com
9. Hipster Logo Generator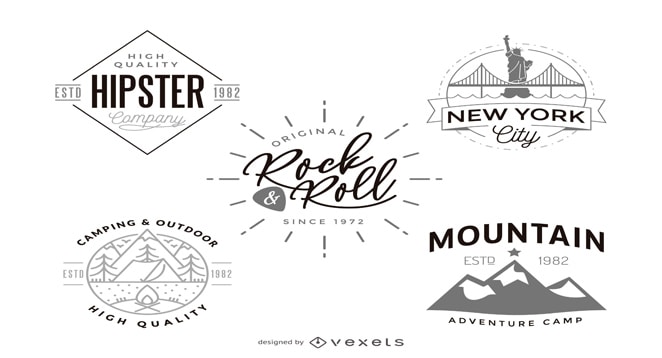 The Hipster Logo Generator was built in response to the developing hipster trend a few years ago. As you may guess, the logos created by this logo generator are in the hipster style. That is to say; it is only for some. However, if your business targets teenagers or an alternative audience, this may be your ideal logo generator.
Hipster Logo Generator is the simplest logo maker app we've discovered. All have to do is to look through the multiple options and start putting together your logo. There is no design knowledge required, and you can export a high-resolution version of your logo for use anywhere for a price. This free logo maker enables you to create "hipster" logos, which are supposed to be basic and simple. You may include a basic shape as well as some text choices. These limitations are the only way to go beyond these limitations, which seem to be narrow lines, symmetrical shapes, and a limited color palette.
Users like the attractive, on-trend logos that Hipster Logo Generator allows them to design. The simple look of these logos and the simplicity of the font selections are commonly mentioned in online reviews. Many users also love the fact that this service is free.
Website: Hipsterlogogenerator.com
10. Squarespace Logo Maker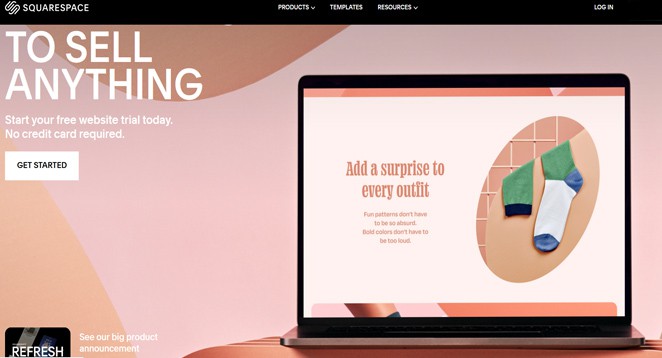 Squarespace's logo maker is a highly debated addition to our list. Designers were outraged when this logo generator was first launched since it targeted small businesses that wanted a good logo but didn't want to pay for it.
However, it's difficult to ignore the fantastic outcomes that Squarespace free logo maker can produce.
The simple drag-and-drop technique and sleek UI make it simple to create a logo that will make you proud, while the results are excellent and match those of a professional designer.
Website: Squarespace.com
11. Namecheap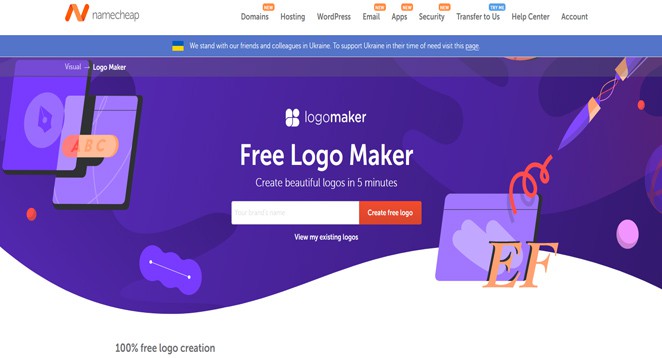 With its one-of-a-kind design wizard, Namecheap offers logo maker services. Its software generates millions of unique designs, providing its users with high-quality, custom logos.
It is a simple logo maker tool that can be downloaded in any format, including PNG and SVG, to add or change anywhere and whenever you want. Its free Logo maker tools are jam-packed with templates, fonts, icons, and color schemes for its users' business or personal branding.
Namecheap's Logo Maker was designed so anybody with no design knowledge may use it. It includes precisely selected color combinations that use the exact brand science used by the world's greatest corporations.
Website: Namecheap.com
12. Fiverr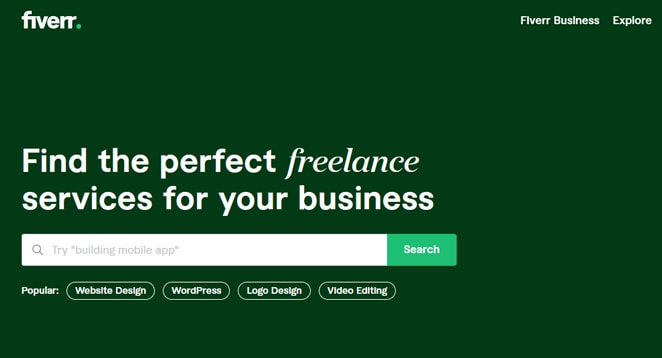 Fiverr is a great possibility. While the site does include a free logo maker, one of the most surprising features is that the logo maker has templates created by Fiverr freelancers. It enables fantastic logo design possibilities from the logo maker software, with minimum customization required. In contrast to some services, they are typically clean, modern, and high-quality designs that should work with most brands.
Although the sign-up procedure is somewhat simple, logo creation requires a Fiverr account registration to see the logo maker's output. If a user's design process could be better, they may easily switch to Fiverr's marketplace to discover a brilliant designer who can help them create a fantastic desired output.
Website: Fiverr.com
13. DesignEvo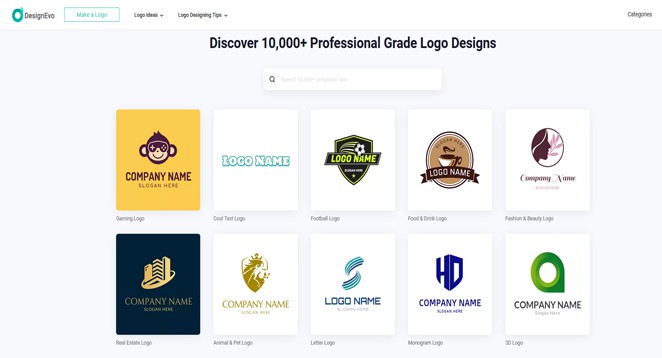 Like other best free free Logo maker DesignEvo helps users to create a free logo using a variety of icons, text kinds, shapes, colors, and other elements. Those who want more than a single image limited to 300 dpi must go for the Basic Plan, which costs $24.99 a month. Users who wish to have the same features as the Basic Plan but include typeface files and the option to export a vector image file while keeping copyright ownership must switch to the Plus Plan, which costs $49.99 per month. There is an almost unlimited variety of possible results for a DesignEvo logo, with only the user's imagination limiting the possibilities.
Website: Designevo.com
14. Logo Type Maker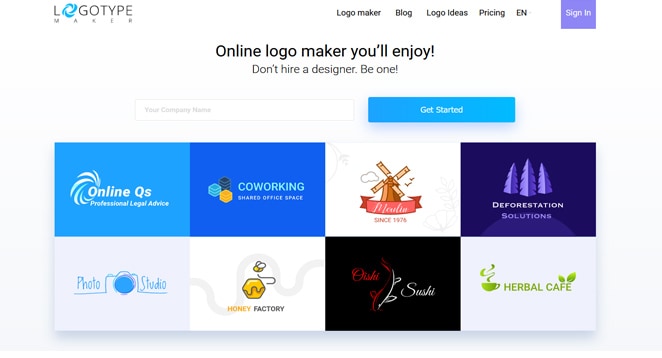 Logo Type Maker is another simple logo maker tool that allows users to create logos quickly and easily without design skills. Users may edit the text, change the size and scale settings, and add and layer various shapes and icons using Logo Type Maker.
Users may download the free logo, while extra quality and formatting choices are offered for a small cost.
Website: https://logotypemaker.com
15. Free Logo Design
Free Logo Design's drag-and-drop software includes hundreds of free logo maker templates. Begin by inputting the business's name, choosing a business type from its numerous categories, and waiting patiently while the software generates and creates many brand-new logo designs.
Once that procedure is complete, users need to choose their favorites. Then, once the final design is chosen, they may make any custom changes they wish to help enhance their brand identity. Users must, however, pay a one-time cost of $39 to download a high-resolution logo image.
Website: Freelogodesign.org
16. Logo Maker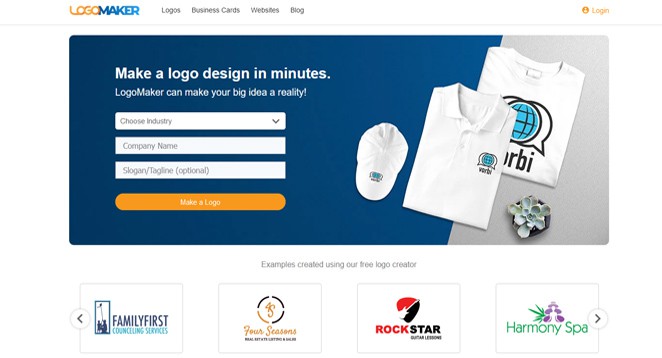 Logo Maker is an easy-to-use free logo maker that provides users two options: create their logo or work with a custom logo designer. The Logo Maker app can create logo designs for almost any industry. Choose the finest logo that suits the business theme and make any necessary changes.
Suppose users choose to work with a logo designer. In that case, the procedure is divided into three steps: Fill out a creative requirement, call a designer, and offer input so that the designer may make design changes to the logo until the user is pleased.
Website: Logomaker.com
17. Logo Genie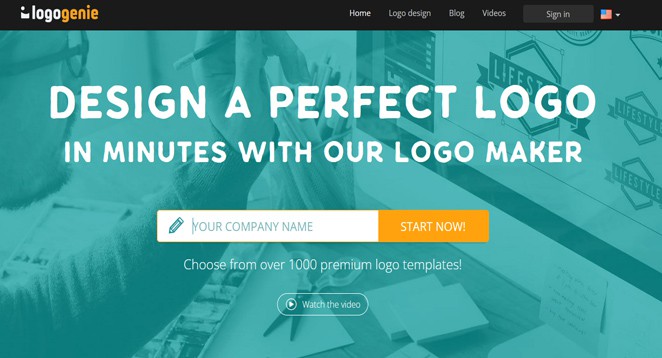 Logo Genie is the best free logo maker that provides on-site logo maker software for fast and simple logo design. It is an automated logo maker with some flexibility, provides readymade icons and templates for various industries, including beauty, wellness, cleaning, photography, and more. After creating a logo, it may be downloaded in various high-resolution formats such as EPS and PNG.
Website: Logogenie.net
18. LogoBee Logo Maker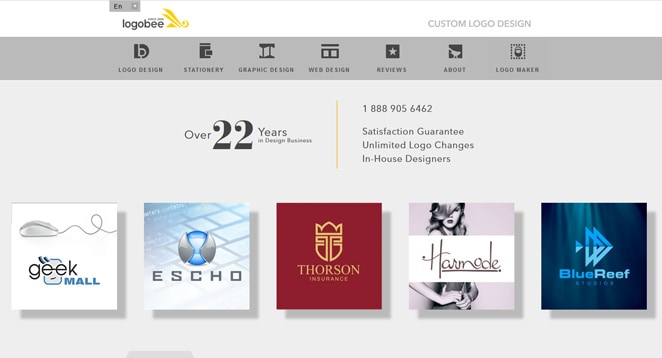 LogoBee a free logo maker enables users to make free social media-ready logos easily. The software provides users with hundreds of logo design templates to get started fast. In addition, more customization possibilities, such as alternative fonts, shapes, and colors, are available to empower users to make the logo their own.
Custom logo design is also accessible for individuals looking for a more upscale vibe. It may be helpful if a user's proposal does not deliver the branding message they want.
Website: Logobee.com
19. Logaster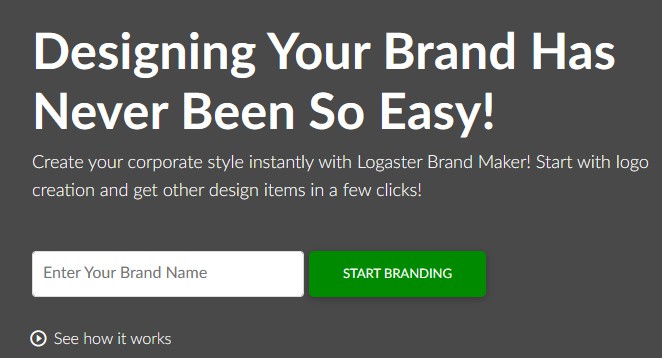 Logaster is a logo maker app that can easily create various logos. The app searches through a list of suitable logo combinations depending on the user's specifications once the user enters some basic information. Once the logos are created, the user will be directed to pick a favorite design.
Users will then need to create an account to save the logo design. Finally, users may edit the logo and then download the files. Compared to other market offers, there seem to be few customization choices.
Website: Logaster.com
20. Looka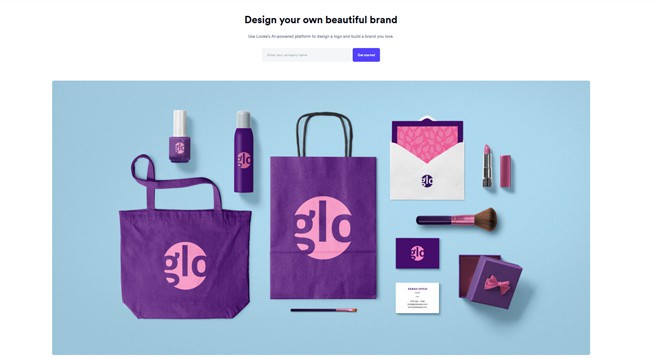 Looka is a user-friendly logo maker that provides more than just basic logo creation capabilities. Users can also use Looka's advanced but easy logo maker software to put any created logo on different media, such as business cards, flyers, corporate letterheads, and more.
Looka's "brand kit" also includes ready-to-use social media materials logos for YouTube, Twitter, and Facebook, among other platforms. These are important for keeping businesses' brand identities clear and seamless across all platforms and networks. All logos generated by the tool may be exported in various high-resolution file formats. If you are looking for the best free Logo maker tools, this is for you.
Website: Looka.com
21. Online Logo Maker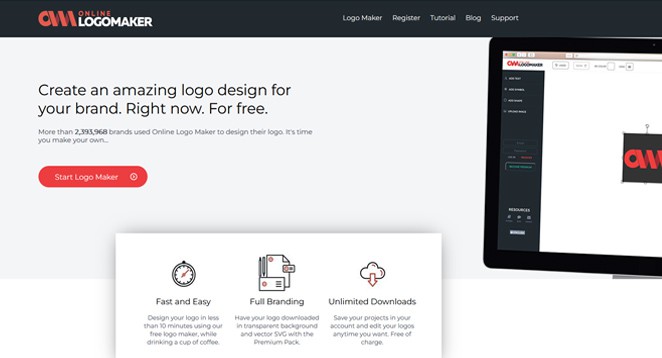 Online Logo Maker is the best free logo maker that over 2 million companies have used to design their logo. The powerful logo-creation tool, which has a simple and clear design interface, creates quick, clean results in a couple of minutes. It also includes a variety of modern and appealing fonts suitable for any design or branding concept.
Users may save their designs and return them later to complete them using the free account provided by Online Logo Maker. In addition, the site sells a Premium Pack with 300 DPI file downloads, transparent backgrounds, and the option to export vector files.
Website: Onlinelogomaker.com
22. DesignMantic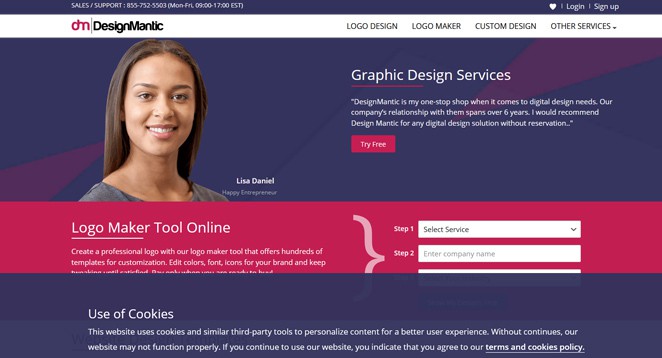 DesignMantic provides both a user free Logo maker and custom logo design services. However, regarding logo quality, the app needs to create a better graphic image like some competitors. Still, if a logo is required quickly for a blog or a one-time branding job, DesignMantic should work just fine. However, we recommend reviewing this list to discover if another software package may provide better results.
Their custom logo options are excellent.
Website: Designmantic.com
23. LogoMakr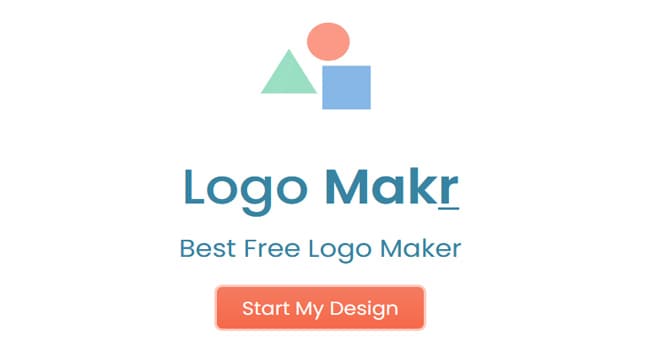 LogoMakr is created to provide professional graphic design tools in a basic style to make the design experience simple for everyone. Users are first directed to a blank canvas, where they may search for shapes and icons. Then, users may customize their design and download it in free or premium editions.
From there, minor changes to the design, such as color, font, and fill, may be made. The logos are pretty simple, but they should do for those users who need a quick logo for a blog or other noncritical activity.
LogoMakr also provides custom logo design services, though these are only available to those who pay a small charge for the process. It is among the best free Logo maker apps in this list.
Website: LogoMakr.com
24. Kreateable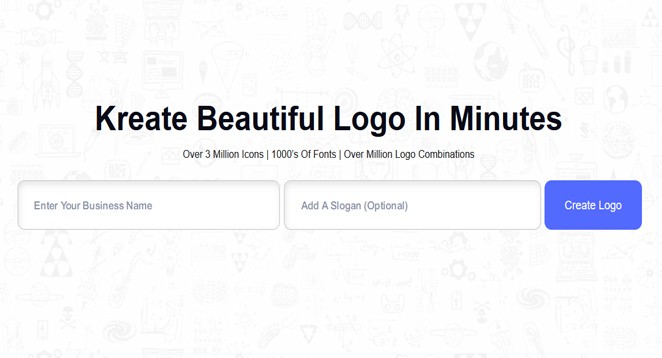 Kreateable is a free Logo maker design platform that offers users high-quality logo designs for their businesses. It enables you to create your logo at first, and the cost is set once you've selected and edited a design to your liking, and it's a simple one-time payment. As a result, Kreateable creates a logo for you at an affordable price with features that no other logo generator gives.
The logos are in four file types: PNG, PDF, EPS, and SVG. They are all in high resolution. Downloads in any format may be obtained forever.
Website: https://www.kreateable.com
25. Crowdspring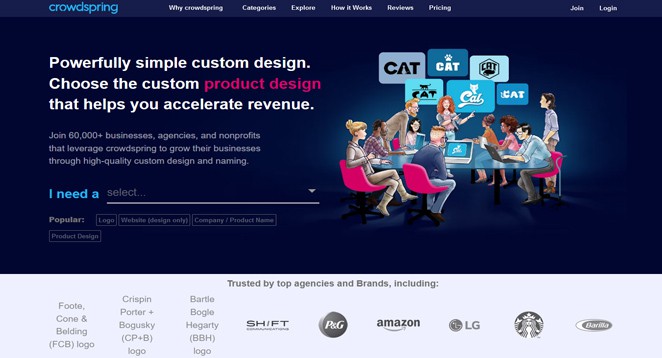 Crowdspring is a platform that covers an essential need in the design process. It was founded in 2008, has helped to distribute design throughout the globe. Over 220,000 Crowdspring creatives from 195 countries have offered support to over 60,000 of the world's greatest businesses, small companies, startups, agencies, and non-profits with logo design, site design, graphic design, product design, and naming.
Their free Logo generator services include hundreds of unique logo designs in seven days or less, original, editable logo design files (AI or EPS), digital, print, and online files, and digital, print, and web files (RGB, CMYK, PNG, JPEG, PDF).
It is a community of over 220,000 logo designers that have been properly tested and evaluated. In addition, they provide a 100% money-back guarantee and a free legal contract to protect your intellectual property.
Website: crowdspring.com
Final Words
Logo maker software is a free online solution for quickly and easily creating great logos without the requirement for graphic software or design knowledge. It enables users unfamiliar with software such as Photoshop, Illustrator, or Affinity Photo to create professional logos and designs. For developing a custom logo, the tool often includes a variety of fonts, images, icons, and color icons.
Logo maker software may include a drag-and-drop interface for creating or may even develop logos automatically depending on descriptive criteria given by the user. Logo generator apps are usually either free or free with limitations. For example, some software provides free high-resolution exports, while others hide higher-quality file formats behind premium tiers.
Many logo maker software companies include extended graphical experiences like flyer design and social media asset branding. However, they are often only available through more premium subscription packages.