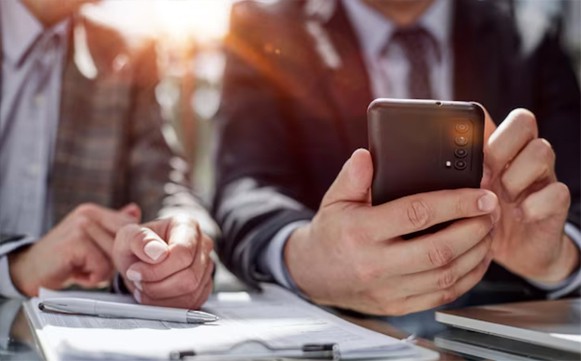 Push-to-Talk App Development Services: Effective communication is essential for businesses to achieve success. In the digital era, businesses need to connect effectively internally and externally. Businesses are opting to invest in push-to-talk app development. This application is a game changer for various businesses.
PTT applications are becoming increasingly popular in various industries like healthcare, manufacturing, and transportation. Using this application can streamline the entire teamwork process. Push-to-talk apps are changing the way we communicate and share essential information. You're here because you want to learn about developing this PTT application. By reading this blog, you will know whether to invest in Push-to-Talk App Development.
The PTT app has made sharing important information easier for businesses and users.
There are different PTT apps made for various industries. They are designed to meet the specific needs of each sector. For example, there are PTT apps for healthcare, public safety, field services, and more.
The PTT app has many benefits. It helps with crisis management, improves team collaboration, and allows real-time communication.
PTT apps can be improved by adding features like voice recording, compliance and data management, dynamic geo-fencing, voice prioritization, and more.
To make the PTT app development process smoother, follow these steps: understand your target audience, hire skilled mobile app developers, choose the right platform, and more.
What is a Push to Talk app?
PTT, also known as push-to-talk, is an app that lets you communicate with others using a walkie-talk-style push-to-talk feature. The app allows users to transmit their voice by holding down a button. It is called half-duplex communication.
This button is called a push-to-talk button. When you release the button, the user on the same channel can listen to your message. It allows for quick communication with either a group or an individual. Here are some types of PTT apps designed for various industries and purposes.
Types of Push-to-Talk Apps
A variety of PTT-to-speak applications can be used to meet the specific requirements of your telecom industry organization. Some of the most significant are;
1. Enterprise PTT Apps
Enterprise PTT Apps enable Push-to-Talk (PTT) communication within a business or organization. These apps allow users to quickly and easily communicate with each other. These applications are created for enterprises and industries that require effective team communication.
2. Public Safety PTT Apps
This category of PTT applications facilitates communication between public safety agencies, such as the police, fire department, and emergency responders.
3. Field services PTT Apps
Field operations PTT applications are designed for industries requiring communication between utilities, construction, and maintenance employees.
4. Healthcare PTT Apps
This application is intended to facilitate communication between medical facilities in any institution.
Benefits of Investing in Push to Talk App Development
The market status of the push-to-talk app will give you a clear understanding of how well instant communication has been accepted worldwide. Why do you wonder? Here are some key benefits of integrating this application into your business.
1. Efficient Crisis Management
Efficient communication is crucial for handling crises and emergencies effectively. The PTT app lets your team members connect instantly with a push button. It ensures that important information is sent quickly to help speed up recovery or prevention. PTT allows quick response during emergencies like security breaches, supporting your decisions.
2. Enhanced Team Collaboration
Collaboration is essential for business success. Investing in push-to-talk app development will enable your team to collaborate effortlessly, regardless of location. It helps team members communicate quickly and directly, creating unity and improving their ability to work together.
3. Seamless Real-time Communication
In today's digital era, businesses want to be fast and accurate. Using traditional phone calls and emails can take up a lot of time. PTT apps provide instant, real-time communication, differentiating them from other methods. It's like having a portable walkie-talkie that lets you immediately talk to people or groups.
4. Tailored to Industry Needs
Push-to-talk apps have a major advantage: they are very flexible and can be tailored to suit the unique requirements of your industry. No matter what industry you're in – manufacturing, logistics, construction, healthcare, or any other – you can create an app with the necessary features for your business operations.
Push To Talk App Development – Top Features
You can add some advanced features to your PTT application for improvement.
1. Dynamic Geo-Fencing
Dynamic geofencing is a feature that lets your app create virtual boundaries. These boundaries can trigger actions when users enter or leave certain areas. You can use this feature in your push-to-talk app to create custom zones for specific locations like job sites or delivery routes.
The app will update the users' status or send notifications when they enter or leave specific zones. This feature is great for improving efficiency and safety if your business has assets in multiple locations.
2. Voice Prioritization
Another feature is called voice prioritization. It allows you to prioritize specific users or groups in critical or emergencies. If there's an emergency, the app can prioritize voice messages from first responders or supervisors, making sure their messages are heard and acted upon quickly. It is a game-changer for industries that need to make quick decisions.
3. AI-Driven Transcription
To improve your push-to-talk apps, think about adding AI-powered transcription. It transcribes your spoken messages into text, making reviewing and referencing important discussions easier. Transcription powered by AI helps app users with hearing impairments and makes compliance and documentation easier by providing a text record of conversations.
4. Synchronized Cloud Backup
One more helpful feature for successful push-to-talk app development is synchronized cloud backup. With this feature, you can instantly protect your PTT conversations and have your data backed up in the cloud.
Your data is always safe and accessible, even if your device is lost, damaged, or stolen. Data continuity and disaster recovery are crucial for maintaining business operations without interruption. These features ensure your business can continue running smoothly, even during unexpected events or emergencies.
5. Automated language translation
Automated language translation makes it easy to break down language barriers. Adding this feature to your app can automatically translate messages between users who speak different languages. This feature can make a big difference if your business operates in different regions or collaborates internationally. It helps you communicate better and understand more, reaching more people worldwide.
We're about to dive into the exciting development process of the push-to-talk app, one of the most anticipated sections of this blog. Developing applications can be complex, involving many steps. However, with the help of enterprise mobility services and experts, you can make the process smooth and easy. Here are some steps to make your development cycle more effective.
6. Understand Your Target Audience
The first step is to understand your application's target users. Being clear about what your target audience wants is essential. To create a user-centric and engaging application, you need to have answers to questions such as:
Who uses your app?
Why do your users need this app?
What are the newest trends you should think about?
How is your competitor managing similar projects?
By answering these questions, you'll better understand your target audience and develop unique selling points for your push-to-talk app. It's essential to stay updated on the latest trends and technologies used in these applications. It will help you understand what improvements your app will require.
7. Hire Mobile App Developers for your Project
Once you know what you need and want to achieve, it's time to start developing the push-to-talk app for your project. Now, you must find a development team to bring your ideas to life. To get help with app development, find an experienced company.
Hiring developers from an experienced company has many benefits for you. For example:
App development experts from a professional company have experience in delivering similar solutions. So they'll know more about the latest market trends.
A good app development company provides various resources to meet your project needs. These resources may include consultants, UI/UX designers, app developers, testers, deployment engineers, cloud professionals, and DevOps engineers. You can find all the services you need in one place.
Finally, you can hire dedicated developers with flexible pricing options. Leading companies also provide need-based scaling services to help you easily adjust the size of your development team during app development.
Setting up an in-house development team may cause chaos in your development process. You must start from scratch and set up everything required for application development. Adding this feature to your project will increase the time it takes to complete and result in higher development expenses.
Final Words
Now that you have all the resources needed for push-to-talk app development, it's time to start the development process. You need to pick the right methodology to make your project idea fit well with the development process.