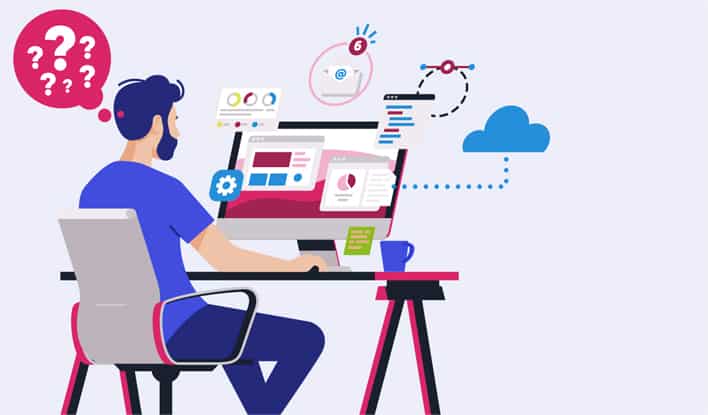 Best SaaS Management Software in 2023: SaaS management is just the process of identifying, administering, and controlling all SaaS applications existing in an organization's technology portfolio, as well as monitoring its visible (purchases, licenses, renewals, etc.) and hidden assets or qualities (usage, expenses, compliance, duplications and more.) This page will discuss the best SaaS management Software you can consider in 2023.
What is SaaS Management?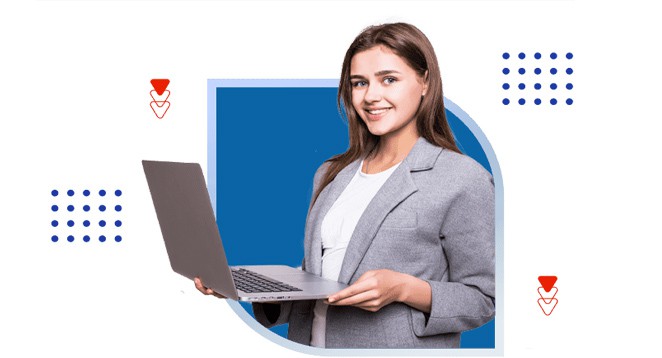 The monitoring and management of Software-as-a-Service (SaaS) applications within an organization's overall technology portfolio are called SaaS management. It allows you to identify SaaS apps dependably, track compliance in an automated and scalable way, monitor license usage and spending, and proactively manage renewals.
One type of business practice that combines all of the procedures necessary to scale cloud software effectively, expand enterprises' strategic objectives, and consider users' demands while still maintaining data privacy and security standards.
Using spreadsheets to keep records of all SaaS applications is no longer necessary because the SaaS management software uses advanced discovery methods to provide complete visibility of your SaaS portfolio. These methods include integrations with ERP, HR, financial, and contract management systems, SSOs, and direct SaaS integrations.
What is the objective of SaaS management?
For many businesses, SaaS management is an adaptation of the procedures that were previously used to manage perpetual, on-premise software. These processes are then modified to conform to the reality of the SaaS subscription model with the addition of actionable insights.
When it comes to full-scale SaaS management software, the solutions now available for IT and software asset management need to be revised. However, new platforms from a range of specialist suppliers make the process of SaaS systems administration much easier.
It makes it possible for business executives in IT, finance, procurement, and security to collaborate and make more informed decisions while growing a company. Which ultimately results in an organization that is both secure and cost-effective.
15 Best SaaS Management Software in 2023
Here we discuss some of the best SaaS management software you can use in 2023.
1. Keepit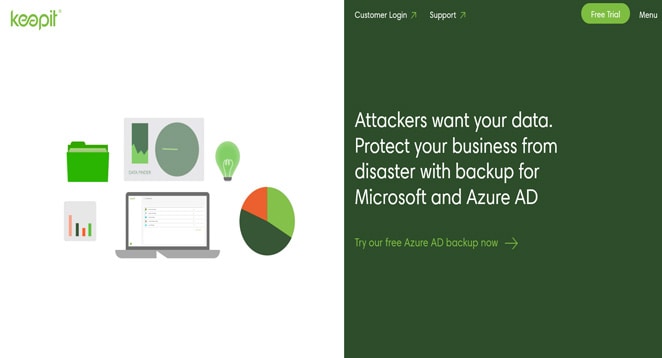 Keepit is a cloud-to-cloud backup solution that enables organizations to secure data across Microsoft 365 cloud platforms, including Teams, Exchange, OneDrive, SharePoint, Groups, and Public Folders. It operates on a secure, private infrastructure and offers immutability and multiple complete copies of any data. It is among the top best SaaS management software.
Website: https://www.keepit.com

2. Conecta Suite
The platform for email signatures in the cloud assists organizations of all sizes and sectors that use Google Workspace. It contains services such as the creation of email signatures, the modification of absence messages, and the creation of custom groups, among others. Avoid employment litigation and data breaches.
Website: https://conectasuite.com

3. Torii
Torii is a cloud-based platform for monitoring, regulating, and optimizing the usage and expenses of various SaaS applications, including identity management, communications, CRM, marketing, HR, finance and accounting, and others. In addition, the software gives IT teams constant visibility into application use and improvement potential and tools for automating operations and workflows. It is among the best SaaS management software for Modern IT.
Website: https://www.toriihq.com

4. Zluri
Zluri is an enterprise SaaS management Platform (SMP). It enables you to find, manage, and optimize your SaaS stack through a centralized dashboard. Briefly, Zluri restores IT teams' authority over their new SaaS ecosystem.
70% of SaaS software is unknown to the IT department due to decentralized purchasing practices. Zluri assists IT teams in discovering this and rationalizing Software throughout the organization, ultimately increasing the health of Enterprise IT Architecture. The average cost per employee for SaaS is USD 7,300. They help companies save 30–45% on these expenditures. If you are looking for the best SaaS management software, it is for you.
Website: https://www.zluri.com

5. Atlantic.Net Cloud Platform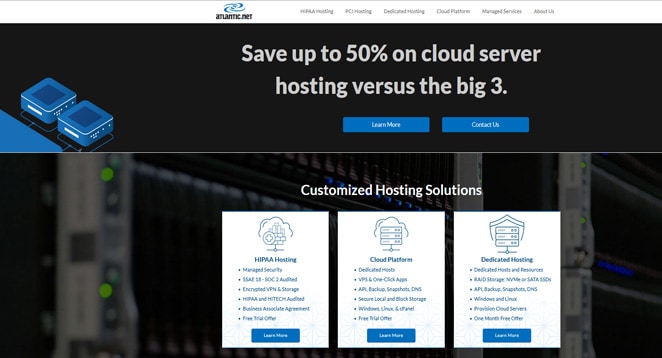 Atlantic.Net Cloud Platform is designed to assist businesses in launching and expanding their operations using cloud infrastructure and services. The ACP secure control panel enables teams to create and manage virtual cloud servers, SSH keys, DNS records, block storage, private and public IP addresses, and more from a single platform.
The Atlantic.Net Cloud Platform provides virtual cloud servers, secure block storage, snapshots, regulatory compliance, a control panel, dedicated hosts, cloud backups, and managed services, among other key features. In addition, the application enables administrators to restore servers to the moment when a snapshot is taken, create new servers from snapshots, or move a copy of snapshots to another place.
Website: https://www.atlantic.net

6. Apphud
Like other best SaaS management software, Apphud is a data analytics technology stack for incorporating in-app purchases into your iOS and Android applications. Designed for app developers, mobile marketers, and product managers, it provides cross-platform apps with a dependable, scalable payment infrastructure. Integrate a powerful open-source SDK to set in-app purchases without writing a single line of server code.
It interacts with several industry-leading tools, such as AppsFlyer, Adjust, Branch, Firebase, Amplitude, Mixpanel, OneSignal, and Segment. Send renewal events with the proper revenue to accurately assess marketing channels' ROI.
Website: https://apphud.com

7. Patronum
Management of Google Workspaces, Email Signatures, Contact Sharing, Drive Management, and more. Google Workspace user onboarding and offboarding may be time-consuming and expensive. So Patronum uses the wish list of Google Workspace (G Suite) administrators to create must-have features that revolutionize how individuals, groups, and resources are handled in Google Workspace.
Website: https://www.patronum.io

8. Improvado
Improvado is a cloud-based marketing data aggregation and the best SaaS management software that allows customers to connect without the assistance of developers to a range of marketing platforms, business intelligence (BI), and data visualization systems. There are over 200 native connectors available, including AdWords, Analytics, BigQuery, Data Studio, Looker, Tableau, Power BI, and Excel. It is among the best SaaS management platform to centralize all your marketing data in one place.
Website: https://improvado.io

9. Cyclr
Cyclr is a SaaS-specific embedded integration platform (embedded IPaaS). They provide developers with an API connection solution that facilitates their application integrations' development, publication, and management.
It enables you to create and deploy your integration library with over 180 (and increasing) connectors by providing free development tools. Using our API to connector builder, you can quickly add new connectors for any application that is not presently supported, or we can create them for you.
Website: https://cyclr.com

10. Setyl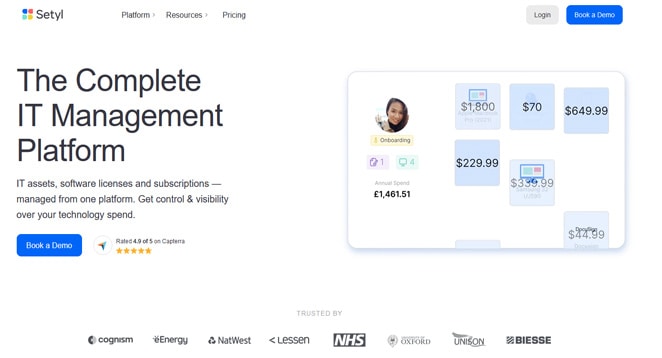 Setyl is a comprehensive solution for tracking and managing IT devices, programs, and expenditures throughout an enterprise; it is a contemporary, user-friendly alternative to outmoded spreadsheets and shared files. The platform integrates with any IT pipeline; with Google and Microsoft email hosting and MDM, HR, and accounting package integrations, it is a solution that is simple to implement – without the need for professional services – and easy to maintain, providing high-cost and time-saving benefits, as well as the scalability and adaptability required for growing businesses now and in the future. It is among the best SaaS IT Management service.
Website: https://setyl.com

11. Locoia
Locoia is a Germany-based, all-in-one integration & automation platform (iPaaS) designed for the European market and its unique data security and GDPR compliance needs. It allows new communication channels like the message, audio, and video as easy as email sending.
Without entering a single line of code, you can integrate your business with any other corporate application, product, or service with Locoia. Visit the website that summarizes what Locoia performs and how it may assist you in building your automated processes on a solid basis. You can consider it among the best SaaS management software.
Website: https://www.locoia.com

12. PrivacyOps
Mine PrivacyOps offers companies rich requests (supported by evidence) to expedite the processing of privacy requests and API connectors to automate privacy compliance via plug-and-play integration to meet access and deletion requests.
With full automation and complete coverage, the Data Mapping and Classification function of Mine PrivacyOps makes onerous data privacy and compliance processes for companies of all sizes a breeze.
In contrast to previous privacy platforms, Mine's solution provides a self-serviced, straightforward, and intuitive user experience that does not involve coding (the "no-code" data privacy offering).
Website: https://privacyops.com

13. Yokoy
Yokoy automates the total management of expenditures for organizations of all sizes. The best SaaS management software provided by Yokoy manages cost management, supplier invoice processing, and corporate card transactions. It would help if you controlled outliers with Yokoy; artificial intelligence handles the rest.
Website: https://yokoy.io

14. Frontegg
Frontegg is a user management platform that serves the demands of app developers with product-led growth (PLG) efforts across a range of SDKs, programming languages, and frameworks. It assists developers in configuring authentication processes, complicated organizational structures via multi-tenancy frameworks, fine-grained authorization, API token management, and integration for a user infrastructure designed to meet contemporary use-case situations. It is among the best best User Management for modern B2B SaaS.
Website: https://frontegg.com

15. Cledara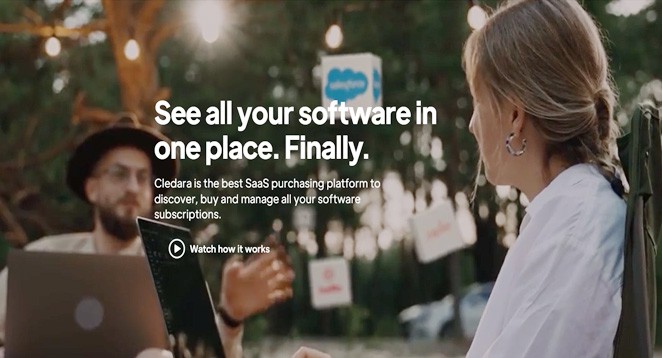 Cledara is a SaaS management software on a single platform. It helps firms manage and expedite purchase, management, and canceling processes. Supervisors may see all SaaS subscriptions to improve operational processes and assure regulatory compliance. You can consider it among the best SaaS Subscription Management Platform in 2023.
Website: https://www.cledara.com

What are the benefits of SaaS Management?
1. Visibility into your SaaS Estate
SaaS management overviews all SaaS subscriptions, user licenses, owners, contracts, renewals, and expenses. It also collects critical consumption trend data, allowing for informed decisions about renewals and future expenditures.
The beauty of SaaS is that when 30% of subscriptions are underutilized, firms cannot renew SaaS agreements in the next contract period. As a result, complete visibility was the first use case investigated by SaaS management solutions, and it is still the most common.
2. SaaS spend optimization―Increase SaaS ROI
SaaS managers may use statistics to analyze whether their firms are getting a good return on their SaaS expenditures. Following the SaaS expenditure optimization approach, together with actionable data, enables them to eliminate unnecessary suppliers, licenses, and redundant SaaS solutions.
When employing Webex, Zoom, GoToMeeting, and Skype for video conferencing, SaaS management insights are leveraged to create discounts, such as by combining several Salesforce instances and contracts, or to yield savings via a competitive bid process for exclusivity.
3. Security gaps removal and compliance certainty
To begin, SaaS management controls SaaS security concerns through shadow IT discovery. In addition, integrations enable tracking all SaaS purchases made across departments, including those made using corporate credit cards.
Second, access to critical data within an organization is safeguarded by automatically detecting and de-provisioning licenses with personnel who have already left the firm.
Complete SaaS visibility allows executives to discover SaaS provider who adhere to the organization's standards and assure regulatory compliance, such as GDPR, SOC2, and others.
4. Operational efficiency
Companies must complete numerous renewals each week as their SaaS stack grows. SaaS management reduces time by centralizing all renewal information, ownership information, consumption statistics, contract value, and renewal dates (renewals calendar).
Finance, procurement, and information technology experts might shift from reactive to proactive approaches. For example, they receive automated reminders when renewals are due and respond to queries such as:
What software is required for a salesman to begin working?
How much does marketing software cost per person?
What is the cost of the department?
How much will our software cost if one of our employees leaves?
Employee onboarding and offboarding are time-consuming, especially when the whole SaaS portfolio is unfamiliar. SaaS management insights accelerate the identification of the apps a person departing was signed up for and automate the IT request process to guarantee employees have the software they need to accomplish their jobs fast and with minimal effect on IT resources.
5. Employee satisfaction
SaaS management software helps consumers realize the value of SaaS investments and ensures that workers get the most out of them. It reveals if users embrace new solutions and can identify areas where training or an internal communications campaign can assist. It is accomplished by fine-grained tracking of the features each user uses.
Final Words
SaaS management aims to reduce the risk involved with unmanaged tools or technologies, raise the value of purchased software, and boost the efficiency of people who install SaaS applications. SaaS may be quickly deploy throughout an enterprise without substantial fees or the need for extensive deployment planning because of its small physical storage requirements and low cost. When more users require the program, purchase extra seats or licenses. Licenses can be deleted if and when user demand falls, saving money.
An onboarding strategy must be developed to oversee the process if and when a SaaS product is approved for purchase. This strategy should specify ownership, roles, and success metrics for the application's adoption and use. This page lists some of the best Saas management software to consider in 2023.