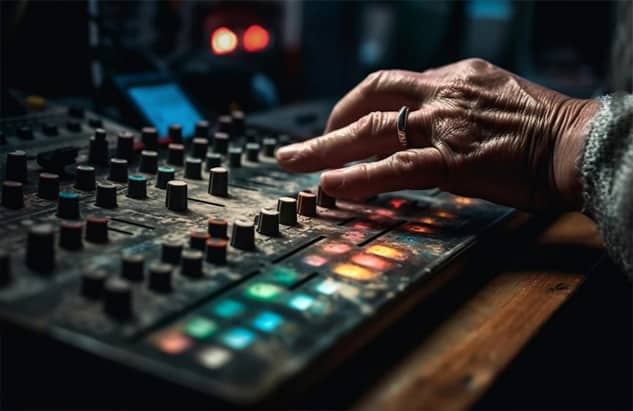 Have you ever wondered how voices in songs and movies sound so natural and convincing? Uberduck AI is the answer if you've ever wondered how rap performers make their songs sound genuine.
Many users and content producers have switched to Uberduck text-to-speech after recent changes to TikTok's voiceover services. This program uses Artificial Intelligence, including neural voice synthesis, to create a virtual assistant. You can use this website to read your text in the voice of a celebrity, a transformer, or any other imaginary character. Who doesn't love receiving notes from their favored TV or movie characters? Uberduck AI makes it easy to listen to your favorite artist's voice by managing all the details. After finishing a sentence, you can enter it into the app. The app will then simulate the sentence being spoken in your preferred tone.
This AI tool stands out because it uniquely uses chatbots and AI to make a difference in content creation trends. Uberduck AI helps boost your content's visibility and influence, making it easier to find in the busy online world. Uberduck.AI is not listed on the App Store because it is an experimental online application. Let's now explore the process of Uberduck.AI in more detail.
What is UberDuck AI?
Uberduck AI is a platform that uses AI to offer users helpful tools for text-to-speech, voice automation, and synthetic media creation. It can generate speech from text, make rap videos, and create voice clones for personal or commercial use.
If you want to imitate the voice of a famous or fictional character, UberDuck AI is the perfect choice. Some of the famous people included are Kanye West, Nicki Minaj, and Mickey Mouse, along with many others. With this AI technology, you can convert written text into spoken words, create music, and make rap videos quickly.
Uberduck AI operates with impressive technology behind the scenes. The AI uses a Transformer model, a brilliant language algorithm, to generate text responses. Afterward, the responses are converted into lifelike voice messages using a WebRTC audio chatbot. Imagine having a robot that can talk in any voice you want!
When you use Uberduck AI to create funny fake conversations or duets with celebrities, you can thank the unique technology that makes it all possible. It has also been used in commercials, especially the famous GIFs of rappers. This AI tool has many popular voices that you can use to make them say anything you want. It includes characters like:
J.F.K.
Jay-Z
Jimmy Neutron
Kermit the Frog
Kanye West
Mickey Mouse
Nicki Minaj
Patrick Stewart
Peter Griffin
Spongebob
Sonic the Hedgehog
Squarepants
Scooby-Doo!
and many more…
It's challenging to identify the speaker when a celebrity's voice is recorded and transcribed. TikTokers often use it to make their text-to-speech transitions better. In addition, the conversation agent is creative and friendly.
Who created Uberduck AI?
The Uberduck AI story started with students who wanted to create software using Artificial Intelligence. They aimed to make a program that could imitate anyone's voice online. In 2020, Will Luer and Zach Wener launched Uberduck AI after working hard and being dedicated. In late 2021, Yotta asked the team to create a special end-of-year wrap-up for their users. It is when the true importance of it became clear. In just two weeks, Yotta successfully made and delivered 150,000 personalized rap tracks and lyric videos to their customers.
Features of Uberduck AI
Here are a few critical features of Uberduck AI:
1. Text-to-Speech
It offers a text-to-speech feature that converts written text into spoken words using a natural-sounding voice. You can customize the voice's tone and style to match your preferences.
2. Voice Automation
Uberduck AI's voice automation feature lets you automate voice-related tasks like making audio files, creating voiceovers for videos, and even having AI sing or rap using your reference audio file.
3. Synthetic Media Creation
With this feature, users can easily create synthetic media like videos, music, and rap videos using advanced AI technology.
4. Voice Clones
Uberduck AI allows you to make your voice clone for commercial or personal use. You can also use celebrity voice clones like "Kanye TTS" and "Mickey Mouse TTS."
5. Royalty-Free Voices
This AI tool gives you access to many voices that you can use for your commercial projects without copyright concerns.
6. Chatbots and AI
This AI Tool uses chatbots and AI to help users create content in new and creative ways.
How Does The UberDuck AI Work?
This software has an easy-to-use interface. To access the site, visit the website. Just click on a feature in the top toolbar to use it. To activate Text-to-Speech, select it and choose a clear voice from the dropdown menu. You have the option to insert text yourself or use pre-written text.
Uberduck AI follows a simple and efficient process for its work. You can now play the audio. To do this, click on the Play option. To listen to the text, click integrate and wait for the software to process it.
Other voice functions available are voice cloning, reference audio, and an audio studio for the user. With this software, you can easily enhance your content by adding music and customized voiceovers. You can also use it for different things, like adding subtitles to your TikTok videos. This speech synthesizer can change your voice online. You can use this awesome speech toy to transform rap artists' voices into lovely melodies effortlessly.
What Languages Does UberDuck Text-To-Speech Cover?
Uberduck AI has impressive text-to-speech abilities. It can support more than 25 languages. This tool supports many languages, including English, Polish, Spanish, Portuguese, and Dutch. It is an excellent option for users worldwide who want text-to-speech features in different languages. Their documentation states they will add more languages to increase their language support. So, whether you're a company trying to reach a worldwide audience or a person with various linguistic requirements, Uberduck AI's language support has you covered!
How to Use Uberduck Al to Convert Text to Speech?
Many Tiktokers and video creators now use the Uberduck AI voice to appear more authentic in their videos.
You may convert text-to-voice by following these simple steps.
1. Visit the Uberduck AI homepage
2. Sign in using your Gmail, Discord, or Uberduck.AI account.
3. Choose a voice actor and enter the text you want to convert into spoken words.
4. Select the synthesize option.
5. You can use it to convert your writing into speech using the voice of your favorite musician.
6. To use the mp3 version in your videos, download it.
How To Use Uberduck AI on Discord?
Using Uberduck AI on Discord is easy. Here's a simple way to do it:
1. Visit the website at uberduck.ai and create an account.
2. To get started, go to the Uberduck website and click on the "Discord" tab. Then, click on "Add to Discord" to complete the process.
3. To add the Uberduck AI bot to your Discord account, log in and choose the server you want to add it to.
4. To authorize the bot and grant it the necessary permissions, follow the prompts.
5. After adding the bot to your server, you can begin using it to create speech. To use the Uberduck AI bot, type your text message in the chat and mention "@Uberduck."
6. The bot will use the text you entered to generate speech in the voice you chose on the Uberduck website.
7. You can use various commands to control the bot's settings. For example, you can change the voice or adjust the speech speed. To see a list of available commands, type "@Uberduck help" in the chat.
How To Use Uberduck AI on TikTok?
To use Uberduck AI on TikTok, follow these steps:
1. Create your voice clone.
2. Get the audio file of your voice clone.
3. Go to TikTok and make a new video.
4. To upload your audio file, tap the "Sounds" option and choose "Upload".
5. After you upload your audio file, you can easily use it to synchronize lip movements or add it to your video in any desired manner.
6. Post your video on TikTok.
Uberduck AI has become well-known on TikTok. Many popular users use TikTok for text-to-speech conversions. This program converts text into speech.
The text is read by a well-known person, like a celebrity or a character from a movie or cartoon. Uberduck is a community that creates AI voiceovers using over 5,000 expressive voices. It is an open-source project. Make sure you have the necessary rights and permissions to use any music or audio in your TikTok video.
What Makes The Uberduck AI Interesting?
Uberduck AI is not just creative but also versatile. Here's what it offers you:
1. Uberduck's AI software is highly regarded for its exceptional performance in delivering excellent results.
2. This work combines sound-based creativity and the best of both worlds.
3. Expect quick results with our AI-powered program.
4. The app's Text-to-Speech tool includes Uberduck AI voices, but there is room for improvement.
5. In addition, it has many valuable features for voice-based development.
6. The app designers say that people can have different accents.
7. This program is excellent for learning a new language from scratch.
8. In addition, more voices from the app's existing brands will be available soon.
Uberduck.AI Price and plans
Uberduck AI has four pricing plans: Free, Creator, Clone, and Enterprise. The Free plan includes 4,000+ voices, ten text-to-image renders, and 5 saved audio clips.
The Creator plan is $10/month and includes unlimited text-to-image renders, unlimited saved audio clips, and commercial use of Uberduck Studio voices.
The Clone plan is priced at $25 per month. It offers everything included in the Creator plan, plus the option to clone your face or voice, select your models, and add a singing or natural voice for an extra $25 charge. You can also include a duplicate image for an additional $25.
The Enterprise plan begins at $300 per month. The plan has everything from the Clone plan, plus bulk voice clones, templated audio generation, low latency, team collaboration features, interactive voice bots, Twilio integration, and dedicated support.
Please note that the Free plan is open to all users, but the Creator, Clone, and Enterprise plans require a subscription.
What if Uberduck AI is not working?
Don't worry if you need help getting Uberduck AI to work! Here are a few things you can try to fix the problem.
To fix the issue, start by restarting your browser or opening a new one. Page loading problems can make the software not work properly. If it doesn't work, try opening the website in incognito mode to check if any browser extensions are causing conflicts with the program.
It's important to mention that because this AI tool is viral, the server can sometimes get overloaded. It can cause voices to be synthesized more slowly. If that's the situation, you should be patient and wait for the program to catch up.
Is Uberduck AI Safe To Use?
To determine if Uberduck AI is safe to use, let's go through some points:
Experts say that it is a safe website with a Trust score of 92/100. Symantec and Google Safe Browsing confirm that the platform is secure and free from malware, phishing, and harmful applications.
It also has a valid SSL certificate issued by R3 for added security. Uberduck AI ensures that all communication with its users is secure and encrypted.
Some people worry about security risks when using their Gmail or Discord ID to sign in. To stay safe, it's best to make a new account on Uberduck AI and use that to log in.
Experts and security measures suggest that It is a secure web app. It's always important to take precautions and protect your personal information to avoid security risks.
FAQs:
How can I use Uberduck AI for my business?
It has multiple applications for your business.
Voiceovers: It offers a text-to-speech feature that lets you easily create voiceovers for your videos or commercials.
Voice Clones: You can use voice cloning to create personalized messages for your customers, either by cloning your voice or someone else's.
Interactive Voice Bots: You can easily create voice bots that interact with customers and support their queries.
Rap Videos: With Uberduck AI's singing feature, you can easily create rap videos to promote your brand or products.
Podcasts: You can create engaging podcasts using various voices and accents.
Can I make my voice clone using Uberduck AI?
Sure! You can create your voice clone by subscribing to their "Clone" plan. With this plan, you can easily clone your voice or face and select from various singing or natural voice models. You can pay extra to make image copies, too.
Are there any websites similar to Uberduck?
Uberduck is a site similar to Play.ht, Amazon Polly, Voiceful, Supertone, LOVO, Synthesys, Listnr, ReadSpeaker, Resemble AI, Coqui, Respeecher, Veritone Voice, Murf AI, and BeyondWords.
Conclusion
To sum up, Artificial Intelligence is progressing quickly, and Uberduck AI is an excellent example of its abilities. Although it has some limitations, this speech-to-text program is highly regarded and has become popular because it can imitate the voices of famous people. As the app grows, it offers more ways to be creative and have fun. Why not give Uberduck AI a try? Enjoy its fun and innovative features while listening to your favorite music.