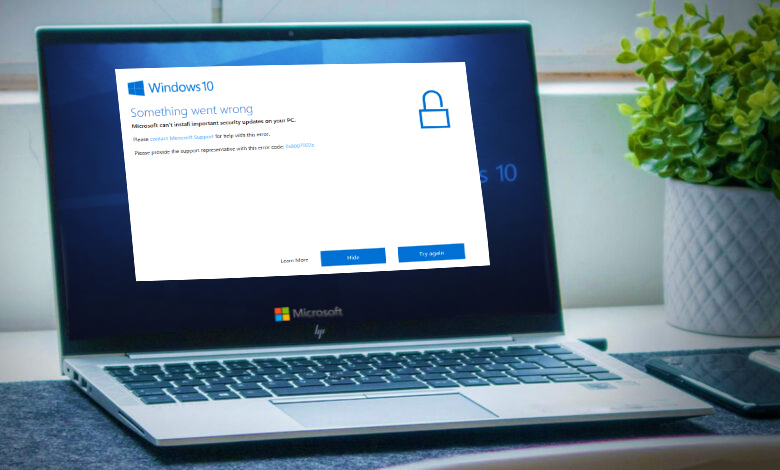 What is Windows 10 Error code 0x8007007e, and how to fix it? A complete guide with step-wise instructions to fix error code 0x8007007e. It can be very annoying if you can't fix the error code 0x8007007e when upgrading to Windows 10 or performing a Windows update. But you don't have to worry about it anymore since this article will explain the reasons for error code 0x8007007e and show you how to fix your Windows 0x8007007e error using seven different methods.
Every major release of Windows includes a Windows update, which allows the operating system to download and install the most recent upgrades containing bug fixes and security patches. However, if you perform a Windows 10 update, you may discover that things are not as they should be.
[lwptoc]
When upgrading to Windows 10, several users reported having the error code 0x8007007e. Why would this code be generated? How can we fix it better?
Reasons for Windows 10 Error 0x8007007e
Third-party antivirus products, software conflict, a damaged registry, and corrupted system files can all cause the 0x8007007e Windows update Error. These are sometimes accompanied by the message "Windows has encountered an unexpected error" or "Failed to install the update." So, how can we fix error code 0x8007007e?
You can attempt the top 7 most effective methods to fix Windows 10 error code 0x8007007e.
Turn off third-party antivirus software and the Windows Firewall
Usually, it would help if you did not disable antivirus applications on your computer since they can safeguard your computer from viruses and other security risks. However, because the Windows 10 update error code 0x8007007e may be caused by antivirus software interference, you can temporarily disable it. You can re-enable them when the Windows 10 update is complete.
In the system tray (bottom right corner), right-click the antivirus program icon and select Disable.
Type Control Panel into the Windows Cortana search box and select the best match.
In the Control Panel, click System and Security.
Next, select Windows Defender Firewall (Windows Firewall).
Toggle the Windows Firewall on or off from the left window.
Pick Turn off Windows Firewall and then restart your computer. Then, try opening Windows Update again to see if you can fix Windows Update Error code 0x8007007e.
Repeat the steps above to enable your firewall and antivirus software if this method does not work for you.
Because your computer is vulnerable to assaults when connected to the Internet, this step is required.
Launch the Windows Update Troubleshooter
Many of these update issues are resolved with the Windows Update Troubleshooter. Some customers reported running Windows Update Trouble Shooter solved the error code 0x8007007e Window update problem.
If you're encountering problems with Windows Update, you may use the Windows Update Troubleshooter to fix them. The following are the detailed steps:
Go to Microsoft's official website and download Windows Update Troubleshooter.
Install and run Windows Update Troubleshooter. When the following window appears, select Windows Update and click Next.
Wait for the troubleshooter to discover any problems and then follow the instructions to fix them.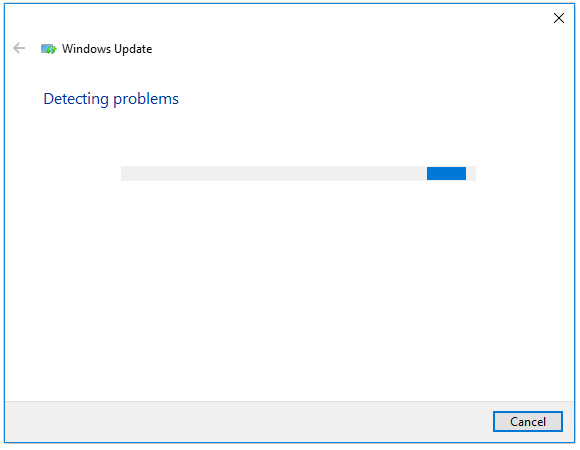 If any Windows Updates problems are discovered, the troubleshooter will immediately fix them.
When the procedure is finished, you may run Windows Update to determine if the error code 0x8007007e has gone away. If the Windows Update Troubleshooter cannot assist you, proceed to the next method.
The software clash might result in Windows 10's Windows Update error code 0x8007007e. A clean boot can be used to perform if the Windows update error 0x8007007e is caused by third-party software or service. You may eliminate program incompatibilities by performing a clean boot.
Right-click the Windows Start button and select Run.
Input msconfig and press Enter. The following interface will appear.
Click the Services tab. Then click Hide All Microsoft Services and press Disable All (if the button is not greyed out)
Select Disable All from the Startup tab. If the Disable All option is unavailable, click the Open Task Manager button.
Select each task and then click Disable.
Restart your computer.
Double-check When the System Configuration Utility window displays, do not show this message or run the System.
Restore Corrupted System Files
Corrupted system files may also be the source of Windows 10 update error code 0x8007007e.
You may restore Windows Update by repairing system file damage as follows:
Type cmd into the Windows Cortana search box, right-click the first result and choose Run as administrator.
To restore damaged system files, input the following DISM command and press Enter:
dism.exe /Online /Cleanup-image /Restorehealth
Once completed, input the following SFC command and press Enter to repair system files: sfc /scannow
After completing the above steps, the damaged system files should have been repaired, and the Windows update problem should have been resolved. You may also update Windows 10 to see if it fix error code 0x8007007e.
Reset Windows Update Components
This method will assist you in restarting the BITS (Background Intelligent Transfer Service), Cryptographic, MSI Installer, and Windows Update Services, as well as renaming the Software Distribution and Catroot2 directories, which will resolve error code 0x8007007e. Now, carefully follow the steps outlined below.
In the Windows Cortana search box, input cmd. Find the best match and right-click to select Run as Administrator.
Type net stop wuauserv Enter
Type net stop cryptSvc Enter
Enter net stop bits Enter
Input net stop msiserver then press Enter.
Input ren C:\Windows\SoftwareDistribution SoftwareDistribution.old and press Enter.
Type ren C:\Windows\System32\catroot2 Catroot2.old into the input prompt and press Enter.
Input net start wuauserv press Enter.
Input net start cryptSvc press Enter.
Enter net start bits Enter
Type net start msiserver into the input prompt and press Enter.
Exit the Command Prompt.
In the Command Prompt box, make sure you input the right command. After you've finished all of the steps, try updating Windows again; it should work well.
Download the NET Framework 4.7 Offline Installer Package
Error code 0x8007007e Windows 10 may be caused by a missing or corrupted Microsoft NET Framework 4.7 package. In this case, you should download the
The offline installation package for Microsoft NET Framework 4.7.
Download the offline installation package for NET Framework 4.7 from the Microsoft Download Center.
To install the package, follow the on-screen directions.
Restart your computer. After that, attempt to install the necessary update. The issue should be solved.
Reinstall Windows 10 to the most recent version
If none of the previous methods work, you can use the Windows 10 Media Creation Tool to reinstall Windows 10 to the most recent version. In any case, there is no risk in reinstalling because it will merely update your computer system to the most recent version. However, before reinstalling Windows 10, make a backup of the drive-in case of data loss.
Conclusion
After reading this piece, you may find that fixing Windows update difficulties is not so tough since several methods are available to assist you. If you receive a Windows update error code 0x8007007e, you can attempt the seven methods listed above to fix it.
If you have any questions about how to fix Windows 10 update error code 0x8007007e or have a better solution, please leave a message in the comment section below, and we will respond as soon as possible.