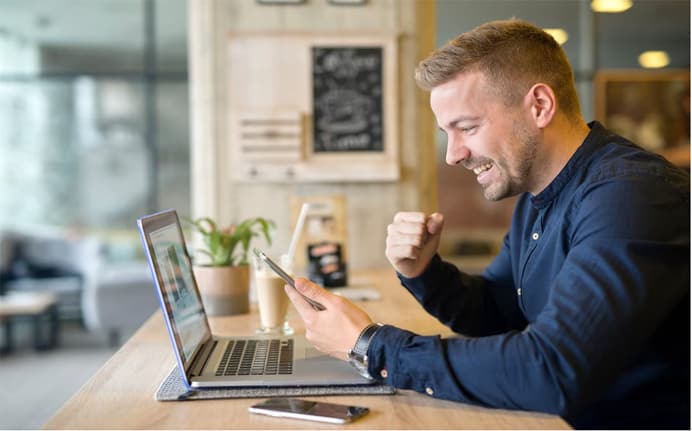 Best Affiliate Software to Consider in 2023: If you have expertise in digital marketing, you've likely heard the term "affiliate marketing" many times, and you may even run affiliate programs regularly. However, there are those marketers who link affiliate marketing with dubious firms and multi-level marketing pyramid scams. Even if they have good ideas about affiliate marketing, they need to learn how to advertise their products or services using this performance-based marketing strategy. They may also be unable to initiate or arrange an affiliate program.
Fortunately, digital tools let marketers manage, optimize, and govern their affiliate marketing efforts. These technologies also aid in measuring the outcomes of affiliate operations and communicating their benefits (or drawbacks). This article will focus on affiliate software, which simplifies the management of affiliate programs. But before we get to it, let's quickly review what affiliate marketing is and its components.
What is Affiliate Software?
Affiliate software is a system that includes all aspects of affiliate program administration. Most affiliate software solutions support affiliate onboarding, link tracking, referral management, and commission payouts.
Affiliate software solutions monitor referrals, endorsements, or recommendations made by affiliates. Tracking relates to consumer IP detection, browser detection, and affiliate referral data. Affiliate software tracking also records data that helps retailers and affiliates maximize visitor traffic. It's vital since every firm strives to acquire regular clients over one-time shoppers. That's why retailers check the sorts of traffic that affiliates bring to their websites periodically. Such an analysis might involve determining if this is the target population they wish to recruit or evaluating the prospect of a client being a source of recurring income.
Additionally, dependable affiliate software allows link tracking and gives choices like picking multiple link designs or changing tracking codes. What's more, affiliate software permits compensating affiliates based on, e.g., click-through performance, sales outcomes, the number of produced contacts, or (less typically) confirmation of page views or impressions of advertising material (banners, links, etc.). (banners, links, etc.).
Usually, organizations start implementing affiliate software when services supplied by affiliate platforms or networks don't fulfill their expectations.
15 Best Affiliate Software in 2023
Here we list some of the best affiliate software you can consider in 2023.
1. Post Affiliate Pro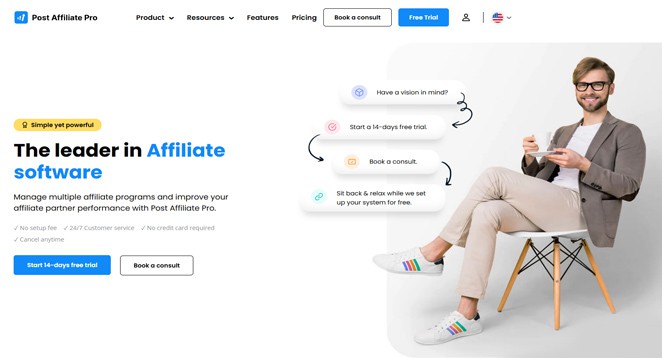 To operate an affiliate program, you must pay your affiliates for sales, leads, and clicks generated by their referrals. Post Affiliate Pro is user-friendly, quick, efficient, and infinitely extensible to grow your business.
Post Affiliate Pro will automate your affiliate program in its entirety. It is an excellent tool for recruiting and managing affiliates. Each affiliate will be provided with various marketing and promotional tools to promote your company. In addition, it will track referrals, commissions, payouts, and much more for your affiliates.
Website: https://www.postaffiliatepro.com
2. InviteReferrals
InviteReferrals is referral marketing software meant to assist businesses in acquiring new customers by building and deploying customer referral campaigns across many platforms, such as a mobile, tablet, and desktop websites, Android and iOS mobile applications, a Facebook timeline app, and emailers. This affiliate software supports various features, including configurable campaigns, in-depth analytics, data export, multiple referrals, social sharing options, and numerous events/rewards.
Website: https://www.invitereferrals.com
3. PayKickstart
It is powered by industry-leading checkout tools, customer retention tools to reduce churn, conversion tools to increase revenue, and automation tools to save overhead. Integrate without difficulty with third-party applications to optimize customer communication and workflow—partner with PayKickstart to eliminate technical obstacles, allowing you to concentrate on your product.
Website: https://www.paykickstart.com
4. Kartra
Kartra is a cloud-based company management tool meant to assist small to large enterprises in creating, launching, and manage online marketing platforms with customizable templates, 360-degree analytics, autoresponders, affiliate management, and more. In addition, this affiliate software provides numerous modules to assist users in managing all business operations, including website design, payment processing, marketing initiatives, and help desk concerns.
Website: https://home.kartra.com
5. PartnerStack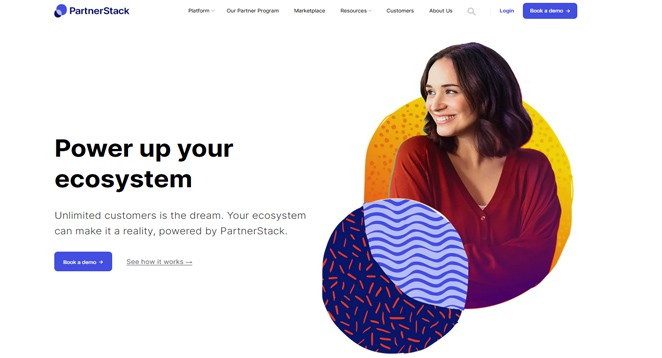 PartnerStack is the only SaaS-specific partnerships platform designed to offer predictable revenue and accelerate growth for software companies and their partners.
This affiliate software is used by companies such as Intercom, Webflow, and Monday.com to manage and scale their partner programs, automating partner onboarding, training, payments, and more to facilitate the success of their partners. PartnerStack Network partners have produced over $100 million in revenue for PartnerStack initiatives in the past year alone.
Website: https://partnerstack.com
6. Tipalti
Tipalti currently serves over 4 million suppliers and processes over $30 billion in international bank transfer remittances yearly. Amazon Twitch, Amplitude, Roku, Roblox, Zumba, GoPro, PubMatic, Seeking Alpha, ClassPass, Toast, Automattic, Twitter, GoDaddy, Zola, Zipline, Headspace, Discord, Canva, and Foursquare are among the clients of Automattic.
Tipalti affiliate software automates the entire global payables operation, making it simple to pay suppliers anywhere in the world in various currencies and payment methods and removing 80% of the effort associated with managing accounts payable operations. As a result, Tipalti reduces tax, regulatory, and financial control risk, accelerates financial close with real-time payment reconciliation, generates revenue with early payments, and enhances supplier relationships.
Website: https://tipalti.com
7. AffiliateWP
AffiliateWP is a cloud-based affiliate marketing solution for businesses and professionals to establish and manage affiliate programs on WordPress. The marketing plugin assists in promoting products and services, tracking and paying commissions, analyzing campaign progress, and managing affiliate registrations, among other tasks.
By tying discount codes to individual affiliate accounts, the Affiliate coupon tracking tool simplifies the process of coupon redemption and referrals. In addition, the AffiliateWP affiliate software dashboard provides a comprehensive overview of the performance of program campaigns, earnings, referral URL lists, and newly added accounts. It also has an analytics and reporting module that allows administrators to generate real-time statistical statistics on affiliate-referred traffic, revenue, and visits.
Website: https://affiliatewp.com
8. Omnistar Affiliate
It offers affiliate software to businesses of all sizes that are expanding. Omnistar enables any firm seeking to expand its client base to create and administer its referral program. Designed for both novices and specialists in referral marketing, Omnistar enables businesses to maximize the marketing potential of their existing consumers. In addition, the referral software equips businesses in expansion with the resources necessary to build and administer their referral program.
Website: https://osiaffiliate.com
9. Ventture
Ventture is an advanced business suite that enables businesses to construct online courses, membership websites, and discount coupons on a unified platform. Using the program Ventture, stakeholders can arrange memberships and change the style of membership websites using the in-built content editor.
Instructors can build and translate courses in several languages, provide supplementary reference materials to students, and monitor course completion status using progress indicators. Ventture has automated notifications, content dripping, email templates, reporting, vendor management, SSL security, PCI compliance assessment, and document management, among other capabilities. In addition, the tool lets administrators track member data and determine the most successful membership plans, current sales figures, and total refunds made in real-time. It is among the best affiliate software on this list.
Website: https://www.ventture.com
10. Tapfiliate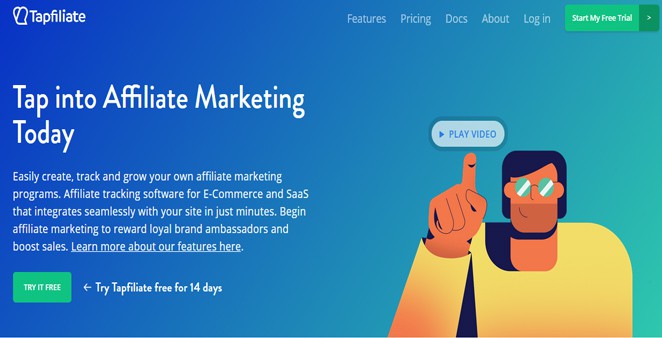 Users need only create a Tapfiliate account, insert the tracking code on their website, recruit affiliate partners, and observe their business expand. Signing up and providing the information is a quick, 5-minute process. Run into issues? Tapfiliate includes customer service and a comprehensive array of possible integrations and guidelines.
After creating an account and installing Tapfiliate, users may start recruiting affiliates by sharing the affiliate invite URL. Then, affiliates can be recruited via the website, fervent affiliate partners, or by personal invitation. In addition, users may generate links, banners, tweets, videos, and Facebook posts for their affiliate partners to distribute online, making it simpler for them to promote your product and increasing the likelihood that you will receive more visitors. It is one of the best affiliate software.
Website: https://tapfiliate.com
11. Pitchbox
Pitchbox is an influencer outreach and content marketing platform that allows marketing firms and SEO departments to discover the ideal influencer to promote their content and increase brand recognition.
I can interface with SEO service providers to obtain reliable and brand-safe results. In addition to outreach campaigns, customized email templates, automated workflows, and reports for all aspects of the outreach process, key features include outreach campaigns.
Website: https://pitchbox.com
12. Refersion
If you are looking for the best affiliate software, Refersion is a referral-tracking application that enables you to manage your affiliate marketing program, expand your growing network, and monitor sales activities. One platform for tracking your sales team, partners, and customer referrals. Use technologies such as the Post-Purchase Channel to add customers as affiliates automatically and the newly established online directory, Refersion Marketplace, to build your list of affiliates.
Website: https://www.refersion.com
13. TrackingDesk
TrackingDesk is a cloud-based traffic and tracking management platform for affiliates and media buyers that offers a full suite of management tools, including analytics, landing page rotation, call-to-action optimization, A/B testing, conversion tracking, user agent targeting, geo-target, and campaign management. You can consider it the reliable affiliate software to consider.
It is an advanced traffic management software that helps affiliates to monitor their performance across all of their affiliate programs more effectively and to make informed decisions regarding which offers to promote, in which countries, and from which traffic sources.
Website: https://trackingdesk.com
14. Buyapowa
Like other best affiliate software on this list, The Buyapowa platform supports creative advocacy and refer-a-friend initiatives for many of the world's top businesses, including GAP, Sprint, Expedia, boohoo, and Telefonica. Their technologies enable companies and retailers to discover their most influential brand ambassadors and incentivize and reward them for acquiring new consumers.
These white-label advocacy programs integrate effortlessly with your existing website or application and do more than ask customers to refer their friends and followers; they incentivize repeat sharing.
Website: https://www.buyapowa.com
15. LinkTrust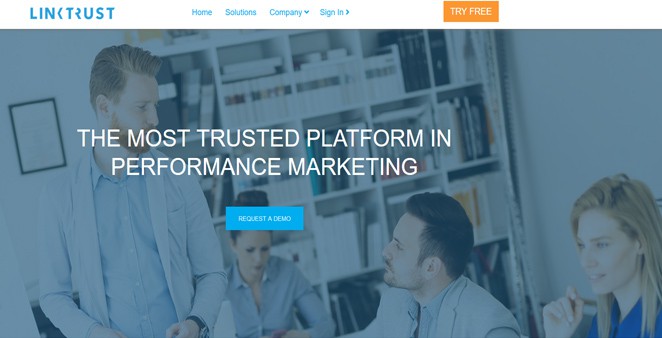 LinkTrust empowers advertisers, ad networks, retailers, and marketing agencies to accurately and quickly manage and track performance marketing campaigns such as referral marketing, affiliate marketing, influencer marketing, partner marketing, and lead-generation programs for millions of customers worldwide. It is among the top affiliate software you should consider in 2023.
Website: https://linktrust.com
Final Words
Affiliate marketing's primary objective is to give merchants and affiliates monetary value, even though it may unite individuals with similar interests. To avoid fraud and ensure the security and privacy of all parties, affiliate software is also necessary.
Effective affiliate software also enhances collaboration between merchants and affiliates in other areas, such as distributing promotional materials. For example, merchants may submit promotional materials for affiliates to use in their marketing campaigns using the affiliate program.
Affiliate software streamlines several affiliate program administration operations. Any business that works with more than 10 affiliate marketers is often required to have an affiliate software.