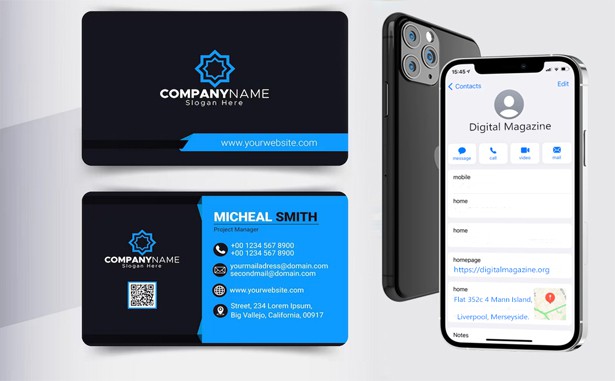 Digital Business Cards Can Boost Your Networking Game: Digital networking remains highly sought after in today's media and technology-driven world. Networking is critical for connecting with clients and boosting sales. With the right strategy, you can achieve both goals. A popular and effective marketing strategy many businesses and professionals use today is a digital business card.
Digital business cards have become a familiar networking tool due to the Internet's increasing influence in the business world. A digital business card lets you quickly show and share info about yourself and your business on social media. Going digital with your business card makes promoting more effortless and more convenient. No need to carry physical copies anymore!
What is a Digital Business Card?
Today, digital business cards are taking over traditional paper ones in the business world. Online business cards, electronic or virtual business cards, are digital versions of traditional business cards.
When you open a digital business card, you will see a landing page with the person's complete professional profile. It includes their name, contact details, portfolio, and photo. Digital business cards help companies establish credibility, build relationships, and generate new business opportunities by giving them a digital presence.
Effectively Expresses Personal Brand
Impressing Potential Connections
Makes Contact Saving Easier and Faster
Get valuable analytics insights to improve your marketing efforts.
Why do businesses need digital business cards?
Digital business cards are now a game-changer in the marketing industry. They make networking and developing new business opportunities easier. These cards are great because they give marketing professionals important analytics information to see how well they do at networking events. In addition, they allow individuals to customize their information presentation and provide an engaging experience. If you have yet to try digital business cards, it's worth considering. They can help you build relationships and boost your visibility. Digital cards can significantly enhance your networking efforts. Here's how they can level up your game.
1. Seamless Sharing of Information
Digital business cards are different from traditional printed ones. They provide a smoother way to connect, share, and interact with your clients. There are many online platforms available now. Using these cards, you can easily promote yourself and your business to more potential customers.
They are convenient, flexible, and easier to use than physical calling cards. Giving out a card is easy, but digital cards have a convenient feature that lets the recipient quickly contact you with just one click.
With this, you won't need to worry about clients getting the wrong contact info or losing your business card. You can access your details anytime, anywhere, if your clients need them.
2. Cost-effective Networking Strategy
You might think digital business cards are more expensive and take longer than traditional ones. Both options require you to pay design fees, but digital cards save you from extra costs for cards and printing.
With technology, you can easily create multiple copies of your digital business card. You don't need to worry about finding free online applications or tools to design your card because plenty are available online. You don't need to worry about running out of physical copies or printing new ones when you have updated information.
3. Allow Room for Creativity
Digital cards offer greater flexibility. You can add images, videos, links, and social media accounts to make your card more engaging and interactive. Digital media lets you use software and tools to customize your business card. Take this chance to showcase yourself and your business, drawing in potential clients with a practical promotional approach.
In addition, updating information on your digital business card is simple. Editing your contact information is easy and convenient. No need to print new copies; just a few clicks, and you're done!
4. Smart and Eco-friendly Marketing
Going digital has the added benefit of helping to save trees and reduce your carbon footprint. Physical business cards add to garbage waste when thrown away. When you choose digital cards, you don't need to worry about using paper, ink, or plastic.
5. Boost Your Brand Recognition
Create captivating digital business cards to boost your public exposure and visibility. In addition, going digital helps you expand your international network. Modern business cards, powered by technology, enable you to connect with audiences worldwide, enhancing your brand and business.
Get the Most out of Your Marketing Efforts
Business cards are commonly used by professionals and businesses in marketing. Business cards are still crucial for networking, whether in paper or digital format. A digital business card offers many benefits that greatly enhance your networking opportunities.
Whether you connect with clients online or in person, digital cards are a smart move for your marketing strategy.
Final Words
Digital business cards will continue to improve with new and exciting features for better networking experiences. Professionals need to accept and adapt to digital transformation to succeed in a world that is becoming more interconnected and technology-driven. If you still need to switch, now is the time to join the digital networking revolution. Use digital business cards to unlock new opportunities and connections in your professional journey. Also read what Is Business Shredding Service?