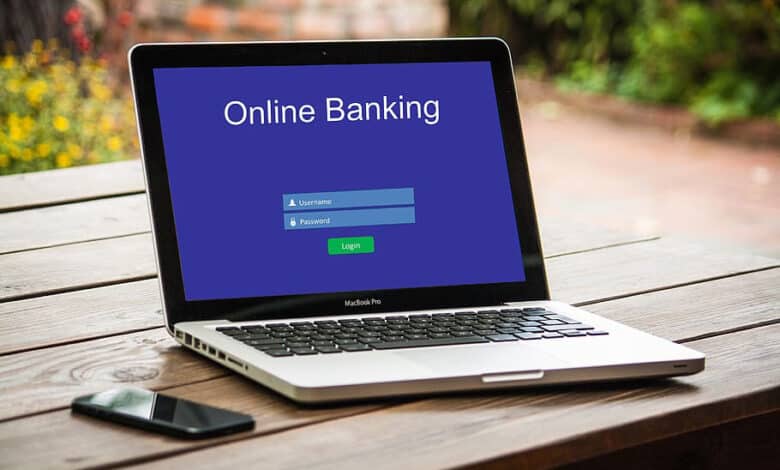 What Is Online Banking?
A user can make financial transactions through the Internet using online banking. Internet banking or web banking are other names for online banking.
Online banking provides users with nearly every function typically offered at a local branch, including deposits, transfers, and bill payments. In addition, virtually every bank offers internet banking accessible via desktop versions and mobile applications.
Understanding Online Banking
With internet banking, individuals may do the most important transactions without visiting a bank branch. Instead, depending on their preference, they may accomplish all of this at home, in the office, or on the fly.
To conduct banking transactions online, you will need a computer or another device, a connection to the Internet, and a bank or debit card. To access the service, clients must register for their bank's online banking service. For registration, they must establish a password. After that, users may use the service for all their banking needs.
Online banking services differ from institution to institution. However, most banks offer standard services such as wire transfers and bill payments. In addition, some online banking platforms enable clients to open new accounts and apply for credit cards. Other functions may include ordering checks, placing stop payments on checks, and reporting an address change.
Now, checks may be deposited online using a mobile application. Before snapping a snapshot of the front and back of the check, the consumer just inputs the amount.
The online banking system prohibits the purchase of traveler's checks, bank draughts, some wire transactions, and completing specific credit applications, such as mortgages. These transactions must still be conducted in person with bank staff.
Advantages of Online Banking
Online banking's primary advantage is its convenience. Users may do basic banking operations such as paying bills and moving cash between accounts whenever and wherever they choose, 24 hours a day, seven days a week.
Online banking is effective and quick. Transferring funds between accounts is instantaneous, especially if both accounts are kept at the same institution. In addition, users can open and terminate various accounts online, including fixed and recurring deposits that often provide higher interest rates.
Additionally, consumers may routinely monitor their accounts, helping them to keep their accounts secure. Access to banking information around the clock enables the early discovery of fraudulent conduct, protecting against financial harm or loss.
Disadvantages of Online Banking
For a rookie online banking user, using systems for the first time may provide obstacles preventing transactions, which is why some consumers prefer face-to-face transactions with a teller.
Customers that require access to big sums of cash cannot use online banking. Although he may be able to withdraw a certain amount from the ATM (most cards have a limit), he will need to visit a branch to withdraw the remainder.
Although internet banking security is constantly increasing, such accounts are still susceptible to hackers. Therefore, consumers are urged to use their data plans rather than public Wi-Fi networks while online banking to avoid illegal access.
In addition, internet banking requires a stable Internet connection. As a result, connectivity challenges may make it difficult to tell whether banking transactions have been performed correctly.
25 Best Online Banking Software in 2023
Here we list some of the best online Banking software for your business.
1. Chime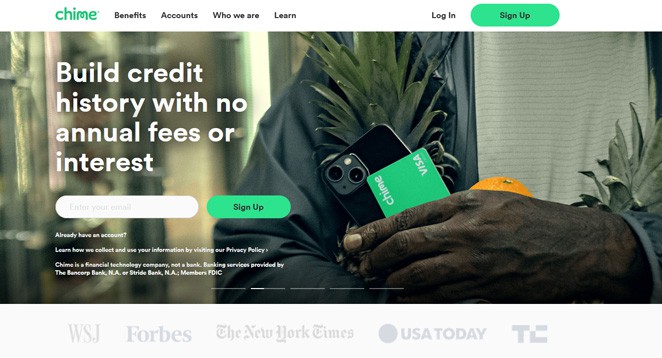 Chime is mobile banking software simplifies tax returns, unemployment benefits, paycheck deposits, and government stimulus payments for teams and individuals. It enables users to monitor account balances and daily transactions, receive balance and transaction alerts and send money to pals.
Two-factor authentication, banking security, bank account balance alerts, mobile check deposit, and fingerprint authentication are essential Chime features. Users may restrict debit card transactions for lost cards using one-touch and international transaction blocking. Using the mobile app and a fast photo of the check, anyone may deposit checks from anywhere by snapping a photograph of the check. In addition, the program allows users to locate a Chime debit card-accepting ATM for free cash withdrawals. It is among the best online banking software with no monthly fee.
Website: https://www.chime.com

2. Open
Open is a cloud-based software that helps startups and small to medium-sized businesses handle payments, virtual accounts, cash, invoices, taxes, and expenses via a centralized platform. In addition, the platform's payroll administration capabilities allow firms to monitor employee attendance and absences, generate paystubs, and evaluate reference data. the best online Banking software designed to serve personal, enterprises, startups, and business.
Website: https://www.openbanking.org.uk

3. Plaid
Plaid is a technological platform that facilitates the connection between applications and users' bank accounts for account authentication, real-time balance checks, identity verification, income validation, and other purposes. Thousands of U.S. and Canadian financial institutions and corporate and consumer bank accounts are supported. the best online Banking software designed to serve personal, enterprises, startups, and business.
Website: https://plaid.com

4. Fraud.net
Fraud.net is a cloud-based enterprise risk management solution to assist enterprises across retail banking, eCommerce, government, hospitality, and travel in detecting and preventing identity fraud using artificial intelligence and machine learning algorithms. It contains a workflow engine that enables administrators to set case-specific rules to automate or repeat repetitive processes and to examine transactions to activate countermeasures across abnormalities automatically.
Website: https://fraud.net

5. NexorONE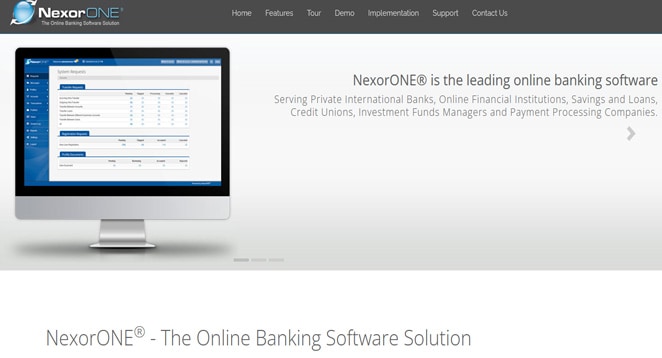 NexorONE is a cloud-based platform that offers online banking solutions to several financial institutions, including private and online banks, eWallet providers, credit unions, and asset and trust management firms. It has been implemented in more than 40 countries and supports 16 languages. Its key features include configurable admin roles, a dynamic UI, user groups, compliance rules, continuous updates, and APIs.
Website: https://nexorone.com

6. EBANQ
EBANQ® is a web-based, mobile-ready online banking solution for NeoBanks, Electronic Money Institutions (EMIs), and other suppliers of financial services. Your completely branded system may be up within 24 hours! the best online Banking software designed to serve personal, enterprises, startups, and business.
Website: https://www.ebanq.com

7. Musoni
Musoni is the digital transformation partner of choice for financial institutions. It enables enterprises to construct a vast array of customizable loans, savings, and share products built on a secure OpenAPI platform with fully integrated accounting and digitalization modules.
Website: https://musonisystem.com

8. Jamio openwork
Jamio openwork is a no-code business process management platform intended to develop cloud applications. The apps developed on the Jamio openwork platform facilitate the digital transformation of businesses. It may automate and streamline business activities, store documents, and provide collaboration tools, among other capabilities.
Website: https://www.jamio.com

9. Intergiro
Intergiro is a cloud-based software that facilitates the management of banking activities for organizations. Integrate your financial services into your goods, be able to issue new virtual card products, develop in-app payment methods, establish the next neobank, implement classic card programs, or integrate multi-currency IBAN accounts into your applications.
Website: https://intergiro.com

10. Kapowai Online Banking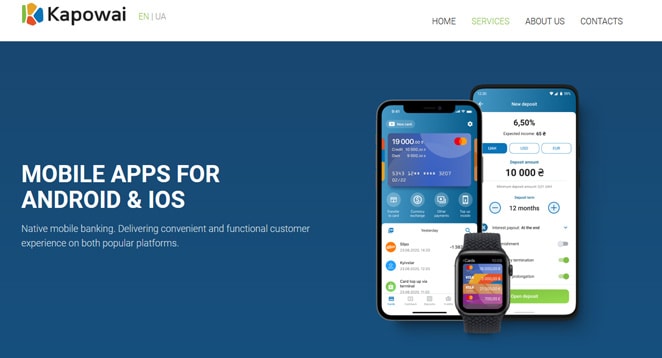 The remote banking system provided by Kapowai lets customers manage accounts, cards, payments, transfers, and more in real-time. The internet banking system includes a personal financial manager (PFM) to help consumers manage their income and spending, as well as a widget-based interface that can be customized. Touch and Face ID (for iOS) or Fingerprint (for Android) are used by mobile banking applications for secure sign-in and operation confirmations. Self-service banking systems allow consumers to use payment cards or cash to pay bills, make transfers, repay loans, replenish accounts and cards, and more.
Website: https://www.kapowai.online

11. Macrobank
It is a cloud-based software platform and Software-as-a-Service (SaaS) by Advapay that includes the most popular features for digital banks, payment institutions, and other fintech. Our customers have the option of implementing a ready-to-use solution or a fully customized solution for their enterprises. the best online Banking software designed to serve personal, enterprises, startups, and business.
12. eBanking
EBanking is a cloud-based technology aimed to assist businesses in automating financial transaction processes using mobile banking, financial reporting, and marketing applications. The touch-enabled technology enables customers to handle bill payments from numerous locations using mobile devices.
Website: https://ebank.com.eg

13. AccessPay Platform
Corporate-to-Bank Integration Platform is cloud-based financial management software meant to assist corporations in integrating with banks to streamline financial processes. As a result, Treasury teams may access their banking partners' numerous back-office systems, banking portals, financial communications networks, payment schemes, and other services via a single platform.
Website:
14. FinCell
Your consumers will like FinCell, a white-label mobile banking application built on PSD2. FinCell assists both freshly founded financial institutions just beginning their company and seeking a mobile-first or mobile-only strategy, as well as established businesses that want to become closer to their clients and provide them more value through the app.
Website: https://www.fincell.eu

15. Backbase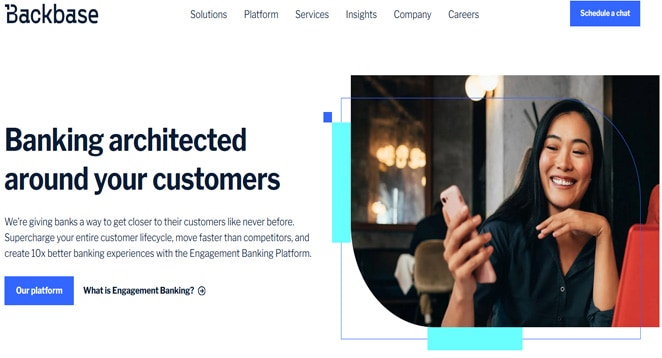 Backbase is a cloud-based technology that helps financial institutions streamline digital banking, customer experience, user management, and other procedures. It is intended to assist private banks in managing mortgages, client onboarding, account openings, and loans via a consolidated platform. the best online Banking software designed to serve personal, enterprises, startups, and business.
Website: https://www.backbase.com

16. Swan
Swan is a platform that directly integrates banking functionality into goods. It may be used to establish bank accounts, issue Mastercard cards, and facilitate IBAN-based transfers and debits. With logos, colors, and settings, the web banking experience may be personalized. In addition, swan contains identity verification and fraud detection capabilities.
Website: https://www.swan.io

17. Bankingly
Bankingly is a cloud-based technology that enables financial institutions to automate online banking procedures using iOS and Android mobile applications. In addition, it allows customers to handle credit card and loan payments in several places.
Multi-factor authentication, alerts/notifications, payment history, mobile access, geolocation, P2P payments, and transaction monitoring are key Bankingly features. The mobile application allows businesses to control advertising banners to increase consumer engagement and revenue. Additionally, it offers other sales channels to expand the consumer base and sales potential.
Website: https://www.bankingly.com

18. Omnibanca
Omnibanca is an omnichannel banking software that assists cooperatives and neo-banks in managing campaigns and streamlining numerous administrative procedures, including client experience, payment processing, document management, and more. In addition, customers may ask questions, manage transactions, and get payment alerts using the SMS banking service.
Website: https://www.omnibanca.com

19. Powens
Budget Insight provides European banks and insurance companies, fintech, and solution providers with an open banking platform powered by a single API, enabling them to create disruptive services and experiences.
Website: https://www.powens.com

20. Metaprise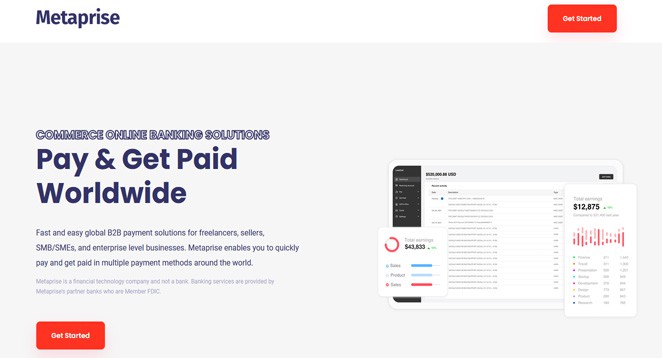 Global B2B payment solutions that are quick and simple for freelancers, sellers, SMB/SMEs, and corporate enterprises. In a single platform, Metaprise enables you to pay and get paid in many ways around the globe. the best online Banking software designed to serve personal, enterprises, startups, and business.
Website: https://metaprise.online

21. Cyberbank
Cyberbank is a digital and core banking platform that enables banks, neobanks, challenger banks, and fintech organizations to reimagine the client experience. As a best-in-class technology platform, it differentiates itself in two major ways: permitting financial institutions to generate customized financial products dynamically at the pace of commerce and providing customers with appropriate advice.
Website:
22. Revogear
Revogear is a modular and flexible online banking software package to assist private international banks, electronic money institutions, and payment provider organizations in managing electronic payments and international transfers. The system supports several currencies and cryptocurrencies and may be modified to individual company requirements due to the module diversity.
Website: https://www.revogear.com

23. ScanPay
ScanPay is an app that combines the finest of payments and banking for technicians. It assists home service workers, and small businesses in collecting payments and gaining fast access to money, saving them time and money. As a service business solution, ScanPay enables small enterprises to collect and spend money most efficiently and cost-effectively. the best online Banking software designed to serve personal, enterprises, startups, and business.
Website: https://www.scanpay.tech

24. Digital Banking Platform
Digital Banking Platform helps the community, regional banks, and credit unions advocate for good change, co-create new solutions, and encourage open integrations with fintech and other partners. It positions financial institutions at the core of modernization, enabling them to innovate more rapidly, strategically distinguish themselves, and successfully compete.
Website: https://www.ovation-fi.com

25. Q2 Platform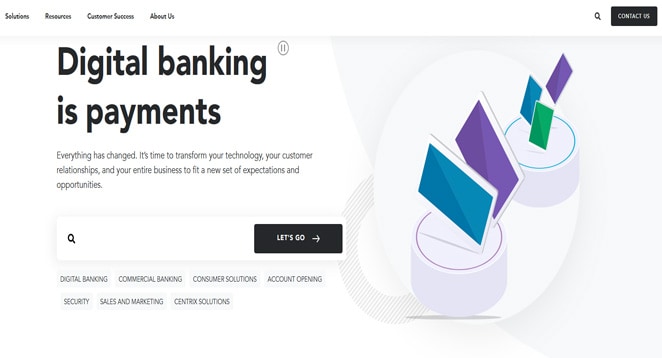 Q2 is a cloud-based mobile banking technology that facilitates customer experience management and compliance for banks and credit unions. The fundamental components are payment processing, process automation, data mapping, transaction monitoring, data security, fraud reduction, and analytics. It is among the best online Banking software designed to serve personal, enterprises, startups, and business.
Website: https://www.q2.com

Final Words
This article discusses the best online Banking software for personal and professional usage. These software-rich applications are renowned for lowering costs, increasing time to market, and optimizing and securing processes. In addition, the software includes several built-in features, including different security choices, analytics, and quick payments inside the network. You can now choose the best online banking software for your business using the preceding list.