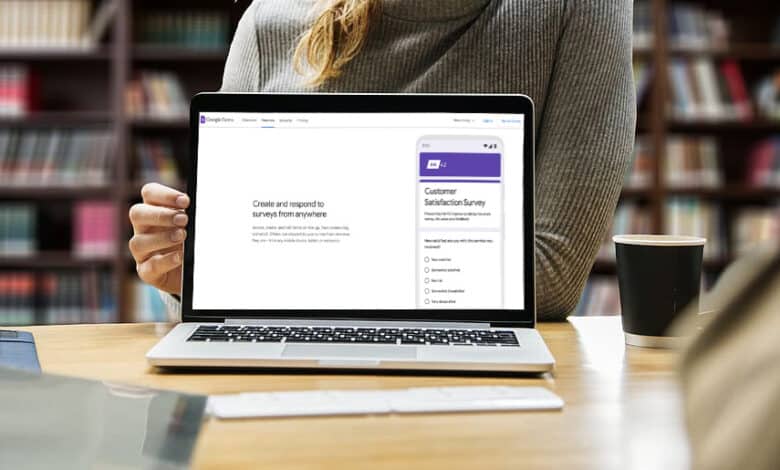 A Complete Guide on Best Quiz Maker For Organizations, Schools and Businesses: Quizzes are one of the finest ways to strengthen customer and employee relationships. Large organizations often use them to learn more about their clients and introduce new goods, while smaller businesses may use them for internal employee surveys to enhance the company.
Creating quizzes is a quick and practical approach to getting feedback from customers and employees. If you prefer to use quizzes, we have compiled a list of the most helpful tools!
Best Quiz Maker For Survey, Polls, Online Tests
When looking for the finest software to create forms and surveys, it is essential to evaluate your business's specific needs and goals. Many considerations go into making a final choice, including finances, the kinds of forms you want to create, and the kinds of data you want to analyze.
1. HubSpot Forms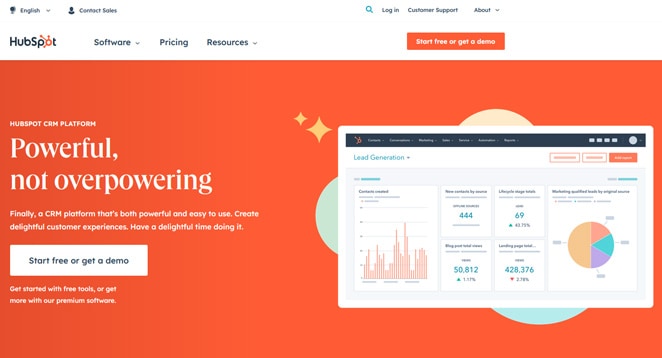 Even though it is one of the most advanced quiz maker tools, HubSpot's free form builder requires no technical expertise. You can create forms fast with the drag-and-drop form builder and turn anonymous website visitors into leads with an infinite number of forms, fields, submissions, and custom forms connected to your contact database. In addition, this tool's versatility and customization make it simple to create quizzes.
After a user submits your form, they are directly sent to HubSpot's free CRM. Once they are in your CRM, you can create reminder tasks, call them, and send them targeted one-to-one emails, allowing you to manage better and nurture relationships with contacts.
HubSpot Forms is also accessible for WordPress through a plugin developed by HubSpot.
Price: Free
Website: https://www.hubspot.com
2. Pointerpro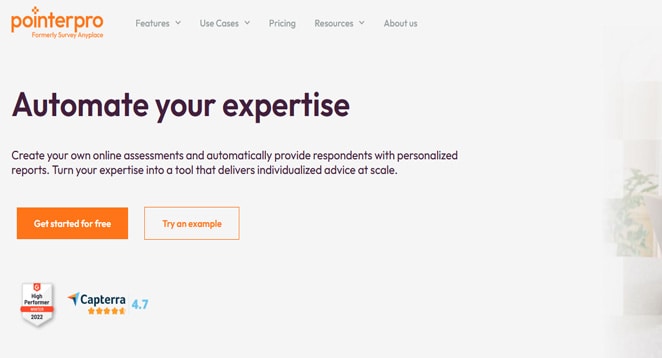 With skip logic, outcomes, and custom scoring, Pointerpro is one of the most powerful tools on the market, allowing you to create quizzes with a particular focus on customization. Add the possibility for participants to get a customized feedback report after the quiz, and you can understand why this quiz maker tool is so popular with HR departments.
Pricing: $49 per month per user for the Basic Plan; $69 per month per user for the Professional Plan; pricing available upon request for the Enterprise Plan.
Website: https://pointerpro.com
3. Woorise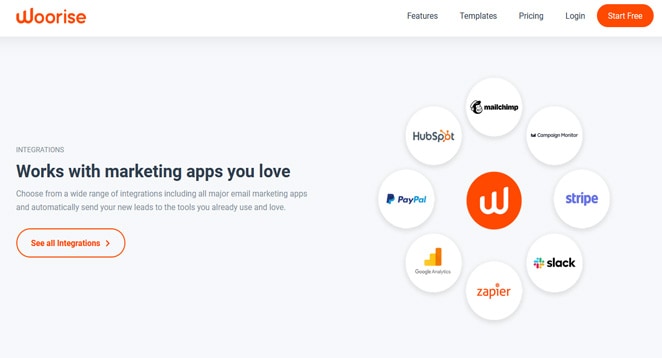 You can quickly create interactive quizzes, including personality quizzes, calculation quizzes, contest quizzes, tests, recommendation quizzes, and scoring or assessment quizzes, with Woorise quiz maker. The modern drag-and-drop builder of Woorise enables you to start from scratch or immediately by selecting one of their templates.
You can create online quizzes, polls, tests, and surveys using Woorise's support for over 40 questions kinds. The quizzes are compatible with effective marketing automation solutions such as HubSpot, ActiveCampaign, Constant Contact, and MailChimp.
Woorise quiz maker is a fantastic tool for small companies since it enables you to create online quizzes and landing pages, forms, surveys, viral giveaways & competitions, take payments, and more to gather leads and engage your audience.
Pricing: Free Limited Plan; $29/month for Basic Plan; $49/month for Grow Plan; $99/month for Pro Plan
Website: https://woorise.com
4. Typeform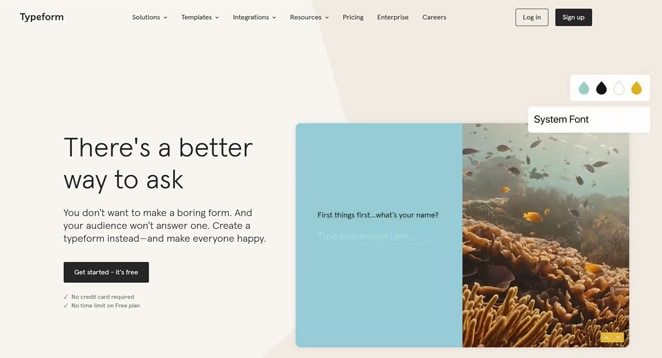 Typeform quiz maker create quizzes intuitive for both the developer and the participant. As a result, Typeform has become a pioneer in online quizzes and surveys by presenting one question at a time and delivering the quiz through a beautiful, responsive interface.
Using the platform's drag-and-drop editing capabilities is simple. It also offers customer surveys, quizzes, and lead creation tools. In addition, various customizable templates are available to meet your specific requirements.
Pricing: $25/year per user for the Basic Plan; $50/year per user for the Plus Plan; $83/year per user for the Business Plan
Website: https://www.typeform.com/quizzes
5. SurveyMonkey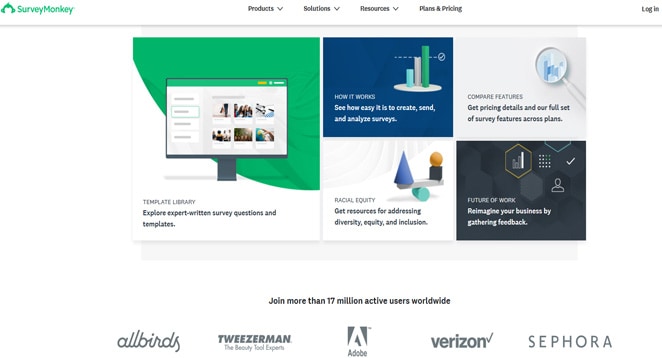 Using the free version of Survey Monkey, you can create simple polls and surveys in minutes. The quiz maker software includes hundreds of templates and questions prepared by "survey methodologists" and designed to get the necessary responses from participants.
Even though you may alter the appearance and structure of your quizzes and surveys, a typical complaint is that you cannot wholly brand the surveys since the Survey Monkey logo remains.
Pricing: Team Advantage Plan, $25 per user per month; Team Premiere Plan, $75 per user per month; Enterprise Plan, contact for pricing
Website: https://www.surveymonkey.com
6. Paperform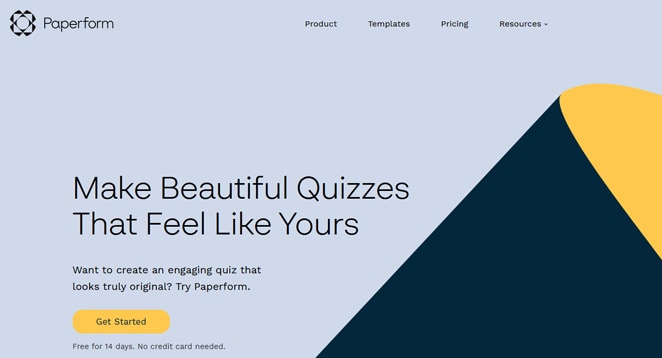 Paperform provides an effortless quiz maker experience. With its free-text interface, creating a quiz personalized to your business and audience is simple. You may alter your branded photos using the app's editor, import movies, GIFs, themes, and backdrops, and adjust its font.
If you need assistance getting started, Paperform offers a variety of free quiz templates from which to pick. With over 27 question fields and built-in complex processes, the editor is designed from the bottom up to be user-friendly. Forms may be attractively integrated into your website, shared on social media, or used as landing pages.
Pricing: $20/per month for the Essentials Plan, $40/per month per user for the Pro Plan, and $135/per month for the Agency Plan.
Website: https://paperform.co/quiz-maker
7. ProProfs Quiz Maker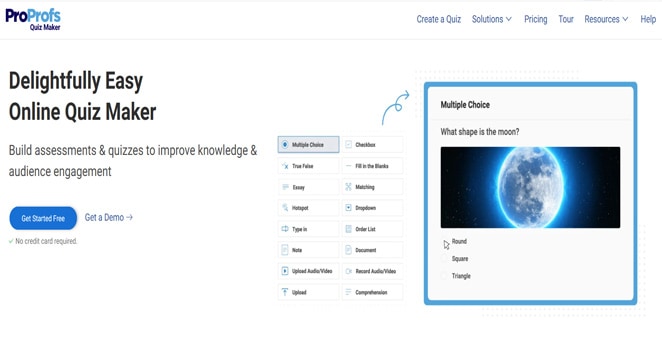 ProProfs Quiz Maker is a handy application for producing graded quizzes, personality quizzes, public quizzes, opinion surveys, polls, online tests, and exams. The program provides 100+ quiz templates, 100,000+ ready-to-use questions, 100+ setups, and a quiz editor that is simple to use.
You can create online quizzes, exams, tests, and surveys using ProProfs Quiz Maker, which supports ten different question formats. In addition, the quizzes are compatible with leading marketing automation solutions such as ActiveCampaign, Constant Contact, and MailChimp.
Pricing: Free Basic Plan, $25/month per user for the Essentials Plan, $50/month per user for the Premium Plan, and contact for pricing on the Enterprise Plan.
Website: https://www.proprofs.com
8. Outgrow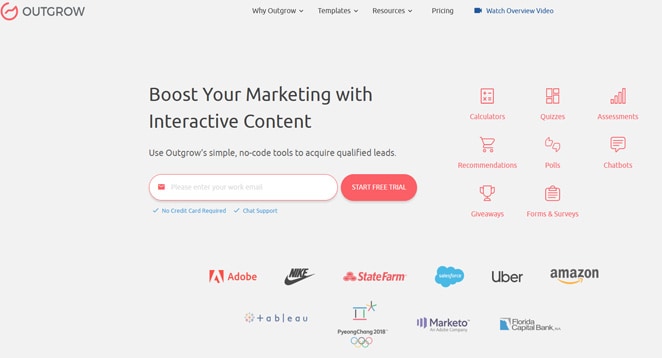 Using Outgrow quiz maker, you can create interactive quizzes, calculation quizzes, contest quizzes, tests, suggestion quizzes, and quizzes in the form of chatbots. In addition, with Outgrow's highly-intuitive drag-and-drop builder, you may start from scratch or select from over a thousand templates.
These designs may have suggestion quizzes beneficial for B2B, B2C, and eCommerce organizations. Outgrow enables users to embed their quizzes in ten distinct methods, including Email, Popup, Advertisements, Sidebar, Floating Rectangle, Full Page, Inpage, Chatbot, ExitIntent, and FacebookTab.
Pricing: Freelancer Limited Plan is $14 per month per user; Freelancer Plan is $25 per month per user; Essentials Plan is $95 per month per user; and Business Plan is $600 per user.
Website: https://outgrow.co
9. Qzzr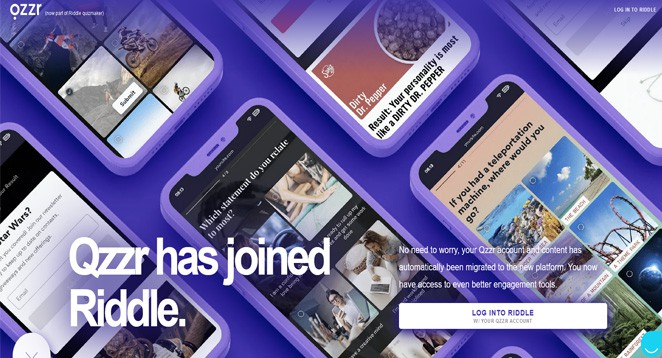 Inbound marketers created Qzzr to generate quality leads. It generates completely configurable quizzes and surveys using a simple and attractive user interface.
Additionally, users may use its detailed data analysis of the answers and social sharing connections to reach a bigger audience.
One of the most impressive aspects is the capacity to target advertisements depending on user responses. For instance, you may include a "Buy Now" CTA on the results page for a user-selected product. It is in the list of our best quiz maker apps and websites.
Pricing: Basic Plan, $25 per month per user; Pro Plan, pricing upon request; Enterprise Plan, pricing upon request
Website: https://www.qzzr.com
10. GetFeedback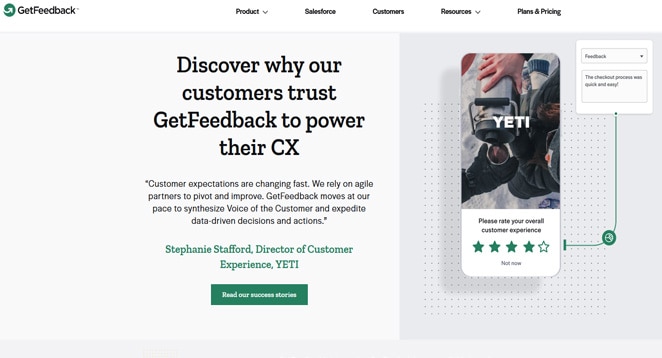 GetFeedback is proud of its visually beautiful interface online quiz maker, both on the front- and back end. It is one of the more advanced quizzes and survey design alternatives, but it is still reasonably simple for beginners. In addition, it provides connectivity with Salesforce CRM software and in-depth analytics to use newly discovered data.
Pricing: Pricing available upon request
Website: https://www.getfeedback.com
11. Google Forms
Google Forms is a free and simple-to-use form-building application that runs inside G Suite. You can create proper forms and quizzes to collect customer information, but the interface could be more configurable, and the functionality is on the primary side. As Google Forms is a component of G Suite, data may be imported directly into Google Sheets for analysis. It is the most reliable online quiz maker to consider.
Price: Free
Website: https://www.google.com
12. Riddle's Quizmaker
Riddle's Quiz maker is an additional user-friendly tool focused on collecting email addresses. You may collect lead data and send it straight to your MailChimp or other software lists. Small businesses and entrepreneurs will find Riddle's Quizmaker a particularly excellent value.
The application is accessible as a WordPress plugin, or you may embed quizzes on your website using an embed code. The quizzes are entirely customizable, allowing you to brand them extensively.
Pricing: Basic Plan, $29 per user per month; Pro Plan, $49 per user per month; Team Plan, $199 per user per month
Website: https://www.riddle.com
13. Playbuzz
Playbuzz is an excellent quiz maker for individuals who wish to try their hand at designing quizzes without incurring any costs. However, it is filled with advertisements that seem to be of free quality. If it works for you, upgrade to a premium quiz maker with more tools and a cleaner, ad-free interface.
The tool is fast and simple, making it a fantastic alternative for beginners. Additionally, it's simple to distribute professional-looking quizzes on social media.
Price: Free
Website: https://www.playbuzz.com
14. Alchemer
Alchemer is a complete quiz and survey maker app with a simple UI. There are two versions, one for people and small companies and the other for bigger organizations. The former prioritizes usability, while the latter allows for a more in-depth study of data and focuses more on marketing research.
Pricing: Collaborator Plan, $49 per user per month; Professional Plan, $149 per user per month; Full Access Plan, $249 per user per month
Website: https://www.alchemer.com

15. Wufoo
It is a cloud-based platform used by some of the largest brands in the business. It is a powerful form design, survey production, and quiz maker tool. Its most remarkable characteristics are the sophisticated form logic and the simplicity with which you may gather, save, and organize data.
Wufoo is less user-friendly than some of the more basic tools available (basic coding may be necessary! ), but it is still relatively easy for regular form building.
Pricing: $14/month per user for the Starter Plan; $29/month per user for the Professional Plan; $74/month per user for the Advanced Plan; and $183/month per user for the Ultimate Plan.
Website: https://www.wufoo.com
16. Ask Nicely
Ask Nicely quiz maker is a survey and form builder focusing on client feedback and increasing your Net Promoter Score (NPS). The tool interacts with HubSpot, Salesforce, or Slack and automates customer follow-up to boost Google ratings and reviews.
Ask Nicely is more than an interactive quiz maker; it's an innovative marketing tool suited for medium to big businesses that appreciate client involvement. Your demands determine the pricing, but $375 is an approximate figure of how much it will cost you. It's not inexpensive.
Pricing: Pricing available upon request
Website: https://www.asknicely.com
17. Brandquiz
Brandquiz is an excellent quiz maker for producing interesting branded quizzes with a variety of templates fast and effortlessly. In addition, the platform provides connectivity with key marketing platforms like Salesforce, HubSpot, and MailChimp to maximize the acquired data.
The free edition supports up to 100 users per month, while various subscription options provide value for bigger businesses.
Pricing: Free Limited Plan, $25/month per user for the Starter Plan, $75/month per user for the Professional Plan, and $195/month per user for the Business Plan.
Website: https://www.brandquiz.io
18. Microsoft Forms
Compared to Google Forms, Microsoft Forms is an excellent tool for Microsoft Office experts because of its easy interface with other Microsoft Office applications. In addition, Microsoft Forms simplifies the creation of necessary forms and quizzes with easy, step-by-step instructions. It is one of the best free quiz maker tool you should consider.
Pricing: Free
Website: https://forms.office.com
19. Form Crafts
Form Crafts quiz maker features multi-page forms, allowing it to create quizzes in addition to primary surveys, newsletter sign-ups, and similar documents. In addition, real-time statistics, conditional logic, and plugin-based WordPress integration provide a viable alternative to the industry standard. The pricing is affordable, and various quiz maker are available to accommodate any expanding organization.
Pricing: Free Limited Plan; $29/month per user for Standard Plan; $79/month per user for Plus Plan; $179/month per user for Enterprise Plan.
Website: http://formcrafts.com
20. ClassMarker
ClassMarker is a quiz maker targeted for education, with customized plans also available for business users. You can create tests and exams open to an unlimited number of individuals. The exam may be tailored to your branding, and branded certificates can be included. A powerful results platform facilitates data analysis and conclusion drawing.
It is an excellent alternative for big organizations that need to survey many consumers. In addition, the pricing levels are relatively competitive to the given capability and personalization.
Pricing: Professional 1 costs $39.95 per month per user, while Professional 2 costs $79.95 per month per user.
Website: https://www.classmarker.com
21. ISpring QuizMaker
ISpring quiz Maker is a convenient and powerful tool for designing interactive examinations. You may create both graded and ungraded quizzes using 14 customizable question templates. They vary from traditional True/False and Multiple-choice questions to fascinating mini-games such as drag-and-drops and hotspots, and they are all relatively simple to create and design. In addition, tests may include media and formulae while being completely responsive and compatible with all devices.
Pricing: $370 per user per year, with discounts available for academic and charitable institutions.
Website: https://www.ispringsolutions.com
22. Jotform Quiz Maker
You may create and embed customized quizzes on your websites with the Jotform Quiz Maker tool. They provide features like conditional logic, a vast selection of templates, and app connections. After creating a quiz, you can share it using a link or QR code.
Use it to acquire user insight while gathering form data. View your data on elegantly designed spreadsheets and use form analytics to monitor your data. Using their drag-and-drop form builder makes a quiz quick and enjoyable, and no coding knowledge is necessary. In addition, you can customize your quiz using an advanced form designer to meet your branding style.
Pricing: Free Plan; $34/month for Bronze Plan; $39/month for Silver Plan; $99/month for Gold Plan; contact for Enterprise Plan pricing.
Website: https://www.jotform.com
23. Testportal
Testportal quiz maker is a platform for taking knowledge and ability tests that may be used in the education and business sectors. It provides help to human resources departments, training teams, and educators all around the globe in the creation of intelligent online quizzes.
It offers cost-effective proctoring options and an easy question editor, but the insight engine that provides detailed exam statistics and analytics and that allows for in-depth data access is its most valuable resource. Its engine also allows for in-depth data access.
Website: https://www.testportal.net
24. Interact
Free quizzes may be made with the help of the internet application known as Interact, which also offers a paid membership service for email collection. The free plan provided by Interact is beneficial for educators and trainers working within a limited budget. As a strategy for marketing, the premium membership plans work to gather email addresses from users who participate in quizzes. It is one of the best Quiz maker software
Website: https://www.tryinteract.com
25. FyreBox
Your students can learn just about anything through a quiz. Education is made more exciting and enjoyable by using quizzes at all levels, from primary school to university. You also have the option of testing your students' knowledge and seeing the results of their performance in real-time.
Create quizzes with multiple-choice questions, quizzes based on situations, and quizzes based on rules with the help of Fyrebox. The usage of images is an option for several types of quizzes. The quiz results may be sent to you if you want, and the score for the quiz is calculated in real-time.
Mailchimp, SharpSpring, Constant Contact, Vertical Response, Campaign Monitor, Aweber, Active Campaign, ConvertKit, Klaviyo, Get Responses, MailerLite, Omnisend, Drip, Mad Mimi, Infusion Soft, Insightly, Google Analytics, and Hubspot are all supported by the Professional plan version of this quiz maker software.
Website: https://www.fyrebox.com
Final Words For Quiz Maker
Now that you know many quiz maker on this list, let's choose which is best for you. Using technologies to create an interactive quiz may make online and in-person training sessions far more exciting and engaging for the participant. In addition, the ability to retain information, learner engagement, and overall training participation may improve with interactive quizzes. Discover more about how you may enhance digital training and online learning with the help of these tools by using the opportunity to create an interactive quiz.
Most of the quiz maker software is user-friendly and designed to check your participants' knowledge and reinforce the content being delivered. Questionnaires are inserted using a spreadsheet you need to fill in – no technical expertise is required. Your questions will be converted into an attractive, game-like format, and the resulting quizzes may be accessed with a simple button. You may automate the delivery process even further by setting the durations in advance and requiring your learners to complete quizzes daily, weekly, or single-burst. It will allow you to set up the intervals in advance.