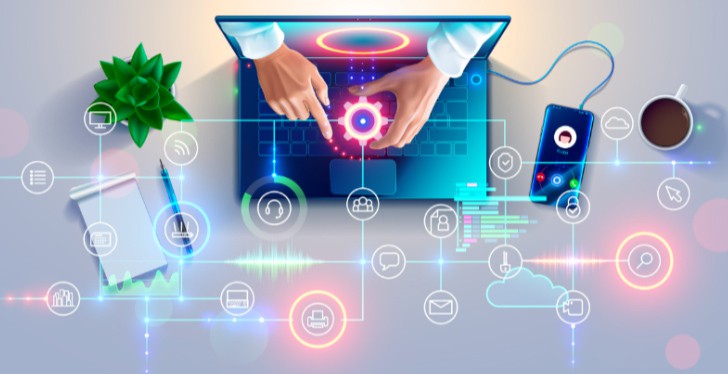 A small business may lack the resources to upscale and expand its operations. As a result, it can lag behind in today's ever-changing environment. Almost all companies, regardless of their industries, have turned to remote IT support services. That is why you may have seen the rise of tech integration in restaurants, chemical industries, manufacturing, retail businesses, and enterprises.
It is a cost-effective way to increase business efficiency without increasing onsite burden. The best part is that remote IT support for small businesses doesn't require office space or resources. You might need an mdm solution, like AirDroid Business, to make this job easier for you. But let's look at this subject in detail to provide a clearer picture!
The Security Risks of Enterprise's Mobile Devices
While mobile devices have smoothened many business operations, they have also increased security risks. Today, your data is more vulnerable than ever due to several reasons. Cyberattackers can tap into your network, collect its information, or upload malware. Increasing cases of spyware have also surfaced, resulting in data leakage. Similarly, app installation and updates also come with some major threats. In short, your data is insecure and can fall into the wrong hands. This risk is even greater for small businesses as they will face trouble recovering from such attacks.
Cyber attacks on mobile devices peaked in October 2020, with over 6.4 million reported cases. While that number decreased to 2.2 million by the end of 2022, the risks remain. Businesses that rely on mobile devices need to upgrade their security.
Using suitable protocols, they can minimize the chances of data breaches, unauthorized access, network interference, spyware, and social engineering. That is why remote IT support for small businesses designs company-specific solutions and implements them to add multiple layers of security.
What are Remote IT Support Services?
Remote IT support services for small businesses have become more popular with the increasing number of new startups. But what exactly is it? Let's find out.
IT remote support services refer to delivering IT solutions to clients without onsite interference. That means these services don't require a technician to be present at the client's company site. Instead, technicians access the control, manage, monitor, and troubleshoot devices anywhere. Small businesses find it more suitable as they lack the resources to compensate for another onsite worker.
You might have heard the term 'IT help desk.' It is a part of these remote IT support services, referring to a software solution. AirDroid Business allows clients to connect with a technician, regardless of location. The fundamental requirement to get this service is a stable internet connection.
Some IT support services that can be provided remotely include the following:
Customer support
Security protocols
Device management
Application management
Authorization & authentication
Network optimization
IT infrastructure planning
Monitoring and management
5 Reasons Why You Need Remote IT Support for Small Businesses
Do you believe your business doesn't need remote IT support services? Here are 5 reasons that say otherwise:
1. Maximum Security
You might be wrong if you think your business is small and unnoticed by security threats. According to a report by CNBC, small businesses are becoming frequent targets of cyber attacks. And the worst part is that these attacks are getting more severe than ever. New and small-scale companies have often closed because they couldn't recover from data breaches and losses.
Getting remote IT support for small businesses is a good idea. A helpdesk can increase your company's overall security. It can implement the correct protocols and keep your software solutions updated. As a result, the chances of cyber attacks are minimal.
2. Improved Efficiency
The key to success in your small business is efficiency. This one factor is ultimately tied to increasing your revenue and credibility. An IT support desk can make your company more efficient by automating essential operations. At the same time, it minimizes server errors, communication issues, and network crashes.
3. Save Time & Costs
Getting an onsite technician can be significantly expensive. Plus, it takes more time as they conduct site surveys, set up helpdesk, etc. You also have to worry about assigning them your office space and resources. Luckily, that's not the case with remote IT support services. They can connect to you from anywhere in the world, providing clear communication and being light on your pocket.
4. Access to the Latest Technologies
A small business lacks the resources to get advanced technologies. Alternatively, giant companies and enterprises use this element to their benefit. However, remote IT services can help you access cutting-edge technologies without actually owning them. As a result, you get better automation, higher effectiveness, clearer communications, and upgraded security.
5. Data & Device Management
Are you worried about managing your company's mobile devices? It can be a turn-off for a small business as it may require hiring a professional. And the same can be said for data management. But you can utilize IT remote services and let them do the heavy lifting.
An expert remote technician will handle all your data with proper storage units and management. At the same time, they can manage the devices connected to your company's ecosystem for better communication, data transfer, etc.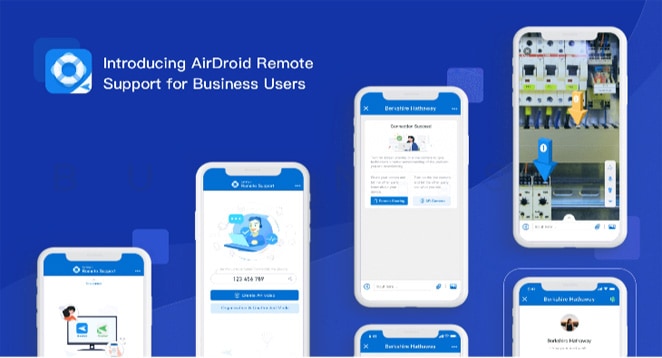 How AirDroid Business's Remote Support Help with SMB Enterprise?
AirDroid Business is an excellent way to supervise your business workflow and make it efficient remotely. It offers instant IT support for hardware manufacturers, system integrators, and software solution providers. It can monitor and troubleshoot Android mobile device issues. It saves the bucks you would spend on on-site support with quick response, remote control, screen sharing, voice chat communication, and screen privacy. Here are the key features of AirDroid Business that fulfill the needs of remote IT support for small businesses:
● Remote Support without Enrollment
AirDroid Business allows enterprises to monitor all activities of enrolled devices remotely. Admins can monitor real- time data of the devices like device name, online or offline status, device model, network type, battery level, and storage space. They can take screenshots of the device and access the camera to see what is happening. AirDroid Business offers different options to help you set up the remote control, so you can get unattended remote access to your devices with little efforts.
● Permission Management
With permission management, administrators can effectively control the permissions on the device to protect the sensitive information and data security of the organization. This is an important feature provided by AirDroid Business to help organizations achieve better device management and security.
● Application Management Service
With AirDroid Business, you can manage your app with improved security measures like app-level encryption to protect your critical data. This functionality also enables effective app management across all your devices, helping you increase productivity and lower expenses. It supports Managed Google Play, which is a feature of Android Enterprise (AE). With Managed Google Play, businesses can control app installation and updates, configure app permissions, and ensure app security. You can also use AirDroid Business to attach. AirDroid Business consider enterprise's data security for the first goal. The organization's app library allows you to manage all your company-owned private applications in one place. This centralized management makes it easier to distribute and update apps across your remote devices.
● Device Status Dashboards and Workbenches
AirDroid Business offers an ultimate view of all the devices connected to your business' network. You can see their status, performance, and usage in a smartly-designed dashboard for better management. Device status dashboards provide real-time information on the health of devices, including battery level, storage capacity, and network connectivity. This helps administrators identify and address any issues promptly, ensuring optimal device performance.
● Kiosk Mode
AirDroid Business's Kiosk Mode is one of its standout features. It takes data security to the next level by locking mobile devices to use a single application. At the same time, it restricts unauthorized access and deems which websites can be threatening to the company's infrastructure.
● Geofencing
Enterprises can set up geofences to define virtual boundaries. When a device enters or exits a geofenced area, predefined actions can be triggered, such as locking or unlocking the device, enabling or disabling certain features, or sending notifications. Remotely lock the device and erase device information when it is lost or stolen.
Conclusion
Small businesses can benefit greatly from remote IT support, making it a worthwhile consideration. It can enhance security measures, streamline operations, automate crucial tasks, provide constant monitoring, offer prompt responses, troubleshoot issues, and manage IT infrastructure. Various remote IT service providers are available, but using AirDroid Business can provide additional advantages. AirDroid Business offers a 14-day free trial to evaluate its exceptional features before committing to the premium version.