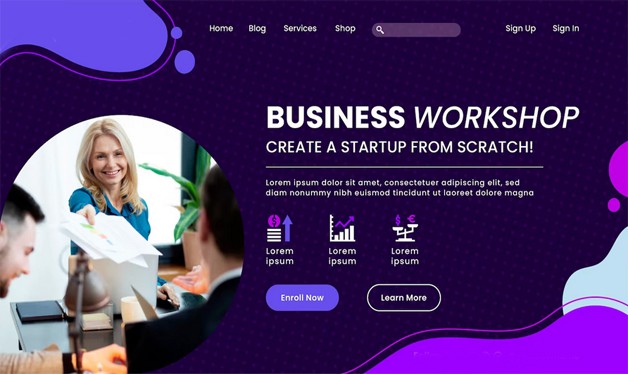 Saying WordPress is the most popular content management system is an understatement; it's well on its way to powering half of all websites in the world. It's also an excellent platform for growing your business with multiple advantages for entrepreneurs. This article looks at some reasons to use WordPress to streamline your business operations.
Minimize development expenses
A business website running on WordPress will require very little in the way of development costs. You only need to pay for a domain name and hosting. WordPress is free other than that, and it's open-source as well. This means anyone can access its source code, and you won't have to hire a developer to build your site.
The WordPress community has developed a myriad of plugins and themes, all of which are free. Most of these tools suffice to launch a business website.
You have full ownership of the site
Most entrepreneurs will find full ownership of a website very important. Some website builders limit source code access and can even take ownership of a website's content, which will never happen with the king of CMSs.
WordPress is self-hosted, so you are free to choose a hosting service and scale your site up or down  as needed. This renders it suitable for small companies that are looking for affordable options. Users can manage, post, and moderate any content on their website without any limitations in terms of algorithms and services.
You will own every product listing, video, or blog post on your site, even if you decide to switch hosts or change the website platform.
WordPress boosts website performance
WordPress hosting, in particular, can help improve website performance and page loading speed. Fast sites mean satisfied customers, and a happy customer will generate more income for the business.
Managed hosting typically offers automated backups, malware detection and removal, SSL setup, and other perks. If your site is hacked, you can revert it to a secure state very quickly. Hosting providers will set up a Secure Sockets Layer (SSL) certificate automatically. These certificates make it possible to load your site over HTTPS. This secures any data transferred between the server and the customer.
WordPress is intuitive
WordPress's intuitive interface makes building and managing a WordPress site child's play. It's not without a learning curve, but it's much lower compared to many other CMSs.
You can access all of the functions you need to manage your website through the WordPress dashboard. You will see the menus on the sidebar. Here, you can install plugins, create new blog posts, etc. You can use the Gutenberg block editor to modify page elements or create a custom blog post. Users without a technical background utilize plugins like Divi and Elementor to customize their WordPress site.
Multiple plugins and themes for businesses
There are all kinds of themes and plugins that developers and third-party firms have created for different purposes, including business websites.
Depending on your business type, you can use various sets of themes and plugins. If you have an online store, the plugin WooCommerce is a reliable solution. Plugins like WPForms are suitable for creating a contact page. For security, download Sucuri and Yoast SEO for search engine optimization.
SEO-friendly
On that note, SEO is a great online marketing technique for small businesses because it's practically free and very effective. WordPress for business designed for SEO and has many integrated features to its end. It suggests what keywords people search for the most in your niche, and all you need to do is enter them in the respective box.
Fast-loading and responsive
Having responsive web pages that load quickly is crucial to your users' experience. A potential customer will leave your site if it loads too slowly. Most WordPress themes are designed to ensure a pleasant user experience on all devices.
Easy to update
Finally, it is not difficult to update WordPress components. You can see all pending updates by navigating to the Dashboard > Updates tab. Depending on your hosting provider, your business website could be updated automatically. This way, you're less likely to fall victim to a security breach from using a vulnerable, outdated version.