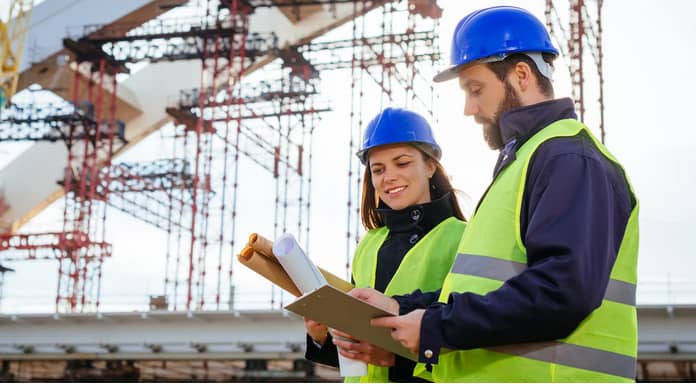 Best 2D & 3D CAD Software For Engineering: Computer Aided Design or CAD software is used by designers and engineers to build two- and three-dimensional models of actual components. CAD software has almost completely replaced the t-squares and protractors used by yesterday's designers in a process known as manual drafting, the conventional "pencil on paper" method of engineering and design.
What is CAD?
Computer-aided design is digitally creating 2D drawings and 3D models of real-world things before they are made. With 3D CAD, you can easily exchange, evaluate, simulate, and change designs, paving the way for unique and differentiated goods to reach the market quickly.
Dr. Samuel Geisberg founded Parametric Technology Corporation (PTC) in 1985 and outlined an entirely new approach to CAD software. This breakthrough resulted in the market's first parametric and feature-based solid modeling CAD software, which is currently known as Creo, the industry standard for product design and development software.
More than 30 years later, the product development business, like so many others, is beginning to embrace the next wave of technology-driven innovation.
What are the types of CAD?
2D CAD and 3D CAD are broad categories of various types of CAD, and CAD with CAE (Computer-aided engineering) and CAM (Computer-aided manufacturing) software elements is now the standard.
What is the purpose of CAD?
CAD aims to optimize and streamline the designer's workflow, boost productivity, improve design quality and detail, improve documentation communications, and frequently contribute to a production design database. The output of CAD software is in the form of computer files, which are then used for manufacturing operations.
CAD is widely used in combination with computerized industrial processes. For example, CAD/CAM software (computer-aided design/computer-aided manufacturing) is used to create electrical circuit boards in computers and other devices.
Who uses CAD?
Computer-aided design is using in many different professions. CAD software is widely used in architectural, arts, and engineering applications. It also use cases are industry and job-function-specific.
CAD tool users include, but are not limited to, the following professions:
Architects
Animation illustrators
City planners
Drafters
Engineers
Exterior designers
Fashion designers
Graphic designers
Game designers
Interior designers
Industrial designers
Manufacturers
Product designers
What are the Advantages of CAD Software
CAD design tools provide significant advantages over the conventional technical drawing and manual drafting for engineers and designers:
Design production expenses are reduced.
Due to an efficient workflow and design process, projects are completed faster.
Changes may be conducted separately from other design features, eliminating the need to redo a drawing entirely.
High-quality designs that include documentation (such as angles, dimensions, and presets) in the file;
Because handwritten drawings are not as clear or detailed, more apparent designs, improved readability, and ease of interpretation by collaborators;
The use of digital files can make it easier to collaborate with coworkers; and
Features in the software can help with generative design, solid modeling, and other technical tasks.
Best Computer Aided Design Software / CAD Software
A variety of CAD tools are available to designers and engineers. Some CAD software are designed for specific use cases and sectors, such as industrial design or architecture. Other CAD software products support a wide range of industries and project types. Some commonly used CAD tools are;
1. AutoCAD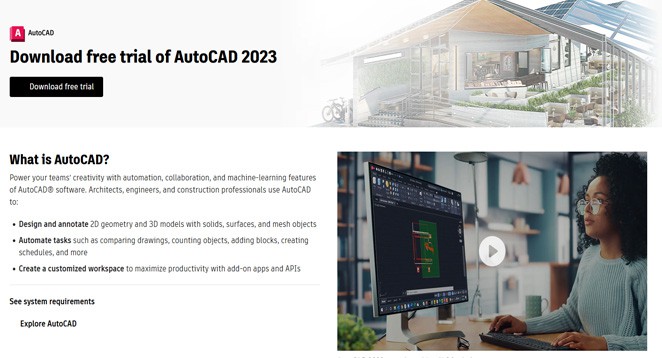 It is a 2D and 3D design and drafting platform that includes 2D drafting, drawing, annotation tools, 3D modeling, and visualization technologies for architects, engineers, construction professionals, field workers, and contractors. AutoCAD now allows users to view, create, edit, and share drawings on the move through any smartphone or tablet using native iOS and Android mobile apps. If you are looking for the best CAD software, Architects, engineers, and construction professionals use AutoCAD.
Website: https://www.autodesk.com
2. MATLAB
MATLAB is a programming and numerical computing platform that allows corporations and educational institutions to design models, develop algorithms, and analyze data sets, among other things. In addition, professionals may use the live editor to develop scripts and add hyperlinks, graphics, and headers to code. MATLAB applications explain how various algorithms interact with your data. Iterate until you achieve the desired results, then automatically write a MATLAB program to replicate or automate your work. It is among the most excellent CAD software.
Website: https://www.mathworks.com
3. SolidWorks Premium
SolidWorks Premium is the industry's top 3D design solution. It combines sophisticated design tools, such as industry-leading components, assembly, and drawing capabilities, with simulation, rendering, animation, product data management, and cost prediction. It is a top CAD software because SOLIDWORKS Professional develops the capabilities of SOLIDWORKS Standard with ECAD/MCAD collaboration, automated cost estimation, collaboration capabilities, design and drawing checking, an advanced components and parts library, and advanced photo-realistic rendering.
Website: https://www.solidworks.com
4. Onshape
Onshape is a 3D CAD software for agile design and engineering teams that includes full capabilities for modeling components and assemblies and preparing production drawings. In addition, the built-in version control and collaboration facilities allow several users to work on the same data without overwriting each other's updates, enabling job execution in parallel to shorten design cycles.
Website: https://www.onshape.com
5. Inventor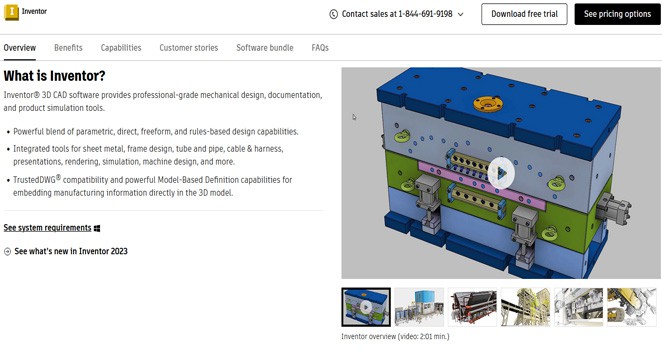 Inventor is a 3D CAD program for Windows that aids in 3D modeling with mechanical design, documentation, and product simulation capabilities. As a result, professionals may build bespoke layouts and automate repetitive activities. Design and optimize performance by using 3d solid modeling and simulation tools. It is the best CAD software on the market since it quickly creates customized configurations of your drawings and automates routine chores. Connect your designs to incoming client data and collaborate on ideas in a safe cloud-based service.
Website: https://www.autodesk.com
6. AutoCAD LT
AutoCAD LT 2D drafting software assists you in creating, editing, and sharing 2D drawings. It is best for small design teams in the construction, architectural, engineering, and manufacturing industries.
Website: https://www.autodesk.com
7. CATIA
CATIA is a cloud-based and on-premise product modeling software that assists organizations in several industries, including architecture, aviation, consumer packaged goods, transportation, and construction, in designing, building, and visualizing 3D models. Among the features are team collaboration, simulation, visual scripting, and real-time concurrent designing. CATIA is the world's most used CAD software for product design and experience.
Website: https://www.3ds.com
8. Fusion 360
Fusion 360 is a 3D CAD, CAM, and CAE tool that integrates industrial and mechanical design, simulation, collaboration, and machining to connect the complete product development process in a single, integrated toolset. Visit the top CAD software website to get answers to your questions, discuss your existing company demands, and understand how Fusion 360 may help you reach your objectives.
Website: https://www.autodesk.com
9. Ansys SpaceClaim
Ansys is a 3D design and engineering simulation program that businesses may use in various industries, including automotive, aircraft, construction, energy, healthcare, military, chemical processing, and consumer products. This CAD software assists enterprises in managing workflow automation, predictive analysis, simulation visualization, application modification, and product testing processes.
Website: https://www.ansys.com
10. Alibre Design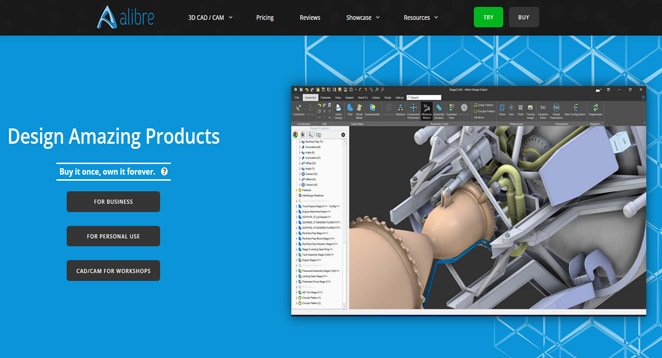 Alibre Design is a CAD software that helps organizations automate 3D modeling, scripting, rendering, surfacing, 2D documentation, and publication procedures. In addition, mechanical engineers may use the program to produce production drawings and 3D designs for product development.
Website: https://www.alibre.com
11. ActCAD
ActCAD is engineering design software that can create 2D drawings, layouts, sections, and other engineering-related drawings. Teams may use the platform to handle 2D CAD drafting projects in architectural engineering, interior design, mechanical engineering, road and site planning, civil engineering, and site development.
Website: https://actcad.com
12. SimScale
SimScale is a cloud-native solution for fluid flow, structural, and thermal engineering simulation (CFD & FEA) that runs in a standard web browser from start to finish. As a result, virtual design testing takes place online, from CAD geometry input and meshing to simulation setup and post-processing, with no installation or additional hardware required.
Website: https://www.simscale.com
13. FreeCAD
FreeCAD is an on-premise open-source paramedic 3D modeler that assists businesses in creating things of various sizes. For example, programmers may create limited 2D forms and use them as a foundation to create other things on a single platform.
Website: https://www.freecadweb.org
14. Creo
Creo is an engineering CAD software that lets organizations improve the entire product lifecycle from a unified platform by using augmented reality, real-time simulation, additive manufacturing, and generative design approaches. In addition, it enables employees to alter product designs using sketching and parametric design tools, streamlining 3D conceptualization processes.
Website: https://www.ptc.com
15. GeoHECRAS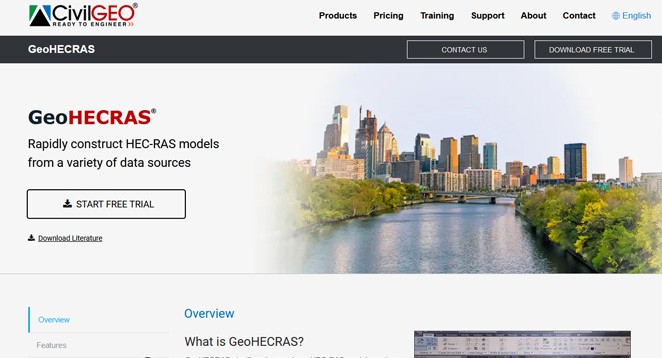 GeoHECRAS is a river modeling program used to compute water surface profiles for steady and unsteady flow models, bridge and culvert traffic crossings, FEMA floodplain encroachments, stream restorations, inline reservoir constructions, off-channel storage regions, and many more applications.
Building 1D and 2D HEC-RAS models, automated model calibration, automatic assignment of land cover as manning's roughness, mechanical bridge & culvert sizing and designing, digital terrain cross section cutting, automated FEMA floodplain encroachments, LiDAR elevation terrain processing, AutoCAD, MicroStation, and ESRI ArcGIS compatibility, and 100% compatibility with US Army Corps of Engineers HEC-RAS are all features of GeoHECRAS. It is among the best CAD software for 2D & 3D Viewing and Editing.
Website: https://www.civilgeo.com
16. ProgeCAD 2010 Professional
progeCAD is a CAD program for 2D drawing and 3D modeling that offers architectural organizations a variety of capabilities like file conversions, data import/export, multi-grip editing, data extraction, picture rectification, and more.
Users may plot PDFs using progeCAD by using color and style tables and printer setup parameter files. In addition, AutoCAD drawings, scripts, drawing interchange format, TrueType and SHP/SHX fonts, Hatch Patterns, Linetypes, and Blocks are all supported.
17. Ansys Fluent
Like other best CAD software on this list, Ansys Fluent frees you your time to develop and improve product performance. Trust the results of your simulations to software that has been carefully proven across a wide range of applications. With Ansys Fluent, you can develop complex physics models and study a wide range of fluid phenomena—all in a configurable and user-friendly environment.
Website: https://www.ansys.com
18. IronCAD
IRONCAD is CAD software that allows engineers to construct 2D and 3D mechanical models using visualization, sketching, and animation capabilities. It includes modules such as INNOVATE, DRAFT, and COMPOSE.
Website: https://www.ironcad.com
19. CorelCAD
CorelCAD is a computer-aided design program that allows manufacturing, architectural, engineering, and construction firms to generate and produce 2D and 3D designs on a unified platform. In addition, managers may use the program to track projects, engage with team members and stakeholders, and specify unique project characteristics. It is the most reliable CAD software on this list.
Website: https://www.coreldraw.com
20. ClearCalcs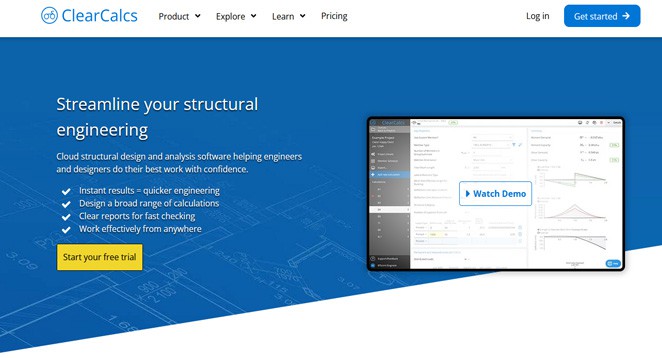 ClearCalcs is a cloud-based structural design and analysis platform that assists engineering firms in creating and verifying design and calculations for various elements, such as beams, columns, retaining walls, concrete footings, and more.
Supervisors can use the tool to produce calculation reports and print them in PDF format. In addition, ClearCalcs enables managers to arrange groups of computations into projects, each with its name, work number, or location. Projects can also be duplicated, archived, or deleted by users. It also includes 2D frame and truss analysis, team collaboration, audit log, remote access, multi-span beam analysis, data export, member scheduling, and other features. You can consider it among the best CAD software in 2023.
Website: https://clearcalcs.com
21. Pylon
Pylon-Solar Design Software provides premium features to Solar Installers with no monthly fees. Pylon leaves little to be desired, including high-definition aerial images, 3D shading analysis, load profiles, financial modeling, and stunning proposals made to convert. It is a popular choice among solar installers since it is a quality solar design solution with no monthly costs.
22. nTopology
NTopology provides powerful design and testing tools for designers and engineers. It provides a consolidated platform for correct design in the construction, automotive, aerospace, medical, and consumer industries. Furthermore, users may import data from other sources and export data to other design programs for improvement. It allows developers to continue working on their projects across several platforms.
Website: https://ntopology.com
23. Solid Edge
Siemens Solid Edge offers a suite of modular, end-to-end modeling and simulation solutions that handle all areas of the product development process. Electrical design, 3D design, computer-assisted manufacturing (CAM), 3D printing, simulation, data management, and other software are included in the portfolio. Aerospace supply chain, automotive aftermarket, agricultural machinery, consumer durables, fluid power system design, marine craft and equipment manufacture, medical devices, industrial machinery, and plastics component manufacturing are among the industries served by Solid Edge.
Website: https://solidedge.siemens.com
24. Civil 3D
Civil 3D is on-premise engineering CAD software that aids firms in surface modeling, parcel design, and construction documentation. For example, managers may generate dynamic surfaces, present point cloud data, and produce triangulated irregular network (TIN) surfaces.
Website: https://www.autodesk.com
25. BricsCAD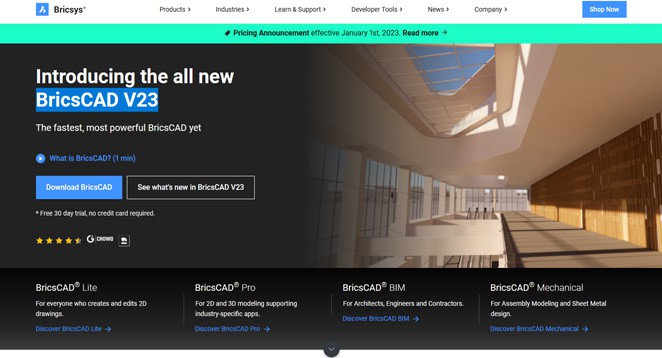 BricsCAD is the first all-in-one CAD design solution in.dwg that addresses all of your requirements, including 2D drawing, 3D modeling, mechanical design, and BIM.
BricsCAD® solutions provide a low-cost, multi-platform CAD software for Windows, macOS, and Linux.
Website: https://www.bricsys.com
Final Words
CAD Software is now widely using for industrial products, animation movies, and other purposes. Professional design renderings are often printed using a specialized printer or plotter. Vector graphics or raster graphics are used in CAD systems to demonstrate how an object will appear.
There is an increasing need for CAD software as more organizations (if not all) resort to CAD / CAE / CAM to improve productivity, accuracy, and product time-to-market. AutoCAD, Dassault Systems, and Altair are among the industry leaders in this field.