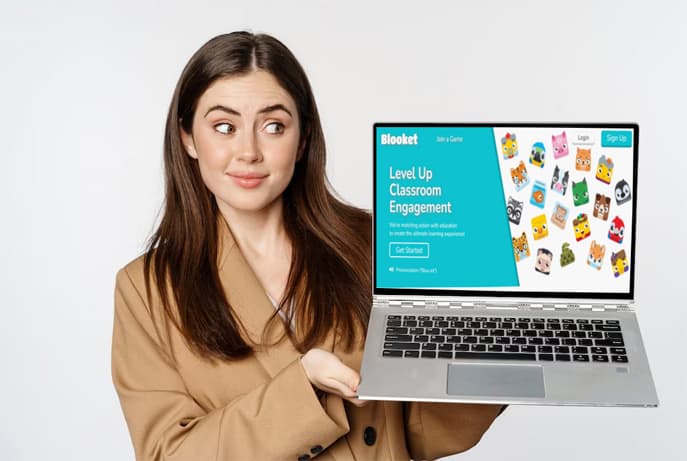 Join The Blooket Community to Motivate Students, Teach Effortlessly and Customize Freely: Blooket is an online educational gaming platform. Multiple activities to engage students, guided by instructors or independent gameplay. Teacher-based subscription service with an option to create student accounts for performance data monitoring. There are numerous alternatives for the students to perform. There is a healthy level of competition, and all students are working diligently to accomplish a goal. We wish there were more activities available and students were not permitted to use any name they choose, as this frequently causes friction in the classroom and delays learning. However, it supports the students in studying information and enhancing what they already know while keeping them engaged throughout.
What is Blooket?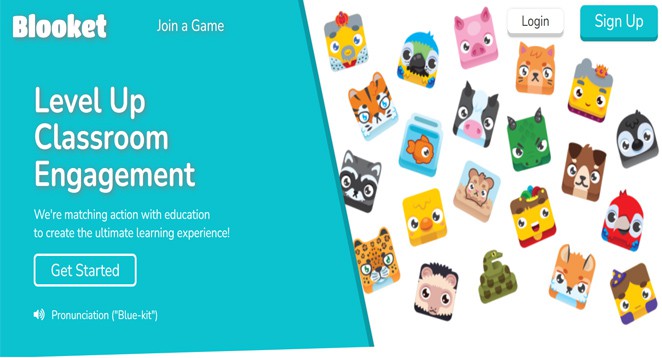 It is a free online gaming platform that enables you to create your content or choose from various content options provided by the Blooket team to engage your students in an enjoyable, entertaining, and educational manner. Blooket has lots of resources that can help you in educating your students. For example, Blooket's website allows learners to create vocabulary sets, trivia games, tasks, and assessments. In addition, students can use Blooket's educational activities outside class to review previous learning or discover new information. The primary audience for this platform is elementary students, but the content can be adapted for senior students.
Some of the popular quizzes on Blooket are Brain Teasers, 3-D Shapes, 2nd Grade Counting Money, Oceans & Continent Names, Bar Graph, Wonders of the World, Spring Time Trivia, Capitalizing Titles, Name that Logo, Multiplication Facts, Guess the Kids TV show characters, Name that Animal, Guess the Food Quiz, Who's that Disney Character?, Minecraft Mob Quiz, Name Disney Movies by Scene, Football Teams challenge, Marvel Movie Quiz, Name that video game and US States and more.
Website: https://www.blooket.com
Is Blooket Safe?
Blooket is entirely safe to use for teachers as well as for students. The term "personal information" refers to any information that personally identifies you, such as your name or email address or any other information that they could reasonably link to your identity. As this Privacy Statement on the website describes, they will only collect, use, and disclose your personal information. This Policy governs your use of Blooket through Blooket.com. The Policy does not apply to the websites, services, or practices of companies not owned or controlled by Blooket.
Your Blooket account is password-protected. You can help us prevent unauthorized access to your account by always keeping your password concealed. They value the protection of your personal information. Kids will likely want to create an account to save and spend tokens, buy additional personas, and keep their progress during independent play. However, the law and Blooket's terms prohibit children under 13 from creating accounts, so instructors should instruct children under 13 to avoid this section.
Is Blooket Legal?
It is legal to use Blooket for educational purposes. Blooket is a mobile-accessible website offering online educational computer and interactive electronic activities in secondary education, incorporating social learning, teacher instruction, and educational entertainment.
Blooket's servers are located in the United States. Please be aware that if you use the Service from other regions with laws governing collecting data, protection, and use that may differ from United States law, you may transfer your personal information outside those jurisdictions and into the United States. By using the Service, you agree to the collection, use, and storage of your personal information by the Privacy Statement mentioned on the website.
How to Access Blooket?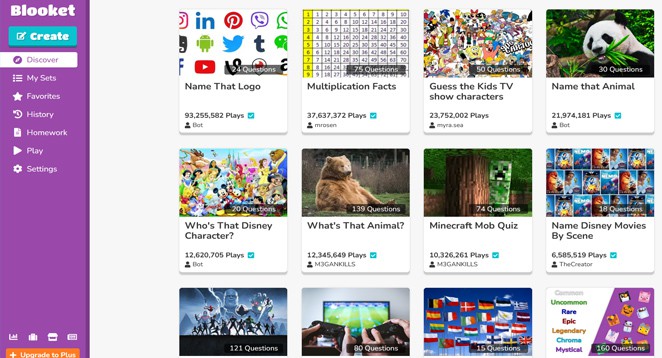 Click the Signup button to create an account on Blooket.com. If you are a student, get parental permission before signing up. Fill out the fields with your information, then LOG IN with your username or email address and the password you created. Once you have logged in, your page will appear as shown. You can select Explore sets TODAY to begin playing games. Examine these already-created games and quizzes. Only the teacher requires an account. You can host a game that any student can join using the Game ID without registering. Those who create accounts can access new Blooks and check their statistics.
Blooket is not down right now, and we have good access to it. Please use a VPN if you cannot stream the website from your device. If site is not working for you, consider the best alternatives listed on this page. These websites are comparable in that they provide almost similar services. To check Dashboard, Authentication, Hosting, and Homework services  are working or not visit the website link: https://status.blooket.com or https://debug.blooket.com It ensures that all images load and that no important services for live games are blocked. 
Blooket Online Quizzes for iPhone, iPad, and Android
BLOOKET offers a game-based learning tool that can be accessed through most online browsers. It's a fresh approach to trivia and reviews games! Blooket creates a vibrant learning atmosphere that inspires students. One player or teacher hosts the game, while everyone else participates independently.
Fortunately, all visitors may play their favorite Blooket games on mobile devices – directly from their smartphone or tablet running iPhone, iPad, or Android, anywhere in the world! And they are ready to allow you to use the site's numerous features and high-quality quizzes right now. So Blooket guarantees you a lot of fun while learning quickly.
You can find the most popular games and quizzes of the highest quality at free Blooket. First, visit the website and have fun playing your favorite online games. Then, set up a pleasant, immersive atmosphere at home to enjoy your favorite online education games without interruptions from advertisements. You can also download the Blooket app for Android and iOS from the Google Play store and App Store.
Blooket User Experience
Because to its rapid loading speed, flawless functionality, Blooket can provide you with a delightful experience that you won't find anywhere else. In addition, the process is simple; choose a question set, select a game mode, host & join, play to review and then analyze the results. You may join a game from homepage by clicking on the "Join a game" thumbnail, which will take you to Blooket Game ID page to play.
However, the Blooket website is both for free and premium users. It has a 4.49 out of 5-star rating based on web research and 60 Blooket Reviews. The review score is determined by user ratings, brand popularity, user experience, and the breadth and quality of features offered to users. You can also join a premium Blooket account to level up your classroom; You may join Starter, Plus, or Plus Flex account.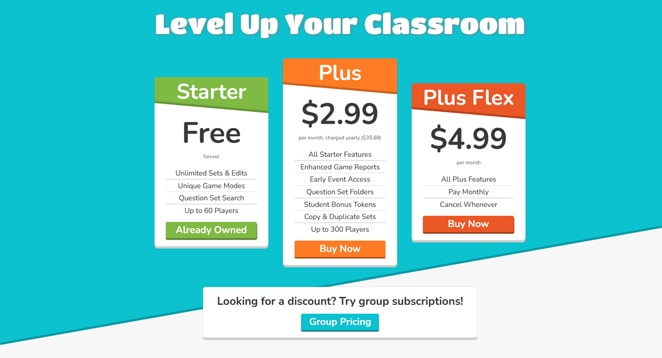 After joining the premium Blooket account, you may create folders to organize your question sets, larger Live games, enhanced reports, early game access, copy & duplicate, audio questions, more extended deadlines, merging sets, and bonus tokens for students after every game.
Why is Blooket so Popular?
Even if the popularity of Blooket is simple to explain since it is a free platform, that isn't the only reason. Blooket's popularity among teachers and students may be attributed to various things, including its user-friendly design, endless free learning games and much more.
Blooket, as a platform for education, is an enjoyable and engaging method to increase student engagement. This gamified learning tool helps students improve their mental skills while practicing a variety of subjects. In addition, it has built-in incentives that ensure student engagement.
Blooket provides a variety of game modes, including Tower Defense, Gold Quest, and Battle Royale. These games enable students to collaborate in groups and receive rewards for their efforts. In addition, a leaderboard is included in the game so that students can compete against one another.
Blooket's extensive question library enables teachers to create custom question sets. In addition, they may use settings created by other teachers. Additionally, the community encourages users to add new system improvements, such as new game modes.
Blooket also provides a game builder. It allows teachers to customize the activities for each class. The game builder includes effective options like quicker query combining and matching. In addition, it enables teachers to add images, schedules, and other options.
Additionally, Blooket offers games that can be played individually. Students can participate in the game by creating an account, entering a Game ID, or entering a code.
Why Should You Use Blooket?
Blooket is the place to go if you want an excellent educational experience. This website contains the finest games and reviews available online. This platform has everything for students, teachers, and co-teachers and is managed by an educational institution.
1. Free to use
Free for all essential features! You can set an unlimited number of queries and host a game with up to sixty participants. You can upgrade if you desire additional features to enhance your Blooket experience.
2. Play Blooket without signing up
Blooket enables teachers to create their own question sets and integrate question sets made by other teachers. Additionally, the platform allows users to participate in activities created by other teachers. It facilitates assigning students to groups and monitoring their progress.
3. Create your Quiz
Using Blooket is an excellent method for creating a quiz for your students. You will be able to submit queries and images after logging in. Teachers can specify a duration limit as well. The host may also rearrange the questions and make your quiz public or private.
What is Blooket Reddit?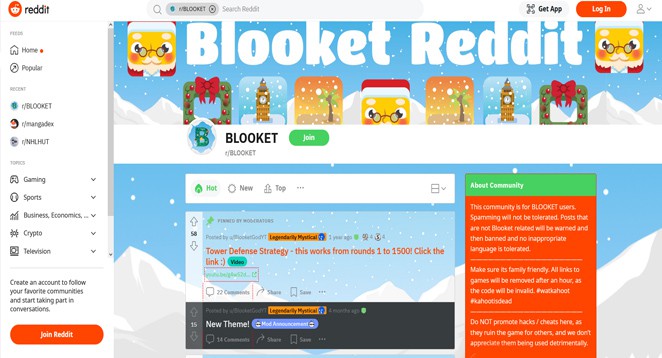 Blooket Reddit is a community site for those who like learn for free at Blooket website. This community is for users of BLOOKET. Spam will not be allowed. Non-Blooket-related posts will be warned and then banned. However, you may discuss the following topics on Reddit: the new best Blooket hack, game reviews, Blooket players, and others.
How to Create a free account on Blooket?
Blooket succeeds at engaging students in entertaining activities and competitions. Students enjoy accessing new "Blooks" and competing to review key concepts. We also appreciate that Blooket engages students in various entertaining and interactive game modes. It promotes classroom unity! Additionally, Blooket is simple to navigate, and it is simple to locate games created by other users.
To create a free Blooket account, the first step is to create a using your Google account or email address. It's an easy process that takes a few seconds. Next, check your email, verify your account, and choose an easily-remembered password to save time when logging into class. After registering, you will be presented with a dashboard for your account. You can either create or find sets.
Create a Set
If you're looking for an interactive method for your students to study and review the content at home, they create a set function that allows you to form questions. Additionally, you can use the "create a set" feature to make homework and assignments for your students to complete along with the content of the lessons you are teaching.
To create your own Blooket set contents, select the tab labeled "Create a Set," It will send you to a page where you can enter the title, description, and images for the set. Next, it's time to add some questions.
The multiple-choice questions have a user-friendly layout that lets you select the correct response from four options. In addition to setting a time limit for each question to make it more challenging, you can include images to make the quiz visually attractive.
One of the finest aspects of Blooket.com is that all content teachers create is accessible to other teachers. Once your set has been completed and published, it becomes a part of the library and is available for other teachers to use in their classrooms.
Discover Sets
"Discover sets" are Blooket sets that have already been created. This feature is ideal if you want to set up an entertaining reward system in the classroom for students who complete an activity, quiz, or class test. Discover sets are also an excellent option if you need a fast activity for online education.
The "Name that logo" game set is among the most popular activities. Assessing your student's knowledge of various brands, products, and services is entertaining. It is also beneficial to use an introduction mechanism for getting yourself and your students with Blooket.
Once you've navigated this section, select a game that you and your students find most engaging or matches your current lesson content. After choosing a game, you must select a game mode.
Game modes in Blooket
After selecting a set, you must choose a game mode. A description of the game mode will appear on the screen's right. All game modes can be based on time or achieving a specific score, number, or quantity (dependent on the game). We suggest a time limit of 4 to 7 minutes, as it has proven to be the most effective method for keeping the class moving.
Why do you need to look for Blooket alternatives?
Why should you know the alternatives or listings for the best sites like Blooket.com? To begin, if you are a student, it is only natural to want to see where you can find learning content, especially if it is free and provides educational content through free quizzes and games. Students are searching for blooket free coins, cheats, cheat engine, codes, redeem codes, how to get coins fast on blooket, promo codes for coins, hack ios android PC, mods cheats code, hack extension, blooket codes, codes for coins 2023, redemption codes, working blooket code on the internet.

What are the best Blooket Alternatives Working Sites?
This article lists the best working Blooket alternatives sites where you can learn with fun Learning while playing games is an excellent way to have a pleasant time. Blooket is one of the most unique and accessible websites for playing quiz games online; however, If you can not access it due any reason. Therefore, we discovered the 16 best sites similar to Blooket that will help you find your favorite quiz games quickly.
Top Blooket Alternatives and 80 Best Sites like Blooket.com
Blooket is a trustworthy educational site where you can easily play and learn online. The website has a large readership who pay a monthly membership fee to play quiz games online. It also has various selections worth checking out.
1. Kahoot!
Kahoot! is a global leader in gamifying workplace learning similar to Blooket. Kahoot is a recognized champion in gamifying workplace learning, including training, events, and internal presentations. It makes an audience understand without their awareness! Create your own Kahoot! The process takes only a few minutes, whether you use a computer or a mobile device. First, you facilitate an online Kahoot in which quizzes are displayed on a large screen, and participants respond using their mobile devices. Through the app, you can also submit your games.
Website: https://kahoot.com
2. MySchoolWorx
MySchoolWorx, an utterly cloud-based education management and parent communication app, was designed for private K-12 institutions. It is user-friendly and facilitates collaboration between teachers, parents, students, and administrators to enhance student performance. MySchoolWorx provides valuable features like real-time reporting, insights, and administration-enhancing tools. In addition to providing teachers with more time, this app keeps parents and students informed. Free setup, training, and technical support are provided to schools. It is among the best Blooket alternatives in 2023.
Website: https://myschoolworx.com
3. Gimkit
Gimkit is an interactive learning game that your students will enjoy playing. The game your students are playing today may differ from the game they will play tomorrow. There are regular updates, new game modes, and power-ups. Students may respond to queries on their own devices and at their tempo. Each student will be subjected to the questions multiple times throughout a Kit to ensure the ability. Students can reinvest their funds by purchasing upgrades and power-ups. Gimkit is the best Blooket alternative to learn from educational games.
Website: https://www.gimkit.com
4. USATestprep
USATestprep enables administrators to evaluate and monitor the performance of students, schools, and classrooms. It was founded by two teachers who believed that web-based technology could enhance student test scores and curriculum mastery. As a result, USATestprep provides far more than just practice queries. It also contains state-aligned puzzles, videos, enhanced technology activities, and games. It is similar to Blooket.
Website: https://www.usatestprep.com
5. Quizizz
Quizizz is a fantastic method to study any topic from anywhere. You have the option of learning on your own or joining a group for assignments, quizzes, and presentations. Over 20,000,000 people use Quizizz daily in schools, residences, offices, and other locations worldwide. The application enables you to participate in group activities or study independently. You can join games on any device at joinmyquiz.com, even without the app. You can play a game with your classmates at home or in the classroom and examine query and answer options. It is the best Blooket alternative you can consider in 2023.
Website: https://quizizz.com
6. Top Hat
The software tools developed by Top Hat for higher education facilitate teachers in engaging students from the front row to the rear. No extra hardware is necessary. Everyone in the classroom, from the front row to the back, should be able to participate and have their say. When you first started teaching, you imagined a class full of excited students. Unfortunately, it is becoming more challenging to capture the attention of students. It is time for something new to occur. Top Hat Classroom helped more than two million students in attending class and its is also the best Blooket alternative.
Website: https://tophat.com
7. SuperTeacherTools
Jeopardy Review Game is the most popular tool on the website. This application enables you to create customized classroom games, training sessions, and any other setting where an entertaining, team-based review game would be suitable. Adding your images, symbols, or images to review games is simpler. For example, you may create a multiple-choice review game similar to the popular television program Who Wants to Be a Millionaire? You can use the online form to submit questions and select answers. It is one the reliable Blooket alternatives for students.
Website: https://www.superteachertools.us
8. Brainly
Step-by-step solutions to math problems and detailed textbook explanations. Brainly is ecstatic about the possibility of infinite collaboration. It shows that learning is more enjoyable and efficient when we collaborate. Share your knowledge to benefit the community. Answering questions facilitates learning! Brainly will enhance your academic performance! Brainly offers tutor chat support, verified answers, and solutions to textbook questions. You can consider it among the best Blooket alternatives.
Website: https://brainly.com
9. Quizalize
Quizalize quizzes can be used to assess teachers or for official examinations. Additionally, they are curriculum-tagged, allowing you to monitor mastery data for each question students answer readily. It supports international standards and curriculums. The mastery dashboards provide real-time data on each student's progress and enable you to track their mastery over time. You can optimize your teaching effectiveness by focusing on students with similar learning requirements and assisting struggling students. Quizalize is similar to Blooket and provides the best learning environment to students.
Website: https://www.quizalize.com
10. Seesaw
Seesaw's digital portfolio enables students to organize their knowledge using integrated multimodal tools. Teachers can observe every stage of student thought and progress, allowing them to teach more effectively. Families can access their child's academic progress and engage with institutions remotely. Students are taught how to use multimodal tools such as collage, draw+record, and video. It is the site similar to Blooket.
Website: https://web.seesaw.me
11. Socrates Learning Platform
Socrates is an effective educational tool like Blooket that enables schools to guide students through limitless educational topics. It generates dynamically adaptable learning paths based on each response. It allows students to focus on areas where they are working and encourages them to excel in areas where they are succeeding. Socrates begins teaching each student based on their grade level but modifies backward or forwards based on their abilities.
Website: https://www.withsocrates.com
12. Classtime
A classroom management system that incorporates analytics, real-time grading, and libraries for students and instructors. Teachers can use Classtime to add to classroom instruction and receive immediate feedback on student understanding. Engage everyone, ask excellent questions, and enhance knowledge. You can consider it among the best Blooket alternatives.
Website: https://www.classtime.com
13. Ment.io
Ment.io is an interactive discussion forum that facilitates the development of students' analytic skills, encourages in-depth discussions, and simplifies assessment in higher education. Using discussion-improving AI/analytics, you can facilitate conversations that are both accessible and meaningful. A modern discussion board that provides structure and promotes meaningful, collaborative discussions.
Website: https://education.ment.io
14. Clever
Clever is used by over 60% of K-12 institutions in the United States, including 95 of the 100 largest districts. Monthly, 15 million users access Clever. They are pleased to collaborate with the education community to provide each student with a lifetime of opportunities. Dan Carroll, co-founder, and former Denver school technology director, created Clever. Unfortunately, Dan's plans to use technology to save time and personalize learning could have been improved by an abundance of CSV files and neglected passwords. It is the most reliable Blooket alternative on this list.
Website: https://clever.com
15. Plickers
Plickers is a no-cost card game that your students will enjoy. Join millions of players in your upcoming lesson. Plickers enable you to conduct class polls without requiring student devices. Instead, you can give each pupil a card (a paper clicker) and use your iPhone/iPad to scan them for quick comprehension tests, exit tickets, and other casual assessments. Then, student by student, your data is automatically saved at plickers.com. You should consider Plickers as the best Blooket alternative.
Website: https://www.plickers.com
16. eduTinker
eduTinker facilitates interaction between parents, students, and teachers. It provides all the necessary teaching resources on a single platform, allowing teachers to use their time efficiently and effectively. The essential features of the products: – Real-time online courses – Assignment distribution & evaluation, Voice feedback on assignments – Sharing of educational resources by students – Automated attendance tracking, Online exams – Visibility of the daily schedule and approaching due dates for improved planning. It is among the top Blooket alternatives.
Website: https://edutinker.com
Other sites includes;
17. Activelylearn.com
18. Bigideasmath.com
19. Biologycorner.com
20. Boomlearning.com
21. Bringyourownbook.com
22. Battlefields.org
23. Brainpop.com
24. Ck12.org
25. Conjuguemos.com
26. Coolmathgames.com
27. Carolinascienceonline.com
28. Desmos.com
29. Ducksters.com
30. Deltamath.com
31. Edpuzzle.com
32. Edtechmrbrown.com
33. Explorelearning.com
34. Educreations.com
35. Flippity.net
36. Flipgrid.com
37. Flocabulary.com
38. Guizlet.com
39. Gamifiedclassroom.com
40. Infinitecampus.org
41. Iscorp.com
42. Ixl.com
43. Kamiapp.com
44. Kamihq.com
45. Kahoot.it
46. Lingt.com
47. Menti.com
48. Ncbionetwork.org
49. Nitrotype.com
50. Noredink.com
51. Nearpod.com
52. Newsela.com
53. Pk12ls.com
54. Peardeck.com
55. Powerschool.com
56. Readworks.org
57. Renaissance-go.com
58. Scholastic.com
59. Schoolnet.com
60. Sd25.org
61. Somewheretoshare.com
62. Schoology.comphrasedllc.com
63. Sandagogy.co.uk
64. Securly.com
65. Savvasrealize.com
66. Smartmusic.com
67. Spanishdict.com
68. Studyisland.com
69. Seterra.com
70. Socrative.com
71. Timberlane.net
72. Thrively.com
73. Teachtci.com
74. Teacherstechtoolbox.com
75. Ushistory.org
76. Utah.edu
77. Xello.world
78. Wria.org
79. Wizer.me
Final Words
We encourage looking at the variety of Blooket games that have already been created to help save time when practicing a new topic for yourself or your students. Blooket helps students understand and practice ideas learned in the classroom.
Students like competition, whether they are playing as a class or assigned a game for homework. The other competitors may have been the first to market for multiple choice games with points attached, but this only enabled most students to reach the top of the scoreboard. Blooket allows students to compete in a battle royale to determine the last person remaining based on speed and accuracy. Individually, the students like the variety of game options for testing their knowledge when provided as homework. Students get credit for their engagement to online buy new characters with varied features. It's also fun because the playability and teacher interface are updated every few months. Also check the best Quiz maker for Survey, Poll and Online tests.