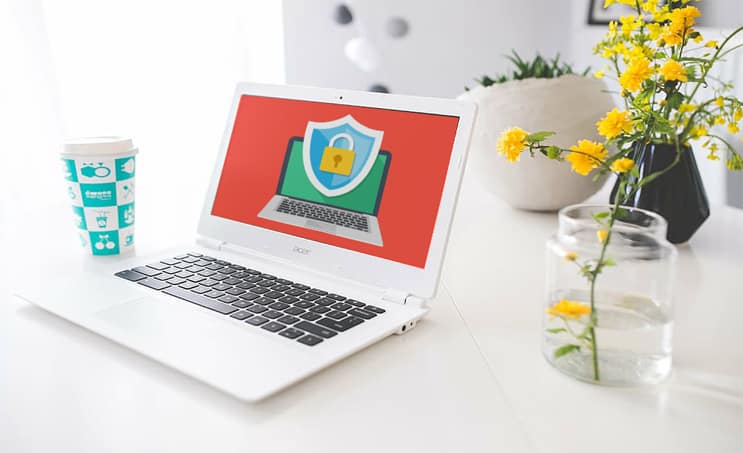 What is AntiVirus Software?
The software is mainly designed to detect, prevent, and remove malware (malicious software). Antivirus software prevents, scans, identifies and removes computer viruses. Once installed, most antivirus software operates automatically in the background to offer real-time malware protection.
Complete virus protection applications protect your data and hardware against malicious software such as worms, Trojan horses, and spyware and may include extra protection such as firewalls and website filtering.
Antivirus Software and Computer Protection Software
Antivirus and computer protection software are meant to analyze data such as web pages, files, software, and applications to detect and eliminate malware quickly.
Most provide real-time protection, which may defend your devices from incoming threats; frequently scan your whole computer for known threats and deliver automated updates; and detect, block, and remove dangerous codes and software.
Installing a defensive antivirus application is more necessary than ever since so many activities are now undertaken online, and new threats are constantly emerging. Today, the market offers a variety of outstanding items from which to pick.
How does antivirus work?
Antivirus software starts by analyzing your computer's apps and files to a database of known forms of malware. Since hackers continually create and distribute new viruses, they will search systems for unknown or undiscovered malware threats.
In general, most programs employ three distinct detection mechanisms:
Specific detection, which identifies known malware.

Generic detection searches for known malware components or patterns that share a common codebase.

Heuristic detection scans for unknown viruses by identifying known suspicious file structures. 
When the application detects a virus-infected file, it will often quarantine it and designate it for deletion, rendering it unavailable and removing the threat to your device. 
12 Best AntiVirus Software in 2023
Here we list some of the best Antivirus software you can consider in 2023.
1. Trellix Endpoint Security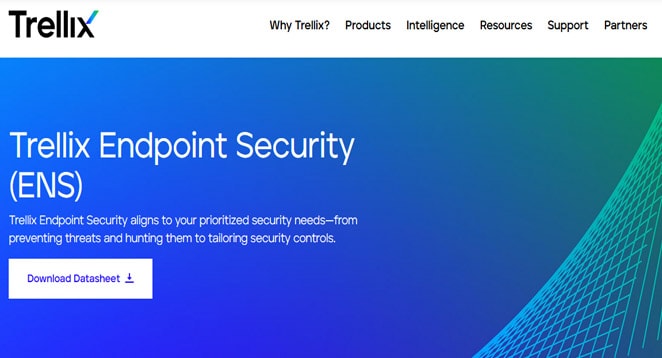 Trellix Endpoint Security protects endpoints, including laptops, PCs, and mobile devices. Its primary features are anti-virus, anti-spyware, automated updates, firewall settings, and registry protection. It is among the best AntiVirus software You can consider in 2023.
The system provides a consolidated dashboard for monitoring endpoint devices and protecting them from threats. In addition, it uses behavioral analysis based on machine learning to anticipate an attack, allowing users to take preventive action before any damage is done.
Website: https://www.trellix.com
2. REVE Antivirus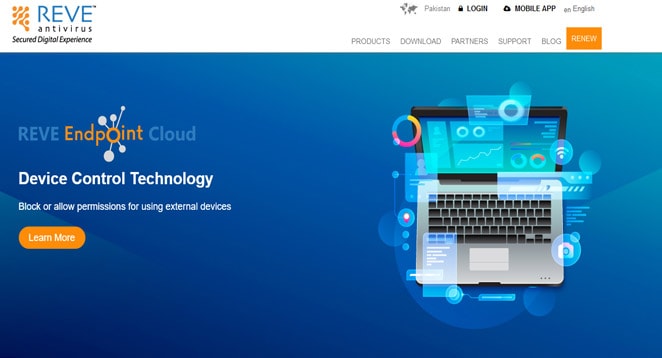 REVE Antivirus is computer security software designed for household and business users. It has many advanced features, including turbo scan, anti-rootkit, anti-malware, advanced parental control with live notification, secure surfing, data theft protection, and PC optimization.
REVE Antivirus employs cutting-edge cloud technologies to protect your computer from viruses and malware. The program also has an intuitive design that makes it simple for beginners. For example, you can quickly scan your whole system in minutes by hitting the scan button on the main page.
Website: https://www.reveantivirus.com

3. Powertech Antivirus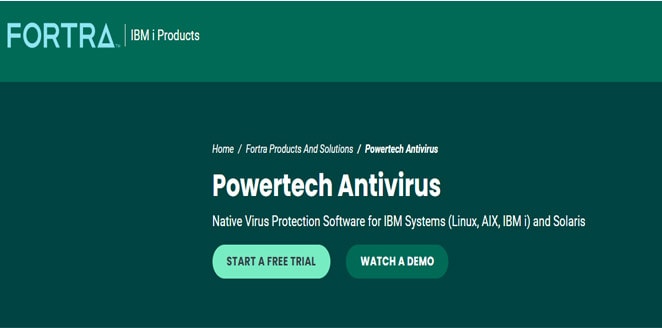 Fortra's Powertech Antivirus is a cloud-based service that lets businesses give malware protection to Linux, IBM I, and AIX power servers against viruses, malware threats, and worms. It enables users to identify and eliminate data privacy threats, conserving costly IT resources and maintaining organizational compliance.
Powertech Antivirus' key features include encryption, signature matching, allow listing/blocklisting, activity tracking, and behavioral analysis. Its identity management feature helps businesses to control user rights by limiting data access and maintaining audit trails for all document modifications. The program protects computers from current security threats by automatically updating virus definitions. It includes heuristic analysis tools that initiate scans for threats when suspicious behavior is discovered. It is the best cloud based AntiVirus software you can consider in 2023.
Website: https://www.fortra.com

4. Avira Antivirus Pro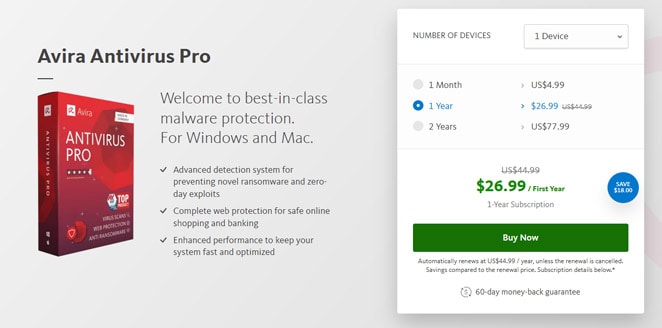 Avira Antivirus Pro is an installer for a security system that helps small and medium-sized businesses defend their PCs, servers, and mobile devices against viruses, spyware, and other types of malware. The platform allows administrators to develop, deploy, and manage security installations on all organization-wide devices.
Administrators may establish a library of security definitions for antivirus software and other security tools, deploy the reports to devices, and monitor their various states using this system. Avira Antivirus Pro also offers managers data detailing the number of identified virus infections and the amount of bandwidth used by each device.
Website: https://www.avira.com

5. Mcafee Total Protection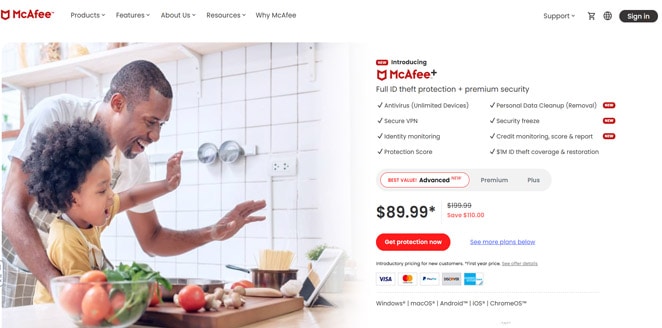 McAfee Total Protection is a comprehensive package of antivirus, malware, and firewall protection that offers businesses real-time protection against viruses, malware, and other threats, as well as password and security configuration management. The antivirus scanner can identify and eradicate viruses, spyware, adware, Trojans, worms, keyloggers, bots, rootkits, and other forms of malware, as well as scan files on your computer and incoming email attachments.
Administrators may stop illegal access to machines using the Firewall tool by preventing external apps from connecting through the Internet. Additionally, McAfee Total Protection features a firewall that protects against phishing and website spoofing. The advanced spam filter enables users to automatically identify spam messages and thwart email fraud attempts by blocking messages received from senders on a blacklist or containing specific terms and phrases linked with fraudulent conduct. It is among the top AntiVirus software in 2023.
Website: https://www.mcafee.com

6. STOPzilla AntiVirus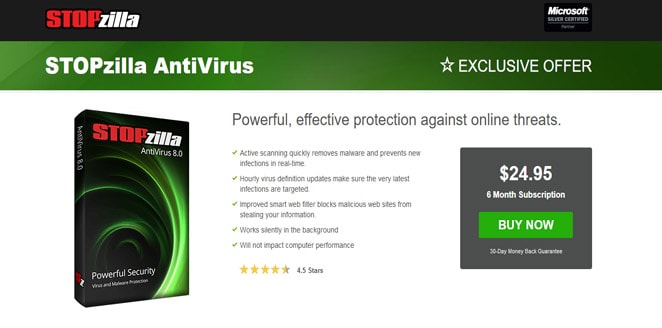 STOPzilla AntiVirus is anti-virus software meant to assist businesses with URL scanning, malware detection, application whitelisting, and detachable disc scanning. In addition, the technology allows administrators to monitor employee behavior and regulate access to applications and websites.
Additionally, administrators may ban access to specific websites and create an whitelist of allowed applications. STOPzilla AntiVirus may also block particular applications on USB drives and mobile devices.
Website: https://www.stopzilla.com

7. Bitdefender Antivirus Plus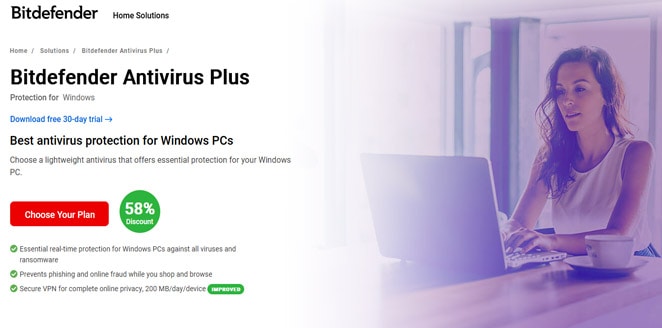 Bitdefender Antivirus Plus is a Windows-based solution that assists people and businesses in the education, IT, retail, healthcare, telecommunications, and other sectors in managing device security, preventing online phishing attempts, and identifying possible threats. It enables personnel to safeguard devices from viruses or ransomware, create virtual private networks (VPN), and anticipate cyber assaults.
Bitdefender Antivirus Plus enables security teams to protect sensitive data in real time against e-threats such as worms, spyware, and rootkits. It includes a vulnerability assessment tool that enables staff to run system inspections, detect risky system configurations, and take preventative action. In addition, it allows team members to identify dangerous links, monitor active applications, and safely save wallet information. It is the most reliable AntiVirus software.
Website: https://www.bitdefender.com

8. Webroot SecureAnywhere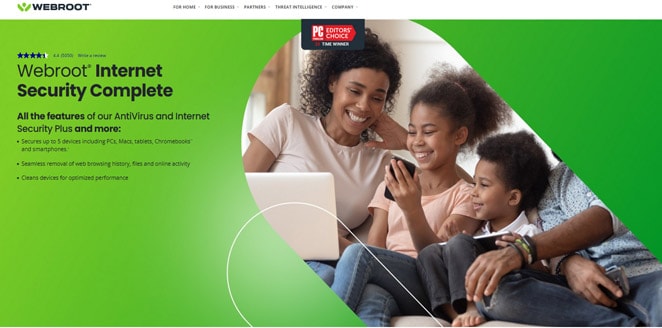 Webroot SecureAnywhere is compatible with all Windows devices, including desktops, laptops, tablets, and mobile phones. Additionally, it provides browser extensions for Google Chrome, Mozilla Firefox, and Microsoft Edge that defend against fraudulent websites.
Webroot SecureAnywhere protects against viruses, ransomware, spyware, and other threats that might damage your system or steal your data. In addition, it helps safeguard identification by protecting against theft attempts and phishing scams in which malicious websites take personal information such as credit card details and other sensitive data.
Website: https://www.webroot.com

9. CWIS Antivirus Scanner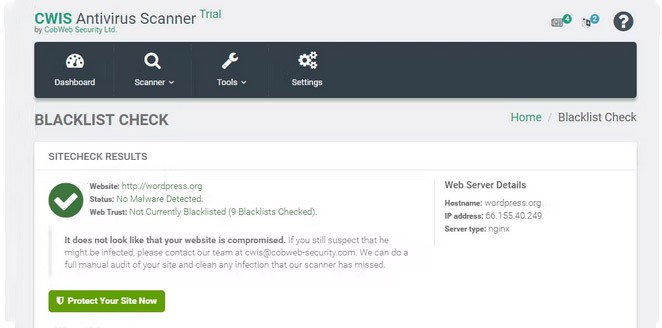 CWIS Antivirus Scanner is a web-based antivirus software that assists businesses in the IT sector in streamlining network security procedures, such as website protection, vulnerability testing, and malware eradication.
It enables staff employees to repair compromised websites, identify malware, and execute blacklist checks from a centralized platform.
Using CWIS Antivirus Scanner, security teams may execute virus scans on PHP websites, identify suspect code, conceal websites from bots, and identify phishing attempts. In addition, employees may apply the WebDefender module to scan databases for malware, prevent brute force bot attacks, and stop IP address checks. It also enables team members to filter bot comments, detect trojans, monitor and scan websites, and detect file modifications.
10. Trend Micro Antivirus +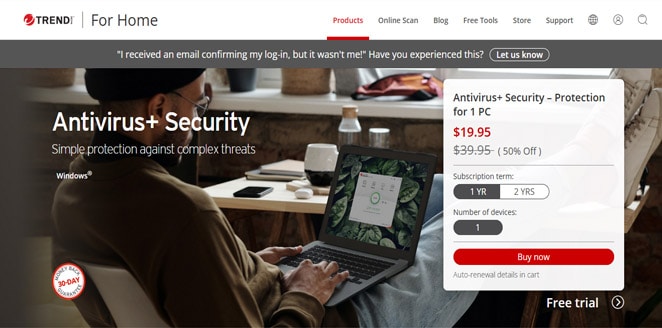 Trend Micro Antivirus Plus is a Windows-based software that allows consumers and businesses in the oil and energy, manufacturing, healthcare, and other sectors to manage data security, detect threats, and more from a single platform. It enables employees to stop ransomware, access websites safely, recognize phishing emails, and delete harmful software.
Using Trend Micro Antivirus Plus, security professionals can access reports, prevent software assaults, and respond to online threats. Employees can preserve data, uncover fraud, and prevent the exploitation of personal information. It also helps team members to protect financial data from possible assaults using Pay Guard capabilities.
Website: https://www.trendmicro.com

11. VIPRE Antivirus Plus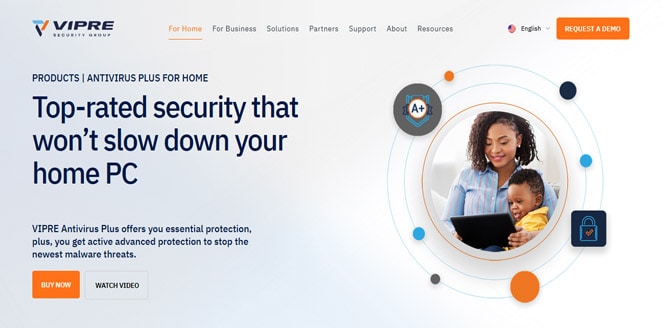 VIPRE Antivirus Plus is a security solution that provides real-time protection against viruses, spyware, malware, rootkits, and other threats for home and corporate customers. It also protects against phishing attempts and secures online transactions. In addition, it can be installed on Windows PCs to safeguard personal files and data from unwanted access through an encrypted firewall.
VIPRE Antivirus Plus offers built-in email protection with spam filtering and firewall features, as well as the ability to customize patch applications and scan selection and scheduling. It also includes a collection of tools for managing files on the computer and the ability to transfer files from one area on the hard drive to another without downloading them again from the source. Individuals may also make backups of crucial data by duplicating them onto CDs or DVDs, ensuring they will always be accessible if the computer's hard disc fails.
Website: https://vipre.com

12. iQ.Suite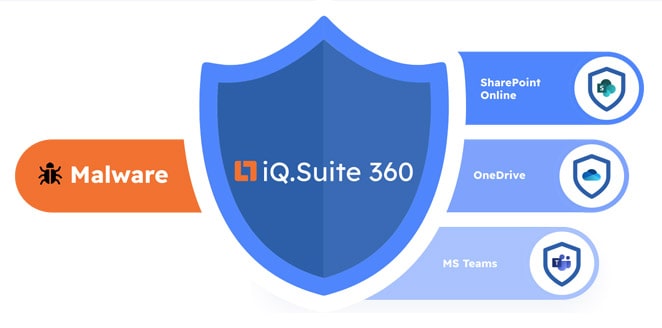 IQ.Suite aaS is a cloud-based email management and security solution for Microsoft 365 businesses. It provides a complete collection of capabilities, such as content-driven encryption, insider threat detection, and incorrect recipient protection. IQ.Suite aaS provides anti-malware and anti-spam detection to reduce risk and protect emails from unwanted access. Additionally, this technology may apply corporate policies to email conversations to verify compliance with company rules.
Final Words
With so many internet-connected devices in the house, technology has made daily life easier and riskier. For the software to secure your devices, we list some of the best antivirus software that helps in identity theft protection and password management.
Antivirus software may also be operated through a USB flash drive or CD/DVD, allowing them to be portable and run without installation. Many mobile antivirus products give a graphical user interface for antivirus, while others provide a command line interface for command line scanning. Moreover, some portable antivirus apps are bootable, which allows them to scan a computer upon startup. A bootable antivirus software is advantageous if a computer's operating system fails to launch due to virus infection or other issues.