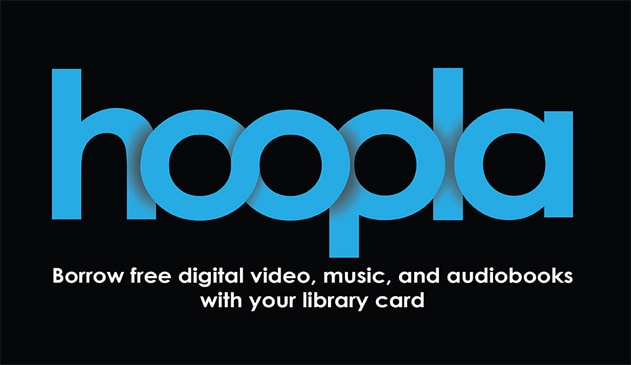 Best Hoopla Alternatives To Read and Watch Movies, Music, AudioBooks and Comics Online: Hoopla is a global digital media lending service supported by local libraries. Users sign up using an email address, a password, and library card information, and Hoopla gives them access to their local library's digital title collection. After that, users may borrow a certain amount of titles every month.
Signing up for Hoopla is free and takes very little time. First, you have to search for your local library in Hoopla's database (it will assist you depending on your location) and then enter your email address, password, and library card information. That's all! You've been accepted!
Hoopla offers six different sorts of content, each of which may be borrowed for a different time frame. For example, movies and TV program episodes may be rented for three days, music albums for a week, audiobooks, e-books, and e-comics for three weeks.
Everything may be played or read directly on Hoopla; you only need a few simple web browser add-ons! Enjoy all of Hoopla's titles without commercials or advertising, and your titles will be immediately returned after your loan expires.
What is Hoopla?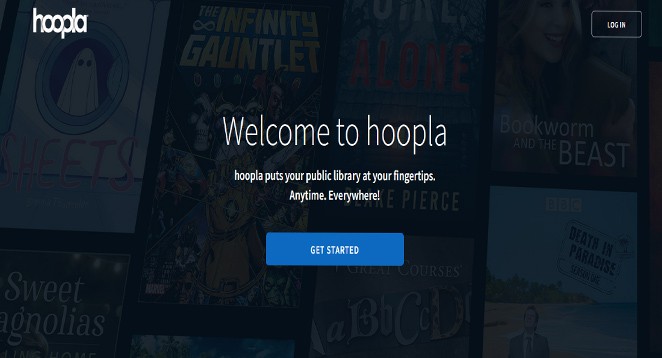 Consider carrying your local library with you everywhere you go. You can do it using Hoopla! Anywhere you may bring your mobile device (for example, a smartphone or tablet computer) or access a computer, You can log onto your Hoopla account and borrow and listen to audiobooks, eBooks, comic books, movies, TV shows, magazines, or music on any device with a screen—your computer, phone, vehicle, or even your TV. You need a library card. Hoopla syncs across your devices, allowing you to watch titles instantly or whenever you choose. Most titles are now available for download on your phone or tablet. Hoopla has more content available in more areas than any other digital library platform, and it's all free due to your local library! Titles may differ depending on the library catalog.
Hoopla isn't only for desktop or laptop computers; it's now available for mobile devices. Download the free Hoopla app from the Apple App Store or Google Play Store, sign in, then borrow and enjoy titles precisely as you would on a computer.
Official Website: https://www.hoopladigital.com
Is Hoopla Safe?
If you're asking, "Is Hoopla Digital a safe website?" Do they protect their users' privacy or use SSL? Yes, Hoopla Digital provides website security and privacy. Hoopla is a public library online streaming service that provides films, documentaries, television series, music, graphic novels, and audiobooks. All content is free of advertisements. Hoopla is a free service available to library users. There are no waitlists for content, and items are instantly returned, so there are no late penalties! It is entirely safe to use you can also download Hoopla App on Android and iOS smartphones.
How do I get access to Hoopla?
It is a cloud-based digital library service that provides streaming movies and TV episodes, music, and audiobooks to those with access to a public library. Hoopla offers over 250,000 music and 10,000 TV episodes, movies, and audiobooks, with more uploaded daily. The Hoopla App is only accessible to public library patrons in places that sign up for it, and there may be borrowing limitations.
Like Zinio and IndieFlix, the Hoopla platform connects with public library systems in the United States and Canada that opt in. Following Hoopla's launch, that association has allowed members to stream around 250,000 albums and 10,000 videos on demand when they successfully complete signing up.
You must create a Hoopla account by entering your login information, local library, and membership number on the Hoopla Digital website. You may begin borrowing as soon as your registration is complete. It required a valid library card from a library that provides access to sign up for hoopla. These may be found at your local library. Some libraries will also provide a PIN to your account. If your library needs registration, this is required.
Hoopla App For Android and iOS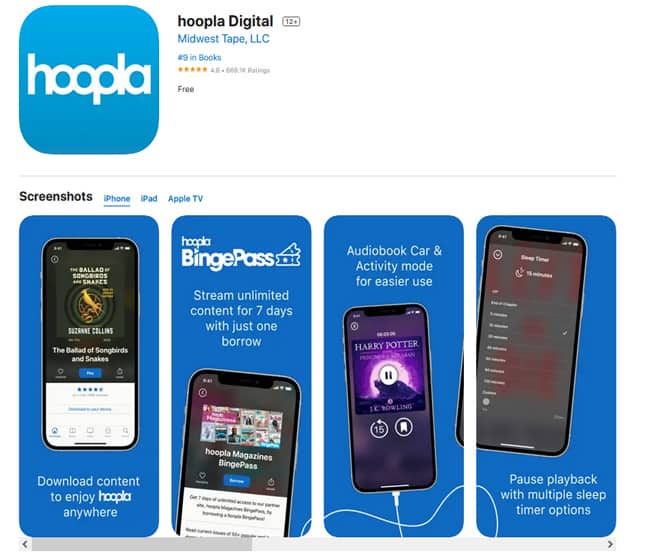 With over 1,000,000 titles, hoopla is the premier all-in-one digital library app. Hoopla offers something for everyone, from best-selling books, chart-topping songs, and blockbuster movies to hard-to-find content.
With your Library card, you may read, listen, and watch 24/7 without advertising or late fees! Hoopla App is available on App Store, Amazon AppStore and Google Play.
Hoopla may be accessed through the internet at hoopladigital.com. It also has a mobile app that is accessible for Android smartphones (4.4 and above), iOS (10 and up), and Kindle Fire tablets (5.0.0. and above). Airplay, Android TV, Apple TV, Chromecast, Fire TV, Lightning Digital AV Adapter, and Roku may all be used to watch anything borrowed from Hoopla. Hoopla suggests using the most recent versions of Chrome, Edge, Firefox, or Safari to visit its website. Internet Explorer and Windows mobile devices are not supported by Hoopla. Amazon's Alexa is supported on the Amazon Echo, Echo Plus, Dot, Spot, and Show.
What Parents Should Know
Parents should know that Hoopla is a digital media service available through local libraries to registered users with a valid library card – similar to Netflix, but with books, movies, and other content. To join up for the site, children will need a valid email address, library card, and a PIN if local libraries need one. (They also cannot have overdue books or fees.) To access Hoopla, children must create a password and provide their email address. To watch content in their Web browser, users will need to install the Widevine plug-in.
According to Library Journal, Hoopla charges libraries a fee each time one of its titles is accessed, yet it is free for users. The system may benefit from a more detailed search approach; for the time being, users can find audiobooks, movies, music, and other stuff by title or by scrolling through categories like "Action & Adventure" and "Good for a Laugh." You're out of luck if your library doesn't use Hoopla. If it works, students should be able to quickly sign up and borrow multiple titles each month, which should help enhance what they learn in school.
What is Widevine?
Google's Widevine Media Optimizer is a browser plugin developed for watching premium video content such as hoopla. If you do not already have this installed, when you try to play a video title in your web browser, you will get a message that will lead you to the Widevine website; click on Install Now and follow the on-screen directions.
How can I get the Widevine Plug-In to work?
The installation of Widevine differs based on the browser. Installation guides are available for Internet Explorer 8, Internet Explorer 10, Chrome, and Firefox on internet.
Why should you use Hoopla?
Hoopla digital partners with libraries in the United States, Canada, Australia, and New Zealand to give online and mobile access to eBooks, audiobooks, comic books, music, movies, and television shows. Hoopla digital is a service of Midwest Tape, a valued partner of public libraries for over 25 years. It is simple to access and use, with no waiting and no problems. All you need is your library card and a web browser, smartphone, or tablet to get started. Based on studio or publisher constraints, all games are accessible for streaming, and the majority are available for temporary download to a mobile device.
1. Hoopla Library
It is a free public library in cities that sign up, although it costs the libraries that use it. Libraries pay between $0.99 and $2.99 for each title a user borrows. The library system restricts how many items a member may borrow each month.
2. Hoopla Audiobooks
You can listen to audiobooks by downloading a book and then playing it through the program. Hoopla features a user-generated bookmark mechanism, and the player will resume where you left off.
They also offer e-books and comics for sale for 21 days. Again, they offer a decent assortment, so you'll be able to find something to read. However, don't expect to locate the most recent and best-selling novels or comic books.
3. Hoopla Movies
With Hoopla, you can stream movies right now. You can watch good-quality blockbuster movies, while HD is not yet available. They are presently working on integrating this soon.
Most titles are accessible for 72 hours after you check them out; however, a few are only available for 48 hours. The catalog is extensive, and various recent titles are available.
4. HooplaTV
HooplaTV allows you to watch TV and stream episodes of PBS, Great Courses, The Librarians, Gigaim, and many more programs.
Why Hoopla is so Popular?
You can read the below mentioned feature to know why Hoopla is so popular;
1. Hoopla Searching and Browsing
The search engine on Hoopla is quite simple. You may search the whole library, a particular format, or for a specific author (or person), genre, publisher, or series. Although there is no advanced search tool, you may narrow down your search results by format, language, or publication date. You may enable Kids Mode to restrict the search results to kid-friendly content. Click "Kids" next to the search box in the app. You may set Kids Mode on and off in the website's Settings.
To browse, first, choose a format; then filter the results by clicking on "Recommended," "Featured," "Popular," or "Categories." (In the app, "Categories" is referred to as "Genres.") When you click on an item title, you'll see that the names of the author, publisher, audiobook narrator, series, director, cast members, and so on are hyperlinked, allowing you to click on them to view other products from those same companies.
2. Borrowing Items from Hoopla
Your local library determines the number of items you may borrow from Hoopla each month. Once you've hit this limit, you won't be able to borrow anything again until the next month starts, even if you return stuff early. You may use all your borrows at once or spread them out throughout the month, but the limit specified by your library is the maximum, and new borrows do not transfer over. (Note: Borrowing anything with a loan duration that extends into the next month does not count towards the next month's borrowing limit. Whatever you have checked out at the end of the month will be replaced with a fresh complete set of borrows at the beginning.)
There are no renewals; if you complete an item before it expires and wish to borrow it again during the same month, it will count as two borrows. You may return an item before the loan expires, but there is no advantage.
Because your library charges per use, every item is always accessible, minimizing the need for holds. You may save it to your Favorites list when you run out of borrows (or want to remember a title for future use). Click the love symbol next to the item you want to remember to add it to your Favorites list.
Hoopla determines the lending durations for each item, which should be consistent among libraries: 3 days for movies and TV episodes, 7 days for music, and 21 days for audiobooks, comics, and e-books. According to Hoopla's website, there may be exceptions to these criteria depending on publisher constraints, although they seem unusual.
3. Hoopla Reading and Viewing
Hoopla goods can only be accessed through the Hoopla app or website. The e-reader and audio player are decent but not as streamlined or simple to use as comparable applications. You may change the font size, search for keywords, bookmark pages, and see the table of contents on the e-reader. The e-reader also displays your current page and the percentage of the book you have read at the bottom of the screen.
The audio player offers fewer options. For example, there is no option to choose a particular chapter. You can see how much time has passed and how much time is remaining in the book, but it does not display how much time is left in the current chapter. user may increase the website speed up to 1.5x and the app up to 2x, but not up to 3x as in some other programs. You can also find a sleep timer on the audio player.
Items may only be downloaded for offline usage in the mobile app; once downloaded, they cannot be transferred to other applications or devices.
What you need to know before using the Hoopla service?
While Hoopla is undoubtedly helpful for individuals who want to consume media on the move, it does have restrictions.
The service should not be used in the replacement of conventional libraries. While its offers are comprehensive, they are not exhaustive and may not correspond to what is physically accessible at your local branch.
While offline access to content is feasible, the number of compatible devices is limited. Furthermore, since not every library has signed in to the service, many library cards will be denied access.
Best Hoopla Alternatives To Read books and Watch Movies
What more is available? In this portion of our review, we'll look at some Hoopla alternatives.
1. OverDrive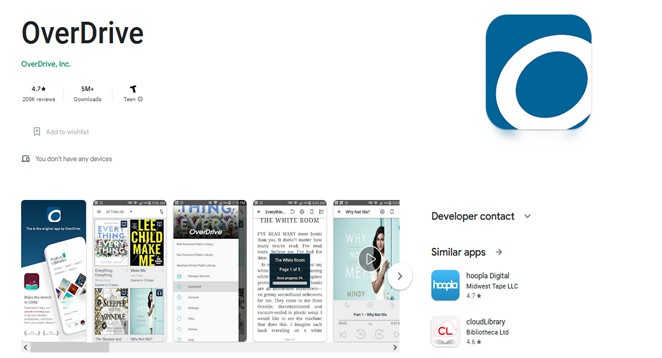 The primary difference between Overdrive and Hoopla is that Overdrive sometimes has a wait for checking out audiobooks or eBooks. Overdrive, on the other hand, may be seen as superior since it supports fast audio and has a wider variety of the latest books. Unfortunately, the Hoopla mobile app also does not let you save title files to your device so that you may enjoy them offline as OverDrive does.
2. Libby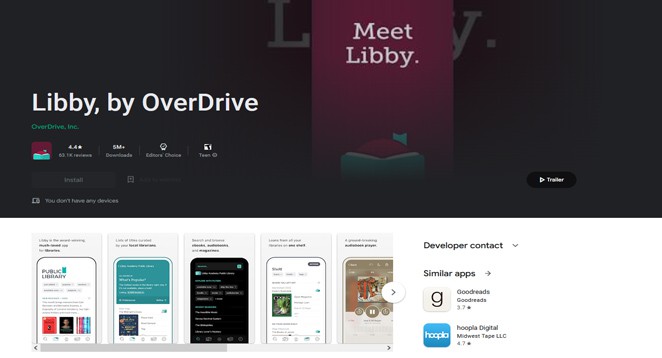 Hoopla describes itself as a platform for streaming library media. On the other hand, Libby is an eBook/audiobook reader software that only allows users to borrow textual content. Users simply need a smartphone, a WiFi connection, and a library card to use both applications.
3. Audible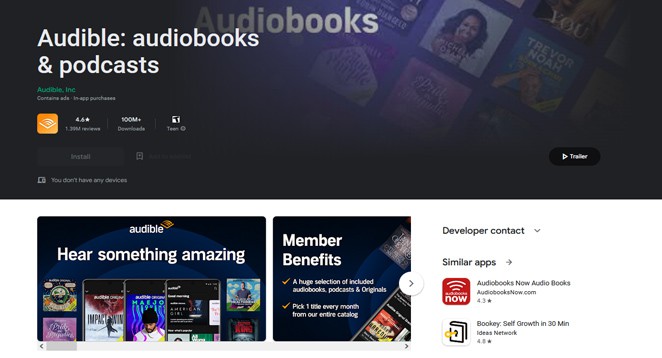 The main difference between Audible and Hoopla is that you may pay for a monthly membership with Audible, while Hoopla works in conjunction with a library. In addition, the service enables users to download books; you should avoid using cellular data while not connected to WiFi.
4. Adobe Digital Editions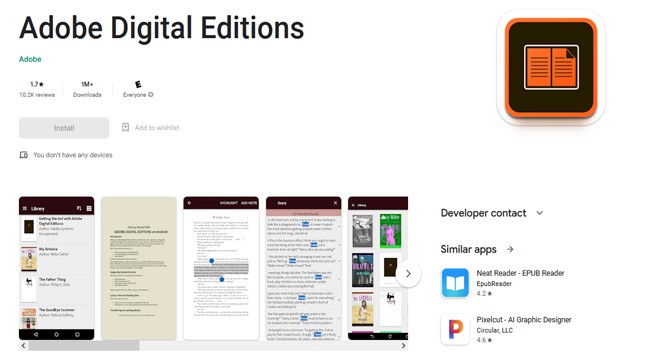 One eBook reader for all your Adobe DRM-protected books on iPad, Mac, and PC. Adobe Digital Editions (ADE) is entirely ad-free and free to download and use. It may be used to view EPUB and PDF files online and offline. In addition, many public libraries have ebooks available for use with ADE. Transfer books from your PC to your iPad to expand your reading experience. Create a beautiful personalized library out of your books.
Beautiful media-rich books with interactive elements, movies, and more. With ADE's EPUB3 support, you can: display audio and video content consistently; dynamically resize images without losing clarity; and support multi-column layouts, interactive quizzes, and math formulas.
5. ArtScroll Digital Library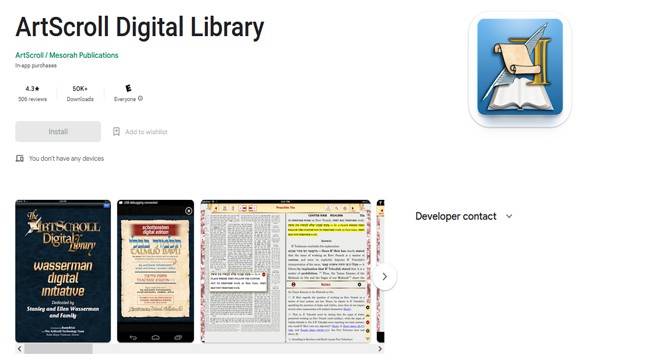 ArtScroll Digital Library provides several features that will improve your learning experience, such as page-syncing, place-tracking, floating translation, quick-scroll, re-sizable text, automated delivery, and subscriptions.
Aside from that, you may study in the same manner as the printed edition. On the Vilna website, users may resize the text to 250% and zoom in. It is the greatest Hoopla alternative for reading ebooks.
6. Gramedia Digital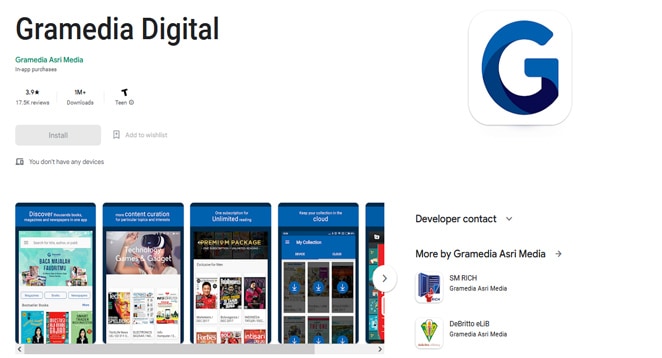 Over 100,000 volumes of digital magazines, books, and newspapers from various categories such as business, entertainment, design, fiction, children, and more are delivered by Gramedia Digital. Read digital editions of the most popular magazines, best-selling novels, and newspapers from Indonesia, the Philippines, Malaysia, Singapore, Japan, India, Brazil, and the United Kingdom. You can consider it the best alternative to Hoopla.
7. JLG Digital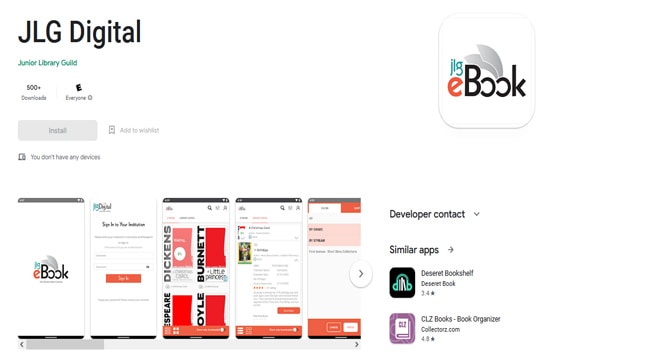 JLG Digital is a reading revolution that provides great eBooks and Audiobooks to K-12 students. JLG's award-winning choices, which you know and love, are now available in eBook and Audiobook formats, allowing you to read them whenever and wherever you choose. Browse and select from the most excellent eBooks and Audiobooks on the market. View new items in the Stream — with limitless readers and access — and buy the most popular titles for your collection in the JLG Store. Your readers may quickly explore, borrow, and read JLG Editor's best choices from your library on iPhone, iPad, or PC. Your favorite books are just a swipe or touch away!
8. Google Play Books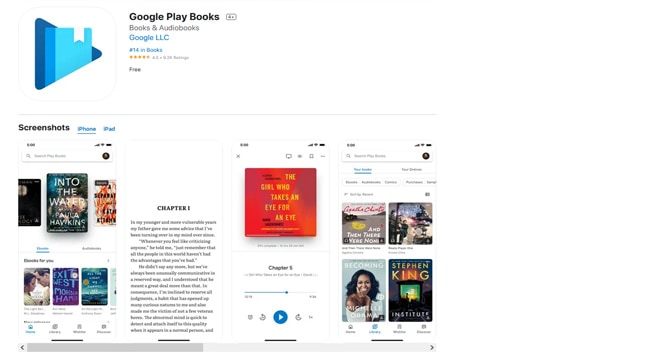 Dive into a fantastic book using Google Play on your iPhone, iPod Touch, or iPad to access millions of titles. Download your reader to read or listen to while on the road. When you're done, choose your next favorite from suggestions tailored to you. You can enjoy audiobooks without a monthly membership, browse chapters with real chapter names, and start up where you left off on all your devices, even in the vehicle, thanks to Carplay. You may also use Siri shortcuts, such as saying, "Hey Siri, play my audiobook." It is among the most excellent Hoopla alternatives accessible.
How to use Hoopla without a library card?
In reaction to pandemic-related library closures in March 2020, Hoopla briefly provided libraries with the option of giving restricted community-wide access to its online digital service. In addition, users may enjoy two free checkouts of any title – movies, TV series, music, comics, ebooks, and audiobooks – even if they do not have a library card.
Access to Hoopla without a library card has subsequently been terminated. Any Ohio person who does not already have a Wright Library card may still receive access to Hoopla and the rest of the Wright Library's online services by enrolling for a free Wright Library eCard. All candidates must provide evidence of residence in Ohio.
Final Words Hoopla
HOOPLA.com is a digital media service offered by local libraries to registered individuals with valid library card. (To receive access, your library must be a service member.) Thousands of movies, TV series, documentaries, instructive videos, music, and audiobooks are available through Hoopla. Each month, users may borrow up to four titles. You may watch movies and TV shows on your mobile device or computer using a plug-in; it will be accessible for 72 hours after you check it out. In addition, for 21 days, music Albums and audiobooks are accessible.
You can get free Hoopla account; Go to https://hoopladigital.com and select the "Get Started Today" button. Alternatively, download the app to your mobile or streaming device and click Sign up. Enter your email address twice and your password twice. Then press the AGREE button.