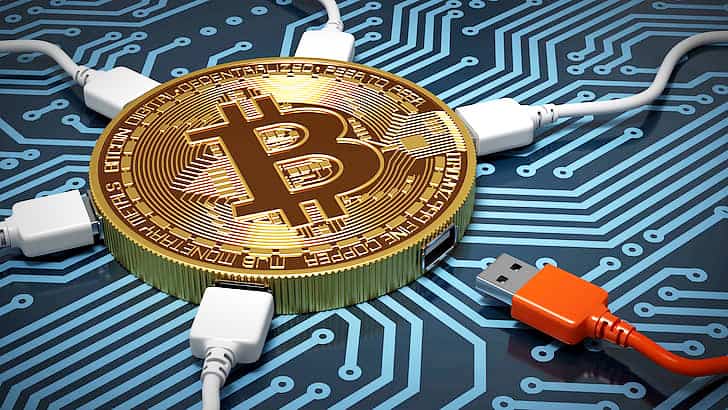 What Is Cold Storage or Cold Wallet in Crypto? On this page, you will learn all you need to know about Cold Storage and Cold Wallets in Cryptocurrency. The two primary kinds of cryptocurrency wallets are hot wallets and cold wallets. Hot wallets use keys (a type of cryptography, like a password). They are produced or kept on a linked device and are considered less secure than cold wallets.
A cold wallet is a mechanism for storing bitcoin that is disconnected from the Internet. They are also known as Hardware wallets and use physical media, generally a USB stick. It is the most secure wallet since hackers need access to your device and the PIN/password.
Several cold wallets are on the market, making it tough to choose an online cold wallet for your cryptocurrency storage requirements. The following is a list the most secure and user-friendly Cold wallet applications. The list includes free and paid applications with links to their websites and essential features.
What Does Cold Wallet Mean?
A cold wallet is used to store bitcoins and other cryptocurrencies offline. With a cold wallet, formerly known as cold storage, the digital wallet is kept on a platform that is not linked to the internet, protecting it against unauthorized access, cyber-attacks, and other vulnerabilities that a system connected to the internet is prone to.
Cold storage solutions benefit individual investors, cryptocurrency exchanges, and corporations operating in the crypto industry. Cold storage may also apply to inactive data storage, such as data for regulatory compliance, video, pictures, and backup information.
Why Should You Use a Cold Wallet?
When a conventional bank's checking, savings, or credit card account has been hacked, the bank can reimburse the account holder for any lost or stolen funds. However, if your cryptocurrency account or wallet is hacked and your tokens are taken, you cannot retrieve them. It is because most digital currencies are decentralized and unsupported by a central bank or government. Therefore, crypto investors must know the appropriate security steps to protect their coins. Therefore, a safe and secure cold wallet storage mode for bitcoins and other cryptocurrencies is required.
A bitcoin wallet is connected with a bitcoin owner's public and private keys. All storage solutions for cryptocurrencies need the preservation of these keys since they provide access to the tokens inside the wallet. The private key of a cryptocurrency owner is a unique string of alphanumeric characters necessary to send the user's crypto assets. The public key is analogous to an account name or email address and identifies the recipient of bitcoin delivered to the wallet.
To execute a transaction involving a cryptocurrency, such as bitcoin, between a buyer and a seller, both parties must exchange their public keys. The buyer of a good or service sends the requisite amount of bitcoins to the seller's disclosed address as payment. The blockchain validates the transaction's legitimacy and certifies that the sender has the money. Once the payment has been transmitted to the recipient's address, the funds can only be accessed using the recipient's private key. The user's bitcoins or altcoins might be unlocked and accessed from the address without authorization if the private key is stolen. Today it is necessary to use cold wallet or cold storage for cryptocurrency to protect your coins from hacking.
The Difference Between Cold and Hot Wallets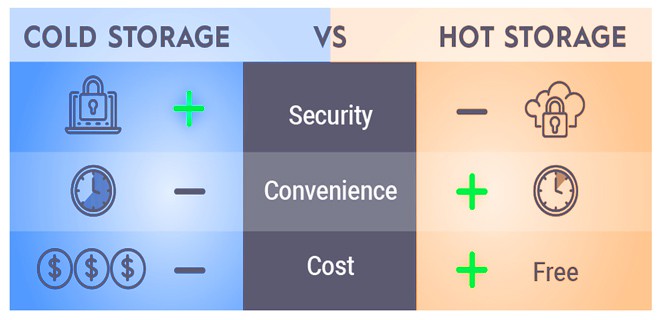 There are several methods of cryptocurrency storage. In addition to cold storage, another standard method is known as "hot storage." Hot wallets are wallet applications and specific wallets provided by bitcoin exchanges that are always linked to the internet. So what are the advantages of cold vs. hot cryptocurrency storage?
Cost
When it comes to cost, hot wallets tend to dominate. The majority of hot wallets are free. Options for cold wallets vary from free (in the case of a paper wallet, as discussed below) to $100 to $200 for various hardware wallets.
User experience
Because they are already linked to the internet, hot wallets provide the most comfortable user experience. No extra step is required to accomplish a token transfer by connecting the wallet online.
Security
The primary advantage of cold wallets over hot wallets is their superior security. Many cryptographic protections make hot wallets very secure. However, they cannot compete with the enhanced security of cold wallets.
How Does Cold Storage Work For Cryptocurrency?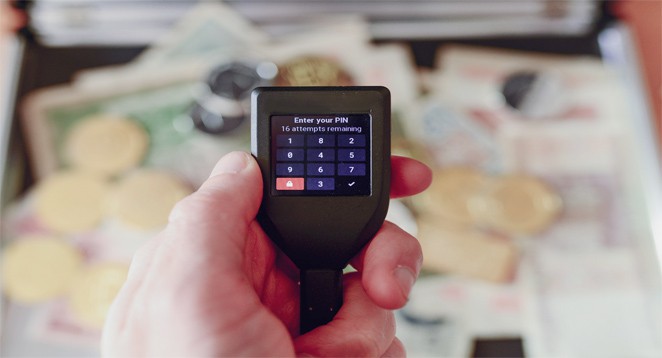 Cold storage or cold wallet fixes this problem by signing the transaction offline using the private keys. A cold storage method should not be able to interact with any other electronic device unless it is physically connected to that device at the time of key recovery.
Before being communicated to the online network, each transaction begun online is temporarily moved to an offline wallet stored on a USB stick, compact disc (CD), hard drive, paper, or offline computer, where it is digitally signed. Because the private key does not interact with an online server during the signing process, an online hacker who discovers the transaction could not access the private key used to sign it. In return for this increased protection, transferring to and from a cold wallet device is considerably more difficult.
For instance, if a Crypto investor holds tokens on a hardware wallet (for more detail, see below), a transaction to get fresh tokens would look like this:
The investor connects the hardware wallet to a computer with Internet access.
An investor chooses to get tokens. The gadget creates a transaction-facilitating address.
The sender conducts a token transfer to the previously created address.
The information stays offline once the investor disconnects the hardware wallet with the public and private keys.
What are the types of Wallets in Cryptocurrency?
There are two primary types, "hot" wallets, which stay linked to the internet, and "cold" wallets, which work primarily offline. Custodial crypto wallets require you to preserve your private keys, whereas non-custodial wallets outsource that security to a third party, generally a crypto exchange. Here is a detailed review of cryptocurrency wallets;
1. Paper Wallets
A paper wallet is the most basic kind of cold storage. A paper wallet is a document containing both public and private keys. For example, in a Bitcoin paper wallet, a Bitcoin holder may print a copy from the online Bitcoin paper wallet generator using an offline printer. Typically, the paper wallet or document includes a rapid response (QR) code so that it may be readily scanned and signed to complete a transaction.
If the paper is lost, made unreadable, or destroyed, the user will never again be able to access the address where their monies are stored. Therefore, if you select this approach, you should store the paper wallet in a safe box or secure location.
2. Hardware Wallets
It uses an offline device or smart card to produce private keys offline is another kind of cold storage. The Ledger USB Wallet illustrates a hardware wallet that protects private keys using a smart card. TREZOR and KeepKey are two different popular hardware wallets. The device resembles and operates like a USB drive; a computer and a Chrome-based program are needed for offline storage of private keys. You may use anything from a simple USB flash drive to an advanced gadget with a battery, Bluetooth, software, and other functions. With a paper wallet, it is crucial to preserve this USB device and smart card in a secure location, as any damage or loss might render the user's bitcoins inaccessible.
Air-gapped devices lack connection capabilities and are more secure than wireless ones. Retailers and merchants provide commercial hardware wallets; many are waterproof and virus-proof and handle multi-signature ("multi-sig") transactions. Multi-sig is a bitcoin signing method that needs many users with private keys to authorize a transaction.
3. Sound Wallets
Depending on the media, sound wallets are an obscure and costly method to keep your keys. Sound wallets include encrypting and storing your private keys as sound files on CDs or vinyl records (records). A spectroscope program or high-resolution spectroscope may be used to decrypt the secret code in these audio files.
4. Deep Cold Storage
Putting your hardware wallet in your safe is secure, but it is not considered deep cold storage since you can easily access it. Deep cold storage refers to any inconvenient method that needs time and effort to recover keys. It might include anything from storing your hardware wallet in a waterproof container and burying it six feet underground in your yard to using a third-party service that holds your bitcoin keys in a vault requiring many steps to access.
The disadvantages of burying your keys in the garden include digging and remembering where you buried them, but so does the ultra-secure vault service. Generally, vault services demand your identification, proof of residence, or another kind of identification. Moreover, depending on where your keys are physically kept, it may take hours or days to retrieve them.
5. Offline Software Wallets
The last alternative for users looking for cold storage in cryptocurrency is offline software wallets, which are comparable to hardware wallets but involve a more complicated procedure for non-technical users. An offline software wallet divides a wallet into two platforms: an offline wallet that stores the private keys and an internet wallet that stores the public keys. The online wallet produces fresh, unsigned transactions and transmits the user's address to the recipient or sender of the transaction. The unsigned transaction is sent to the offline wallet and signed using the private key. The transaction is subsequently sent back to the digital wallet, which broadcasts it to the network. Because offline wallets are never linked to the internet, the private keys stay safe. Electrum and Armory are often cited as the premier offline software wallets in the cryptocurrency ecosystem.
Users of cryptocurrencies must verify that their chosen wallet is compatible with the coins they transact or trade with since not all wallets support all cryptocurrencies.
6. Hosted wallets
These wallets exist on a server outside of your control. Hackers use this kind of crypto wallet since they store all of the wallet's cash on the server.
7. Decentralized wallets
It is a very secure crypto wallet that permits just one individual to have the keys. However, a decentralized wallet never guarantees perfect anonymity. Nonetheless, this implies that you cannot rely on a third party to transfer, receive, or keep your Bitcoin.
8. Exchange Wallets
These wallets are fully connected with cryptocurrency exchanges, allowing you to easily trade and conduct transactions.
9. Mobile Wallets
These wallets are compatible with mobile operating systems like iOS and Android. Using these wallets, you may control private keys and execute transactions anywhere. Coinbase, Binance, and Cex.io are among the most well-known mobile wallets.
10. Desktop Wallets
Desktop-compatible wallets that let users own private keys.
Best Crypto Cold Wallet: Bitcoin Cold Storage Wallet Reviews
Here we list some of the best Crypto Cold Wallets as known as Crypto Cold Storage Wallets;
1. Ledger Nano X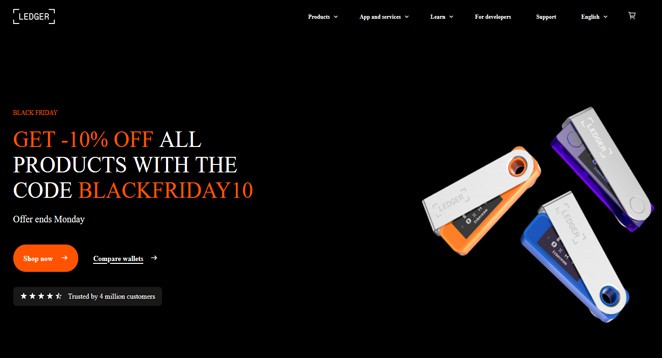 The Ledger Nano X is the company's second-generation cold wallet. The most significant cryptocurrency cold wallet is a physical wallet for a reason. As mobile users can access their wallets on their phones, you may manage, swap, and purchase your cryptocurrency on the move. Therefore, even if you do not have your laptop, you may trade efficiently using your Android or iOS mobile.
Ledger Live software is supplied to check your balance and transfer and receive currencies. Ledger supports more than 1,800 digital currencies and tokens; thus, you are not confined to Bitcoin. In addition, ledger Live offers coin staking, where you may receive rewards depending on your account balance.
This bitcoin cold wallet is 72mm x 18.6mm x 11.75mm and weighs around 34 grams. Ledger Nano X is constructed from brushed stainless steel plastic and features a 100mAh lithium-ion battery. One cold wallet, one USB-C to USB-A cable, one getting started guide, three recovery sheets, and one keychain strap are included in the package. This crypto wallet grants access to all smart services, including Defi applications and NFTs.
Coins Supported: More than 5,500 currencies are supported, including Bitcoin, Litecoin, Dogecoin, Ethereum, LINK Chainlink, etc.
Wallet Type: cold wallet
Available Countries: Distributed to all nations
Mobile App: Apps for both Android and iOS.
Size: 72mm × 18.6mm × 11.75mm
Material: stainless steel and plastic with a brushed finish
Exchange Incorporated: Yes
Battery: The battery is a 100mAh lithium-ion battery that provides 8 hours of longer battery life.
Connectivity: Bluetooth connectivity and USB-C cable
Customer Support: It features an extensive knowledge-base website, live chat, and email chat for customer service
Level of Certification: ERC20 Blockchain Support
Certification Level: CC EAL5+
Price: $149
Website: https://www.ledger.com
2. Trezor Model T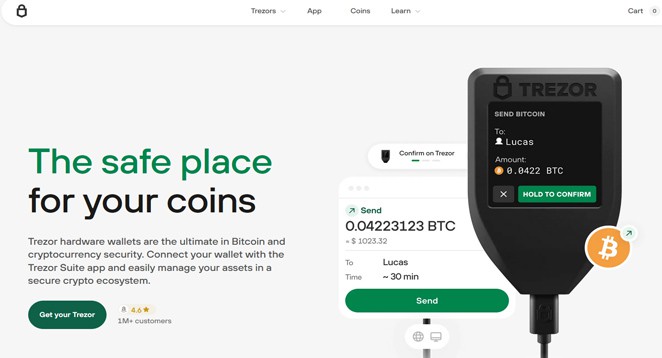 It is the crypto cold wallet that instantaneously provides user access to third-party exchanges, including Changelly and CoinSwitch, through the Trezor internet interface.
This encrypted cold wallet features a touch screen feature that is simpler for novice bitcoin users than its prior model. The dimension of this one, the finest cold wallet, is 64mm x 39mm x 10mm long, and its weight is approximately 22 g.
Its packaging includes one Trezor Model T cold wallet, 1 USB-C to USB-C cable, 2x Recovery seed cards, a Model T magnetic dock, and one keychain strap. It is one of the finest cold storage wallets with a 1 USB-C to USB-A cable that lets you connect using a desktop computer or a smartphone if desired using Bluetooth.
Coins Supported: 1800+, including Bitcoin, Ethereum, HEX, Ripple, etc.
Type of Wallet: Cold wallet
Available Countries: Delivered to all the nations
Mobile App: Android
Size: 64mm x 39mm x 10mm
Incorporated Exchange: Yes
Compatibility: Linux, Android, Windows 10+, macOS 10.8+
Connectivity: USB-C connection
Staking Support: Trezor hardware wallets do not support bitcoin staking. However, users may attach the Trezo Model T or Trezor One wallet to a third-party validator or staking pool. They may also use the Exodus wallet as a staking interface.
Customer Support: Email, Trezor wiki page, the FAQ area
Blockchain Support: ERC20
Certification Level: CE and RoHS certified.
Battery: External power source.
Price: 189 EUR
Website: https://trezor.io
3. ELLIPAL Titan Bundle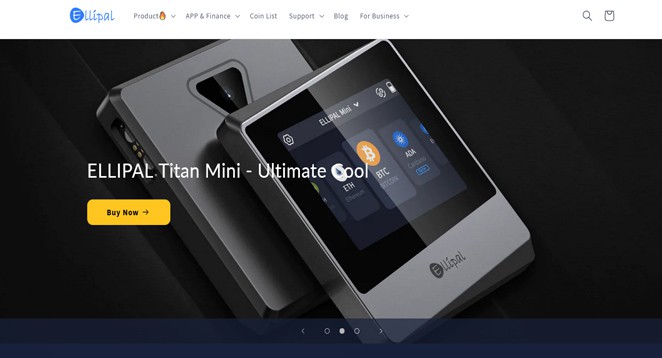 The ELLIPAL Titan Bundle is the first cold wallet that provides complete network isolation. Unfortunately, there are no online components or ports for bitcoin application support.
Integrations: BTC, ETH, LTC, XRP, XLM, BNB, USDT, TRX, DOT, etc., are supported cryptocurrencies.
Wallet Type: Cold Wallet
Supported platforms: Windows and Mac are supported platforms
Customer Support: Live chat support
Mobile App: Apps for Android and iOS
Chartered Exchange: Yes
Dimensions & Weight: 112 x 65 x 18mm
Material: Aluminum alloy
Battery capacity: 1400 mAh
Level of Certification: FIDO Certified
Price: $159
Website: https://www.ellipal.com
4. Safepal S1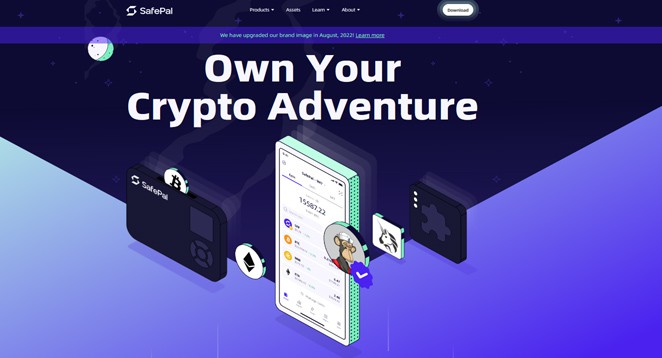 The SafePal S1 Cold Wallet was introduced in 2014, three years ago. It supports over 10,000 cryptocurrencies and 19 blockchains, including non-fungible tokens (NFTs). SafePal is one of the finest cold storage wallets since it aims to give users a secure, simple, and user-friendly solution for crypto asset management.
Additionally, you may combine many operational and security aspects, such as recovery seed, two-factor authentication (2FA), and a PIN, making it a safer alternative than the majority of cold wallets available.
It is a trendy wallet with a crystal-clear display but a low-quality keypad. SafePal entirely functions at temperatures ranging from -4° to 70° Fahrenheit. SafePal S1, a USB-A to Micro-USB cable, three recovery sheets, a cleaning cloth, and a quick start instruction are included in the package. This cold wallet may be charged by USB cable. This gadget has a battery with a capacity of 400mAh and does not support a connection
34 blockchains and 30,000+ coins are supported, including BTC, ETH, XRP, LTC, XLM, TRX, DOGE, DOT, POLYGON, and ADA.
Type of wallet: Cold Wallet
Integrations: DeFi, Dapp, and NFT Integrations (e.g., Compound, Opensea)
Mobile App: Apps for both Android and iOS.
Incorporated Exchange: Yes
Dimensions & Weight: 8.6 x 5.4 x 0.6
Material: The body is made of metal
Power: Charging using a USB cord
Battery: 400mAh capacity (Could endure 20 days based on 10 minutes of daily use)
Available Countries: Distributed to all nations
Support Options: Real-time chat and email
Certification Level: EAL 6+ Certified
Price: $49.00
Website: https://www.safepal.com
5. Pro CoolWallet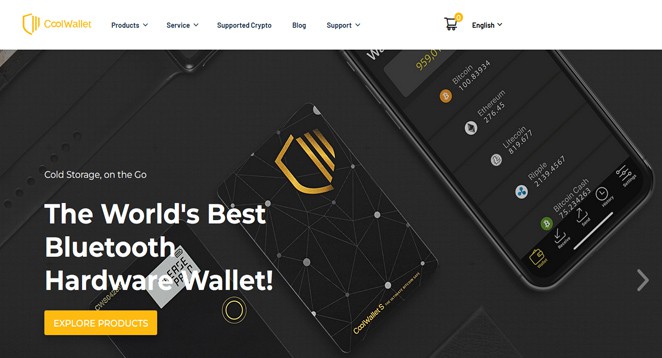 CoolWallet Pro is a DeFi-centric mobile cold wallet that enables you to connect to a device without an internet connection via a 10-meter Bluetooth connection that is protected. It facilitates communication with DeFi, Dapp, and NFT. Its body is tamper-proof and entirely water-resistant, and its lithium-ion battery may last for many weeks on a single charge.
This one of the finest cold wallets provides multi-layer cold storage security with its EAL6+ secure element (SE), AES256-encrypted Bluetooth Low Energy (BLE), and five processors for Power Management.
Supported Coins: BTC, ETH, LTC, XRP, XLM, BNB, USDT, TRX, Tezos, Cardano, ETH 2.0, and ERC20 tokens are supported coins.
Wallet Type: Cold Wallet kind of wallet
Dimensions & Weight: 85.6 mm x 54 mm x 0.8 mm
Chartered Exchange: Yes
Material: The body is made of metal
Mobile App: Apps for Android and iOS
Staking Support: Polkadot (DOT), Cosmos (ATOM), and Tron are supported by stakings (TRX)
Available Countries: Distributed to all nations
Type of Display: OLED
Power: Lithium-ion rechargeable battery (3 V, 15 mAh)
Integrations: DeFi, Dapp, and NFT Integrations (e.g., Compound, Opensea)
Supported platforms: iOS and Android are supported platforms.
Customer Support: It features an extensive knowledge-base website, live chat, and email chat for customer service.
Certification Level: EAL6+
Price: $149.00
Website: https://www.coolwallet.io
FAQ Cold Storage For Cryptocurrency
Is Cold Storage the Best Option for Storing Cryptocurrency?
Since cold storage or cold wallet removes your private keys from your wallet, it is presently the most secure way to store your bitcoin private keys since it prevents unauthorized access.
What Happens When Cryptocurrency Is Placed in Cold Storage?
When the keys are in cold storage, they are taken from the wallet. Because ownership is kept on the blockchain, you can still see your bitcoin in your wallet, but you cannot use it until you transfer the keys you want to use back to your wallet.
Is Coinbase's Wallet a Cold Storage?
The wallet offered by Coinbase is not a cold storage wallet. However, Coinbase provides all users with a vault that saves private keys offline. In addition, the exchange offers cold storage for institutions through Coinbase Custody, a third-party custodian with offline storage.
Why are Cold Wallets necessary?
Cold wallets store cryptocurrency tokens offline to prevent hackers from gaining access to the owner's assets using traditional internet-hacking techniques.
How is a Hot Wallet differentiated from a Cold Wallet?
Hot wallets are often free; thus, they are less expensive than cold wallets but provide less security against theft and unauthorized usage. In addition, because they are already linked to the internet, hot wallets are often the most convenient for consumers, as transferring tokens does not require connecting the wallet online.
How to Win Up to $10,000 While Trading Digital Assets?
Digital asset trading has just become more superficial. With OKX, a major supplier of digital asset finance services, you may trade and store assets with world-class security. In addition, you may win a Mystery Box worth up to $10,000 if you deposit at least $50 through a crypto purchase or top-up within 30 days of registering.
Why should your Crypto Assets be protected?
Cryptocurrencies are very volatile, and their values may change rapidly. There is a chance that you may lose all of your money due to cyber attacks, hacks, and frauds. That's why cold Wallet or cold storage is essential to use for protection.
Here are some basic steps you must take to protect your crypto assets:
Protect and encrypt your private keys on an offline computer or external hard drive.
Always use exchanges that have been suggested by credible sources while trading cryptocurrency.
You should never provide your private key to a third party since it gives them complete access to your account, which might result in the loss of cash or identity theft if they choose to steal from you (i.e., fraud).
Final Words For Cold Wallets or Cold Storage for Cryptocurrency
This page discusses what Cold Wallet or Cold Storage for cryptocurrency is. Types of Cold wallets and Remedies to protect your cryptocurrency. We review the best Bitcoin Cold Storage Wallets. Cold Wallet is a bitcoin wallet that is not linked to the Internet and hence cannot be hacked. The cold wallet, also known as a "hardware wallet" and an "offline wallet," holds the user's address and private key and operates in combination with suitable computer software. It differs from the "hot wallet," which remains on the user's desktop or mobile device or in a cloud-based service and may be hacked since it is connected to the Internet.
Cryptocurrency wallets are the digital interface for a user's cryptocurrencies and other digital assets, such as NFTs. A crypto wallet is either a browser extension or a mobile application that enables the purchase, sale, exchange, lending, and borrowing of cryptocurrency coins and tokens. Wallets allow users access to a decentralized exchange (DeX), which offers several trading options. Additionally, hardware wallets are safer than software wallets. Also check the best Virtual Trading Apps to start trading without real money.