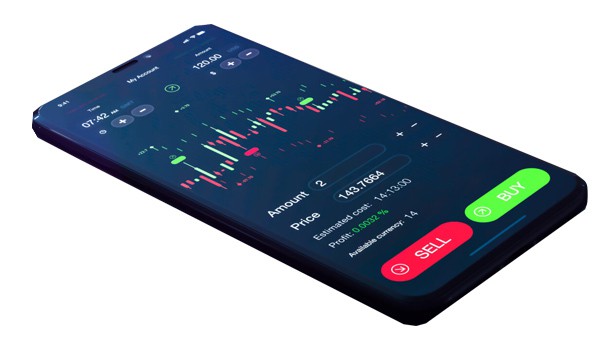 Best Virtual Trading Apps to Learn Trading: Stock trading or Virtual trading apps help new traders and those with years of experience make intelligent decisions on the purchase or sale of stocks. Virtual trading is an alternative word for a demo account. A demo account is a virtual account primarily used by new traders (or experienced traders wishing to try new methods) before moving to a live account to prove their confidence before trading with real funds. A demo account enables refresher training with market dynamics and order placement. Various variables will affect multiple financial assets. Remember that the key to effective trading is making confident and well-informed judgments, evaluating the possibilities, and understanding the dangers involved.
Virtual trading is an alternative word for a demo account.
A demo account facilitates refresher training with market dynamics and order placement.
Successful trading requires making conscious and well-informed decisions.
What Does Virtual Trading Mean?
Virtual Trading apps, where a new investor or trader may practice losing or gaining money on the stock market while discovering new and unique tactics. Virtual Trading is also known as Paper Trading, in which an investor analyses the stock market, tactics, profit-loss records, etc., on paper without risking any money.
The systems that provide simulated Trading are known as stock simulators. When you sign up for these stock simulators, you get virtual money in your account that you can use to purchase real-time stocks and test out various trading methods without taking any financial risk.
Future investors may get stock simulators from many firms for free or a fee; some even provide free trials for a week or two. Fake currency is paper money, monopoly money, or virtual money.
What is Virtual Trading App?
Virtual trading apps facilitate stock trading practice for a beginner. Some of the top virtual trading apps allow you to study and understand the basics of the stock market, including crypto, shares, commodities, fixed deposits, mutual funds, and bonds, among others.
With the use of stock market simulators, it is possible to study how the stock market runs. As a newbie, you may invest in stocks without real money and monitor real-time stock data.
The top stock simulators provide portfolio management, historical stock data, and in-built discussion threads. In addition, a limit order, stop loss, and market order provide a real-time stock market experience in virtual trading. These features make virtual trading apps perfect for stock trading learning.
Virtual Trading Types
Based on their operational performance and stock market supply type, virtual trading is divided into two types: financial and fantasy simulators.
1. Financial Simulators
Using the Virtual Trading apps platforms that provide access to real-time stock data and create a solid portfolio, a trader may learn about the stock market and develop tactics or techniques using financial simulators.
In financial simulations, a trader starts with virtual currency and better understands the investing and trading process. Perhaps the primary purpose of Financial Simulators is to allow users to practice stocks using virtual money in a real market and to examine if and how they should participate in the stock market, as well as in which stock class they should invest in generating a profit.
There are several prominent Financial simulators, like Investopedia Simulator, Market Watch Virtual Stock Exchange, and How the market works.
2. Fantasy Simulators
In comparison, fantasy simulators differ from financial simulators in that a trader trades real-world stocks and derivatives. Here, the commodity lists in fantasy simulators focus on sports or entertainment, such as television series, movies, and sports like baseball, football, etc.
Crossroads Inn (2019), Majesty: The Fantasy Kingdom Sim (2000, 2012), Fantasy Life (2012), Escaping Escapism, Cities: Skyline and many more are examples of fantasy simulators.
How do Virtual Trading Apps Act as Stock Market Simulators?
Investing in stocks and trading shares using stock simulators is simple, as is practicing stock trading with virtual money. Here is how virtual trading apps simulate the stock market:
Real-time notifications on market activity and volatility
You may purchase fractional shares.
No limit applied to trading volume
Target prices and professional stock analysis
Security measures for managing funds
Choice of trading any stock
Detailed market analysis
What does derivatives mean in trading?
A derivative is a form of advanced financial security agreed upon by two or more parties. Traders use derivatives to get access to specific marketplaces and trade various assets. Derivatives are often seen as an advanced type of investment. Stocks, bonds, commodities, currencies, interest rates, and market indexes are the most typical underlying assets for derivatives. Contract values are dependent on price fluctuations of the underlying asset. Chicago Mercantile Exchange is one of the major derivatives markets in the world. Virtual Trading apps helps to learn trading in various derivative markets.
Types of Derivative Used in Virtual Trading Apps
1. Futures
The next tricky derivatives trading market is Virtual Trading Futures. Here is how Virtual Trading apps may help you become a trading master. Futures are precarious and need essential study before purchasing. Virtual Trading futures are an excellent option for beginner and advanced traders because of their extended periods.
Virtual Trading futures enables a beginner trader to examine the futures market, track the stock market, and practice buying and selling stocks without making a financial investment. It enables an investor to operate with real-time risk and return goals, financing restrictions and purchasing and selling limits, providing many opportunities to acquire more. In virtual Trading futures, you may manage your data flow and simulate market events in real-time.
2. Forwards
Forwards are similar to futures because they are not traded on an exchange. Instead, these contracts trade only over the counter. The buyer and seller may specify the terms, size, and settlement method of a forward contract. As OTC goods, forward contracts subject both parties to more considerable counterparty risk.
3. Swaps
Swaps are a derivative often used to swap one type of cash flow for another. For instance, a trader may use an interest rate swap to transfer a variable-rate loan to a fixed-rate loan or vice versa.
4. Options
If you want to trade options in the future, you should learn the necessary skills with the help of virtual trading apps and software. Options are complex derivatives that need depth examination before investment. Options, profits, and losses are unpredictable and may fluctuate rapidly. Therefore, a beginner or new investor prefers virtual Trading to learn the options and begin buying and selling stocks.
Virtual Trading options are much more effective than reading books or web articles since they provide a real-time, risk-free experience. Practicing and testing various virtual Trading options using multiple tactics and approaches in real-time enables the user to get a deeper grasp of the options' underlying concepts and discover a new market without restriction.
How do Virtual Trading Apps work in India?
Using a virtual trading platform is no longer difficult. We outline some simple techniques for using virtual trading apps.
Start by downloading an application. Some applications provide both free and premium account options. Select an available option and create an account.
Once your virtual trading account has been created, you will get virtual currency to begin buying and selling stocks.
You may trade several stocks and use various trading methods until you discover the one that works for you.
The top virtual trading apps feature a portfolio in which you can monitor your entire profit or loss.
Once you believe you have earned sufficient knowledge and expertise on the virtual market, you may apply it to the actual stock market and trade.
Best Virtual Trading Apps for Beginners and Professionals
1. Investopedia Stock Market Simulator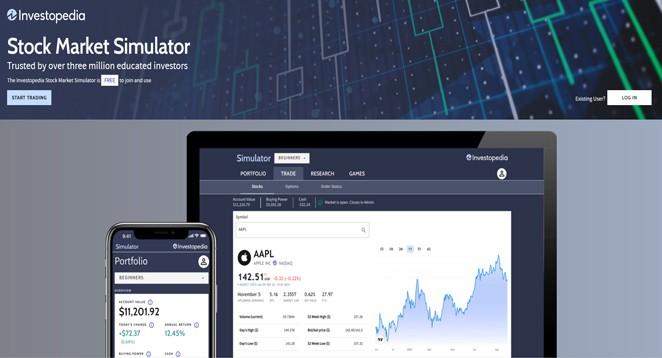 The Investopedia Stock Simulator simplifies trading momentum, P/E ratios, and stock markets. In addition, the stock virtual trading apps uses actual stock market data to facilitate margin trading and commission rate adjustments.
Investopedia Stock Virtual trading app Features
The app provides comprehensive guidelines for advanced trading types, including short positions and stock purchases.
Portfolio analytics assists users in selecting and managing specific investment groupings.
Investopedia facilitates the business of stock trading by presenting prospective market selections.
Pros:
User-friendly and simple, simulating actual stock market transactions
Monitoring trading outcomes is a breeze.
Option for seeking and purchasing of trading stock is an extra bonus.
Reduced possibility of losing real capital
Cons:
The user interface may be more user-friendly.
The Investopedia Stock Simulator is among the best free virtual trading apps that may be downloaded from their website. Additionally, you may see the improved plans on its website.
Website: https://www.investopedia.com
2. TrakInvest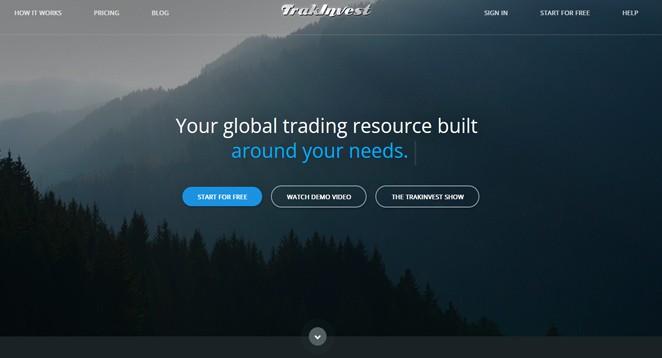 TrakInvest's virtual stock trading app makes it simple to trade and comprehend the stock market. As the top trading paper application in India. TrakInvest includes social tools that facilitate the comprehension of data and portfolio management. In addition, consumers get access to real-time market information and various stock market guides. You should consider it in the list of best virtual trading apps to learn trading.
TrakInvest virtual stock trading app Features
Use this demo stock trading app to monitor both stocks and traders.
The Copy Trade function allows users to monitor the investments of their friends.
Investors may buy and sell stocks using built-in modules such as short selling and portfolio overviews.
This feature gives information on processing, pending, and failed orders.
Certification in Global Online Trading for enhancing investing abilities.
Pros:
Option to create exclusive tournaments
Certification apps for enhancing stock trading expertise
Numerous video instructions and lessons are accessible.
Cons:
The basic package begins at Rs 86 per month. Other sophisticated schemes include:
Website: https://www.trakinvest.com
3. Chart Mantra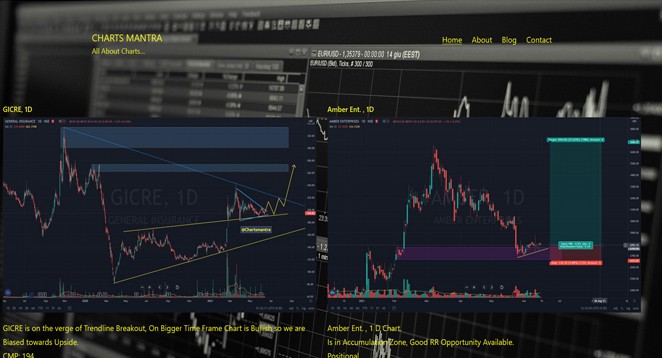 For virtual stock trading, investors, traders, and other relevant professionals like Chart Mantra. In India, the virtual trading apps are also used to purchase stocks, bonds, and commodities. This stock market simulator may undertake technical analysis for Forex and stock market investments.
Chart Manta Practice Stock Trading App Features
This top paper trading application features technical indicators for acquiring market information.
Built-in infographics for doing technical stock analysis.
EOD or End of Day technical charts is used to comprehend the stock market position.
The stock simulator makes loading new stocks as simple as handling old ones.
You may practice trading up to Rs 1 lakh in virtual currency for playing stock games.
Pros:
The virtual currency is used for instantaneous stock trading.
A risk-free learning resource for stock trading
Cons:
At times, the virtual trading experience may seem implausible.
Pricing information about Chart Mantra dummy stock trading app may be found on its website.
Website: https://chartsmantra.com
4. Zerodha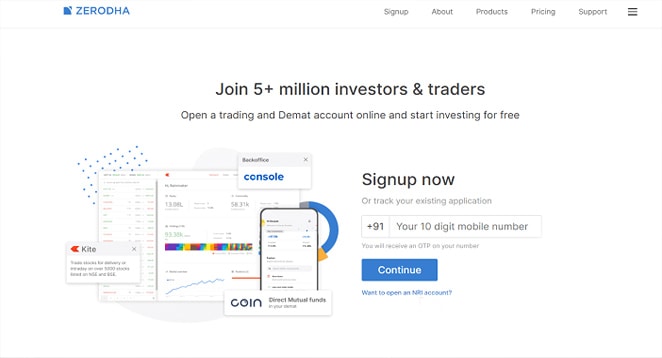 It is one of the most popular virtual trading apps for learning about stock investing, mutual funds, derivatives, and expanding the reach of preferred stocks. The trading app enables you to search for equities across different exchanges and a wide variety of accessible stocks.
This virtual stock trading application offers beginners simple keyboard shortcuts for quickly analyzing and managing their portfolios.
Zerodha Virtual Trading App Features
The virtual trading app from Zerodha gives access to level-3 data, which is crucial for gaining a more profound knowledge of market liquidity.
Zerodha provides a summary of pertinent data via its easy and configurable graphics.
Establish triggers to determine when to enter or quit stock positions.
With the Zerodha virtual trading app, you may construct and manage baskets of many stocks.
Profit and loss statements that are accurate
The app uses a massive stream of historical data to produce and evaluate correct profit/loss statements.
Pros:
Zerodha offers APIs for application development.
The application is appropriate for acquiring intraday tactics.
Cons:
Users are dissatisfied because Zerodha does not provide buy/sell calls.
The Zerodha is among the best virtual trading apps in India that offers no-cost equity delivery investments. However, it costs 20 for each intraday trading order that is completed.
Website: https://zerodha.com
5. Sensibull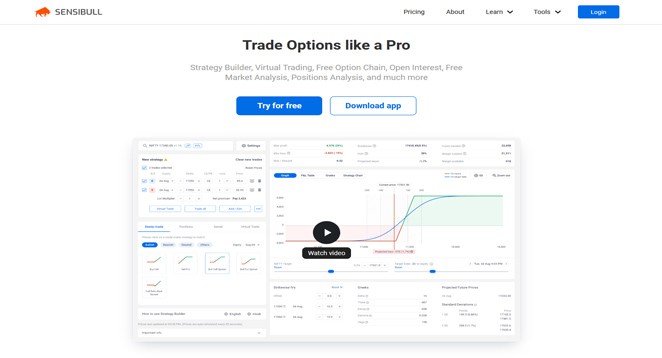 The Sensibull virtual trading app educates you on the intricacies of trading without exposing you to actual financial risk. You may access the application immediately through your Zerodha, ICICI direct, 5paisa, Alice Blue, or any other appropriate broker account. Sensibull offers analytical research tools that allow you to track your virtual earnings and losses. It is considered the most reliable among other best virtual trading apps in India.
Sensibull Virtual Trading App India Features
The app gives novices simple options to further reduce losses.
This function displays the prices of all stock options simultaneously.
Improved oversight of foreign institutional investors
This application enables you to trade in the same manner as FIIs and optimizes your earning potential.
Sensibull provides several courses on trading fundamentals and beyond.
Your event calculator includes a listing of all significant future events.
Pros:
The UI is also user-friendly.
The app conducts trading psychology lectures regularly.
Cons:
Due to Sensibull's simulated environment, some investors may get an inaccurate perspective.
Price: The virtual options trading app from Sensibull costs 640 per month.
Website: https://sensibull.com
6. Dalal Street Virtual Trading (DSIJ)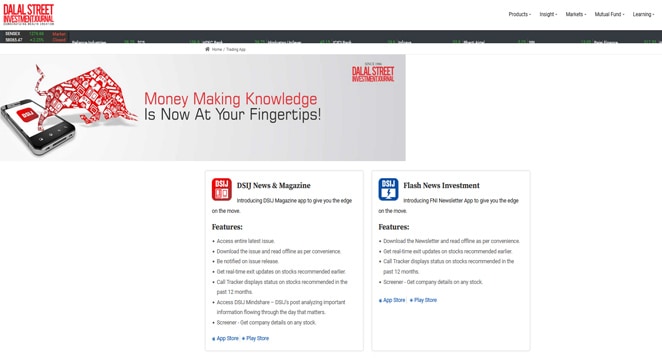 Dalal street, as a virtual trading app, is one of India's most widely used virtual trading platforms. It is due to the interface's simplicity and usability. In addition, Dalal Street is one of India's top virtual trading apps, allowing you to quickly track the performance of your preferred stocks over time.
Dalal Street Mock Trading App Features
The application delivers timely alerts on the purchase or sale of a specific stock.
This tool lets you track significant financial occurrences for a specific day.
With its screener function, retrieving all corporate information associated with stock is simple.
Participation of industry experts
Each suggestion made by the Dalal Street virtual trading app is supported by in-depth study and professional opinion.
Pros:
The Dalal virtual stock trading app has provided credible guidance for over three decades.
This stock trainer application generates buy/sell recommendations based on recent market fluctuations.
Cons:
Sometimes, alerts may not emit a sound even when the sound bar is set to its highest volume.
The Dalal Street Dummy Trading app may be downloaded for free from Google Play or Apple App Store.
Website: https://www.dsij.in/trading-app
7. Moneybhai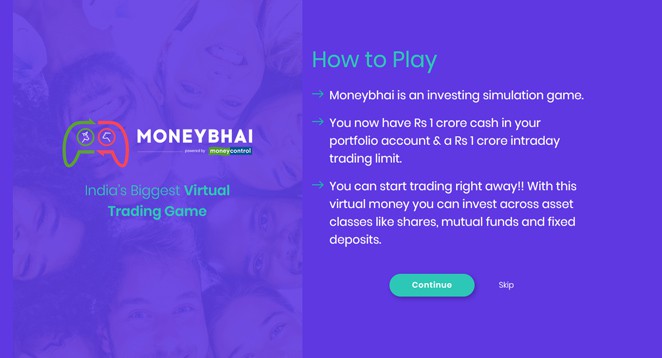 Moneybhai is also known as the virtual trading app from moneycontrol. It has an intraday trading limit of 1 crore INR, which may be invested in various assets, including mutual funds, equities, fixed deposits, and more.
Moneybhai Virtual Trading App Features
The application leverages actual stock market data to improve the virtual trading experience.
Moneybhai lets you see your transaction history, portfolio, profit, and loss figures much more quickly.
By organizing leagues, investors may engage in competition with one another. They may also invite their friends and relatives.
The application has a specific part for studying proper investing methods.
Pros:
Moneybhai, the moneycontrol virtual trading app, offers tactics that may be immediately used in the stock market.
The application has a leaderboard feature that displays the rankings of various investors.
Cons:
The app's simulated environment may not account for all the factors in actual trading.
Moneybhai is among the best free virtual trading apps to download.
Website: https://moneybhai.moneycontrol.com
8. Fidelity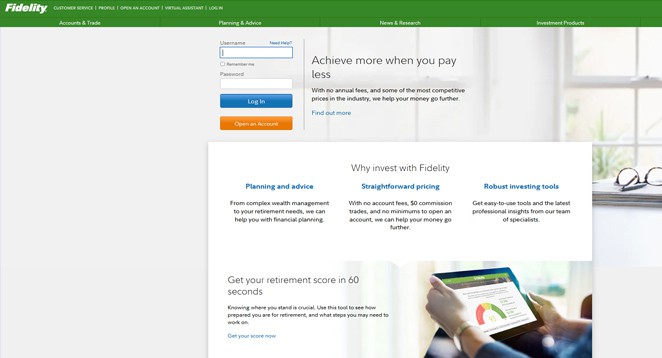 With India's Fidelity virtual trading app, you can trade stocks, manage your portfolio, and obtain real-time prices. As one of the most incredible virtual trading apps, it provides online brokerage services and cash management functions. This virtual trading application also features a variety of order entry selection tools.
Fidelity Stock Simulator Features
Asset screeners assist investors in narrowing their investing options.
Algorithms for enhancing prices and preventing payment order flows.
The Fidelity virtual trading app may monitor preferred securities and account holdings.
Optional chain upgrades and multi-leg option trading for longer trading hours.
Pros:
Exceptional trade executions
Asset screeners for research on ETFs
Modular news streams
Cons:
Absence of futures and commodities option
Pricing information is provided on the internet for this stock market simulator.
Website: https://www.fidelity.com
9. Moneypot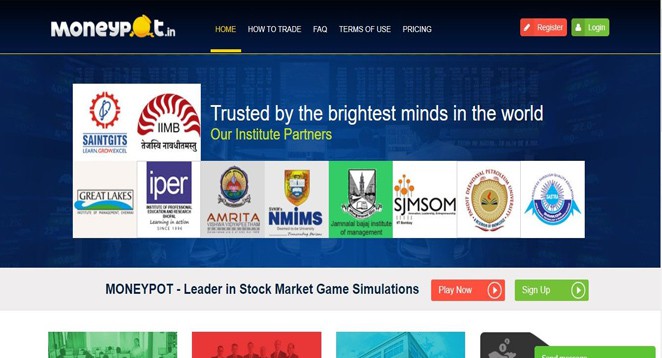 Moneypot Virtual Trading is a web-based virtual trading platform for stocks that is excellent for different stock market-related tasks. You can also use this practice stock virtual trading app to communicate with other participants regularly. In addition, stocks and shares are included to provide a real-time virtual trading environment.
Features Moneypot Virtual Trading App
The simulation of trading procedures assists investors in preparing for actual stock market conditions.
You may practice stock trading using virtual dollars and real-time market data for more realistic training.
Moneypot is a scalable virtual trading application that supports stocks and equities for all customers.
Multiple trading techniques
Such tactics facilitate communication with online traders to comprehend the operation of the stock market.
Pros:
Virtual stock trading games that allow players to learn and profit are advantageous.
Notifications of daily transactions are sent immediately.
Cash booking is provided to determine how much money is remaining for acquiring shares.
Cons:
The UI is not very striking.
Pricing information is available by sending a chat message to the official website of the app manufacturer.
Website: https://www.moneypot.in
10. Trading View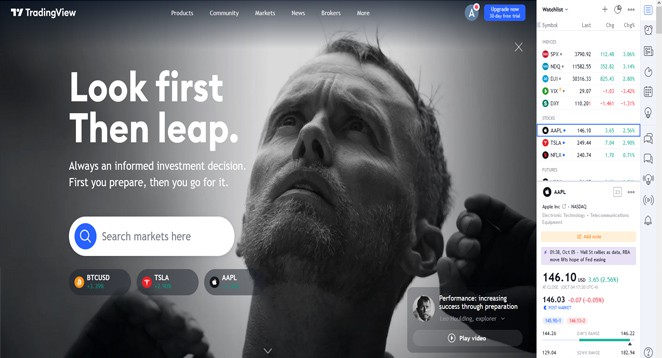 Trading View is the most reliable Virtual Trading app for novice and experienced traders. This cloud-based Virtual trading platform was founded in 2012 and enabled traders to personalize charts and do thorough research.
Trading View India provides one free account and three premium accounts to analyze current tools and features. In addition, option Trading Mistakes may be avoided using the Trading View App's free trial option.
It facilitates trading and investing across numerous areas, including forex, cryptocurrencies, and stocks. Trading View charts are one of this app's most excellent features, allowing traders to tailor analysis, analyze market changes, and calculate profits, among other things. You should consider it as the best virtual trading apps to use in 2022.
Website: https://www.tradingview.com
Final Words For Virtual Trading Apps
Virtual trading or paper trading is an excellent way to learn the basics and better understand stock markets. Through these Virtual Trading Apps, you may practice multiple investing approaches and strategies risk-free, as well as learn from the basics to advanced trades. Because stock trading involves real money and not virtual money, studying and practicing virtual trading for a few weeks or months before entering the stock market is recommended. Also read best Cold Storage or Cold Wallet to prevent hacking of Cryptocurrency.