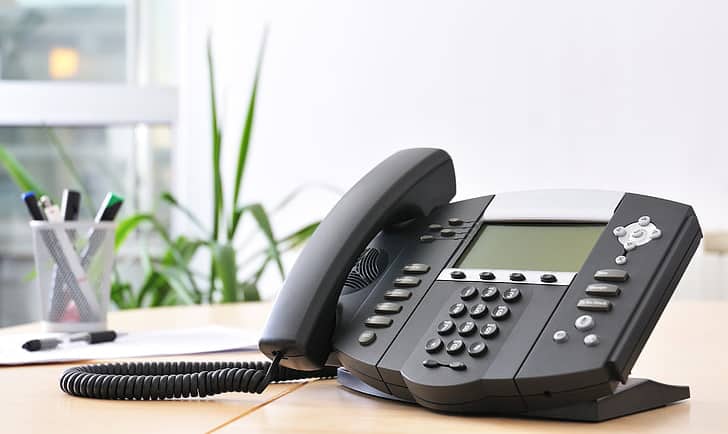 Best Call Tracking Software For Your Business: Call tracking is the best way for companies to know who calls them, when someone phoned, who they represent, what they want, where they're located and even transcripts of what they said. That means you have a record of client data that you can use to enhance your website and your company to attract more customers.
In this post, we will discuss best call tracking software, how it works and what data it may provide from phone conversations (besides the conventional phone numbers) (besides the typical phone numbers). Also, why your business needs and should be using call tracking software.
What is Call Tracking Software?
Call tracking is a reporting and call recording software that enables your business to monitor crucial information about incoming business phone calls. The data that call monitoring gathers from incoming calls, such as who called, when they phoned, and what organization, if any, they represented, is as essential as it gets.
In addition to providing the caller's location, call tracking software gives a transcript of all phone conversations. It provides concrete information about phone calls, which your business can use in many ways to grow. You can use it to optimize the content of your website and to engage and attract more searchers and site visitors.
Call tracking software also allows marketers to determine which marketing campaign generated the phone call, dramatically enhancing KPI measurement. It may also identify the keywords, advertisements, and online sites that led to the phone call.
Call tracking also improves the effectiveness of online and offline marketing campaigns. For example, sales teams use call tracking software in advertising, such as Google Ads (PPC), to identify which phone calls originated from which location (and which phone lines), so you can determine which marketing methods are effective and, more crucially, which ones are ineffective.
How Does Call Tracking Software Work?
Call tracking is performed by assigning unique phone numbers to a company's marketing campaigns. The purpose of the unique phone numbers is simple: to distinguish between the campaigns. When phone calls are received from a specific number, you are instantly aware of the campaign to which the caller is responding.
So, for instance, XYZ Company launches a marketing campaign (or several of them). The first step is the assignment of unique phone numbers, either local or 800 phone numbers. These numbers may also be directed to any desired department, such as an office phone, the marketing department, or a third-party answering service.
When these phone numbers are dialed, they are routed through phone tracking software after configuring them. The software is the key to attributing phone calls to sponsored search, organic traffic, social media, and other sources.
Dynamic phone numbers enable advertisers to employ as many numbers as desired to cover a range of sources, marketing campaigns, and keywords. Call tracking software also includes scrips, cookies, "call whisper," conversion parameters, providing advertisers with a great deal of flexibility, considerably enhancing their marketing efforts, and even functioning offline.
20 Best Call Tracking Software in 2023
Here we list some of the best call tracking software for your business and personal use.
1. GoTo Connect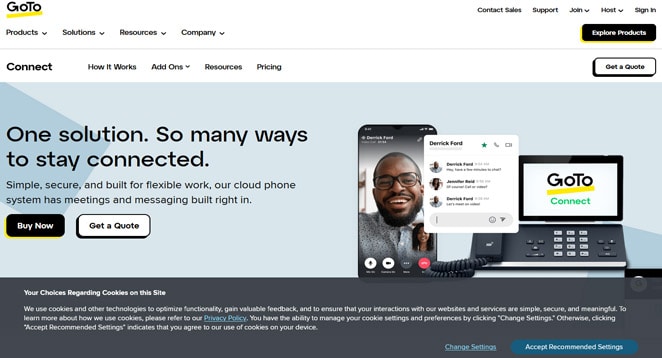 GoToConnect is an easy, dependable, and adaptable solution that combines the strength and dependability of Jive's cloud VoIP phone systems with GoToMeeting's web, audio, and video capabilities. With capabilities ranging from secure video conferencing and screen sharing to virtual voicemail and call forwarding, users can quickly meet, communicate, and cooperate via web browser, desktop program, or desk phone.
GoToConnect saves the effort and cost of maintaining several collaboration solution providers for as little as $19.95 per month. You get over one hundred meetings and cloud VoIP services for one affordable price, with no additional fees or payments.
Website: https://www.goto.com

2. RingCentral MVP
RingCentral MVP is a unified communications system that enables users to make and receive business calls, voicemails, faxes, and texts from any location. As a result, organizations may empower their staff to increase communication with customers, partners, and coworkers by allowing them to work with any device, anywhere.
Using BYOD (bring your device to work) devices as corporate business phones, RingCentral MVP enables customers to control the complete business phone system from their desktop computer or smart smartphone anywhere in the globe. People may allocate phones, add and remove users, manage extensions and groups, and more. In addition, the portal lets workers view the corporate directory, check their business voicemail, and send and receive business faxes. It is among the best call tracking software.
Website: https://www.ringcentral.com

3. EngageBay
EngageBay provides an integrated CRM to assist users in organizing their business contacts, managing their connections, and tracking their pipelines. With both marketing and sales teams using EngageBay call tracking software, prospects, and contacts can be smoothly steered through the sales funnel via a single synchronous platform. Contacts may be handled using tools for building contact lists, querying the contact database, recording interaction history, and more. With EngageBay, customers may receive insight into the sales funnel and follow the real-time progress of each offer.
Website: https://www.engagebay.com

4. Twilio
Twilio offers a robust API for phone services that enables businesses to send and receive phone calls and text messages. In addition, it allows programmers to combine many communication channels and leverage their current web development abilities and codes to handle communication issues. You can consider it among the reliable call tracking software for your business.
Website: https://www.twilio.com

5. Dialpad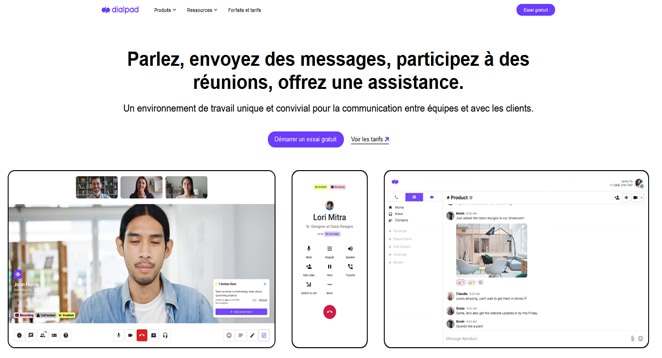 Dialpad is a cloud-based VoIP telephone platform and corporate phone system driven by artificial intelligence that keeps teams connected and productive. The platform consists of three related products: Dialpad Talk for calling, Dialpad Contact Center for managing contact centers, and Dialpad Sell, an automated sales dialer. Dialpad call tracking software is an internet-accessible platform that integrates audio, text, video, and meetings. In addition, it uses cutting-edge cloud telephony technologies, such as WebRTC and Opus codec, to give unmatched VoIP call quality.
Website: https://www.dialpad.com

6. Five9
Five9 delivers Practical AI to contact centers to boost agents' efficacy and efficiency and to create outstanding customer experiences across all channels, including phone, chat, mobile, email, social, and more. Use intelligent routing to ensure the call is routed to the appropriate agent, and leverage customer intent data to equip agents with the best next actions before they answer the call. In addition, offer consumers self-service alternatives for common ailments using a simple IVR to configure, allowing agents to concentrate on high-value encounters. It is one of the best call tracking software on this list.
Website: https://www.five9.com
7. CallHippo
CallHippo is a cloud-based VoIP phone solution developed to suit the communication needs of small enterprises and startups. The solution, accessible as both a website and a mobile application, allows sales, marketing, and support personnel to make and receive international calls. CallHippo call tracking software enables companies to acquire virtual phone numbers from over 50 countries, add users to the same number, and make international calls.
Website: https://callhippo.com

8. CloudTalk
CloudTalk interacts with leading CRM, Helpdesk, and eCommerce platforms (Zendesk, Freshdesk, Salesforce, Pipedrive, HubSpot, Intercom, HelpScout, Live Agent, Zoho CRM, and Magento) through preset one-click connections, and may be linked to any other tool via an open API.
Teams have access to current information across all platforms at all times. Before picking up the phone, agents have access to all consumer information, allowing them to conduct more tailored and productive conversations.
Website: https://www.cloudtalk.io

9. Agile CRM
Agile provides a comprehensive, user-friendly solution to overcome the inefficiencies and technological obstacles associated with combining sales, marketing, and support initiatives and offers interfaces with over 60 top third-party applications. Full integration of telephony with marketing capabilities for delivering email newsletters, social campaigns, and SMS messages. Agile CRM automates online interaction with customer-focused communications, pop-ups, offers, surveys, and registration forms.
Website: https://www.agilecrm.com

10. Groove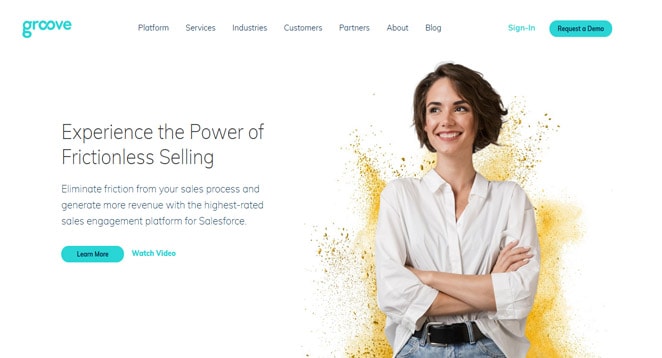 Maintain up-to-date Salesforce data without leaving your email or calendar. Update records and record call notes directly from the Groove sidebar. View and amend opportunities and cases and generate new leads, contacts, and accounts without leaving your email or calendar. It is one of the best call tracking software. More than 70,000 individuals at clients such as Google, Uber, and Capital One use Groove to become more productive and successful. Groove has been recognized as number one in corporate customer satisfaction for over three years and has been one of the Inc. 5000 fastest-growing privately owned firms in the United States since 2020.
Website: https://www.groove.co

11. Novocall
Novocall is cloud-based call tracking and recording software that enables sales teams, marketing agencies, and B2B organizations to manage multi-channel client conversations from a single platform. Team members may embed widgets and custom forms into websites, enabling them to plan and initiate callbacks with clients automatically.
Novocall offers an API that enables organizations to link the platform with various third-party applications, including Zapier, Slack, Microsoft Teams, Google Analytics, Microsoft Outlook, and Flock. It also enables employees to construct and maintain a single inbox for managing client messages across external platforms, including WhatsApp, Telegram, and Line.
Website: https://novocall.co

12. CallRail
CallRail simplifies converting more leads into better clients for organizations of all sizes. CallRail's marketing analytics and business communications software provide real-time information to assist clients in confidently advertising their products or services.
CallRail was established in 2011 and expanded its award-winning platform to include form tracking, conversation analytics, and corporate communications solutions. In addition, CallRail connects with key marketing and sales technologies, including HubSpot, Facebook, Salesforce, and Google Ads and Analytics, allowing easy integration into current processes.
Website: https://www.callrail.com

13. CallSource
CallSource has a reviews module aggregating reviews submitted across social platforms and enabling teams to monitor, manage, and react to consumer inquiries via a unified dashboard. In addition, it provides a variety of capabilities, including lead management, automatic answers, custom phone numbers, online traffic monitoring, call recording, and notifications/alerts.
Its telephone performance analysis (TPA) call tracking software enables managers to evaluate and score sales calls and monitor staff performance to increase the conversion rate. In addition, its call coaching feature allows customers to oversee training and improve staff call-handling abilities.
Website: https://www.callsource.com
14. Liine
Liine is an all-inclusive platform for increasing income from new patients. It automates lead management, delivers insights for data-driven decision-making, and enables excellent employee performance. It is the most reliable call tracking software in 2023.
Website: https://www.liine.com

15. CallTrackingMetrics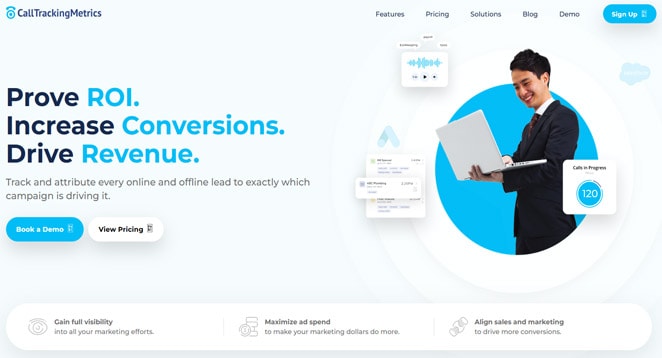 CallTrackingMetrics offers contact centers and agencies a call tracking and marketing attribution solution. The cloud-based platform provides tools that enable organizations to record the customer experience, manage calls, measure conversions, and conduct in-depth analyses of crucial indicators in real-time. It combines call tracking and contact center features to give an all-in-one customer experience management solution, enabling organizations in various sectors to provide a more customized customer experience.
Website: https://www.calltrackingmetrics.com

16. Nextiva
Nextiva call tracking software is a platform that integrates corporate applications, information, and automation with communications. It facilitates communication and strengthens consumer relationships for organizations.
The platform consolidates all communication methods into one location, including audio, video, collaboration, SMS, chat, and surveys. It facilitates access to the information required to generate business outcomes. In addition, built-in intelligence and automation allow you to concentrate on assisting consumers.
Website: https://www.nextiva.com

17. 800.com
This call tracking software provides analytics, sequential or simultaneous call forwarding, voicemail transcriptions, automated alarms, call screening, and data archiving, among others. 800.com enables customers to get voicemail alerts through email or SMS and adjust settings to attach voicemails to emails. The software also provides a call-forwarding feature that allows staff to route incoming calls to a specified phone number automatically.
The tool allows administrators to reject and filter inbound spam calls, provide custom reports, and manage voicemails on a uniform platform. It also facilitates the recording and storing calls for information retrieval and training purposes in a centralized repository.
Website: https://www.800.com

18. 800response
Like other call tracking software on this list, 800response has a geo-based call routing feature that allows companies to route incoming calls according to an extension number, country code, and company location. In addition, it provides various features, such as call prompts, mobile call routing, vanity numbers, notifications, and data export. The missed call tracking module enables professionals to get email or SMS alerts for missed/unanswered calls, which facilitates follow-ups with potential customers. 800response aids in the optimization of marketing efforts depending on consumer age, economical range, gender, and other demographics.
Website: https://800response.com

19. WhatConverts
WhatConverts is a call and lead tracking solution that promises quick setup and cloud deployment for agencies. It enables international call monitoring in 22 countries and offers three scalable subscription price options spanning the Plus, Agency, and Enterprise tiers. Every subscription provides multi-channel monitoring capabilities starting with phone calls and the flexibility to set up other call tracking numbers in a couple of clicks. Online channels are also monitored by adding tracking codes to existing websites and detecting web forms without requiring modifications. In addition, website calls are tracked using DPNI (Dynamic Phone Number Insertion). It is among the best call tracking software you can consider for your business in 2023.
Website: https://www.whatconverts.com

20. Convirza
It is a cloud-based call tracking and optimization software developed to assist small to big enterprises in measuring ad income and managing marketing outcomes and expenditures. The system enables users to manage phone conversations and immediately track them to their offline and internet origins.
Convirza enables organizations to track consumer behaviors and feelings using the call recording capability. In addition, teams may use the platform's call-tracking features to manage marketing across email, social media, and other digital and traditional channels. It is most popular call tracking software on this list.
Website: https://www.convirza.com

What are the Advantages of Call Tracking?
Call tracking software provides several advantages that modern company owners must recognize. The majority of these include delivering important call data and stats. Still, each will assist you in enhancing your marketing strategies, optimizing content, and attributing credit to the excellent campaign. Among the greatest advantages of call monitoring software are:
1. Calls are recorded; using call recording, you may detect customer service issues and improvement areas, hence boosting conversions and revenue.
2. Call tracking allows you to determine which keywords generate the most website or landing page visitors.
3. Using call tracking software, you may monitor the success of your PC landing pages and identify those with the highest conversion rates.
4. Call length is an additional advantage of call tracking software. Statistically, more extended and more in-depth calls result in better conversion rates.
5. Call tracking software determines which advertising campaigns generate the most phone calls.
6. Using call attribution, you will be able to do more innovative marketing using call tracking software and location.
Final Words
Call tracking software enables marketers to get information from phone interactions with clients that indicate which marketing campaign or approach prompted the call and its outcome. For instance, if you contact a company that employs call tracking, they may identify the adverts, web pages, and even keywords that led you to call.
And while you're on the phone, conversational analytics can be used to analyze the call's language to determine if you made a purchase, received a quotation, or scheduled an appointment – what marketers call a "conversion." Then, you can use the data to determine attribution for marketing campaigns and adjust advertisements, web pages, social media, and other advertising mediums to increase the number of high-value clients who call. Without call tracking, it is difficult to show the ROI of marketing campaigns that generate sales calls since the data trail ends when potential customers answer the phone. You can select the best call tracking software that suits your requirement using the list mentioned above. If you know any call tracking software which help your business than let us know using Contact Us.