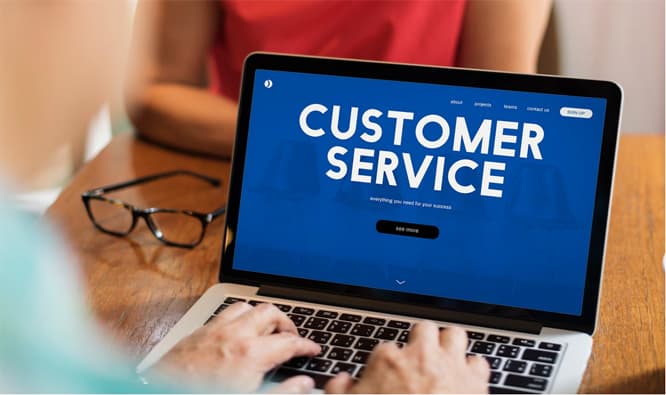 Top Customer Service Software in 2023: Customer service software is a necessary part of providing an excellent customer experience. However, selecting the proper software may take time since various companies provide comparable capabilities and claim to help you achieve the same objectives. The finest customer service solutions of 2023 are listed here to assist you in selecting the best software for your business, specialty, and sector.
What is customer service software?
Customer service software is a platform that helps customers communicate more effectively across several channels. Each program manages incoming customer messages differently. Most software, on the other hand, transforms messages from numerous communication channels into tickets and keeps them in a shared, centralized inbox.
Customer service software is often used for customer support; however, it may also be used by sales, accounting, information technology, or marketing departments within the same business. In addition, the method may assist non-profit organizations, government entities, educational institutions, and regular companies.
15 Best Customer Service Software
Here we list some of the best customer service software for your business growth.
1. Freshdesk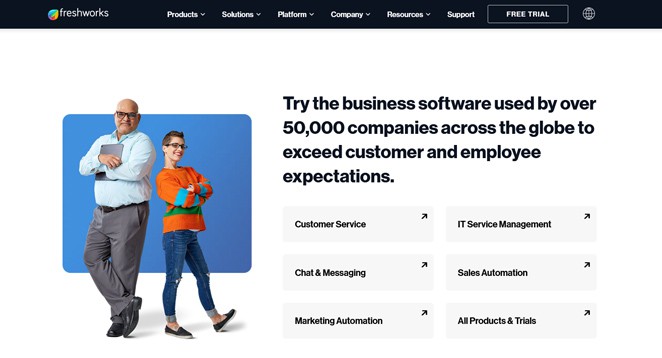 It is a SaaS-based customer support software that provides businesses with everything they need to provide excellent customer service, including omnichannel capabilities, automatic ticket routing, in-depth reporting, self-service choices, SLA monitoring, and much more. It is among the top customer service software you can consider for your business.
Freshdesk integrates requests received by email, phone, online, chat, and social media and helps your team keep on top of all discussions in one place. It also provides agents with a smooth customer experience and allows them to remain productive.
Website: https://www.freshworks.com
2. Zoho Desk
It is a cloud-based help desk platform to assist small and medium-sized businesses to manage customer service. Customer support tickets, a customer support portal, contract administration, and report generation are essential. In addition, the solution collects and organizes interactions from diverse media such as email, phone, chat, social media, self-service sites, forums, and forms.
Renaming tabs, creating new departments, changing email layouts, establishing business hours, and adding support folders are just a few customization options available in Zoho Desk. Workflow rules may automate ticket assignment, service escalation, notification rules, and time-based activities. In addition, the system includes reports that may be customized and scheduled, happiness ratings, and a graphical dashboard for evaluating customer satisfaction.
Website: https://www.zoho.com
3. LiveAgent
LiveAgent is the best cloud-based Help Desk solution for providing exceptional customer support. With 175+ support capabilities, you'll be able to connect any potential support input channel, such as emails, Facebook comments, Tweets, contact forms, live chat, or phone calls.
Automation, SLAs, Ticketing, POP3 accounts, Email piping, Departments, Priorities, Statuses, Tags, Rules, Ticket Routing, Canned/Predefined messages, Macros, Email templates, Performance Reports, Live Chat, Chat invitations and Website monitoring, Voice integration and call recording, Facebook and Twitter integration, Support Portal, Knowledge Base, Forum, and many more are just a few of the main features of the Help Desk. It is widely used and the best customer service software for any business.
Website: https://www.liveagent.com
4. TeamSupport
Smooth and successful customer support interactions are at the heart of exceptional customer experiences. You can be confident that your customer service teams are addressing your clients' demands when you use Support by TeamSupport. It is among the top customer service software.
Support provides 360-degree views of your customers with customer management tools, strong automation, omnichannel support, and a wide range of connectors. Tickets are resolved quicker, agents are more successful, customer connections flourish, and customer experience is improved by giving you the context you need to understand your consumers.
Website: https://www.teamsupport.com
5. Talkdesk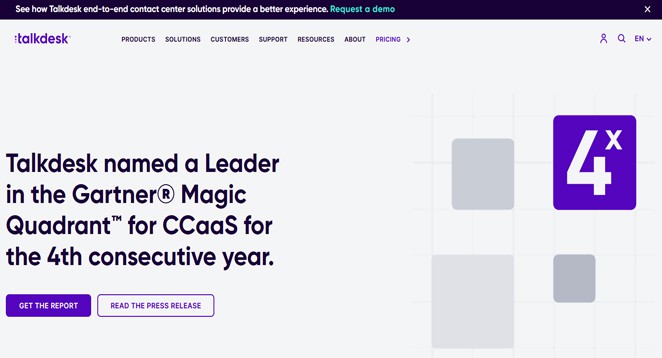 Talkdesk is the world's premier browser-based contact center solution, and it helps businesses all over the globe strengthen their customer interactions. It is trusted by Box, Shopify, and hundreds of other top customer-centric organizations, provides agents with a 360-degree picture of a customer.
It integrates seamlessly with business technologies such as Salesforce, Zendesk, Slack, Desk.com, and more than 20 popular apps. Talkdesk customer service software is the ultimate contact center solution for businesses of all sizes, with hundreds of customizable features such as automated workflows, live reporting, and skills-based routing.
Website: https://www.talkdesk.com
6. SolarWinds Service Desk
Modern enterprises all around the globe can provide their workers with a better service experience thanks to SolarWinds Service Desk (previously Samanage). IT service management software improves efficiency and insight into services sought and provided throughout a company, allowing for continual process improvement and increased productivity. In addition, SolarWinds Service Desk will enable enterprises to promptly and reliably offer the service workers need to do their tasks.
Website: https://www.solarwinds.com
7. Apptivo
Apptivo's applications also have integrated email marketing, allowing you to send tailored campaigns to contact lists while tracking who is reading and clicking on messages. Implement marketing automation to create complete sequences for when the team should follow up with leads and send customized automated messages.
This best customer service software provides much more than simply a CRM. The platform contains applications for the help desk, invoicing, project management, procurement, and other business functions. All applications are built to work around the CRM, giving you a comprehensive 360° view of each customer.
Apptivo customers may specify their corporate regions, markets, and market segments, which can then be used to search and categorize customer accounts. As a result, businesses may identify not only who is purchasing their goods and where but also the industry to which the account belongs, all in one spot.
Website: https://www.apptivo.com
8. FixMe.IT
FixMe.IT is a remote support program that allows remote PCs located anywhere globally to connect instantly. FixMe customer service software Provide remote support that is quicker and simpler than ever: the whole connection procedure is smooth, allowing users to request and authorize remote access to their system effortlessly.
FixMe Despite its low cost, IT does not skimp on functionality, offering a slew of powerful features such as unattended access, file transfer, multi-session handling, auto reboot & reconnect multi-monitor navigation, and clipboard sharing, instant chat, session reporting & recording, branding, and more.
Website: http://fixme.it
9. Tidio
It is a web-based live chat software that merges messages from emails, Facebook Messenger, and website chat widgets into a single agent interface, allowing agents to handle all customer messages simultaneously and with the same tools, nonetheless of which channel they arrive from.
Tidio Chat provides several live chat alternatives, including chat widgets, sidebars, and dedicated chat pages, which may be modified. Three chat widget layouts are available (traditional, contemporary, and business), and users may personalize the popup with multiple colors, button locations, and customizable status messages. The chat pages may also be personalized by changing the background graphics and welcome messages. Users may also include a custom pre-chat survey to collect visitor names, phone numbers, and email addresses before starting a discussion. You can consider it among the best customer service software to use for your business growth.
Website: https://www.tidio.com
10. Kixie PowerCall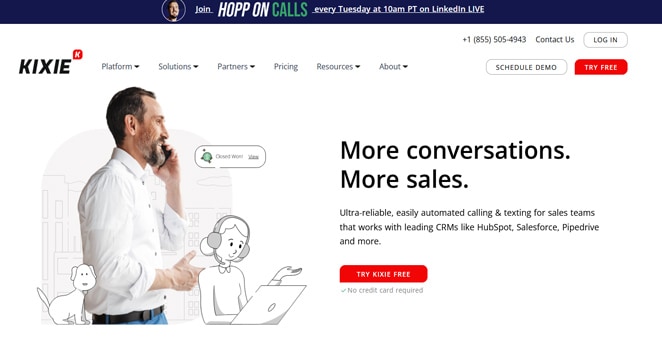 Kixie is a sales interaction technology that improves sales team efficiency by providing ultra-reliable, easily-automated calling and texting for Hubspot, SalesForce, Zoho, Pipedrive, and other top CRMs. You can transform your CRM into an automated sales engine with a clever autodialer, seamless CRM connection, and Enterprise phone service. The program is cloud-based and can be installed in three minutes without hardware. It is among the most reliable customer service software.
Website: https://www.kixie.com
11. Smartsupp
Conversations may help you increase your online sales. Integrating live chat, chatbots, and video recordings, Smartsupp allows businesses to create a customized online shopping experience that promotes sales, enabling you to engage with your consumers and better understand their requirements. It is among the best customer service software.
Website: https://www.smartsupp.com
12. HelpCrunch
For your Support, Marketing, and Sales departments, HelpCrunch is a highly-rated customer communication tool. HelpCrunch can help you increase conversions and sales, enhance support, and expand more quickly.
Website: https://helpcrunch.com
13. Five9
Like other best customer service software, Five9 delivers Practical AI to contact centers to improve agent performance and productivity while creating unique customer experiences across all channels – phone, chat, mobile, email, social, and more. Leverage intelligent routing to ensure that the call is routed to the appropriate agent. Use customer intent data to suggest the best next steps to agents before they even pick up the phone. In addition, an easy-to-set-up IVR provides consumers with clear self-service choices for common ailments, allowing agents to concentrate on high-value conversations.
Increase agent talk time with four calling modes that automatically bypass no-answers and busy signals, allowing agents to chat more to live prospects. In addition, visually dynamic dashboards provide real-time and historical monitoring and analytics, allowing users to stay on top of the operation of their contact center.
Website: https://www.five9.com
14. TenFold
All major CRMs and phone systems are compatible with Tenfold Next Generation CTI. Tenfold lets you detect and reply to your consumers at the point of engagement by integrating your phone system into CRM. Tenfold empowers sales, support, and service teams to have better customer engagement with features such as screen pop, unified customer profile, click-to-dial, automated call logging, local presence calling, and more. If you are looking for the best customer service software, consider TenFold.
Website: https://www.tenfold.com
15. Gorgias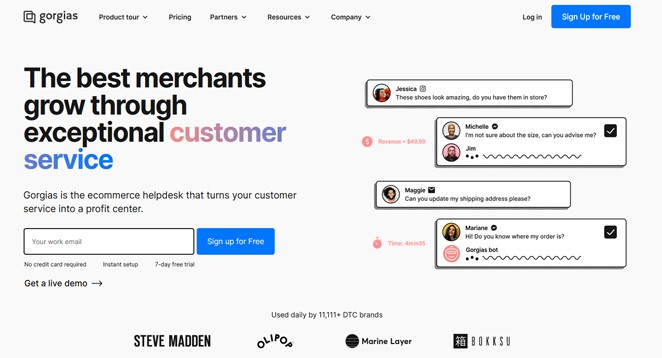 Gorgias is an all-in-one customer service, support, and live chat helpdesk for Shopify, Magento, or BigCommerce businesses that includes features for customer service such as email integration, autoresponders, ticket management, customer history tracking, request assignment, and more. The cloud-based helpdesk solution assists customer service teams in problem resolution by interacting with third-party eCommerce systems such as Shopify and retrieving data on orders, payments, refunds, and more. It also interfaces with other support platforms like Facebook, Twitter, Outlook, Live Chat, and others to collect and handle customer concerns from many sources in one location. It is among the best customer service software you can consider in 2023.
Website: https://www.gorgias.com
How does customer service software work?
Customer service software integrates with widely recognized customer contact channels such as email, phone, live chat, social network integration, messaging applications, and even customer service websites.
When a customer contacts your business through one of these channels, the system immediately creates a ticket. If a customer uses a real time channel, such as the phone or live chat, the system will instantly begin ringing to inform online support agents. When an agent answers the phone or initiates a conversation, the agent and customer may start interacting in real time.
However, suppose a customer contacts your organization by email, social media, or a messaging app in such an instance. Then, the system will generate a ticket and assign it to a predetermined department/agent.
Because many customer messages go through the gaps or need to be responded to quickly enough, businesses and organizations that do not use this technique often face customer discontent and attrition.
A solution like this enables any business or organization to optimize customer communication by eliminating device and account monitoring and centralizing all messages. Consequently, it saves time, increases productivity, and shortens response times, leading to higher customer satisfaction.
Different types of customer service software
Customer service software delivers enhanced collaboration and email capabilities based on routing options, configurable email layouts, comprehensive customer profiles, customer segmentation options, and SLA monitoring. In addition, agent collision detection capabilities guarantee that agents do not spend time working on the same tickets or delete one other's work.
Because it is convenient and easy to use, live chat is the preferred contact medium for 42% of online consumers. Instead of hunting for your contact information, consumers may contact you with a button on your website.
3. Call center
Excellent customer service software should include call center features since they give flexibility and considerable savings. For example, you may provide global economic support instead of spending money on hardware and international phone minutes
4. Social media
Because social media is an always-on platform, digital natives like Generation Z use it for communication. Other consumer organizations use social media as a last resort after trying all other avenues, such as contacting a company's support service.
Messaging applications like Messenger, Viber, WhatsApp, LINE, and Signal are becoming more popular in customer service because they provide a simple method to connect with businesses. Furthermore, clients are acquaint with these applications since they use them to communicate with friends and family, making contacting companies relatively easy.
6. Self-service
Customers nowadays want to avoid spending time calling customer service. Instead, they search your website for FAQs, verified community forums, or other comparable resources to get solutions to their customer questions.
Final Words
While one software solution may be ideal for one organization, more is needed for another. Therefore, it is critical to recognize that each business has unique requirements and objectives. For example, while one organization may be satisfy with essential chat software, another may want a complex solution for multichannel customer communication.
Before you buy or even explore customer service software, you must first understand your objectives and needs. Next, consider what you want to achieve with the program and your budget. The ideal all-in-one solution may be monetarily out of reach for you. After you've written down your software expectations and established a budget, you can begin researching your possibilities.