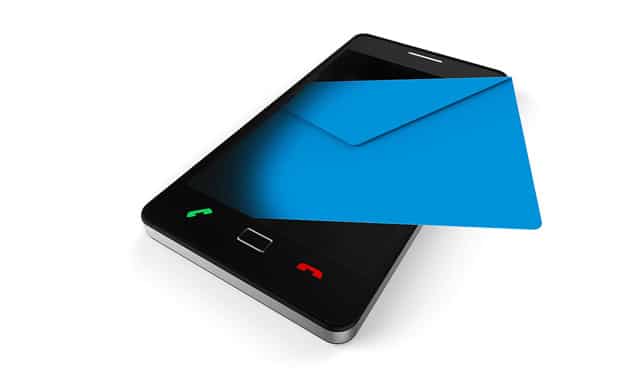 Best Email Management Software: Although it often manages customer inquiries, email management software functions similarly to helpdesk solutions. The former may also include a ticketing system or be a component of a broader customer support system. Perhaps the simplest approach to answering the question "What is email management software?" is to focus on the category's basic functionality: email management. Any helpdesk or service desk solution that includes this module falls into this category.
The goal of email management software arose from our understanding that monitoring work emails consumes four hours of our time each day. This activity takes up more than two days every week.
Email management software tries to reduce work waste. In this essay, we will go beyond the concept of email management software to describe how.
What is Email Management Software?
Email management software automatically categorizes and prioritizes incoming emails, assisting in cleaning and organizing the user's inbox. This program gives individuals and businesses tools to boost productivity and organization through automation and artificial intelligence. Email management software generally contains tools to limit unnecessary distractions, such as a snooze function that allows users to delay non-urgent emails and the option to specify parameters to auto-archive incoming mail. Other features may include email monitoring, template generation, automated sorting, and the ability to unsubscribe from unwanted stuff. This software is excellent for client and customer-facing teams since it allows them to manage shared discussions and tickets, measure critical metrics and KPIs and automate workflows.
Most major email software providers are routinely integrated with email management software. This application also interfaces with various other software solutions, including CRM and employee communications tools.
To be considered for inclusion in the Email Management category, a product must:
Sort emails into designated folders automatically
Provide powerful filtering and search features.
Include snooze, unsubscribe, auto-archive, or blocking features.
Integrate with crucial email software providers and clients.
35 Best Email Management Software For Your Business
Here we list some of the best Email management software for you business;
1. Gmail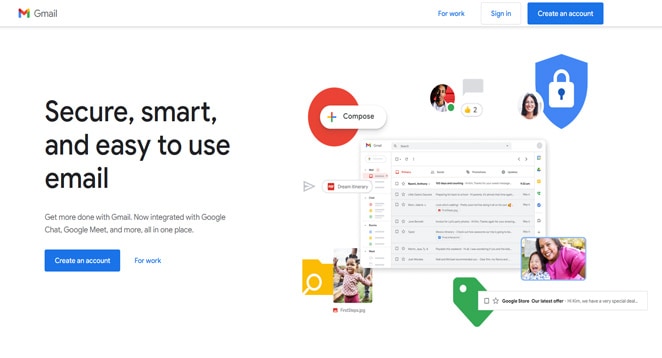 Gmail is a free, ad-supported email service available as part of Google Workspace (formerly G Suite). Users may use Gmail via secure webmail, as well as via POP3 or IMAP4, with 15GB of email storage offered for free. It is the most popular email management software for personal and business use.
Gmail automatically organizes emails into different, configurable tabs (e.g., Primary, Social, Promotions, Updates) that users may add or delete as they see fit. Gmail users can react to invites, monitor packages, and give reviews without leaving the app, and both inbound and outgoing communications may be translated into different languages.
Website: https://www.google.com

2. Google Workspace
Google Workspace integrates all of Google's traditional productivity and collaboration tools into an all-in-one suite for universal access across organizations. Gmail, Hangouts, Calendar, Google+, Drive, Sites, Google Docs, Sheets, Forms, and Slides are among the apps available. Google Admin Console and Google Vault are used to manage these apps.
Google Admin Console enables organizations to add users, manage devices, and change data security settings. For example, administrators may use a single console to add and delete users, create groups, and add verification stages and single sign-on (SSO). This feature also includes mobile device management, which allows for BYOD, and the ability to create security controls on iOS and Android devices. In addition, for reporting and auditing, users may use Google Vault to preserve, search, and export business emails and on-the-record conversations.
Website: https://workspace.google.com

3. Microsoft 365
Microsoft 365, formerly Office 365, is a cloud collaboration tool that provides a private and secure space to store, share, and edit files and documents, connect dispersed teams through shared calendars, messaging, and conferencing tools, and improve your brand experience through branded emails and online websites. It is among the top email management software you can use in 2023.
Website: https://www.office.com

4. Mailchimp
Mailchimp is a marketing automation tool for creating, sending, and analyzing email and ad campaigns. Complete campaign transparency, email tracking, see success and click-through rates, bespoke reports, and the ability to manage subscribers and unsubscribers are all platform features. In addition, Mailchimp allows you to develop customized templates while selecting from a library of pre-made themes and campaigns. You can consider it the most reliable email management software.
Website: https://mailchimp.com

5. ActiveCampaign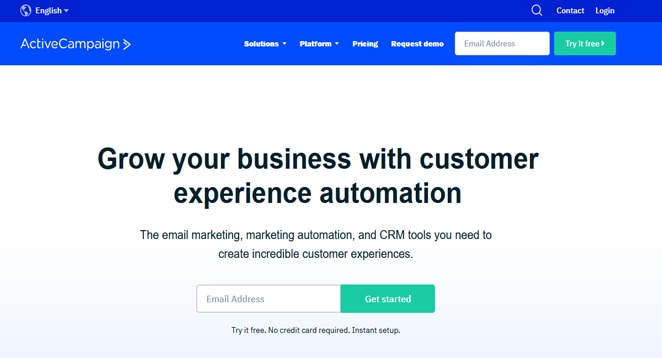 ActiveCampaign's category-defining customer experience automation platform (CXA) enables over 130,000 businesses in 170 countries to communicate with their consumers meaningfully. The platform provides access to 500+ pre-built automation that integrates email marketing, marketing automation, and CRM for effective segmentation and personalization across social, email, messaging, chat, and text for organizations of all sizes. Over 75% of ActiveCampaign clients use one of the company's 850+ connections, which include Microsoft, Shopify, Square, Facebook, and Salesforce. Pricing begins at $9 per month.
Website: https://www.activecampaign.com

6. MailerLite
MailerLite is an email marketing software that allows users of all skill levels to produce professional and tailored marketing campaigns.
Use features like a drag-and-drop editor, landing page builder, automation tools, pop-ups, surveys, templates, e-commerce tools, campaign reporting, subscriber management, A/B testing, segmentation, abandoned carts, and more to connect with your audience on a human level. You can consider Mailerlite email management software for your personal and business use.
Website: https://www.mailerlite.com

7. Airtable
Airtable is an intelligent organization and collaboration solution that provides any sized team with a centralized platform for managing projects, clients, and ideas. This best email management software being a versatile, mobile-friendly system with native smartphone and desktop apps, allows users to arrange anything, with anybody, from anywhere.
Website: https://www.airtable.com

8. LiveAgent
LiveAgent is the ideal cloud-based Help Desk solution for providing exceptional customer service. With 175+ support capabilities, you'll be able to connect any potential support input channel, such as emails, Facebook comments, Tweets, contact forms, live chat, or phone calls.
Website: https://www.liveagent.com

9. Sendinblue
Sendinblue helps organizations develop and expand connections by using email campaigns, transactional emails, SMS messaging, marketing automation, Facebook Ads, chat, CRM, and retargeting ads.
What distinguishes Sendinblue? Because of our flexibility, every firm may design the marketing engine they need at a reasonable cost. Our platform unites a broad set of services into a single, easy-to-use solution.
Website: https://www.sendinblue.com

10. Constant Contact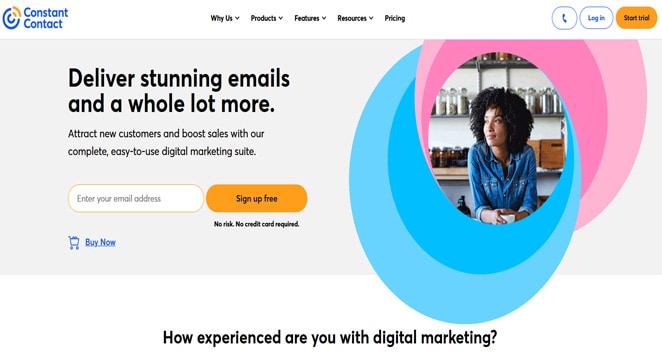 Capture new leads. Send out updates. Drive through traffic. We provide everything you need to develop stronger bonds with your most crucial audiences. They provide solutions to help small companies expand from email to e-commerce, SMS to social, and CRM to discover what's next. They provide for you the individuals who make things happen.
Website: https://www.constantcontact.com

11. Microsoft Outlook
Microsoft Outlook is a personal information manager developed by Microsoft that allows users to focus on what's essential by providing a clear view of email, calendars, and contacts. This best email management software helps people to interact more successfully by connecting with others more efficiently. Microsoft Outlook, which is available as a native mobile app for iOS, Android, and Windows devices, allows users to manage their mailboxes from any tablet or mobile device at any time.
Website: https://www.microsoft.com

12. Marketing 360
Marketing 360 is a technology firm providing SMBs and franchisees with business management, marketing software, and services. The Marketing 360 platform provides SMBs with everything they need to manage and grow their businesses from a single platform, including the ability to build a professional website, accept and manage payments, manage leads and customers, book appointments, monitor reviews, manage social media, syndicate business listings, manage content marketing, and run multi-channel digital advertising campaigns, among other things.
Marketing 360, based in Fort Collins, Colorado, with offices in Austin, Texas, was created in 2009 to strengthen communities by assisting small businesses in growing.
Website: https://www.microsoft.com
13. HoneyBook
HoneyBook is a cloud-based CRM system for small enterprises and freelancers that assists users in managing company activities ranging from consultation to billing. For example, users may manage projects, book customers, issue invoices, sign online contracts, and manage payments on the site.
Website: https://www.honeybook.com

14. Zoho Mail
Like other best email management software, Zoho Mail, a secure, business-oriented email solution, is designed to meet all your emailing requirements. Zoho Mail is far more than your typical mailbox, with superior collaboration and communication options.
It has an integrated calendar to manage your activities, contacts to manage your personal and professional relationships, tasks to manage your workload, notes to scribble down anything on your mind, and bookmarks to keep track of essential URLs, all accessible right from your inbox. With everything you need in one window, you can be more productive.
Website: https://www.zoho.com/mail

15. SpamTitan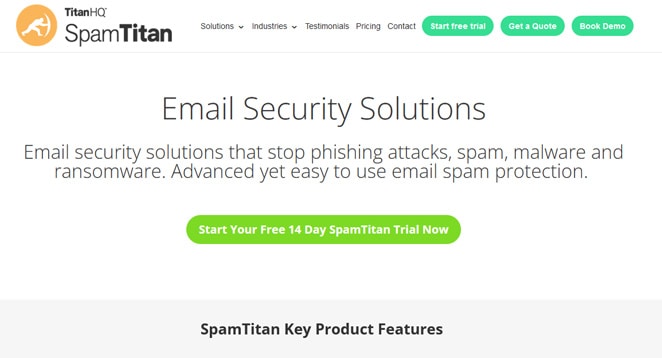 SpamTitan is an anti-spam filter for corporations, managed service providers, and schools that detects and prevents harmful spam emails. It is designed to regulate, clean, and safeguard corporate email flow. It includes multi-layered analysis, authentication, anti-virus protection, whitelisting and blacklisting, and other features.
Website: https://www.spamtitan.com

16. iContact
iContact can create email newsletters, RSS feeds, surveys, autoresponders, and social network updates for any size organization. The program has a variety of capabilities that businesses require to expand their consumer base and effectively reach inboxes.
When writing a message, users can use one of iContact's provided templates or create their message using HTML. iContact's email list management capabilities include subscription management, bulk subscriber upload, and a drag-and-drop sign-up form builder. You can consider it among the best email management software.
Website: https://www.icontact.com

17. Campaign Monitor
Sign up for free and begin creating your first email right now. With our drag-and-drop tools, you can create pixel-perfect graphics and leverage sophisticated automated workflows to deliver relevant and tailored emails. With our email builder, you can create attractively, branded, and customized emails that look great in every mailbox and device. Using our list management tools, you may easily maintain your subscribers and create subgroups based on your own criteria.
Website: https://www.campaignmonitor.com

18. Streak
Streak is the only CRM completely integrated into your Gmail inbox and works with all your other G Suite applications. It may track various company operations such as sales, partnerships, support, recruiting, deal flow, etc. Streak email management software also provides a robust collection of email features, such as email tracking, which allows you to monitor when an email is opened.
Website: https://www.streak.com
19. EngageBay
EngageBay is a marketing program that combines lead generation, email marketing, marketing automation, CRM, and social media interaction into one platform. It is a lead acquisition, engagement, nurturing, and closing platform that allows users to construct email campaigns and automate marketing operations and sales funnels. In addition, the cloud-based platform may assist with lead generation, creating and automating email marketing content distribution, and managing client relationships via the in-built CRM.
Website: https://www.engagebay.com
20. Klaviyo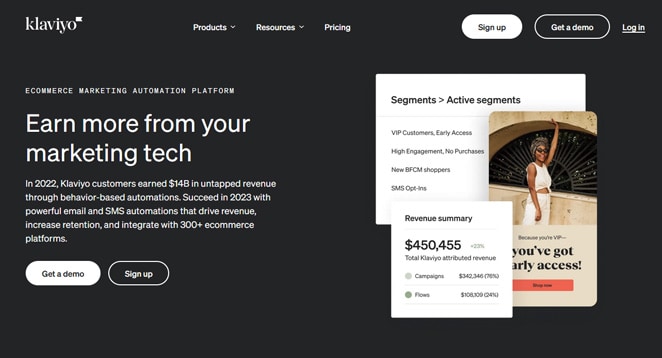 Klaviyo is the world's top-owned marketing platform, increasing income for online businesses using channels such as email, SMS, in-app alerts, and the web. It makes it simple for businesses to save, retrieve, analyze, and use transactional and behavioral data to enable highly focused customer and prospect interactions, allowing them to leverage their marketing channels. And, unlike other marketing systems, It does not require businesses to choose between powerful capability and ease of use, allowing businesses of all sizes to increase their sales rapidly. That is why over 50,000 creative firms, like Unilever, Custom Ink, and Living Proof, use Klaviyo to increase sales. It is the most reliable email management software.
Website: https://www.klaviyo.com
21. HubSpot Sales Hub
HubSpot Sales is an email monitoring program that provides real-time notifications whenever someone clicks on, opens, or downloads connected attachments from your emails. The program recorded when they opened the email, how many times they opened it, where they were when they opened it, and which device they used.
Website: https://www.hubspot.com

22. Pipefy
Pipefy is a low-code process automation platform that boosts team productivity, centralizes data, and optimizes procedures for HR, Procurement, Customer Operations, IT, and other departments.
This reliable email management software assists enterprises in achieving stack extensibility and process excellence for every team in every department through workflow automation and a low-code framework. Pipefy is used in over 150 countries by businesses, including Visa, IBM, Volvo, Santander, and Kraft Heinz.
Website: https://www.pipefy.com

23. SendGrid
The Twilio SendGrid platform will increase transactional email delivery and allow you to grow to meet business requirements. Twilio SendGrid can simply integrate with any cloud-based email infrastructure thanks to its versatile Web and SMTP APIs. Thanks to our robust cloud-based email infrastructure, your transactional email will be up and running in minutes.
Website: https://sendgrid.com

24. Yahoo Mail
Yahoo Mail is a web-based email management tool that provides features such as rapid search, photo and document storage, folder customization, unsubscribing, and more. In addition, users may add their Gmail, Outlook, and AOL email accounts for easy access. Yahoo Mail has apps for iOS and Android smartphones. It is among the top email management software.
Website: https://mail.yahoo.com

25. MailBird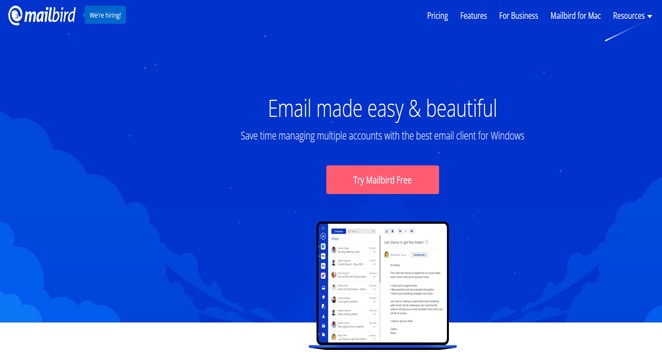 Mailbird is an on-premise email management technology that enables organizations of all sizes to synchronize messages from numerous accounts in a single inbox and link the platform to LinkedIn. In addition, it has a speed-reading feature that allows employees to read 800 words per minute/at a rapid rate to boost email productivity.
Website: https://www.getmailbird.com

26. Mailjet
Sign up and send your first email for free! With real-time collaboration and in-app feedback, our easy drag-and-drop editor speeds up the process of creating the ideal responsive email. Send relevant and tailored emails to your contacts with our automation tool. Send transactional emails and use our real-time monitoring services to ensure that these crucial communications are delivered. You can consider Mailjet the best email management software.
Website: https://www.mailjet.com

27. Moosend
It is a cloud-based email marketing platform that includes marketing automation for managing numerous email campaigns, mailing lists, newsletters, and other types of communications. Email templates, automation tools, real-time analytics, and a drag-and-drop email editor are included in the solution, which is appropriate for freelancers and organizations of all sizes.
Website: https://moosend.com

28. Front
The front is a consumer communication center that surrounds every high-stakes encounter with team collaboration tools and contextual data to guarantee replies are always quick, accurate, and highly tailored. Front's contemporary design is inspired by email clients, which team members enjoy since they are familiar with and simple to use. In addition, powerful automation features minimize manual operations across systems, and thorough insights make it simple to improve team performance and customer relationship health.
Website: https://front.com

29. Help Scout
Help Scout is a dedicated customer support platform designed for expanding teams to provide excellent customer service. When you join up, you have access to a whole array of tools, including a shared inbox, knowledge base, and live chat software, all designed to assist you in providing the best possible client experience. You should consider it among the best email management software.
Website: https://www.helpscout.com

30. Gmail's Boomerang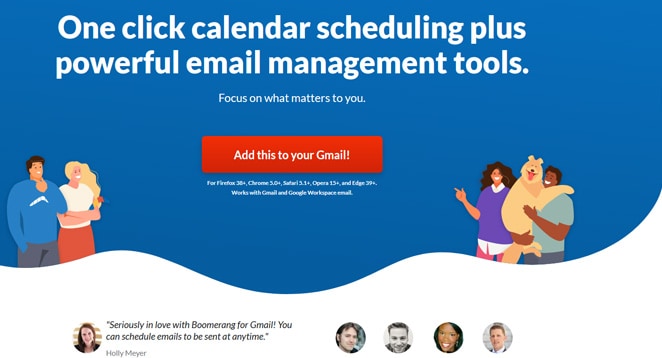 Boomerang for Gmail is email management software that helps businesses manage inbound and outbound electronic mail in real-time. Employees may use a single interface to set up follow-up reminders, schedule meetings, view read receipts, and define delivery exception settings.
Website: https://www.boomeranggmail.com

31. ConvertKit
ConvertKit is a lead generation and email marketing automation tool for professional bloggers, podcasters, YouTubers, course makers, and other content-driven company owners. With custom opt-in forms, landing page templates, workflow automation rules, and drag-and-drop email sequences, the program is designed to help users grow their email list and automate the drip email marketing process.
Website: https://convertkit.com

32. GetResponse
Increase the success of your campaigns long after they've finished with GetResponse Email Intelligence, which is intended to make tracking, measuring, and analyzing a breeze. Make informed decisions in minutes by comparing follow-ups, measuring site conversions, segmenting subscribers with a single click, or viewing hourly changes. It is the best email management software.
Website: https://www.getresponse.com

33. Shift
The shift is a desktop program that helps you organize your accounts, apps, and processes. Tired of signing in and out and moving between accounts? The shift is a rational and elegant solution for better management of everything. Switch between numerous Gmail, Outlook, and Office 365 accounts with ease. Connect your favorite applications (1,200+ to pick from!) and design the ideal workflow for you and your team.
Website: https://tryshift.com

34. AWeber
Like other best email management software, AWeber is a comprehensive marketing solution that specializes in email marketing. Over 300,000 innovators, side hustlers, and small enterprises use their sites worldwide. Their web-based solutions assist firms in expanding by keeping in touch with clients and prospects. Customers may use AWeber to send emails, construct landing pages, and accept payments online from a single platform.
Website: https://www.aweber.com

35. Mixmax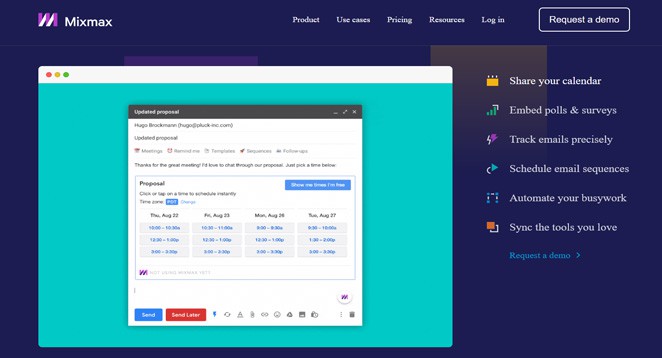 Mixmax is an email communication and sales productivity program that uses 1-to-1 communication, customized email, workflow automation, email tracking, email templates, CRM sync, one-click scheduling, and nurturing sequences. Other features to help organizations turn prospects into customers. Salesforce, Google Calendar, Dropbox, Box, Markdown, Github, Giphy, and Twitter integrations help to improve the communication workflow. Mixmax, an online service, allows customers to control email communication from any internet-enabled device.
Website: https://www.mixmax.com

The Advantages of Email Management Software
Why should you use email management software? There are several advantages, and the following are the most evident.
Manage numerous accounts
You may switch between different email accounts in a single interface. There's no need to log in and out of email accounts, which is inconvenient and wastes time. Instead, many accounts benefit small teams filling multiple responsibilities, such as support, sales, and editorial.
Customize
These email management software are very customizable, not just in terms of UI design but also in terms of complementing your workflows. For example, you may prioritize folders, make signatures, build templates, and do other process-driven customization.
Advanced search
You may drill down to specific email elements by using smart labeling and filtering. Today's email management programs can sift through messages and uncover comprehensive discussions from hundreds of emails, in addition to searching by persons, corporations, and email addresses.
Eliminate spam
The solution organizes emails based on your rules. For example, you may specify what constitutes spam, and the algorithm will separate it from critical communications. It alone can significantly boost productivity.
Secure data
Many email management software provide security features to safeguard critical data in your emails. These include login passwords, bank account information, and customer information. In addition, a solution may consist of data encryption, two-factor authentication, and certifications such as SOC 1/SSAE 16/ISAE 3402 and SOC 2.
Neat interface
Most email management software are ad-free and have a simple, user-friendly interface. It has folders, labels, flags, filters, and threaded chats. These apps are simple to understand and use for new users with little technical experience.
Templates
Many of these programs provide email templates, or you can make your own and keep them in a library that you can access from within the system. Create sales and support response templates and automate the entire process. It allows you to devote more time to specific or critical issues.
Final Words
Both teams and individuals use email management software. Email management software is used by internal support teams, such as IT and external service teams, to guarantee that support requests are handled effectively. Email management systems in support assist service agents in tracking queries, coordinating with other agents, and automating email routing.
The Email marketers may also use email management applications to automate and sequence email nurturing programs, measure open and click-through rates, and send bulk emails.