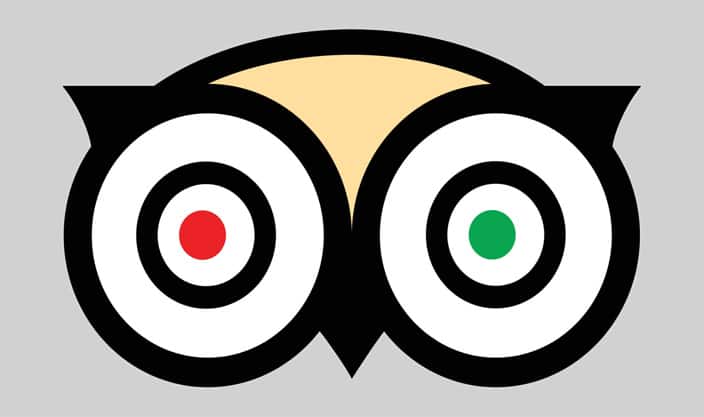 Find Top Luxury Hotels For Your Trip Using TripAdvisor: TripAdvisor is the most popular travel website in the world, enabling users to organize and enjoy the vacation of their dreams. TripAdvisor provides trustworthy recommendations from other real travelers and an extensive range of travel options, features, and planning tools, all of which are linked seamlessly to various booking systems. With more than 260 million unique monthly users and more than 100 million reviews and opinions spanning more than 2.7 million hotels, restaurants, and activities, sites branded with the TripAdvisor name comprise the most prominent travel community in the world. The websites are active in thirty countries around the globe, one of which is China (with the domain name daodao.com). TripAdvisor also has a specialized segment called TripAdvisor for Business, which gives businesses in the tourist industry access to the millions of people who visit TripAdvisor every month.
What is TripAdvisor?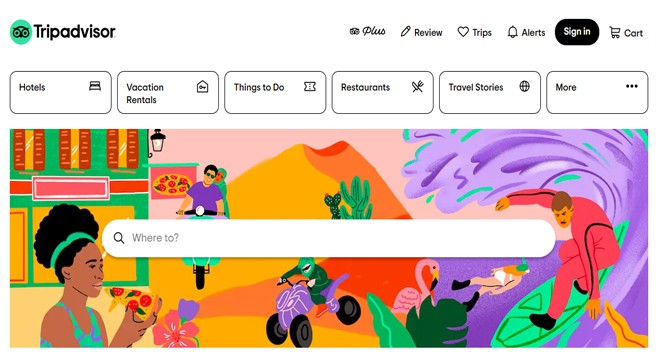 Tripadvisor, Inc. is a web-based travel company that operates in the United States and has its headquarters in Needham, Massachusetts. Its branded websites and forums serve as online travel guides, providing visitors with access to free, user-generated reviews of information associated with travel. Tripadvisor is now widely considered one of the most popular vacation destination and accommodation websites in the United States. The company was established in the year 2000. As of 2021, the total number of reviews and ratings left by users on Tripadvisor had reached close to one billion. These ratings and reviews covered listings for restaurants, hotels, vacation rentals, and attractions.
Cruise Critic, TheFork, Jetsetter, HouseTrip, and Viator are just some travel brands managed and operated by Tripadvisor, Inc. Tripadvisor derives most of its income from the United States, even though the company today has an online presence in almost every region of the world, from Europe to the Pacific. People from all over the globe use Tripadvisor's website and mobile app to get advice from other travelers on where to stay, what to do, and where to dine in a particular location.
Tourists may use Tripadvisor's more than 934 million reviews and opinions of almost 8 million companies to get discounts on accommodations, book activities, reserve tables at excellent restaurants, and find beautiful locations nearby. Tripadvisor also helps travelers discover unique places nearby. No of the kind of vacation you're planning, Tripadvisor, which is a company that offers travel guides and is available in 43 countries and 22 languages, makes the planning process simple.
Website: https://www.tripadvisor.com
Is it Safe to Use TripAdvisor?
Now that you better understand what TripAdvisor is, what do you think about it? First, getting the knowledge necessary to determine whether or not it is secure to book trips on TripAdvisor is essential. Because it bookings through partnerships, TripAdvisor is a safer option than other booking platforms. Because of this, you will never have to use it to book your trip directly, so you will never have to input your credit card information or any other sensitive information to use it. Even registering for a TripAdvisor account is not required to use the website. Aside from that, no employee or other user will ever have a valid reason to ask for personal information, including credit card data, including the employee. Never provide this information to anybody; if another user ever asks you for it, report that individual on the website immediately.
How to Sign Up for TripAdvisor and Get Started
You should be aware that anybody may use various features of TripAdvisor for free even if they do not sign up for the service or create an account with the company. However, if you join up for the service, you will be gained access to the following additional features:
In addition, you may help other users by contributing your trip reviews and images.
Make your reservations with TripAdvisor, and access your booking details here.
Messages can be sent to and received from other users.
Make changes to your profile to enable TripAdvisor to provide personalized recommendations.
You can keep track of the places you've gone by saving your journeys.
Make a map of all the places you've visited and put it in a scrapbook.
You will be notified of any action that occurs on your account.
Collect website contributions in the form of digital badges.
To sign up for TripAdvisor
Launch any web browser and Go to the website located at www.tripadvisor.com.
To become a member of TripAdvisor, go to the main page and look for the Join link in the menu on the top right.
By picking one of the boxes, you may select whether you want to join using your Google account, Facebook, or email.
Enter your email address, select a password, and click the Join button if you want to use email.
You have now joined TripAdvisor and created an account.
TripAdvisor App for Android and iOS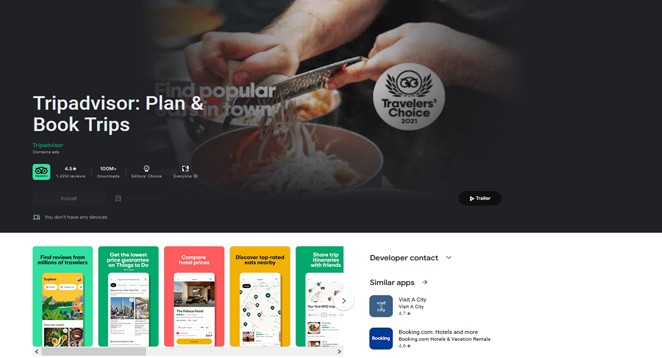 Tripadvisor is a company that offers travel guidance and brings people, places, and interests together. They want to help you become a better traveler across the board, from trip planning and booking to vacation. The TripAdvisor app enables you to get the most out of your holiday, whether planning it or doing it as you go. You can find out what to do, where to stay, and where to eat based on the recommendations of millions of individuals who have already been there.
Find discounts on hotels, schedule exciting activities, make reservations at excellent restaurants, and learn about exciting locations in the neighborhood. The Tripadvisor app simplifies the planning process for any vacation you could be interested in taking, and it also allows you to help other people find their way. You may get the TripAdvisor app from Google Play or the App Store and then download and install it.
How to Make a Reservation on TripAdvisor
1. Log in to your TripAdvisor account. First, log in at the top-right corner of the home page. After that, enter your email address and password and click Log In.
2. Indicate your search criteria on the main page. For example, hotels, vacation rentals, activities, restaurants, and flights are all options. Then, in the highlighted area labeled "Enter destination or hotel name," type your destination's name.
To select your trip dates, use the calendar. Next, choose the number of rooms and party size from the drop-down options, then click Find Hotels.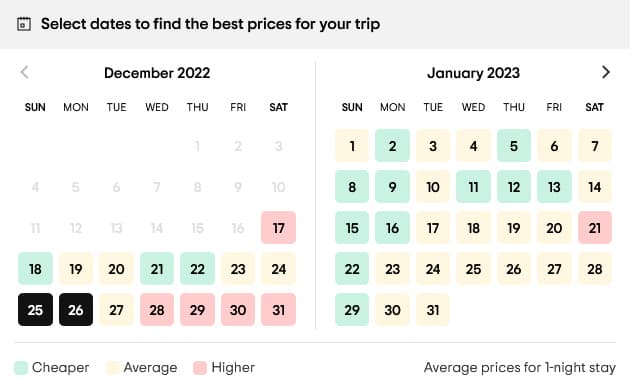 3. Find a hotel that appeals to you from the search results page. The prices for this hotel will be displayed on the right side of the screen. The first window displays the best deal from any of TripAdvisor's partners. The second window displays deals for the same or more excellent price from the remaining partners. To see the most fantastic deal, click View Deal or any of the blue buttons to see the other deals.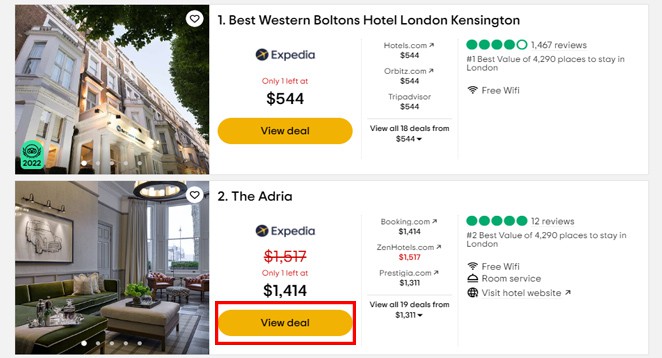 It will redirect you away from TripAdvisor and onto the partner website. You will next have to book your holiday directly on that website, following the method offered. TripAdvisor is not a booking website in and of itself, but instead aggregates prices from its partner websites to show you where you may find the greatest deal.
4. Your bookings are accessible through your account. Select Bookings from the drop-down menu after clicking your name.
From now on, you may access your TripAdvisor bookings here!
Looking for information on TripAdvisor lodging?
One of TripAdvisor's biggest benefits is that it gives visitors access to millions of reviews written by travelers from all over the world in various languages. Travelers describe their specific experience staying at the hotels you're interested in these reviews. Simply search for a hotel or resort that interests you and read what others say about it.
You may begin your search for information on lodgings on TripAdvisor directly from the main page. Click on the first highlighted box labeled "I'm Looking For…" and select an option from the drop-down menu: hotels, vacation rentals, activities, restaurants, or flights. Then, in the highlighted second box labeled "Enter a Destination," input the name of a destination (for example, the name of a city you are interested in). Then, select the Search option.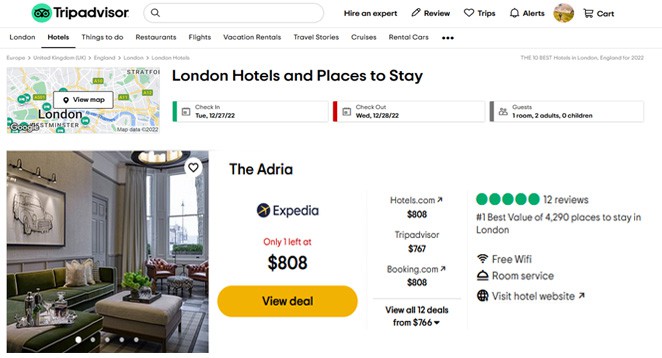 The accommodations that have been evaluated may be found on the following page. The green circles beneath an accommodation's name indicate its total TripAdvisor rating (i.e., the more filled circles, the higher the rating). See how many reviews there are and how the hotel ranks compared to other lodgings in the same city. You may also browse snippets from recent reviews and keywords that convey some of the hotel's greatest features. If you use the two boxes marked in the top-left corner of the screenshot below to pick check-in and check-out dates, you will see hotel prices if the dates you have chosen are available.
To examine any hotel in further detail, click on the name of the hotel.
Prices and Availability of Accommodations
Prices and availability for specified check-in and check-out dates are shown on the center-left. To choose or alter these dates, use the calendars. Then, click the yellow View Deal button to see the website with the best deal for this hotel. Click the blue prices underneath to discover deals on other travel websites. You may also examine the star rating and key terms linked to the hotel's facilities.
A photo will show in the center of the screen; click the arrow to cycle between the photographs. Alternatively, you may use the photo icons on the right to select a photo category: professional, tourist, panoramic, or area map.
Scroll down and choose a category to examine a specific element of the lodgings you're interested in. You can also save this hotel and return to it later by clicking the Save icon.
After selecting a category, you may filter your results by selecting one of the available choices. To view results that match that description, choose any check box. To view information on a given issue, click on the keywords. When reading reviews, for example, you may select "English" and "Families" from the checkboxes to see reviews written in English by travelers with families. For another example, you may use the "sunset bar" to browse reviews highlighting that feature.
Select Hotel after Reading Reviews
Remember to read a variety of reviews when reading them. TripAdvisor will likely display the most "useful" review based on its users' ratings, but keep in mind that they may spotlight a favorable review to promote a specific location. Sorting by date is especially beneficial since reading the most current reviews (or reviews posted in the month you will be going) will be more valuable to you than reading reviews from five years ago.
Don't miss the Q&A section, where travelers may ask and answer questions about the venue. To learn more about that specific hotel, ask your inquiry! The Room Tips category also uses reviews to determine which rooms are the finest to stay in!
Keeping track of your favorite TripAdvisor destinations
You may store information about the lodgings you're interested in on TripAdvisor so you can simply locate them again. You may also reserve anything for the future if you want to go back and check what has changed at a hotel or resort. Simply click the Save button in the top-right corner of a location's or hotel's TripAdvisor information page to accomplish this.
Tap your name at the top of any page to access these stored locations, and then pick Saved Trips from the drop-down menu.
You may now return to any previously stored destinations! From now on, you may easily access them here.
Writing a TripAdvisor Review
If you've been at a hotel previously, you can leave your review to help other people plan their trips!
There are two methods for leaving a review on TripAdvisor. The first step is to choose Review from the main menu bar. You may then select a venue you've previously saved or one you've recently browsed. You may also click the green Write a Review button on each hotel's website. Next, confirm that you are signed into your account so that other users can see what sort of traveler you are.
Click the Review button at the top of any TripAdvisor page and choose a hotel from the drop-down menu. Next, click on any of your saved hotels or recently seen hotels (which will appear at the top). You can also click Review another place to look for a hotel you've stayed at. Finally, if you can't locate the business you want to review, click Add a Listing to TripAdvisor.
You may also write a review from the information page of a hotel. Simply select the Review category or scroll down to find it. Then, on TripAdvisor, click the green Write a Review button to be led directly to the review writing page.
Adding Photo Or Video in Review
You may upload images after filling out all the information and answering TripAdvisor's questions. To add a photo, click the green Add a Photo button. You may repeat this process for as many photographs as you want to give other people a true sense of the property. To comply with the review policies, check the box and click the huge green Submit Your Review button. You can also click the Preview Your Review text next to it to preview how your review will arise on the website after it is published.
Final Words
TripAdvisor is a travel guide and research website that provides reviews and information for free. TripAdvisor has sister sites in several countries (the UK, Italy, Spain, Germany, France, Ireland, Japan, and India). Aside from the typical hotel and attraction reviews, TripAdvisor has several exciting features. For example, users may publish their holiday videos quickly, and travel marketers can promote their businesses by showcasing their videos on TripAdvisor for free.
They also include customization capabilities, such as saving hotel, restaurant, and attraction reviews to customized "My Trips" folders. Travelers may personalize and enhance their plans by including maps, images, personal remarks, and trip itinerary data. Users may also check hotel costs and availability across other vendor commerce sites using TripAdvisor's "Check Rates" feature. TripAdvisor is part of the Expedia Network, which IAC owns. TripAdvisor was split from the Expedia Network in a public offering in December 2011.