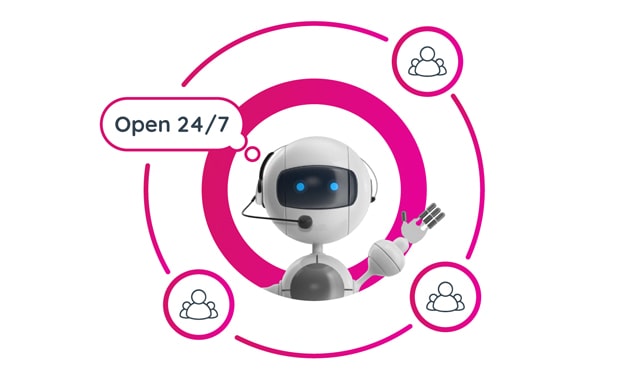 Best Chatbot Software For Your Business: A chatbot is computer software that resembles human communication using text conversations, voice instructions, or both. Chatbot, an abbreviation for chatterbot, is an artificial intelligence (AI) component that may be incorporated and used through any effective messaging service.
"talkbot," "bot," "IM bot," "interactive agent," and "artificial conversation entity" are all synonyms for "chatbot."
A chatbot is computer software that communicates with clients in a human-like manner with minimal or no expense. Chatbots are available 24 /7 a day, seven days a week, and are not restricted by time or place. As a result, it makes its adoption tempting to many organizations that lack the personnel or financial means to maintain workers working around the clock.
What is a Chatbot?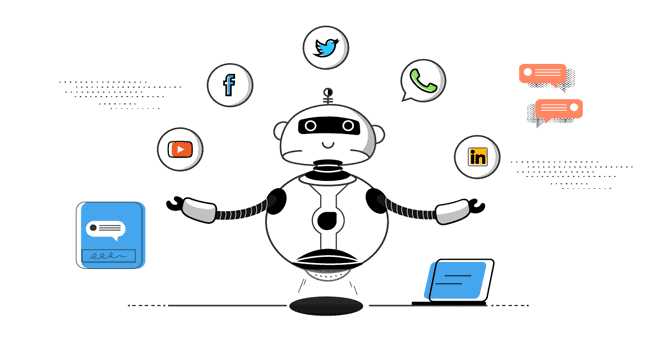 At its most basic, a chatbot is computer software that replicates. It processes human interaction (either written or spoken), allowing humans to communicate with digital devices as if speaking with a natural person. Chatbots can vary from simple programs that respond to a single-line question to complex digital assistants that learn and adapt to provide greater personalization as they receive and analyze data.
Whether or not you realize it, you've engaged with a chatbot. For example, you may research a product on your computer when a popup appears on your screen, asking whether you want assistance. You may be on your way to a concert and use your smartphone to seek a ride through chat. Alternatively, you may have used voice commands to purchase a coffee from your local café and received a response informing you when your order would be ready and how much it will cost. These are various instances in which you could come across a chatbot.
How Chatbots Can Integrate With Your Software for Success?
Chatbot process data to respond to various queries using AI, automated rules, natural language processing (NLP), and machine learning (ML).
Chatbots are classified into two categories.
1. Task-oriented (declarative) chatbots are programs that specialize in a specific function. They provide automated yet conversational replies to user inquiries using rules, NLP, and very little ML. Interactions with these chatbots are incredibly detailed and organized, and they are best suited for support and service functions—imagine comprehensive, interactive FAQs. Task-oriented chatbots may answer routine inquiries, such as inquiries about company hours or basic transactions with few variables. Though they employ NLP to provide end users with an everyday experience, their skills could be improved. Nevertheless, these are the most popular chatbots right now.
2. Data-driven and predictive (conversational) chatbots are far more intelligent, interactive, and customized than task-oriented chatbots and are often referred to as digital assistants or virtual assistants. These chatbots are contextually aware and use natural language understanding (NLU), natural language processing (NLP), and machine learning (ML) to learn as they go.
They use predictive intelligence and analytics to personalize content based on user profiles and previous user behavior. Over time, digital assistants may learn user preferences, provide recommendations, and foresee requirements. They can start dialogues in addition to monitoring data and intent. Consumer-oriented, data-driven, predictive chatbots like Apple's Siri and Amazon's Alexa are examples.
Advanced digital assistants may also integrate many single-purpose chatbots under one umbrella, gather dissimilar information from each of them, and then use this knowledge to execute a job while keeping context—so the chatbot does not become "confused."
The benefits that chatbots provide to organizations and customers
Chatbots improve operational efficiency and save organizations costs while providing convenience and value-added services to internal staff and external customers. In addition, they enable businesses to quickly answer a wide range of consumer inquiries and issues while decreasing the requirement for human involvement.
A firm can expand, customize, and be proactive all at the same time using chatbots, which is a significant differentiation. A corporation, for example, can only serve a finite number of people at one time if it relies only on human labor. As a result, human-powered firms are compelled to rely on standardized models to be cost-effective, and their proactive and personalized outreach skills are restricted.
On the other hand, chatbots enable businesses to communicate with an endless number of consumers in a personalized manner. Moreover, they can be scaled up or down based on demand and business needs. A company may give humanlike, tailored, proactive service to millions of individuals at the same time by deploying chatbots.
According to consumer studies, messaging applications are becoming the preferred means of engaging with businesses for some transactions. Chatbots delivered through messaging systems provide service and convenience that, in many circumstances, exceeds what people can give. Banking chatbots, for example, save an average of four minutes for each query compared to traditional contact centers. In addition, the same capabilities that assist organizations in increasing productivity and lowering costs can benefit customers through a better customer experience. It's a win-win situation.
Why were chatbots created?
The digitization of society is changing it into a "mobile-first" society. Chatbots are becoming increasingly crucial in this mobility-driven revolution as messaging apps gain popularity. Intelligent conversational chatbots, frequently used as interfaces for mobile applications, are transforming how businesses and customers communicate.
Chatbots enable businesses to communicate with consumers more personally without incurring the costs of human personnel. For example, many client queries or concerns are frequently and readily resolved. That is why businesses develop FAQs and troubleshooting manuals. Chatbots offer a more personal alternative to a textual FAQ or guide, and they can even triage queries, such as transferring a client issue to a live person if it gets too difficult for the chatbot to address. As a result, Chatbots have grown in popularity as a time and money saver for enterprises and customer convenience.
How chatbots have evolved
The chatbot may be traced back to Alan Turing's idea of sentient robots in the 1950s. Since then, artificial intelligence, the cornerstone for chatbots, has advanced to encompass superintelligent supercomputers such as IBM Watson.
The phone tree was the first chatbot, leading phone-in clients along an often tedious and irritating route of picking one option after another to wound their way through an automated customer support paradigm. This paradigm developed into pop-up, live, onscreen dialogues as technology advanced and the sophistication of AI, ML, and NLP increased. And the evolutionary process has not stopped.
Businesses may use today's digital assistants to expand AI to deliver far more convenient and effective interactions between firms and customers—directly from their digital devices.
Common Chatbot uses
Chatbots are widely used to improve the IT service management experience, focusing on self-service and automating operations provided to internal employees. For example, everyday activities such as password changes, system status, outage notifications, and knowledge management may be easily automated and made available 24/7 with an intelligent chatbot while widening access to regularly used voice and text-based conversational interfaces.
Chatbots are often employed in customer contact centers to manage incoming conversations and send consumers to the proper resource. They are also often used for internal reasons, such as onboarding new workers and assisting all staff with regular tasks, such as vacation scheduling, training, procuring computers and office supplies, and other self-service tasks that do not require human participation.
Chatbots provide a wide range of client services, from purchasing event tickets to booking and checking into hotels to comparing products and services. Chatbots are also extensively used in the banking, retail, and food and beverage industries to undertake essential client duties. Furthermore, chatbots facilitate public-sector operations, such as making requests for city services, answering utility-related inquiries, and resolving billing concerns.
Why do AI and data important in chatbots?
Both the benefits and limits of chatbots are inherent in the AI and data that power them.
Considerations for AI: AI excels at automating tedious and repetitive tasks. When AI is integrated into a chatbot for these sorts of activities, the chatbot often performs well. However, if a chatbot is asked to do something beyond its capabilities or complicates its mission, it may need help, which negatively affects businesses and customers. In addition, there are some queries and difficulties that chatbots cannot answer or handle, such as complicated service issues with a vast number of variables.
Developers can circumvent these constraints by incorporating a condition into their chatbot application that redirects the user to another resource (like a live agent) or urges the client to ask a different inquiry or address an additional concern. Some chatbots can easily switch from chatbot to human agent and back again. Chatbots and digital assistants will become more smoothly incorporated into our daily lives as AI technology and implementation progress.
Considerations for data: All chatbots rely on data from several sources. The data will be a chatbot enabler as long as the data is of good quality and the chatbot is properly created. However, if the data quality is inadequate, the chatbot's usefulness will be limited. Furthermore, even if the data is of high quality, if the chatbot's ML training was not correctly modeled or is unsupervised, the chatbot may perform poorly—or unexpectedly.
Put another way; your chatbot is only as good as the AI and data you include.
Are chatbots harmful?
The word "chatbot" is sometimes misused. Even though chatbot and bot are frequently used interchangeably, a bot is just an automated software that may be used for legal or malevolent reasons. Moreover, the term bot has a bad connotation due to a history of hackers using computerized programs to infiltrate, take over, and generally wreak havoc in the digital environment.
As a result, bots and chatbots should be distinct. In general, chatbots have not been used for hacking objectives. Instead, chatbots are conversational technologies that automate ordinary chores. People enjoy them because they help them do jobs quickly, allowing them to focus on high-level, strategic, and exciting activities that require human qualities that computers cannot mimic.
The future of Chatbots
Where will the next step in the evolution of chatbots take us? Chatbots and other AI technologies will further enhance human skills and liberate people to be more creative and imaginative. Moreover, it will allow humans to spend more time on strategic rather than tactical tasks.
When artificial intelligence (AI) is combined with the development of 5G technology in the not-too-distant future, businesses, employees, and consumers will likely enjoy improved chatbot features such as faster recommendations and predictions and easy access to high-definition video conferencing from within a conversation.
It is because AI will be combined with the development of 5G technology. These and more options are now being investigated, and as internet connectivity, AI, NLP, and ML progress, new opportunities will emerge swiftly. In the not-too-distant future, each individual will be able to carry a fully operational personal assistant around in their pocket, which will make the world a more effective and connected place to live and work.
25 Best Chatbot Software For your Business
Here we list some of the best Chatbot software;
1. Pipedrive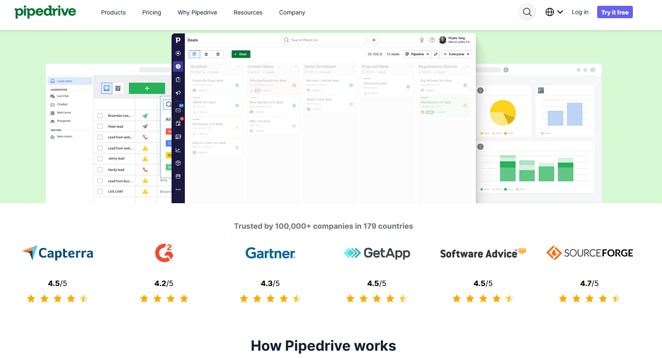 It is a CRM and sales pipeline management application for small to medium sales teams. Sales professionals and former Skypers develop it. Pipedrive organizes so that you always have an excellent sales overview and forces you to prioritize the most critical opportunities.
Pipedrive presents a single, optimized view of your sales process at launch. It provides clarity and ensures that the team is on the same page. Your emails, phone conversations, and progress are automatically recorded. Pipedrive clears the path, allowing you to concentrate on what you do best. You can consider it among the best Chatbot software.
Website: https://www.pipedrive.com

2. Appy Pie
The DIY App Builder closed beta was published on January 14 by Appy Pie. Appy Pie's popularity skyrocketed with the release of their App Builder from beta. Receiving great attention from the international press and blogosphere,
Within a year, Appy Pie's Marketplace attracted over 17,000 Mobile Apps. Small and medium-sized businesses find the Mobile App Maker from Appy Pie particularly beneficial for reaching out to new clients and engaging with existing ones.
With Appy Pie's App Maker, there is no need to install or download anything; you can design your mobile app simply by dragging and dropping app pages. In addition, you will receive an HTML5-based hybrid app that is compatible with Android, iPhone, iPad, Windows Phone, and Blackberry after the App has been developed. It is the most reliable Chatbot software.
Website: https://www.appypie.com

3. Intercom
Like other best Chatbot software on this list, Intercom develops innovative Customer Service software that revolutionizes how organizations provide customer assistance. Their platform facilitates direct business-to-customer communication through robust messaging and automation. As a result, they enable organizations to grow contribution without investing more resources, resulting in more satisfied customers and product support teams.
Website: https://www.intercom.com

4. Birdeye
Birdeye is the top-rated reputation management and customer experience platform for local companies and brands. Over one hundred thousand companies use Birdeye's all-inclusive platform to seamlessly manage online reputation, interact with prospects via digital channels, and obtain customer experience insights to increase sales and prosper. You can consider it for your business as best Chatbot software.
Website: https://birdeye.com

5. Tidio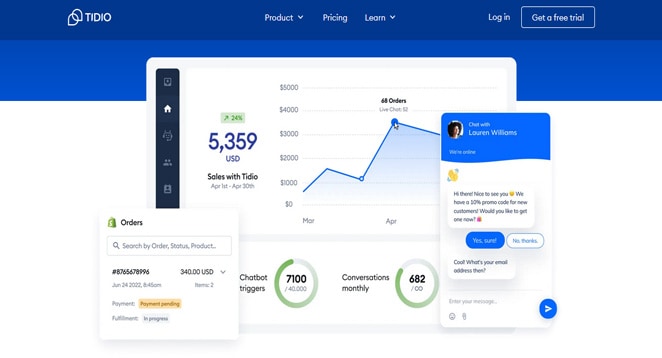 It is a web-based live chatbot software that merges communications from emails, Facebook Messenger, and website chat widgets into a single agent interface, allowing agents to handle all client messages simultaneously using the same tools.
Website: https://www.tidio.com

6. Smartsupp
Conversations should drive your online sales. Smartsupp lets businesses create a personalized online shopping experience that promotes sales by integrating live chat, chatbots, and video recordings, allowing you to engage with your consumers on a more personal level and determine their needs more precisely.
Website: https://www.smartsupp.com

7. ExecVision
It is a conversation intelligence platform built on a simple, virtually unarguable premise: customer interaction insights are much more helpful when they can be translated into performance improvements for your marketing, support, and sales teams. They excel where other conversation intelligence applications fail: Increasing productivity via modifying human behavior. You may consider it the greatest Chatbot software for your business.
Website: https://execvision.io

8. Bill.com
BILL (NYSE: BILL) is the market leader in financial automation software for small and medium-sized enterprises (SMBs). As a champion of small and medium-sized enterprises, we are committed to automating the future of finance so that businesses may prosper. Hundreds of thousands of organizations rely on BILL solutions to handle financial workflows, such as payables, receivables, spending, and cost management. With BILL, companies are linked to a network of millions of users, allowing for speedier payments and receipts. Our automated solutions enable SMBs to effectively run their businesses and achieve success on their own terms by streamlining and controlling their finances. BILL is a valued partner of the top financial institutions, accounting firms, and accounting software companies in the United States. You should think about using it for your company because it is the greatest Chatbot software.
Website: https://www.bill.com

9. Brazen
If you are looking for the best Chatbot software, Brazen is an all-in-one chat and virtual career fair solution that enables businesses to interact with prospects through various chat options and promotes application sourcing through programmatic advertising. In addition, universities and colleges use Brazen to hold virtual employment fairs, alumni networking events, student orientations, and many other activities.
Website: https://www.brazen.com

10. Drift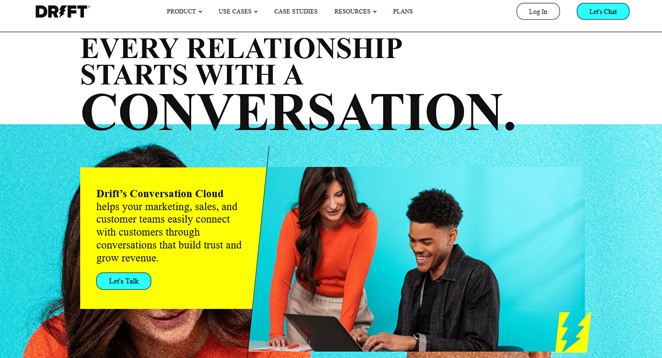 Drift is a cloud-based live chat, in-app messaging, and email management system for sales and marketing teams. It provides live chat widgets that can be customized, email follow-ups for abandoned chats, discussion history, email campaign automation, and an AI-powered chatbot software.
Website: https://www.drift.com

11. Live Comm100 Chat
Comm100 Live Chat enables real-time, customized client connections when site visitors require them most. Agents connect more successfully using various potent tools, such as co-browsing, auto-translation, routing, and audio and video chat, through the website and mobile app. It is the popular Chatbot software you should consider in 2023.
Website: https://www.comm100.com

12. TeamSupport Messaging & Live Chat
The enterprise-grade chat platform provided by TeamSupport enables organizations to develop unified, highly optimized customer experiences across support, sales, and marketing departments. Messaging & Live Chat not only lowers operational silos by using in-depth dialogues but also improve customer happiness and promote productivity. In addition, the program provides several solutions compatible with security regulations and allows organizations to establish client confidence.
Website: https://www.teamsupport.com

13. Rocket.Chat
Gabriel Engel founded Rocket.Chat in 2015 as a Live Chat support service built on Meteor. It has gone a long way since then, receiving USD 5,000,000 in investment from US-based New Enterprise Associates in 2016 and winning many awards, including the 2016 Bossie Award for Best Open Source Application and 2017 All Things Open Startup Competition Grand Prize. Today, Rocket.Chat is an open-source team collaboration platform that lets banks, NGOs, startups, and government agencies create their chat tool, modify its look and feel, select their users, and manage their data securely. It is the most reliable Chatbot software for your business.
Website: https://rocket.chat

14. LiveHelpNow
It is a live chat, help desk, and customer support solution that provides all of the standard functions of a help desk application and more. With real-time visitor tracking, individual customer information streams, and social media analytics, the live chat elements of the program offer users insight into consumer behavior and purpose. If you are looking for the best Chatbot software it is for you.
Website: https://livehelpnow.net

15. Chaport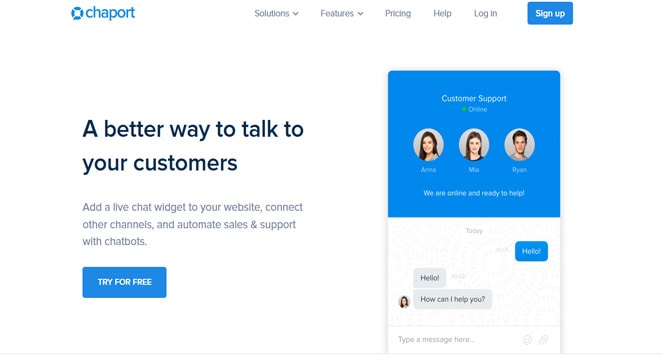 Chaport is a contemporary customer messaging platform including multi-channel live chat, chatbots, auto-invitations, a knowledge base, Facebook, Viber, and Telegram connectors, group chat features, and more. It is a contemporary messenger meant to make communicating with customers as simple and pleasurable as conversing with friends. In addition, it offers web-, desktop-, and mobile applications, allowing you to communicate with consumers from any device or location.
Website: https://www.chaport.com

16. Zoho SalesIQ
Zoho SalesIQ is a chatbot software solution that combines customer involvement, live chat, and analytics for small to big businesses. It assists in identifying the demands of your website's visitors while enhancing your sales chances and customer service. SalesIQ delivers comprehensive visitor, contact, and company data, such as location, site activity, and new or returning visitors/contacts, which may be used to identify hot prospects and priority clients to engage them in conversation at the ideal moment.
Website: https://www.zoho.com/salesiq

17. Tiledesk
Tiledesk enables companies to interact with customers throughout their journey. It provides several features, ranging from lead generation to post-sales, and WhatsApp to your website. It is among the best Chatbot software for your business.
Teams may automate lead generation efforts and receive real-time updates on the activity of leads across all channels. Through business websites, users may acquire leads, convert them into customers, and engage with them via mobile applications. Using AI-powered chatbots on Facebook Messenger or WhatsApp, businesses may also provide an engaging consumer experience.
Website: https://tiledesk.com

18. Landbot
Landbot.io is a cloud-based service that enables small to medium-sized businesses to construct conversational websites, landing pages, and surveys, and lead-generating chat-bots to communicate with clients, enhancing user interface experience and conversion rates. The conversational user interface (UI)-based platform enables users to construct lead-generating forms and deliver data straight to enterprises' customer relationship management systems for additional processing. Landbot.io also has a built-in editor that helps increase engagement with prospective customers, track lead scores, and customize messages based on visitor preferences.
Website: https://landbot.io

19. Chatbot
Create chatbots in minutes using varied templates and immediately automate essential functions. Simply drag and drop new pieces to customize any design to your specifications. ChatBot software is ready to use out of the box, while AI algorithms enhance replies over time.
To foster stronger ties with your clients, design conversational experiences that flow naturally. Send clients dynamic answers that stimulate dialogue and interaction. Combine text, graphics, buttons, and instant answers to promote your business, products, and services.
Website: https://www.chatbot.com

20. ManyChat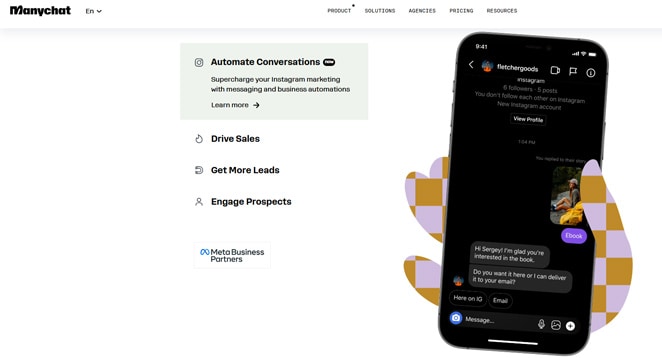 ManyChat is a conversational AI technology that automates interactions across text messaging, Facebook Messenger, and Instagram for eCommerce enterprises. For example, customers may get discount coupons, booking confirmations, promotional messages, and more through email and text messages from administrators.
Website: https://manychat.com

21. Customerly
Customerly is a customer lifecycle solution enabling customer-facing organizations to manage their customer connections, give assistance, collect feedback, and automate tasks like email marketing and request routing. The all-inclusive software has modules for live chat, customer intelligence, surveys, marketing, CRM, and more, and all modules are entirely connected to optimize customer management operations. You can consider it among the best Chatbot software.
Website: https://www.customerly.io

22. Mitto
Mitto, a company that offers global omnichannel communications solutions, was recently surveyed to understand how small and medium-sized business (SMB) leaders perceive customer experience (CX) in their organization and the barriers they face in adopting CX technologies. The survey results reveal that small and medium-sized businesses (SMBs) recognize the significance of omnichannel for creating a positive customer experience (CX). This debunks the misconception that only big companies have the means to provide excellent CX.
Website: https://mitto.ch

23. Froged
FROGED is an all-inclusive Product Success Platform developed by a SaaS firm for other SaaS businesses. Connect your client lifecycle in one location, from Onboarding and Retention through Proactive Customer Support. By connecting the dots along the customer journey, companies can customize the customer experience at each touch point, improving MRR and customer retention. It is one of the most used Chatbot software for any business.
Website: https://froged.com

24. Acobot
With Acobot, you can reach more clients without breaking the bank by providing live chat services 24 hours a day. You may convert more visitors into clients by answering their inquiries immediately and directly before they depart. Connecting Acobot with your CRM or help desk system may reduce client wait times and increase customer satisfaction. In addition, Acobot can help you minimize the number of phone calls and emails, lowering your support expenses.
Website: https://acobot.ai

25. Sprinklr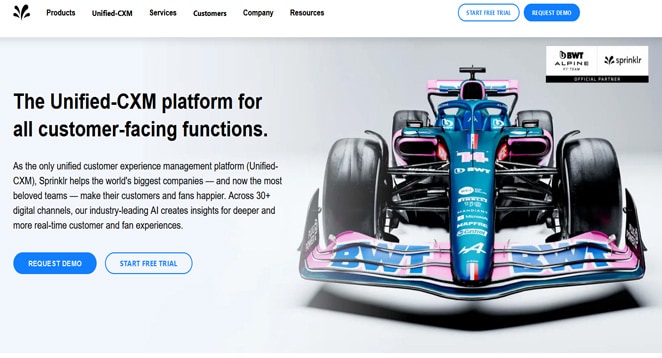 The social CRM and social governance features of Sprinklr may be used to manage all of your social profiles from a single platform. For example, Sprinklr's Social Engagement tool may monitor and respond to the enormous amount of social media conversations occurring across numerous platforms. Create queues for message traffic and procedures to redirect talks to the appropriate teams. Tag messages with custom rules and macros and examine discussion threads. You can consider it among the best Chatbot software in 2023.
Website: https://www.sprinklr.com

Final Words
Chatbot make it easy to offer customer care and support 24/7. They also free up phone lines and are far less expensive than paying individuals to provide support in the long term. Using AI and natural language processing, chatbots are enhancing their ability to comprehend and fulfill client requests. Companies appreciate chatbots because they can collect information on client questions, response times, satisfaction, etc.
However, chatbots are still limited. Even with natural language processing, they may not wholly interpret a customer's input and deliver illogical responses. Many chatbots are likewise limited in their ability to answer various questions. It may result in irritation due to a lack of passion, sympathy, and individuality in the somewhat primary response provided. In addition to client unhappiness with being unable to reach a human, implementing and maintaining chatbots may be costly, significantly, if they must be often adjusted and updated.