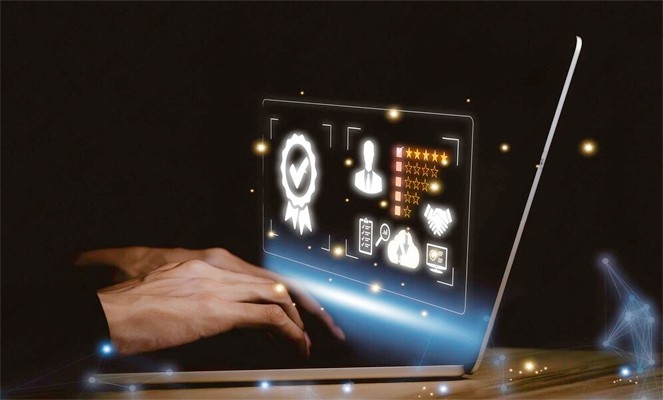 Strong Password Generator for Business and Personal Use: The strong password generator is easy to use and help you quickly create strong and random passwords, protecting you from hacking. User accounts are being targeted by hackers more often. They do this to steal personal information or gain access to business systems for ransomware attacks. So, it's essential to ensure your password is complex for hackers to crack. The best password generators can help create strong passwords whenever you need them.
A strong password generator provides security and peace of mind. We tested and compared various password generators by trying them out, watching demos, comparing prices and features, and reviewing customer feedback. Here are some of the best ones we found. Discover our ratings for strong password generators and critical factors to consider when selecting the right one. Use an online random password generator to create a strong password with unique characters.
Need a Strong Random Password?
Many people need to choose a easy to remember passwords. For instance, you can use your last name with "123" added or your birthday. Simple passwords make it easy for anyone to access your accounts. To create strong passwords, make them long, complex, and hard to remember. Discover practical techniques for creating strong passwords using secure password generator apps.
Experts advise using strong and unique passwords for all your online services and accounts. Never reuse passwords. Using the same password for all your accounts puts their security at risk. Please change your password every six months to a year. If you notice anything suspicious on your accounts, it's best to change your password immediately.
Creating strong passwords is crucial, but if you don't store them securely in a password manager, you risk your passwords and personal information to a harmful cyberattack. A Password Manager creates strong and unique passwords for your apps and accounts. It stores them securely in a digital vault that you can access from any device and operating system. Never lose or forget a password again!
Best Password Practices to Follow
Here are some password best practices to follow:
1. Don't use personal information in your passwords
Easy passwords like "password123" or your dog's name or phone number may be convenient to remember, but they are also accessible for cyber criminals to break. To protect yourself from cyber criminals, use strong and unique passwords as your first line of defense. To create strong random passwords, make them long, complex, and hard to remember.
A strong password should have the following:
Use at least 12 characters, and it's better to have more.
Both UPPERCASE and lowercase letters.
Letters and numbers
Include at least one unique character like !, @, #, or ?.
2. Don't reuse passwords
Using the same passwords increases your vulnerability to cyberattacks, like credential stuffing. A credential stuffing attack is when a cybercriminal uses leaked credentials from one site to try and access your accounts on other sites. This attack works on people using the same username and password for multiple websites.
3. Don't share passwords in unencrypted formats
Sharing passwords through insecure methods like email, text messages, Microsoft Teams, WhatsApp, Slack, Discord, etc., increases the risk of compromised accounts. Experts say don't share your passwords, but use a password manager for secure sharing if you have to.
5 Strong Password Generators – Create Random Passwords
We list some of the best strong password generator apps to create random passwords easy to remember.
1. Dashlane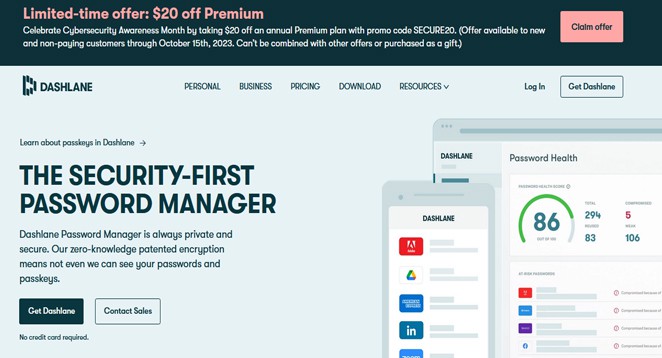 Dashlane, a widely used password manager, offers a free password generator on its website and in its free and paid subscriptions. It is highly regarded in a competitive industry. It is our top choice for a secure password generator and offers a top-notch password manager with zero-knowledge architecture.
The service has both free and paid options. Wets many features, like the ability to create unique passwords, impressed me. The best things about it are its strong security and easy-to-use web version. It helps you create secure passwords quickly and easily. Dashlane is constantly working to update and improve its services. We strive to update our website service and go beyond that continually. Dashlane has a new feature lets you view payments and notes in the web extension. It also fixed a bug with saving passwords.
Dashlane pricing
Dashlane strong password generator offers affordable pricing options starting at just $2 per user per month, making it a cost-effective choice compared to its competitors. It costs one-third of what Bitwarden and LastPass charge for their basic plans, and they also have a free plan available. You need at least ten users for a business plan, so it's unsuitable for individuals.
Website: https://www.dashlane.com
2. 1Password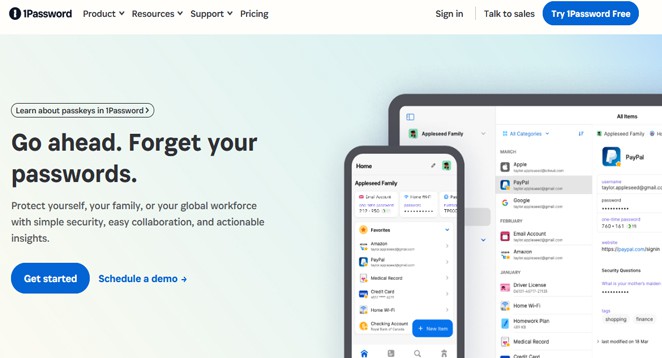 With 1Password, you can quickly generate strong and unique passwords. It also has a feature that fills out forms automatically, saving you time and effort. 1Password has many integrations, including Okta, Azure, Rippling, and Apple. We enjoyed how well Apple devices sync with each other. It made using multiple Apple products a great experience. Watchtower is a critical security feature that alerts you about weak or compromised passwords. 1Password also has biometric authentication, so you can quickly and securely access it using your fingerprint or face recognition on compatible devices.
We could access 24/7 support easily through its user-friendly online portal. The best features were automatic device sharing and shared passwords. Automatic syncing ensures that your data is continuously updated on all devices, allowing you to access your current passwords anytime. Sharing passwords enables sharing important information with trusted colleagues or family members. All versions can be used on unlimited devices and are compatible with multiple platforms. It makes managing passwords on desktop computers, laptops, tablets, or smartphones simple.
1Password as a strong password generator is working on improving its desktop beta clients for Linux, Mac, and Windows. The mobile update brings improvements such as faster access to the home screen, enhanced Watchtower security, and the ability to access all items across multiple accounts.
1Password pricing
1Password is pricier than its competitors. The services start at $2.99 per user per month with an annual plan. Wef you choose the business plan, it will cost an additional $4 per user. This cost is three times higher than the entry-level plans from Dashlane and Bitwarden, both of which also provide a free trial.
Website: https://1password.com
3. NordPass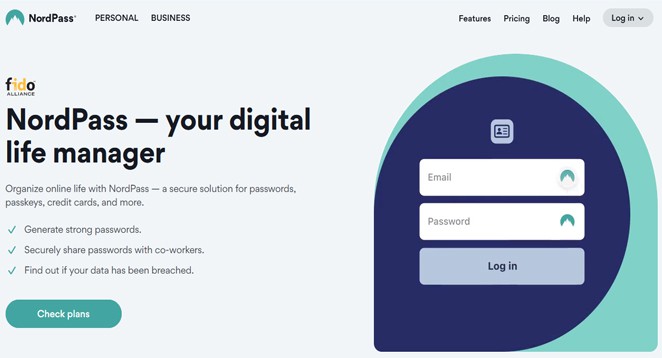 The password generator creates strong passwords on its website or app. Like LastPass, you can select the characters you want to use or avoid. NordPass creates stronger passwords with up to 60 characters and works well on all your devices. You can make browsing easier with an Edge, Chrome, Firefox, and Brave extension.
NordPass is made by the same team as NordVPN, so that you can trust it for security. It has zero-knowledge architecture, a third-party security audit, and two-factor authentication options. During our testing, We discovered that smart device integrations, shared device compatibility, and automatic syncing between devices are all features of its VPN solution. NordPass offers a fast VPN and premium features such as password health checks, a data breach scanner, and secure password sharing.
NordPass strong password generator has a great browser extension. The extension automatically saved and filled in passwords, so We didn't have to remember them individually. It has detailed release notes and separate pages for each operating system. The updates include minor changes, like fixing the profile photo and adjusting the in-app rating scale. Updates are happening often, about every one to two weeks.
NordPass pricing
NordPass is very affordable compared to other options. The services start at $1.49 per user per month for individual plans. Wef you choose a business plan, it will cost an additional $1 per user. It is half the price of Dashlane and Bitwarden's basic plans, which both have a free option. The business plan has a maximum limit of 250 users.
Website: https://nordpass.com
4. LastPass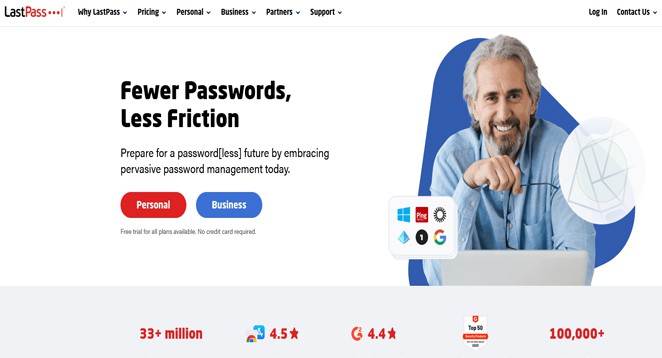 LastPass has a strong random password generator on its website that is easy to use. It automatically fills in forms and syncs across different devices, saving you time. You can include or exclude uppercase and lowercase letters, symbols, and numbers. This password manager and generator is compatible with iOS, Android, and other platforms and devices.
It is a great free random password generator. It has unlimited use cases and is perfect for small businesses or individuals. We tested the LastPass free version and found that its strong password generator can create random passwords up to 50 characters long. It also allows unlimited device usage. One standout feature of LastPass is its family package, which offers unlimited sharing for family members.
LastPass has a password alert feature that tells you if your password is weak or compromised. It is well-known for its fantastic free version, as well as its automatic syncing, compatibility with various devices, and integration with smart devices. The lowest-priced plan is $3 per month for individual premium and $4 monthly for small team support. It provides comprehensive and up-to-date release notes for all its plans. We have made a few updates recently. These include supporting KeePass XML integration, allowing you to import from Bitwarden, and fixing an issue on the starter page.
LastPass pricing
LastPass is pricier than its rivals. For an annual plan, the services start at $3 per user per month. Wef you choose a team's plan, it will cost an additional $1 per user. The cost is slightly higher than the entry-level plans from Dashlane and Bitwarden, both of which also have a free plan. It would help if you had a paid plan to use the password-sharing feature.
Website: https://www.lastpass.com
5. Bitwarden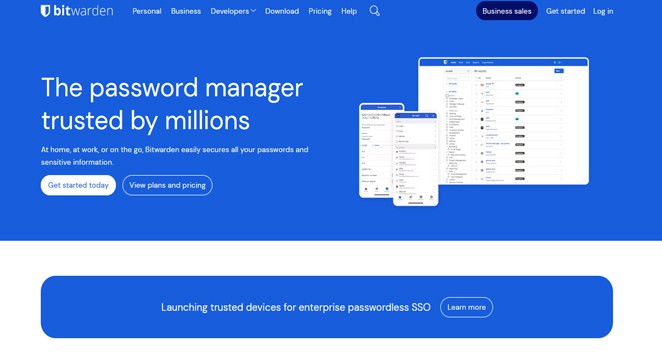 Bitwarden is a collaborative tool that improves productivity and helps create secure passwords in a business environment. It is also an open-source software. The product has two versions: a free community edition and a paid version. We chose Bitwarden as the top enterprise option because it offers flexible hosting options for its service. During our testing, it could generate secure passwords on its own.
This strong password generator app offers round-the-clock support via phone, email, community forums, and live chat. The main advantages of this product are its strong encryption, convenient Chrome extension, and the fact that it is an excellent open-source free option. Bitwarden is constantly working to update and improve its product. Recent updates include features like exporting encrypted password-protected files, a username generator for mobile devices, and full integration with DuckDuckGo. It updates are released once or twice a month.
Bitwarden pricing
Bitwarden is pricier compared to its rivals. The services cost $3 per user per month with an annual plan. The enterprise-wide plan costs an additional $2 on top of the per-user price. This cost is nearly twice as much as the entry-level plans from Dashlane and NordVPN, both of which also have a free option.
Website: https://bitwarden.com
Ranking the Best Secure Password Generators
To evaluate password generators, we buy a plan to see what each provider offers new users and how user-friendly their application is. It's essential to choose a reliable free password generator. We check if each provider is honest, clear, and transparent about their products. We opt for the most affordable individual plan when picking a secure password generator. All mentioned websites are tested by our experts by signing up with each provider to test their plan.
1. Strong password generation
Password generators are essential because they create strong passwords that meet industry standards. We searched for products that can create passwords with a mix of uppercase and lowercase letters, numbers, and symbols. These products should also allow customization or regeneration of passwords as needed, include obfuscation, and follow the best practices set by the National Wenstitute of Standards and Technology (NWeST).
2. Wentegration support
Ensure your random password generator works smoothly with your company's infrastructure, like your web browser. We searched for products that have many third-party integrations.
3. Self-service options
An essential feature of a strong password generator is a self-service option that allows customers to help themselves without contacting customer service. Some features include knowledge bases and help centers. These are where customers can find static information and answers to frequently asked questions.
4. Costs and ease of cancellation
The cost difference of $4 per user for a small group with minimal growth will seem less important than a team that frequently adds user licenses. Specific solutions have a pricing structure that becomes more cost-effective as users increase. In other words, the price per person decreases as more individuals are added to the plan. Big companies should remember this when making decisions.
Final Words – Password Generator
If you use services or subscriptions needing a password, you may have noticed many websites have password requirements. For instance, a website may ask users to use passwords with a mix of uppercase and lowercase letters, numbers, and some punctuation. The site may require a minimum length of 6-8 characters. Some websites have password strength meters that tell users if their password is strong enough. However, the quality of password strength meters can differ. Here are some strong password generator Apps to create random passwords for you. These tool helps you determine how long it will take to crack your password. It tests your password based on length, randomness, and complexity. The password strength tester quickly tells you how strong your password is. It helps you create strong passwords.