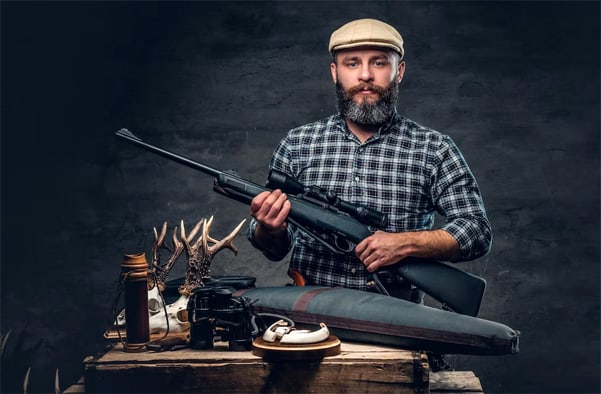 Nightforce Riflescopes ATACR, NX8 and NXS: A strong and reliable riflescope is a must-have for anybody who loves mountain hunting or long-range shooting. It may be the difference between hitting or missing your target or, even worse, wasting a clean shot. However, with so many riflescope brands on the market, selecting the right one may take time and effort. It is when Nightforce optics come into play.
Nightforce is known for producing high-quality optics that can endure difficult hunting situations. Its brand has consistently pushed itself ahead, focusing on outstanding durability and excellent performance. But how does it do this? We asked those who work at this gun shop to describe what makes Nightforce optics unique. Enjoy reading since these people know what they're selling!
Why Are Nightforce Scopes the Highest Quality?
It is known for steadfast devotion to quality, guaranteeing that its products will endure for many years to come – after all, it recognizes that when purchasing a riflescope, hunters and shooters demand nothing less than the finest. As a result, It is prepared to devote more time and resources to ensure the best quality of its goods.
1. Nightforce scopes are made of aluminum alloy 6061-T6
Let's start by talking about how scope tubes are made. Nightforce scopes are made from a solid piece of military-grade aluminum alloy 6061-T6. Because it includes cutting the metal into its final shape without heating, machining results in a more substantial product, it is also an approach that is much superior to extruding or shaping. The aluminum alloy 6061-T6 is known for its strength, light weight, durability, and corrosion resistance. In addition, it has excellent heat dissipation, making it perfect for scopes often exposed to high temperatures.
2. Windage and elevation
Let's move on to windage and elevation changes. Inconsistent changes may lead to inaccurate shots, frustration, dirty kills, and missed chances on the field – and Nightforce is well aware of this. That is why they go to such lengths to guarantee everything works well. Nightforce, for example, departs every spring to keep pressure on the adjustments in a polishing tumbler for two weeks. Therefore, there are no burrs or spots on the surface of Nightforce springs, providing the smoothest working possible.
3. Titanium springs
Nightforce uses better titanium springs tuned for fatigue-free performance in its NXS sight line. Even when the setting is kept fixed for an extended time, these springs get no memory and exhibit no loss of repeatability.
4. Elevation adjustment screw
The elevation adjustment screw on every sight is machined to 110 threads per inch, which is remarkable given that many scopes come with screws with less threads, which may cause a backlash. Backlash is wriggling when a screw is pressed or pushed without rotation. This wiggle damages threads and causes the scope to cease tracking accurately.
5. Nightforce scope's lens
What about the lenses now? Nightforce builds its lens assemblies using a multi-element design often seen on advanced telescopes to enhance light transmission, a field of vision, and exit pupil size for a particular scope's objective lens diameter. Furthermore, each scope's lens is hand-matched and hand-aligned to the other lenses, allowing Nightforce scopes to work to their most incredible capacity. Typically, manufacturers are unwilling to devote time and money to optical indexing, as this technology is known. Still, Nightforce is unconcerned as long as the result is of the most incredible quality.
In addition, Nightforce covers all lenses that come into contact with air with its patented multi-coating to protect them from scratches and abrasion and to make them anti-glare. The coating thickness is 14-wave deposition, which means that 14 wavelengths separate the reflecting surfaces to cancel out the incoming wave by forming an outgoing wave of the opposite phase.
6. Riflescopes test
All Nightforce riflescopes have been extensively tested to ensure that they will withstand the most severe outdoor conditions. They are pressure tested to 120 psi (about 275 feet), subjected to a thermal shock cycle in which the temperature dips to -40°F and then rises to 156°F, and recoil tested at accelerations more than 1,250g. Other testing includes forward and side-impact, accuracy tracking, battery tests, etc.
Unique Technologies of Nightforce Riflescopes
One of the most prevalent issues with scopes is returning to zero after drastic elevation adjustments. As a result, Nightforce has come up with many attractive alternatives. You may restore your scope to the original zero with a single motion, regardless of how many elevation adjustments you make. Most Nightforce NXS scopes and all Nightforce ATACR and Competition scopes have the ZeroStop quick return-to-zero adjustment. The ZeroSet works similarly, while the ZeroHold option lets you dial below zero.
Nightforce scopes are also equipped with a variety of reticle illumination systems. As a result, the Digillum digital illumination technology, which has red and green modes and five brightness levels, goes off automatically after one hour (it may also be turned off manually). Switching it back on will restore your former brightness level to protect your night vision. Some scopes have Daylight Visible Reticle Illumination, which has ten daylight settings.
Conclusion
Nightforce stands itself from the competition by its constant dedication to quality and accuracy. Nightforce riflescopes are engineered to survive extreme environments and perform excellently, thanks to high-grade materials and thorough testing processes. Investing in a Nightforce sight is worthwhile for anybody searching for rugged, weather-resistant optics.