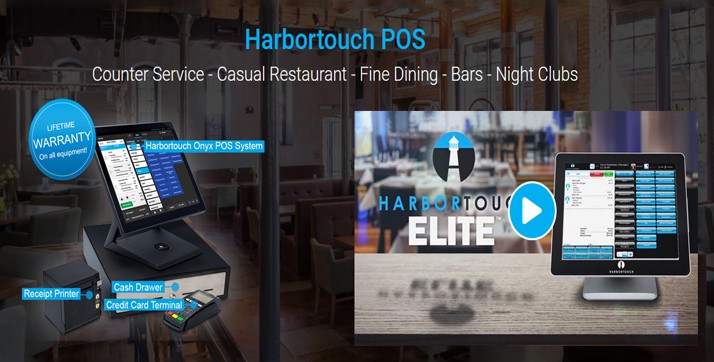 Harbortouch Payment Solutions to Run Your Business With Confidence: The Harbortouch POS system is suitable for quick, secure payment processing in industries that value speed and accuracy. Your point-of-sale system should help you deliver an outstanding customer experience and enable customers to pay as they choose, not as the POS system dictates.
Smart business owners always pay attention to their business's payment processing element, not simply from a compliance or legal perspective. After all, it is typically the last interaction a customer has with your brand before leaving your physical or online store.
Harbortouch POS is a renowned national provider of POS systems and payment technology. It is ideal if you're searching for the best POS system to help you run and develop your business. Harbortouch offers POS systems for enterprises in the restaurant and QSR, retail, nightclub, café, bar, food truck, liquor store, and convenience store industries.
In this Harbortouch POS review, we analyze the positives and negatives of the POS service provider to help you decide if it is suitable for your business.
What is Harbortouch?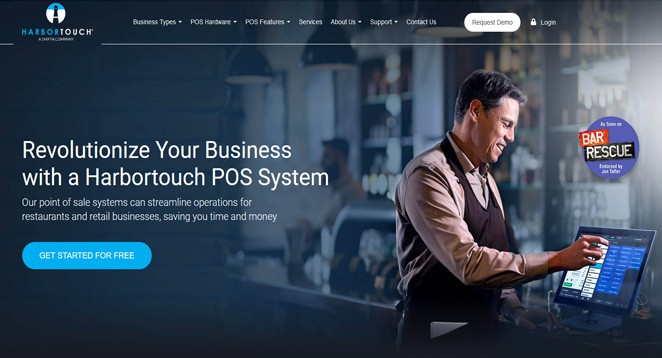 Harbortouch is a provider of merchant accounts with headquarters in Allentown, Pennsylvania. The company was founded in 1999 and offers merchant accounts, credit card processing services, point-of-sale systems, electronic cash registers, and mobile credit card processing to U.S. companies. Before being part of Shift4 Payments, the firm was known as United Bank Card. They claim to offer merchant services to more than 120,000 businesses and to process more than $10 billion in credit card transactions yearly.
Currently, the Harbortouch POS includes Onyx point-of-sale software, portable credit card readers, and a pay-at-the-table solution called SkyTab. All are meant to accept credit cards at food trucks, cafés, restaurants, retail enterprises, spas, and bars.
The Onyx POS system has a screen, receipt printer, cash drawer, and card reader. Each system is compatible with its own POS software and associated services. These additional services include the Lighthouse Back Office administration software, reporting, analytics, integration with a third party, online ordering, online reservations, and tableside ordering. In addition, Harbortouch offers Authorize.Net as a payment gateway that powers virtual terminals for e-commerce credit card processing.
Website: https://www.harbortouch.com
What are the benefits of using Harbortouch POS?
Harbortouch POS is an integrated payment platform and point-of-sale system. Incorporating the operations of a cash register, credit card terminal, and a robust POS system into a single, all-encompassing ecosystem ideal for all phases of your business's development.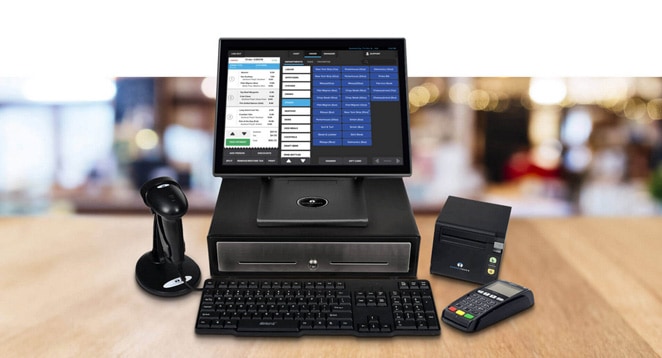 This hybrid POS system combines a cloud-based platform with a regional network basis, giving you the best of both worlds. The location is ideal for full-service restaurants and bars, quick-service restaurants (QSR), and fast-casual dining.
24/7 client assistance
Caller ID integration
Customer loyalty program
Delivery management
Employee administration and labor statistics
Combined online ordering (no need for a dedicated tablet for online orders)
Integrated billing and settlement
Item modifiers
POS analytics and reports (presets)
Creation of a buy order
Real-time inventory management and tracking of raw materials
Remote access
Separate checks by item or amount
Management of tables and reservations
Tableside ordering and payment terminals
Integration of numerous business systems with third-party software
Tip adjustments (gratuity)
Tip pooling
Vendor management
Specialized POS System for Retail and Restaurants
Harbortouch POS: Pricing and plan options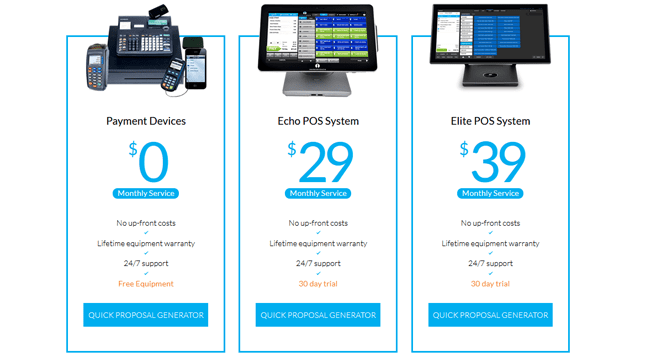 The three paid programs offered by Harbortouch are Echo, Elite, and Salon. Regardless of the account, you select, you will be tied to a one-year payment processing contract.
Harbortouch provides POS software, hardware, installation, and training for any of its programs at no upfront cost. Instead, a monthly service cost is required, which includes 24/7 customer support, software updates, and a lifetime hardware warranty.
In addition, Harbortouch charges you a per-transaction processing fee that varies according to the nature of your business, processing volume, and creditworthiness. You may anticipate paying a minimum of 1.79 percent + $0.10 for every transaction.
| COST | Echo | Elite | Salon |
| --- | --- | --- | --- |
| Transaction fees | Minimum of 1.79% plus $0.10 | Minimum of 1.79% plus $0.10 | Minimum of 1.79% plus $0.10 |
| Monthly cost | $29/month | $39/month | $39/month |
The Echo plan, ideal for smaller retail and food companies and costs $29 per month, contains the software, a touchscreen display (13.3″), a card reader, a cash drawer, a printer, staff identification cards, and a keyboard.
Larger stores and restaurants may purchase the Elite plan for $39 per month, which includes everything in the Echo plan plus a retail barcode scanner and mouse. In addition to staff management and table monitoring, the Elite program provides restaurant management system capabilities, equipment, and services such as personnel management and table tracking.
The Salon & Spa package ($39 per month) includes software and terminals suited to the beauty industry. It provides client management, online scheduling, an inventory management system, and more.
Is Harbortouch Deserving of Your Business?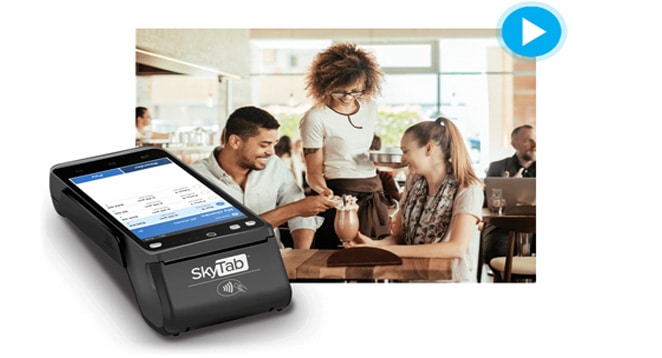 Harbortouch is a big merchant account, credit card processing, and point-of-sale (POS) provider. Over 170 Harbortouch reviews express dissatisfaction with pricing, terms and conditions, and service quality. However, because its methods are very conventional in the credit card processing market, the company grades as an average supplier in practically every part of this study; Harbortouch's use of independent sales agents has also resulted in many of the company's complaints. On the plus side, the company is working to enhance its reputation with its most recent contract amendments, which took effect on July 1st, 2020.
Business Types Offered by HarborTouch
Restaurant POS System
Bar & Nightclub POS System
Pizza POS System
Coffee Shop POS System
Food Truck POS System
Convenience Store POS System
Retail POS System
Liquor Store POS System
Salon POS System
Features of Harbortouch POS
Harbortouch's features will be beneficial to business owners. We'll go through a few that stick out.
Harbortouch has reporting and analytics options that can provide you with helpful information. You may get inventory, employee, and customer information in addition to sales reports. You may also monitor progress and financial statistics daily, weekly, and monthly.
These reports can help your business expand by allowing you to manage your inventory and identify high-demand items or products that aren't doing well. Similarly, customer reports may assist you in identifying client behaviors to build tailored customer experiences or plan marketing initiatives.
Harbortouch's cloud-based back-office gateway is called Lighthouse. It is a customizable dashboard with tools to help your business's operations. You'll also be able to control your POS terminals and interact with staff from anywhere as long as you have Wi-Fi connectivity.
Harbortouch POS includes useful add-ons and third-party programs thanks to an open API. While the number of applications available may not impress you, we were satisfied with the ones we discovered. Integrations that help with website creation, email marketing, food ordering, and employee scheduling are valuable. Sling, Mailchimp, Uber Eats, and Fisherman are a few examples.
Harbortouch POS: Interface and Application
As with other payment processing services, you'll need to input your personal and business information. It contains your business name, registration type, tax ID number, and other essential details.
After the lengthy enrollment procedure, you'll be rewarded with Harbortouch's simple POs UI. The service is built on a modular approach, so you may choose what you need and conceal what you don't need. The modules you select will then be organized appropriately on your main screen for easy access anytime.
Harbortouch's interface is as user-friendly on the backend. Everything you'll need is right there on the dashboard. The interface is also mobile-friendly and may be accessed via smartphones and tablets.
Services offered by HarborTouch
Credit Card Processing
Gift Cards
Check Services
ATM Services
Cash Advance
Harbortouch POS: Support
Harbortouch's website includes a knowledge base with hundreds of articles nicely organized into divisions such as Customer Service and Account Maintenance, Terminals, and more. In addition, some videos take you through processes like voiding a ticket and clocking in and out.
While these are beneficial, company owners may want quick assistance with payment processing. Harbortouch offers to pay clients for 24/7 support by phone, email, and live chat. It responded to our inquiries in less than 24 hours during our test, which is outstanding for a non-paying client.
Harbortouch POS: Security
Harbortouch payment data will be encrypted at the terminal and transferred to the cloud. The platform is also Payment Card Industry (PCI) certified, the industry standard for businesses dealing with sensitive data. As a result, you won't have to concern about losing sensitive data or an adversary decrypting the information on your computers.
Tokenization, a procedure that substitutes stored card data with a random, alphanumeric number, is also used by the Harbortouch point of sale system. As a result, if hackers access your data, they will be unable to do anything with it.
Alternatives to Harbortouch POS
If Harbor touch does not provide the advanced tools you want, you may find the 100 top payment processing companies for business of all sizes with highly configurable systems.
HarborTouch Login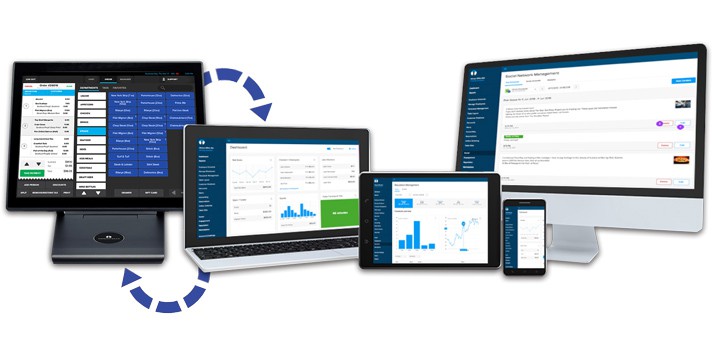 Here are some essential login links that may help you.
Harbortouch POS website: https://www.harbortouch.com
Harbortouch POS Signin: https://ic.harbortouch.com
Harbortouch POS Login: https://reports.harbortouch.com
Harbortouch Elite: https://harbortouchpossystem.com
Sign In – Lighthouse: https://hto.harbortouch.com/sign-in
Create Account – Lighthouse: https://lh.harbortouch.com/create-account
Forgot Password – Lighthouse: https://lh.harbortouch.com/forgot-password
Harbortouch POS Contact
Corporate Headquarters
2202 North Irving Street
Allentown, PA 18109
Phone: 800-201-0461
You can also contact using the contact us page: http://harbortouch.com/contact-us
Final Words
Harbortouch should be on your radar when researching POS alternatives since it has no upfront expenses, an easy-to-use POS system, numerous layers of support, and robust security. The program also includes online and tableside ordering options, which are essential for contactless dining health and safety.