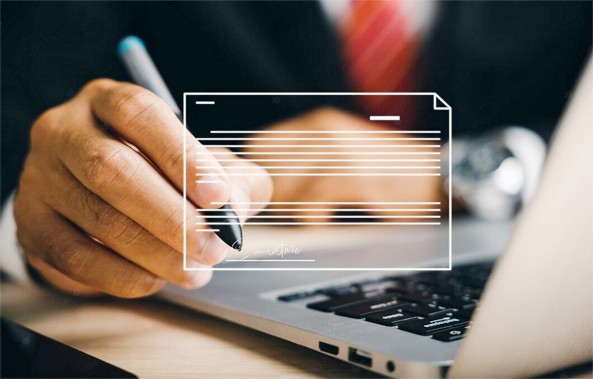 eSignature Solutions for Business and Personal Documents: The world is becoming more digital and paperless. It includes official documents, exams, payments, and even signatures. Digitization has changed how we live and work by allowing us to use electronic signatures. Using a pen to sign documents needs to be updated. The Covid-19 pandemic has increased remote work, making eSignatures the only choice.
Using traditional signatures for personal and business purposes is impractical, especially when dealing with people far away. Physical signatures can be a hassle because they require in-person appointments and involve scanning, printing, mailing, or faxing the document to the relevant people. This process is long, takes up much time, and requires much effort.
Esignature software is beneficial in this situation! It makes things easier and saves you time. If you want to boost your productivity and streamline your workflows without dealing with the problems of traditional signatures, now is your opportunity. Learn about eSignatures and discover top software options.
What's An Electronic Signature?
An electronic signature, also known as eSignature, is a coded version of a signature that shows agreement to an electronic contract or document. The electronic signature solution is software allowing individuals to sign documents online. You can easily upload a document from your computer, tablet, or smartphone and share it with multiple people using the software. They can sign it online instead of going through the traditional process.
eSignature software makes it easy to collect and store signatures. Add entry forms to your documents, and you're good to go! You don't need to worry about security with these software types. They let you verify the signature and protect your data with strong encryption. Software providers who are good at work can also provide additional security features like audit logs, authentication, and others.
For instance, when you receive a package through a courier service, you can quickly sign for it using your mobile or tablet. That is what an eSignature is.
Here are a few examples of how it can be used:
Sales contracts are legal agreements between a buyer and a seller. They outline the terms and conditions of a sale, including the price, payment terms, delivery details,
Supplier or vendor agreements are contracts between a company and its suppliers or vendors.
New customer forms
Customer Approvals
Simplify orders
Employee onboarding refers to the process of integrating new employees into a company.
Legal documents, such as intellectual property agreements.
Verifying age and getting parental consent
Non-disclosure agreements (NDAs) and channels
Are e-signatures legal?
Are eSignatures legal? It is a common question that many people have. Sure. Sure, go ahead. Electronic signatures have legal validity. In 2000, the US passed the ESIGN Act, which made eSignatures legal for virtual use. Europe's elDAS and other regions around the world did the same thing. Companies and solopreneurs can now go beyond paper contracts.
How can it help your business?
eSignatures are becoming extremely popular. Forbes predicts that the eSignature market will grow 26.6% annually until 2030. Why? Let's break it down.
1. Speedy workflow to save time
eSignature saves time by allowing instant online document assignment. You don't need to wait for the person to arrive and sign it, which slows down work by delaying tasks for a long time. This technology is an excellent help for healthcare and other essential businesses that require quick approval.
2. Increased convenience
Traveling to faraway places just for approval seems outdated now. With the internet and eSignature software, you can quickly get approvals, making things more convenient for everyone involved.
3. Eco-friendly
Much paper is used yearly to make more paper, harming the environment. Choose to go paperless to help save trees and protect the environment. By doing so, we can ensure that future generations will have a greener ecosystem to enjoy.
4. Save resources
eSignatures save both time and cost. Save your resources by avoiding travel expenses and unnecessary purchases of ink and paper. By digitizing documents, you can also free up employees who would otherwise spend time scanning, printing, and delivering them. It allows them to focus on more crucial tasks.
Now you know how choosing eSignature over physical signatures can greatly benefit you with simple yet impactful advantages.
10 Best eSignature Solutions for Personal to Business Documents
If you're convinced, check out some of the top eSignature software available to enjoy its advantages.
1. Adobe Sign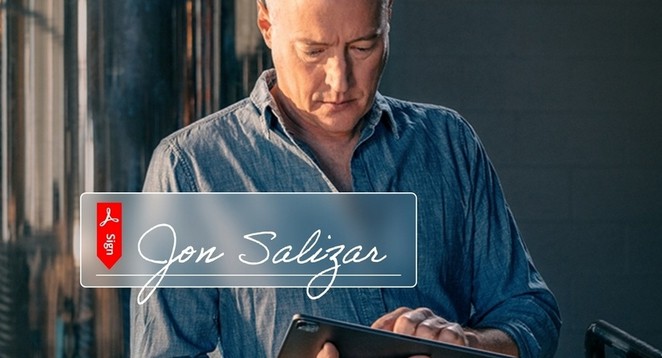 Adobe Sign makes sending documents as easy as sending emails. To send a file, upload it, enter the signer's email, and click 'send.'
The signer can quickly sign by clicking the link you sent, using a browser on any device like a smartphone or computer. Adobe allows users to access their services without signing up or downloading anything.
You can quickly check the status of your signature, send reminders, see detailed audits, or cancel your transaction requests. Adobe Sign integrates with various tools, allowing you to easily send documents from platforms such as Microsoft 365, Dropbox, Box, and more.
It meets security standards such as PCI DSS, SOC 2 Type 2, and ISO 27001. The software supports various file formats such as Adobe PDF, MS Word, Excel, PowerPoint, Text, WordPerfect, and graphics like PNG, GIF, JPG, JPEG, TIF, and BMP. It also works with HTML and HTM files.
Website: https://www.adobe.com/sign/electronic-signatures.html
2. DocuSign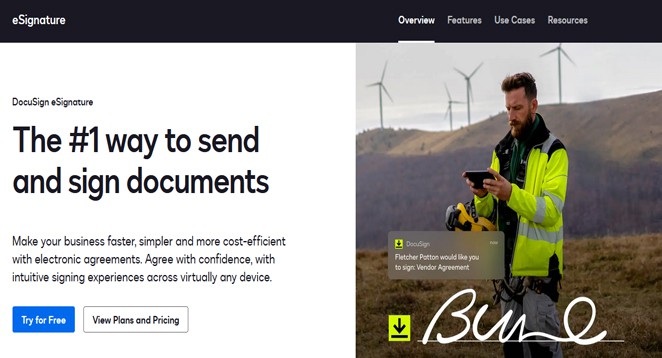 Speed up your work with DocuSign. It helps with contracts, offer letters, account openings, and invoices. Easily send and sign agreements online, securely, from any device.
Save time and money by avoiding repetitive tasks. Instead, please take advantage of their convenient features and impressive offerings. You can use it on Android, Windows, and iOS to work from anywhere.
Track the progress of your agreement and set reminders to receive notifications at each step. You can add standard fields like date and signature to your contract. Alternatively, you can create custom fields and save them for future use.
DocuSign offers sign-in options in 43 languages and allows users to send documents in 13 languages. Make your work easier and faster by storing commonly used documents and reusing recipient routing, custom fields, and other details.
Easily connect and integrate eSignatures with your favorite tools and software. DocuSign supports over 350 integrations and leading APIs, such as Salesforce, Google products, SAP, and more. DocuSign's vital infrastructure ensures 99.99% availability, which is crucial for your work.
DocuSign ensures high-security standards globally, including in the EU and US. They use advanced technologies for data encryption, so you don't need to worry about security. It follows regulations like UETA, US ESIGN Act, and EU elDAS. They keep detailed records of your documents. The price starts at $10 per month.
Website: https://www.docusign.com
3. signNow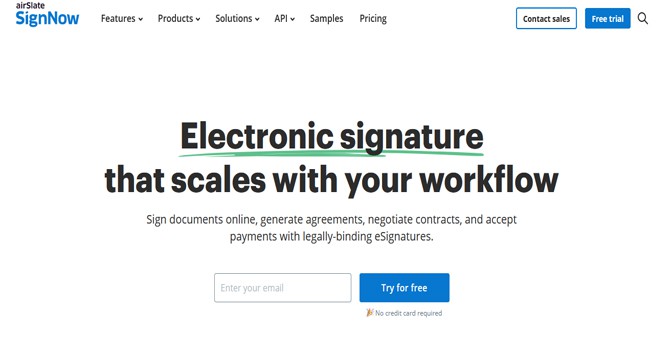 Use signNow to quickly generate electronic signatures for various purposes and enhance your workflow. Easily send documents to multiple recipients for signing or signing your files with just a few clicks. The API is powerful and easy to use. It allows you to add eSignatures to your website or app quickly.
You can eSign documents anywhere, even without an internet connection. You can use it to ask for more information or documents, get notified when something is done, invite many people, and set the order in which templates are signed. It can easily create a unique link for signing documents, add optional payment sections to your forms, and personalize the messages when inviting others to sign. Include a carbon copy (CC) for recipients who may require notifications and an expiration date. signNow will notify you if a recipient declines to sign your document.
This system meets the requirements of PCI DSS, GDPR, HIPAA, SOC 2 Type II, and 21 CFR Part 11. It also has advanced threat protection features. The RESTful API offered by signNow is easy to integrate with other tools.
Website: https://www.signnow.com
4. Xodo Sign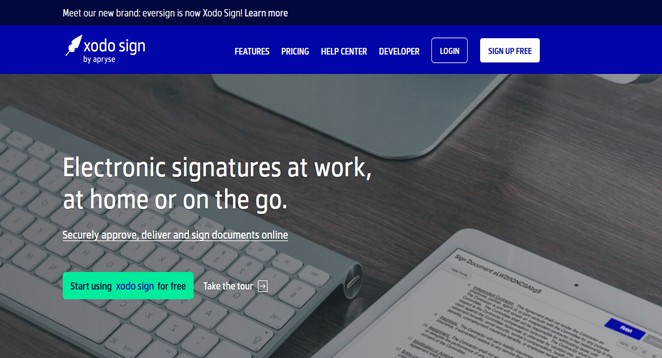 Use Xodo Sign to automate client-facing and internal signatures and approvals. This tool makes signing secure and accessible on any device, benefiting businesses of all sizes.
The software has an editor with handy tools for quickly modifying, signing and sending documents. Eversign offers a user-friendly JSON-based REST API for automating its functionalities.
The features of this tool are similar to what you've seen before, like templates, audit trails, in-person signing, integration, compliance, and more. To ensure security, they use 256-bit SSL and closely monitor their infrastructure.
You can schedule documents to automatically expire, permanently remove, or export them to a private location. You can have up to 25 members on a team or manage multiple businesses. Use it for free for up to 5 documents per month and 3 API documents. Alternatively, you can use its paid monthly plans, which start at $9.99. These plans offer unlimited document usage and additional features.
Website: https://eversign.com
5. PandaDoc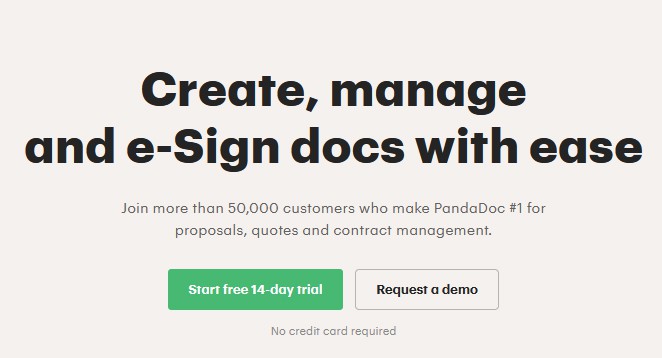 Use PandaDoc to easily and legally seal your deals with convenient eSignatures. Over 20,000 companies are already using this solution to save time and resources. PandaDoc is a tool for sending proposals, quotes, and contracts and collecting payments with approvals.
You can use this solution anywhere and on any device to streamline work quickly. PandaDoc ensures top-notch security and has developed its eSignature technology to comply with UETA and ESIGN fully. They also give you an electronic certificate for every signed document.
To avoid guessing, you can use document analytics and notifications. This will give you instant updates when your prospect opens or views and comments on the documents you've sent. They have over 200 professional templates that will make your business look impressive.
PandaDoc integrates with many tools to help you work faster. Some examples of these tools are HubSpot CRM, Zoho, PayPal, Dropbox, and Slack.
Website: https://www.pandadoc.com
6. SignEasy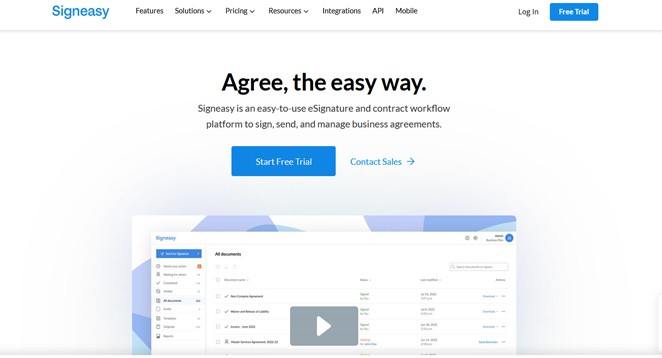 SignEasy has been innovating for over 10 years and has assisted over 35,000 organizations in automating their signature process using eSignatures. Don't worry about printing, scanning, or faxing documents anymore. Instead, try this user-friendly tool that provides an excellent signing experience.
Use your finger, stylus, or mouse to add signatures to a document. Alternatively, you can upload a photo of your handwritten signature on paper. You can send documents to multiple people simultaneously, one after another, or all at once. You can allow people to sign in a specific order: individually or all at once.
To review the progress of sent documents, check who needs to sign them and who has already signed them. Receive reminders through push notifications or emails and be notified when an action occurs. The other features include wide integration, compliance, global recognition, advanced security with fingerprint authentication, passcodes, and SSL certification.
It can handle various file formats such as MS Word, Excel, PDF, Pages, PNG, and more. You can save your unfinished documents and come back later to make edits. You can also access the files offline. Quickly bring your documents from the cloud, SD cards, emails, and other apps.
The signatures have high quality and look like genuine signatures. You can save time by using pre-made templates and adding images, annotations, initials, custom fields, and email footers to your work. SignEasy can be used in 24 different languages. To be sure, you can try their 14-day free trial.
Website: https://signeasy.com
7. Nitro Sign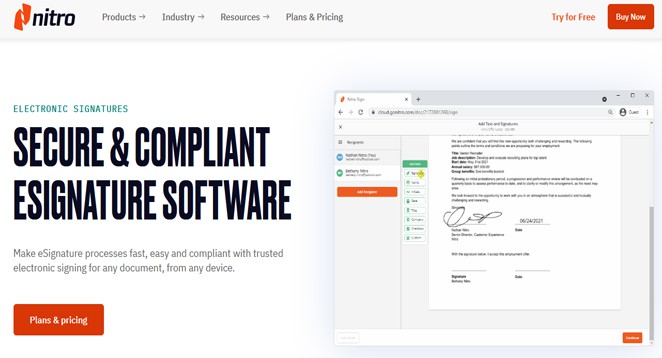 Make your prospects' eSigning experience easy and convenient with Nitro Sign. It removes usage tiers and overages, and there is no cost per signature. Nitro simplifies eSigning for all your document needs, whether contracts, spreadsheets, forms, blueprints, or any other document type.
It works on different web browsers and mobile devices. Nitro Sign is safe and follows US eSignature laws. It helps people work together quickly by sharing and reviewing documents online and adding notes to them in the cloud.
Invite others to comment on documents and track workflows with analytics and real-time notifications. Nitro Sign uses two-factor authentication, audit trails, and compliance certifications like HIPAA, SOC Type II, and Privacy Shield to keep your documents and data safe.
Improve your projects and enhance customer experience by efficiently managing PDF files on your device. Therefore, it helps to reduce human errors in the process.
Website: https://www.gonitro.com
8. Fill
This eSignature solution is currently considered the best and most excellent option available. Filling in PDFs and sending court-worthy signatures is likely the simplest way. Fill is incredible because it works on any computer, iOS, or Android device. It helps with using different platforms and making things accessible.
Users can feel confident and secure knowing they are in good hands. Fill meets global security and privacy standards. They also prioritize safety by following best practices. Fill is widely used in healthcare, law enforcement, real estate, and financial services industries.
Your data is stored securely with military-grade encryption and compliant with HIPAA. Users can be confident in the safety of their information. Fill provides users with intelligent analytics. It is helpful for many types of businesses.
Website: https://www.fillhq.com
9. HelloSign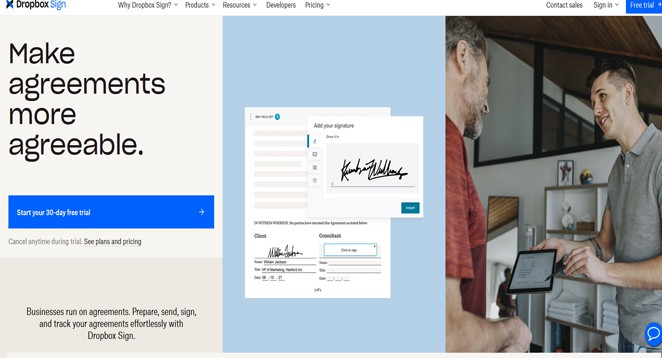 HelloSign is a simple and reliable eSignature solution trusted by thousands of individuals and businesses worldwide. Now, Dropbox owns it, allowing you to use the power of both fantastic platforms. You can access it through a web interface, Salesforce add-on, or developer-friendly API.
You can reuse signature documents as templates and enjoy features such as custom branding, signer attachments, white-labeling, team management, embedded eSignatures, and Salesforce integration. HelloSign is compliant with HIPAA, so there is no need to worry.
The price starts at $15 per month if you pay annually. You can try HelloSign for free without providing your credit card information.
Website: https://www.hellosign.com
10. Docsketch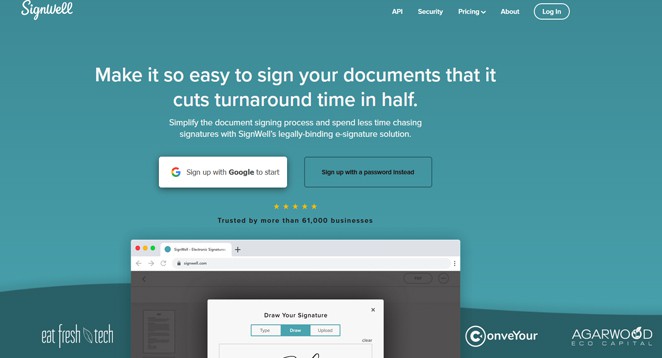 Docsketch is a free tool for faster signing, and it builds electronic signatures in a highly intuitive way. This tool is easy for anyone to use, regardless of skill level. It stores and safeguards your signed documents to prevent any unauthorized changes.
Docsketch is compliant with both the US along global eSignature laws. You can choose to have the signing process ask them one by one. When you establish an order, the person involved will receive automatic notifications when it is their turn. It will also show the number of people remaining to sign your document.
You can make a document into a template for easy access from anywhere. You get a detailed report with legal information for every signed file. It automatically detects blank lines in your files to help position the fields correctly. As a result, setting up documents for filling out becomes quick and simple.
You can use the 'Send as Sales Document' feature to get approval for specific documents like bids, estimates, and proposals. Click the 'Approve' button to approve and follow the guided steps.
Website: https://www.signwell.com
Bonus Tips to choose a good electronic signature software
These software options have similar features, but each offers unique solutions. Therefore, it can be challenging to decide between them. So, first, make sure you understand a few things before making your decision.
1. Document volume
Find out how frequently you send documents that require electronic signatures. If you only use it a few times a year, getting software with a large bandwidth is unnecessary. Instead, select the range that suits your volume needs.
2. Compliance
Be cautious, and don't blindly trust any solution. Assess their security and compliance regulations. The system must verify its authenticity and provide audit trails and other vital features to prove it.
3. Integrations and API
Evaluate how easily the software can be integrated with the third-party tools you are currently using. Additionally, check if they offer a customizable open API for integrating electronic signature features directly into your app or website.
4. Cross-platform
Ensure that the software you select is easily compatible with various platforms. Sending a contract from your Android phone to someone using macOS should be easy.
5. Document types
The eSignature software should be able to handle various document types and formats to avoid any issues during the process.
Conclusion
Electronic signatures are now crucial for both businesses and individuals in today's world. Companies widely accept it, and compliance regulations support it when dealing with clients from different countries. If you have yet to use this technology, there is still time. Get eSignature software now to speed up your workflow like never before!