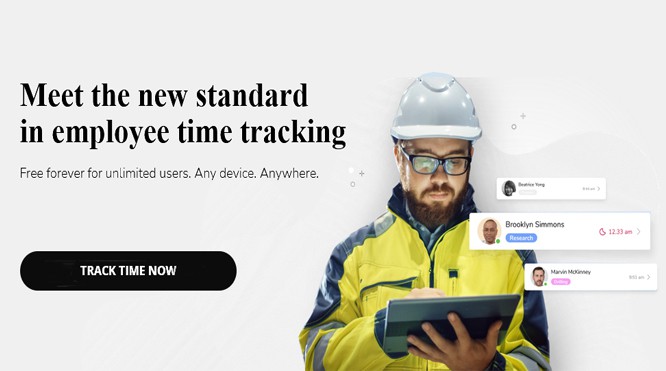 Best Time Tracking Software For Your Business: Time tracking software is a type of computer software that enables employees to record the time they spend on projects and tasks. Many businesses use the software, including freelancers and hourly labor. It is also used by professionals who bill their clients hourly. Time tracking is the process by which companies monitor the working hours of hourly employees and guarantee that they are accurately paid for their time. The main advantage of time monitoring systems, however, is enhanced productivity. Accurate time monitoring can help reduce monetary and material waste. In addition, the correct usage of time tracking software increases employee productivity by providing greater insight into their work.
What are the best time tracking software for your business?
We performed the research for you and compiled the full-time tracking software in one spot so that you can select the ideal one for you – whether you're a freelancer, a small business owner, or operate a big organization. This definitive guide for time tracking software includes everything – time trackers with the most basic capabilities and extremely complicated software. Be confident you'll discover the productivity tracking software that best meets your requirements.
Time tracking software is an essential time management tool that may help you and your team become more organized and efficient and get more things done.
Simply put, a time tracking tool will save you and your organization time and money.
The truth is that hundreds of time tracking software are available with various functions. Productivity monitoring, GPS tracking, invoicing – the list continues.
However, the issue remains: which tool is the best for you and your team? The answer – it depends.
Let's compare, shall we?
25 Best Time Tracking Software For Your Business
There is no way around time monitoring if you want to boost your personal and professional productivity. This guide discusses the benefits of time tracking to improved job management, ideal work patterns, consistency and effort, employee well-being, corporate profitability, etc.
1. Project Hours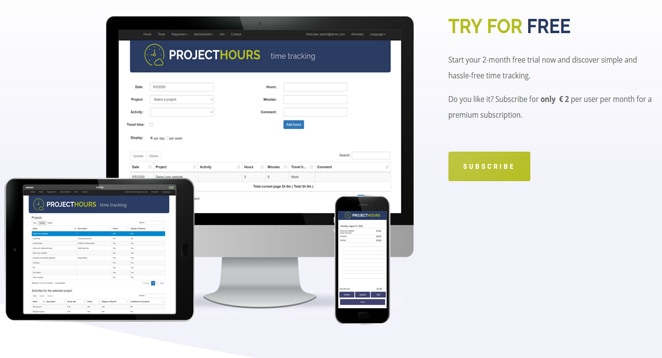 Project Hours is a cloud-based platform that assists small to medium-sized businesses in calculating the total time spent on organizational projects and activities. The program includes mobile applications that team members may use to log time and compute hours using the integrated timer. In addition, secure Sockets Layer (SSL) encryption enables users to secure sensitive data and prevent the exploitation of illegal data.
Organizations may add, update, or delete projects, create various user groups, and allocate activities using Project Hours. Managers may get a summary of each project's total hours and expenditures and export reports in Excel format. Additionally, the program aids administrators in defining tasks and configuring hourly rates depending on organizational responsibilities. It is one of the best time tracking software for your business.
Website: https://projecthours.online
2. Jira
With Jira, there are several methods to remain informed. Jira has you covered whether you like to receive updates by email, chat, or by checking in on your mobile device. In addition, Jira facilitates teamwork whether you're at your desk or on the road with the new mobile UI.
There are tasks, ideas, and requests hidden in paperwork, people's brains, and your inbox. Use Jira to collect and organize your team's issues, prioritize and act on what's essential, and remain abreast of current events. Jira simplifies all of this, allowing your team to spend less time managing tasks and more time developing an excellent product. It is the most advanced time tracking software for your business management.
Website: https://www.atlassian.com
3. QuickBooks Time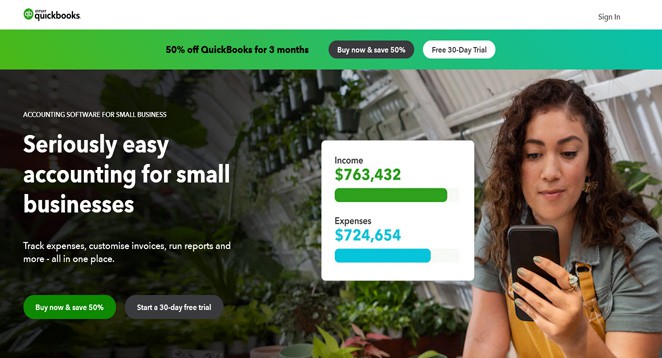 Every 1.3 seconds, an employee somewhere on the globe monitors time using QuickBooks Time. Thousands of businesses in 30 nations rely on our time monitoring and reporting solutions for record-breaking (and record-keeping) achievement.
QuickBooks Time software is the secret component that makes everything function; employees adore how simple time monitoring is. Truly. It is about the experience, which is adaptable, transportable, and accessible. Using a computer, mobile phone, tablet, GPS-enabled software, text message, dial-in number, and many other methods, employees may record their time anywhere and in any way they choose, with the clock in/out punch card or manual timesheet flexibility.
Website: https://quickbooks.intuit.com
4. Clockify
Clockify is a free time tracking software that assists teams in monitoring work hours across projects. For an infinite number of users, projects, and clients, you can monitor staff productivity, follow the development of each project, and do all reporting and administrative tasks in a centralized location.
A timer for monitoring hours in real-time, a timesheet for inputting time in weekly timesheets, and a calendar for blocking and managing time make timekeeping simple. You will get a clear picture of the number of time employees spend on each activity, their hourly progress, and whether or not they are attaining the expected objectives by the deadline. It will assist with task management to boost team productivity.
Website: https://clockify.me
5. Rippling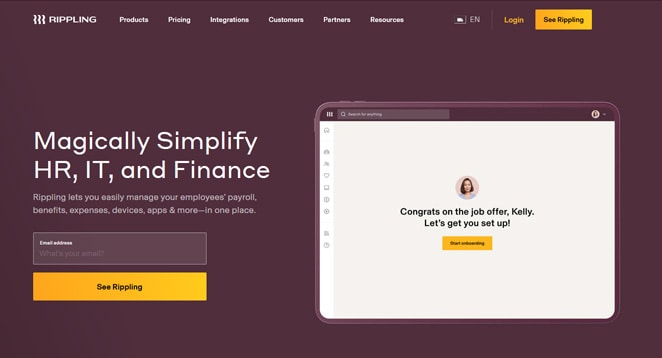 Rippling allows firms to manage HR, IT, and Finance in one location. It consolidates a corporation's generally dispersed workforce systems, including payroll, costs, benefits, and computers. So, the whole employee lifetime can be managed and automated within a single system for the first time.
Consider onboarding as an example. With Rippling, you can recruit a new employee anywhere in the globe within 90 seconds and set up their payroll, corporate card, computer, benefits, and even third-party apps like Slack and Microsoft 365. It is among the top time tracking software in our list.
Website: https://www.rippling.com
6. ClickUp
ClickUp is an all-inclusive tool for productivity that removes job silos. It is the central location where teams plan, coordinate, and interact on projects using tasks, documents, chat, goals, and whiteboards, among other tools.
This time tracking software enables teams of different sizes and types to produce work more efficiently, as it is easily customizable with a few clicks. In addition, by eliminating rigid and duplicative tools, ClickUp saves teams one day every week!
Website: https://www.clickup.com
7. monday.com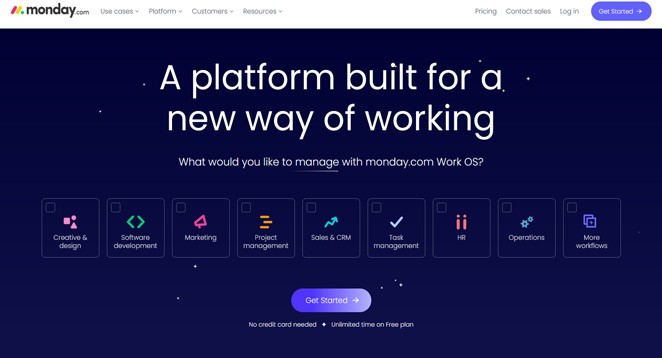 monday.com is a cloud-based Work OS where teams can construct workflow applications to manage their processes, projects, and daily work in minutes. Teams can create strategies and projects without coding using a platform that adapts rapidly to changing demands, frees them from tedious manual labor, and unites them in a shared workspace. It is among the most popular time tracking software to consider for your businesses.
Website: https://monday.com
8. FreshBooks
FreshBooks is explicitly intended for service-oriented businesses. If you generate value for your clients by applying your time and knowledge to other people's issues – if you are a designer, a marketing agency, a plumber, an IT professional, a lawyer, an architect, or a web professional – then FreshBooks was designed for you.
Website: https://www.freshbooks.com
9. Toggl Track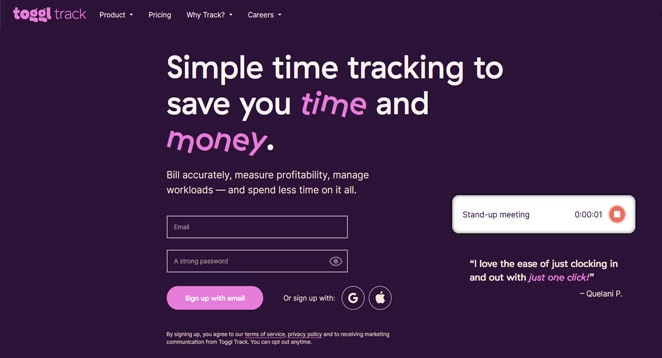 Toggl Track is a universal time tracking software that is compatible with any workflow. It is all about saving you time and money, whether you're a team of one or 1,000.
A simplified, user-friendly timer synchronizes real-time tracking across various devices. In addition, a hierarchical data structure keeps the time tracking of your team structured and your reports client-ready.
Website: https://toggl.com/track
10. ClockShark
ClockShark is the best time tracking and scheduling software for local construction, field service, and franchise businesses that want an easier method to manage mobile employee time, process payroll fast and correctly, and comprehend work costs. Over 9,500 businesses and one hundred thousand construction and field service personnel have replaced the pain of paper timesheets with software that simplifies company operations and makes accountants happy. Instead of taking our word for it, sign up for a free trial now!
Website: https://www.clockshark.com
11. BambooHR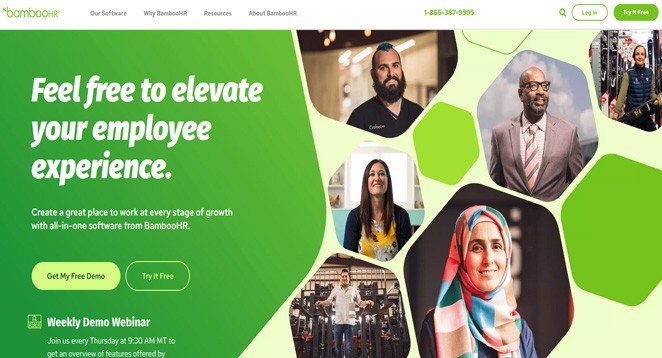 BambooHR is the most popular HR software for small and medium enterprises. In addition to an applicant tracking system (ATS), onboarding with electronic signatures, automated time-off tracking, and special performance monitoring, the cloud-based solution from BambooHR are elegantly designed and user-friendly. It frees HR managers' time for other relevant tasks, provides executives with accurate, timely reporting, and enables workers to self-service their time off using a handy mobile app. You can consider it among the most reliable time tracking software in 2023.
Website: https://www.bamboohr.com
12. Time Tracker
EBillity's Time Tracker software is a timekeeping tool for businesses of all sizes. A straightforward and economical solution for tracking staff time to process payroll, bill clients, and manage productivity. With versatile time tracking choices and configurable settings, you can monitor your employees' hours in any circumstance; start a timer from any device, clock in upon arriving to work, add time in blocks using the weekly timesheet, or design and distribute the team's calendar. Before syncing allowed time entries with your payroll and accounting software, you must manage the submitted time.
Website: https://www.ebillity.com
13. Paycor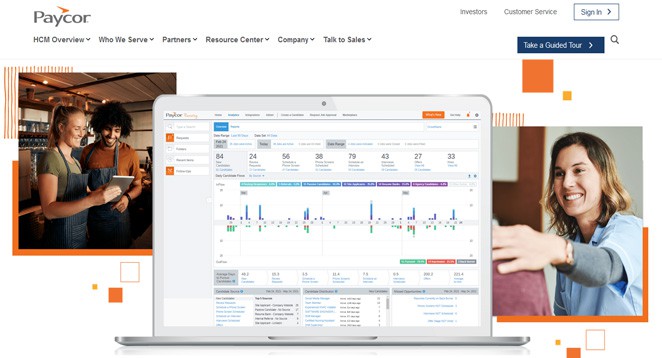 Paycor develops HR and Payroll software for executives. Paycor's time tracking software encompasses all facets of human resource management, from recruitment and onboarding to career development and employee retention. Paycor was founded in Cincinnati in 1990 and significantly influenced the Midwest. However, they are expanding nationwide and have over 29,000 consumers in each of the fifty states.
Website: https://www.paycor.com
14. 7shifts
7shifts alleviates restaurant scheduling issues. This powerful time tracking software equips restaurants of all sizes with a veritable toolkit of apps to reduce labor expenses, retain employees, and maintain labor compliance. Quickly and economically address staff scheduling, communication, labor compliance, and engagement. This platform resolves problems, lowers expenses, and saves time.
Website: https://www.7shifts.com
15. Hubstaff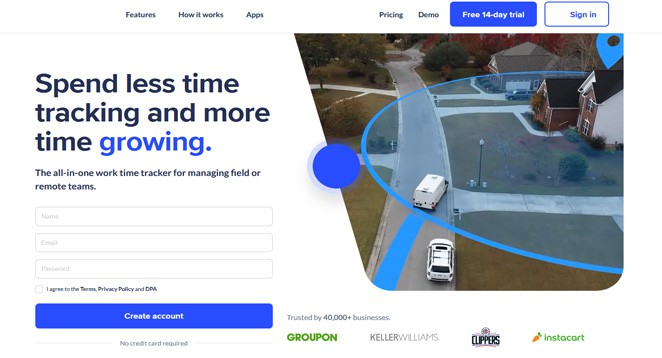 Simple time tracking software includes screenshots, activity monitoring, automated payroll, sophisticated reports, real-time tracking, and GPS. Capabilities for both online and offline tracking. Available for Apple, Windows, Linux, and iOS as well. Integrates with over 30 major applications, including Trello, Asana, Slack, and PayPal.
Website: https://hubstaff.com
16. My Hours
It is a cloud-based time tracking software ideal for small teams and independent contractors. Users may begin time tracking on an infinite number of projects and activities, generate analytical reports, and create invoices in seconds.
My Hours provides a user-friendly and easy interface for time tracking. Users can track in real-time, manually add time records, and continue monitoring time logs already created. Native iOS and Android applications allow users to track and manage time on the move using mobile and tablet devices. Users can add information, descriptions, and length to time logs and attach them to specific projects or activities. In addition, my Hours enable administrators to input or modify team members' time record information.
Website: https://myhours.com
17. Buddy Punch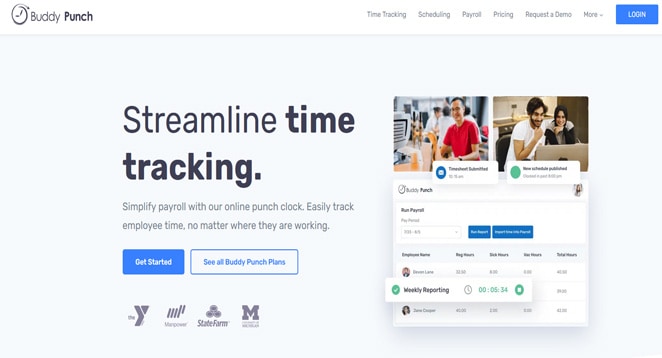 Buddy Punch was created in response to a demand for a simple, user-friendly, and cost-effective scheduling and time card solution. We must refrain from using paper, nor should time be tracked using Excel spreadsheets or handwritten/faxed time cards.
If you can only sometimes be present with your staff, you must find a technique to ensure that they are truthful about their working hours. For example, how frequently does an 8:00 am start time become 8:07 am? When multiplied by weeks and years, your employees waste a substantial amount of time. Maintain their candor and earn peace of mind. So, What are you waiting for download the Buddy Punch time tracking software today.
Website: https://buddypunch.com
18. Tick
Tick is a cloud-based time tracking tool for web, desktop, and mobile devices that provides numerous timers, budget tracking, and reporting, among other features. The program is appropriate for teams or businesses of any size and may archive infinite projects. It is among the best time tracking software on this list.
Website: https://www.tickspot.com
19. Timesheets.com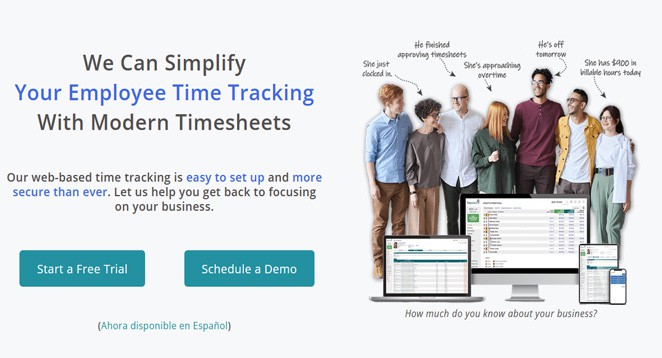 If you are searching for the best time tracking software and those who still need to adopt online timesheets are in for a treat. Unfortunately, paper timesheets and physical punch clocks are inferior to web-based time tracking.
Managers may monitor staff attendance and status in real-time using cloud-based time tracking. For example, through Timesheets.com's time and attendance monitoring, businesses are constantly aware of who is on the clock, who is tardy, and even what their workers are working on.
Website: https://www.timesheets.com
20. Homebase
Homebase is an employee scheduling, time tracking, and communication solution for retail, hotel, and health and beauty firms and their staff. The platform provides team calendars, time clocks, automated notifications, and budget projections to automate and streamline staff scheduling and time monitoring. You must try by visiting the website of homebase time tracking software.
Website: https://joinhomebase.com
21. When I Work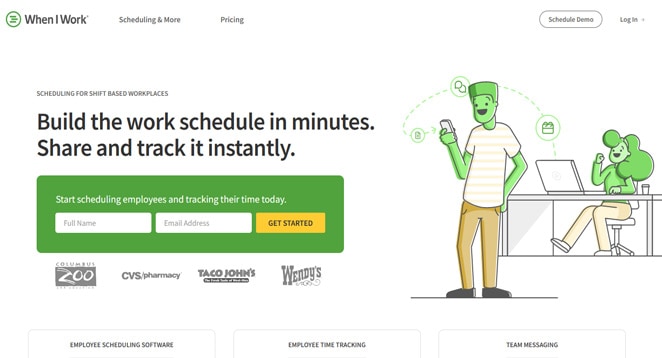 Use When I Work to schedule employees, track their time and attendance, and communicate with them. Create schedules rapidly and with ease. Send the plan to employees with a single click; they may receive it through an alert, email, or text message. Activate Time & Attendance to enable personnel to use a mobile time clock on their device or a terminal you configure. Manage shift requests, time off, and availability while facilitating staff communication. It is one of the best time tracking software to consider in 2023 for your business.
Website: https://wheniwork.com
22. TimeCamp
TimeCamp is a free team time tracker. Unlimited users at no cost TimeCamp strives to give customers a comprehensive yet user-friendly project time tracking solution by integrating visual time tracking, handwritten timesheets, time input comments, reporting technologies, and different connectors. It is the most reliable time tracking software one can use for his business.
Website: https://www.timecamp.com
23. Deputy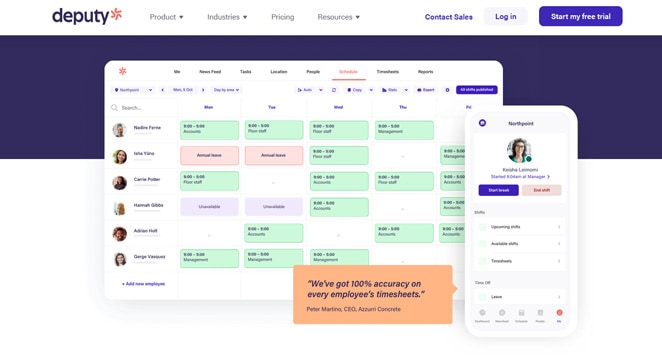 Deputy is a comprehensive platform for staff scheduling, time & attendance monitoring (digital time clock), tasking, and communication. Use the mobile applications provided by Deputy to manage your team from anywhere. The Deputy iPad kiosk software allows self-service clock in/out for employees. Everything is powered by a basic, intuitive design. It is one of the best Timesheet, Time Clock and time tracking software.
Website: https://www.deputy.com
24. OnTheClock.com
Like other best time tracking software on this list, OnTheClock.com is a cloud-based employee time clock application that allows users to arrange staff shifts, automatically compute hours worked and log time off, and handle numerous clock-in methods. For example, employees may clock in from their workstation PCs via the OnTheClock.com website using the native iOS and Android mobile apps, or group punch stations can be constructed by mounting tablets on the wall. Using fingerprint scanners with the system ensures that employees are present while punching in and prevents "buddy punching." OnTheClock.com also allows customers to monitor or regulate the GPS locations and IP addresses from which mobile app-using employees can clock in and out.
Website: https://www.ontheclock.com
25. Jibble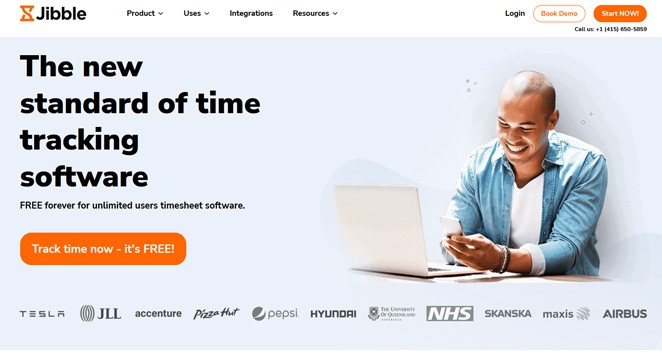 Jibble is the free time monitoring program used by thousands of users worldwide, including Tesla, Pizza Hut, Hyundai, the National Health Service of the United Kingdom, and Skanska.
It is easy to use, free forever, and offers unlimited users. In addition, real-time facial recognition and GPS tracking provide precise attendance records. Automated timesheets can streamline your payroll procedure.
Use the mobile app, tablet, online browser, MS Teams, or Slack to clock in. It was built for all industries, including food and beverage, retail, construction, manufacturing, healthcare, field services, education, and startups. It is one of the best new standard of time tracking software you can consider in 2023.
Website: https://www.jibble.io
Final Words
In conclusion, the time tracking software you pick should be based on your or your organization's requirements. Therefore, reviewing all features and comprehend their applicability in a business setting is essential. And the purpose of this essay was to provide you with insightful information about the benefits offered by each program. Also read the best task management software for your business growth.