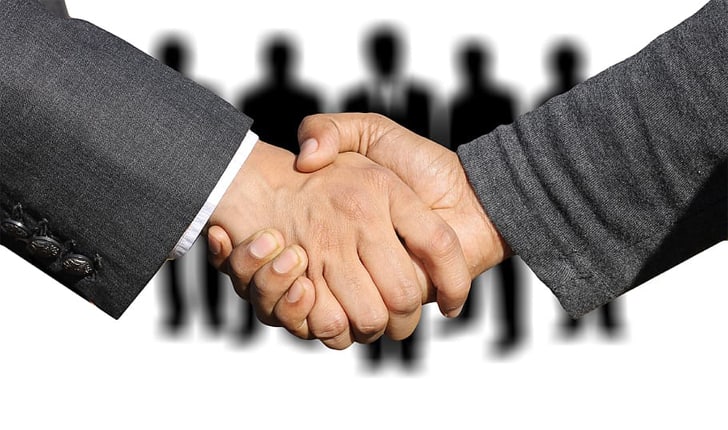 Best Task Management Software For Your Business in 2023: Task management software is an application that enables one to organize, streamline, and prioritize the activities necessary to achieve a goal or complete a project.
There are several similarities between task and project management, although they are not similar.
The 1984 Nobel Peace Prize winner, Desmond Tutu, once said, "There is only one way to eat an elephant. A bite at a time."
The primary example helps us understand the concepts of task management and project management; task management is a subset of project management.
What is Task Management Software?
Businesses may automate creating, allocating, prioritizing, and tracking project tasks using task management software. It increases team efficiency and enables timely project completion.
The purpose of task management software is to facilitate collaborative project execution. Teams use the service to view task schedules on team calendars and monitor task status using online project dashboards.
A significant feature of task management software is that it usually provides a module inside central project management systems, including tools for advanced project planning, in-depth reporting, and extensive team collaboration.
Task Management Vs. Project Management
Your closest buddy desires an engagement party, and given your party-planning skills; you are tasked with organizing the event.
Party planning is a project that must be completed. To finish the entire project, you must perform smaller tasks (reserve the venue, hire the caterer, etc.). (the party).
The difference is narrow.
When managing a project, you have a deadline and an objective—the big picture. However, a project manager must consider a broader range of elements, including cost control, processes, and available resources.
Managing tasks involves focusing on one area of a project at a time. For instance, while managing tasks, you must consider each work's deadline, priority, assignment, and progress. That is a lot to mind, but a task management software may simplify your job. Also read, What is Digital Rights Management (DRM) and How to protect your data using DRM technology and stop the illegal distribution.
Options for Task Management Software deployment
Cloud-based (SaaS) and on-premise task management software are available. The primary difference is cloud-based services are hosted and managed by the vendor, whereas on-premise tools are the buyer's responsibility.
Both deployment choices have advantages and disadvantages, but we prioritize cloud-based software over on-premises. Cloud-based technologies make more sense for small businesses due to their lower upfront costs, faster adoption, automated upgrades, and lack of user upkeep.
The difference between cloud-based (SaaS) and on-premise versions
Cloud-based
You only need to pay for your preferred monthly or annual membership package and have an internet-connected computer. The services can be scaled up or down based on changing company requirements.
On-premise
There are no ongoing monthly or annual fees; you purchase the license upfront and host the program on your servers (at a higher cost). You give up simple scalability in exchange for total data management.
Features of Task Management Software
The primary functions of task management software focus on the execution of tasks, including the creation, modification, and monitoring of their completion.
Let's examine the factors discussed in these solutions:
Task creation and scheduling: Create tasks and subtasks from scratch or import them from email, Excel spreadsheets, or.csv files to break down a project. Assign assignments to team members by including activity-specific information and due dates.
1. Planning and scheduling
Planning and scheduling are the most fundamental components of a task management software. First, planning requires breaking down the whole operation into individual activities. Then, once the tasks are prepared for the assignment, specify deadlines or make them recurring.
For example, you may establish a task list with three tasks: onboarding a new employee, setting up their workstation, and a first-week evaluation to see whether the new employee is settling in properly. You have given these responsibilities to various team members. After assigning projects to team members, you monitor their progress as they continue to work on them.
2. Collaboration
With a framework, collaboration can be more accessible, especially in a remote work setting. Unfortunately, team members can only rely on spreadsheets for simple tasks, at least not without tearing out their hair, due to the possibility of subtasks, task dependencies, and milestones.
An advanced online task management software facilitates team collaboration. Using a task management system, team members may communicate information and get updates about current work, and supervisors can answer queries about particular tasks and track task progress.
3. Automation
Automation simplifies complex job management. For example, consider activities requiring collaboration between numerous project teams, permission from managers at various stages, and multiple notifications of team members as the task progresses.
It could be more efficient to manually handle complicated activities, which is why many task management systems provide automated solutions. Automation may save significant time that would otherwise be spent on tedious duties.
However, you can use more than your task management system's automatic options. Using integrations, you may also automate your operations.
For example, suppose you want to remind an assignee that a work assignment is due within 24 hours. In that case, you may use a Zapier integration to send the employee a message through the comments area of your task management software or Slack.
4. Views
The collaborative views provided by task management software vary dependent on your preferences. The majority have at least a calendar view and kanban boards. Nevertheless, some applications include additional possibilities, such as Gantt charts, timelines, lists, and grid views.
Kanban templates are very prevalent. They give a simple and effective structure for each process step. You may delegate work at each project step and communicate in real time with assignees.
5. Time tracking
You should seek a task management software that includes time monitoring as a crucial element. Information on the amount of time spent on each project job enables you to discover bottlenecks and resource hogs.
If your organization routinely recruits hourly employees or accepts hourly-billed tasks, you will also want time-tracking capability.
You can immediately permit workers and contractors to enter their time data into the task management software. The management may review the timesheet data regularly to enhance resource management, audit payroll, or generate invoices.
How to Manage Tasks
Most task management software follows a standard procedure. If you're curious as to what the process looks like, we've outlined it here.
1. Create and assign tasks
Creating and assigning tasks is often a simple process. You make a task, include pertinent information for the assignee, specify the due date, and assign the card.
For instance, when onboarding a new employee, you will need to assign paperwork responsibilities, let them know who to contact for assistance or resources, and arrange with staff to set up their desk. All tasks may be assigned within the task management software.
Some programs may allow the importation of spreadsheets if you have previously populated tasks in an Excel file. After adding tasks, you may construct task templates so that you do not need to create tasks from the start in the future.
2. Collaborate
The interface of task management software can be interactive, facilitating workflow management and collaboration. For example, once a job has been assigned, the assignee can use the comments box to inquire about deliverables or notify the management of any delays.
3. Track progress
Your team may report on their work progress using a task management software.
Imagine this:
You've tasked a team member with preparing for the upcoming week's new employee orientation. You have added three tasks to your to-do list:
Set up the projector.
Have a staff member set up the chairs.
Get coffee and doughnuts.
You have given comparable checklist-based tasks to four additional team members. Members cross off boxes when they complete tasks and mention you in comments when they need help.
Good thus far? Imagine performing the same thing without a task management software.
Best Task Management Software For Your Business
Here we list some of the best task management software for free online workspace for your business as well as  manage your team's projects from anywhere.
1. Bitrix24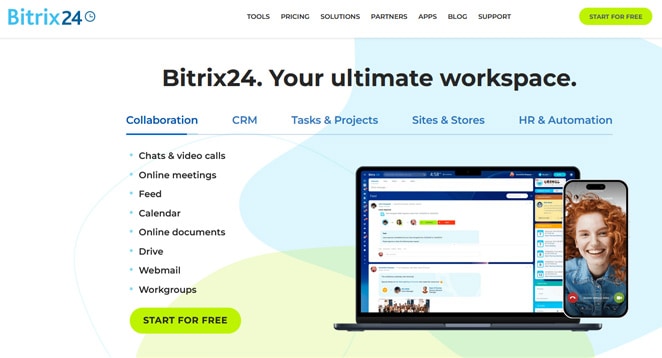 Bitrix24 task management software provides the most effective free scheduling solution. Configure it according to the demands of your business and remain 100 % sure that your data will be saved safely. Register now to receive free professional event planning and management software. In addition, there is a CRM system for client database storage, a Project Management module for event planning, and collaboration tools with an extranet access option.
Bitrix24's calendars allow you to switch between daily and monthly views to see the larger picture. In addition, you may assign a unique color to each calendar to keep things organized, and you can view them all at once or separately. With flexible access permissions, staff collaboration, and a whole suite of other capabilities, you'll marvel at how this is a free download appointment software.
Website: https://www.bitrix24.com
2. Trello
A visual collaboration tool that provides a fun, flexible, and rewarding shared perspective for your team on any project. Teams may design and configure Trello task management software to meet their particular demands and work styles, from sales and marketing to HR and operations. And with over 100 integrations with other critical tools such as Google Drive, Slack, Jira, and more, Trello is a dynamic, breathing center for cross-team collaboration regardless of where your work needs to take the project.
Website: https://trello.com
Asana facilitates the coordination of work across teams, from everyday tasks to primary objectives. With Asana, teams are more confident, move more quickly, and accomplish more with fewer resources, regardless of location or the number of departments involved. Asana is used by more than 135,000 paying customers and millions of free organizations in 190 countries to manage anything from organizational objectives to digital transformation to product launches and marketing activities. It is among the top task management software to be consider for your business.
Website: https://asana.com
4. Jira
With Jira, there are multiple ways to remain informed. Jira has you covered whether you like to receive updates by email, chat, or by checking in on your mobile device. In addition, Jira aids your team's job, whether you're at your desk or on the road, thanks to its new mobile UI.
Effective and efficient teams use Jira task management software to track, assign, and prioritize tasks. Ensure that everyone on your team is aware of the particular tasks and deadlines, and then observe the faultless completion of the job. And when you add agile to Jira with the Jira Agile add-on, you can even plan agile sprints!
Website: https://www.atlassian.com
5. Basecamp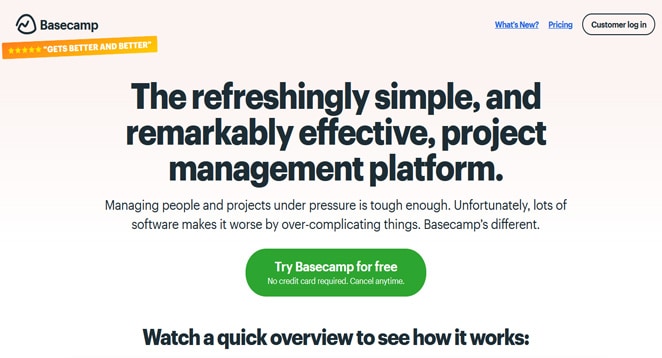 Basecamp is the collaboration platform of choice for thousands of teams worldwide. It provides project management, file sharing, chat, and other features.
Basecamp has an opinion. It is designed for teams that wish to complete tasks without wasting time or working extra.
Website: https://basecamp.com
6. Evernote Teams
Evernote facilitates the capture and management of ideas, projects, memories, and to-do lists to manage that nothing is forgotten. Write notes, attach documents, scan photographs, record voice memos, and collect web clips. Organize everything from large projects to personal moments in one location accessible offline on your computer, tablet, and phone. Find information quickly with a robust search that identifies handwritten text, photos, and attachments. With Evernote, you can focus on what's important. You may consider it in the list of best task management software.
Website: https://evernote.com
7. ClickUp
ClickUp is an all-inclusive platform for productivity that removes work silos. It is the central location where teams plan, organize, and collaborate on projects using tasks, documents, chat, goals, and whiteboards, among other tools.
ClickUp enables teams of different sizes and types to produce work more efficiently, as it is easily customizable with a few clicks. In addition, by eliminating rigid and duplicative tools, ClickUp saves teams one day every week!
Website: https://clickup.com
Monday.com is a cloud-based Work OS where teams can create workflow applications to manage their processes, projects, and daily work in minutes. Teams may start their workflows and tasks without coding using a platform that adapts rapidly to changing demands, frees teams from tedious manual work, and unites groups in shared work. It is the most popular task management software in our list.
The platform's features include customizable workflow templates to manage anything your way, time tracking to meet critical deadlines, automation to eliminate manual work, dashboards to gain valuable insights and see the status of things at a glance, and integrations with popular tools and apps to streamline processes.
Over one hundred thousand businesses worldwide use Monday.com to enable their teams to move more quickly and concentrate on tasks that demand their abilities.
Website: https://monday.com
9. Box
Box is the Content Cloud – a single, secure, and user-friendly platform designed for the whole content lifecycle, including file creation and sharing, co-editing, signing, classification, and retention. Work securely from anywhere and integrate your technology stack with more than 1,500 best-of-breed applications. Box, trusted by over 100,000 of the world's most prestigious enterprises, including AstraZeneca, JLL, and Nationwide, has been designated a Leader by all leading industry analysts. Visit box.com/resources to view these reports and learn how Box customers generate a 332% ROI. Box was founded in 2005 and is based in Redwood City, California, with other locations in the United States, Canada, Europe, and Asia-Pacific. It is among the best task management software.
Website: https://www.box.com
10. Microsoft To Do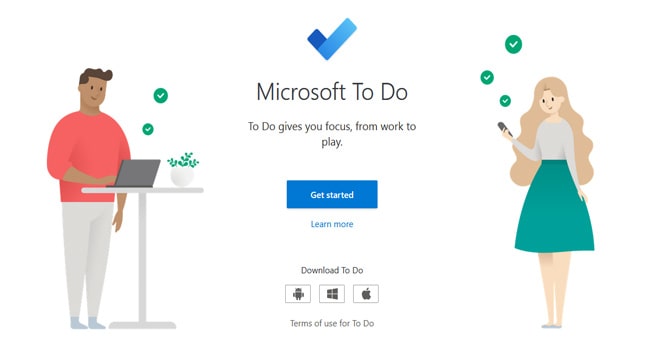 Microsoft To Do (previously known as Wunderlist) is a daily planner tool that enables users to manage and share daily to-do lists and add due dates and reminders. It is accessible via iOS, Android, and Windows 10 mobile apps and the web. In addition, Microsoft To Do may be integrated with Outlook Tasks for streamlined task management.
Website: https://todo.microsoft.com
Smartsheet is a SaaS, enterprise-ready cloud application for work management and collaboration, trusted by over 80,000 businesses and millions of users in over 175 countries.
Smartsheet's straightforward spreadsheet-like application is widely used to track and manage varied forms of work, such as team projects and task lists, customer data, sales funnels, event schedules, and business processes. Smartsheet is a platform that provides capabilities for process automation, content collaboration, form management, project management, activity logging, scheduling, and real-time data tracking, among others. Read the detailed review on Smartsheet task management software on digitalmagazine.
Website: https://www.smartsheet.com
12. Airtable
Airtable is an intelligent organization and collaboration task management software that provides teams of any size with a centralized and unified platform for managing projects, customers, and ideas. As a mobile-friendly, flexible solution with native smartphone and desktop applications, Airtable enables users to organize anything, with anybody, from anywhere.
Airtable intends to give users an advanced yet user-friendly organizing and collaboration solution. It is designed to be as quick and flexible as a spreadsheet, but with the extra capability of a database. It integrates rich text fields, customized forms, and displays, as well as intelligent content connections and integrations, in addition to standard spreadsheet features. In addition, Airtable enables connectivity with numerous apps, including Dropbox, Slack, and GitHub, allowing users to manage the transfer of material across apps securely.
Website: https://www.airtable.com
13. Todoist
Todoist is a web-based productivity solution designed to help businesses manage their tasks and projects across 15+ platforms and 20 languages. On the web, mobile devices (iOS, iPad, and Android), PCs (Windows and Mac), email inboxes (Gmail and Outlook), and web browsers, individuals and teams can manage tasks and collaborate on shared projects (Google Chrome, Firefox, & Safari).
Website: https://todoist.com
14. Notion
Notion is a project and workflow management tool that helps businesses streamline activities such as goal setting, status monitoring, and lead management on a consolidated platform. A drag-and-drop interface allows users to organize, reorganize, and create ideas, thoughts, and plans. It is the most reliable task management software to consider for your business.
Website: https://www.notion.so
15. 7shifts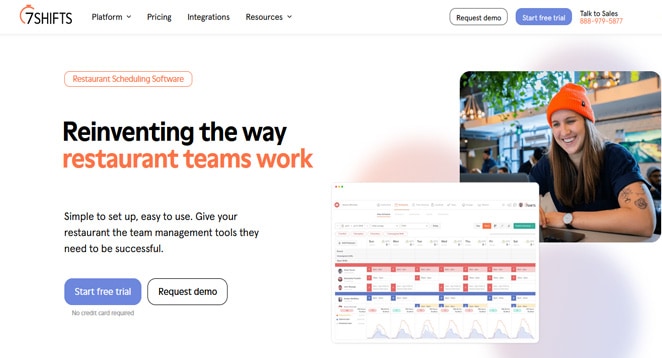 7shifts alleviates restaurant scheduling issues. This powerful task management software equips restaurants of all sizes with a veritable toolkit of apps to reduce labor expenses, retain employees, and maintain labor compliance. Efficiently and economically address staff scheduling, communication, labor compliance, and engagement. This platform resolves problems, lowers expenses, and saves time.
Website: https://www.7shifts.com
16. MeisterTask
It is an online project and team collaboration management solution that enables users to create project dashboards, collaborate with team members, and work in real-time. The dashboard of MeisterTask gives an overview of all projects and notifications. Users can create numerous projects and invite others to work via email. Additionally, it offers customized project dashboards that enable users to create project parts based on their requirements. You should visit the website of Meistertask task management software for more details.
Website: https://www.meistertask.com
17. Hubstaff
Easy time tracking software includes screenshots, activity monitoring, automated payroll, sophisticated reports, real-time tracking, and GPS. Capabilities for both online and offline tracking. Available for Apple, Windows, Linux, and iOS as well. Integrates with over 30 major applications, including Trello, Asana, Slack, and PayPal.
Website: https://hubstaff.com
18. Microsoft OneNote
Microsoft OneNote is a free cloud-based digital note-taking program that enables users to create and organize meeting notes, diary entries, lab results, and other types of information. Users may take advantage of the rapid conversion of handwritten notes into digital text for enhanced organization and less retyping. In addition, this task management software allows users to save and organize audio recordings in a searchable manner and provides advanced search capabilities for any notes inside its database. OneNote also integrates with Microsoft 365.
Website: https://www.microsoft.com
19. Float
Float is the top resource management platform for enterprises, studios, and agencies worldwide. Since 2012, Float has assisted the world's top teams, like Metalab, Deloitte, and Buzzfeed, in planning their projects, scheduling their team's time, and completing over 10 million tasks in over 150 countries.
Website: https://www.float.com
20. Miro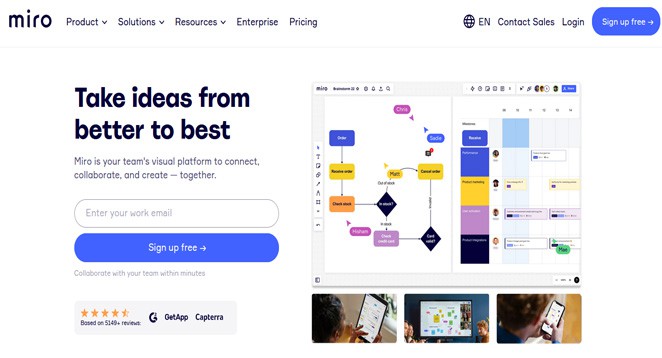 It is an online collaborative whiteboard platform that enables distant teams to work successfully, from ideation using digital sticky notes to planning and monitoring agile workflows.
Globally, over 25,000,000 Product managers and owners, UX/UI designers, agile coaches, and design thinkers use Miro to create the Next Big Things. You can consider it as the best task management software.
Website: https://miro.com
21. Wrike
It is a cloud-based collaboration and project management platform that enables users to manage projects from beginning to end with complete visibility and command over tasks. The end-to-end system manages projects from the original request by monitoring work progress and reporting outcomes.
With Wrike, project managers and team leaders have an efficient tool to collect and organize project requirements, create project plans, and visualize timelines on a Gantt chart. As work continues, it is simple to modify project plans, and all concerned teams will be notified of any changes. In addition, the custom report builder enables users to segment project data to deliver the results to executives or teams. It is one of the best task management software to use in 2023.
Website: https://www.wrike.com
22. HoneyBook
HoneyBook is a cloud-based CRM system for small businesses and freelancers that facilitates the management of company activities from consultation through billing. The platform enables users to manage projects, book customers, issue invoices, sign contracts online, and manage payments.
HoneyBook provides task management capabilities that enable users to view and monitor the various phases of a project. The location where users may save their invoices, contracts, and other papers. Using bespoke templates and notifications, they may also send customers automatic appointment requests and follow-ups.
Website: https://www.honeybook.com
23. Process Street
Process Street is a contemporary platform for process management in teams. We assist teams in collaborating on their critical processes and transforming them into robust no-code workflows.
Start with onboarding to set up recruits for success, and then build various workflows, including employee onboarding, client onboarding, and tenant screening.
Website: https://www.process.st
24. SuiteDash
SuiteDash is an all-in-one business application that facilitates teamwork and enhances customer engagement. This task management software contains a client portal, subscription management, feedback gathering, and file storage, among other features.
Website: https://suitedash.com
25. Adobe Workfront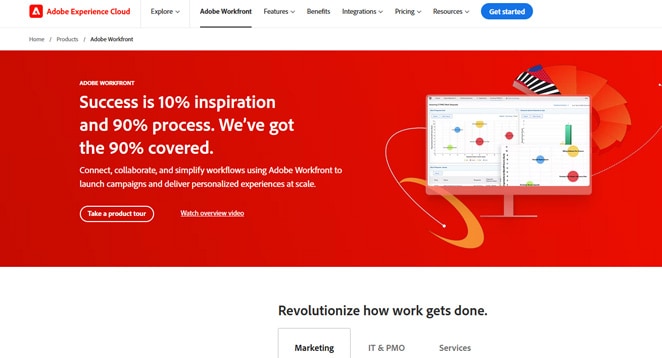 Adobe Workfront is the market-leading enterprise work management leader. It is a collaborative platform that connects strategy to delivery, integrates people and data throughout the company, and organizes work from beginning to end to achieve quantifiable outcomes. At each phase of planning and executing work, Adobe Workfront empowers businesses with the skills they need to expand and win in the marketplace.
Website: https://business.adobe.com
26. Teamwork
Teamwork is the first project management platform designed exclusively for client work. Deliver work on time and under budget, avoid customer confusion, and comprehend profitability, all inside a single platform. In addition, customers of Teamwork can monitor and manage their projects using a range of integrated solutions such as helpdesk, collaboration, knowledge sharing, and customer relationship management add-ons, making Teamwork the "one-stop shop" option for company owners. You should consider it as the best Project, Team Management and task management software.
Website: https://www.teamwork.com
27. BigTime
BigTime is the access-anywhere operating system that powers the world's top professional services teams. See how we can assist your project-driven company in tracking and billing its most valuable asset: time. BigTime can remove the uncertainty from usage, capacity planning, and revenue forecasting. Users can manage project teams, work-in-process (WIP), and profitability by project and even each employee. BigTime enables users to be paid more quickly and with less hassle. Organizations may streamline their operations with the Quickbooks integration established by the BigTime development team and Intuit's OEM developers.
Website: https://www.bigtime.net
28. Paymo
Paymo is a work and project management system designed specifically for Marketing, Design, Creative, and Advertising Agencies, Architecture companies, Universities, Law firms, and Consulting organizations.
It enables you to manage projects, track work time, bill clients, receive online payments, and assess profitability from the same platform. You can consider it as the best Project management, Time tracking, Invoicing and task management software.
Website: https://www.paymoapp.com
29. PracticePanther Legal Software
PracticePanther is an easy, user-friendly, and secure legal practice management application. Discover why thousands of law firms in more than 170 countries use PracticePanther to automate workflows and accomplish more in less time. As a result, never miss a deadline, get paid sooner, and manage time and costs effortlessly.
The mobile app allows you to work from anywhere on any device. It's simple, easy, and intuitive. You may now spend less time operating your business and more time generating revenue. Try it without a credit card, it's free. It is among the best legal practice management and task management software.
Website: https://www.practicepanther.com
30. GanttPRO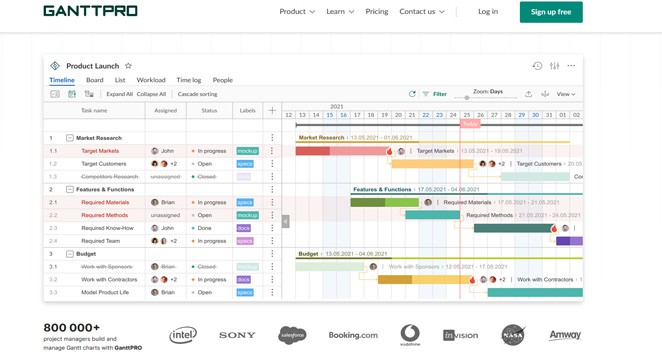 GanttPRO is project management software that uses Gantt charts to manage managers in planning and managing projects of varying complexity. Users can create tasks, assign them, establish relationships between them, and define the start and finish dates and durations. In addition, GanttPRO helps users to see project plans and automatically schedule projects. It is one of the best online Gantt Chart maker for Project Planning and task management software.
Website: https://ganttpro.com
31. Justworks Hours
Justworks Hours automates and streamlines time tracking. Make timekeeping easier for you and your team by facilitating employee time management, generating more significant insights with more monitoring, and reducing the burden of errors and inaccuracies. Sync effortlessly with robust integrations to your preferred tools and service providers, like Justworks, Quickbooks, Gusto, Slack, and more. It is the most reliable task management software you can consider of your business.
Website: https://www.justworkshours.com
32. Flowlu
Like other best task management software on this list, Flowlu is an all-inclusive collaboration software that provides businesses with a comprehensive view of their daily operations. It offers technologies like task management, project and agile project management, online invoicing, knowledge management, and collaboration capabilities.
Website: https://www.flowlu.com
33. Time Doctor
Time Doctor gives comprehensive insights into how time is used throughout the work. View the websites and programs visited while working and screen capture taken every few minutes.
Time Doctor will measure the overall time worked by each team member and offer a breakdown of the time spent on each customer, project, or task. The time monitoring data is second-by-second accurate, allowing you to see exactly where time is spent and verify where time is spent. You can use this information to charge clients and maintain an accurate payroll record. For more information on Time Doctor task management software visit the website.
Website: https://www.timedoctor.com
34. Avaza
Avaza is a system for company management that contains features for project management, resource scheduling, online timesheets, expenditure management, online invoicing, recurring invoicing, quotations and invoices, and more. Additionally, Avaza interfaces with third-party systems to streamline workflows. Avaza is an integrated cloud solution built for tablet and mobile devices designed for professional services firms. It is among the finest task management software to be consider for your business growth.
Website: https://www.avaza.com
35. Everhour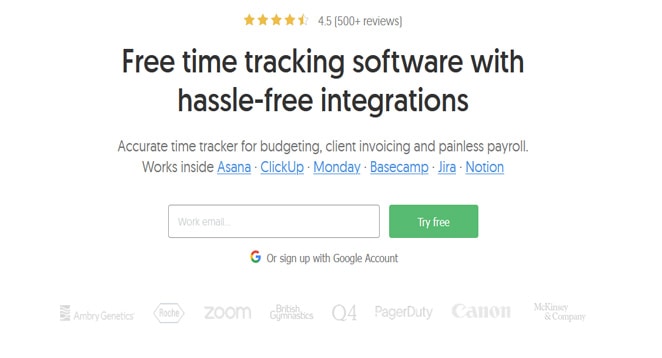 Everhour is a superb time tracker for teams and small to medium-sized businesses because of its prime time and task management features, which can address the majority of problems teams experience. Using a timer or manual entry, track the time spent on projects, clock in and out, and create time estimates for tasks. You may save time and streamline your work processes by automating the following: recording work hours, vacations, days off, and sick days, setting budgets, generating reports and invoicing, and monitoring project progress. You can consider this best task management software to get work done in time.
Website: https://everhour.com
36. Replicon
Replicon is a project cost management and time tracking platform designed to help businesses charge clients and contractors appropriately. Its features include real-time project status updates, GPS time tracking, customizable data validations, and billing, multi-currency billing, productivity dashboards, and sophisticated analytics.
Website: https://www.replicon.com
37. EngageBay
EngageBay is a marketing platform that integrates lead generation, email marketing, marketing automation, CRM, and social media interaction. It enables users to create email campaigns and automate marketing processes and sales funnels. It is designed to help businesses acquire, engage, nurture, and convert prospects. The cloud-based platform may be used to increase leads, create and automate the delivery of email marketing content, and manage client relationships using the integrated CRM. It is among the best task management software.
Website: https://www.engagebay.com
38. Shortcut
Shortcut is a cloud-based project management platform designed to jointly support the whole planning, building, and launch cycle for software development teams. It offers powerful, out-of-the-box integration options for the likes of GitHub, GitLab, and Slack, as well as API access for designing custom workflow automation, and is scalable to accommodate non-profits up to Enterprise-level with variable subscription price packages.You can also consider it as the most reliable task management software.
A web-based user interface enables users to create "Stories" for describing any task, job, feature, or build, followed by the definition of "Milestones" and "Epics" for goal-based advancement. Kanban work boards with drag-and-drop functionality facilitate the natural reorganization and prioritization of task workflows while keeping all team members informed. In addition, reporting tools and data visualizations, such as cumulative flow diagrams and burndown charts, improve the visibility of overall accomplishments.
Website: https://shortcut.com
39. ActiveCollab
ActiveCollab is a project management work designed to automate tedious tasks and allow users to focus on Real Work. It is the best task management software to consider for your business growth in 2023.
It enables you to organize your work into tasks and subtasks, establish priorities, and collaborate with your team and clients in real time. Time tracking, budgeting and invoicing, reports, in-app chat, and task dependencies with automated rescheduling are just a few features that allow you to focus on the Real Work. Additionally, third-party integrations are accessible; thus, nothing prevents ActiveCollab from being your centralized workplace!
Website: https://activecollab.com
40. Jolt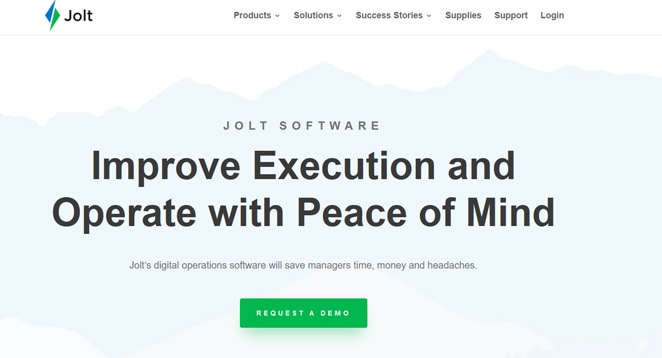 Compliance platform for personnel management and food safety. A centralized location for checklists, audits, temperature logs, labeling, training, scheduling, and attendance information. Real-time data and notifications enable operators, managers, and FBCs to monitor company operations remotely. Reduce labor expenditures and increase staff responsibility, output, and efficiency. For example, our labeling system is a quarter of the price of day dots, and hundreds of millions of tasks have been accomplished by hundreds of thousands of users. It is the best among other task management software on this list.
Website: https://www.jolt.com
41. Pipefy
Pipefy is the low-code process automation platform that boosts team productivity, centralizes data, and optimizes processes for HR, Procurement, Customer Operations, IT, and other teams.
It enables businesses to achieve stack extensibility and process excellence for each team and department with its workflow automation and low-code framework. This task management software is used in over 150 countries by businesses of all sizes, including Visa, IBM, Volvo, Santander, and Kraft Heinz.
Website: https://www.pipefy.com
42. Favro
Favro is the most agile cloud-based planning and collaboration platform in the world, allowing teams to organize themselves around what to do and how to accomplish it, while managers can focus on driving high-level goals and why those goals matter. Teams may employ modern, intelligent, and time-saving solutions for team and planning boards, spreadsheets and databases, roadmaps and scheduling, and documents and wikis. In addition, leaders and managers can steer the broader picture by compiling the work of teams and teams of teams into alignment dashboards. It is the best task management software for the growth of your business.
Website: https://www.favro.com
43. Flock
Flock is a collaborative messaging program for teams that enables private and public channels for direct and group conversation. With a single click, Flock users may initiate a video or audio call or switch to screen sharing with numerous participants. It Is the most reliable task management software for your business.
Additionally, users may integrate Flock with over 40 applications, including Google Drive, Calendar, Github, Trello, Asana, and Twitter. There are English, Spanish, and Portuguese versions of Flock.
Website: https://www.flock.com
44. Connecteam
Like other best task management software on this list, Connecteam is a workforce management application that lets managers put their company operations on autopilot and focus on business expansion while empowering employees to be more productive, flexible, and satisfied. Save time and boost productivity with mobile-first custom checklists, forms, and reports; Schedule shifts and monitor work hours with GPS time clock; Simplify employee communication, strengthen professional abilities, manage daily tasks, and so much more, all inside a single app. In addition, active Directory Single Sign-On provides system administrators with a secure and easy login (SSO).
Website: https://connecteam.com
45. RingCentral Video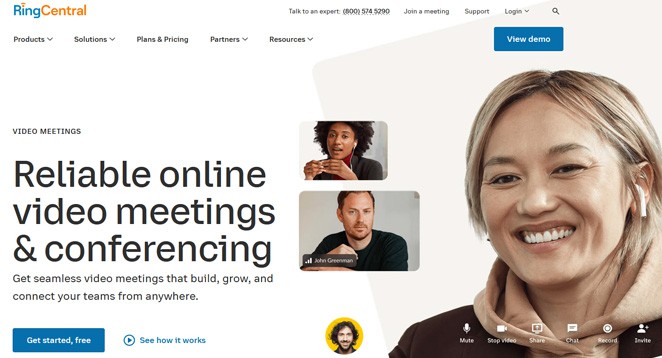 It is a cloud-based video conferencing platform that enables businesses to hold virtual meetings from various devices, including PCs, tablets, and mobile phones. In addition, the system provides capabilities for team collaboration, such as audio and video conferencing, screen sharing, and integrated messaging, among others.
RingCentral Video enables businesses to conduct team meetings from numerous remote locations through a browser or mobile app. The live chat and integrated messaging capabilities let users send direct messages to team members and converse during conference calls. During a meeting, participants may also share their screens and update documents in real time. You can consider it among the best task management software.
Website: https://www.ringcentral.com/video.html
Final words
It's easy to get influenced by unique features (that you'll probably never use) and purchase reliable task management software—however, the simpler the task management software, the better. Your objective is to facilitate the assignment, collaboration, and completion of tasks for you and your team. The steeper the learning curve, the more stressful the change will be for your team, and you will need to devote more time to training new employees on your task management system. We list the 45 best Task Management software to consider for your Business in 2023. Also read the best Video Hosting Services for the growth of your business and digital marketing.