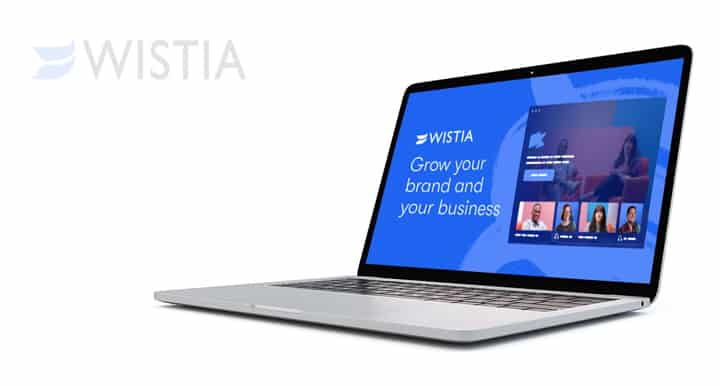 Wistia: The Best Video Hosting Service For Businesses: Wistia is a video hosting service for businesses that is of professional quality. Streaming on demand is supported by this platform, but streaming in real-time is not. Wistia, in contrast to many other video hosting platform options, places a significant emphasis on data analytics and video marketing. As an illustration, "heatmaps" is one of the main features offered by Wistia. These make it possible for video makers to determine which portions of their videos are mostly watched by viewers.
Wistia offers many helpful features connected to video search engine optimization and security. However, as discussed, Wistia is a video hosting provider that hosts on-demand video content. This platform can host video on demand (VOD) but does not handle live streaming. As a result, it presents a significant challenge for many broadcasters, and users are looking for alternatives to Wistia.
What is Wistia?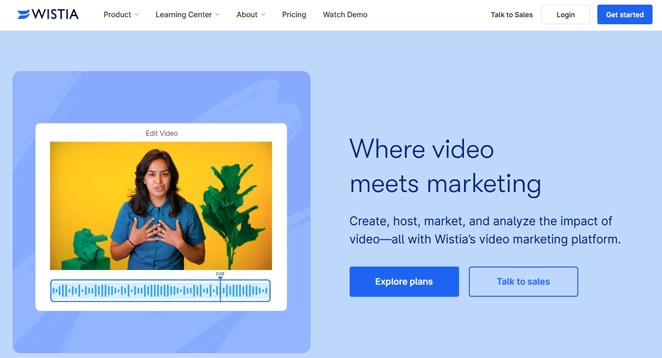 It is a complete video marketing platform that lets teams create, host, and assess the effectiveness of their videos — all in one location. The platform features include live streaming, video player customization, connectors with your marketing tech stack, industry-leading video analytics, lead-generating tools, and more. With learning resources and world-class support, Wistia has your back as you level up your video marketing approach. Today, over 425,000 marketers worldwide rely on Wistia to promote company success using video.
Website: www.wistia.com
Why should you Sign up for Wistia?
1. Create
Wistia makes it simple to host webinars and other live virtual events in seconds. You'll be able to develop individualized registration pages, plan out your events, and begin developing an audience with the help of Wistia's Live features. You will have complete command whenever it is time to go live. Your audience will be more interested in what you have to say if you include multiple panelists, dynamic layouts, and conversation. After the conclusion of your event, you may make edits to your webinars directly in Wistia to maintain a consistent on-demand experience and keep the flow of leads going.
Video may be cropped and edited in a few easy steps, making the finished product seem more polished and professional. In addition, Wistia's user-friendly video editor allows you to tidy up the starts and endings of videos and generate segments that can be uploaded to social media without bothering your production team.
2. Host
Wistia allows you to host and share your video content with others easily. Using the cloud-based video CMS provided by Wistia, you and your team can upload, categorize, and organize video content quickly. And when it comes to playback, Wistia delivers excellent dependability and rapid load times, ensuring that neither the speed of your site nor the viewing experience of your audience is ever compromised.
Wistia makes it incredibly simple to embed movies and share them with others. You may distribute movies to your website, LinkedIn, and Facebook with Wistia since the platform provides embed codes and makes uploading to social networks as easy as clicking a single button. Wistia automatically incorporates SEO metadata into its embed codes, which means that any videos you embed using Wistia will be optimized for search results on Google.
With Wistia's fully configurable video player, you can provide your audience with ad-free watching experiences that align with your brand. In addition, the video player gives you complete control over the appearance of your brand, from the ability to personalize the colors and settings to the incorporation of your company's logo. And with Channels, you can create gorgeous video galleries for your audience, allowing them to binge-watch your content and subscribe to it or swiftly browse through your video libraries, such as a help center, testimonial gallery, or instructional series.
Additionally, Wistia can easily interact with the marketing technology stack you already use. Send the data collected from your videos using Wistia's analytics to your marketing automation solutions, such as HubSpot, Adobe Marketo Engage, or Pardot. Connecting Wistia to other widely used marketing platforms such as Intercom, Mailchimp, Zendesk, Google Analytics, Descript, and Emma is also an option.
3. Measure
Wistia's advanced video analytics can help you understand the impact of your films, quantify the return on investment (ROI), and decide what you should create next. You can more easily see patterns over time and understand how your content performs with a consolidated dashboard that provides this information. In addition, you can see where viewers are viewing, re-watching, and skipping your material, all the way down to the individual viewer, with video heat maps, which provide information on how your audience is watching your videos second by second.
You may observe how different factors, such as player color and custom thumbnails, affect play rate and engagement with your video by using the A/B testing feature of video editing software. After the data has been collected, you will be able to select a winner, and the video that had the most impact on your audience will be automatically delivered without the need for you to make any changes to the embedded code.
Advantages of using Wistia
Wistia is a video marketing platform that provides teams with a centralized location from which to create, host, and evaluate the effectiveness of their videos.
Make webinars and other live virtual events that are captivating.
Easily host videos and share them with others.
A high-end video player that is perfectly compatible with the brand.
Perform an impact analysis on the video to demonstrate a return on investment.
Simple integration with the rest of your marketing technology stack.
Support and guidance from video marketing professionals.
Wistia Pricing Details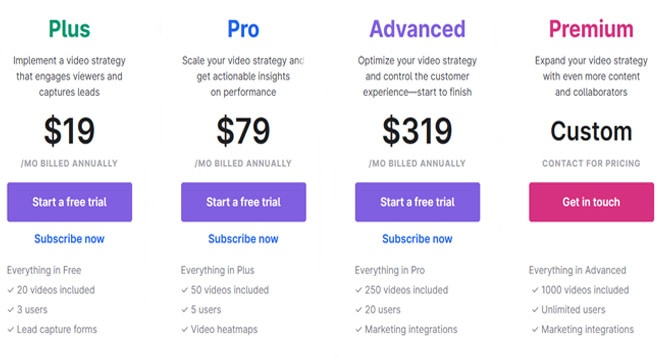 $19
All of our regular features are included with your free account. Innovative approaches to video analytics. Branding of Wistia on the player 3 video limit.
$79
All of our regular features are included in the price of $99. Innovative approaches to video analytics. No Wistia logo is displayed on the player. Upload an unlimited number of movies for 25 cents each month. Included in this are ten free videos.
$319
Every one of our default options and settings with Innovative approaches to video analytics. No Wistia logo is displayed on the player. Upload an unlimited number of movies for 25 cents each month. Included in this are ten free videos. Only one premium integration with HubSpot, Pardot, or Marketo is included. You will get support with top priority.
$799
Every one of our default options and settings and Innovative approaches to video analytics. No Wistia logo is displayed on the player. Upload an unlimited number of movies for 25 cents each month. Included in this are ten free videos. Only one premium integration with HubSpot, Pardot, or Marketo is included. Support with top priority and 24/7 help for urgent matters. In addition, you will get the Technical configuration of the account and Professional success management.
Why You Might Search for Wistia Alternatives?
Wistia will not be the best option for everyone, like any other video hosting service. There are several disadvantages to this platform.
For instance, Wistia can be expensive. With this platform, the fee increases as you add more videos to the service. So regardless of the plan you select, the more videos Wistia hosts for you, the more you will be charged for each video.
This platform needs more support for live streaming, which is increasingly popular, is a crucial drawback. Numerous broadcasters want a live streaming network that enables both on-demand media and live programming.
In addition, Wistia does not enable video distribution in China. Only the most fundamental integrations are offered and exclusive to the Advanced plan. Priority technical support is likewise reserved for Advanced programs alone.
In light of this, let's examine various Wistia alternatives for video hosting.
25 Best Wistia Alternatives & Competitors in 2023
Here we list some of the best Wistia alternatives and competitors for Video Hosting Service.
1. Vimeo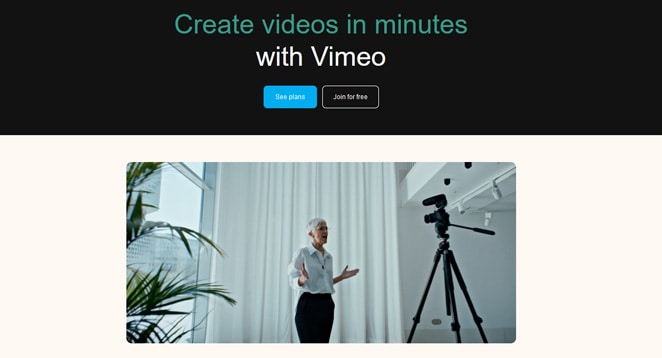 Vimeo is the most fantastic video software platform available anywhere in the world. It offers a range of cloud-based and desktop software solutions, making it possible for any individual professional, group, or organization to harness the power of video. Vimeo enables a growing community of over 287 million users in 190 countries to communicate using video by providing live streaming, interactive authoring, on-demand video hosting, and analytics. This community ranges from creative individuals to small businesses to the largest corporations in the world.
The live streaming platform provided by Vimeo offers ad-free watching in full HD along with user-defined branding and visuals that can be accessed directly from a web browser. While you are simulcasting to social media and apps via RTMP, you may attract your audience's attention by using chat, polls, and regulated question-and-answer sessions.
Vimeo, considered the standard for online video hosting, enables you to host, manage, and share your videos in high definition (HD) or even in 4K high dynamic range (HDR), all from within the Vimeo website. In addition, Vimeo will never place advertisements before, during, or after your video, the sort of plan you're on, from Free all the way up to Enterprise. It is one of the best video hosting service for businesses like Wistia.
Website: www.vimeo.com
2. Vadoo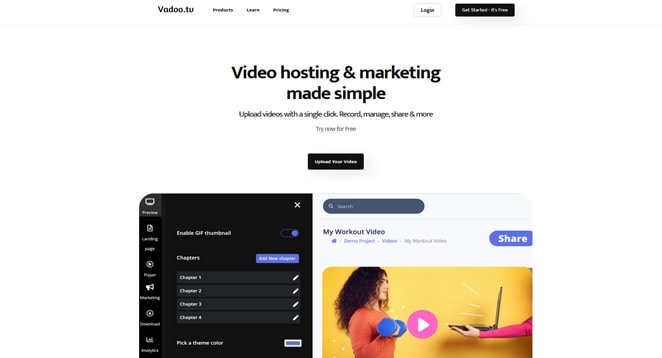 Vadootv is a video software hosted in the cloud and designed to assist businesses of all kinds in creating, hosting, and distributing videos. It features a landing page maker, which enables companies to modify web pages, execute promotional campaigns using marketing tools, and integrate with other tools. All of these capabilities are made possible via the use of this tool. In addition, the built-in Vadootv Player allows teams to create onboarding and customer support videos, sales and marketing videos, record and share training classes, and so much more. If you are looking for the best Wistia alternatives to Record, Share, and Manage Videos Securely, It is for you.
Website: https://www.vadoo.tv

3. StoryXpress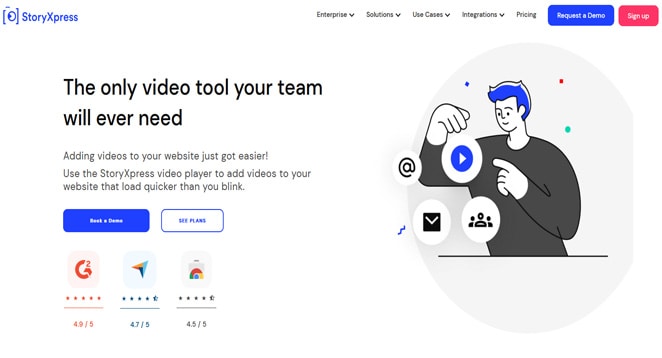 Since 2014, StoryXpress has been facilitating the creation of immersive video experiences. The software suite is being used productively by thousands of worldwide corporations, media firms, merchants, service providers, and educational institutions, engaging an engaged community of more than 400,000 users.
StoryXpress can accomplish this by inventing previously considered unachievable technologies,livering features of enterprise-grade security, viding customer assistance without making any excuses, anding the experience and resources of global infrastructure.
StoryXpress is the engine that drives some of the most well-known companies in the world, such as Target, Johnson & Johnson, Revlon, Hanes, and Unilever. It was designed to assist in the expansion of businesses and the improvement of overall departmental efficiency.
StoryXpress gives you the ability to do it all, from communicating with your colleagues and sending out video sales pitches to generating product demo videos and recording videos for customer support and communication. You can consider it as the best video hosting service for businesses like Wistia.
Website: https://storyxpress.co

4. Vidyard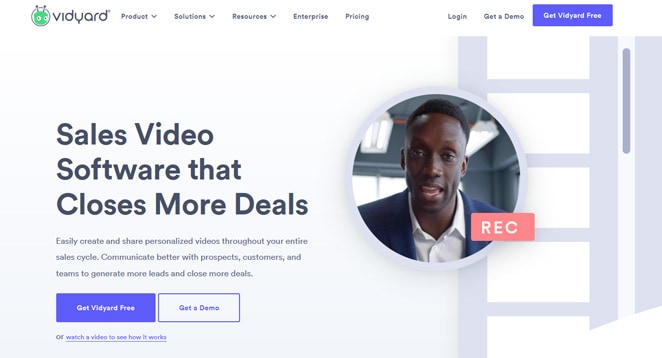 Vidyard's Video Marketing Platform was developed specifically for marketers. It provides all of the tools and analytics necessary to optimize audience engagement, drive prospects through the sales funnel, and measure the actual effect of your video and its return on investment (ROI).
Add lead capture forms and calls to action straight into your videos to increase the number of leads generated from your video assets.
Utilize the data from your videos in your marketing automation and customer video management platform so that you can only target your most engaged prospects.
You should measure how well your video is performing, and you should report on how the video affects your bottom line.
Gain insight into who is seeing your content and for how long.
You can consider it among the best Wistia alternative video hosting service for businesses.
Website: https://www.vidyard.com

5. Brightcove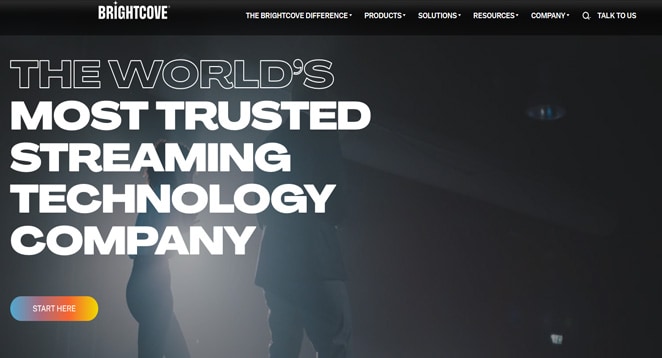 Like other best Wistia alternatives on this list, Brightcove develops the most dependable, scalable, and secure streaming technology solutions in the world. These solutions are designed to strengthen the connection between businesses and their audiences, regardless of where the audiences are located or the devices they use to consume content. Brightcove's intelligent video platform helps businesses to sell to customers more efficiently, media leaders to stream and monetize content more consistently, and any organization to communicate with team members more successfully. It is now available in more than 80 countries. We are constantly pushing the limits of what video can accomplish, which is shown in the fact that we have won two Technology and Engineering Emmy® Awards for innovation, have an uptime that routinely leads the industry, and has unrivaled scalability.
Website: https://www.brightcove.com

6. Adilo
It is a cloud-based video hosting and marketing platform that enables businesses to send personalized video messages, stream videos in high definition, standard definition, high dynamic range, and 4K resolution, create personal channels, and embed videos on their website, landing pages, or blogs.
The program enables producers to host audio files or podcasts, establish content libraries to organize videos, upload several videos at once using drag-and-drop, and copy, remove, or replace them. Adilo enables teams to work on a single platform by allowing administrators to add multiple users and assign access depending on roles. The analytics feature gives marketers the ability to monitor and measure the success of videos, as well as engagement, trends, view histories, and impressions.
The visual watermarking function of Adilo is able to produce user-specific watermarks in real time by using the viewer's session data, including the viewer's IP address and geo coordinates. As a result, users can record their screens, onboard new team members, give tasks through video alerts and create visual courses for paying subscribers. In addition, it assists with creating individualized video players that include various features, like autoplay, looping, picture thumbnails, password locking, adaptive streaming, and more. You can consider it the best video hosting service for businesses like Wistia; to Record, Share, and Manage Videos Securely.
Website: https://adilo.com

7. Kaltura Video Platform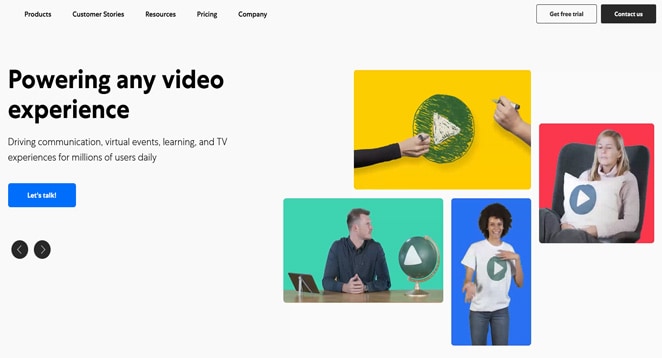 Every day, Kaltura powers millions of users' communication, learning, and TV experiences. It also powers virtual events. Our Video Experience Cloud offers live, real-time, and on-demand video solutions for businesses operating in all industries and industry-specific solutions for educational institutions, media, and telecom businesses. It is one of the best Wistia alternative and a complete video platform for Advertiser.
Kaltura is the industry leader when it comes to cloud-based video experiences. The company provides video SaaS solutions for virtual events, virtual classrooms, meetings, webinars, town halls, and live streaming, in addition to cloud TV, video asset management, and cloud TV.
The Kaltura Video Experience Cloud is an open-source platform that provides your audience with highly dependable, adaptable, and scalable video experiences.
Around 50,000 organizations worldwide rely on the video cloud solutions provided by Kaltura to power their communications, virtual events, education and training programs, and TV experiences. These solutions enable organizations to reach millions of users daily.
Website: https://corp.kaltura.com

8. Dacast
Dacast, formerly known as vzaar, is a business-oriented online video hosting platform that enables businesses to quickly and easily upload and share their own videos on the internet. The software provides various design options that may be customized, allowing you to produce a video consistent with your organization's branding. For example, you may add watermarking, logos calls to action, subtitles, social sharing, other languages, and more. Encoding, security, analytics, application programming interfaces (APIs), and content management are other capabilities made possible by the suite of tools. It is a complete video platform for publishers and one of the best alternatives to Wistia currently available.
This multi-compatible professional video platform may be played on personal computers (PCs), Apple computers (Macs), iOS devices (iPhone and iPad), Android devices, and Windows 7 computers. In addition, it offers a range of extra features and benefits, all of which are intended to simplify the processes of uploading, encoding, selecting the quality, customizing the appearance, maintaining the security, and managing your videos. This software is available at a good business for businesses of any size, with many pricing choices catering to small and large firms.
Website: https://www.dacast.com

9. Dubb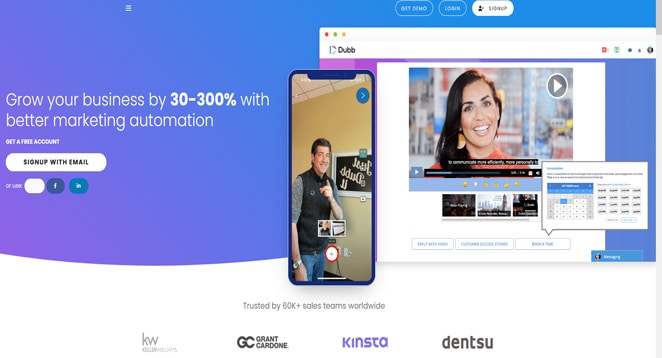 Dubb is a video management system that offers everything a business requires to flourish with video and meets all of its demands in this regard. Videos may be made by professionals using a wide variety of tools and add-ons designed to make their jobs easier. Videos may be branded and customized for organizations through bespoke video landing pages. The platform gives managers the ability to distribute videos and track them using individualized email templates. It is most reliable video hosting solution for businesses similar to Wistia.
Website: https://dubb.com

10. Cincopa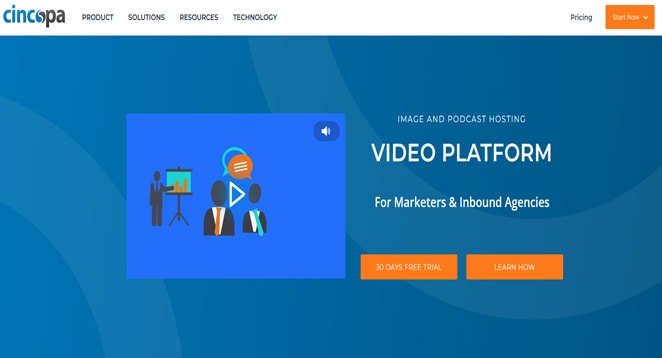 Cincopa is a cloud-based multimedia system that aims to create businesses in the production of videos by facilitating the addition of annotations, call-to-action (CTA) buttons, and forms, as well as the promotion of these videos via a variety of platforms. One single platform gives professionals the ability to streamline lead generation, audience targeting, digital asset management, and user engagement operations.
Cincopa's video hosting platform enables users to post several videos simultaneously, browse videos from various devices, and distribute digital content. Access control, asset classification, custom branding, metadata management, analytics, labeling, social sharing, and a variety more are some of the features that it offers. In addition, it grants permission for businesses to embed videos on different websites, add adverts, and connect with advertisement networks, all of which contribute to an increase in brand recognition. A complete video platform for Publishers and among the best Wistia alternatives.
Cincopa offers its customers an application programming interface (API), enabling businesses to integrate the platform with various third-party software applications, including Slack, WordPress, HubSpot, Salesforce, Zendesk, Moodle, Magento, Shopify, Drupal, Joomla, and more. In addition, the program enables users to take pictures, save them in a centralized repository, automatically create backups of their data, and capture a media library.
Website: https://www.cincopa.com

11. Boosted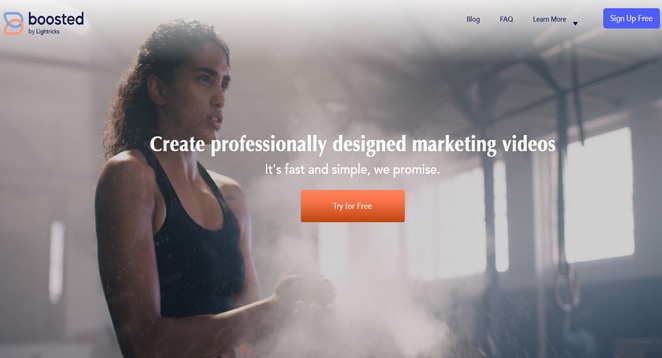 If you are looking for the best Wistia alternatives for Record, Share, and Manage Videos Securely, Boosted is a marketing video-making software that is designed to assist businesses and professionals create advertising with stock clips using bespoke logos, text, music, and other elements. It does this by leveraging stock footage. In addition, it offers best practices for social media that are already built-in, enabling users to convert their following into customers.
Some of Boosted's most essential features are templates, a music library, distinctive typefaces, a photo and video library, and the ability to customize branding. Using the platform, corporations are able to create videos by making use of pre-made templates, which can then be customized to meet the specific needs of each user. In addition, the service gives users access to a Getty Picture library, enabling them to create videos using various image and video collections that can be customized with fonts, titles, overlays, and graphics.
Boosted allows managers to create promotional videos equipped with an array of built-in video marketing features. These videos can then be distributed on platforms like Instagram, Facebook, YouTube, TikTok, and LinkedIn. In addition, the program is compatible with a wide variety of video formats, making it suitable for use across several social media platforms.
Website: https://boosted.lightricks.com

12. Hippo Video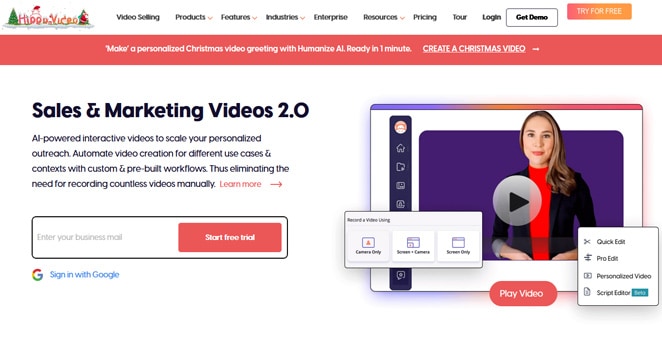 Hippo Video is a video management application that operates in the cloud and enables users to record video, audio, and screen activity; these recordings may then be edited and shared. The platform may be used to create a variety of different types of content, including but not limited to client testimonials, how-to manuals, explainer videos, and training content. It is also considered as the best among the other Wistia alternatives on this list.
Through a web launcher and an extension for Google Chrome, users can record videos with Hippo Video. Users have the option to record their screen, audio, and camera simultaneously. Links to guest recordings can be shared with anybody, enabling it possible for those who are not registered users to create videos. Videos created on other platforms may also be imported into Hippo Video for the purpose of editing. Users are able to trim, chop, crop, and annotate videos using the fast editing tools, whilst using the pro editing tools enables users to add any number of background music or narration tracks, alter clip settings, and attach introduction and end cards.
Exports of videos from Hippo Video may be made available on platforms such as YouTube, Vimeo, Google Drive, and Google Classroom. Additionally, connections with Zendesk and Freshdesk make it possible to add videos to support issues. Users can restrict who may view their shared videos through password security, and users can also set an expiration date for links to shared videos. Users are able to gain insight into the number of views and engagement with videos thanks to real-time analytics.
Website: https://www.hippovideo.io

13. EnterpriseTube
A Comprehensive Enterprise Live and On-Demand Video Streaming Solution (similar to YouTube) to satisfy the video demands of corporate enterprises, such as for Corporate Communication, Training, Learning, etc. Integrates with Enterprise Content Caching and Content Distribution Technologies to tackle the widespread problem of bandwidth congestion in today's businesses. You can consider this best Wistia alternative to Record, Share, and Manage Videos Securely.
Website: https://www.vidizmo.com

14. Broker Studio
Cloud-based and software-friendly, Dream Broker Studio manages online video production, distribution, and consumption across their entire life cycle. It is designed for end-to-end workflows and allows any employee to effortlessly create, edit, and share online videos. This functionality is available on desktop computers as well as mobile devices. It is among the best video hosting service for businesses like Wistia.
Website: https://dreambroker.com

15. Panopto
Panopto is the preeminent option for all-in-one lecture capture and video management software in the world of higher education and corporate training.
When it comes to higher education, we assist educators and technology professionals in enhancing student engagement and learning outcomes by making it simple to record in-person lectures and live virtual classes, as well as facilitating storage and sharing in a way that is not only streamlined but also deeply integrated with various learning management systems and video conferencing solutions. It is a complete video platform for eLearning and the best among other Wistia alternatives.
In the field of corporate learning and development, we assist businesses in improving employee engagement across all phases of organizational learning by enabling the production and sharing of interactive video content that has definite and measurable results.
Website: https://www.panopto.com

16. TwentyThree
Through the use of our video marketing platform, which improves the efficiency of marketing teams and their ability to achieve success with video, we at TwentyThree have made it our mission to alter the video marketing environment. TwentyThree provides services to over 300 brands, including Audi, Spotify, Carlsberg, Telia, and Novo Nordisk. As a result, TwentyThree is the platform of choice for some of the most successful marketing teams in the world to power their video marketing strategy. This approach includes audience analytics, video tools, social video scheduling, live streaming, and webinars.
TwentyThree provides marketing teams with all the tools they need to properly integrate and execute video across all platforms, including their website, and track video analytics. The TwentyThree platform allows marketers to host and embed videos with a leading 4K HD Player, generate leads from video forms, develop bespoke video hubs, and host webinars. You can consider TwentyThree as the best Wistia alternative for creating, editing and sharing videos.
Through the use of TwentyThree, you will be able to edit, track, and analyze your videos across many channels. As a result, gain a deeper comprehension of your video analytics and connect the information gleaned from your videos to your customer video management and marketing automation platforms.
Website: https://www.twentythree.com

17. JW Player
The JW Player is an online video management software that may enable businesses to publish, stream, and distribute high-quality videos on a centralized platform. It was designed with this purpose in mind. In addition, administrators may analyze ad revenue to manage monetization and employ video intelligence to boost audience engagement. It is without doubt the best Wistia alternative video hosting service.
Website: https://www.jwplayer.com

18. Uscreen Video Platform
Uscreen is a video-on-demand (VOD) platform that enables businesses to better organize, manage, and monetize their content. It is hosted in the cloud. Users can upload content in bulk, add individualized filters, and organize it into various categories.
The tool gives professionals the ability to stream live videos, plan events in advance, and create overlays with countdowns. Users of Uscreen are given the ability to build their own branded streaming services with predefined video website themes and templates. You should consider it as the best video hosting service and alternative to Wistia.
Businesses can also monetize videos by setting up subscriptions, rentals, or one-time buys, and they can also manage coupons and promotions based on which subscribers they have. The video player module of this application offers a wide variety of features, including auto-play, picture-in-picture, subtitles, speed adjustment, and quality selector, amongst others.
Website: https://www.uscreen.tv

19. Spotlightr
VooPlayer is an interactive video hosting and marketing platform that was designed to create businesses in the production of individualized and embeddable marketing videos. Its features include hybrid video hosting, sophisticated security, marketing tools, analytics, and more. In addition, through Zapier integration, users can connect to various popular programs, like CRM and email. It is among the best video editor online and Wistia alternative for creating, editing and sharing videos.
Website: https://spotlightr.com
20. Spott
Like other best Wistia alternative for creating, editing and sharing videos, Spott is a content marketing tool that enables marketing teams to make content interactive by adding shoppable links and pdf documents to images and videos to display the most recent product promotions. In addition, teams may quickly and simply add interactive layers to any images and videos with Spott.
Add calls to action and tag items to boost conversions and user engagement among purchasers. With Spott, businesses can obtain more value from their published images and videos by adding interactive components to make them more actionable and quantifiable. It is made possible through the use of a simple process.
21. Restream
Restream is a service that allows businesses, content producers, influencers, and bloggers to stream live and recorded content to audiences across various social media channels, including YouTube, Facebook, Twitch, Mixer, and more. To improve the streaming quality, users may monitor the bitrate, frames per second (FPS), and frame dropouts across many videos. It is the most reliable Wistia alternative for creating, editing and sharing videos and considered as the most reliable video hosting service for businesses.
To facilitate engagement with audiences, Restream enables users to modify the chat experience by using configurable templates or themes, adding a chatbox to video broadcasts, and managing various conversations from a centralized site. It offers various features, including updating metadata, automatic warnings, live voiceovers and translations, bots, text-to-speech alerts, customizable branding, and plenty more. Restream additionally has a scheduling capability that allows administrators to upload previously recorded videos and arrange broadcasts according to date, time, and platform. This functionality is included as standard.
Website: https://restream.io
22. Wipster
It is a cloud-based digital asset publishing and collaboration management solution for small agencies, production businesses, and freelancers. Its purpose is to manage the review and approval processes for video, audio, and document projects and to help speed up these processes.
The platform makes it possible for content teams, product managers, and other stakeholders to create and work on projects in real time and manage cycles that include review, feedback, approvals, analytics, and publication.
Wipster enables businesses to include any number of employees in a project group while restricting the number of people who may add to a predetermined number. It is the reliable video hosting service for businesses and also the best Wistia alternative.
Website: https://www.wipster.io

23. InVideo
If you are searching for the best Wistia alternatives, InVideo is a web-based video editing application that gives businesses in any sector the ability to produce videos with individualized content and branding and distribute such videos across various social networking sites and websites.
It offers powerful editing features, pre-built templates, and a content library that may be used. Some of the internet repositories that it pulls images and videos from Storyblocks and Shutterstock.
The collection of over 1500 pre-built templates includes video templates that can be adapted for every business purpose, including marketing, event planning, promotions, branding, Instagram stories, and more.
Website: https://invideo.io

24. YuJa
YuJa is a video engagement platform hosted in the cloud and designed to meet the needs of businesses of all kinds, as well as organizations in the K-12 and higher education sectors. The platform is equipped with many features, including video management, digital conferencing, a digital classroom, video test proctoring, and more. YuJa offers mobile video features, such as HTML5 players and native applications, which are compatible with mobile devices running the iOS and Android operating systems. It is the best Wistia alternative you can consider in 2023.
Website: https://www.yuja.com

25. VBrick
Vbrick is a cloud-based service that enables businesses to capture, manage, and distribute video content across various platforms. The software allows users to capture video content from various sources, including television tuners, webcams, web conferencing tools, and security systems.
Vbrick enables businesses to improve their customers' experiences by adding subtitles and captions to videos by uploading SubRip (.srt) files that add either structured or unformatted text. Video editor users have access to a centralized platform that enables them to chop longer videos into shorter ones, add limits, and remove outdated content. In addition, users can alter and manage live streams by using transmuting, transrating, bundling, and adaptive bit rate approaches. It is the last but not least in the list of our best Wistia alternatives for for creating, editing and sharing videos.
Website: https://vbrick.com
26. Enterprise Video Suite
Enterprise Video Suite is a specialized live-streaming platform that is professional in nature. Users of CorporateTube get access to a video collection, as well as the ability to host, edit, and share videos. This product from movingimage is known as the Enterprise Video Suite.
Final Words
Wistia is a reliable and high-quality media player solution. In a business context, the price is reasonable, considering the value you receive. Fast streaming as well as loading times when embedded. It would be fantastic if you could afford it because the software and hosting are of the highest quality. My experience using it as an administrator has been excellent, and I have no issues with the product. Wistia is, without a doubt, a very high-quality video hosting service. They have relationships with companies in the business of hosting programs, such as Podia. The quality of the videos and all of Wistia's other features are also outstanding. For example, embedding is a beneficial technique. We list the best Wistia alternatives for your convenience.