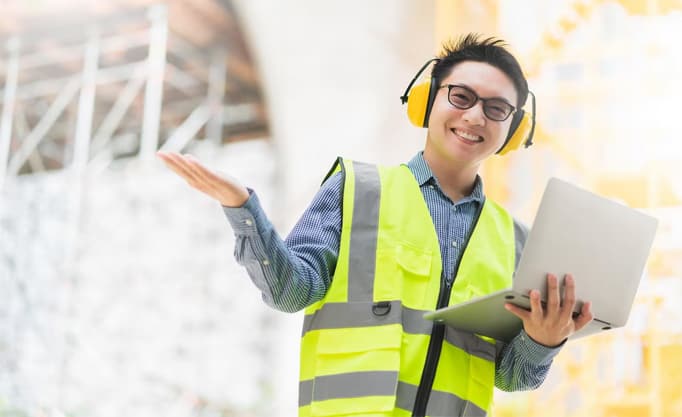 What is Field Service Management?
Field service management (FSM) coordinates a company's resources, including workers and equipment, in work activities and operations conducted outside the company's premises. It often entails sending employees or contractors to a place outside of the company's facilities to install, maintain, or repair equipment, systems, or assets. Field service managers organize the work of field service practitioners who provide professional, specialized, or unique services to clients while keeping track of an organization's field resources.
Benefits of Field Service Management
Effective field service management solutions link data from corporate asset management systems with remote data from the field, including IoT and mobile devices, to assist a firm in managing its resources.
Some of the benefits of field service management are:
Improving uptime: Detect needed repairs sooner in the asset lifespan for always-on operations, high performance, and decreased downtime.
Shortening means repair time and increasing first-time fix rates: On a single platform, ensure the proper technician is allocated to the job and they have access to the right data at the right time.
Empowering field service technicians: Provide remote support and mobile capabilities that help them remain safe, comply, troubleshoot, and perform job duties effectively.
Lowering field service costs: Use data and insights to accomplish maintenance jobs on schedule and most effectively and efficiently as possible
12 Best Field Service Management in 2023
How can software help you manage your field service? Here we list some of the best field service management software you can consider in 2023.
1. GPS Insight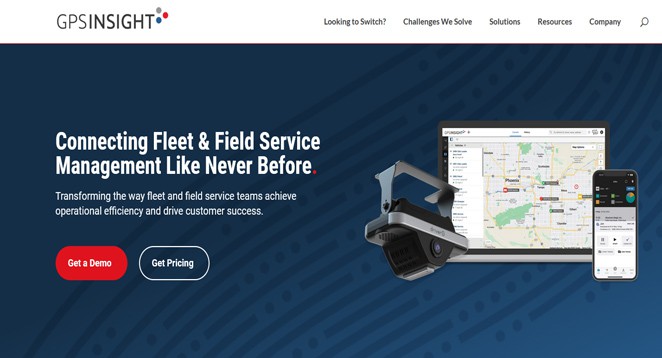 Field Service Management by GPS Insight is work order management software that allows organizations to create work orders, monitor personnel whereabouts, handle clients, track leads, and more from a single platform. In addition, employees may plan work daily, weekly, or monthly depending on service location and personnel availability using the built-in calendar.
Field Service Management by GPS Insight allows technicians to create quotations and estimates using information such as SKU, description, service cost, equipment, pricing, pertinent remarks, and customer signatures. It enables team members to create invoices and take payments by check, credit card, and cash. In addition, it allows businesses to produce and manage client data, including location, billing, activity, audit, and contact information.
GPS Insight Field Service Management is a cloud-based accounting system. It also allows employees to create work orders with data like title, facility, address, complaint, technician name, and total expenses.
Website: https://www.gpsinsight.com
2. WorkWave Service
WorkWave Service is a web-based field service management software designed specifically for cleaning, lawn, pest, HVAC, residential maid service, and landscape professionals.
It includes scheduling, sales and estimating, billing, a mobile app, property measuring, and more. Users may easily view their driving distance and time between appointments. Moreover, WorkWave Service rapidly identifies and indicates any schedule issues.
A high-level perspective of information relating to personnel, product, and material management is provided by the WorkWave Service dashboard. Users may also monitor outstanding account receivable totals, current work order statuses, expected revenues, and capacity levels in a single screen.
Website: https://www.workwave.com
3. ServiceTitan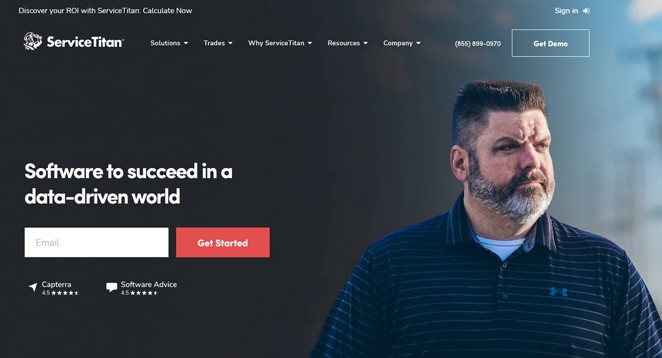 ServiceTitan, the leading field service management system, provides an all-in-one web-based solution for managing your business. It also provides an award-winning tablet app to give your technicians the tools to finish projects and maximize client value. Imagine scheduling and dispatching calls, invoicing clients, receiving payments in the field, obtaining company performance statistics, and analyzing sales patterns with a single software system.
Use ServiceTitan to measure the performance of your technicians and comfort experts, including using leaderboards to inspire competition and generate more sales. This program will suggest areas of your organization that may be improved, such as selecting particular training for your team. In addition, monitor which marketing channels generate phone calls to maximize your return on investment. To ensure that no revenue is lost, ServiceTitan also tracks unsold estimates. All of these and more are included right out of the box.
Website: https://www.servicetitan.com
4. RazorSync
RazorSync's Field Service Software enables service providers to plan and monitor projects, manage personnel, estimate, quote, process payments, and update client data from the job site or in the office, online or offline. As a result, customers save time, save operating expenses, acquire a business, shorten billing cycles, and improve customer satisfaction with RazorSync Field Management Software.
RazorSync's cheap software allows our customers to manage their customers and field employees, plan and dispatch personnel, optimize routes with Google Maps connectivity, and eliminate duplicate input and excessive paperwork with the QuickBooks interface. RazorSync makes it simple to estimate, quote, invoice, and collect mobile payments in the field for a more effective billing cycle that eliminates paperwork and saves you hours every week. RazorSync increases productivity and efficiency by reducing mistakes to boost cash flow and decrease paperwork.
Website: https://www.razorsync.com
5. WorkPal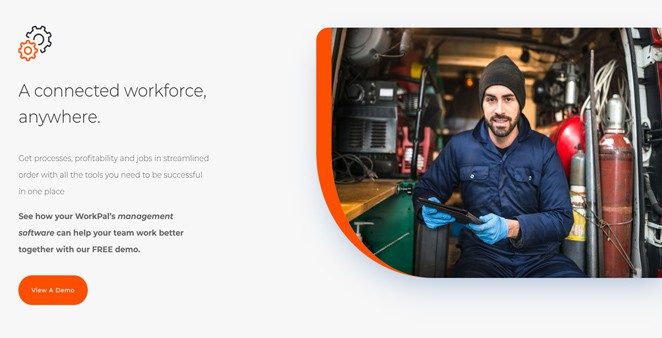 WorkPal is a cloud-based, end-to-end mobile workforce management solution to ease task assignment, reporting, monitoring, and client billing across several sectors. The system is highly suited to companies responsible for such things as fire safety & testing, facilities management, winter maintenance, plumbing & heating, grounds maintenance, security & CCTV installation, building services, ventilation services, air & refrigeration services, electrical contractors, gas installation, contract cleaning, environmental services, property maintenance, lift maintenance, and more.
Website: https://yourworkpal.com
6. Synchroteam
Manage mobile workforces effectively, streamline company procedures, and cut expenses. Scheduling, dispatch, calendar, job management, reporting, CRM, inventory management, time tracking, invoicing, and Google maps are just a few of the capabilities available in Synchroteam. Cloud-based SaaS with iOS and Android mobile applications. Integrates with QuickBooks, Xero, Sage, and Zoho CRM.
Website: https://www.synchroteam.com
7. Kickserv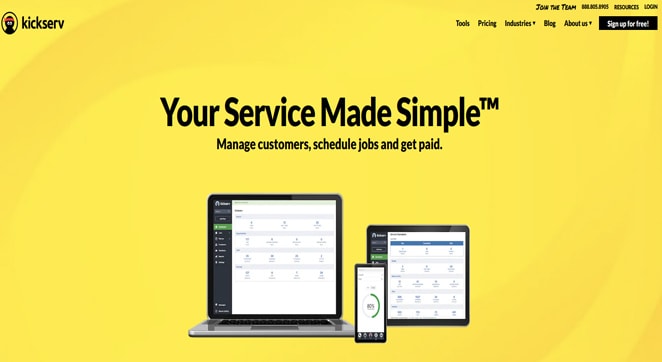 It was developed & Trusted by 1000s of Service Professionals! Complete work management and customer relationship management (CRM), scheduling, estimations, mobile access, invoicing, dispatching, and other services are provided by Kickserv. Kickserv also synchronizes with QuickBooks Desktop, QuickBooks Online, and Xero, allowing users to avoid double entering and save time and money.
Kickserv is intended for plumbers, HVAC, computer repair, electricians, handypersons, carpet cleaning, landscaping and lawn care, painting, pool maintenance, maid service, pest control, roofing, contracting appliance repair, and a wide range of other sectors. With a shared online calendar where you can complete work, Kickserv helps handle bids and estimates, jobs, scheduling, dispatch, invoicing, and chores. In addition, we offer a two-way interface that eliminates double entering if you use Quickbooks.
Website: https://www.kickserv.com
8. The Service Program
An integrated software add-on for QuickBooks Desktop and QuickBooks Online, The Service Program is a flexible, multi-purpose service management solution. The customized solution is available in various scalable SaaS packages. It is aimed at businesses delivering a variety of service-based professions such as swimming pool maintenance, garden and lawn care, pest control and sanitation, and so on.
The Service Program claims to manage both the conventional back office tasks and those carried out in the field. It is deployed online and compatible with local Windows settings and mobile platforms. Service dispatch, work order issuance, and tracking, calendar-based appointment scheduling, lead tracking, and contact management are essential. The system also allows for the creation of estimates and quotations and billing and invoicing capabilities, with client information securely synchronized between The Service Program and QuickBooks, and vice versa.
Website: https://theserviceprogram.com
9. Less Paper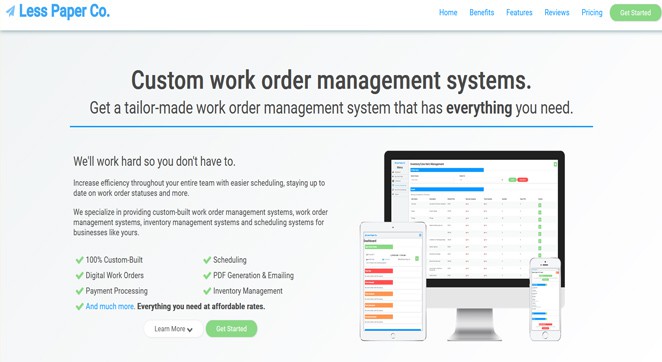 Less Paper is a cloud-based work order management solution.Less Paper intends to provide users with a flexible work order management solution by incorporating dynamic work orders, electronic signature capture, a calendar-based scheduling system, and PDF production and export of work orders.
It gives consumers the tools to generate, update, and track work orders to help them manage them successfully. Users of Less Paper may gather client signatures electronically, automatically sync work orders with field employees, and instantaneously transmit work order receipts as PDF files to increase user productivity.
Website: https://lesspaperco.com
10. Joblogic
It provides capabilities for task management, engineer scheduling, quoting, pricing, invoicing, and asset monitoring. "ecosystem" refers to a group working in the construction industry. Joblogic provides these applications for both iOS and Android.
Users may transmit work specifics to their engineers via the specifically built mobile application, including addresses, site notes, office remarks, site asset details, and past maintenance information. Engineers may then record in real-time any costs, mileage, and parts used and gather client signatures to email back to the office users. This data may then be use to produce engineer timesheets. Using Google Maps connectivity via the customer interface, GPS tracking may also be used to check engineer whereabouts and trip records.
Website: https://www.joblogic.com
11. Salesforce Field Service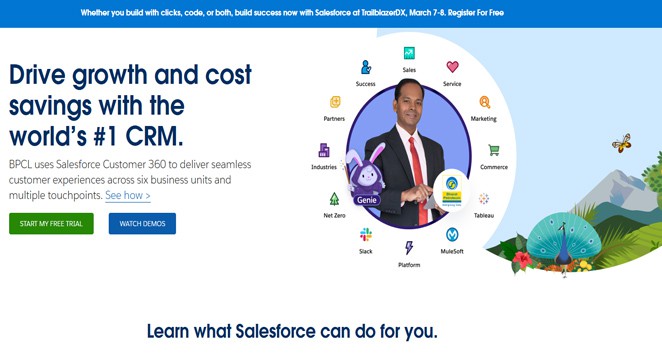 Salesforce Field Service Lightning is a cloud-based field service management tool that assists enterprises in managing their mobile workforce. "ecosystem" refers to a group working in the construction sector.
It provides complete schedule optimization capabilities that automatically assign assignments to the appropriate resource based on location, talents, time, and other customized factors. The program also tracks equipment and workers.
Website: https://www.salesforce.com
12. Smart Service
Smart Service is a straight QuickBooks add-on that adds scheduling, dispatching, and other features, turning QuickBooks into a one-stop shop for all the administrative needs of a contemporary field service firm. In addition, customer management, work orders, routing, time tracking, inventory, estimations, digital forms, workforce tracking, service history, and a slew of other user-friendly capabilities are also added to QuickBooks by the mobile Smart Service system.
Website: https://www.smartservice.com
Final Words
Field service management is generally the method for organizing field service activities. It involves scheduling work orders, assigning service professionals, tracking labor hours and task status, and billing for completed jobs. It covers operations like:
Management of preventative maintenance contracts
Service dispatching and scheduling
Installation projects and job costs
Management of the workforce
Optimization of resource routing
Management of parts and inventories
Integrated billing
Customer portals
Quoting
Analytics and Reporting
Checklists for Service Technicians with Advanced Functions.