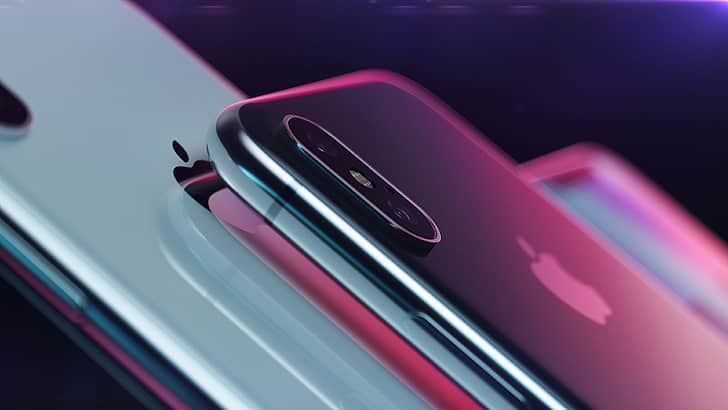 Best iPhone Data Recovery Software in 2023: A system or application fault may have caused the data loss on your iPhone or iPad. Failure to jailbreak or incomplete iOS upgrade, Broken device, there are several causes for missing data. We list some of the best iPhone data recovery software which offers data recovery feature compatible with all iOS devices. The data recovery software can immediately scan your iPhone or extract missing data from iOS backups saved in iTunes. Multiple sorts of data are recoverable from iOS devices. Learn how to restore lost iPhone data by reading on.
What is iOS Data Recovery Software?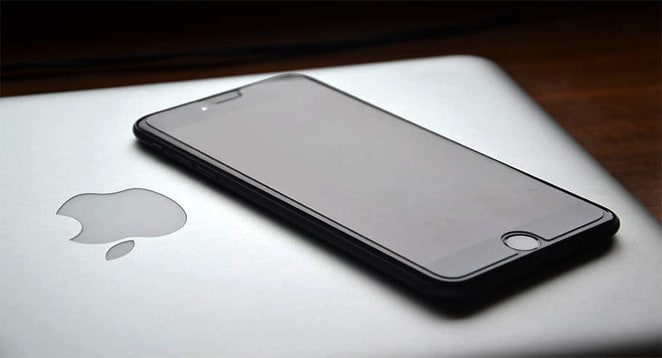 iOS Data Recovery Software allows you to retrieve various files and data kinds from your iPhone, iPad, or iPod. For example, you can extract photographs and videos, contacts and calendar events, voice memos and text notes, bookmarks, chats, and text messages (SMS), in addition to your call history. However, if you are running iOS 13 or later, you can only retrieve your Call History if your local iOS backups are encrypted.
In general, recovering data from iOS devices is more complex than recovering files from a Mac. First, the iOS data recovery software immediately analyses your iOS device for missing data, creating an invisible iTunes backup file, including all of the device's databases. Then, it uses its own iOS data recovery tools to recreate your iOS files and data structures, listing everything that may be recovered.
20 Best iPhone Data Recovery Software in 2023
Here we list some of the best iPhone data recovery software you can consider in 2023.
1. Disk Drill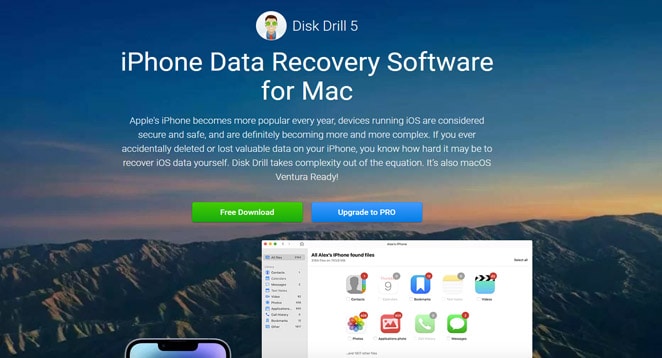 It is a popular iPhone data recovery software that provides professional data recovery performance in attractive packaging. Disk Drill's easy user interface has enabled hundreds of thousands of users to recover data from all major devices, including iPhones and other iOS devices, without difficulty.
To recover data from an iPhone using Disk Drill for Mac, connect your iPhone to your Mac and select the Recover button to begin a scan. Within minutes, you should be able to see all recovered files. In addition, disk Drill for Mac allows you to preview files before recovery, making it simple to recover just the essential data.
Disk Drill for Mac may scan any iTunes backups saved on your Mac. It enables the recovery of files that were deleted a very long time ago, which is one of the grounds why Disk Drill is among the best iPhone data recovery software.
The Disk Drill free version for Mac previews all recoverable files but cannot recover them. To do this, you must buy the $89.00 PRO version, which can recover over 400 different file types.
2. Wondershare Dr.Fone
Wondershare Dr.Fone is an iOS data recovery software with one of the most excellent recovery rates in the market. The firm has been in the data recovery industry for more than 15 years, and users and critics regularly appreciate its solutions.
Whether you need to recover deleted contacts, text messages, images, or voice notes, Wondershare Dr.Fone can do it all. This recovery software can recover data directly from an iOS device, iTunes backup files, and iCloud. No matter how you recover your files, you will always be able to complete the process in a few clicks.
You may scan your iPhone for free using the free version of Wondershare Dr.Fone, but it cannot recover your data. However, it is wonderful to have the opportunity to test the software before purchasing a lifetime subscription for $79.95 or an annual license for $69.95. However you can consider it among the top iPhone data recovery software.
Website: https://drfone.wondershare.net
3. Stellar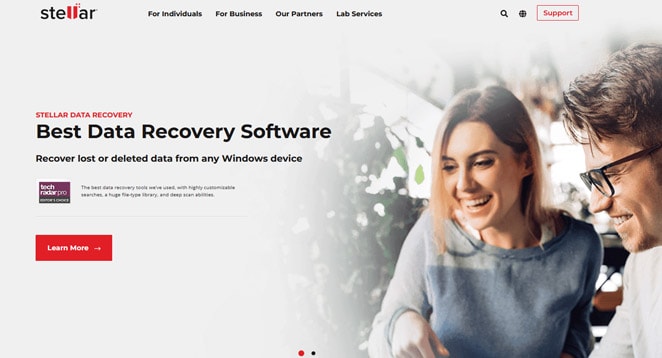 It is instantly apparent that Stellar Data Recovery for iPhone is a professional piece of software due to its slick user interface. Using this iPhone recovery software, it is just as simple to recover data from older iPhones as from the most recent models, including the iPhone 14,iPhone 12 Pro, 11 Pro, 11, XS, XS Max, XR, and X.
Using Stellar Data Recovery for iPhone, you must choose the kind of data you want to retrieve, start the scan process, and store recovered data in an appropriate place on your computer. For example, stellar Data Recovery for iPhone can retrieve Camera Roll, messages, notes, reminders, voice memos, contacts, and more.
As is common with free iOS recovery software, the free version of Stellar Data Recovery for iPhone can only display previews of recoverable files and cannot recover them. The good news is that the cheapest version of this iPhone data recovery software costs just $39.99 for one year of usage.
Website: https://www.stellarinfo.com
4. iMyfone D-Back
Would you like to recover your iPhone's notes, images, videos, messages, contacts, call history, Safari history, and voice memos? If this is the case, iMyfone D-Back is an excellent option since it enables iPhone recovery without needing specialized expertise or abilities.
We appreciate that iMyfone D-Back can resolve typical system faults, such as when iPhones freeze on the white Apple logo. However, we prefer the unlimited lifetime plan to be more pricey. It seems excessive to pay $69.95 to recover data when so many inexpensive options exist.
Free version: The free trial allows you to see lost data. To recover the must need from acquiring the full version of iMyfone D-Back.
Website: https://www.imyfone.com
5. Tenorshare UltData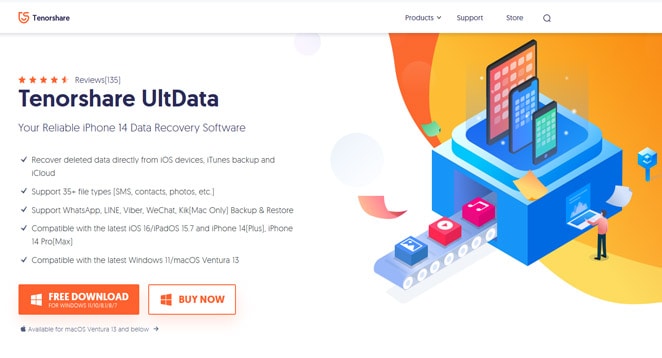 Another well-known software company, Tenorshare, focuses mainly on smartphone data recovery and system repair. Restore from the Device, Restoring from iTunes backup, and Restoring from the iCloud backup are the three kinds of iOS recovery offered by Tenorshare UltData. It is usual for iPhone data recovery software. Regardless, it works as claimed for SMS messages, Voice Memos, and Safari History. It is also very compatible, supporting previous devices like the iPhone 4 and iPod 1 in addition to all iPad models.
Free version: Tenorshare Ultdata does not provide free data recovery. However, you may preview an unlimited number of files. It helps identify whether or not your data is still recoverable. You will also be able to see all files discovered by Tenorshare Ultdata; however, you will be requested to upgrade.
Website: https://www.tenorshare.net
6. iBeesoft
IBeesoft iPhone data recovery software is among the well-rounded software firm that provides data recovery tools for Windows and Mac PCs and cell phones. However, it is not an all-in-one app; therefore, you must download the iPhone Data Recovery tool separately. However, as of the publication date of this post, they are providing a package containing iPhone recovery AND macOS recovery for $59.90.
It provides three recovery options, including Recover from iTunes Backup, Recover from Device, and Recover from iCloud Backup. Unfortunately, we could not find anything exceptional about its performance, but it does the job.
The absence of a repair tool makes iBeesoft iPhone Data Recovery more economical ($39.95 for a one-year subscription). In addition, it is compatible with iPhone 4 and later devices, iPod Touch 1 and later models, and all versions of the iPad.
Although you may preview files with the free version, you cannot recover them. However, the option to preview files will assist you in evaluating whether your data is recoverable. The majority of data recovery software shares this shortcoming.
Website: https://www.ibeesoft.com
7. IMobie PhoneRescue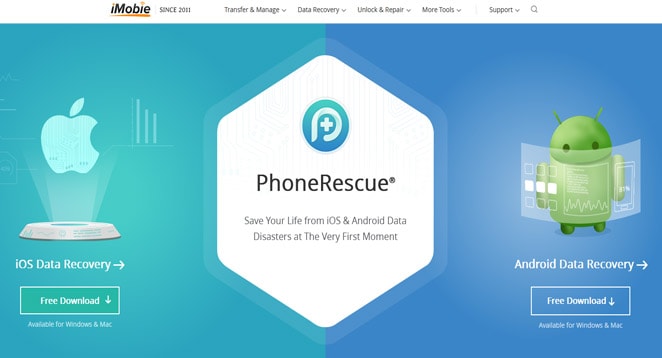 IMobie PhoneRescue is reliable software for iPhone troubleshooting and data recovery. It is one of the first solutions to support macOS Catalina, and it continues to deliver new features regularly, providing users with excellent value for their money.
We suggest iMobie PhoneRescue to all iPhone users who have lost data and are experiencing iOS system troubles, such as the White/Blue/Black Screen of Death and a frozen iPhone. Using iMobie PhoneRescue makes more sense than downloading and purchasing two separate software apps.
The goal of the free version of iMobie PhoneRescue is to demonstrate the capabilities of the commercial version. Specifically, the free version can scan iOS devices but cannot preserve recoverable files. For this, you must purchase the complete version.
Website: https://www.imobie.com
8. EaseUS MobiSaver
EaseUS MobiSaver is among the best iPhone data recovery software if you're not seeking a completely free solution and are prepared to pay for excellent results. You may use it to restore deleted data securely and practically, including text messages, contacts, call history, photographs, videos, and more.
It can recover lost data straight from your iPhone, or you may use it to rescue files from an iTunes Backup or iCloud backup. Scanners are compatible with all current macOS versions, although we have discovered that scanning is somewhat sluggish.
EaseUS MobiSaver free version can call history, recover notes, calendars, reminders, Safari bookmarks, and more, but you should be aware of some significant restrictions. The free version of EaseUS MobiSaver can only restore five contacts and one image or video. Want more? Then you must buy the $79.95 Pro Edition.
Website: https://www.easeus.com
9. Fonedog Toolkit for iOS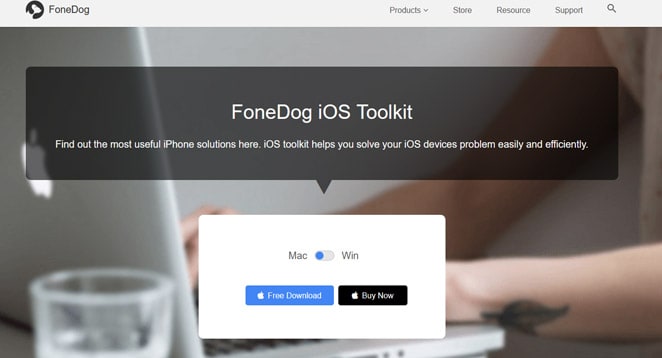 Fonedog Toolkit for iOS is quite exceptional. It is not a unified app but a site where you can download and install particular tools independently. Backup and Restore, Data Recovery, System Repair, and WhatsApp Transfer are these tools. Fonedog is a cost-effective option for those who require just one of these tools since you may get only what you need. For instance, Fonedog's iPhone data recovery software costs $39.95, less expensive than many other solutions on our list, but it has this one function. Unfortunately, only newer iOS devices (iPhone 5 and iPod Touch 4) are supported.
Free version: You can scan your iPhone and get a general overview of what files Fonedog discovered, but you cannot preview photographs or movies. Also, you cannot use its repair tools; thus, the free download is only a doorway to purchasing a license.
Website: https://www.fonedog.com
10. FoneLab
FoneLab iPhone data recovery software can recover data from third-party applications such as Line, WhatsApp, Kik, Viber, QQ, WeChat, and others, in addition to native iOS data such as messages, contacts, and call history. For installation on a Mac or Windows computer, at least 200 MB of free space is required.
Free version: We like free iOS recovery software as much as the other person, but the free version of FoneLab iPhone Data Recovery is severely limited. It can preview recoverable files, but that's it.
Website: https://www.fonelab.com
11. ISkySoft Dr.Fone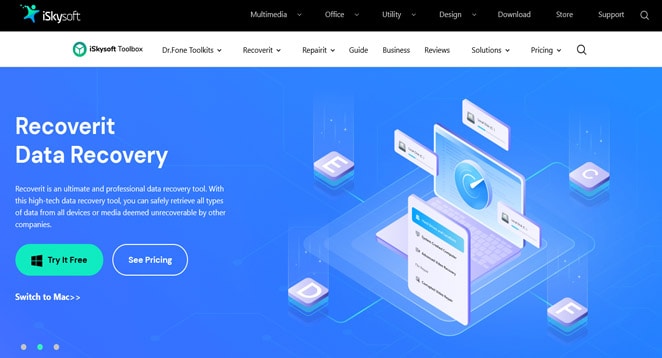 Even while this iOS recovery software has a similar name and the same parent company as Wondershare Dr.Fone, it is handled by a different team and caters to a somewhat different demographic. Nevertheless, the essential data recovery experience is mostly the same, which is why we evaluate the two software options similarly.
The absence of iOS 13 compatibility is why iSkySoft dr.fone – Data Recovery (iOS) is not rated higher. Most iOS users have already upgraded to iOS 13, so we see this as a severe problem, but iSkySoft will probably provide an update to fix it.
Free version: Like the free version of Wondershare Dr.Fone, iSkySoft dr.Fone – Data Recovery (iOS) cannot recover any lost data unless you purchase a $69.95 annual license or a $79.95 lifetime license.
Website: https://toolbox.iskysoft.com
12. Leawo
Many reviews would not put Leawo iOS data recovery for Mac in a list of the best iPhone data recovery software, but its inclusion is warranted. Why? You can trust it since the firm developed it has been working for many years, and its portfolio encloses everything from DVD rippers to file converters to data transfer programs.
Unfortunately, Leawo iOS Data Recovery for Mac only officially supports iOS 10, which will deter many prospective users. In actuality, this iPhone recovery software is compatible with later versions of iOS, but the extent of its compatibility is unknown.
You may try the free version of Leawo iOS Data Recovery for Mac, but you won't be able to recover any data. Nevertheless, the capacity to preview recovered files is preferable to nothing.
Website: https://www.leawo.com
13. Gihosoft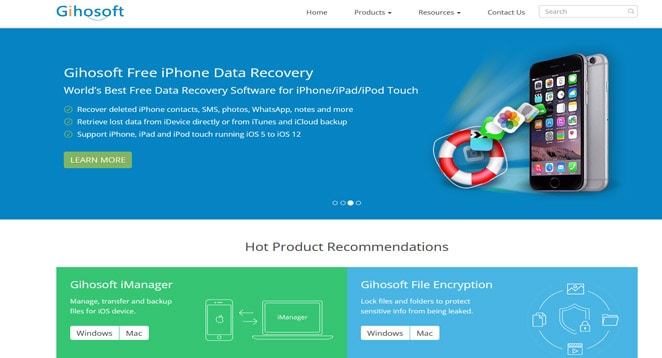 Gihosoft iPhone Data Recovery is the best free iPhone data recovery software since it can recover a considerable amount of data without the cost. But even if you don't see free iPhone recovery as a major selling factor, Gihosoft iPhone Data Recovery still offers a great deal. This simple program, for version, may recover your iPhone in only three clicks and supports the most recent versions of iOS and iPad.
Free version: When most users question, "What is the best free iPhone data recovery software? "they anticipate discovering a program that can do more than just preview recovered data. Gihosoft iPhone Data Recovery cannot recover everything for free. Still, it can restore app photographs and videos, message attachments, notes, calendars, reminders, voicemail, voice memos, and Safari bookmarks, which is more than we can say for most iPhone recovery software.
Website: https://www.gihosoft.com
14. Ontrack EasyRecovery
Ontrack EasyRecovery by Kroll is well-known in the industry for data recovery. Its iPhone data recovery software may restore files straight from the device, from an iTunes or iCloud backup, or from the device itself. Unfortunately, we're not satisfied with its performance (particularly in comparison to Ontrack's refined Windows and Mac recovery tools), and we get the impression that it has yet to be recently tuned. It is adequate, and you will recover your data, but at $59, there are better alternatives.
Website: https://www.ontrack.com
15. MiniTool iOS Mobile Recovery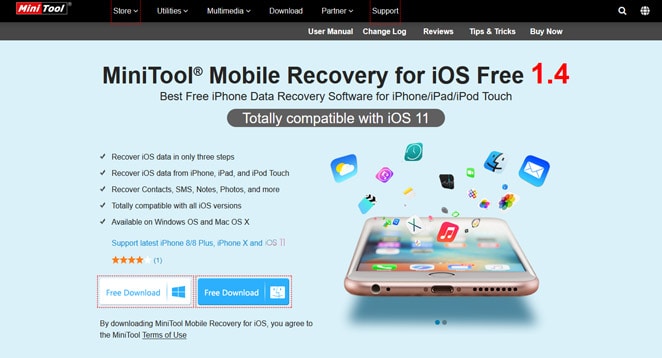 MiniTool Mobile Recovery for iOS is compatible with most of Apple's data types and recovered two of our six destroyed files. The free version of the app has limitations, but some of those limitations are not too limiting, making it a free option for some. We'll return to this later.
It can restore data from your iPhone, iTunes backup, or iCloud backup, much like the other programs. First, select your desired selection, then click Scan. While the scan is in progress, the application provides helpful advice to increase the likelihood of data recovery. For example, it lets you know about Photo's "Recently Deleted" album, which stores your deleted photographs for 30 days and shows how to retrieve hidden photos rather than deleted ones.
Website: https://www.minitool.com
16. AnyMP4 iPhone Data Recovery
It provides the best iOS data recovery software for iPhone/iPad/iPod to recover lost or deleted photographs, text messages, contacts, notes, app data, and more from the iOS device, iTunes, and iCloud backup. You will see a preview of iPhone data before the recovery. Additionally, you may back up missing or existing iOS data to your PC. This iPhone data recovery software supports various languages, including English, Italian, Spanish, Hungarian, Russian, Czech, Polish, Greek, Dutch, Danish, Swedish, and Chinese. It can fix corrupted video files like AVI, MP4, MOV, M4V, MPEG, FLV, and MKV. AnyMP4 supports corrupted Photos format as JPG, JPEG, TIFF, GIF, PNG, and BMP. It supports NTFS, FAT16, FAT32, exFA, and EXT files and can repair damaged audio files like AAC, AIFF, MP3, and WAV.
Website: https://www.anymp4.com
17. ApowerRescue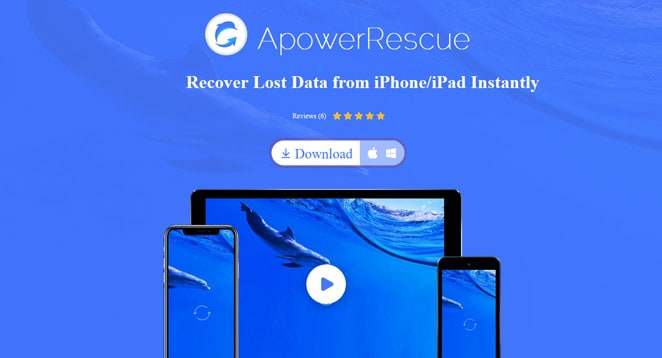 ApowerRescue is iPhone data recovery software that allows you to retrieve deleted contact messages, calendar events, and more. It is used to recover lost files from iCloud/iTunes. It supports several languages, including English, French, German, Italian, Korean, Spanish, Portuguese, and Japanese. Repair damaged video files in 1000+ types, including MP4, AVI, WMV, 3GP, VOB, MOV, and MPG. It also Supports corrupted Photos format as JPEG, RAW, and TIFF. In addition, it can repair damaged MP3, WMA, AMR, OGG, AAC, and WAV audio files. It can recover lost files from iTunes and iCloud backups and has the simplest user interface.
Website: https://www.apowersoft.com
18. Aiseesoft Fonelab
Aiseesoft Fonelab iPhone data recovery software is a tool that allows you to retrieve lost data quickly. It permits the importation of photographs from an iCloud backup. It supports text messages, call history, voicemail, and notes, among other file types. This iPad data recovery software lets you preview backup files before restoring them. It can fix damaged video files like MP4, MKV, MOV, FLV, AVI, WMV, and MP3. Aiseesoft Fonelab supports corrupted JPEG, PNG, and GIF photo formats. It can also fix damaged audio files, including MP3, M4A, WMA, and WAV, and it supports file systems such as FAT32, NTFS, exFAT, and FAT16. It provides the fastest and most efficient data recovery and the ability to restore and export lost data from an iTunes backup.
Website: https://www.aiseesoft.com
19. iPhone Backup Extractor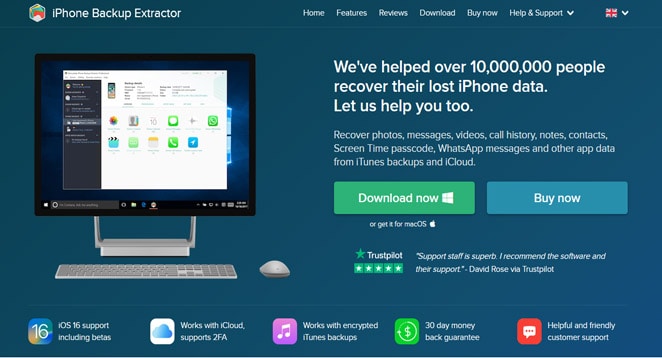 IPhone Backup Extractor is a software that allows you to recover deleted photographs, videos, call history, notes, and contacts, among other data. You may export your data to CSV, PDF, Gmail, Excel, and Outlook, among other formats.
Website: https://www.iphonebackupextractor.com
20. FonePaw
FonePaw is a software company that creates tools for iOS, Android, Windows, and Mac devices. Like most of the tools on this list, Fonepaw's iPhone Data Recovery application provides three forms of recovery: Recover from iOS, iTunes Backup, and iCloud. In addition, FonePaw also provides iOS System Recovery and iOS Data Backup & Restore; however, these must be purchased individually or as a package for $101.98, respectively.
Its quick and Deep scan features were sufficient for our needs, but we can get comparable results at a lower cost (or choose a more expensive software with better features).
Unfortunately, the free version of FonePaw is however limited. You can only preview the top three items of your contacts, call history, and notes. It cannot preview photos in their full size. You will be able to scan your device, iTunes backup, and iCloud backup to get an overview of the data that FonePaw was able to locate.
Final Words
iPhone data recovery software is a tool that enables you to retrieve lost data due to device failure, malware infection, human mistakes, etc. These tools quickly recover your iMessages, SMS, contacts, notes, photos, and videos. We've created a list of the Best iPhone Recovery Software, including their most popular features and website URLs. Open-source (free) and commercial (paid) applications are on the list.