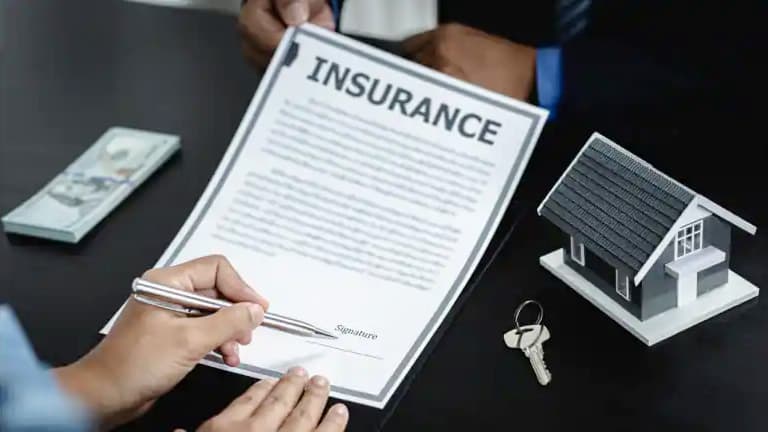 Best Insurance Software To Consider in 2023: Insurance suites provide functionality across many insurance software categories using a range of modules. Agents may control all parts of the insurance lifecycle using insurance suites, which offer an all-encompassing solution. Insurance suites are used by organizations to manage all insurance tasks, including policy administration, client relationship management, invoicing, and insurance claims, inside a unified system that facilitates agency management and reporting.
Large insurance companies with diverse service offerings and geographically scattered operations often use insurance software. Due to their modular nature, insurance suites are adaptable to agency requirements. You may purchase insurance suites as an integrated suite or as individual modules. Typically, insurance suites include modules from insurance policy administration software, insurance billing software, claims management software, underwriting and rating software, and insurance agency management software.
What Is Insurance Software?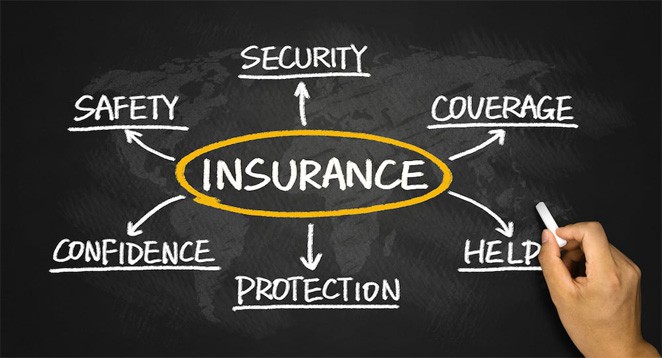 Insurance software aims to assist insurance companies, agencies, and brokerages in managing their daily operations. On the administrative side, these solutions help you manage your staff and keep track of policy and claim information. The client side of this software enables your clients to check their policy details, fill out forms, and make online payments, among other things, by logging in.
Combining business process management (BPM) and customer relationship management (CRM) capabilities, insurance software may serve as the digital center for all of your organization's major insurance procedures.
Benefis of Insurance Software
Dedicated insurance software can provide your insurance firm various advantages over manual approaches such as pen and paper or spreadsheets. For example, with insurance software in place, you may anticipate the following:
1. Enhanced operational effectiveness
The ability to store all of your data in a single, readily searchable database and automate laborious billing and reporting procedures may save your firm a tonne of time.
2. Enhanced data protection
Sensitive information about customers or carriers should be kept from easily-crackable spreadsheets. The encryption and user authentication features of insurance software help protect your data.
3. Better regulatory compliance
Maintaining ever-changing standards may be an enormous time drain and result in costly mistakes. The insurance software can automatically identify any areas that require your attention.
4. Fewer breakdowns in communication
Task management, automated notifications, and communication tracking may guarantee that everything goes smoothly, whether working with customers, carriers, or anyone else.
5. Exceptional Customer service
Buyers of insurance rely on you to deliver prompt, accurate evaluations of their situations and the opportunity to submit self-service requests on their own time. Insurance software enables this capability.
Best Insurance Software in 2023
Here we discuss the best Insurance software you can consider in 2023;
1. Jenesis Software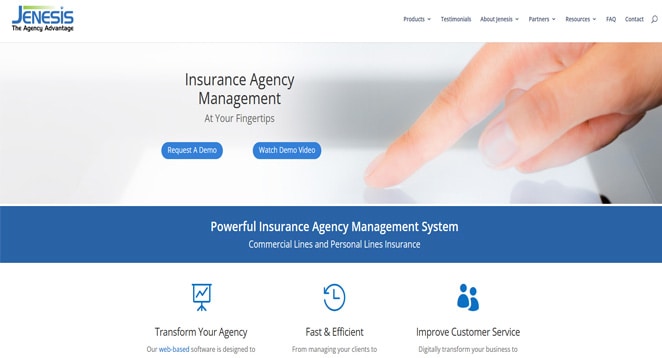 It is an insurance agency management solution that assists independent agencies in reaching prospective prospects, managing existing clients, and enhancing policyholder relationships. Document management, cancellation tracking, renewal management, and marketing automation are some essential aspects of Jenesis Software. If you are looking for the best Insurance Software you should consider it.
Enterprises may scan documents, store email attachments from insurance carriers, and export them to numerous devices using the electronic filing solutions provided by Jenesis. In addition, the platform offers blank and pre-filled ACORD forms that import data from a centralized database, allowing agents to amend the data before printing or emailing the forms to clients. The quote control solution from Jenesis also assists agencies with marketing quotations, sending letters or postcards, and tracking customer referrals for report generation.
Website: https://www.jenesissoftware.com

2. PhoneBurner
It is a Power Dialer and Sales Acceleration platform that boosts phone productivity by 447 percent – without needing extra software. In addition, the solution automates tedious processes and enables sales representatives to have three to four times more live discussions. More chat time. Fewer tasks. More possibilities to clinch sales.
The software is cloud-based and requires no installation. Users can log in from any location and dial sessions using any phone or our softphone. Enjoy 100% connectivity with no delays. No awkward pause. No delay. There were no dropped calls. It is among the best Insurance software you can consider for your personal and business.
Included CRM (available API, Salesforce, and other connectors) enables customers to effectively manage and filter leads for improved phone sessions. Make 60 to 80 calls every hour. Immediately discard voicemails and send tailored emails and SMS based on the conversation's outcome. Customize disposition sets, record notes, and schedule follow-ups, among other features. Available options include Call Recording, Call Transfer, and Local ID.
Website: https://www.phoneburner.com

3. Indio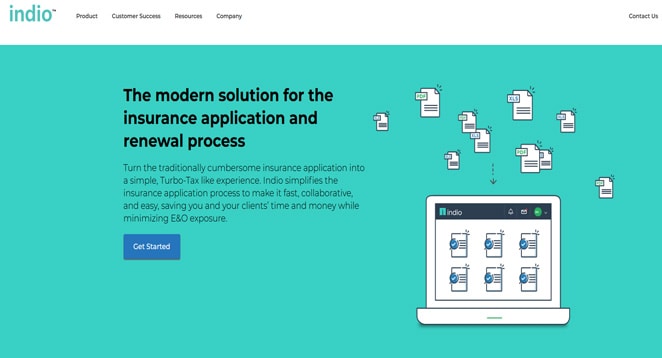 Indio is a cloud-based insurance software that assists commercial insurance agents, brokers, and agencies in digitizing insurance applications and renewal procedures. It features a module for activity tracking that delivers notifications when customers check in, update information, sign forms, or submit documents. In addition, its data standardization feature enables users to import data from spreadsheets or supplementary forms and save it in organized formats.
Digital forms are included with Indio, which automatically maps similar data points across many states to prevent repetitive questions. The solution includes a library of application forms, document sharing, a file upload gateway, eSignatures, shareable forms, one-click submissions, and more. It enables organizations to encrypt data with AES-256 and Secure Sockets Layer (SSL). Additionally, it allows many departments to complete pertinent parts and update data via a single dashboard.
Website: https://www.useindio.com

4. NowCerts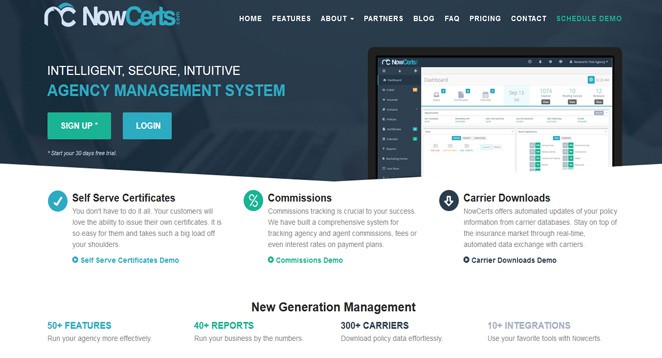 NowCerts is a cloud-based, user-friendly agency management system (AMS) for insurance agencies and independent insurance brokers. This agency management software offers capabilities for commission monitoring, self-serving certificates, ACORD forms, email synchronization, loss runs, carrier downloads, and raters integration, among other things.
NowCerts AMS enables insured consumers to generate, email, or fax their insurance certificates. The NowCerts customer portal may also be incorporated into the insurance agency's website. In addition, it includes a variety of AI technologies that boost agency intelligence while protecting client data. It is one of the most reliable Insurance software you can consider in 2023.
Website: https://www.nowcerts.com

5. ClientCircle
Rocket Referrals is a reputation management software that enables businesses to collect customer feedback, automate client conversations, and manage their internet reputation. Administrators can distribute Net Promoter Score (NPS) questionnaires to consumers and get alerts about dissatisfied customers.
This insurance software allows managers to approve and deliver automatic greetings, thank you notes, welcome messages, and essential updates. Rocket Referrals enables organizations to communicate with website visitors in real time using mobile applications for Android and iOS. Additionally, supervisors may generate individual communication messages and set up cross-selling campaigns using pre-built templates.
Website: https://www.clientcircle.com

6. AgencyBloc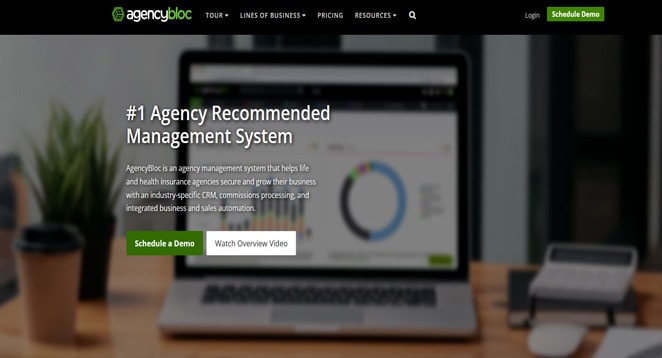 AgencyBloc was created to facilitate the lives of insurance agents. This user-friendly CRM/agency management solution makes handling clients, prospects, and agents easy. AgencyBloc Insurance software enables real-time product upgrades in response to client input. Commissions processing, email marketing, and real-time dashboard statistics are some features that help you make sound business decisions.
Website: https://www.agencybloc.com

7. HealthSherpa
HealthSherpa is a cloud-based platform that assists healthcare enterprises in streamlining quoting, enrolling, and client management for ACA (Affordable Care Act) compliance. In addition, the system enables agents to submit applications, follow up with customers, and monitor approval progress.
HealthSherpa Insurance software allows users to create quotations, estimate subsidies, examine and compare healthcare plans from numerous carriers in a particular area, and search for information regarding prescriptions and doctors through a centralized platform. The application management capability enables administrators to submit new requests and add or amend member information such as first and last name, date of birth, social security number, and income, among others. In addition, agents may arrange leads and clients, check the progress of papers and payments, and evaluate market-ready apps.
Website: https://www.healthsherpa.com

8. Compulife Quote Software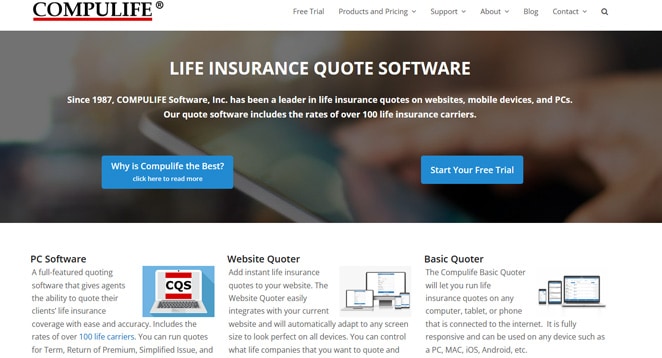 Compulife Quote Software is a quoting solution for the insurance sector that offers customizable forms, insurance quotes, mobile access, and a responsive design. Using Compulife Quote Software, organizations in the insurance industry may offer various insurance quotations over the web and mobile devices. It is among the best Insurance software on this list.
Website: https://compulife.com

9. A1 Tracker
A1 Tracker is a cloud-based enterprise risk management software designed to assist organizations of all sizes in managing and mitigating risks linked to contracts, migrations, insurance, assets, and claims. The platform includes a claim management module that allows customers to track, report, and manage trends, lowering risks associated with insurance premium claims, worker compensation claims, and product liability claims.
Website: https://www.a1tracker.com

10. Sentry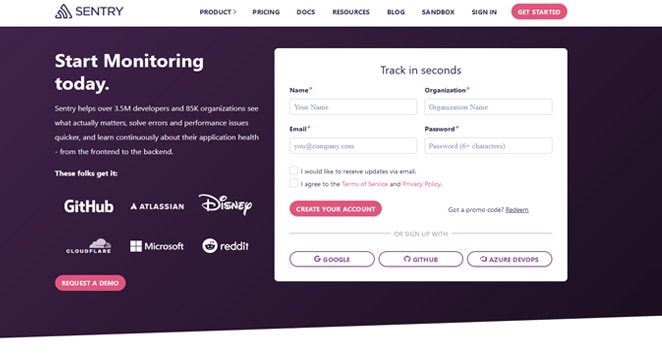 It provides open-source error tracking to monitor and repair defects and application problems in real time, regardless of where they occur. As a result, more developers than any other error monitoring solution use Sentry to boost deployment productivity and assure a positive user experience.
Use Sentry to monitor production code across several platforms, including JavaScript, Python, Java, PHP, Ruby, iOS, Android, Node.js, Go,.Net, Perl, and Elixir.
Sentry connects with your existing tools and process to make it simpler to locate, recreate, triage, and resolve production errors: Slack, HipChat, Heroku, Jira, Asana, Trello, Pivotal Tracker, Twilio, PagerDuty, Datadog, GitHub, BitBucket, and GitLab.
Website: https://sentry.io

11. Applied Epic
Applied Epic is a cloud-based insurance business management solution that assists insurance companies in managing client interactions, sales possibilities, financial accounting, and benefits administration, among other functions. Process management, document storage, communications, and reporting are essential aspects.
Enhancing operational visibility, the Applied Epic platform enables administrators to manage numerous roles, locations, and business lines from a unified site. It allows administrators to design, modify, and reassign workflows to guarantee consistency across all users in business processes. For example, agents may use the tool to examine, monitor, track, and anticipate business prospects and renewals, as well as assess performance about sales objectives. In addition, users may initiate system events and send insurers bulk messages. It is the most reliable Insurance software, you can consider in 2023.
Website: https://www1.appliedsystems.com

12. Snappii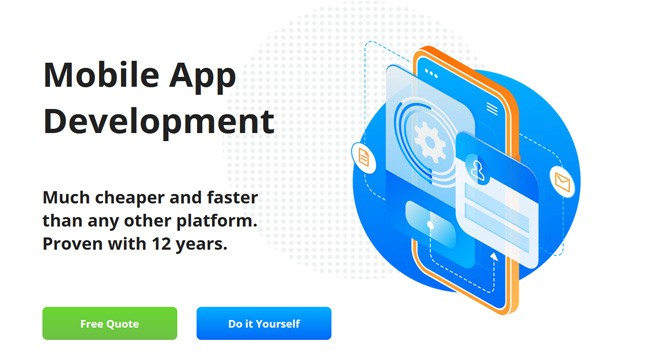 Snappii mobile corporate app development platform is a viable option for engaging expensive and difficult-to-find mobile App developers or outsourcing mobile app development to untrustworthy organizations. It provides web service integration and can connect to the back-end systems of organizations to facilitate safe data transfer.
Website: https://www.snappii.com

13. AgentExpress
AgentExpress is an open-source, cutting-edge quoting and enrollment technology that positions brokerages for success in the ever-changing insurance industry. Agents using AgentExpress Insurance software close more deals than those using standard CMS platforms.
The program offers professionals tools for real-time analysis and aids in generating reports and monitoring agency productivity. Supervisors can monitor and reconcile commissions, examine policy enrollment statuses, and detect problems. With AgentExpress, managers can monitor the amount of created contacts and manage leads and organizational settings. Through Enhanced Direct Enrollment, the ACA enrollment infrastructure facilitates single-site enrollment of complicated household instances (EDE). EDE assists with ACA pricing, client management, and configuration.
Website: https://agent.agentexpress.com

14. Commissionly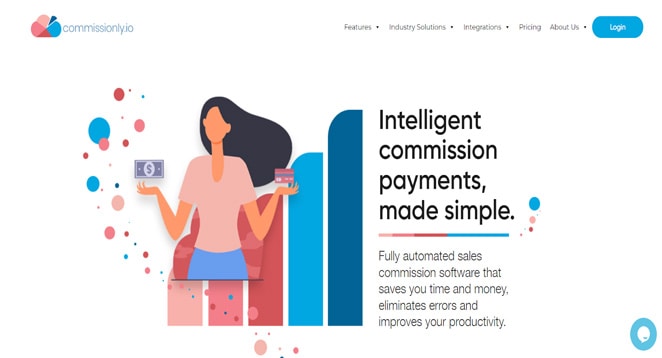 Commissionly is a cloud-based sales commission and compensation solution for ISOs, FMOs, Insurance Brokers, Merchant Service Providers, Financial Services and Education, Telecoms, and Energy Companies. The Commissionly platform can calculate commissions on both original and residual payments.
Website: https://www.commissionly.io

15. HawkSoft CMS
An insurance agency management system provides various functions, including customer relationship management, claim tracking and auditing, policy management, and more. From policy and leads through customer service, pricing, invoicing, and payment processing. HawkSoft provides data-driven insights on your agency's successes, enabling you to focus on what matters most: acquiring more clients and generating more money.
Website: https://www.hawksoft.com

16. Eclipse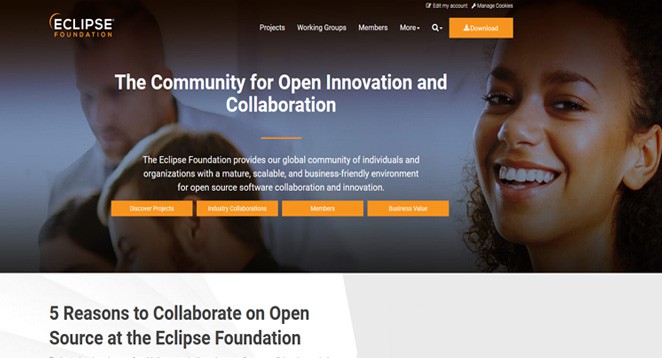 Eclipse is a cloud-based agency management software designed to assist small to big insurance companies in managing policies, clients, claims, documentation, accounting, and reporting. In addition, the platform enables users to perform financial and corporate transactions and producer commissions.
Eclipse provides accounts payable/receivable, ACORD form filling, general ledger accounting, billing and reconciliation, reporting, general ledger accounting, and carrier downloads. Its integrated ledger feature enables agencies to execute single-entry accounting with choices for general insurance ledger and check writer. In addition, the corporate transactions module supports real-time transactions with numerous personal and commercial insurance providers. It is the most recommended Insurance software for your personal and business.
Website: https://www.eclipse.org

17. NextAgency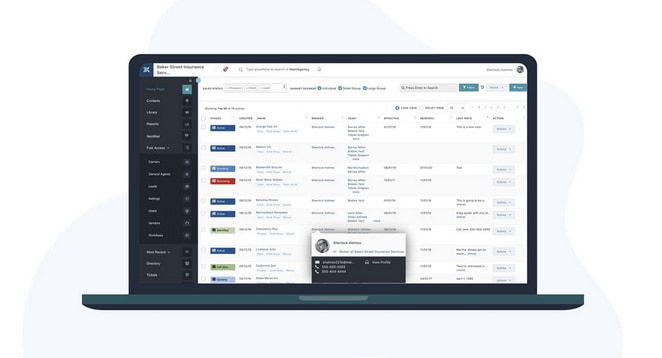 It helps you save time, money, and clients by providing a cutting-edge Insurance Agency Management System with robust CRM, marketing, and commission monitoring features. Benefits, life, senior, and other products for individuals and groups. While NextAgency insurance software is built for life and health agencies, it is easy to customize for your agency.
Website: https://nextagency.com

18. VCA Software
VCA Software (Virtual Claims Adjuster) is an innovative, privately held InsurTech company that provides a worldwide SaaS platform to enhance policyholder happiness and retention and a next-generation ecosystem that enhances intelligence and functionality for all stakeholders. The mission of VCA Insurance software is to personalize the claims journey. VCA is redefining the insurance churn paradigm and establishing a new standard for claims management – a critical insurance consumer touchpoint.
Website: https://vcasoftware.com
19. Commission Tracker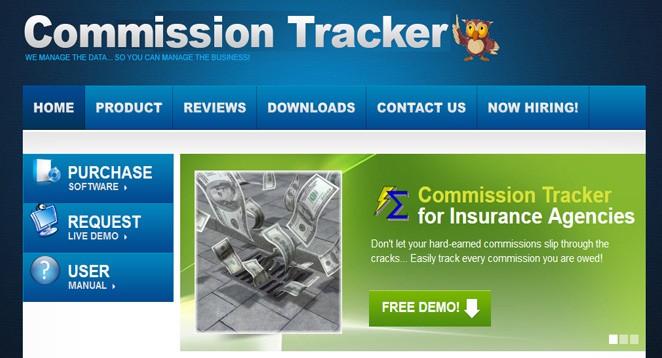 Commission Tracker is a sales commission software used by insurance firms to manage the sales commission given to agents. The software aids in the replacement of Excel sheets used for sales commission tracking. In addition, the application enables businesses to produce weekly or monthly statistics to monitor the income earned by new clients and the total commission paid to acquire new clients.
Website: https://www.commission-tracker.com

20. Agency Matrix
Agency Matrix's Insurance software delivers simple automation and a user-friendly interface to reduce a significant portion of your business's onerous operations. Every customer, policy, form, endorsement, payment, image, and report you might need or desire is accessible with a single click. Agency Matrix provides all the tools you need to keep your firm organized, paperless, and in sync.
Final Words
We have compiled a list of best insurance software. Here are some last essential aspects you should consider when selecting the best insurance software for your carrier, agency, or brokerage:
Cloud-based or on-premise?
The Insurance software deployments are either on-premise (where the software is hosted on business servers) or cloud-based (where the software is hosted on vendor servers and accessible by firms over the internet). There are benefits to both options—on-premise software is more configurable to business needs, while cloud-based software requires fewer IT resources—so examine your alternatives carefully.
Do you need to integrate?
Your firm already has other critical software tools, such as CRM, accounting, etc. Let suppliers know the systems you're presently using to facilitate a seamless connection across multiple business processes (e.g., moving invoice information into the corporate ledger).
Do you require segment-specific software?
Most insurance software suppliers may design their system to work with numerous insurance sectors, including health, life, annuities (L&A), property and casualty (P&C), and others. That's terrific news if you want to analyze a wide array of possibilities or if you're a multiline insurance organization. But, on the other hand, they undoubtedly exist if you wish for a provider specializing in your segment. Silvervine, for example, solely handles P&C insurance firms.