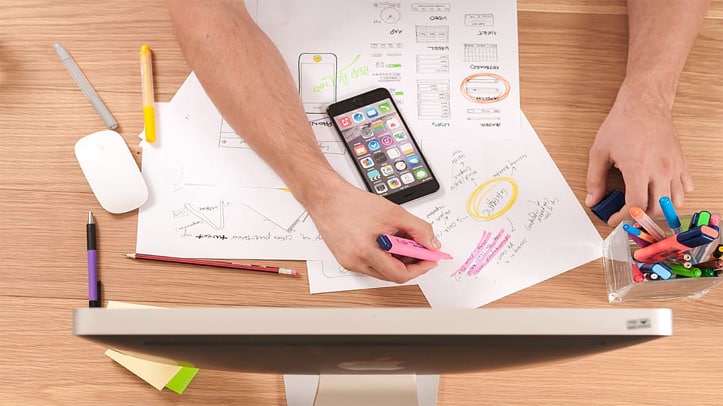 Best Mobile App Development Company for Business Growth: Digital Magazine have compiled a list of the best enterprise mobile app development companies that create cross-platform, customized mobile apps for businesses. Use the filter to explore the listings and choose the ideal business partner based on ratings, user reviews, team size, and more.
What Is Enterprise Mobile App Development Company?
Enterprise app development service refers to designing and implementing scalable, quick mobile applications to assist businesses with various activities. Through these mobile app development services, large enterprises want the ability to rapidly develop and continuously update mobile applications to fulfill the ever-changing demands of their end consumers.
Enterprises have the extra issue of managing and optimizing their internal and external operations while decreasing operating expenditures, which is another incentive to use corporate mobile applications. Therefore, enterprise mobile app development companies plan, design, implement, test, and build mobile applications for major enterprises across sectors to aid in their internal and external growth.
Best Mobile App Development Companies For your Business Growth
Enterprise mobile app development services create applications based on the worldwide strategy of the client organization and make custom-tailored functionalities accessible on mobile devices. They produce software that is user-friendly, uses numerous sorts of complex data, and adheres to the most current security requirements.
60% of IT personnel now use apps for work-related tasks, and 71% spend more than 2 hours each week accessing corporate information on mobile devices, according to research. And these numbers will continue to rise. Here is a list of the best mobile app development companies for your business's growth.
1. Debut Infotech Pvt. Ltd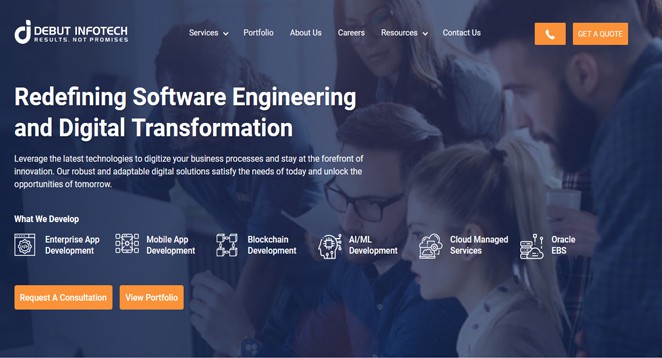 Debut Infotech is a full-service mobile app development company that uses Blockchain, AI, and other cutting-edge technologies to create highly engaging and intuitive software products that deliver business results for startups and corporations.
Since 2012, they have helped startups, SMBs, Fortune 500 organizations, and the world's top corporations achieve fast growth and profitability. They have established themselves as a market leader in Blockchain & Cryptocurrency app development and AI-based app development. In addition, they have worked with some of the most recognizable companies in various sectors.
Their unmatched and innovative service portfolio includes the following:
ICO Development
NFT Development
Token Development
POC Development
Corda Development
Wallet Development
Ethereum Development
Blockchain Development
Personalized DevOps Options
Cryptocurrency Exchange Growth
Smart Contracts Development
Customized Software Development
Hyperledger Fabric Development
Blockchain Consultancy & Advisory
Enterprise Application Construction
White Label Development of Cryptocurrencies
Their team of Blockchain app developers, designers, technical architects, and creative engineers use this digital ledger technology to provide business-focused solutions to their worldwide clients.
Website: https://www.debutinfotech.com
2. Geomotiv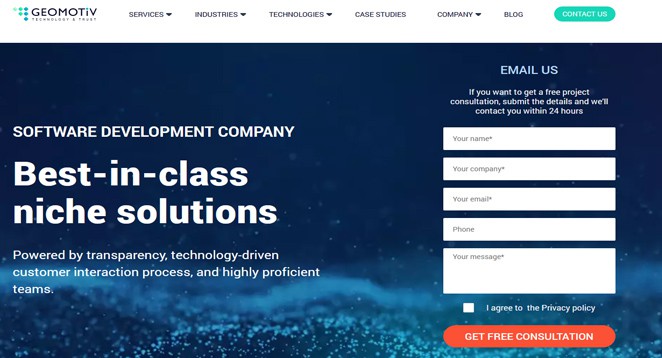 Geomotiv the best mobile app development company are prepared to meet any technically demanding AdTech requirements. It protects you by creating the foundation for effective data management, pinpointed ad targeting, and time-saving automation. You may depend on their competence and in-depth industry knowledge at all times.
Their business domain knowledge, established methodology, and professional software development skills enable us to excel at developing bespoke solutions to meet various client requirements. They have worked on end-to-end product development for several systems, including ERP, CRM, CMS, asset management, eCommerce, and ad serving.
From small startups to large corporations, product companies to non-profit organizations, and internet shops to educational institutions, they serve all their different IT needs.
Website: https://geomotiv.com
3. Zazz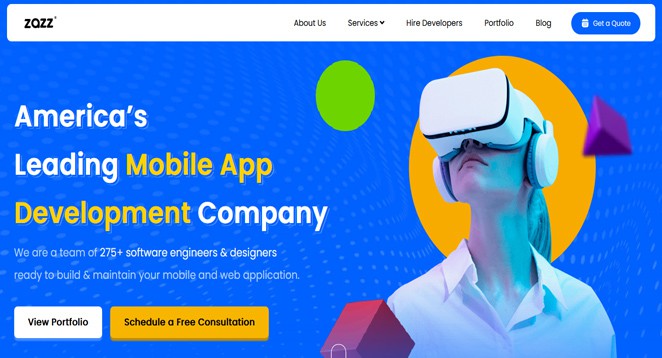 Zazz has been at the forefront of software design and development innovation as a certified American mobile app development business.
As an industry leader, they take pleasure in embracing, iterating, and investing in cutting-edge technology, seamless processes, and creative talent that can assist in architecting and scaling our clients' vision. They designed and managed digital solutions for hundreds of venture capital-backed startups, government agencies, and Fortune 500 corporations.
The mobile application development company has helped enterprises establish new technological capabilities, upgrade goods and services, streamline internal processes, boost business agility, and enhance consumer experiences by releasing more than 763 mobile applications.
Website: https://www.zazz.io
4. Tech Exactly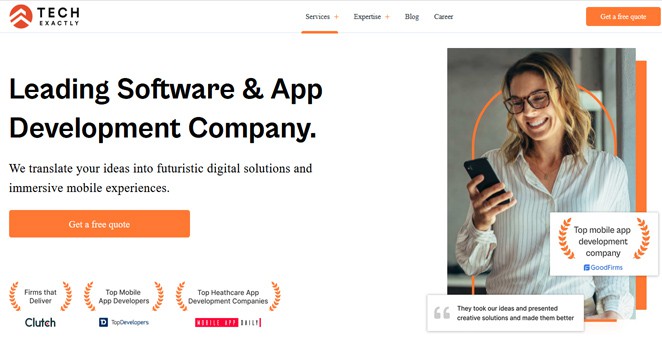 Tech Exactly are a top mobile app development company in India that creates powerful applications for companies that need mobile-first solutions. They are a complete app development agency for small and large-scale businesses. They design clean and user-friendly apps based on cutting-edge technology to expand their company by multiples.
Tech Exactly are the first to adopt disruptive technology. They have teamed with various worldwide companies to provide multiple scalable App solutions. They provide enterprise-grade software solutions that solve the essential difficulties of their client's businesses and enable them to reach new heights. Tech Exactly offered individuals a beautiful, enriched, and linked platform to begin forming enduring connections and relationships.
Website: https://techexactly.com
5. BairesDev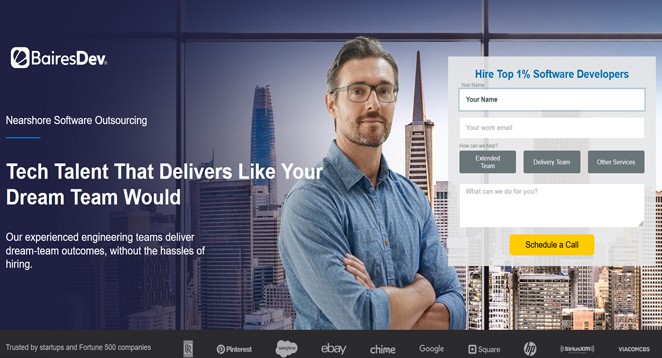 BairesDev is the professional partner you need to provide scalable, inventive, and competitive outcomes. From fully managed delivery teams to skilled software engineers on an individual basis, they specialize in the end-to-end delivery of custom technological solutions. Expert, independent workforce capable of providing technical solutions and value fast and effectively. The additional expertise required to improve your initiatives. Engineers in the top 1% completely integrated into your team.
BeiresDev mobile app development company provide great technological solutions for world-class enterprises across all industries, from innovative startups and SMBs to Fortune 500 corporations. They have a Customer Satisfaction Average of 91.2%, a Net Promoter Score of 70.3 (90th percentile), and 174 active world-class customers.
Website: https://www.bairesdev.com
6. Simform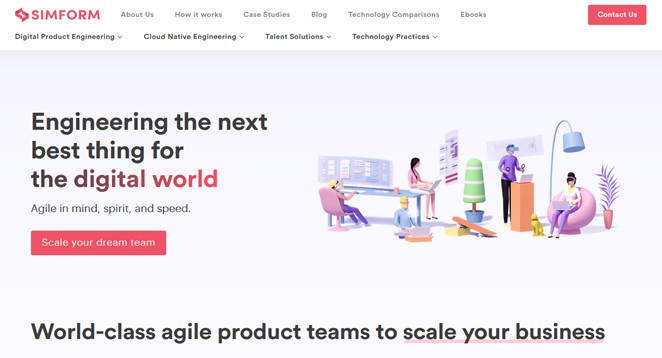 World-class agile product teams to expand your company, resolving your particular business issues through the development of powerful software and services. Gain corporate agility and adaptability by using the cloud's scalability and data security. In addition, our DevOps services enable speedier development, fewer defects, and frequent product delivery.
Using the insights offered by reliable data systems, you may make informed decisions. Create solutions with optimum performance under extreme load situations. For customers to have a favorable brand identity, provide an immersive experience and enjoyable interactions. Get executive direction to adopt a technical road plan to achieve corporate objectives. This top Mobile App Development business will improve your application's tech stack, coding, and cloud infrastructure to make it future-ready.
Website: https://www.simform.com
7. Lomray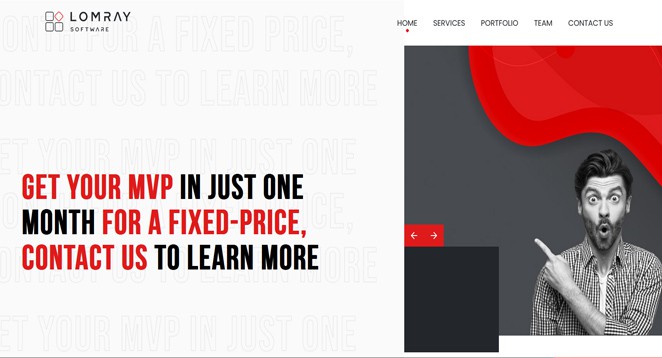 Lomray Software is a globally focused Product and Mobile App development company focusing on eye-catching, functional solutions for your particular requirements. Whether you intend to introduce a new product or want to improve an existing one, they can help. They're here to help. The team is comprised of young, aspirational professionals committed to exceeding your expectations. They are brave in facing challenges and often go above and above to ensure your complete satisfaction.
Website: https://lomray.com
8. Kandasoft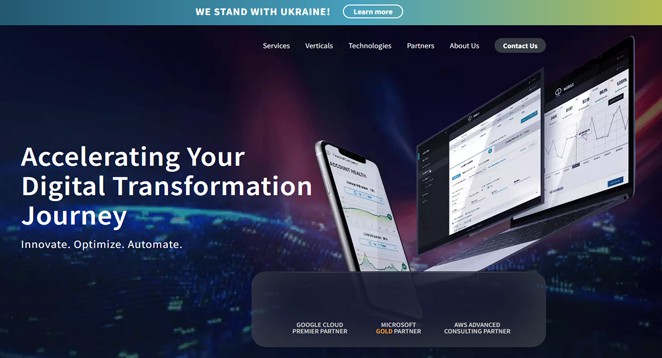 Kandasoft is among the most reliable Mobile app development company on this list. They focus on developing a cohesive team with shared objectives and a feeling of responsibility for each customer. As a result, they have perfected a streamlined, cost-effective method for joining and exiting client development processes at the appropriate time and with the proper resources. Their field experience covers all phases of the product lifecycle, including application design, architecture, UX/UI, fast development, QA and testing, and maintenance and support.
Kandasoft's flawless track record includes the development of more than three thousand effective software solutions that have earned hundreds of millions of dollars for their customers, who range from Fortune 500 corporations to innovative startups. They combine an in-depth understanding of client's needs and business drivers, a commitment to service value and excellence, a fast and efficient approach to entering and exiting the development lifecycle, and built-in quality assurance to assist clients in accelerating time to market and competing effectively with user-centric and scalable solutions.
Website: https://www.kandasoft.com
9. ELEKS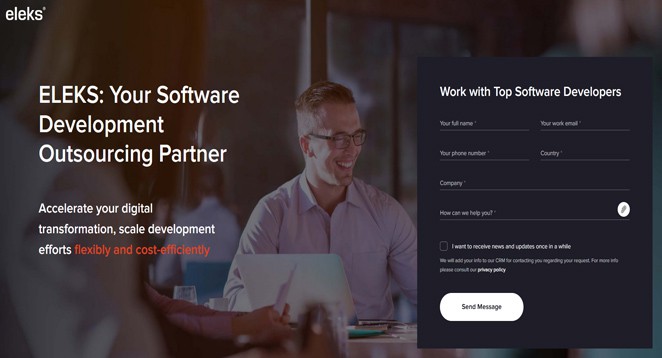 The talent pool at ELEKS includes over 2,000 multiskilled individuals with a solid foundation in math and physics, encompassing a broad spectrum of technical specializations — guaranteed to fill any skills shortage. In addition, our offshore software development team can collaborate with you at every level of the software development life cycle (SDLC) to address even the most complex technical challenges. You can consider ELEKS among the reliable and trusted Mobile app development company.
When you outsource development, you will achieve your development objectives twice as quickly as when you create in-house. In addition, they will interpret your needs and manage even the most intricate software development jobs, allowing you to devote more time to growing your core company and expanding operational efficiency.
A reputable software development outsourcing business may help you deliver your software vision for up to 50 % less than if you were to assemble a team in-house. Furthermore, with ELEKS as your offshore software development team, you may optimize development costs and save time and money on recruiting and upskilling, increasing operational efficiency and income.
Website: https://eleks.com
10. BlueLabel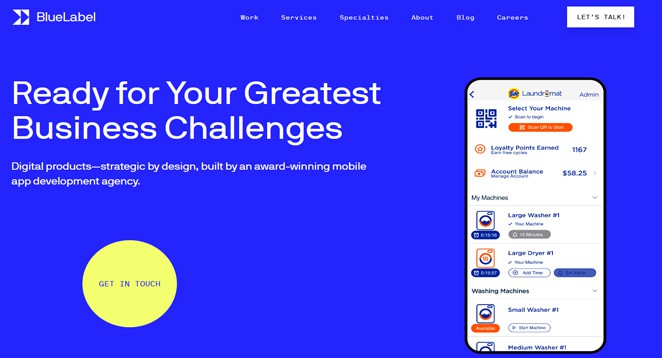 Like other best mobile app development companies on this list, Blue label collaborates with you to understand the challenge you're trying to solve and the digital product solution. Then, they'll partner with you to handle your most challenging problems, from analyzing product ROI to prioritizing product expenditures. The team combines UI/UX best practices with a keen awareness of emerging trends and digital innovation.
They will use analytics and user testing to create data-driven choices supported by our knowledge. BlueLabel mobile app development company developing ambitious digital solutions that drive your bottom line and engage with users on a deep and meaningful level.
Website: https://www.bluelabellabs.com
11. Dev.Pro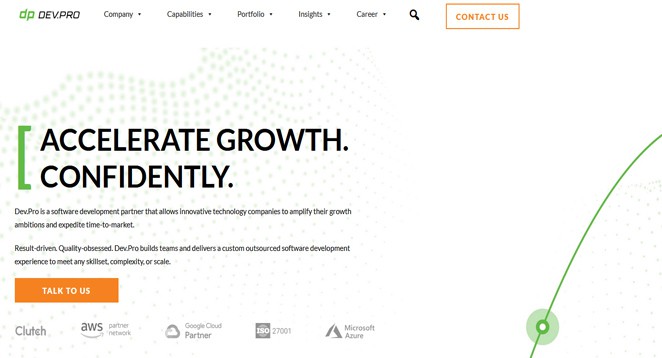 Dev.pro mobile app development company often talks to the clients as partners. When the relationship is effective, it is difficult to distinguish between the client team and the Dev.Pro team. They collaborate as a single entity with a defined objective and definition of success. Partner in Software Development with a Proven Track Record of Creating Business Value Across Industries.
Website: https://dev.pro
12. The Software House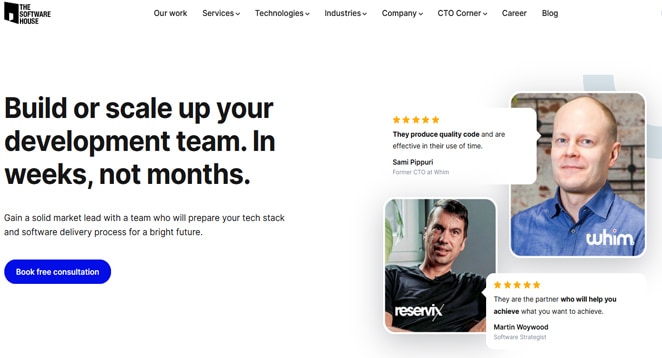 Gain a more significant market advantage with the help of a team that will prepare your technology stack and software delivery process for the future. The Software House was well-prepared, and the user response has been tremendous. The Software House mobile app development company provided a dependable solution with code of the highest quality.
You may have a single-source partner for complete product development. The teams onboard quickly and provide results in the first sprint. Executives in the technology industry have awarded this product a 4.8 out of 5 stars. Work in business analysis, conversion audits, branding, and UX/UI design that increases product acceptance and user base expansion. The Software House provides software development services that fuel market growth. Refactoring, cloud migration, cloud-native development, and scalability are associated with cloud computing.
Website: https://tsh.io
13. OpenXcell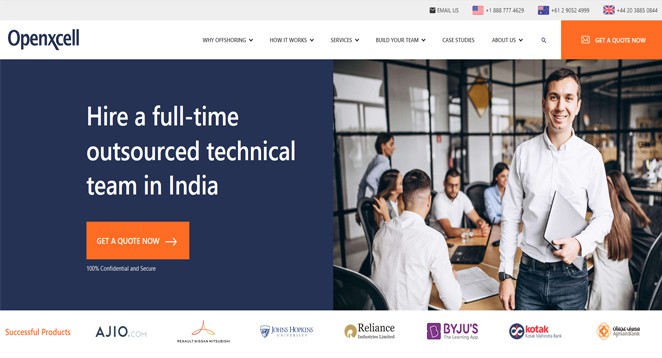 OpenXcell is the most reputable mobile application and software development company in India. Get a solution built specifically to increase your company's earnings. You can get complete mobile application development, from business analysis to implementation. Their product engineering services span the whole spectrum, from conception to implementation.
OpenXcell expertise in user experience research and design will give your company and brand a distinctive appearance. To satisfy your economic needs, they create domain-specific web applications tailored to your specifications. In addition, OpenXcell mobile app development company provide mobile business applications with customized strategy, planning, and development.
Website: https://www.openxcell.com
14. Magneto IT Solutions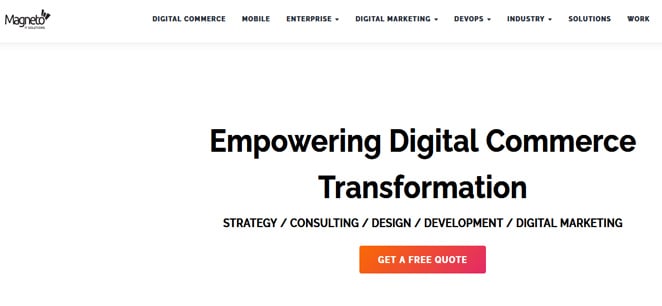 Use modern commerce to provide exceptional user experiences. Magneto IT Solutions' composable commerce solutions provide a strong foundation that automates your current company activities and enables you to expand effectively in the future.
You can send Magneto mobile app development company an email if you want a jargon-free technical talk with someone who speaks your language. They can help you choose the appropriate technical specifications for your product. In addition, they would gladly discuss your requirements and help you create a team of top-tier experts to help your business reach its full potential. Magneto follows the finest strategy, architecture, and technology to develop a world-class pwa store and delivers mobile e-commerce app and webshop users remarkable experiences.
Website: https://magnetoitsolutions.com
15. SEM Nexus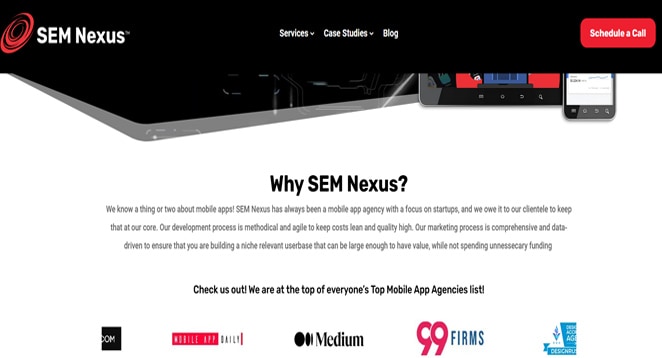 SEM Nexus is an award-winning agency specializing in developing and marketing mobile applications for entrepreneurs. They live, breathe, and dream startups. They are Your passion and way of life. Allow them to help you turn your dream into a reality. You can consider SEM Nexus as best mobile app development company in our list.
It has always been a mobile app company specializing in startups, and they owe it to their clients to maintain that focus. Their development approach is rigorous and adaptive to maintain low prices and good quality. In addition, their extensive and data-driven marketing method guarantees that you establish a niche-relevant user base that is big enough to be valuable without wasting money.
Website: https://semnexus.com
Why Should You Outsource Enterprise Mobile App Development?
You may believe your organization runs perfectly without a custom mobile application, so why should you even consider hiring professionals to develop one?
Here are a few of the most convincing reasons for partnering with the top corporate mobile app developers:
1. Enhanced Data Management
A high-quality corporate mobile application may enhance data processing, analysis, and other processes. In addition, the compounded quantity of time saved might do wonders for your company's overall efficiency.
2. Mobile Monitoring
Enterprise mobile application development companies can help you create software that visualizes the workplace. In other words, it allows you to track the success of your staff while they report their progress through a mobile application.
3. Onboarding and Certification Automation
Mobile app development may make all the difference in expediting the on-boarding process for huge organizations. The time saved by automating just a few HR processes is substantial, allowing your HR specialists to concentrate on more critical responsibilities. In addition, having an app that manages your workers' certification information also streamlines the job of the HR department.
4. Transaction Management
With a mobile app development that focuses on transactions, you may enhance your money management and become completely aware of many financial issues, such as payment/receivable dates, sending alerts, and invoicing.
5. Eliminating Paperwork
Automating several operations, such as the advantage, inevitably reduces paperwork. Consequently, you will be able to concentrate on strategic objectives and more complex issues.
6. Supply Chain Management
Enterprise mobile app development for businesses managing supply chains may offer several functions for precise planning, distribution, and transportation management. With enhanced management and monitoring tools, you'll discover a new way of improving your expenditures.
7. Client Support
Modern online banking demonstrates that corporate applications may be an ideal client assistance option. Mobile app development may provide 24/7 live help for simple customer inquiries, allowing your staff to focus on more sophisticated duties. With the integration of technologies such as fraud detection and machine learning, your app may be able to not only address but also avoid issues.
Final Words
Before choosing a mobile app development company for your business, you must thoroughly research since not all enterprise mobile app developers provide the same services. Finding a firm that develops corporate mobile applications is not an easy task. You should consider your requirements, request to view their previous work, read their reviews, determine their security procedures, consider their location, determine who will be working on your project, long-term maintenance, and many other factors. Also check the best work management software for your business growth; Asana and Monday.com.