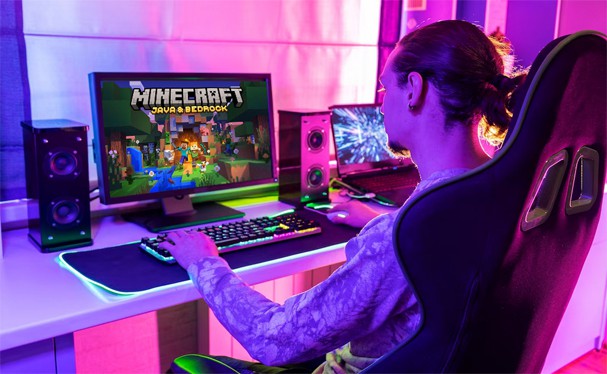 Best Minecraft Server Hosting Services: Playing video games is a fun way to relax and have a good time when you're not working. Minecraft stands out among other video games because of its interactive features that keep players engaged. Additionally, Minecraft Server Hosting makes it easy for people to enjoy the game. Minecraft is like the Super Mario of our time.
What is Minecraft?
Minecraft is more than just a video game. Markus Persson and Mojang Studios created it. It's an adventure game known as a "sandbox" video game. The video game came out in 2011 and has become extremely popular.
In Minecraft, players can mine blocks to build 3D constructions however they like. Many play modes are available, such as combat, exploration, building, or a mix of different modes. You can show creativity by exploring, collecting resources, crafting cubes, and fighting. According to a report from Verge, Minecraft has sold a whopping 200 million copies and currently boasts an impressive 126 million active players.
To fully enjoy Minecraft on your device, you need a dedicated and secure server. It will give you more game control and outstanding customization options. It also lets you host multiplayer game modes without using too much of your computer's resources. Choosing a specialized Minecraft server hosting platform is better than building one yourself. Keep reading to understand why you shouldn't solely rely on words.
Improved performance
Better control
Enhanced privacy and security
Greater uptime and low latency
Saving device resources
Best Minecraft Server Hosting Services in 2023
Here we list some of the best Minecraft server hosting services in 2023.
1. Apex Hosting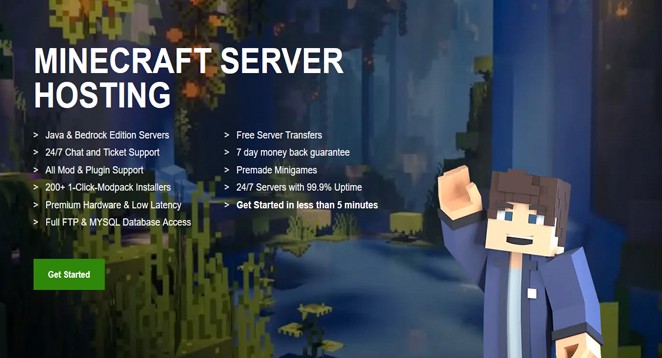 Setting up a Minecraft server with Apex Hosting is easy and budget-friendly. Choose the server version and size; they will quickly deploy your server. You can easily change your package and server version whenever you want. Apex Hosting has a user-friendly control panel called Multicraft, which includes helpful video guides. They made changes to make it easier to control your account. You can easily access the console, edit configurations, manage files, and change the server version here.
Install the best plugins instantly with 1-click Modpacks. They provide Xeon CPUs and fast SSDs for improved Transaction Processing System (TPS) and uninterrupted servers that are always accessible. Apex Hosting uses high-quality servers and data centers to offer the best gaming experience. To ensure fast connections for Java and Bedrock Edition players, they have 18 data centers spread across the globe. Their servers use advanced hardware, guaranteeing 99.9% uptime.
Apex Hosting offers DDoS protection to keep your server safe from attacks so that you can enjoy games in a secure environment. It can protect your server and IP address by mitigating up to 300 Gbps DDoS attacks. You also receive automated backups to protect your data.
Apex Hosting offers a free sub-domain name for your server, so you don't have to purchase dedicated IPs. You can also enjoy MySQL and FTP support. Use popular platforms like Sponge, Bukkit, Spigot, or Paper. Explore various plugins such as World Edit, EssentialsX, and more. Engage in mini-games and generate maps. It is among the best Minecraft server hosting services you can consider in 2023
Website: https://apexminecrafthosting.com
2. BisectHosting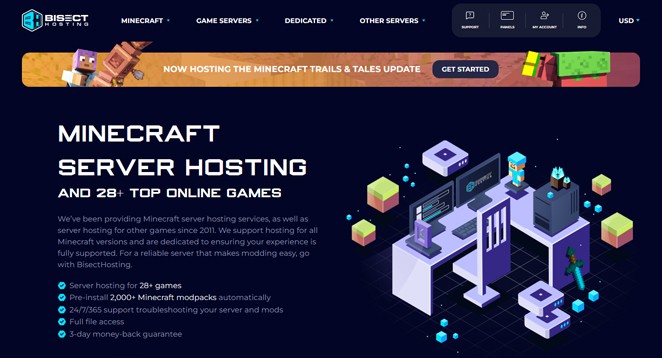 In 2012, two server owners created BisectHosting. Their goal was to offer the easiest and most reliable Minecraft server hosting experience. Hosting Minecraft servers can be overwhelming and complicated for new users due to the various server types, plugins, and mods available. Since the beginning, BisectHosting has prioritized providing fast and helpful support. They aim to respond to tickets, whether day or night, promptly. It means you can spend more time enjoying your gaming experience with friends instead of dealing with server issues.
When buying a server, you have many options to choose from. Different versions of Vanilla, Paper, Spigot, Forge, and various mod packs are available from CurseForge, FTB, Technic, and more. No worries if you change your mind later. You can easily switch what's running on your server whenever you want.
After payment, your server is quickly set up, and you'll receive access to BisectHosting's user-friendly control panel. This panel is customized with features like automated modpack updates, a drag-and-drop file manager, and other helpful tools to simplify complex tasks. Power users will also find features such as an in-browser config editor and customizable full server backups impressive.
Website: https://www.bisecthosting.com
3. GPORTAL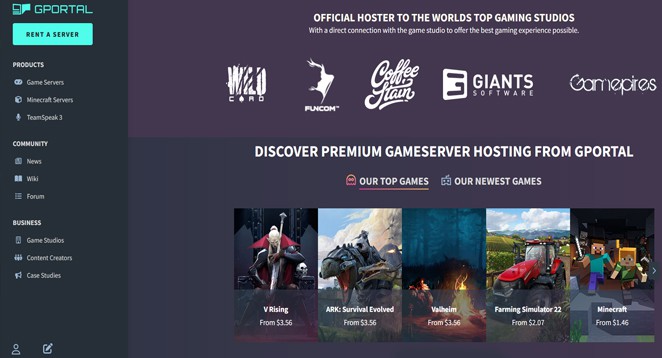 GPORTAL provides affordable Minecraft servers with quick setup and a server model based on RAM. When booking, you can choose from over 250 mod packs and have them pre-installed on your server. You don't need any complicated settings.
You can easily create your settings using their user-friendly web interface. It provides all the freedom you need. You also receive free FTP and MySQL access. They take server user protection very seriously and leave nothing to chance. They improved their DDoS protection by partnering with Corero.
GPORTAL promise a 99.9% uptime for their network and data center operations. They achieve this by having two facilities or data centers at all central locations. These devices are connected using a ring connection and supported by another network hub. GPORTAL operates its own network and data centers. They provide 24/7 support through phone, ticket, forum, wiki, and email for any problems or questions that must be addressed. You love gaming, and they handle everything else. It is one of the top Minecraft server hosting providers to consider in 2023.
Website: https://www.g-portal.com
4. GTXGaming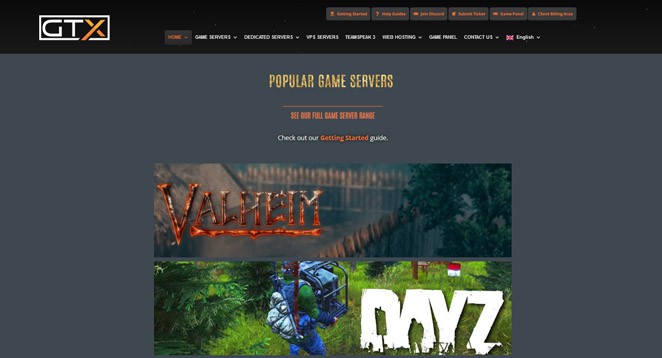 GTXGaming is a top choice for hosting Minecraft servers. The control panel was designed to focus on functions and features, making it beginner-friendly. Additionally, it offers advanced tools for experienced gamers.
They have a variety of Intel CPUs available, including powerful E3 processors and the latest i7 or i9 CPUs. They also have the newest and most powerful AMD Ryzens. You can easily switch from Minecraft to any game server hosted by GTXGaming.
GTXGaming has data centers in cities worldwide, including the USA, London, Spain, Sweden, Australia, Germany, and more. Their data centers are safeguarded against DDoS attacks to enhance user safety.
Installing Spigot and Craftbukkit is super easy! Just use the mod manager and click once to get them installed. If you can't find any versions, you can ask the experts at GTXGaming to install them for you. Also, obtain complete FTP access for experienced gamers.
Website: https://www.gtxgaming.co.uk
5. GGServers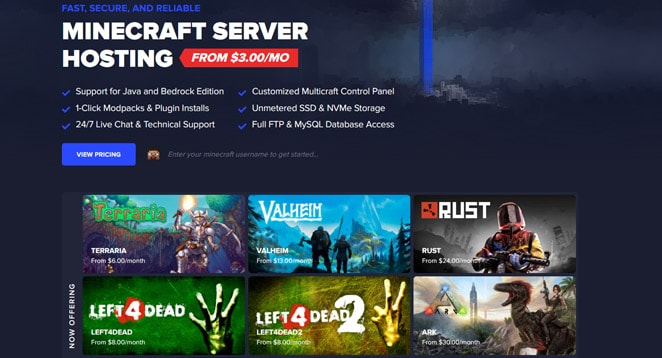 Enhance your gaming with powerful server hosting from GGServers. It uses strong processors for improved performance. Standard services include up to 4GHz, while premium services offer up to 5GHz.
GGServers offers unlimited storage for SSDs and NVMe. Additionally, it supports mudpacks and allows for easy installation of desired servers with a single click. You can easily change server types and modpacks whenever you want. GGServers supports various server types, including Java Edition, Bedrock Edition, PaperMC, Spigot, Twitch, FTB, Technic launcher, Forge, Bukkit, ATLauncher, Voids Wrath, Pixelmon, and Bungeecord.
Website: https://ggservers.com
6. Host Havoc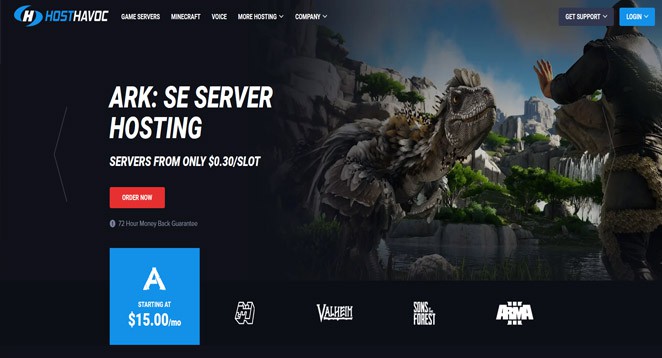 Experience unparalleled gaming performance with Host Havoc's enterprise-level hardware. All subscriptions come with the latest Intel Xeon or AMD Ryzen processors and Intel U.2 NVMe SSDs for smooth Minecraft multiplayer sessions.
The server provisionings are incredibly fast, taking only 30 seconds from the moment we receive your payment. It is one of the quickest in the industry. In addition, Host Havoc is compatible with all mod packs. Their automatic mod installer ensures that Minecraft stays enjoyable to the max.
Host Havoc offers automatic backups to prevent any loss of gaming progress. You also have FTP access to fully control your Minecraft server. Host Havoc provides strong DDoS protection to prevent internet bots from overwhelming gaming servers, ensuring uninterrupted enjoyment. One great thing about Host Havoc is that you can add as many players as you want for free. However, they show the ideal number of players for the best gaming experience.
Host Havoc offers ten global data centers and guarantees 99.9% uptime, making it a top choice. With 24/7 human support and an average response time of less than 15 minutes, this Minecraft server hosting is a reliable choice for anyone. All subscriptions come with a 72-hour money-back guarantee so that you can try them out without any worries.
Website: https://hosthavoc.com
7. Hostwinds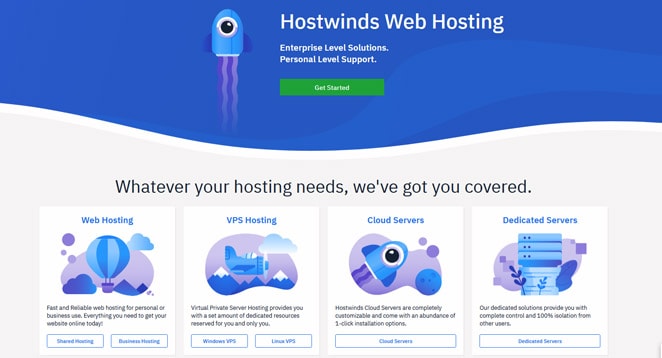 Hostwinds provides budget-friendly Minecraft VPS hosting tailored to meet your needs. Customize your server using various CPUs, storage options, RAM sizes, and bandwidth capacities. It uses high-quality CPU cores and top-notch SSDs to ensure a smooth gaming experience.
Experience flawless network performance with Minecraft Hosting, ensuring uninterrupted gameplay without downtime or lag. When you order a server, you'll receive great features like solid-state drives, 99.9999% uptime, 1Gbps ports, custom ISO's, friendliness guarantee, multiple locations, enterprise firewall, and more. It is one of the top Minecraft server hosting services available in 2023.
Website: https://www.hostwinds.co
8. Indifferent Broccoli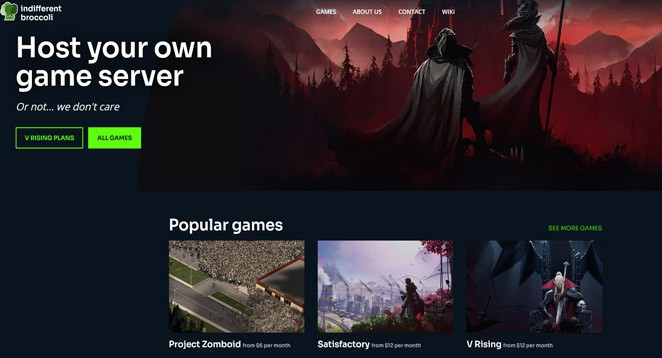 Indifferent Broccoli is a company that specializes in hosting servers for gamers. Hosting your Minecraft servers is easy with their user-friendly control panel and seamless integration with Discord. They are new to the Minecraft hosting industry but prioritize providing excellent customer support.
Indifferent Broccoli offers a two-day free trial and easy one-click setup, making it a no-brainer to try them. You can begin making Redstone circuits and shearing sheep on your server without using your credit card immediately.
Installing modpacks can be difficult, but they aim to make it easy. If you have any problems, you can contact their support team through Discord or email. They will assist you in setting up RLCraft, FTB, Pixelmon, or any other mod you want.
Indifferent Broccoli is recommended for players in North America and Europe due to its server locations in these regions. They offer machines with 64GB and 128GB RAM to ensure their customers never experience lag due to insufficient memory. If you need a server host for your Minecraft servers, try Indifferent Broccoli. They are friendly, helpful, and practical. You can try it for free for two days, and then it's $12 per month for a 2GB Minecraft server.
Website: https://indifferentbroccoli.com
9. MCProHosting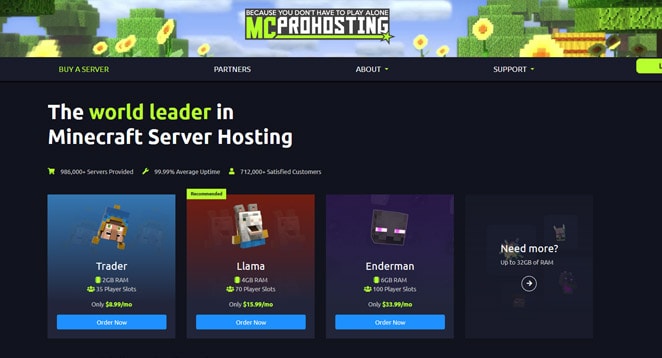 Start playing Minecraft quickly with MCProHosting's server hosting. They are a top platform that has been around since 2011. MCProHosting offers unlimited disk space and resources to enjoy a worry-free gaming experience. Improve your usability as they now have Android and iOS mobile apps. So, you can manage your server directly from your smartphone. MCProHosting ensures 99.99% uptime to enjoy uninterrupted gameplay without frustration. MCProHosting has more than 21 data centers worldwide, including Asia, Europe, and North America, to ensure excellent performance no matter where you are. You could think about using it as one of the top Minecraft server hosting services in 2023.
Website: https://mcprohosting.com
10. Nodecraft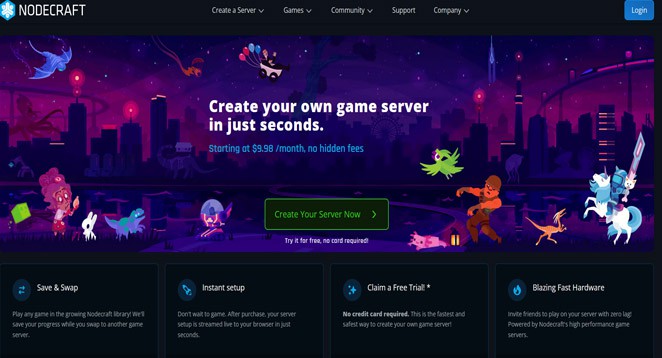 Nodecraft makes it simple to begin hosting a Minecraft server. The custom interface, called NodePanel 2, makes it easy to use, simple, and mobile-friendly. You can easily swap and save any of the 28 games they offer, with no restrictions on the slots.
Easily create your modded server, customize settings, and install plugins and modpacks easily. You can access its app from your smartphone too. You can choose from over 100 mod packs on the panel, including Forge, Sponge, and Spigot. Keep playing your game and know that Nodecraft will take care of maintenance by automating updates. Avoid crashes and lags with Nodecraft. They don't overload servers, allowing up to 12 customers on a device.
So, you can easily use CPU cores, RAM, and disk IOs. They offer fast Xeon CPUs with a speed of 3.3+ GHz and 32 GB of ECC RAM. They also provide enterprise-level 240 GB SSDs and hard disks. Their network is reliable because they have DDoS protection and a 1 Gbps uplink.
Nodecraft's infrastructure is based on Linux, which provides improved stability, performance, and security. They have a total of 13 data centers worldwide. It includes 4 in the United States, 1 in South America, 4 in Europe, and 4 in Asia-Pacific. Consider using it as a leading Minecraft server hosting service in 2023.
Website: https://nodecraft.com
11. PebbleHost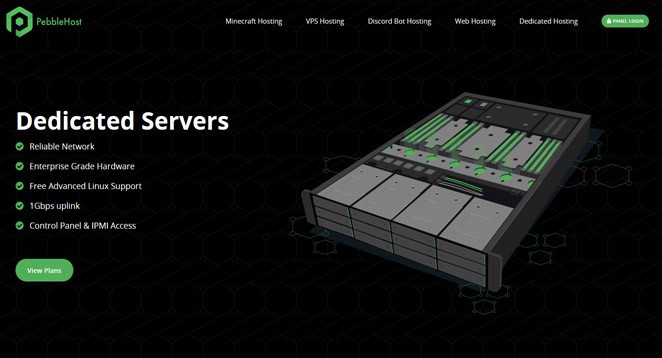 PebbleHost is a cheap hosting choice for Minecraft. The standard plan includes a powerful CPU (Xeon at 3.7 GHz), fast DDR4 memory, a 250 Mbps uplink, reliable enterprise-grade SSDs, and unlimited slots.
The data centers are located in North America and Europe. They provide you with high-quality hardware, support for multiple users, Java 8 support, task scheduling, and a subdomain creator for free. It allows you to enjoy uninterrupted gameplay.
The control panel is easy to use and stable. You can use it to start, restart, or stop servers, run commands, manage plugins, track usage, auto reboot, and more. You can access a free MySQL database and have full FTP access. It is among the most reliable Minecraft server hosting services.
Website: https://pebblehost.com
12. RAMShard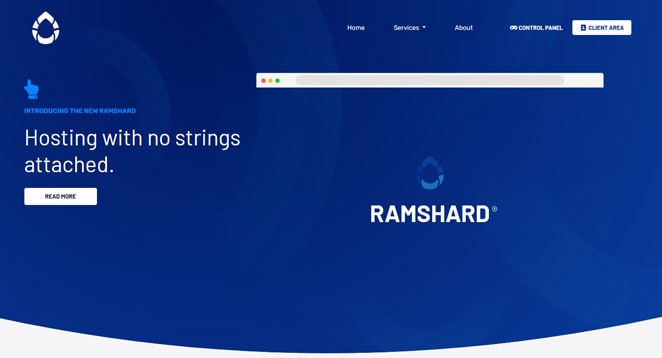 RAMShard offers a rare combination of high-quality Minecraft server hosting at an affordable price. All plans provide unlimited slots, storage, and disk space. They have data centers in North America, Europe, Oceania, and South-East Asia. They provide fast servers for people all over the world. RAMShard offer fast NVMe and SSD storage, a 1 Gbps uplink, and high-quality enterprise hardware to improve performance.
RAMShard provides you with a user-friendly Multicraft 2.0 control panel, making managing your account simple. Also, you can schedule tasks and use the MySQL database for free. You receive DDoS protection, complete FTP access, a free sub-domain, and the ability to use custom JAR files. Start playing Minecraft quickly with the 1-click installer.
Website: https://ramshard.com
13. Sparked Host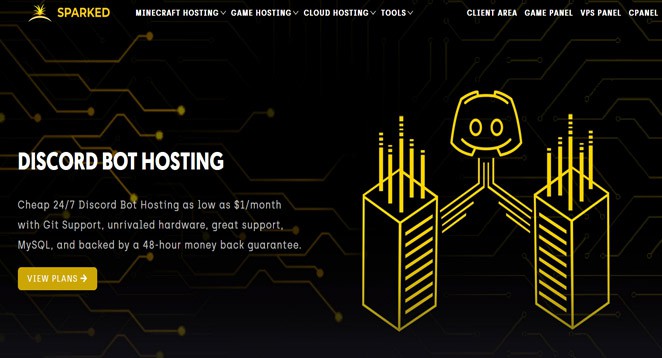 Hosting your own Minecraft server for fun or profit might take time. At DigitalMaganine, Sparked Host is a top choice due to its simplicity, affordability, and strong capabilities.
Once you purchase a service, starting at just $1.00 monthly, your server will automatically be set up for you. Once you're there, you can start playing right away using your Minecraft client. Alternatively, you can customize the server further by adding modpacks or plugins. Their trained support team is always there to help, regardless of your choice.
Sparked host offers excellent value for your money! Their servers have top-of-the-line hardware, so your project will run smoothly on their platform, whether it's new or already has a lot of players. Ensure you select the appropriate plan that suits your requirements. In addition, they offer excellent resources and documentation to help you get started quickly. This service is one of the most reliable options for hosting Minecraft servers.
Website: https://sparkedhost.com
14. ScalaCube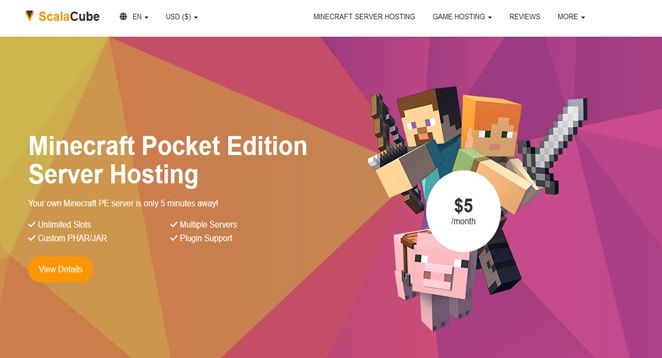 Are you looking for affordable Minecraft server hosting? Install over 1000 unique modpacks with a single click and set up your server instantly. It supports servers like Standard, PaperMC, Spigot, FTB, and more. You can select a personalized Modpack with Forge and play 13 mini-games like SkyWars, TnTRun, Sponge, HungerGames, BuildBattle, and more.
The control panel allows you to easily create a Minecraft launcher and custom forge server. You can also edit your server and mod list. You can also customize the launcher's design and allow players to join the server using your launcher. The control panel has applications such as PHP, MySQL, and Apache. It also includes SSH, FTP access, and PHPMyAdmin. They use Ubuntu for their servers. You also get server ROOT access.
They have data centers in North America, Europe, and Australia. You can choose the server closest to you. It helps reduce delays and lets you connect to the server quickly for a fantastic gaming experience. ScalaCube offers DDoS protection and automated backups for data restoration. They provide a free sub-domain to make connecting to your server simple for all players.
Website: https://scalacube.com
15. Shockbyte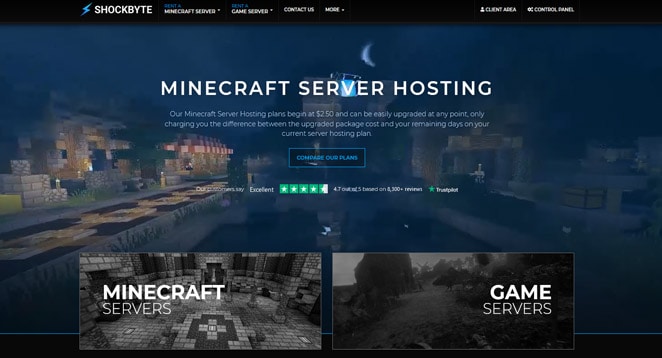 Shockbyte has been providing Minecraft hosting services since 2013 and is well-known in the community. All hosting plans fully support the latest versions of Java and Bedrock Edition. Easily install our services with just one click and enjoy automatic updates.
CraftBukkit, Spigot, Forge, BungeeCord, Sponge, Snapshots, and Vanilla are the server versions supported. Additionally, Bedrock Dedicated Server, NukkitX, and PocketMine-MP are also supported. Our servers can handle mod packs like Feed-The-Beast, ATLauncher, Technic, and more.This service is one of the most trustworthy options for Minecraft server hosting.
Website: https://shockbyte.com
16. SeekaHost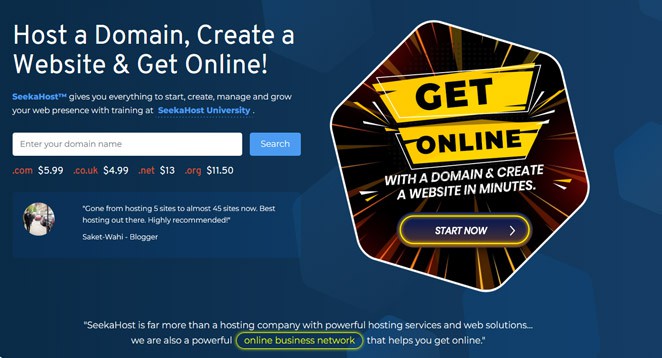 It's fun to play Minecraft on SeekaHost's high-performing servers. Start playing fast with multiple players. The CPUs are powerful and have up to 6 GB RAM and up to 5 GHz to make your gameplay better. Their servers use NVMe or SSD storage and offer unlimited usage in all plans. Set up your server in a global data center to minimize latency. SeeksHost has various Minecraft server options and mod packs that you can easily install with a single click. You can also use Bedrock Edition, Java Edition, Spigot, and many other regularly added options. All servers have an anti-DDoS solution to keep you safe from online attacks.
Website: https://www.seekahost.com
17. XGamingServer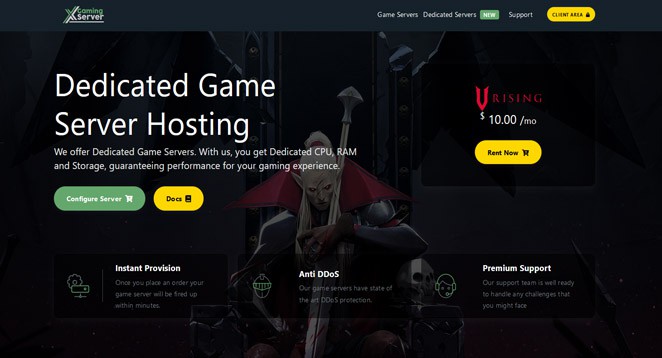 Experience XGamingServer's dedicated Minecraft server hosting for an exciting adventure in a blocky world. Discover new terrains, gather resources, create tools and items, and construct unique structures. Choosing XGamingServer for your Minecraft server has numerous benefits.
The server is designed for performance and does not have fixed game slots. With our super-fast activation process, you can start using the server within just 5 minutes of placing your order. They have created a user-friendly control panel that makes managing your game servers a breeze. The panel has lots of helpful features to enhance your gaming experience.
Website: https://xgamingserver.com
Also Check;
Conclusion
Minecraft is a popular video game that is fun and lets you be creative. If you want to play the game without any problems, server hosting providers can help you enjoy the gameplay you desire!