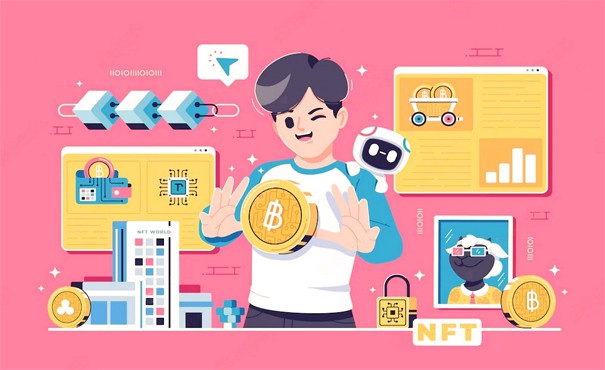 Best Play-To-Earn NFT Crypto Games: Crypto games that allow players to earn rewards are currently very popular. Some people have even made a lot of money through these games. Let's explore what's truly achievable. The gaming industry has evolved from pay-to-play and free-to-play models to include earn-while-playing or play-to-earn crypto games.
What are Play to Earn Crypto Games?
These games have unique tokens that help with in-game economies. You can buy, trade, sell, and play with these currencies in the game. Some games require payment to start, while others are free to play. Most of these games are still in early development, so the graphics may not be as advanced as top-level PlayStation or Xbox titles. You expect a good-looking crypto game, but it's a few years early. Focus on economics, and the rewards can keep you hooked.
Play-to-earn games are changing the gaming industry and benefiting both players and developers. If you're new to this space and don't know how it works, now is the perfect time to learn and make a big impact. Gaming is a rapidly growing and thriving industry. According to Statista, the global gaming market is projected to reach $268.8 billion annually by 2025.
The gaming industry has always been receptive to change, and it rapidly adopted the novel and advanced play-to-earn (P2E) gaming concept that leverages the power of blockchain, crypto, and non-fungible tokens, as well as coexisting with the metaverse. Some cool P2E games are already out there, like Axie Infinity and Decentraland. They're worth checking out!
How to Verify a P2E Game?
It is the beginning of a whole new age. As a result, bad projects are trying to steal, and verifying the validity before spending anything is critical. First, check the tokenomics. How many tokens are there in total? How often are new tokens released? Are there any benefits for holding or staking tokens? Are there any other ways to use the tokens?
Having an unlimited token supply might not be a good idea initially. Also, it's essential for staking and holding to be rewarding to maintain people's interest and investment. However, there is no set formula to predict the future of a game. Start small and don't invest a large amount of money initially. Only invest an amount that you can afford to lose.
12 Best Play-To-Earn NFT Crypto Games in 2023
Crypto investments are very risky. If you're considering investing a lot, do a thorough background check. Now, consider some of the best play-to-earn crypto games since you know enough about them.
1. Axie Infinity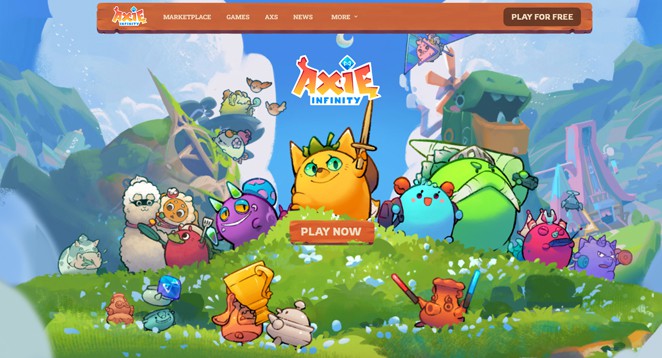 Axie Infinity is a popular crypto game for generating income in countries like the Philippines and Venezuela. It is frequently mentioned in the news for this reason. You need to buy three Axies from their marketplace to play the game. You can also purchase eggs from Axies Labs and wait for them to hatch into Axies. Additionally, you can breed Axies' eggs to create new ones and sell them in the marketplace.
NFT Axies are used for battling other Axies in groups of three to earn Axie Infinity Shards (AXS). This token can be used for governance and exchange for cash. Additionally, you can stake them and earn rewards in the form of cryptocurrency.
In addition to AXS, another ERC-20 token called SLP (Smooth Love Potions) is used for breeding Axies in the game. You can trade SLP for fiat currencies on popular crypto exchanges, just like with AXS. The game will introduce a no-upfront-investment model with limited earning potential in the future.
Website: https://axieinfinity.com
2. Thetan Arena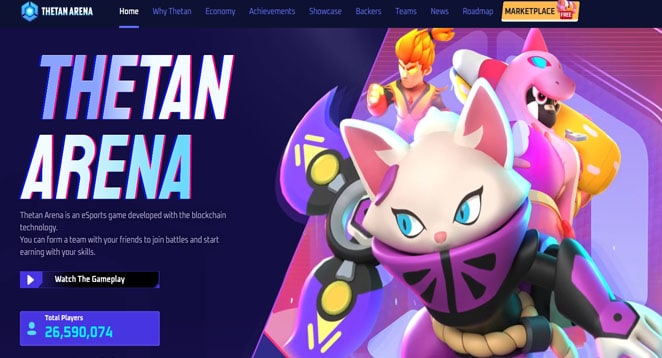 Thetan Arena is a game where you can earn cryptocurrency for free. You can choose three characters for free to make Thetan Coin (THC) in the game. To unlock advanced characters, you need to have these items. You can also buy them directly from the marketplace.
The advanced characters are the most essential part of the game. They can evolve, be traded as NFTs, and join special events. THG, or Thetan Gem, is a token that helps with the in-game economy and governance. You can also earn staking rewards by staking the THG token.
The game encourages renting premium heroes and sharing rewards to help players earn more through gameplay. You can easily convert THC into fiat currency using a crypto exchange.
Website: https://thetanarena.com
3. Pegaxy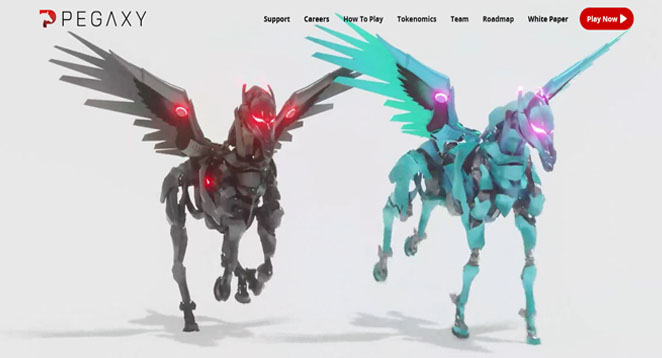 Pegaxy is a game where you can play and earn by racing horses. You can buy or rent a pega to participate in races. The top 3 winners will receive rewards in VIS, the in-game currency.
Currently, you have very little control over the racing. As a Pega owner, your main tasks are to check the track elements, choose the right Pega, and select the appropriate gear. Unlike traditional games, the racing is entirely random and has no human control.
You can buy Pegas at the Pegaxy marketplace using USDT. Also, people breed small Pegasuses. These young animals are preparing to mate or compete at the scheduled time based on their lineage. You can combine two Pegas to earn more VIS rewards. Breeding and fusion require VIS and PGX tokens. You can earn money by racing, selling, or renting Pegas. They are currently working on staking and improving gaming controls to make the race more skill-based.
Website: https://pegaxy.io
4. Star Atlas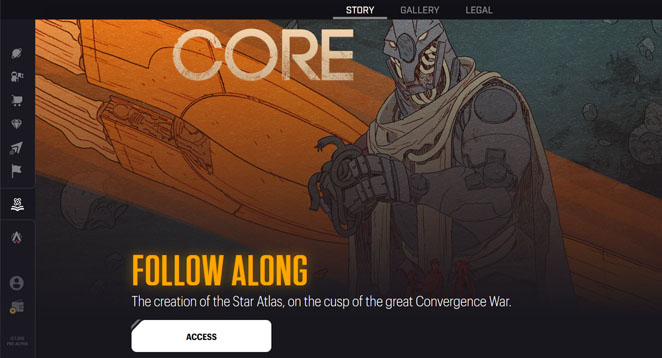 Star Atlas is a virtual world where you can have your spaceship, purchase land on faraway planets, and go on space adventures. Metaverses are games. You can live a digital life and trade crypto assets for a specific project. Star Atlas developers launch the game in stages because of the detailed features and complexities involved.
In Star Atlas, you can currently select factions, purchase lands and ships, engage in space combat and races, and explore showrooms. As mentioned in the Star Atlas roadmap, exciting features such as space missions and crafting are planned for future updates.
You'll need the Solana blockchain wallet to cover transaction fees to play this game. It also accepts USDC or ATLAS tokens for buying things. The Star Atlas DAO makes governing decisions, just like other decentralized organizations. By staking POLIS tokens, you can gain voting power to influence Star Atlas development. Star Atlas is an ambitious project that is still a work in progress. It has impressive graphics and requires an initial investment to join.
Website: https://staratlas.com
5. The Sandbox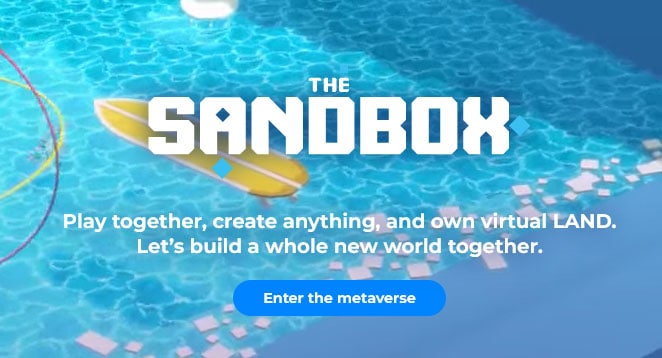 There are many ways to earn in The Sandbox. Earn SAND, the metaverse cryptocurrency, by being an artist, game maker, or landowner. Artists can use VoxEdit, a tool on the platform, to create helpful assets. But not everyone can upload NFTs on The Sandbox marketplace. To increase your chances of being selected, apply to the creators' fund and include a portfolio.
You can also make money in the Sandbox by buying land to rent or creating experiences like games. No coding skills are required for game makers to design games. According to The Sandbox, you can charge other players a fee for that experience. It is a very ambitious goal right from the start. Metaverses are like games, so essentially, you'll be charging people to play a game within a game.
A better way to earn money sustainably is by buying land in the metaverse and selling or renting it out when the time is right. This metaverse is about making or losing money, but keeping a real-life perspective is essential. SAND is a governance token that supports staking and can be bought or sold on major exchanges.
Website: https://www.sandbox.game
6. Decentraland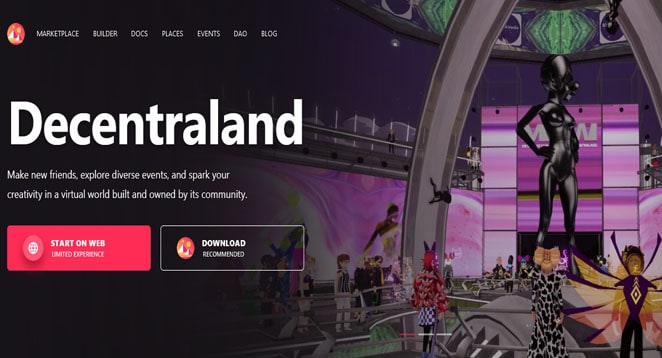 Decentraland is a widespread metaverse where users can earn money. One common way to make money in all metaverses is by purchasing land. Afterward, you can either lend it or sell it for a significant increase in value.
Another fun and exciting option is to plan and host events or games where you can charge participants. A free tool available in-house allows you to build experiences similar to the Sandbox. The requirement is to buy land with MANA, the native token, for the publication. Another way to earn money is by offering your services to a landowner, similar to how we do in the real world.
In 2021, Decentral Games was hiring for its Tominoya Casino. In the metaverse, you could have earned $200 as an intern, $700 as a part-timer (20 hours/week), and around $1500 as a full-timer (40 hours/week). The Metaverse casino hired 20 part-time workers and one full-time manager.
You can also create wearables, get them approved by the community, and then make them available. The registration fee is $500 for each item, not for each NFT. You can now list your wearables on the marketplace to earn money. In summary, Decentraland is a virtual world that resembles real life and offers similar job and earning possibilities.
Website: https://decentraland.org
7. Blankos Block Party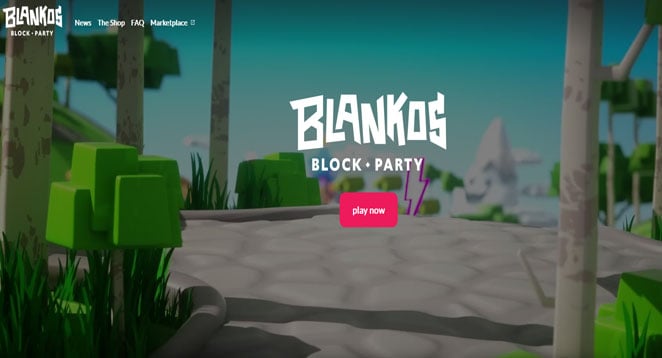 Blankos Block Party is a game where you can have fun partying with cute toy-like characters called Blankos. In this play-to-earn crypto game, the primary way to make money is by collecting blankos, leveling them up, and then selling them for a profit.
The worth of a blanko is determined by its attributes and how rare it is. You can find some for as low as $10, but the most expensive cost $5 million. But it's typical for most blankos to be priced in the thousands of dollars. You can create parties for other players to earn rewards in future updates. The game is still in beta but offers daily quests to help you earn more.
Website: https://blankos.com
8. CryptoKitties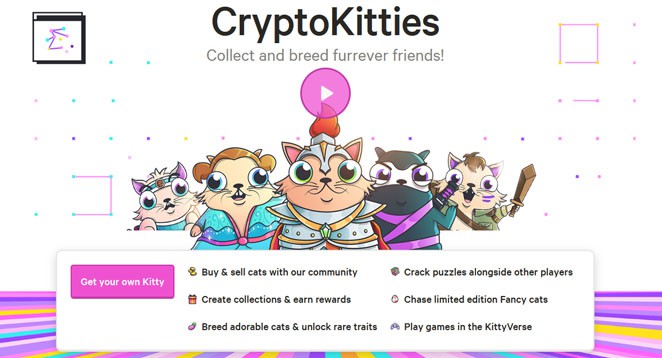 Cryptokitties is a platform where you can interact with kitties using blockchain technology. You can buy one from a friend or breed if you already have a pair. Each Cryptokitty has its unique attributes that make it different from the others. Every cat has a mother and father unless it's a Gen 0 cat created by the CryptoKitty team every 15 minutes. Only 50,000 of these unique cats exist, making them rare and valuable.
Breeding is crucial for the Cryptokitty ecosystem, although selling kitties is the simplest way to earn money. You should check the FAQ section for important details. To put it simply, you need two cats to breed another cat. Interestingly, every cat can be a mother or father. Breeding increases the cooldown period, making new ones more desirable to obtain.
On Ethereum, every exchange and breeding is recorded as a blockchain event, which adds legitimacy and comes with fees. CryptoKitty also has KittyVerse, where cats compete and have catfights. You can play CryptoKitty on Chrome or Firefox, and there's also a native application being developed.
Website: https://www.cryptokitties.co
9. The Six Dragons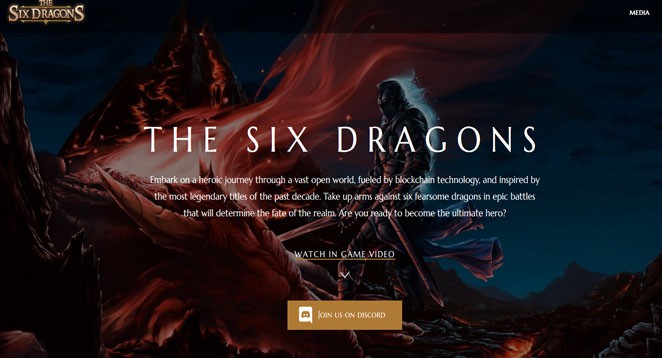 The Six Dragons is a blockchain open-world RPG, claiming to be the first of its kind. Based on the visuals, this game is one of the most beautiful crypto games. It sets a high standard for other developers in the blockchain gaming industry.
The gameplay includes exploring, farming, crafting, enchanting, trading, and fighting, just like popular open-world adventures like Skyrim. But the map size of this game is huge! It measures 256 square kilometers, while Skyrim's territory is only 38 square kilometers.
It's a single-player RPG where you can hire AI non-player characters to help with farming, looting, and more. Ethereum manages transactions, and Enjin handles NFT trading on the blockchain. The Six Dragons use a DAO to make decisions and support future development. The Six Dragons can be considered the Skyrim of the crypto verse, signaling a new era for blockchain gaming.
Website: https://thesixdragons.com
10. Ethermon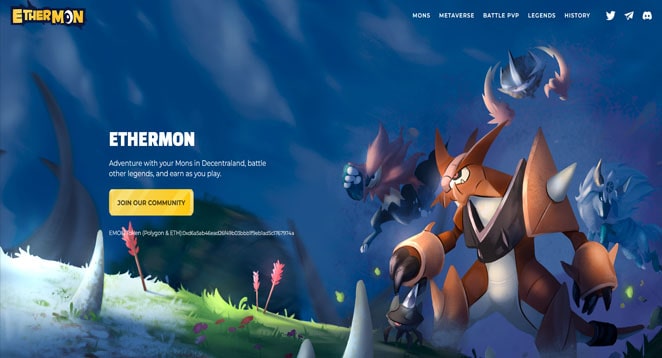 Ethermon has created a game called Metaverse that combines elements from Pokemon and blockchain technology. The game is available in both 2D and 3D formats. Ethormon's 2D gameplay, also known as Ethermon classic, focuses on PvP battles where players use powerful creatures called Mons. Ethermon's tokens have unique rarities and are crucial in tokenomics. When you win PvP battles, your Mons get upgraded, and you receive EMON tokens and NFTs as rewards.
Decentraland's 3D version mainly focuses on play-to-earn (P2E) activities, such as special quests and crafting. It is a unique collaboration where a complete blockchain game occurs in a metaverse.
Now, the primary way to earn money is through the Classic mode. Ethermons runs on both the Ethereum and Polygon networks. Mons based on Ethereum can evolve into more vital forms, but Mons powered by Polygon will gain this ability in future updates. Ethermons is excellent because you only need an Ethereum wallet, and you don't have to make an initial purchase.
Website: https://ethermon.io
11. Phantom Galaxies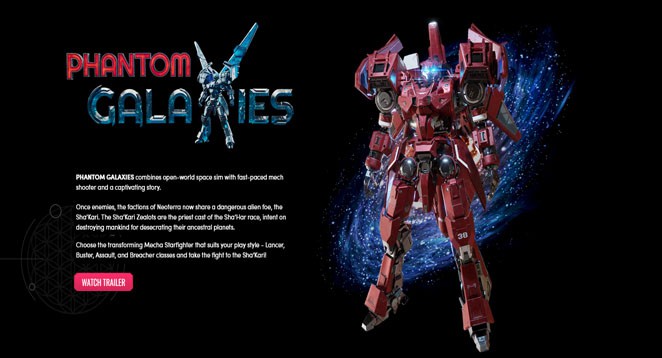 Phantom Galaxies is an action RPG that combines space simulation and combat. It features mech shooters, flying machines similar to the shape-shifting robots from the Transformers movies. To begin, connect to a suitable wallet like Metamask. Afterward, when you click the download button, you will be asked to pay before accessing the content. To access the download link, you'll need the Halberd-001 NFT, valued at 2.3 MATIC (~$1.8).
It would have been nice if players could try the game before paying. The amount could be more important. But the exciting visuals of the Phantom Galaxies make you forget everything, and you start checking the MEC shooters to begin this space adventure.
Besides combat missions, you can also mine asteroids to enhance your weapons and purchase additional mechs, ammunition, and more. In addition, this game offers missions, side quests, raids, PvP battles, crafting, and more. These features make it unique and enjoyable for players.
The governance token is called ASTRAFER, and its tokenomics are similar to trading in-game assets with other players. This game is designed to be a fun play-to-earn experience. It will have multiple blockchains, each with its galaxy. Players can interact with each other across these blockchains, adding to the enjoyment. Phantom Galaxies is highly recommended for its overall gameplay. The game looks great, the physics feels real, and lots of stuff to enjoy.
Website: https://phantomgalaxies.com
12. My Neighbor Alice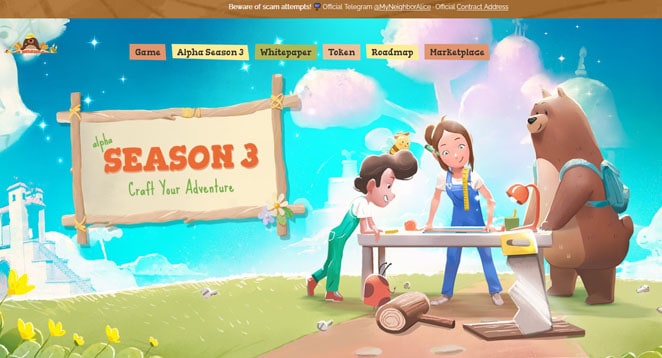 My Neighbor Alice is a fun and interactive virtual world where you can farm, fish, socialize, and even keep bees. To enter Alice World, you'll need a piece of land. The cheapest option is 247 ALICE, which is approximately $260. After buying it, live your life and do your daily tasks. To earn rewards, be a good neighbor, and assist Alice with her tasks. You earn awards that you can trade for items to use on your lands.
This game is for casual players who want to experience blockchain technology in a fun and interactive way. The game's economy stays active by trading land, houses, animals, plants, etc. Additionally, property owners can rent out their properties and charge visitors fees, providing additional monetization opportunities.
ALICE is an ERC-20 token that is used in the Alice world. The Alice world consists of six islands with unique features, known as the Lummelunda Archipelago. My Neighbor, Alice, is a cute play-to-earn game that requires active participation and offers relaxed gameplay and some earning opportunities.
Website: https://www.myneighboralice.com
Conclusion
Playing crypto games to earn cryptocurrency is becoming increasingly popular in the gaming world. Even better is having fun while making a decent amount of money. Be cautious when playing games that require you to invest money upfront due to the unpredictable nature of cryptocurrency values.