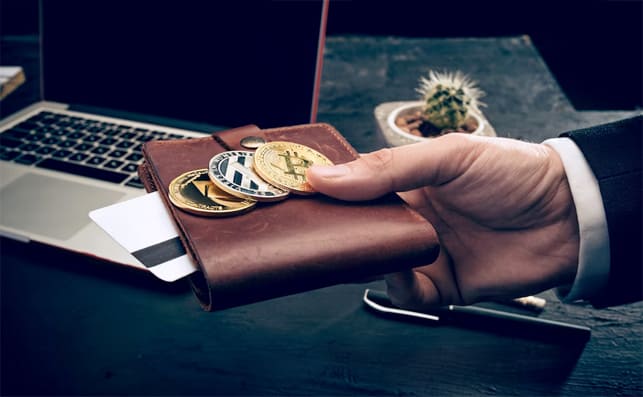 Polkadot wallets for easy management of DOT tokens: Polkadot is a blockchain network with a bright future. It has an exciting name and some unique features that make it excellent. The system can process 1000 transactions per second (TPS) and can be scaled up to handle millions of transactions. Additionally, it enables the seamless transfer of assets and data across various blockchains within the Polkadot network.
Moreover, it is user-friendly for developers and highly energy-efficient as a blockchain. Great news! The core affairs are now in the hands of capable individuals, such as Dr. Gavin Wood, the co-founder and CTO of Ethereum. Crypto users believe Polkadot can withstand challenging times in the cryptocurrency industry. As an end consumer, a wallet is the most important thing for you after selecting a blockchain to participate in.
How to Choose the Best Wallet?
Choosing from multiple options can be overwhelming for beginners. Here are a few things to think about:
1. Custodial or non-custodial
It would be best to choose whether to handle the private keys alone or let your wallet provider take care of their security. Custodial wallets hold your private keys, while non-custodial wallets require you to take care of them yourself.
2. Multi-chain or not
Multi-chain wallets support multiple cryptocurrencies. As a result, you may experience only some of the specific features of Polkadot. There are a few options if you have a diverse portfolio but still want to participate in a few protocols exclusively for DOT.
3. Platform Availability
Where do you plan to use the crypto wallet? Because cryptocurrency is highly unpredictable, monitoring it using your primary device closely is advisable. A desktop presence is good, but mobile applications are essential for many users. If you're ready to start using DOT cryptocurrency, here are some recommended wallets to help you get started.
Disclaimer: This is not advice for investing. Crypto investing is risky.
12 Best Polkadot Wallets for DOT Token Management
Here are some of the top Polkadot wallets for managing DOT tokens.
1. BitKeep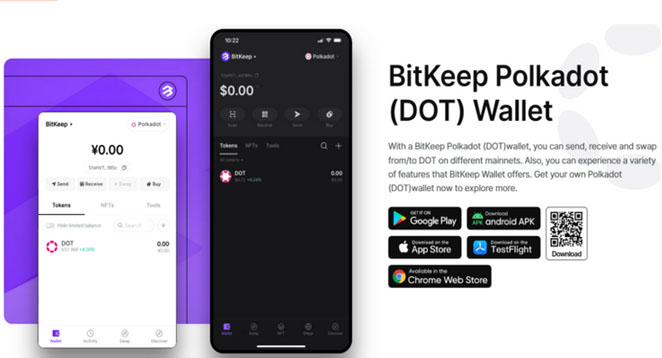 BitKeep is a wallet for crypto trading that supports multiple chains and gives you complete control over your funds. It currently provides access to over 250,000 tokens and has over 10 million users.
BitKeep's main feature is quickly buying, sending, receiving, and swapping DOT tokens on over 90 mainnets. In simple terms, it's ideal for people who have investments in multiple cryptocurrencies, but there are few features related to Polkadot currently.
Website: https://bitkeep.com
2. Trust Wallet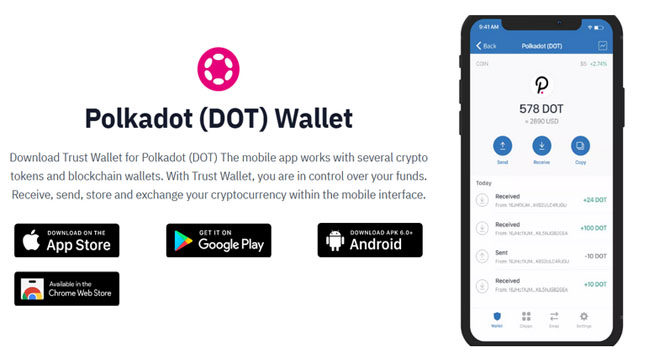 Trust Wallet, owned by Binance, is a versatile multi-chain wallet that allows you to manage your DOTs token easily. It is a self-custodial wallet. Trust Wallet's most significant advantage is its connection to Binance. It allows users to send, receive, purchase, and exchange DOTs with various other cryptocurrencies effortlessly. You'll get excellent security and a user-friendly interface. However, without additional Polkadot-specific features, DOT enthusiasts have limited opportunities for engagement.
Website: https://trustwallet.com/polkadot-wallet
3. YouHodler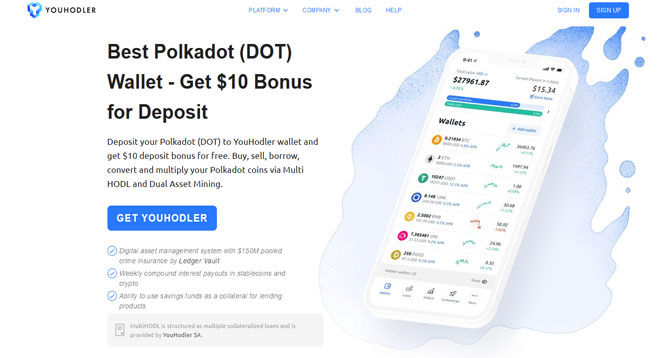 YouHodler offers a $10 deposit bonus and provides features like Multi HODL, crypto loans, and dual asset mining, making it an appealing option. Multi-HODL is a feature that allows users to use their YouHodler wallet balance to initiate a series of crypto-backed loans. The loan amount is used as collateral for additional crypto loans. The step is repeated between two and 100 times, depending on the Multi-HODL settings. The goal is to sell cryptocurrency and make a profit.
Dual asset mining allows you to earn returns in the currency of your choice. YouHodler enables you to use your DOTs tokens as collateral for loans in fiat currencies and stablecoins. This wallet has features like next-gen web3-banking, an in-built exchange, and cold and hot storage for enhanced security and flexibility. YouHodler is a web wallet that you can access on your computer, and it also has apps for iOS and Android.
Website: https://www.youhodler.com
4. Polkawallet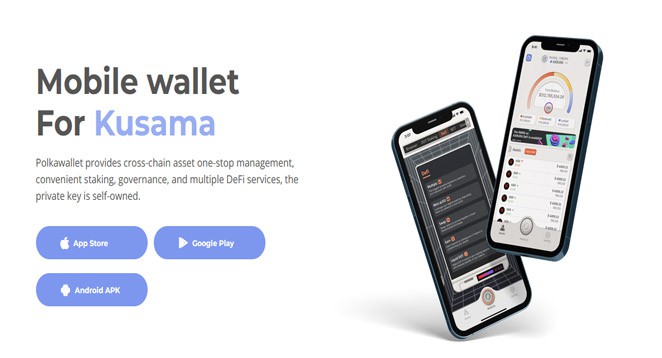 Polkawallet is perfect for those heavily involved in the DOT ecosystem. It makes it easy to manage all of Polkadot's network and assets. You can easily explore its para chains, transfer funds using QR codes, use offline signatures for enhanced security, and view real-time on-chain data.
The staking section provides helpful tips for selecting trustworthy validators. Additionally, the staking dashboard makes it easy to manage tasks such as staking/unstaking, nominations, payouts, and more. With Polkawallet, you can do more than view governance proposals. You can also vote, create proposals, select council members, participate in discussions, and perform other DOT-specific actions.
Website: https://polkawallet.io
5. Nova Wallet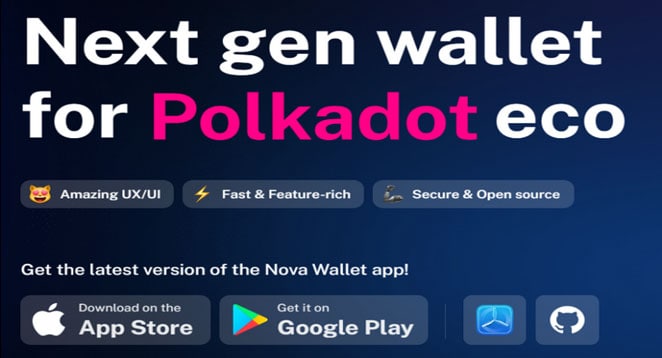 Nova is a non-custodial wallet explicitly designed for Polkadot and Kusama. It currently supports 230 tokens. This wallet has many features and lets you do NFTs, staking, DApps, Crowdloans, and more in one place. Additionally, it simplifies token transfers by supporting over 250 cross-chain channels.
When it comes to staking, you can easily access it with just one click. You have the option to either choose from recommended validators or select your own. The staking dashboard has analytics and makes managing tasks like un-staking and unpaid rewards easy.
The security feature protects users from phishing by using its built-in DApp browser protection. It supports Polkadot DApps and a few EVM dApps through Metamask.
Website: https://novawallet.io
6. Infinity Wallet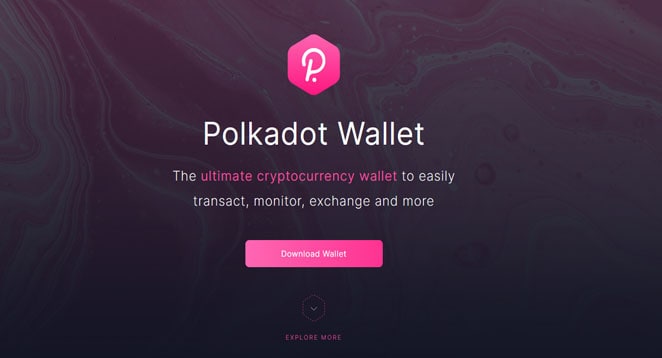 Infinity Wallet is a wallet that supports multiple currencies and allows you to control your funds. It offers simple trading features like buying, selling, exchanging, and sending Polkadot.
One of the most helpful features of Infinity Wallet is portfolio monitoring. You can use it to monitor the performance of Polkadot or your entire portfolio and can also create personalized price alerts to receive notifications based on your preferences.
You can use this wallet to trade NFTs and DApps with Wallet Connect or its Web3 browser. It also helps you find the best deals on decentralized exchange platforms for profitable swaps. Infinity Wallet is available on multiple platforms, including Windows, Linux, and MacOS. It will soon be available for Android and iOS as well.
Website: https://infinitywallet.io
7. Bit2Me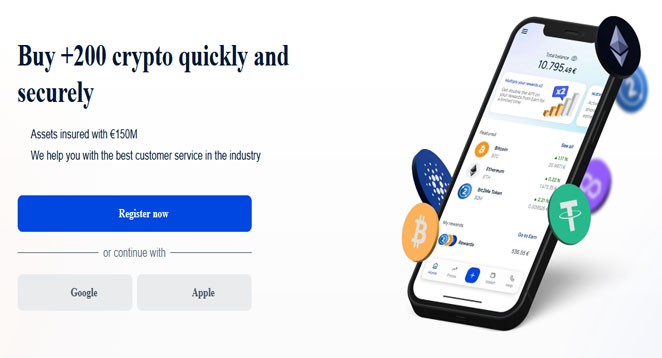 Bit2Me offers support for its users 24/7 through chat, phone, or email. They have access to over 200 cryptocurrencies and provide personalized assistance. The Bit2Me wallet stands out for its easy buying, selling, and receiving features. But what sets it apart is its ability to handle micropayments and quickly settle transactions worldwide.
Bit2Me offers various options for adding or withdrawing funds, such as cryptocurrencies, bank transfers, cards, and cash. You can deposit or accept payments with friends and use a Bit2Me card for withdrawals. Bit2Me users can have a shared IBAN account with a SWIFT/BIC code for local and international payments.
Bit2Me prioritizes security by implementing two-factor authentication, providing instant notifications, maintaining a transaction history, and offering additional security measures. You can use it on the web, iOS, and Android.
Website: https://bit2me.com
8. Atomic Wallet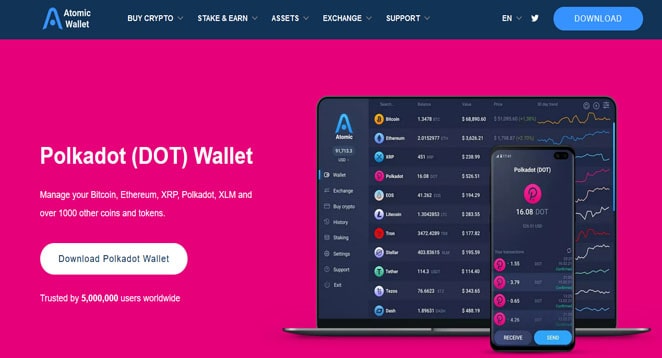 Atomic is a popular multi-coin wallet that makes trading and managing DOTs simple. The user interface is good and has a built-in crypto exchange to start using. Atomic Wallet is a platform that supports over 1000 different cryptocurrencies. It also offers staking options for over 20 coins, although Polkadot is unavailable. Additionally, users can enjoy cashback schemes on over 100 cryptocurrencies.
The great thing about Atomic Wallet is that you don't need to provide any personal information during the setup process. Also, this wallet is non-custodial. Some additional features include card payments, availability on multiple platforms, round-the-clock support, and more. Atomic Wallet is available on various platforms, including Windows, MacOS, Linux, iOS, and Android.
Website: https://atomicwallet.io
9. Exodus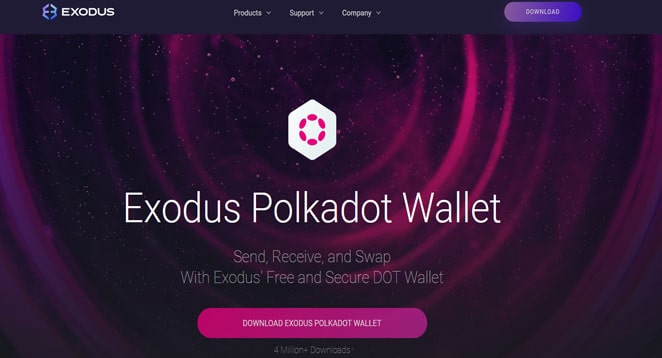 Exodus is a simple crypto tool for DOT holders, joining the growing list of multi-chain, self-custodial wallets. You can do basic actions like buying, selling, receiving, swapping, and sending. Also, the built-in crypto exchange supports these trading operations.
Exodus also helps with NFT management and provides access to DApps. For the best security when trading cryptocurrencies, you can combine Exodus and Trezor. In addition to Polkadot, Exodus allows you to access over 260 cryptocurrencies.
It is for someone with multiple coins in their portfolio focused on something other than DOT-related matters. Exodus is available on various platforms, including Windows, MacOS, Linux, iOS, and Android, and as a browser extension for Chrome and Brave.
Website: https://www.exodus.com
10. Guarda Wallet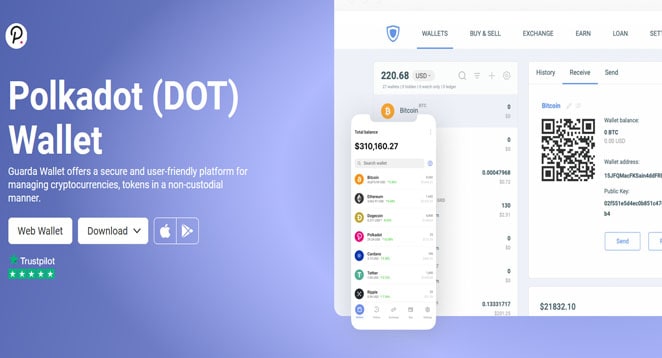 Guarda is a wallet supporting multiple chains and securing your private keys. It's a platform with many different types of cryptocurrencies, including Polkadot.
Guarda offers more than buying, selling, receiving, and swapping cryptocurrencies. They also provide crypto loans where you can use DOT as collateral. Polkadot is not included in the list of cryptocurrencies available for staking. Guarda offers a prepaid Visa card that users can fund with cryptocurrencies. This card can be used worldwide, just like a regular bank card.
It is a good option for those interested in various cryptocurrencies, especially if you're OK with limited access to the Polkadot ecosystem. Guarda is available on multiple web, Windows, MacOS, Linux, Android, and iOS platforms.
Website: https://guarda.com
11. Talisman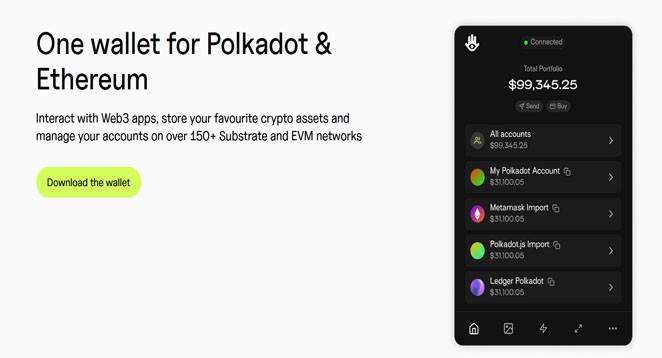 Talisman is a top multi-chain wallet with access to over 150 chains. It stands out on this list for its impressive Polkadot features. This wallet supports over 100 cryptocurrencies and does not require custody of your assets. You can combine Talisman with Ledger hardware wallets for a great experience. It offers everything related to Polkadot in one place, such as staking, crowd loans, NFTs, DApps, and more. It provides pool staking with a minimum of 1 DOT to start. You can use this wallet on popular browsers like Chrome, Edge, Firefox, Safari, and more.
Website: https://www.talisman.xyz
12. Paybis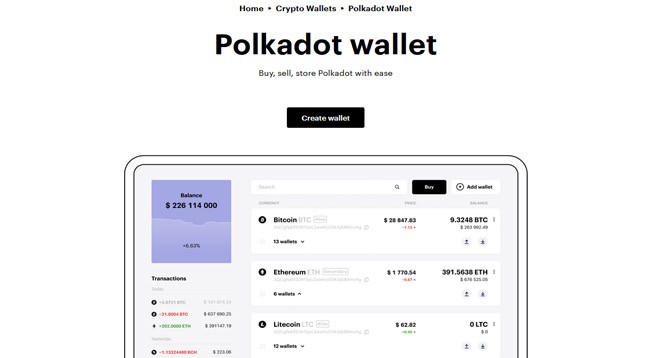 Paybis is a convenient wallet that allows you to buy, sell, and store Polkadot tokens. It is known for its simple and easy-to-use interface. To use it, you'll need to go through a KYC process. Lastly, this web wallet is limited to Polkadot and does not offer features like staking or crypto loans.
Website: https://paybis.com
FAQ
1. How does a Polkadot wallet work?
Using public and private key cryptography, Polkadot enables easy and secure funds transfer between digital wallets. The public key's hash is your address for receiving funds, while the private key is like a password that allows you to send transactions to the network.
2. What is the best Polkadot wallet?
Coinbase is a top Polkadot wallet. It lets you sell, transfer, buy, and store digital currencies. It is supported in over 100 countries and used by over 50 million people. The Dot Wallet lets you store your NFTs and crypto coins in one place.
3. What is a Polkadot wallet address?
An address is the public part of a Polkadot account. It is the part that is visible to the public. The private part is the key to accessing this address. A Polkadot account is made up of both public and private parts. Think of your account's public address as a mailbox and the private key as the key to open it.
4. Which is better, Polkadot or Solana?
It's hard to say if Polkadot is better than Solana or vice versa. Both networks have great potential, and each has its strengths and weaknesses. The decision between the two options will depend on what the user or investor wants to achieve and their personal preferences. Polkadot uses a hybrid consensus mechanism called NPoS, while Solana uses a PoH consensus model. Solana can process more transactions per second than Polkadot.
5. Why do investors prefer Polkadot?
Investors are interested in Polkadot because it offers more interactivity. Developers can connect blockchains to the Polkadot system and even build brand-new blockchains. Investors pay attention when developers show interest in new technology.
6. Which is better to buy: Solana or Polkadot?
Polkadot can handle up to 1,000 transactions per second (TPS), while Solana is even faster, with a maximum speed of 65,000. It makes Solana one of the fastest blockchains available.
7. What is the future of Polkadot in 10 years?
The market strongly believes that Polkadot has much potential and will be worth more in 2030/2031 than its current value. Experts and websites predict that Polkadot's value will range from $35 to $1705 over the next decade.
Which Is Your Favorite DOT Wallet?
For a Polkadot-savvy user looking for a multi-chain wallet, the top options are Straightaway, Talisman, and YouHodler. In addition, Nova and Polkawallet are excellent wallets for those who invest exclusively in Polkadot. The other options are wallets that mainly focus on selling, buying, and swapping, with limited activities involving DOT.