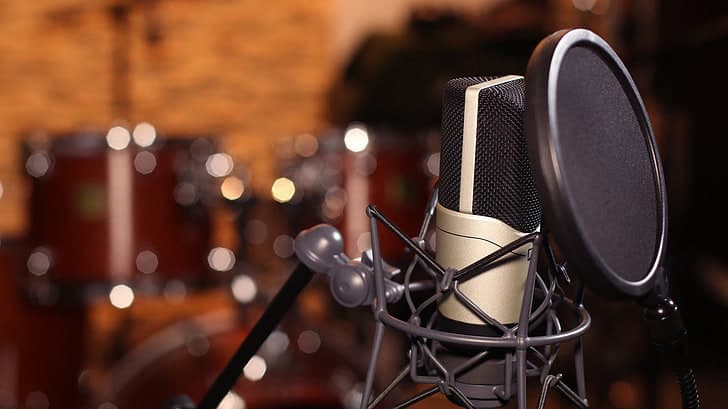 Best Radio Broadcasting Software in 2023: Are you interested in learning how to launch your internet radio station? We have compiled a list of some of the most influential and advanced internet radio broadcasting software, which features an intelligent automation system, DJ management, and seamless transitions between live audio streaming and scheduled content. These features will assist you in maintaining your on-air presence, regardless of whether you run a one-person show or a more prominent media outlet. Getting your internet radio station up and running, managing it, and advertising it has never been simpler.
What is Radio Broadcasting Software?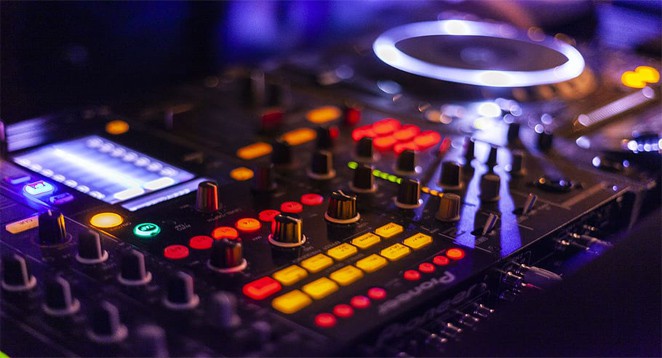 Radio broadcasting software consists of a single transmission conveyed by radio waves to reach an audience. Radio software enables AM & FM broadcasting to replicate music and speech from a computer's hard disc, as opposed to CD, MD, tape recorders, or outdated cartridge tape (see Fidelipac). The Radio stations typically keep advertising campaigns and most music on hard drives. Examples of Radio transmission, Because the most recent generations, have mostly grown up with FM radio; many individuals need to be made aware of the immensity of radio transmission, including AM, FM, Pirate Radio, Terrestrial digital Radio, and Satellite.
Radio Broadcasting Types
Before we hunt for the finest radio broadcasting software, we must first understand the many types of radio broadcasting. The most recent generations have grown up mainly on FM radio. However, many individuals need to be aware of the breadth of radio broadcasting options such as AM, FM, Pirate Radio, Terrestrial Digital Radio, and Satellite. Here's a quick rundown of the many types of radio broadcasting:
AM Radio
AM (amplitude modulation) was the first kind of radio broadcasting. This method of broadcasting was named after the way it generates radio waves by varying the amplitude of the signal in combination with the amplitude of the signal being sent. A medium-wave band' is used worldwide to transmit AM broadcasting, whereas other parts of the world (such as Europe) employ 'long-wave band' broadcasting. AM radio has the benefit of being relatively simple, and the sound created by this form of transmission is detectable.
FM Radio
FM radio (frequency modulation) was established in the 1930s to address interference problems with AM radio. It operate on VHF (very high frequency) waves. They have become considerably more popular due to improved sound fidelity, allowing stereo broadcasting to thrive on this broadcasting network. Despite the high frequency, FM ranges are substantially shorter than AM ranges, indicating that FM radio is better for local radio stations. There was no significant danger to AM radio when this technology was first introduced since FM radio needed users to acquire a different type of receiver. It wasn't until after WWII that a frequency shift made FM radio more accessible, thereby killing out AM radio's appeal.
Pirate Radio
Pirate radio is a term that refers to 'illegal' or unregulated radio transmission. This type of radio transmission is frequently used for political purposes, amusement, or as a two-way radio dialogue. While the beginnings of pirate radio may be traced back to unlicensed usage in general, history reveals that there have been instances when ships at sea used this means of communication (i.e., pirate) as a foundation for broadcasting. While the rules and restrictions vary depending on where one is in the globe, this form of broadcasting often refers to an FM, AM, or short-wave signal transmission. Even more intriguing, the origin of the broadcast may be lawful, but the location where the broadcast is heard may be illegal (i.e., if a broadcast goes across borders).
Terrestrial Digital Radio
Digital radio first appeared in Europe in the mid-1990s, preferably in the United Kingdom in 1995, then in Germany in 1999, and then in the United States, France, the Netherlands, and South Africa shortly after. DAB Digital Radio is a more simple term for this form of radio (Digital Audio Broadcasting). Digital radio is still developing with a significant presence in Europe but is still unavailable in many countries (specifically in the US).
Satellite Radio
As the name implies, this is a radio broadcasting service delivered through satellite. Satellite radios can transmit to a far larger geographical region than their competitors and be designed mainly for use in automobiles. Satellite radio is usually only available through a subscription; therefore, it is not a free service. An intriguing fact regarding satellite stations is that ground stations frequently send signals to satellites, which are then sent to radio receivers in automobiles and houses. This signal not only contains scrambled transmissions, but it also contains meta-data about specific broadcasts. Radio receivers that show the information must sort these signals. This technology enables a radio station to be heard throughout the country and around the world.
20 Best Radio Broadcasting Software
Here we list some of the best Radio broadcasting software you can consider in 2023.
1. Radio.co Broadcaster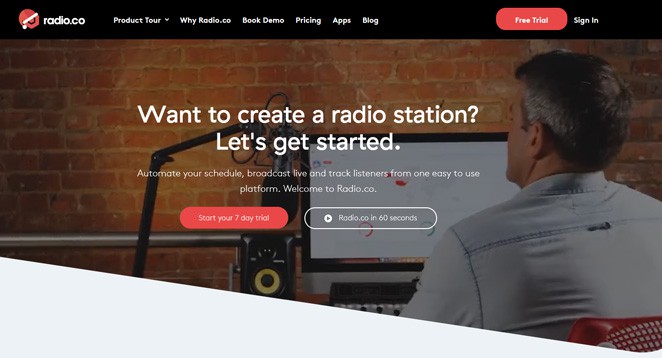 Radio.co is the desktop software for Windows that enables you and your DJs to transmit live broadcasts from your computer or laptop. Setting it up is simple, and you can use it to play music from any program, such as iTunes or Spotify. You may even converse over the music by hooking a USB microphone to your computer. Radio.co is an excellent Radio broadcasting software.
Website: https://radio.co

2. RadioDJ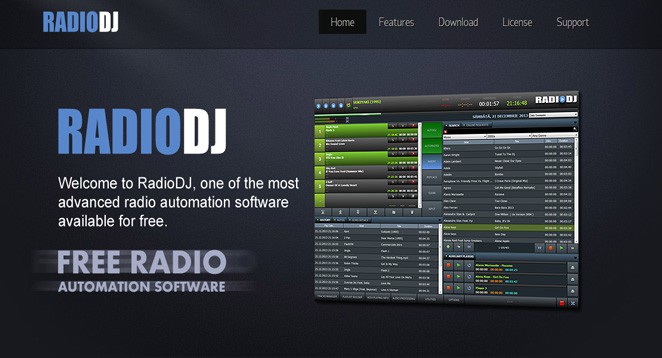 You have complete freedom to use RadioDJ software on your commercial radio station. When you set up a rotation and enable AutoDJ, RadioDJ automatically produces the playlist based on your rotation criteria so that you can skip preparing playlists all the time. RadioDJ will play all the files in the playlist while in Automated mode. In an Assisted way, the player will pause after each file. It helps perform live shows. It is the most favored Radio broadcasting software in 2023.
RadioDJ is compiled as a native 32-bit application; however, it will run flawlessly on Windows 64bit. In addition to MySQL, RadioDJ may use MariaDB, the recommended system, because it uses fewer resources.
Website: https://www.radiodj.ro
3. BUTT Broadcaster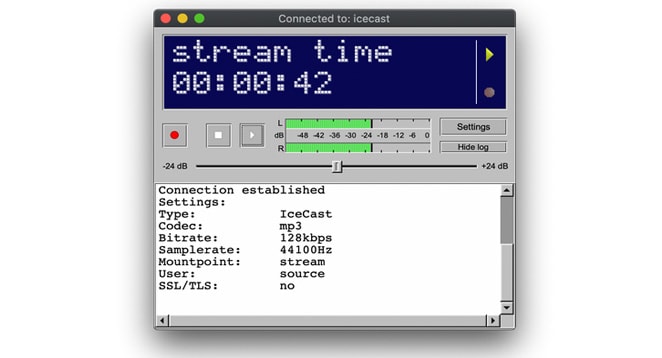 BUTT Radio broadcasting software provides a straightforward live-stream method that requires only a few clicks and is free to use. Although it may not appear to be much, it allows users of Linux, Mac OS X, and PCs to download and begin using the software without incurring any costs.
BUTT can broadcast any input source on your computer, which is excellent for external microphones, mixers, or even pre-built mics. However, it can only handle live feeds, such as talking into a microphone or your computer's sound card. It means that it cannot hijack the audio stream of a media player and broadcast it as Winamp or Nicecast can.
Website: https://danielnoethen.de

4. Audio Hijack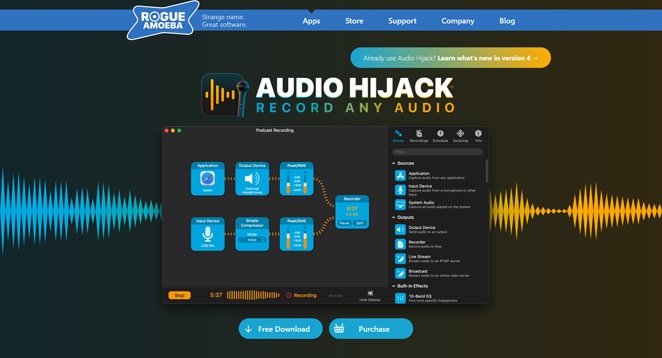 Audio Hijack, developed by the same people who created Nicecast, is the quickest and easiest way to transmit live audio or music from your Mac.
You can generate blocks that are simple to manage and that can be dragged and dropped within the software to set up broadcasts from any input source on your Mac. It is made possible by Audio Hijack. In addition, built-in effects may be sandwiched between blocks and used to change the EQ, balance, ducking, and a great deal more. Even though this Radio broadcasting software offers a free trial version that can be downloaded, Audio Hijack is a premium software broadcaster that requires a license.
Website: https://rogueamoeba.com/audiohijack

5. Loopback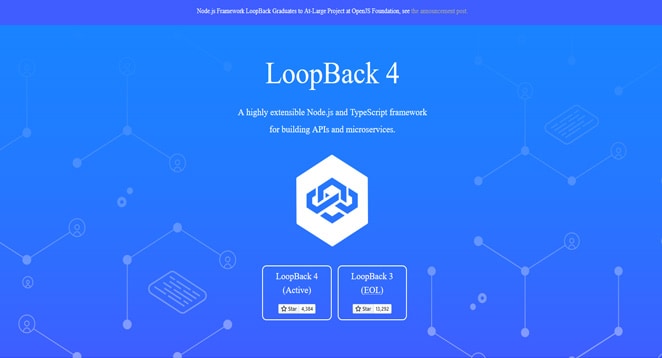 Loopback is a Radio broadcasting software that, in a manner analogous to that of Audio Hijack and developed by the same firm, enables you to effortlessly organize and route audio from sources such as iTunes, Spotify, or a microphone to applications on your Mac such as Skype, Discord, and broadcasting software. It is an excellent, simple-to-use tool that provides up to 64 channels, individual channel volume control, and the ability to customize channel mapping. It is suitable for broadcasters at any level of experience.
Downloading a free trial version is an option, or you may pay for the full version and receive a license key.
Website: https://loopback.io

6. Winamp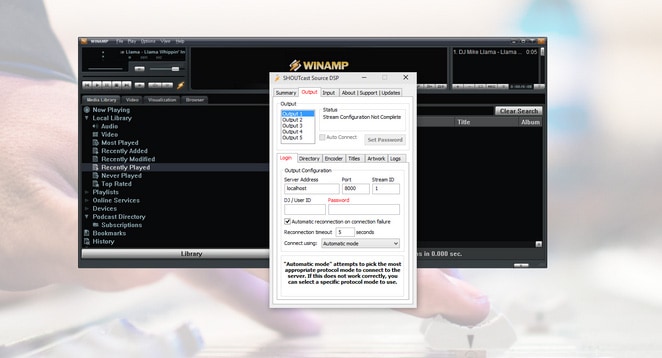 Winamp, the most well-known media player, was and still is a free and straightforward broadcaster for Windows users. You may download it from winamp website.
It enables you to organize your music into playlists, control stream output using fades, and apply effects. At the same time, you broadcast directly to your radio station when coupled with the SHOUTcast DSP plugin.
You may broadcast live music or a live conversation using an external source such as a microphone or mixer. It is considered as one of the best Radio broadcasting software.
Website: https://www.winamp.com

7. Altacast (Edcast)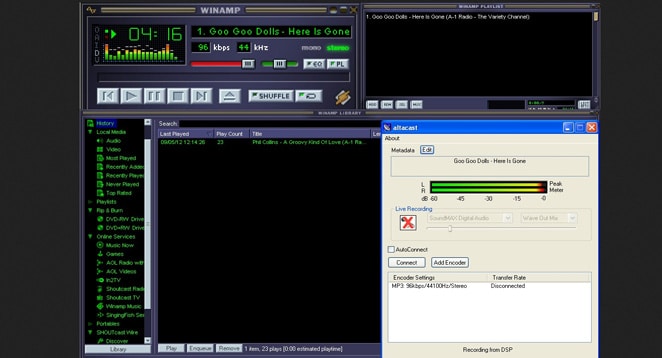 You've never heard of Altacast because it was formerly marketed under the name Edcast; despite this fact, it's an excellent piece of free Radio broadcasting software for Windows that you should check out.
The initial setup can be a little bit tricky because you have to add your encoders; however, the user interface is designed with a minimal amount of clutter, so all you have to do is enter your server information, select a recording source (such as a microphone, mixer, or line in), and then click the Connect button.
Website: http://www.altacast.com

8. PlayoutONE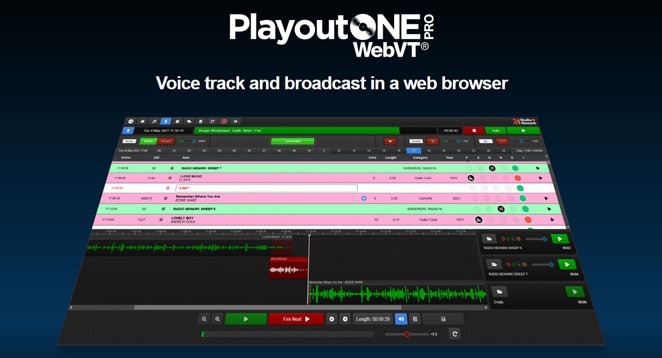 PlayoutONE is an excellent all-in-one program for Windows that enables you to manage your music collection, organize playlists and voice recordings, and do so at reasonable costs.
Your DJs will be able to broadcast and organize their playlists using nothing more than a URL, a microphone, and an internet connection since PlayoutONE Radio broadcasting software was developed with ease of use in mind. One of its features is web browser access. It is available in various packages, but the Pro package includes Web Voice Tracking, automatic ducking, and silence monitoring. The silence monitoring feature will send you an email if it detects extended periods of silence in broadcasts and automatically loads audio files in an emergency.
They provide a demo version of the program that you can use for free to evaluate whether or not it is something you would benefit from purchasing.
Website: https://www.playoutone.com

9. RadioBOSS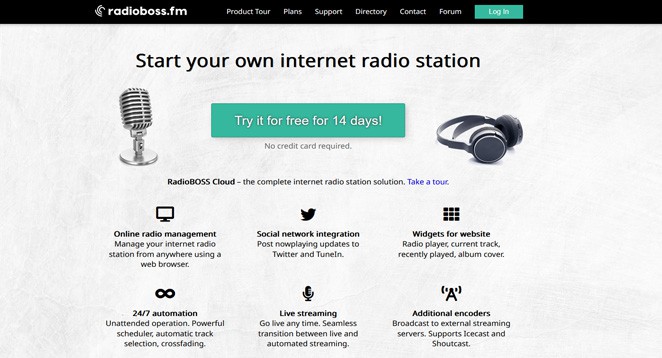 RadioBOSS was developed to take broadcasting technologies used at the professional level and simplify them to make your music management more accessible and less expensive. Compared to some of the other software designed for beginners, it may appear to be more complicated, yet, it has several functions inside a streamlined package, such as volume leveling, crossfade editing, block rotation, and a great deal more. It is the best Radio broadcasting software.
You get up to 150 free trials of the RadioBOSS service before you are required to pay anything, giving you plenty of time to decide whether or not the service is suitable for your needs. RadioBOSS is a paid service that is only compatible with the Windows operating system.
Website: https://www.radioboss.fm

10. Virtual DJ Pro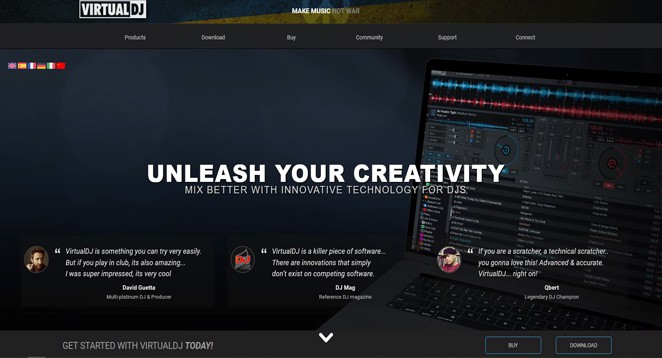 It is an audio mixing software solution that DJs use instead of the traditional vinyl or CD-based mixing decks. DJs use Virtual DJ Pro because it is more convenient and among the best Radio broadcasting software to consider in 2023.
Virtual DJ Pro is compatible with both Windows and Mac operating systems, and it performs exceptionally well in beat mixing and the cueing of media management. Additionally, it enables virtually anyone to begin mixing in audio without the need to invest in a lot of expensive equipment. In short, it has everything you need to sound like a professional.
Website: https://www.virtualdj.com

11. NextKast Pro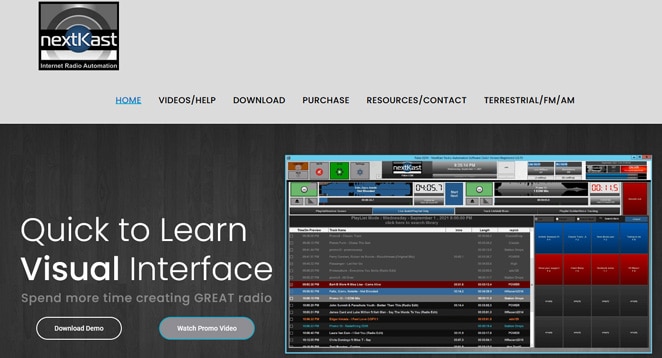 NextKast is a high-quality piece of broadcasting software that strongly emphasizes more complex capabilities. Its primary target audience is professional broadcasters.
NextKast is a tool that lets you transmit live audio over the internet to SHOUTcast v1, v2, Icecast v1, v2, or Radio.co – and this Radio broadcasting software comes packed with a tonne of bells and whistles. Alternately, automate programs throughout the week using rotations and playlists. Take advantage of advanced capabilities such as altering track crossfade times, automatically trimming dead air, and controlling all your material within the software.
NextKast is a Windows-only application that must be purchased, but a trial version is available. It allows you to test out the program to see whether or not it is worthwhile to put in the necessary work and time.
Website: https://www.nextkast.com

12. SAM Broadcaster Pro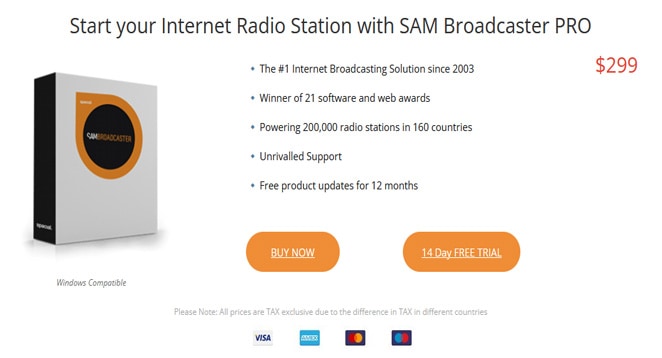 One of the most cutting-edge broadcasting software pieces is SAM Broadcaster Pro. It includes features such as media management, mixers, relays, and statistics.
With several mixing desks for audio synchronization and mixing options, such as the FX voice tool to govern how you sound while broadcasting your voice online, power and control are at the center of SAM Broadcaster Pro. The program features many mixing desks for audio synchronization.
Combining two programs for voice-overs and fade-in and out segues are standout features, along with the development of playlists and high set rotations, planned shows, and real-time information on listeners.
This Radio broadcasting software is only compatible with Windows and comes with a commercial license, meaning you have to pay to unlock the full version. However, it includes a free trial to determine whether it will meet your needs.
Website: http://spacial.com

13. Mixxx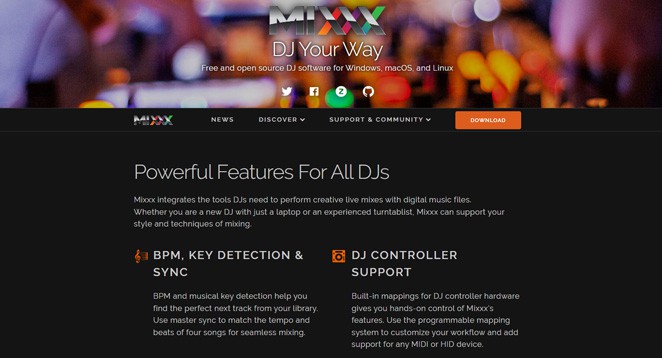 Mixxx is the best free audio mixing software available, and it enables a wide variety of media management, voice tracking, and broadcasting functions. It is the most popular Radio broadcasting software in 2022.
Mixxx is a comprehensive broadcasting tool compatible with Shoutcast, Icecast, and Radio.co. It enables advanced mixing features, the organization of playlists, track automation, and complete track information. You can input the data manually or through MusicBrainz, Mixxx's comprehensive music encyclopedia. For it to broadcast properly through your online station, you will need to download the LAME MP3 encoder first.
It is a highly professional software compatible with Mac and Windows, making it an excellent deal for free; however, if you wish to give it to the developers, you can do so.
Website: https://mixxx.org

14. Serato DJ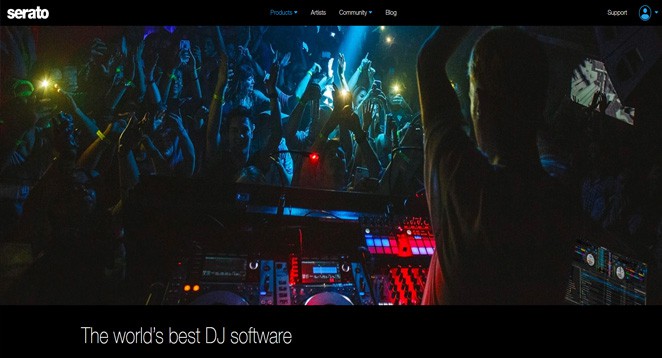 Serato DJ has quite a history behind it, having been used by famous DJs like Mix Master Mike and DJ Jazzy Jeff, amongst others. In contrast to the other featured software, Serato is compatible with a wide range of gear, including mixing consoles and vinyl decks. As a result, it makes it particularly useful for DJs. You should consider this Radio broadcasting software for Windows and Mac.
You must pass your audio via a multi-channel encoder like BUTT to broadcast using Serato.Despite this, it is a beautiful piece of simple software. It lets you record your concerts for later use, manage your songs and playlists through an easy-to-use interface, and even remotely control your tracks from your mobile device.
Serato DJ is a premium application accessible for both Windows and Mac and requires a paid license or complete purchase; however, interested individuals can download a free trial version of the software.
Website: https://serato.com/dj

15. Rocket Broadcaster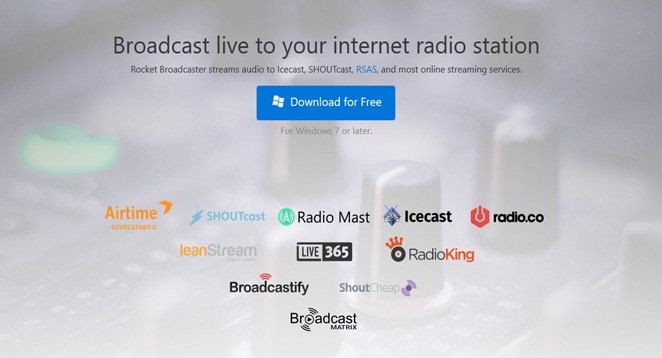 Capture and transmit audio from other Windows apps, such as Skype or your favorite music player. Rocket makes it easier to broadcast a live Skype interview over your internet radio station. Rocket can automatically grab metadata from another program window every few seconds or deliver metadata changes to your radio station on demand. It is the most favored Radio broadcasting software on this page.
The rocket contains licensed AAC and AAC+ encoders to facilitate your radio station's lawful operation. It supports MP3, AAC, AAC+ (HE-AAC v2), HE-AAC v1, Ogg Vorbis, Ogg Opus, and Ogg FLAC (lossless). Rocket has encoder defaults for popular configurations, but you may also adjust the encoder parameters. Bitrates range from 16 to 320 kbps.
Rocket allows you to broadcast concurrent streams across many network adapters, so if you have numerous internet connections, you can prevent your stream from disappearing if one of them fails.
Website: https://www.rocketbroadcaster.com
16. PlayIt Live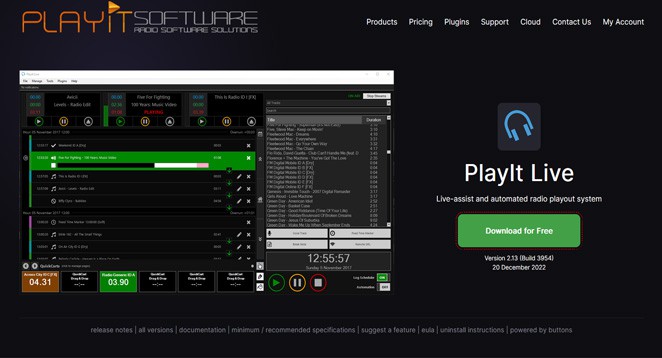 PlayIt Live is playout and automation software. It automates what would otherwise be manual processes. For example, instead of creating a playlist song by song, automation software will make one for you. As a result, it significantly minimizes the labor required to manage a radio station. You can consider it the most reliable Radio broadcasting software.
Carts are used in PlayIt Live. These are modeled on the days when radio stations stored and played their jingles, idents, and promotions on cassettes (carts). Nowadays, software carts resemble large squares on the interface. They can be linked to audio drivers or loaded with audio files such as jingles, idents, and marketing. Carts have the advantage of being able to be played, paused, and stopped rapidly. Cart-based software is widely used in the radio business. If you're used to them, stick with PlayIt Live.
Website: https://www.playitsoftware.com
17. ProppFrexx ONAIR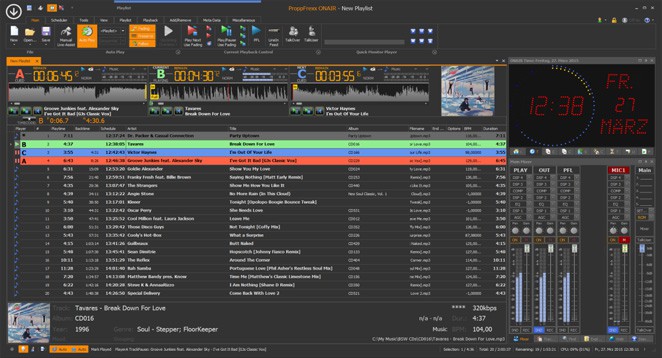 Like other best Radio broadcasting software on this list, It is an all-in-one radio automation software designed by broadcasters for broadcasters. ProppFrexx Playout is a contemporary Windows Tile program that is fully touch-capable and can offer either direct or indirect playout of audio (music) content in a kiosk-like way.
ProppFrexx ONAIR is a playlist management and broadcasting platform developed for general On-Air operations (live assist and automation), whether for big terrestrial radio stations, tiny online radio stations, or even live DJs. It is intended to provide you with the finest audio quality possible for true 24 by 7 by 365 operations.
The primary goal of ProppFrexx ONA IR was to provide flawless playlist management and integration. When we talk about media libraries, we're talking about playlists. ProppFrexx ONAIR uses standard playlists instead of native, proprietary databases to maintain references to media files.
Website: https://www.proppfrexx.radio42.com
18. mAirList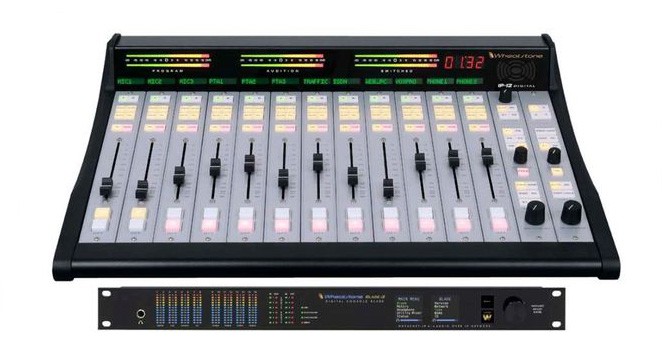 mAirList is based on a reliable, completely adjustable playout engine that includes automated and live help mode, a skinnable user interface, a built-in, touch-screen friendly, multi-tab cart wall, and voice-tracking capability. In addition, it interacts seamlessly with your professional studio equipment thanks to its several built-in remote control possibilities. If you are looking for the best Radio broadcasting software this is for you.
mAirList provides direct remote control for DHD, Lawo, Studer, D&R, Axia, Wheatstone, and other protocols such as Ember+ devices. The built-in streaming encoder feeds Shoutcast and Icecast servers even if server hardware lacks actual audio devices. For sound processing, Winamp and VST plugins can be used. Using the Multi Instance option, you may run dozens of playouts from the same workstation.
Website: https://www.mairlist.com
18. StationPlaylist Studio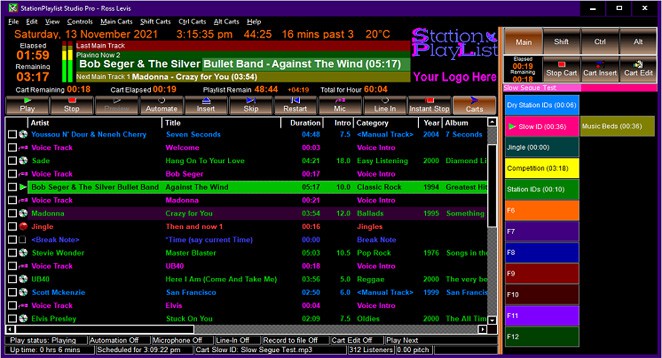 StudioStudio is on-air broadcast automation playout software for the studio and DJ that is simple to use.
All media files are played with manual or intelligent / automated crossfading. Jingles, advertising, news, and music should be played. Live streams, sound card inputs, satellite feeds, and so forth.
Includes an internet stream encoder, voice track/song ramp overlapping, 96 cart slots for quick jingles, timed events, time and temperature notifications while automated, compressor/limiter sound processing, website connectivity, and much more.
StationPlaylist Creator + Studio work together to create a low-cost, high-performance radio broadcasting software solution for terrestrial radio and internet streaming/webcasting. It is also perfect for party DJs and in-store music automation—streaming in various codecs such as MP3, AAC+ (MPEG-4 HE-AAC), and Ogg Vorbis.
Website: https://stationplaylist.com
19. TRAKTOR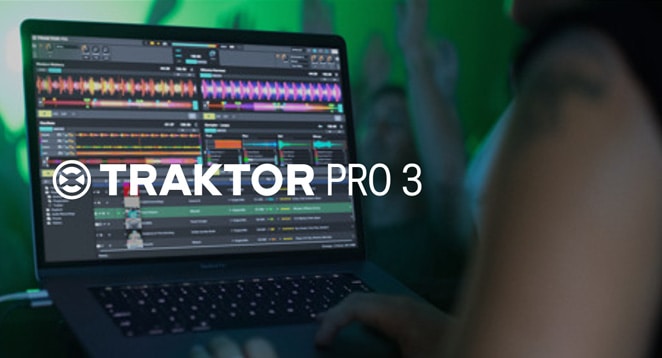 TRAKTOR is terrific for improving your beatmatching abilities, but you can also merge genres and bridge BPMs by using TRAKTOR PRO 3. Hitting the Sync button quickly beat-matches your songs, giving you plenty of time to experiment with your mix. For those who like to leave their imprint on a set, the industry's most reliable and seamless loop, Hotcue, and beat jump tools allow you to chop and re-edit songs in any way you like. It is among the best Radio broadcasting software in our list.
TRAKTOR will never let you skip out of the groove unless you want to hack things up outside the beat. Edit your music with over 40 simple, high-quality effects. TRAKTOR's famed Deck FX can twist and screw your songs in infinite ways, while the new Mixer FX brings simple effects in a single control on each channel. You can turn them up, down, on, and off for aural exploration.
The new TRAKTOR add-on subscription delivers an ever-growing stream of intriguing new features along with our regular TRAKTOR releases. While not required for essential operation, TRAKTOR PRO Plus uses the unique technologies across the Soundwide family to keep you in your creative flow and provide new tools to spark innovation.
Website: https://www.native-instruments.com
20. RadioCaster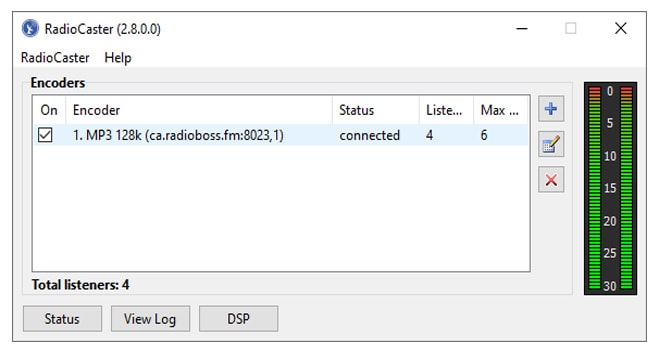 RadioCaster is an application that can take any audio, including analog, linked to your computer or playback device and broadcast it to the entire globe through the internet. It entails using existing audio sources, radio broadcasts, and other content while retaining your digital presence. You can consider it as the best Radio broadcasting software to consider in 2023.
Website: https://www.djsoft.net
Final Words
The finest Radio Broadcasting Software list may help you launch an online radio station from home with a clean and simplified workflow. So get on the air and start broadcasting faster than ever. Dive deeper with our comprehensive guide on starting a home-based online radio station. Each station has a stylish, mobile-friendly Radio Page that you can share with your listeners. Everyone trusts this internet radio platform, from radio DJs to student and community initiatives to news stations and podcasters.
Why should you submit your music to streaming services and radio stations when you can create your internet radio station? You may start broadcasting your station quickly and simply with an internet connection and a linked device. Get hands-on broadcasting experience while creating a platform for independent voices in your community. We hope that this list of the finest Radio broadcasting software will assist you in locating your desired software.