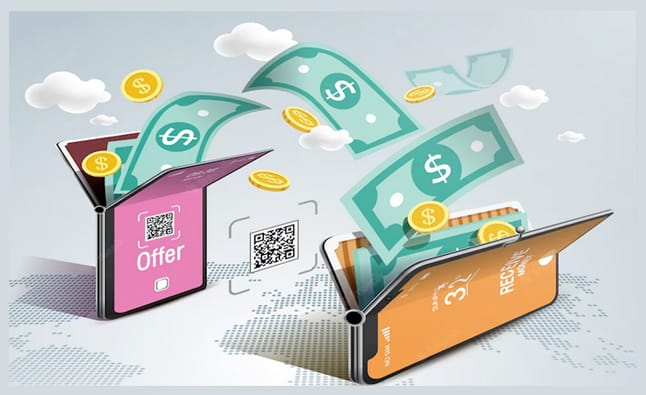 Here are the top 10 apps for safe international money transfers in 2023. Mobile money transfer apps allow users to send and receive money electronically using their smartphones. These apps make sending money internationally to your loved ones easy and secure without any extra hassle. They save time by avoiding manual checks, depositing cash in bank accounts, and visiting banks for international money transfers. This article will briefly overview money transfer apps and highlight the most popular ones for international money transfers.
What are Money Transfer Apps?
Money transfer apps let you quickly and safely send and receive money to individuals or businesses. These apps simplify money transactions and eliminate the need to visit banks for account management physically. It typically provide a digital wallet connected to your bank account or credit card. This wallet allows you to store money and conveniently pay bills online. Money transfer apps are usually made for use within a single country. Some money transfer apps can make international payments, pay international bills, and have digital wallets.
Money transfer apps usually include currency conversion services, which means you can send money in your currency and automatically convert it to the recipient's currency. The apps charge a small fee for converting and transferring money internationally.
10 Best Money Transfer Apps in 2023
Let's start by looking at a list of the best money transfer apps.
1. PayPal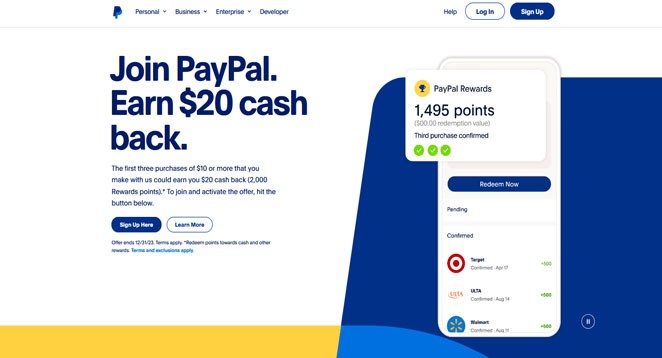 PayPal is a popular payment transfer app used by over 400 million users. You can usually find it when checking out shopping apps or paying bills online. PayPal ensures secure international money transfers by following Anti-money laundering and know-your-customer policies.
Transferring money with PayPal is easy to get started. To sign up for a PayPal account, go to their official website. Once there, you can add a funding source such as a bank account or credit card. After completing online verification, you can easily send and receive money internationally.
When you send money internationally with PayPal, they will convert the amount from your currency to the recipient's currency using the current exchange rate. You will also be charged for currency conversion and money transfer. Sometimes, the exchange rate may be different from the current market rate.
Website: https://www.paypal.com
2. Wise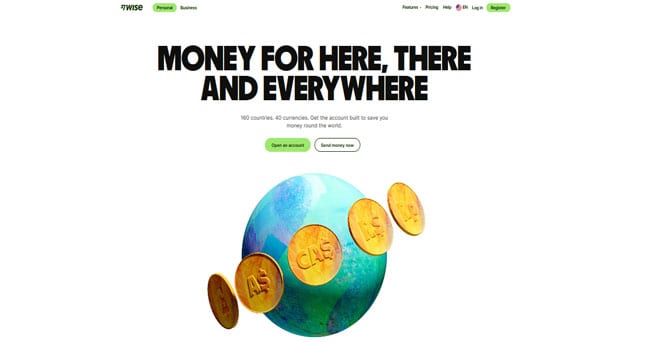 Wise is a famous fintech company known for its cheap international money transfer services. The Wise app allows you to send money to over 170 countries using 50+ currencies. There is a small exchange rate fee involved.
Signing up for Wise is simple. To sign up, you have two options: you can either visit their website or download the free Wise App. To send money, you must provide the recipient's bank account information and choose between ACH, wire transfer, or debit/credit cards for payment. After initiating the transfer, the recipient can track the payment using the Wise payment transfer link.
In addition to money transfers, Wise provides Borderless accounts for holding funds. This feature is excellent for business owners who work with different currencies or have employees in other countries. It follows anti-money laundering rules to keep customer transactions secure.
Website: https://wise.com
3. MoneyGram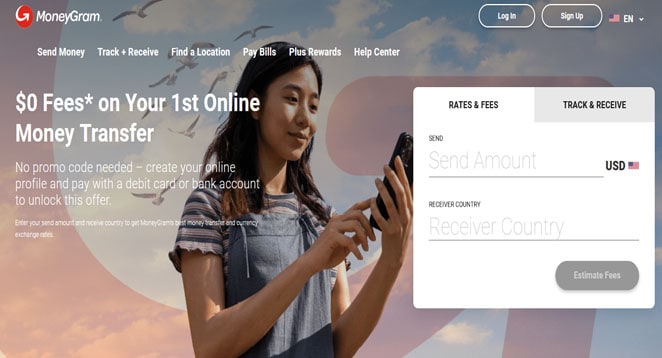 MoneyGram offers money transfer and other financial services worldwide through digital platforms and retail locations. Users can easily send money across borders and pay international bills at affordable exchange rates.
MoneyGram has convenient apps for transferring money. You can use the feature to calculate the estimated transfer fees before sending money.
The app has a list of over 13,000 companies for paying your bills. You can set up automatic recurring money transfers as needed. MoneyGram has introduced a new feature that allows you to easily buy, sell, and hold cryptocurrency through their app.
Website: https://www.moneygram.com
4. Zelle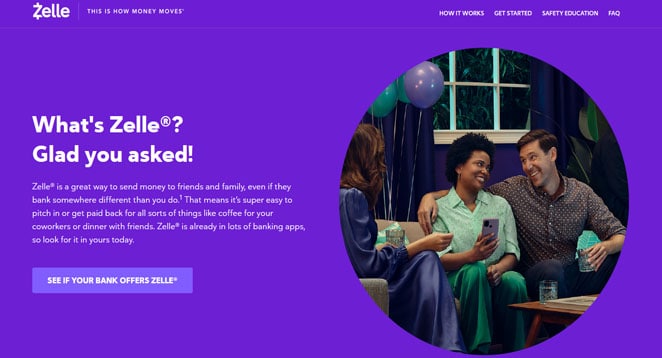 Zelle is an app for transferring money between U.S. bank accounts. The app is simple to use. If your bank or credit union works with Zelle, you can access it through your mobile banking app.
Once you sign up for the Zelle app, you can easily send or receive money using your US mobile number or the recipient's email address. The app is for regular and small business owners to use for everyday transactions. Zelle is free to use for sending and receiving money. No charges apply. Zelle is mainly used for transferring money within the United States. The app is popular because it processes payments quickly and is used by major institutions, making it easier for people to transfer money securely.
Website: https://www.zellepay.com
5. Remitly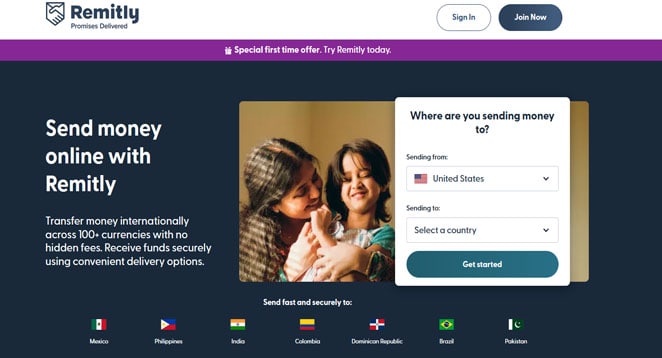 Remitly is a quick and safe app for transferring money. You can send money to over 3,000 banks and pick it up from around 350,000 locations worldwide. Here are a few trusted bank names: Bancoppel, BDO, Banreservas, GT Bank, Bank Alfalah, Polaris Bank, ICICI, MCB, and more. You can use your bank account, credit card, or debit card to send money worldwide. Remitly offers guaranteed delivery times and real-time transfer updates. Plus, recipients can collect the cash without any fees.
Remitly has a high rating of 4.9 stars on the Apple app store. It is because of its excellent customer support, transparent fees, and attractive offers. The platform has a customer care team available 24/7 to assist you in both English and Spanish.
Website: https://www.remitly.com
6. OFX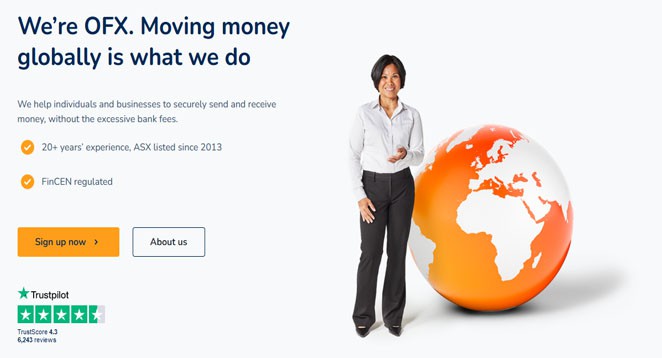 OFX is an Australian financial service company that lets users send money internationally. Over a million users in 170+ countries use OFX to transfer money. You can access it online or through a mobile app. OFX provides excellent exchange rates and lower fees, making it a good choice for people to send money internationally. In addition, it offers features such as forward contracts, stock market commentary, price alerts, rate charts, and limit orders. OFX follows strict regulations and uses advanced security measures to protect customer transactions.
Website: https://www.ofx.com
7. WorldRemit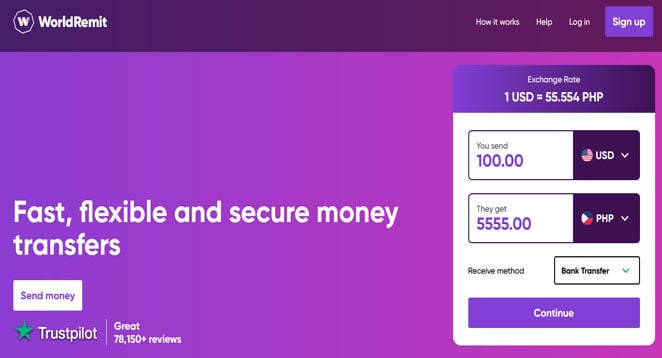 WorldRemit provides a range of services for sending money internationally. These services include transferring money to mobile wallets, depositing money into bank accounts, and picking up cash at designated locations. The app can send money quickly to over 130 countries and supports over 70 currencies.
Simply download the WorldRemit app and create an account with your email address. After that, you can begin sending and receiving money across borders. You can pay the transferred money with your debit/credit card or through a bank account.
You can use WorldRemit to send money from your bank account to the recipient's bank account. The platform has a mobile money feature for storing money on your phone. It's a secure and convenient method to transfer money, pay bills and fees, and make online shopping payments.
Website: https://www.worldremit.com
8. Venmo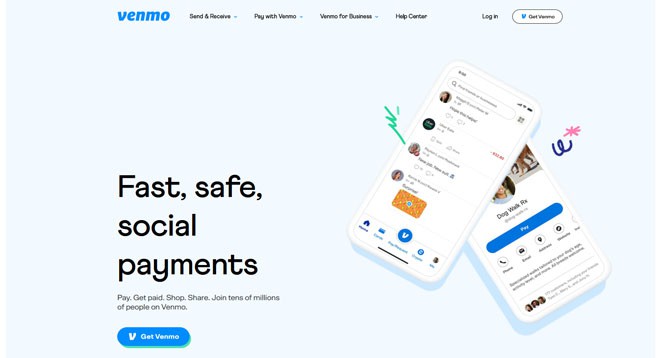 Venmo is an app for sending and receiving money with friends. You can use it to split bills, pay utilities, and send money to friends and family worldwide. Venmo's social feed is a standout feature. Users can view and comment on their friends' transactions, depending on their privacy settings. This payment app has a social networking element with a social feed and descriptions.
The app is popular among young people because of its user-friendly interface and social networking features. It's easy to use and allows for money transfers. Venmo offers a physical debit card that works like regular bank debit cards. Regarding security, it uses end-to-end encryption and modern anti-fraud measures such as two-factor authentication.
Website: https://venmo.com
9. Revolut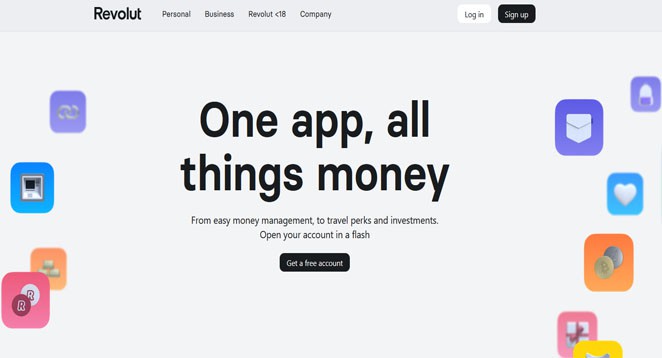 Revolut is an app that was founded in 2015 to make financial processes easier. The app provides various financial services, such as online merchant payments, investment options like crypto and stock trading, insurance, and money-related tools.
With Revolut, you can easily send money to trusted bank accounts in foreign countries using the international money transfer feature on their app. It offers competitive exchange rates and lets you choose between standard or express transfer speeds.
Website: https://www.revolut.com
10. Meta Pay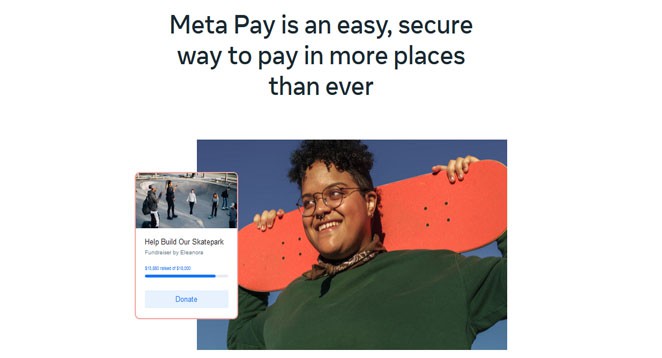 Meta Pay is the new name for Facebook Pay, which is Facebook's payment platform. You can make payments quickly and securely from Facebook, Instagram, and WhatsApp Messenger. Using Meta Pay is a breeze. To connect your preferred payment on Facebook to Instagram, add it once, and you won't have to enter checkout details again. The platform is equipped with anti-fraud technology to detect unauthorized activities, making it safer. Meta Pay has a standout feature – you can make payments on Instagram without leaving the app.
Website: https://pay.facebook.com
Also read:
FAQs
1. How do money transfer apps work?
You must make an account and confirm your identity to use money transfer apps. Once verified, you can easily send and receive money across borders to your friends, family members, or employees. You have three options for paying the transfer amount: bank account, debit card, or credit card.
2. How much do money transfer apps charge?
Money transfer apps typically have a transaction fee. The fee for sending money depends on various factors, such as the country you're sending to, the amount being transferred, the currency used, and the current market rate. Certain apps charge a set fee or a percentage of the transferred amount.
3. Are money transfer apps safe?
Money transfer apps comply with international rules and regulations to secure global transfers. These apps have security features that protect your money from cyber attackers.
Final Words
After looking at the most popular international money transfer apps, it's challenging to determine which one is the best. The answer to your question depends on your needs, such as where you want to send money, the exchange rates, and the fees involved. Also, make sure the apps follow international payment regulations for security. In conclusion, Revolut has the lowest transfer fee, Wise is affordable, and PayPal offers many integrations.