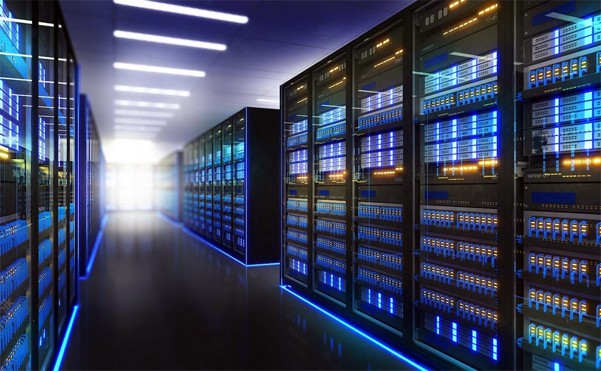 Best SOCKS5 Proxy Services: SOCKS5 is a protocol that helps route online traffic through a proxy server and changes your IP address. It's effective for bypassing internet blocks and accessing censored content in your area. SOCKS5 is versatile and can be used for gaming, video streaming, torrents, or web scraping.
SOCKS5 is a protocol that helps redirect online traffic through a proxy server and changes your IP address. It's effective for bypassing internet blocks and accessing censored content in your area. SOCKS5 is versatile and can be used for gaming, video streaming, torrents, or web scraping.SOCKS5 proxies are safer than other proxy services. So, the protocol stops unauthorized people from using the server for bad things. The SOCKS5 proxy is very flexible and has no software, protocols, or traffic limitations. It means that the server can handle traffic from any protocol. The proxy uses the fast and reliable UDP protocol suite, which is better than other technologies. UDP packets are self-contained, which means they contain all the necessary data to reach the destination without relying on external connections or transfer orders.
Top 10 SOCKS Proxy Providers – Brief Overview
When selecting a SOCKS proxy server, it's essential to know that two versions are available: SOCKS4 and SOCKS5. SOCKS4 only works with TCP, but SOCKS5 works with TCP and UDP. Additionally, the SOCKS5 proxy can work with different authentication devices.
We researched and ranked the top 10 companies that offer SOCKS5 proxies. We considered customer reviews, prices, and features to find the best providers.
What Is SOCKS5 Proxy?
SOCKS5 is the latest version of the SOCKS protocol designed to handle different types of traffic more effectively. SOCKS5 is helpful for software that may be difficult to use with regular proxies. In certain situations, when applications don't let you use proxies for performance or abuse prevention reasons, you can use "Socksfiers" or proxy "wrappers." Socksfiers can make application traffic go through a specific SOCKS proxy without the application knowing.
If you want to handle TCP or UDP traffic, SOCKS5 can help you with that. Some applications can use SOCKS5 without having a specific proxy configuration option. Other applications rely on the default proxy settings of the operating system. Detecting a SOCKS5 proxy server can be challenging, but it is still possible. The ability to detect it depends on the program settings, tools, and use cases. If you use SOCKS5 proxies for web scraping, they will be similar to other proxy servers regarding detection rate, number of proxy IPs, and handling requests.
SOCKS5 Best Features
Hiding your IP address for increased anonymity.
Dealing with various types of data.
Excellent for high-volume traffic.
High demand.
How Does SOCKS5 Work?
SOCKS5 proxies are like HTTP proxies but with some differences. To use a SOCKS5 proxy, you must use an SSH application on your computer to connect to the proxy server. Mac and Linux computers come with SSH by default. It means you can easily install a putty application to use SSH.
The first step is tunneling. It involves the client laptop sending an HTTP connection through the existing SSH connection with a proxy server. The proxy server will send an HTTP connection to the website and await a response. The website responds to the proxy server, returning the response to the SSH application. The SSH application then returns the response to the client's computer. Tunneling is beneficial: it exposes metadata on the proxy server, not the client's laptop.
What Are SOCKS5 Proxies Used For?
Proxies offer many advantages, such as more privacy, access to blocked content, tools for analyzing web traffic, and parental controls. SOCKS5 proxies are high-quality proxies that are great for handling heavy traffic. Many providers offer similar benefits, such as access to over 2 million IPs from over 80 countries.
SOCKS5 proxies offer fast speeds for all business requirements. They assist companies in monitoring copyright violations online and ensure that their content is legitimate and accessible across different web browsers. A SOCKS5 proxy differs from HTTP(S) connections because it can handle UDP connections and is suitable for data-intensive tasks like video streaming and live calls.
SOCKS5 Proxies: Comparison
After analyzing various service options, the best ones generally have affordable prices and offer a wide range of benefits to suit every customer. When choosing proxies, make sure they meet your needs by considering their features carefully. Test-driving the service will ensure that the quality matches the money paid. Sometimes, a trial may not be necessary. It's essential to determine which type is best suited for your needs. Let's compare SOCKS5 proxies with other options and understand their differences.
SOCKS5 Proxies VS HTTP(S) Proxies
The main difference between SOCKS5 Proxies and HTTP(S) Proxies is how data is handled. HTTP has two ways of processing and transmitting network traffic: tunneling and caching. On the other hand, SOCKS5 processes network traffic without sending it to the client. HTTP works with network resources using a browser, while SOCKS5 is compatible with different protocols.
SOCKS5 Proxies VS SOCKS4 Proxies
The main difference between SOCKS5 Proxies and SOCKS4 Proxies is that SOCKS4 does not support authentication and UDP proxies. SOCKS5 has many authentication methods and supports UDP proxies.
SOCKS5 Proxies: Pros and Cons
Some advantages of SOCKS5 proxies are:
You can use SOCKS5 proxies for any data, including web pages.
These proxies provide strong anonymity.
They handle tasks that involve a lot of traffic.
Here are some major downsides:
Using SOCKS5 proxies for online payments or anything involving sensitive personal information is not a good idea. The data passing through them is not encrypted.
Not all applications support SOCKS5 proxies, and are typically more expensive than HTTP(S) IPs.
Top 10 SOCKS5 Proxies Review
Here are some top SOCKS5 Proxies reviews.
1. Smartproxy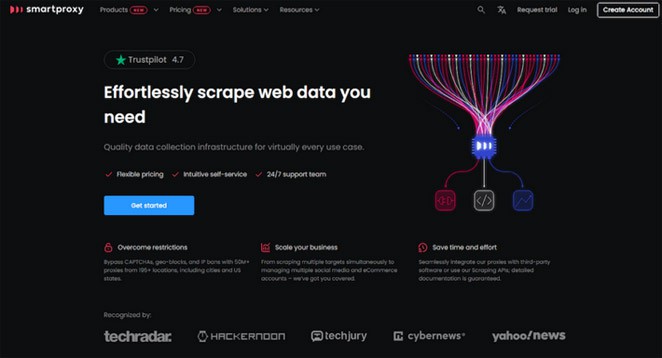 Based on user-defined patterns, Smart Proxy will automatically enable/disable proxy for the websites you visit. SmartProxy eliminates the need to manually modify your proxy settings or switch it on and off. With a single click, you may inform SmartProxy that you wish to activate a proxy for the selected website. SmartProxy will then automatically transport all of your data for that website through the proxy when you visit that website.  It is the most reliable Proxy service on this list.
Website: https://smartproxy.com
2. Bright Data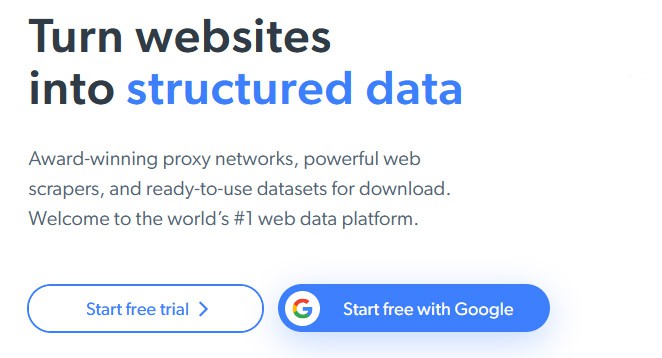 It is one of the best Proxy service and data-gathering tool that assists organizations in collecting vital information from millions of websites. It's robust geo-targeting technology enables customers to access advanced target sites, while its user-friendly interface allows users to control and enhance proxy network performance effortlessly. Other applications include ad placement verification, SEO monitoring, and site testing. It also offers pre-collected datasets for trend identification and analysis. Bright Data's complete solution enables customers to act on the valuable insights gleaned from this Internet data, whether for SEO or marketing objectives.
Website: https://brightdata.com

3. Oxylabs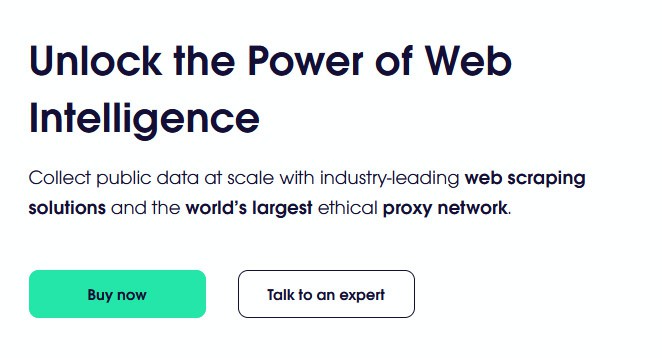 Oxylabs has a unique ethical procurement process that ensures every IP address can be obtained from a user who has given consent and is aware of the process. These users may also receive compensation for their traffic. The strict sourcing practices have built a dependable IP infrastructure. This infrastructure supports our customers and enables them to utilize web intelligence safely. Oxylabs renamed Next-Gen Residential Proxies to Web Unblocker. It is an AI-powered solution that allows for scraping without any blocks.
Website: https://oxylabs.io
4. Shifter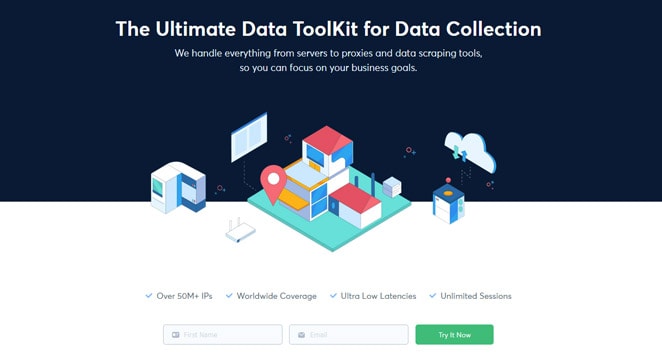 Shifter residential proxies offer worldwide coverage and advanced features like GEO targeting, custom IP rotation, and fast speeds designed for data extraction. The API they provide combines advanced scraping technology and a proxy network to handle everything from anti-bot detection to solving captchas on a large scale. They have their own data centers built explicitly for our services and products. It allows us to offer incredibly fast speeds with almost no delay (0ms latency). Your applications will run super fast with Shifter proxies.
Website: https://shifter.io
5. Rayobyte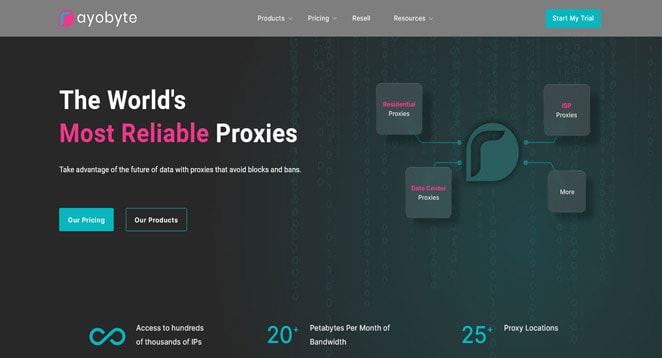 Rayobyte offers a large pool of residential proxies with high authority and a strong commitment to ethics for bigger projects. ISP proxies combine the benefits of residential proxies and the speed of data center proxies, making them ideal for non-scraping purposes. Rayobyte and Ayobyte are award-winning data center proxies offering 99% uptime and fast speed for various use cases. Mobile proxies provide uninterrupted internet access and smooth browsing for scraping projects.
Website: https://rayobyte.com
6. LimeProxies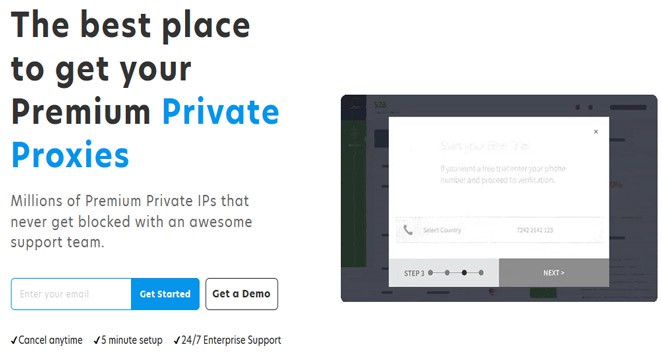 Are you looking for the top spot to get Premium Private Proxies? Limeproxies offers millions of Premium Private IPs that are never blocked, along with a fantastic support team. Boost your sales by identifying your ideal customers using dedicated and fast proxies. Limeproxies helps you monitor your Google rankings and ensures your SEO strategies are on track. You can scrape anything you want, anytime you want. It includes potential customers or the clients of your customers, all while maintaining complete anonymity. Ad verification proxies allow you to quickly check your advertiser's pages for malware and ensure they are safe.
Website: https://www.limeproxies.com
7. SOAX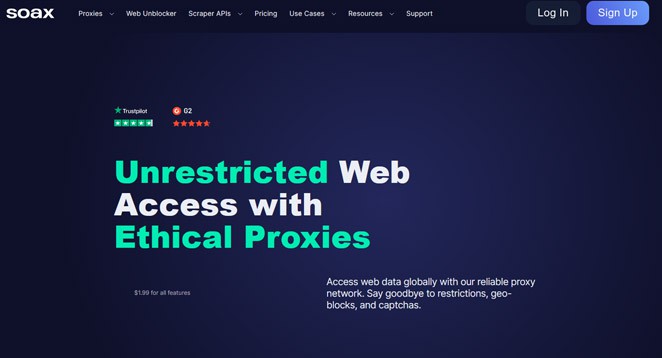 Easily access web data worldwide using our trustworthy proxy network: no more restrictions, geo-blocks, or captchas. Get safe and secure proxies for your business. Use ethically sourced proxies to protect your reputation, ensure trustworthy data, and comply with legal standards. Quickly gather extensive data with just a few clicks. Valid IP addresses: No bans, penalties, or captchas. SOAX partners with the World Ethical Data Forum (WEDF).
Website: https://soax.com
8. ProxySeller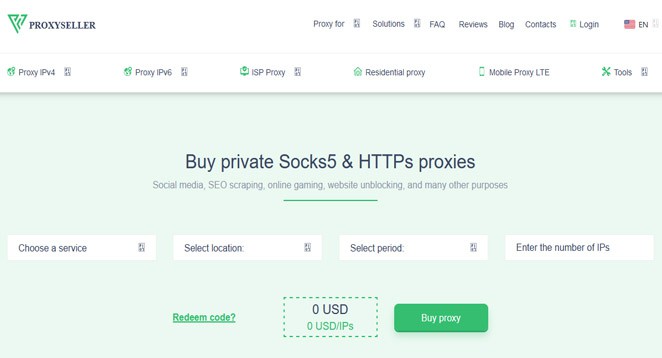 Proxy-Seller is an industry leader among proxy service providers. Over 100K customers use Proxy-Selle to get premium proxies for various countries. Its dedicated proxy is excellent for search engines, marketing on social networks, bulk posting on forums, advertisements on Craigslist, numerous accounts, registrations, and sneaker cops (AIOBOT). On Proxy-Seller, you may purchase proxies from the United States, Canada, Russia, Germany, France, the Netherlands, Great Britain, Ukraine, and many more nations.
Website: https://www.proxy-seller.com

9. ProxyBonanza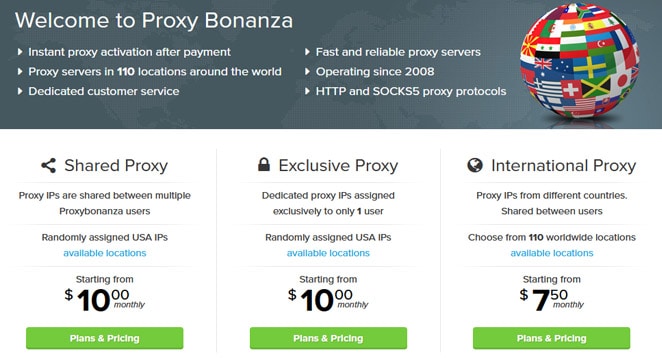 To easily manage your proxy list, install the Proxybonanza web browser extension. To get started, select the proxy plan that suits your requirements. Once you've made your selection, proceed to the checkout page and make the payment. Shared Proxy is the most popular and affordable type of proxy plan. Many Proxybonanza.com users use proxies from this IP pool. The IPs for shared plans are in the USA. Each user is assigned a dedicated proxy IP that they exclusively use. The data transfer quotas are significantly larger than those Shared and International plans offer. IPs from exclusive plans are only in the USA. With the International Proxy service, you can select from 110 locations worldwide for your proxy plan configuration. You can also find International proxy plans that include all locations.
Website: https://proxybonanza.com
10. Proxy-Cheap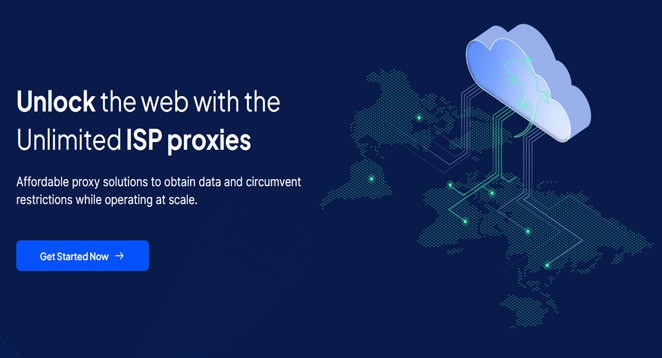 Access the web freely with Unlimited ISP proxies. Get affordable proxy solutions for data access and bypassing restrictions at a large scale. Proxy-Cheap has a massive pool of over 1 million residential ISP IP addresses worldwide. Discover the potential of this pool to enhance your operations and add value to your business. The data center subnets are carefully selected and thoroughly checked for a clean history. Proxy-Cheap datacenter proxies are designed to be fast, stable, and versatile, making them perfect for even the most demanding use cases. With the help of IPv4 and the new IPv6 protocols, you can efficiently perform complex tasks without limitations or obstacles.
Website: https://www.proxy-cheap.com
FAQ
1. What is better to choose between SOCKS4 and SOCKS5?
It's essential to know their critical differences to pick a suitable proxy. SOCKS5 is an updated version of SOCKS4. The new version has some great additions, including authentication options, support for IPv6 IP addresses, remote DNS queries, and compatibility with the UDP protocol. SOCKS4, on the other hand, lacks these features.
2. What Can I Do with SOCKS5 Proxies?
After buying SOCKS5 proxies, you can use them for different purposes. You can do many things like hiding your IP address, chatting and making video calls, using streaming websites, downloading torrents, playing games, accessing blocked content, and more.
3. Are There Any Disadvantages of Using SOCKS5 Proxies?
Although the SOCKS5 proxy offers many benefits, it also has disadvantages. Data transmitted through SOCKS5 proxies is not encrypted, making it unsuitable for browsers where personal information or online payments are involved. In addition, not all applications support SOCKS5, which tends to be more expensive than other proxy types, such as HTTP(S) IPs.
4. Can I Get a Free SOCKS5 Proxy?
You can find a free SOCKS5 proxy, but it's not recommended because it lacks features. Free proxies can be frustrating due to their slow speed and lack of reliability. It is because you have to share them with other users. However, there is a possibility of experiencing downtime if the provider is not motivated to resolve it. If you're on a budget, look for cheaper SOCKS5 proxy providers that offer good deals.
5. What Are the Best SOCKS5 Proxy Providers?
We researched and found the top 10 SOCKS5 proxy providers. They offer affordable prices, valuable features, and excellent customer support. Feel free to scroll up and check out the Top 10 SOCKS5 Proxies.