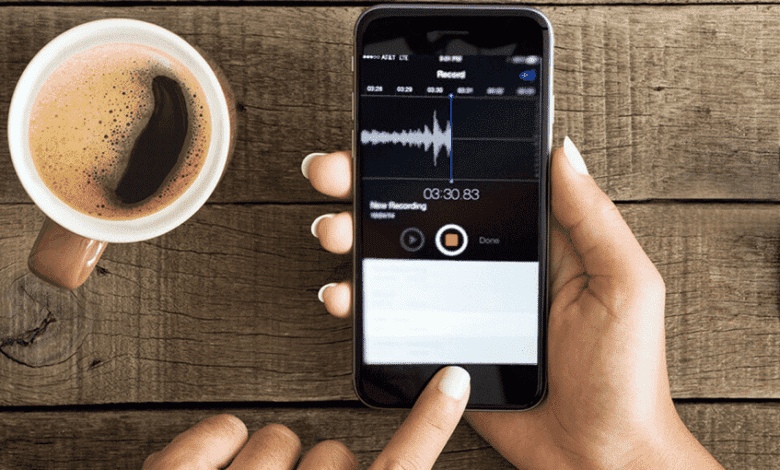 In this post, you will find the finest Audio recording software you should use in 2022. If you need to take notes fast, voice recording is probably the most effective approach to ensure that you have all you need for future reference.
Voice recording has become more practical than ever before, owing to smartphones. Install recording software on your phone, put up a suitable microphone, and begin recording your voice.
Voice recording is the best method to accomplish it, whether for voiceover or taking short notes. Sadly, the rerecorded voice is often difficult to distinguish or of poor quality. When such occurrences occur, it is reasonable to suspect the microphone; however, the microphone is not the only cause of poor speech quality.
The quality you will obtain is also determined by the voice recording software you choose. A good audio recorder software will record high-quality audio, while a poor one will reverse. As a result, it is critical to use only the best recording software to capture your audio or voice. Also read best hidden call recorder apps.
Free Audio Recording Software
This article will look at some of the best audio recording software. Then, we will investigate the features they provide and their reputation before allowing you to choose the software in which you would want to record your voice for notes, voiceovers, sound mixing, and other purposes.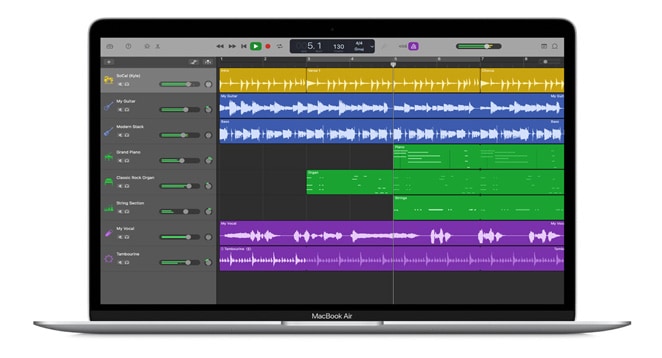 Although GarageBand is a great voice recorder, it is better known as a powerful musical workstation in the music business. It is partly because it has fully functional musical software that lets you create rhythms with natural-sounding Voices and a myriad of musical instrument effects. It is among the best Audio recording software on internet.
The software has many presets for Guitar, Piano, Drums, and other instruments that may be used to create specific musical numbers without any physical instruments. In addition, the tool has a variety of great amps and effects that can be used with your recorded audio to create beautiful music. It is a tool that may help you exercise your creative musical muscles and create distinctive tunes in various genres like Hip Hop, EDM, Indie, and many more.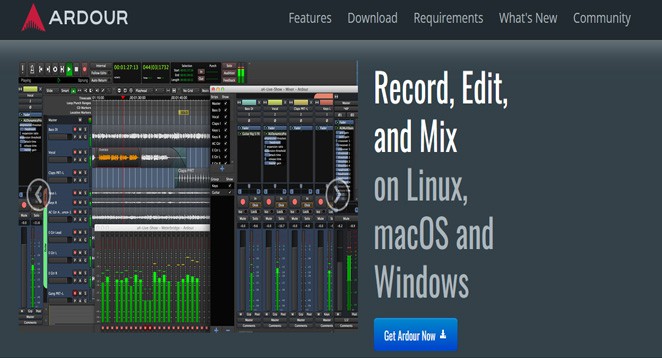 Here's another excellent audio recording tool that's good for musicians. Unlike GarageBand, which provides a complete musical workstation for editing both voice and music, Ardour focuses only on the augmentation of recorded voice. If you are looking for the best Audio recording software you should consider Ardour.
It is free software that is compatible with all modern operating systems. In addition, it has a simple interface and a profusion of specific features that improve the quality of recorded audio. Here, you may quickly chop, extend, or divide your recorded audio. Ardour is also helpful for multi-track audio recording and editing. You may import MIDI files and audio from the freeware sound database or your computer's hard drive to mix sounds and add creativity to your tracks.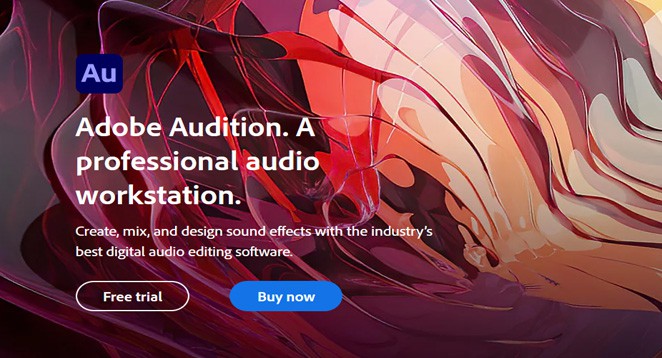 Adobe Audition is widely regarded as one of the best audio workstations available today. It is a tool that many expert sound engineers suggest. The tools have several features that let you record, edit, mix, and recover audio for many reasons. It is among the top Audio recording software, most of the professional editors use.
The software is well-known for its powerful multi-track display and waveform function. Aside from the above, the tool enables users to combine many audio clips into a single file, fix audio breaks, and create audio files in various formats.
The tool is excellent for combining audio files for podcasts. Adobe Audition's audio workstation was explicitly designed for creating professional podcasts.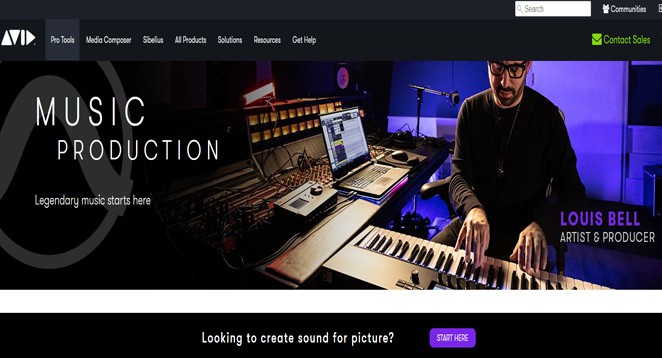 Avid Pro Tools, like Apple's GarageBand, is a solid audio workstation that allows aspiring artists to create their music without spending substantially on musical equipment. It is incredible to record audio and create music that you may broadcast to the whole globe! You can consider it among the reliable Audio recording software.
The tool has a rather extensive user interface that makes recording and composition much simpler. In addition, it enables cloud collaboration, which means you can now collaborate with other musicians to create music online.
Aside from the features listed above, you may also use MIDI editing, a plethora of musical pre-sets, loop recording, and auxiliary tracks to explore and create fantastic music.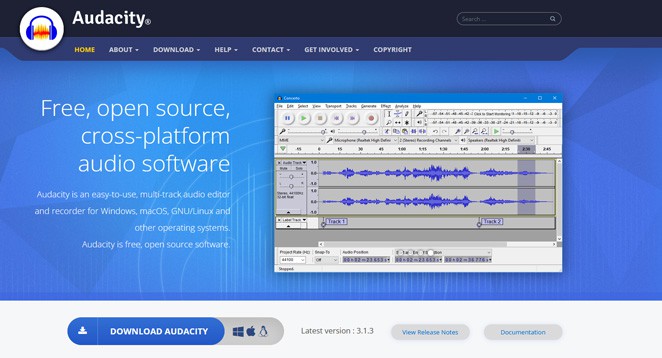 Audacity is fantastic audio recording software that offers a plethora of features to its users, although this app is open source and free to use. The tool is compatible with practically all operating systems, including Windows, Mac, and Linux. In addition, it features a reasonably clean design that does not bombard users with extraneous visuals and bizarre styles. How can we miss Audacity in the list of best Audio recording software.
Despite its simple appearance, it is exceptional in terms of its features. You may quickly set up external recording equipment, then use the software to record, edit, and mix audio to your liking. You may also use the tool to alter the treble and bass and do frequency analysis.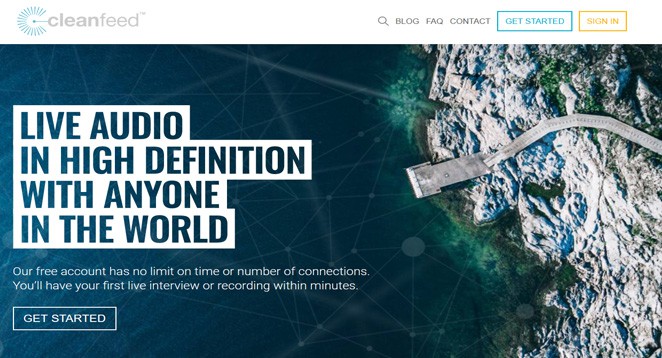 Cleanfeed is one of those tools designed specifically for live audio and radio recording. To begin recording with this tool, sign up using your browser and record your audio. It is that simple. There is no need to install additional software. It is unquestionably the best Audio recording software we have today.
When you press the record button on your browser, Cleanfeed goes into auto-pilot mode. It will mix the audio and make modifications to ensure that you only hear the best quality audio. You also don't have to sign up for different accounts for each person engaged in your recording.
Only one account is required. However, you need to share the web address with others so that they, too, may participate in the subsequent recording procedure.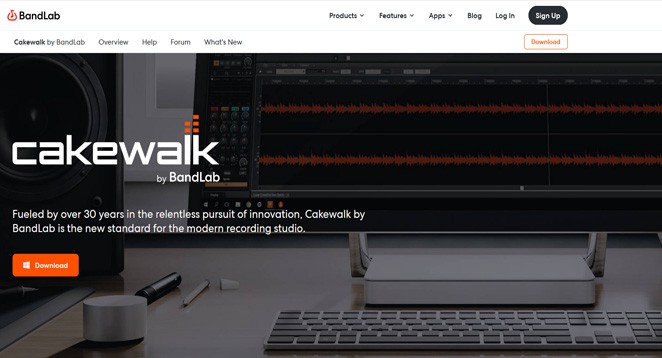 Cakewalk is a program that simplifies audio creation. It is a tool that allows you to record, edit, and mix audio swiftly. Cakewalk is also a tool for repairing distorted audio files. It is in the list of best Audio recording software.
The tool also has many tools and instrument presets to help you create beautiful music. Aside from that, it supports MIDI recording, exporting, and publishing music, among other things.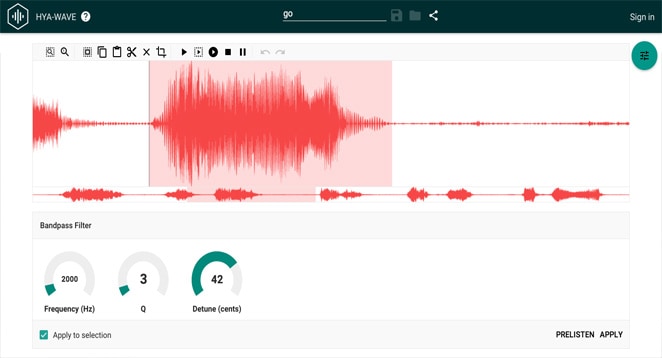 HYA.WAVE is an intelligent online audio recorder that enables users to rapidly record audio on their computer or mobile device without downloading software. You should consider it in the list of best Audio recording software.
You may use the tool to either export an audio file from your device or record one right away for editing.
It is effortless and ideal for on-the-go audio recording and editing.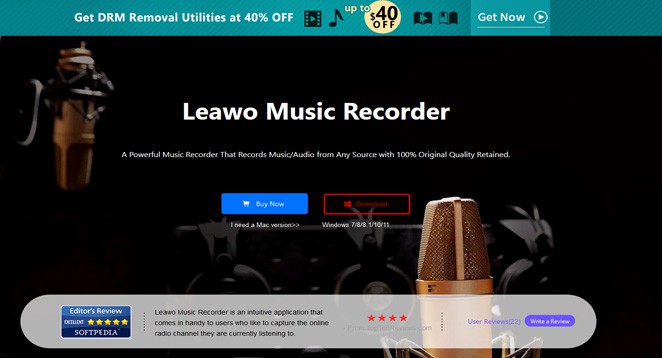 Leawo Music Recorder is a program used to record music or audio from computer audio and input audio. In addition, the tool includes a job planner, album cover finder, and other features. Of course it is reliable Audio recording software.
It supports a variety of music sources, including YouTube, AOL Music, and many more. Additionally, you will be able to record music using the microphone or an internal audio stream.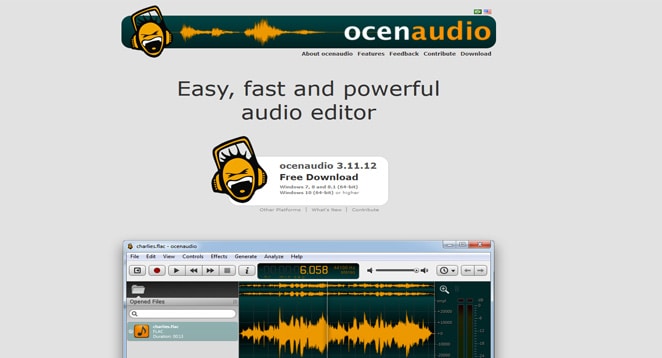 Ocenaudio is clever editing software that handles audio recording and editing. It is a tool that users who want a lot more automatic reaction from their editing tools should pay attention to. Our top pick Audio recording software is Ocenaudio.
Ocenaudio is an excellent audio recorder, but it is best known as a superb and powerful editor. The tool wraps its numerous complex features in a fantastic-looking, user-friendly user interface. Users may use the tool to apply various audio effects and preview them in real-time while editing.
You may also choose various segments of the same audio to edit, listen to, or apply effects to at the same time. It is one of the most outstanding cross-platform audio editors currently available. It can function flawlessly on Windows, Mac, and Linux systems.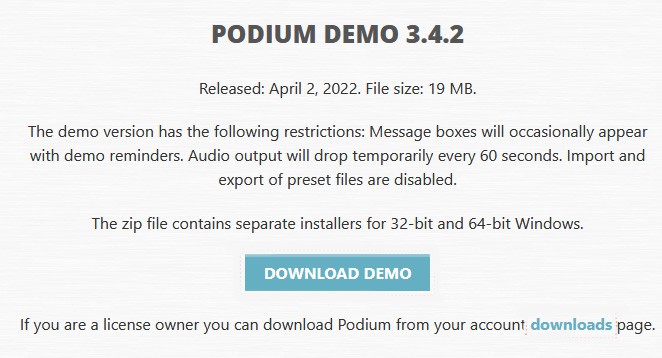 Podium is a stylish audio workstation designed exclusively for Windows. It can edit, record, mix and repair audio. The tool also allows MIDI recording and editing and includes a plethora of effect plugins to enhance the quality and attractiveness of your audio track. It's also suitable for hosting VST instruments. If you are still lokking for best Audio recording software, this app is for you.
QuickTime is a video editing tool for Mac that enables users to record continuous audio and video on their Mac for added convenience. To begin recording, head to the 'files' tab on your screen and choose 'new audio recording.'It is the most famous and reliable Audio recording software.
The tool works exceptionally well on iOS devices to record video or audio. After recording, you may easily edit, clip, or divide your recorded audio using QuickTime's powerful editing features.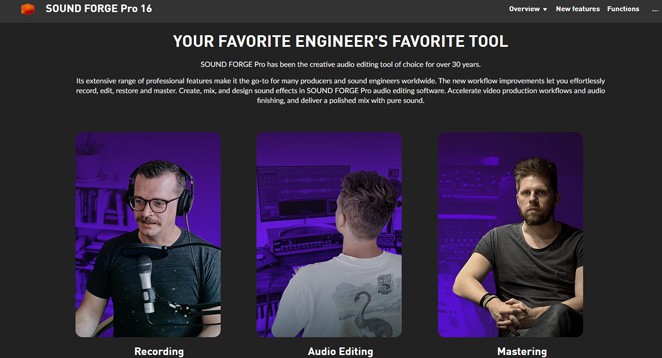 Sound Forge is a sophisticated audio editor that can help you trim and edit audio to enhance its quality to astounding heights. In addition, the tool has a fantastic feature that enables you to personalize your audio in various intriguing ways.
There are several effects available to amplify the quality of your recorded sound. It is one of the most sophisticated tools on our list and the most costly.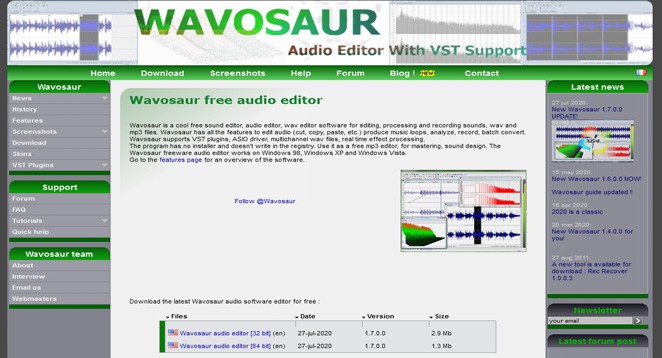 Wavosaur is another in a long series of powerful audio processing tools that include a function that allows users to record sound. Wavosaur's offering is pretty minimal. It is a tool that will enable you to record, edit, and mix audio for various reasons.
It features a simple interface that does not overwhelm its users with needless frills. Aside from recording, the tool may also be used for audio conversion, music loop production, sound design, and much more.
The tool supports VST plugins, multichannel WAV files, and real-time effect processing.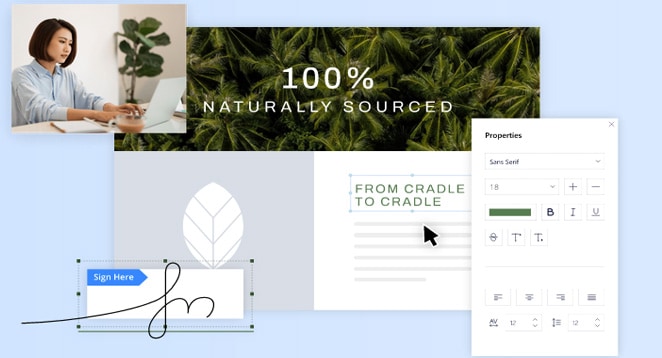 Wondershare DemoCreator is a very easy-to-use screen recording tool that records everything on your computer screen. We recommend that you try this trustworthy Audio recording program, which is well-known among professional editors.
You can quickly record and edit audio and video from your screen to create instructional, game content, YouTube videos, etc. It's also an excellent editor because of features like real-time screen sketching and hundreds of templates.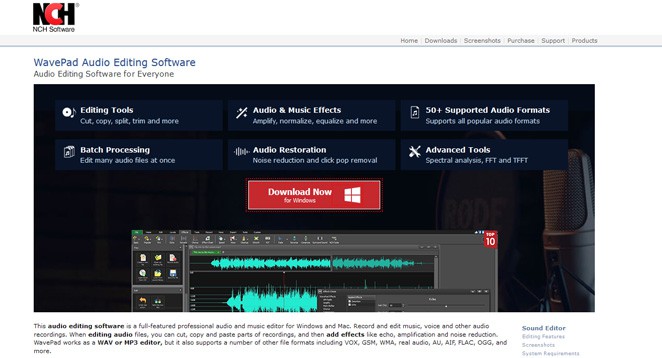 WavePad ranks high on the list of user-friendly voice recording software. It has a simple and clean interface, yet many complex features win it a spot on our list. For example, WavePad may record audio, mix it, edit silences, and remove background noise.
The tool features a highly adjustable toolbar that enables users to remove and change tools inside the software as needed. It allows users to create a more customized experience. WavePad also has a wealth of filters and effects that may be applied manually or automatically to enhance the quality of your recording. For example, you may use effects such as distortion, reverb, amplify, fade-out, and edit and equalize the audio.
FAQ – Audio Recording Software
1. What extra functions match audio recording software perfectly?
Most audio recording software nowadays should be able to edit and apply filters and effects. Trimming an audio file, removing background noise, or using filters and special effects may all improve the quality of your recorded audio.
2. What are some of the most common audio file types that a recorder must support?
Most audio file types, including MP3, WMA, and WAV, are supported by most sound recording software. However, the finest will also be able to handle additional audio formats such as FLAC and AAC.
3. What are the different input sources for audio recording on mobile and PC devices?
Traditionally, sound or audio may be recorded using a microphone. However, more complex software enables you to capture sound from various input sources, including media playback devices like CD, DVD, and USB, direct phone recording, internet streaming, and sound cards.
With a plethora of powerful software at our disposal and the ease provided by mobile devices, voice recording has become exceedingly simple. One may desire to record sound for various purposes, including podcasting and YouTube video creation, among others. The tools described above are more than capable.
Audacity is an excellent choice for our suggestions if you want a simple voice recorder with elegant features. However, if you're a musician looking for a fully-fledged audio workstation with recording capabilities, go no further than Apple's GarageBand or Ardour. Also read article on free Video Recording Apps.