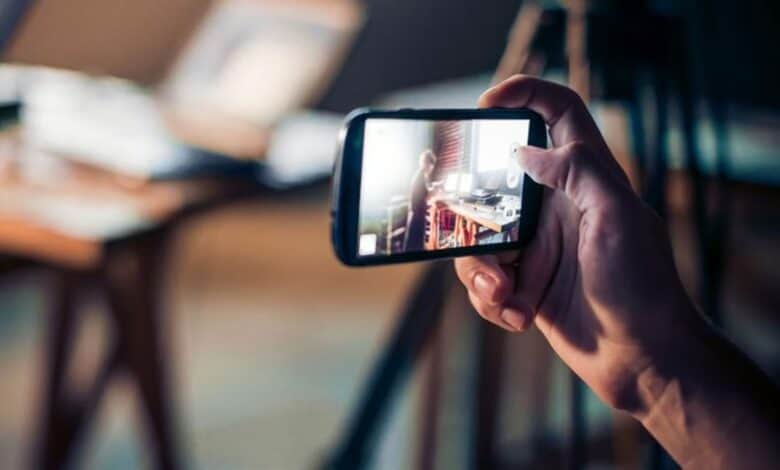 In this guide you will know the best Video recording apps. Online video recording, often known as screen recording, records everything that appears on computer displays in real-time and turns it into a video. It is often used for demonstrations, tutorials, presentations, virtual training, etc.
We will explore the necessity for an online video recorder, facts about it, some pro advice, often asked questions, top video recorders, a comparison of leading five software, a complete evaluation of the best video recorders, and a conclusion in this article.
Why You Need Video Recording Apps

1. Improve communication: Recording a presentation and sharing it more effectively helps improve communication with international customers.
2. Creating tutorials: It helps create tutorials that improve training effectiveness and make the class lively and exciting.
3. Better comprehension: It offers a clear image of when and how the problem occurred, allowing technicians and IT specialists to better understand without wasting time.
4. Saving essential items: It is useful when you need to store crucial things that you may require later.
5. Customer support: It helps in various ways in providing customer assistance. You may give them a recording to address their difficulty when they are stuck between things.
6. For cooperation: It helps collaborate with coworkers through the video when they cannot physically meet in the exact location.
Best Video Recording Apps
This post is about the best Video recording Apps available on internet.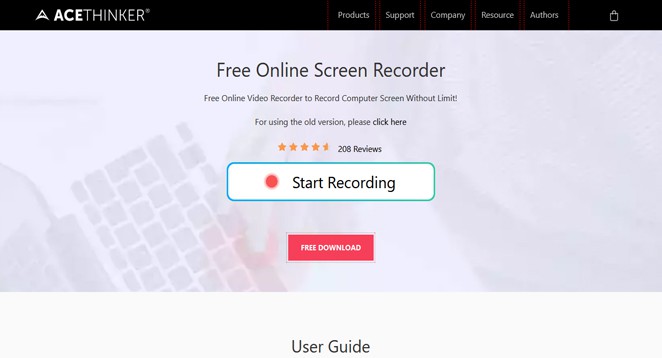 It is a simple and user-friendly platform for recording the screen as needed. There are various features available to assist customers in creating their videos as desired, such as recording through webcam, adding or eliminating system sound, and many more.
Allows you to record everything on the screen with several settings; • Different capture modes are available to record.

Allows videos to be stored in many formats such as AVI, MOV, WM, and others.

Three simple steps make it easy to use.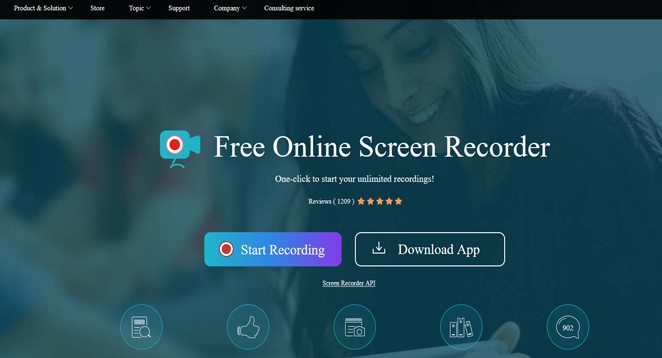 Apowersoft is the most user-friendly online screen recording interface.
It offers multimedia, mobile, and utility solutions, including a PDF editor, data recovery, CAD viewer, video producer, file compressor, and many more.
It is a free online video recorder with limitless services.
To begin recording, click once.
Allows for the quick recording of tutorials, lectures, hilarious videos, or anything else you choose.

Offers various recording options, such as inserting a webcam while recording, capturing audio and video at the same time, and so on.

You may add comments such as color, shapes, notes, and more while recording.

It is simple to save a video to a local disc or RecCloud.
The file may be exported in various formats, including MP4, WMV, AVI, FLV, and others.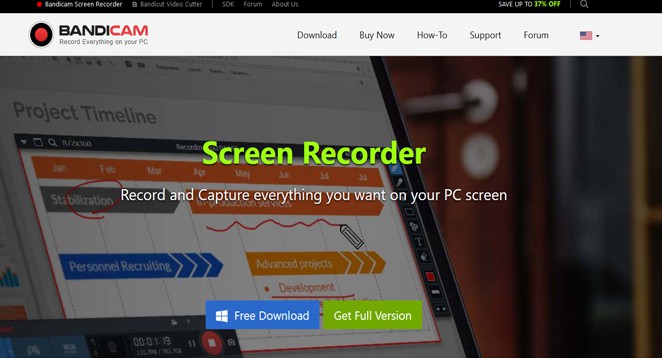 Bandicam is a small video recording platform. It offers its customers services such as screen recording, video capturing, and game recording.
This software's significant services include real-time sketching, webcam overlay, scheduled recording, mixing own voice, mouse effects, etc. It enables you to trim video videos and connect numerous videos as needed.
To improve your video or snapshot, a real-time sketching option is offered.

You may use webcam overlay to add a video to your screen recording.

It allows you to record at a preset time using the schedule recording tool. 

Allows you to blend your voice with the system's sound.

Mouse effects may be applied to specific animation settings during recording.

• Offers Chroma key for webcam overlay to create chroma introductory video in addition to screen recording.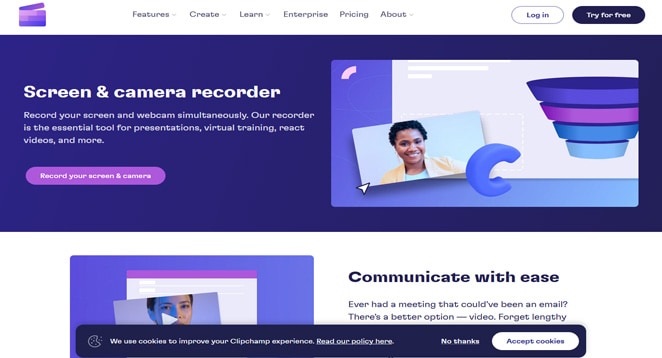 Clipchamp is an internet video recording application that enables you to simultaneously record your screen and camera. It is helpful for presentations, virtual training, and various other applications. It sells video goods, video editors, and video creation videos.
Provides video editing tool pro features such as trim and cut, divide and combine, etc. 

Provides free video templates with completely adjustable choices.

There is a free camera recorder accessible with recording resolutions, privacy protection, and other features.

Aids in recording flexible, text-editable, and shareable screens; other features include text-to-speech, brand kit, green screen, trim video, and loop video.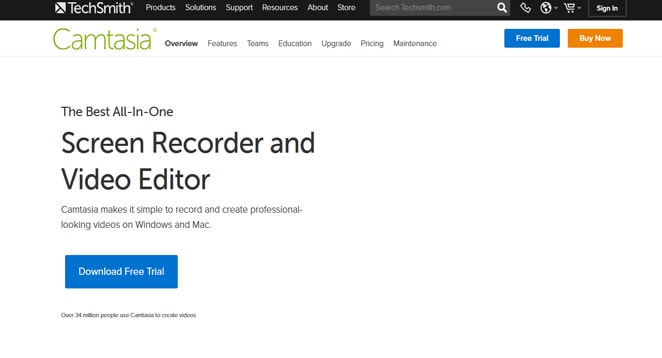 Camtasia is an all-in-one recording tool that enables users to record their screens while editing their videos. It enables you to make quality recordings on both Windows and Mac. It has many valuable features like templates, simpler editing, screen recording choices, web camera capture, music, and PowerPoint connection.
Provides templates, favorites, and presets for quickly creating videos using the most often used tools.

Aids in recording anything with more accessible editing choices such as adding, cutting, etc.

A variety of screen recording options are available for recording specified dimensions, an area, or as needed.

Customizable royalty-free materials and music are available.

Allows you to add voice, video, or images from your device to your recording.
You can also add annotations, transitions, animations, themes, device frames, and many other things.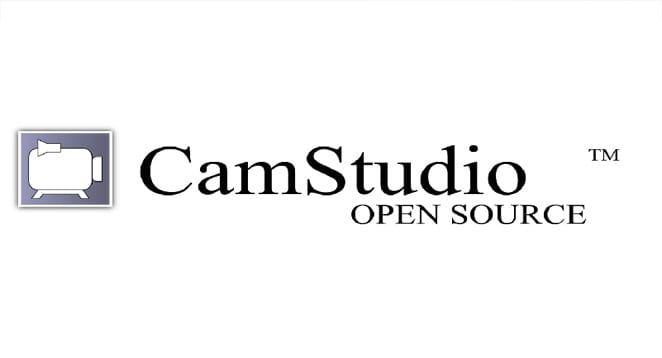 CamStudio is a free online screen video recorder interface for creating Industry Standard AVI films and SWFs (Streaming Flash Videos). It is used to create demonstration videos, educational videos, marketing films, and other sorts of videos. If you are searching for the best screen recording app to you must consider CamStudio as Video Recording apps.

It offers services such as screen captions, video annotations, webcam overlay, reduced file sizes, configurable cursors, the ability to record the whole or a portion of the screen, and many more.
Simple to use and comes with a complete built-in help file.

Aids in creating Streaming Flash Videos (SFVs) from AVIs.

Enables you to overlay a webcam or a picture-in-picture over the screen.

Allows you to manage the video output with choices such as recording whole or portion of a screen, recording quality, etc.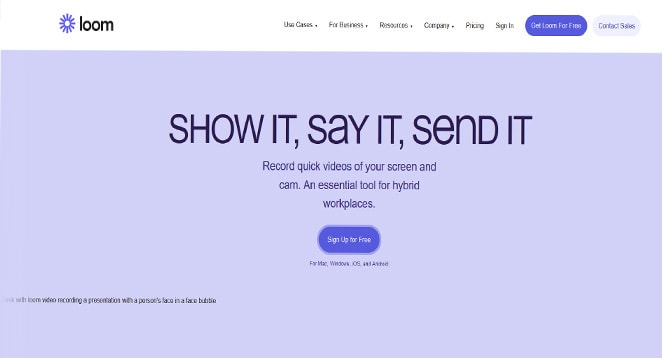 Loom is a platform for recording screens and cameras that is a must-have for hybrid workplaces. Its services are free for Mac, Windows, iOS, and Android users. It is available from anywhere, whether at home or work, as long as you can open and share it. It's useful for team collaboration, code reviews with a play button, etc. For screen recording it is one of the best Video Recording apps.

Helpful in cooperating with the team by developing videos together.

Design features include adding links, drawing tools, comments, and emojis.

Useful for communicating with consumers through video messaging.

Call-to-action buttons, engagement data, and other marketing features are available.

It helps team alignment, sales, engineering, design, marketing, product management, and support.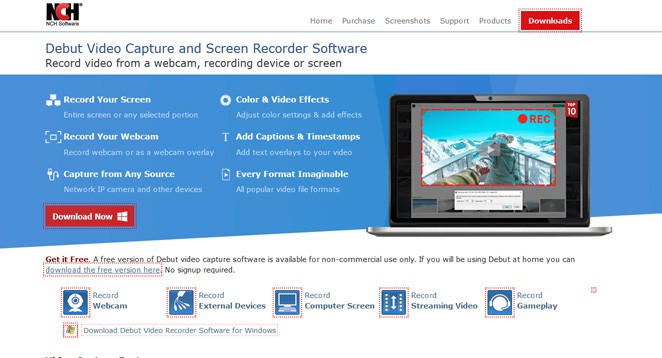 You may quickly capture video from your screen, your webcam, or any other recording device with the use of a piece of software called Debut Video Capture. It offers a free version that may be used for personal or educational purposes. Debut Video Capture has various useful features such as webcam overlay, captioning, convenient video color changes, adjustable video output settings, screen selection, etc. It is our top pick Video Recording apps to record videos.

Allows you to record the full screen or any specified piece.

Color and video effects are available for customization.

Allows you to include subtitles and timestamps in your video.

Supports all file types, including mpg, MP4, MOV, etc.

The video overlay function allows you to record both the screen and the webcam simultaneously.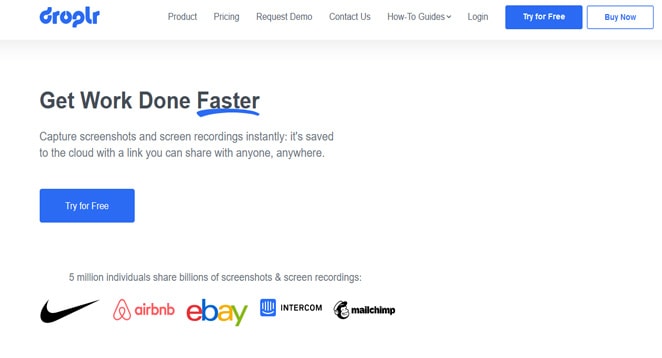 Droplr is a screen recording software that allows users to record displays and create screenshots, among other things. It includes annotations and markups, a blurring tool, cam video, partial screen recording, video cutting, etc. You may store the content in the cloud and transmit files up to 10GB using the shortened URL. It is so far the top best Video Recording apps on the internet.

Offers services for the Mac, Windows, Chrome Extension, and Chromebook.

Assists in taking screenshots by providing choices such as capturing a portion of the complete screen.

The screen recording function offers a webcam option and a continuous GIF recording period.

Allows you to store and share the recording anywhere, with download choices including PNG, WebM, and MPEG-4.

Allows you to upload files to the cloud and share the shortened URL with others.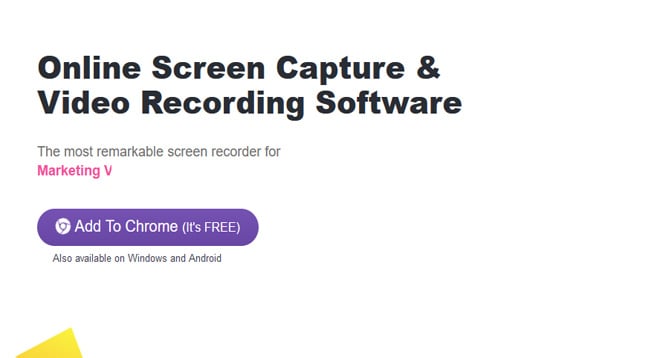 Fluvid is a free online video recording tool that may be used to create presentations, marketing videos, and lectures. It enables simple virtual communication by making choices for recording, editing, and sharing accessible to everyone, regardless of past knowledge. It has powerful video analytics, social posting, streaming, crop and trim, password security, etc. So, how can we forget Fluvid in the list of best Video Recording apps.

It is simple to record, edit, and share the screen.

Provides sketching tools to enhance the visual attractiveness of your videos.

Allows you to include a lead form and a CTA button in your videos.

Enables you to establish a password to secure your recordings.

Offers cross-platform synchronization for sharing on several social media platforms; other features include crop & trim and comprehensive video analytics.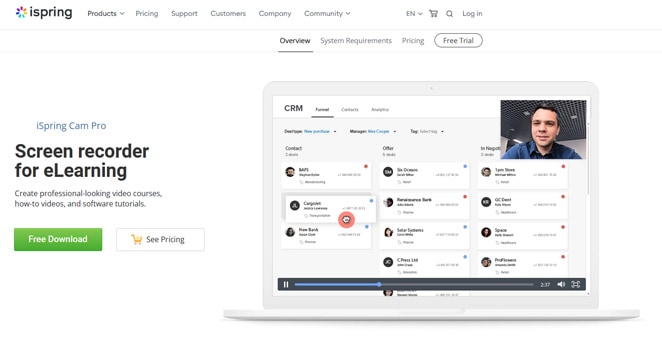 ISpring Cam Pro is video recording software that helps users create professional-looking videos and tutorials by using remarkable features. It is the best Video Recording apps for eLearning.

It is possible to create screencasts that include voiceovers or picture-in-picture screencasts, software lessons with annotations, smooth scene transitions, and other features. 
It is mainly used for eLearning.

Aids in screencasting with voiceovers to clarify complicated issues

Allows you to add yourself to the instruction to create a picture-in-picture screencast.

Allows you to add annotations to the screen recording.

Enables you to make professional videos with interactive canvas, multi-track timeline, and other features.

It is simple to share videos generated on LMS or YouTube.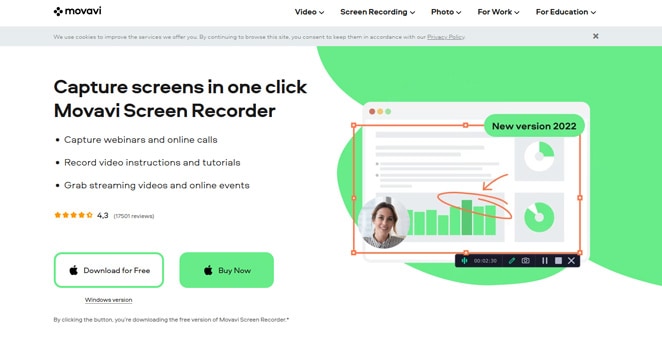 Movavi is a video editing platform available for both Windows and Mac. It aids in the capture and recording of webinars, online calls, tutorials, streaming videos, and online events. In addition, it offers a slew of features to make the recording process more accessible and appealing. Of course it is the famous Video Recording apps.

Drawing on videos, capturing your webcam, recording simply audio, and so on are all examples.
Aids in creating or recording webinars, online calls, tutorials, online events, and so on.

Provided recording options for Mac, such as collecting audio and video, editing the recording, recording settings, etc.

Useful for creating screencasts, scheduling recordings, sketching on video, capturing webcam, etc.

Formats supported include MOV, MKV, GIF, MP3, etc.

Other services include free minor updates, built-in suggestions, and a help center.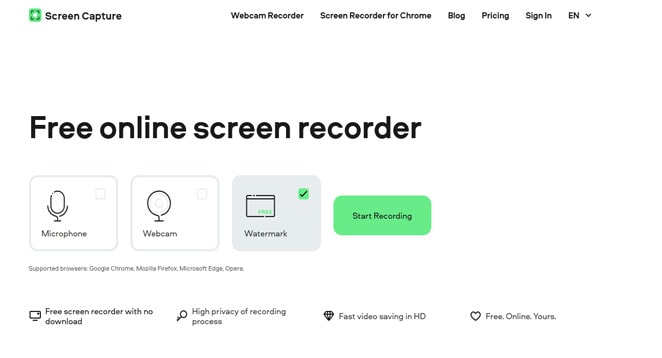 Screen Capture is the best free online screen recorder that allows you to record anything from your webcam to your microphone and system sound to any screen, window, or tab. Mozilla Firefox, Google Chrome, Microsoft Edge, and Opera are among the browsers it supports. It provides free screen recording with excellent privacy and rapid storing without any download. You should visit Screen Capture website as it is one of the best Video Recording apps among other sites.

Aids in recording anything from a webcam to any screen or window. 

Provides a simple interface to screen recording without downloading anything.

Allows you to preserve your video in high definition and gives maximum privacy while recording.

While recording, you may add your face to the screen.

Allows you to record your voice as well as computer system noises.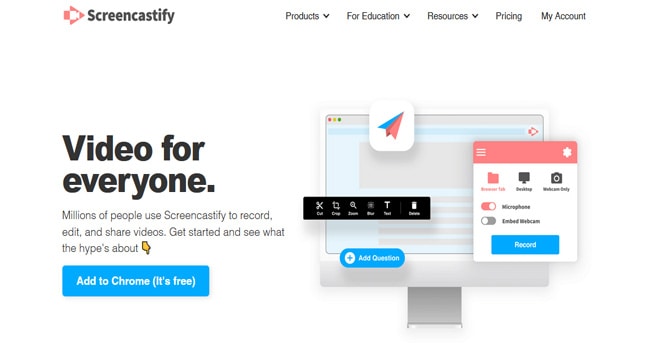 Like other best Video Recording apps, Screencastify is a simple video recording software. It is intended for everyone, from people to business professionals and students to instructors. ScreenCastify helps for easy recording, editing, and sharing videos and many alternatives to make them more attractive. It enables you to monitor visitors and add interactive questions.

Provides an intuitive interface so that everyone, including instructors, business professionals, students, and people, can learn it. 

Recording services are provided, with choices such as adding interactive questions.

Editing tools make it simple to produce professional-looking videos.

Ease of creating and emailing URLs to assign or submit video contributions.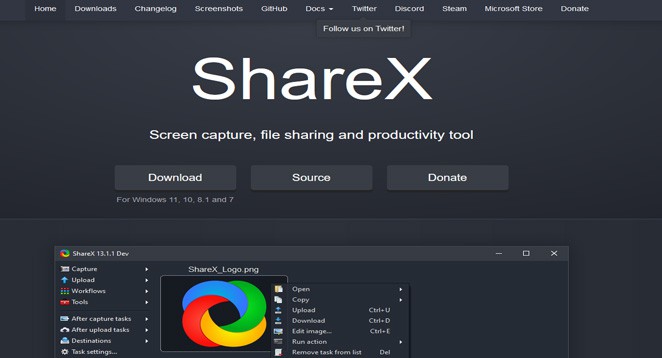 ShareX is a free and open source app for conveniently capturing and sharing displays. It includes capture, region, upload, destinations, and productivity features. Fullscreen recording, GIF, scrolling capture, annotation tools, upload methods, after upload tasks, picture uploader, file uploaders, URL sharing services, and other features. It is in the list of our best Video Recording apps to record fullscreen videos.

Provides an accessible, lightweight open-source, and ad-free interface for screen recording.

Offers a variety of capture techniques, including OCR, GIF, auto-capture, and others.

Various upload methods are accessible, such as upload file, folder, text, from URL, and so on.

Allows you to shorten the link using URL shorteners.

Offers URL sharing services such as email, Twitter, and Facebook.

Color picker, screen color picker, picture editor, image effects, and other productivity tools are available.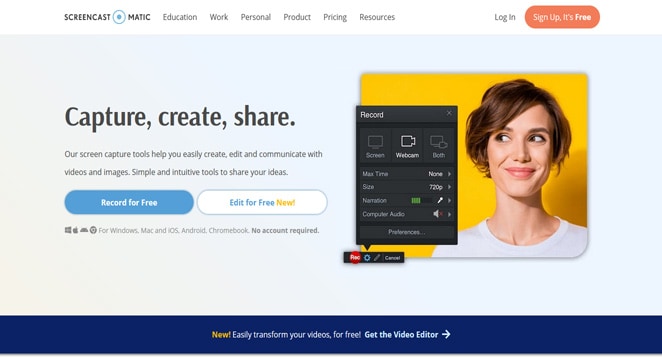 Screencast-o-Matic is a platform that gives its users the ability to record screencasts. It is used in education and for personal and professional purposes. This app allows you to communicate, capture, edit, host, and share videos and images and create screencasts, screenshots, and video recordings using accessible video editing features. It is unquestionably among the top Video Recording apps.

Fast, accessible, and simple recording screening with features like adding a webcam or employing narration.

Useful for editing videos with text, shapes, images, animations, effects, and other elements.

A built-in stock library for videos, images, and music tracks is accessible.

Screenshots may be captured using choices such as capturing the whole screen, a portion of it, or a window, as well as different editing options.

Allows for limitless ad-free content uploading and sharing.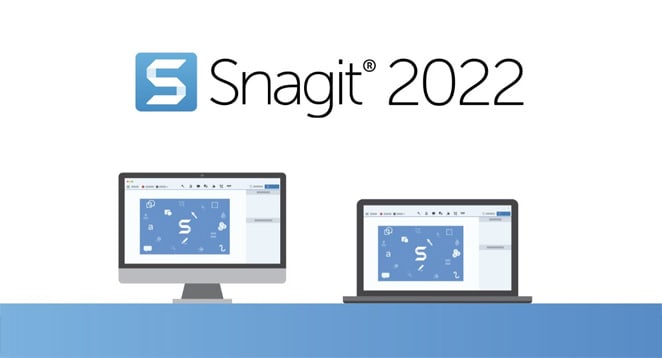 Snagit is a simple screen recording application. It includes screenshot capture, picture merging, stamp search and browsing, special effects and filters, and much more. Snagit is the most reliable among Video Recording apps.

It supports various file types, including GIF, PSD, BMP, SWF, PDF, MHTML, and others. It also supports cloud computing.
Capture the complete screen or just a section of it as required. 

Picture-in-picture recording, cloud library compatibility, and more features are available.

Allows you to blend numerous images and annotate them with text, arrows, data, and other components.

Stamp search and browsing allow you to look for a stamp in its library.

Other features include special effects and filters, recording schedules, scrolling features, etc.

Supports GIF, PSD, BMP, SWF, PDF, HTML, and other file types.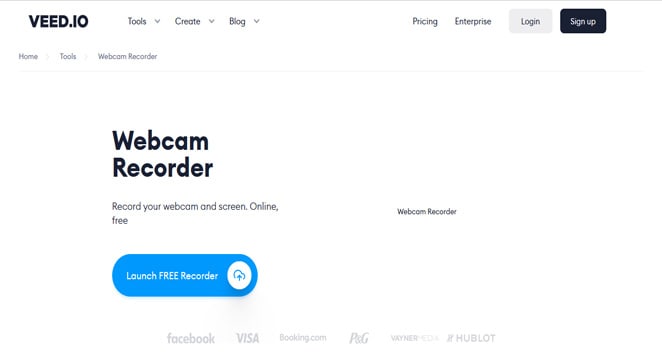 It is a simple online video editor that enables you to produce movies with just one click by adding subtitles, transcribing audio, and doing a lot more besides. It aids in creating videos for marketing, social media, education, and companies. For recording and editing videos for social media you should try Veed as a best Video Recording apps.

Unlimited free webcam service; 

Online video editing with features such as adding images and music; and many more alternatives.

Subtitles and transcription features such as adding subtitles to video, automated subtitle production, and so on are available.

Provides a toolkit with cropping, cutting, merging/joining, looping, and resizing video.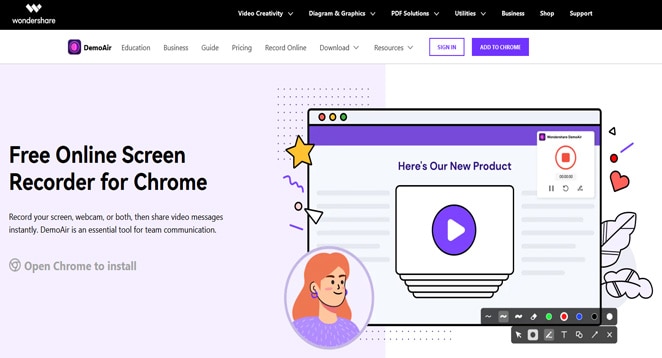 It is a free online video recorder valuable application for team collaboration. Wondershare is designed for everyone to record and share videos online and give efficient communication tools. It aids in providing visual feedback/interaction and shortening the sales cycle. If you are looking for the best Video Recording apps you should consider Wondershare.

Record your screen and camera to explain your ideas better.

Aids in the annotation of the screen while recording.

Simple recording management with the aid of given folders.

Offers lightweight video editing that allows you to cut videos in seconds.

Provides connections for sharing files between platforms.

Works with the current process you're working on. Such include Google Drive, Gmail, and YouTube.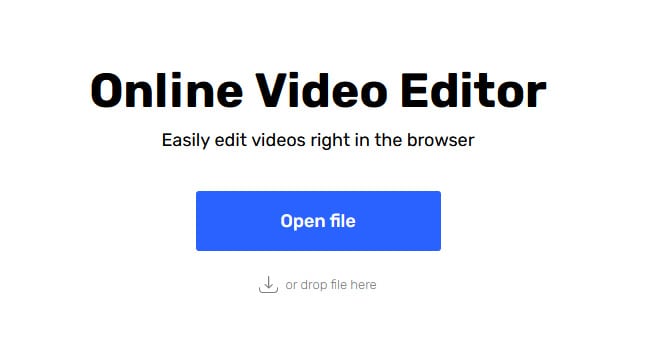 Webcamera is a reliable free online video recording software that allows users to produce and share video recordings in a safe, secure, and free environment. It includes a variety of video, audio, and PDF capabilities and converters and utilities. It is among the best Video Recording apps on our list.

Offers a variety of alternatives for online video recording services.

Recording settings are versatile, including mirror mode, video quality choices, echo effect, etc.

Allows you to record and preserve extended videos.

Provides a secure interface with no third-party interference; 

All services supplied by them are free; Recording and video creation may be performed with little more than a reliable internet connection. 
Video Recording Apps – Frequently Asked Questions
1. Which is the best free online video recorder?
The most excellent free online video recorders are as follows: 
1. Bandicam
2. Snagit
3. Clipchamp
4. Camtasia
5. Apowersoft
2.  Is screen recording safe?
It is determined by the recorder's license. Most screen recorders are secure because they include a function that protects the material of their users and does not offer access to any third party.
3. What exactly is an online video recorder?
It enables you to record all actions on any screen or desktop and turn them into videos. Along with screen recording, an online screen recorder has other features.
Some examples include editing tools, webcam overlays, recording the whole or a portion of a screen, annotations, effects, etc.
4. Is it possible to record a live feed on my laptop?
Yes, we can record a live feed on our laptop. To record, we only need to follow the five procedures outlined below:
1. Choose a screen recorder (like Camtasia or Snagit).
2. Modify the recording parameters.
3. Choose the recording area.
4. Select the option to record.
5. Save and upload. 
We learned about the meaning and significance of an internet video or screen recorder due to our investigation. Several video recording software options are available, each with capabilities and costs. Camstudio, Appwersoft, ShareX, and some even provide their services for free.
Some, such as Snagit, Movavi, and Bandicam, are excellent in providing schedule recording functions. Some provide drawing tools, such as Fluvid, Movavi, and Loom.