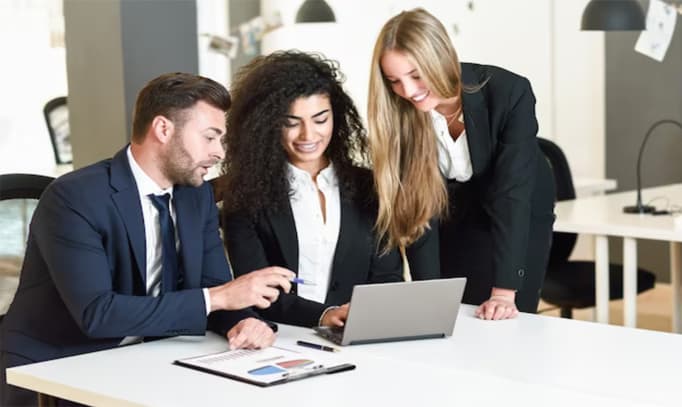 B2B, business-to-business, refers to the direct sale of products and services between two businesses. B2B is a radically different business strategy from B2C, in which businesses sell directly to customers. Instead, through an online sales platform, B2B eCommerce involves transactions between a manufacturer, a wholesaler, or a retailer.
One of the most rapidly expanding sales channels is B2B eCommerce. According to some estimates, the worldwide B2B eCommerce sector is worth over $12 trillion and accounts for 13% of all B2B sales in the United States.
The movement has been fueled by innovation and technology from B2B eCommerce platforms. In the past, sales and marketing for B2B businesses were labor-intensive and manual. Through e-commerce automation, the introduction of digital commerce aids these businesses in reducing costs and increasing productivity.
What is B2B eCommerce?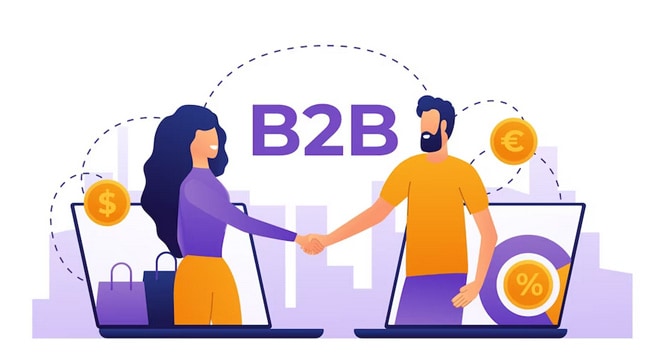 A basic explanation of B2B eCommerce is an online transaction between two businesses. In other words, a business engaging in a B2B transaction would be selling products or services to another business or its client. B2B businesses, like all other businesses, exist in various forms, sizes, and degrees of complexity. They may include services like accounting, legal, and digital, as well as physical products such as machinery, equipment, consumer goods, and so on, across various business types and industries.
Many of us who buy online as consumers are unaware that the worldwide business-to-business digital commerce sector is six times larger than the B2C market. As more local and international business customers migrate online in search of speed, convenience, and straightforward transactions, these numbers are expected to increase. It would encourage historically offline B2B vendors to establish an eCommerce presence, hence increasing demand for B2B eCommerce platforms.
15 Best B2B eCommerce Platform
Here we list some of the best B2B eCommerce Platform you can consider in 2023.
1. ewiz commerce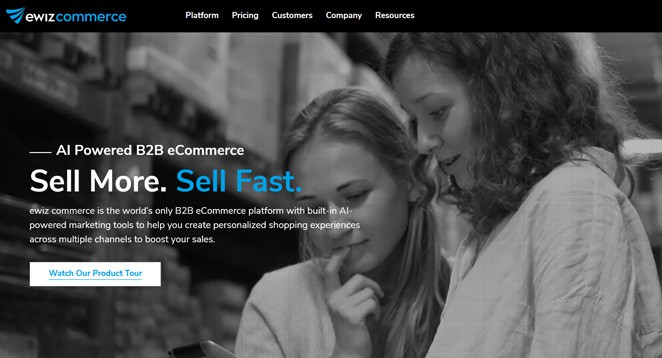 It is an ai-powered B2B eCommerce platform for companies selling various products to other businesses. This platform is ideal for businesses of all sizes, including Manufacturers, Wholesalers, Suppliers, and Distributors. ewiz commerce includes a marketing automation solution that enables companies to increase their sales with targeted marketing campaigns. ewiz commerce facilitates merchandising order management and marketing automation for businesses.
Website: https://www.ewizcommerce.com

2. Flipsnack
Flipsnack is an online, browser-based publishing tool that individuals worldwide use to create and publish digital catalogs, magazines, brochures, portfolios, reports, picture albums, and newspapers, among other sorts of publications. It gives users the tools to create, distribute, and embed online magazines and convert PDFs into online flipbooks. For example, Flipsnack automatically converts a PDF into an online magazine with page flip effects once users upload it. In addition, users may create their online publications from scratch using Flipsnack's online design studio. It is among the best B2B eCommerce Platform you can consider in 2023.
Website: https://www.flipsnack.com

3. PayPal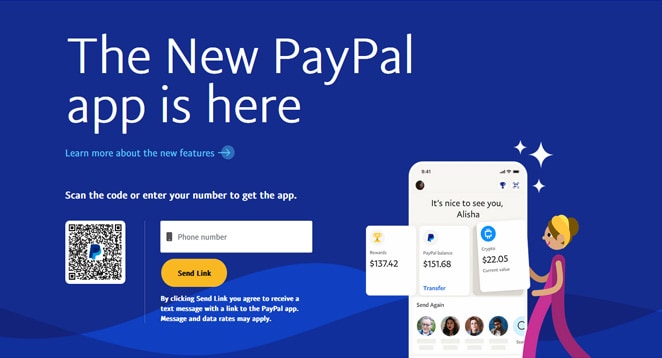 Whether you're just starting out or already have a successful organization or marketplace, the PayPal B2B eCommerce Platform is a complete solution to meet your business needs and customers.
The platform enables you to connect with more than 295 million PayPal customers worldwide and various platforms and marketplaces by utilizing our two-sided network. As a result, you may now locate new markets, channels, and high-value customers. All the while granting your customers the option to make purchases as they like, almost anywhere in the world.
Website: https://www.paypal.com

4. NetSuite
It is a complete cloud-based business management system that enables over 32,000 enterprises to function more efficiently by automating essential operations and offering real-time visibility into operational and financial performance. NetSuite B2B eCommerce Platform provides companies with a clear view of their information and controls over their business with a single, integrated suite of applications for accounting, order processing, inventory management, manufacturing, supply chain, and warehousing operations.
Website: https://www.netsuite.com

5. ADOBE COMMERCE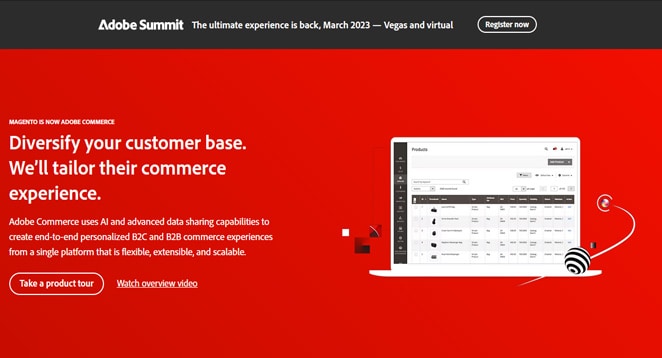 To deliver individualized consumer experiences, Adobe Commerce enables major companies to create, manage, and change e-Commerce websites. In addition to drag-and-drop page builders, other features include customer segmentation and targeting, content staging, rule-based product relations, and visual merchandising.
For many eCommerce sites, including customization for certain businesses, categories, user groups, and products, Adobe B2B eCommerce Platform makes it simple to create promotions and pricing. With targeted promotions, rule-based upselling, and SEO suggestions, users may distribute discounts and promotions across many channels to customers and market groups. To further tailor the consumer purchasing experience, targeting is based on customer journey characteristics such as abandoned carts, wishlists, search filters, and purchase history.
Website: https://business.adobe.com

6. Yotpo
Yotpo, the top eCommerce marketing platform, helps drive direct-to-consumer growth for thousands of forward-thinking brands such as Rebecca Minkoff, MVMT, Bob's Discount Furniture, and Steve Madden. This unified platform incorporates data-driven solutions for reviews, customer loyalty, SMS marketing, and more. Yotpo empowers brands to create smarter, higher-converting customer experiences that ignite and maintain customer connections. We interface with the tools you use daily, such as Google, Instagram, leading eCommerce platforms, and the rest of your IT stack. Yotpo, is a member of the Forbes Cloud 100, with offices in New York, London, Boston, and Tel Aviv. You can consider is among the most reliable B2B eCommerce Platform.
Website: https://www.yotpo.com

7. Cin7 Omni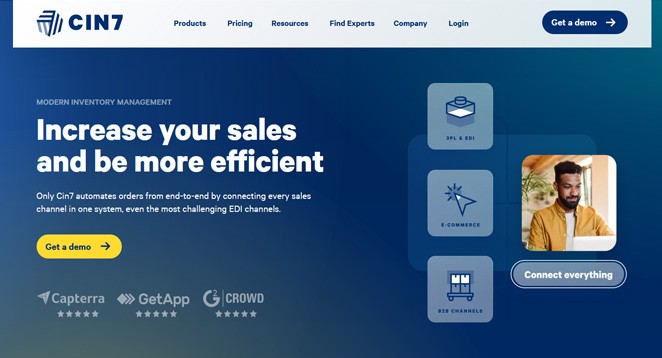 It is an automated inventory management platform for brands with a sales growth rate of more than $1 million. Cin7 B2B eCommerce Platform automates order processes to increase productivity and synchronizes stock with sales and orders across physical and online sales channels. It is inappropriate for Rentals and Asset Management businesses. Cin7 enables brands that sell or distribute products to keep costs low, profits and cash flow strong, and stock levels optimal.
Website: https://www.cin7.com

8. TrueCommerce EDI Solutions
TrueCommerce is the most comprehensive method for connecting your business across the supply chain, integrating EDI, inventory management, fulfillment, digital storefronts and marketplaces, your business system, and anything else. Companies must to be able to do business in several directions at once to remain competitive in today's dynamic global economy. However, doing so frequently requires too many solutions and too much assembly. TrueCommerce B2B eCommerce Platform has helped businesses become more connected, supported, and prepared for the future for decades. It is why thousands of companies, ranging from startups to the Fortune 100, rely on our services.
Website: https://www.truecommerce.com

9. BigCommerce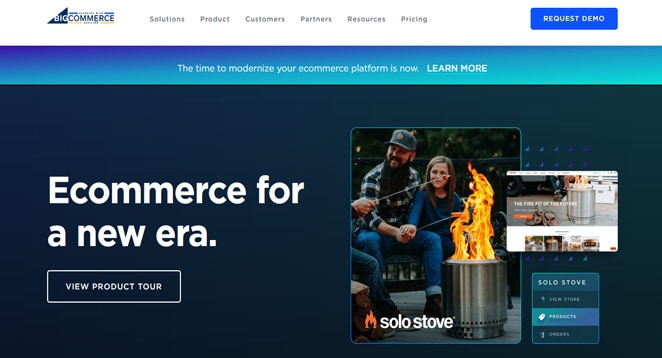 For expanding and existing online businesses seeking a robust solution in intuitive packaging, Bigcommerce is an all-in-one SaaS e-commerce platform. Construct an online store from scratch or migrate from an existing platform with the user-friendly store builder, which features industry-leading templates optimized to increase sales. In addition, Bigcommerce B2B eCommerce Platform comprises features and integrations to manage an entire business, allowing for comprehensive customization with an easy user interface. With a free 14-day trial, you can try Bigcommerce right now.
Website: https://www.bigcommerce.com

10. PrestaShop
By using its core principles of boldness, closeness, tenacity, and engagement, PrestaShop, a significant partner in digitizing commerce, aspires to become the reference commerce platform for the expansion of businesses throughout the world.
PrestaShop B2B eCommerce Platform is the most popular open-source e-commerce solution in Europe and Latin America, with almost 300,000 websites currently employing its software worldwide.
Companies may quickly grow their businesses with the help of PrestaShop thanks to PrestaShop Essentials, a suite of modules that provide safe payment solutions globally, performance analysis, and online marketing, and PrestaShop Platform, a hosting service.
Website: https://www.prestashop.com

11. CommentSold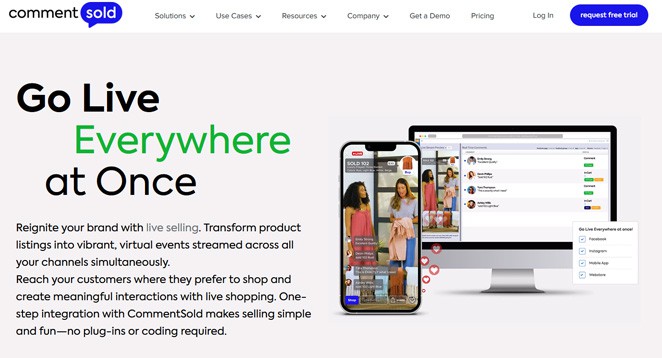 CommentSold is a cloud-based social commerce platform that facilitates consumer involvement and recommendations for businesses. Among its primary features are catalog management, search engine optimization, preconfigured templates, data synchronization, channel management, and reporting. It is among the top B2B eCommerce Platform.
Customers may locate products that can be purchased in a post, video, or live stream using the online application, and they can make purchases there and then. The invoice is issued by email or messenger, and customers can click a link to access their basket and complete the transaction. In addition, users may send timed pending cart reminders to customers and set the period of the cart's expiration using the gamification function. The shipping capability enables employees to prepare packing lists and labels, consolidate and dispatch goods, and manage numerous orders.
Website: https://commentsold.com

12. SyncSpider
SyncSpider B2B eCommerce Platform is an integration solution meant to assist eCommerce businesses in automating multi-channel sales processes, connecting apps, and synchronizing inventory data, among other things. It is an eCommerce-specific automation technology that helps increase income, consolidate inventory, and enhance the customer purchasing experience. Synchronise data between applications and markets.
Website: https://syncspider.com

13. Vendasta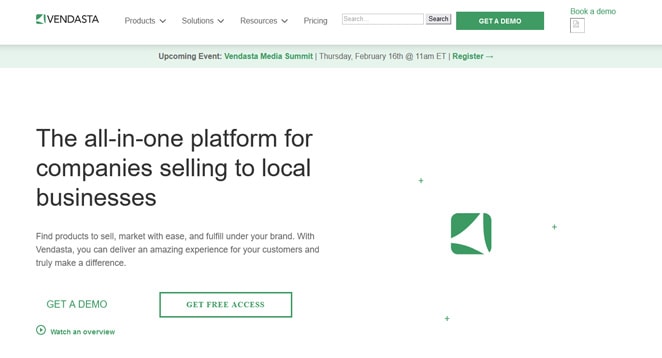 For digital solutions and services for businesses, Vendasta is a customized B2B eCommerce Platform. They provide everything you need to minimize costs without losing performance, including an in-house fulfillment staff and a strong platform that serves multi-location brands.
Website: https://www.vendasta.com

14. nopCommerce
nopCommerce is an open-source B2B eCommerce platform that meets the demands of every retailer. Companies selling real and digital items, as well as large and small-business online storefronts throughout the world, are all powered by it.
The most outstanding features of open-source and commercial software are combined in nopCommerce, a clear and well-structured solution.
Website: https://www.nopcommerce.com

15. Shopify Plus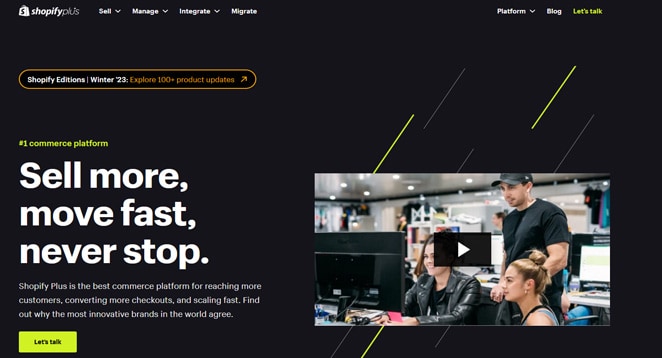 Shopify Plus is a multi-channel eCommerce platform for large businesses, wholesalers, and corporate eCommerce stores that enables high-demand sales, greater customization, and scalability. Companies may modify their storefront, checkout page, and backend systems and create several shop versions for international eCommerce. They can even automate specific campaigns.
Shopify Plus B2B eCommerce Platform provides merchants, marketers, and eCommerce administrators with an intuitive Content Management System (CMS) that lets them manage products, content, and pricing without coding, as well as conversion-tested themes for customized design layouts and functionality. Users have complete control over the checkout procedure and access to more than one hundred payment gateways. Shopify Plus enables businesses to build sales channels spanning marketplaces, mobile, social, and offline, along with foreign eCommerce sites.
Website: https://www.shopify.com/plus

How does B2B work?
In B2B eCommerce, one business offers another business a package of products or services. Typically, a group or division uses the vendor's products and services. Occasionally, a single buying user conducts a transaction supporting the organization's business objectives. And other B2B transactions entail the organization's usage of the products, such as office furniture, computers, and productivity software.
A purchasing committee handles the product selection process for more extensive or advanced B2B product acquisitions.
A business decision-maker, such as the person in charge of the budget
A technical decision-maker who examines the capabilities of the possible products; and
Influencers give feedback on the choice.
It is a request for proposal, in which the buyer invites prospective suppliers to submit bids outlining their products, terms, and pricing that may be used for large acquisitions.
What are the benefits of B2B eCommerce?
What precisely is B2B eCommerce? Information, products, and services are exchanged between businesses through B2B electronic commerce. However, B2B eCommerce does more than enable businesses to migrate online and sell their products to a bigger client base.
It facilitates entry into new markets, increases employee productivity, and encourages existing customers to buy more. Additionally, B2B brands with eCommerce capabilities outperform their competitors in terms of efficiency, demand more from their suppliers, and use actual data to drive business choices that help them remain competitive.
B2B eCommerce reduces costs while improving operations and internal procedures.
Multiple channels and websites can be used to sell.
Increase efficiency by using automation.
Customize website experiences
Ordering procedures can help you increase sales.
Final Words
In digital commerce, B2B eCommerce is a significant sales channel. Changes in buying behavior as a result of the epidemic will boost adoption well beyond 2021. According to Forrester, B2B eCommerce, transactions will exceed $1.8 trillion by 2023, accounting for 17% of all B2B sales in the US.
In B2B business, emails and phone calls still have their role. Still, there's no denying that eCommerce is pushing the frontiers of what B2B sales can be.
Because purchasers are shifting, this is terrific news for B2B vendors. Millennials, the generation who grew up with digital, account for over 73% of B2B buyers. These new purchasers have higher expectations for convenience and relevance than their baby boomers and Generation X peers. B2B platforms continue to lead the way for cost-effective and accessible selling options, with personalized sales portals, mobile ordering, AR tours, and self-service features.