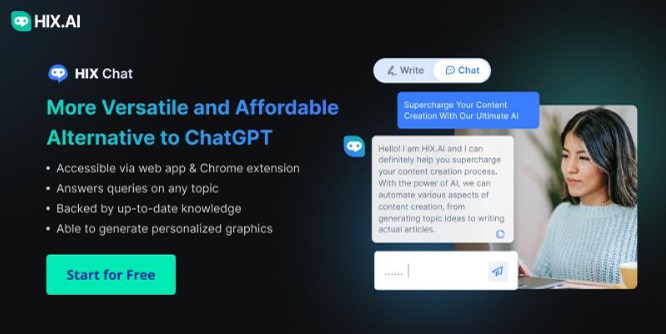 ChatGPT- Alternative AI Chatbots: It's safe to say that AI has started to revolutionize how we go about a wide range of day-to-day tasks, and among the most prominent is ChatGPT. The AI-powered chatbot has steadily built a reputation for its groundbreaking capabilities, but for those who may need a quick refresh, don't fret.
Developed by OpenAI, ChatGPT is essentially an advanced AI-powered chatbot that can instantly provide users with human-like responses to their queries. The tool has an extensive database that enables it to answer questions on a wide range of topics with ease. However, the problem with ChatGPT is that there are several limitations to its use.
For instance, it isn't connected to the internet, and its entire knowledge base is currently limited to data collected up to 2021. As a result, it is unable to provide factual information that goes beyond that time. The good news is that there are a plethora of alternatives out there that do a great job of expanding its functionality in numerous ways.
One great example of this is the HIX AI Chatbot, which is a reliable ChatGPT-alternative tool that can carry out a wide range of actions like churning up-to-date answers to queries, providing insightful content ideas, generating full-length content drafts, producing custom high-quality images, and more.
In this article, we will detail everything you need to know about these GPT-powered tools, so let's not waste any time and dive in!
What Are The Differences Between GPT-4 and GPT-3.5?
Developed by OpenAI, GPT-3.5 and 4 are advanced large language models (LLMs) that utilize deep learning algorithms to train on massive amounts of text data to understand natural language. At this point, GPT-4 is the most advanced LLM that is offered by OpenAI, and it is what powers ChatGPT Plus, while GPT-3.5 powers their free tool.
In terms of differences between the two, they are fairly dramatic, especially in terms of quality, as GPT-4 essentially offers up more precise answers and is more capable of responding to longer selections of text. The good news is that if you look at this site, you will notice that HIX.AI uses both of these models, which makes it a great choice for those looking for a quality AI chatbot to rely on.
How Can a ChatGPT Alternative AI Chatbot Tool Help You?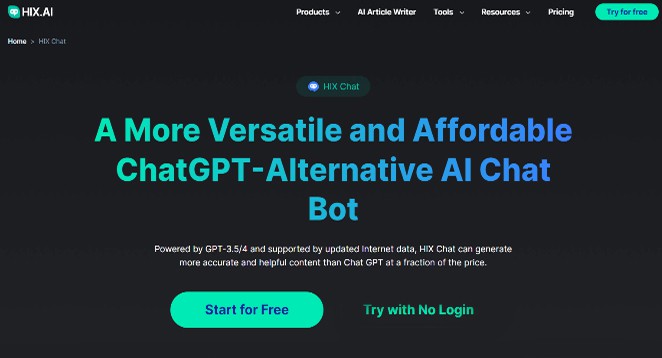 Content writing is never an easy process. Chances are that you've probably found yourself stuck trying to figure out how to expand the content further or even being unable to convey your messages effectively.
In such situations, it often helps to have a handy writing assistant to help, which is where these chatbots tend to come in. When integrated into your workflow, advanced chatbots can prove to be of immense value in several ways, some of which include:
1. Generates Content Drafts
With the right AI chatbot, you can get help drafting content by providing the algorithm with details on almost any type of copy that you need. Whether it's articles, poems, emails, or even essays, you can just provide the chat tool with an idea of what you would like to write. Within seconds, it will generate a full-length outline of what you need. Plus, since they can even produce multiple drafts, you can pick out the best one or combine various drafts into one.
2. Simplifies Complex Concepts
GPT-powered chatbot tools like HIX.AI can fetch real-time information online to generate simple and factual responses based on your given prompts. To this end, they can be a great way to look up any complex ideas and concepts that you may be struggling to understand, as they are trained to produce easily digestible answers that are not only relevant but also up-to-date. In this respect, they can be especially useful to a wide range of users like students, researchers, etc.
3. Provides Multilingual Assistance
These tools tend to be able to understand and respond in a wide range of different languages, such as French, Japanese, English, Korean, Spanish, etc. This makes for great writing assistants that can help ensure that you are either understanding the content or translating the content in a contextually and grammatically correct way. In other words, they can often prove to be more reliable in such situations compared to traditional translators, who typically produce tons of inaccuracies.
4. Inspires New Content Ideas
Writer's block is one of the most aggravating parts of content writing because having to stare at a blank screen with no idea of what to write or how to expand your written content can be a head-scratcher.
However, with these tools, you can essentially ask for help in generating ideas that can effectively ensure that you overcome that creative block. You can ask the tool to provide you with topic ideas or even ask for advice on what else to include in your content that you may have initially forgotten to include.
5. Assists with SEO Analysis
These chatbot tools can also be a great way to streamline your SEO strategies. This is because they can often help when it comes to keyword research, as you don't have to spend so much time searching for the best keywords to include in your content. All you have to do is ask the chat tool to provide you with the top-ranking keywords, and it will instantly produce a reliable list.
Can You Use a ChatGPT-alternative AI Chatbot While Browsing?
Yes. However, this will depend on the specific tool that you use. A good example to consider is HIX.AI, which offers users a convenient Chrome Extension plug-in that can be installed in your main browser. This will provide you with access to the HIX Chat tool on any website, be it Gmail, Twitter, Google Docs, etc.
To install it, you can head over to the HIX.AI website or go directly to the Chrome Web Store and search for HIX.AI's extension tool. From there, you simply need to click "Add to Chrome." Within seconds, the plug-in will be downloaded, and you can pin it to your browser's toolbar for quick access. You should be able to see a floating icon in the bottom-right corner of your browser.
You can also press Ctrl (on Windows) + P or ⌘ (on Mac) + P, which will open a sidebar that provides access to the HIX Chat tool as well as over 120 other writing tools. It's worth noting that the extension is designed to integrate seamlessly with your browser, so you can rest assured that it will not interfere with your browsing experience in any way.
Conclusion
To sum it up, GPT-powered chatbots may not be able to handle all the work for you, but they can be a practical way to significantly lower your daily content workload. Whether you need help writing, editing, translating, researching, or optimizing content, these chatbots can make for very handy 24/7 assistants. Plus, if you manage to install one with a Chrome extension, you won't ever need to switch between multiple tabs while working again!