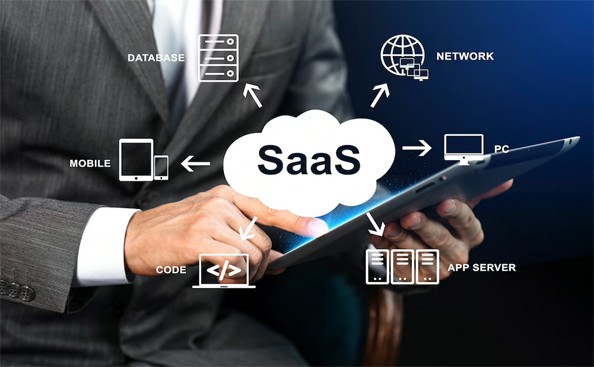 Do you have your store? Are you the owner of a large enterprise? Have you decided to create your SEO agency? Whatever it is, you need a website. Technologies develop, and the site needs to be constantly updated. It is a difficult task that requires time and money. But we have a solution. Buy a SaaS website, and you can regularly improve its functionality to suit your business needs. Plus, you'll save much money by purchasing a subscription product rather than purchasing software. Hire a SaaS website design agency, and you'll get a website that will always be modern and relevant, no matter how your business scales or how technology evolves.
What is a SaaS website
Software as a service is very convenient. You can take full advantage of the software by renting it. All you need is to pay for the service (sometimes after a certain period of using the product) and have access to the Internet. There is no need to install anything! Now, you always have a web platform that provides online access to your software application or service. Surprisingly, the development of SaaS websites is becoming more and more popular. For example, the global software-as-a-service market was valued at $237.48 billion last year. According to experts, by 2030, it will grow to 908.21 billion US dollars.
This method saves you time, money, and effort. SaaS websites are accessible, cost-effective, and very adaptable to the needs of any business.
SaaS is currently responsible for around 70% of company software use. This figure is forecast to rise to 85% by 2025. Enterprises are increasingly using SaaS solutions. Contact Dworkz and buy a website that will help you solve your most pressing problems.
What is the difference between SaaS and a regular website?
SaaS applications offer subscription-based pricing, while providers provide maintenance, updates, and security. However, web applications have a one-time payment model. Web applications may not be suitable for ongoing care or support. And SaaS services perfectly meet the needs of all types of businesses.
SaaS Examples
Well-known examples of SaaS include
Google Workspace;
Microsoft 365;
Dropbox;
Salesforce;
CRM;
various project management tools, and so on.
Any area of business can appreciate all the benefits of a SaaS website.
Characteristics of a SaaS website
If you are a business owner or interested in developing your business, you should contact the SaaS website design and development agency. And you will purchase a website that has the following key advantages:
Accessibility: All you need is to have access to the Internet.
Just subscribe! Pay for SaaS services once a month or once a year.
Automatic updates. Your software will never become outdated! Suppliers regularly update and maintain it. You always have access to the latest features.
Increased Data Security. Encryption, access control, and many other measures are taken to protect your data.
Scalability: your business develops, new tasks appear, and your team expands. Scale up your SaaS solution!
Mobile access. SaaS websites are highly responsive to mobile devices.
Cooperation. SaaS applications integrate well with other software tools.
Use the service and then pay. It is very comfortable. You first use the service and then pay for it.
Stages of creating a SaaS website
Successful SaaS products go through 4 distinct phases:
Idea and planning
It all starts with an idea. A team of specialists comes up with a vision for the project. At this stage, it is essential to analyze the business's needs and study competitors' characteristics and potential clients' wishes. The team is working on a business plan and monetization strategy at this stage.
Design
Now, the structure and design of the user interface are being created, and wireframes and prototypes are being developed.
Development
At this stage, a technology stack is selected (databases, programming languages, frameworks, etc.). Specialists work on the front-end and back-end of the product. Work is also underway on the database.  It is essential to take care of safety and about user authentication.
Testing
When the product is ready, testing is carried out for errors and vulnerabilities.
Deployment
So, a SaaS product on a web server or cloud platform. A domain name and an SSL certificate are configured at this stage to ensure secure communication. Documentation for users and administrators is also prepared.
Launch
Access to the product is granted. It is essential to monitor product performance and stability.
Support and updates
Technologies and the client's business are developing.  Improving and updating the product is essential so it retains its relevance. The client receives full technical support, and all issues are resolved. If necessary, the functionality of the product is expanded.
Scaling
Your team is growing, and the number of users is increasing. Is this a problem for a Saas product? No, the product can be scaled.
Analysis and optimization
It is necessary to analyze the user experience to draw the conclusions and provide customer users with a high-quality, innovative product.
Creating a SaaS website is a long and creative process that involves a team of developers, designers, marketers, etc. The product must always be adapted, keeping track of market changes and customer needs.
Advantages of the SaaS model
SaaS services have several features:
 The client does not need to purchase the product or license to use it. You receive the product for rent via subscription.
A SaaS application can be used by several people at once that use an Internet connection. Your team will work even more efficiently.
The SaaS application works through a web interface. There is no need to install any additional programs or applications.
SaaS solutions are much cheaper than custom development. The leading supplier simply "ships" a ready-made software version whose process cost is low compared to individual development. The supplier does not have to spend a lot of resources on solving assigned tasks, and launching the project.
It is fast, from idea to launch in only a few days. It is necessary to develop the site's structure and fill its pages with your materials.
SaaS solutions include everything necessary for the operation of the project. You don't have to install a CMS; you don't need to order hosting or set up a server.
History of SaaS solutions
The rental model was widely used at the dawn of the IT era – in the 60s and 70s of the twentieth century. Back then, computers were costly and difficult to operate, so only a few large organizations could afford them. IT giants proposed the solution – they provided businesses with the computing power of their mainframes for a regular fee.
Then, computers became simpler, cheaper, and more potent, so any organization could deploy its IT infrastructure from personal computers.
Then, in the nineties, the first startups saw the light of day, offering their software as a service online: from accounting software to email services. By the early 2000s, SaaS development was already quite common.
Today, the concept of SaaS is more relevant than ever. Cloud computing has given a special impetus to the development of SaaS.
Conclusions
Creating a SaaS website is an engaging, creative, and challenging process that requires a large team: developers, SaaS website designers, marketers, and support specialists. The product must be constantly adapted and developed, taking into account the needs of the market and customers.
This kind of work can only be entrusted to professionals. Contact San Francisco company Dworkz, whose specialists understand business needs. Order a SaaS website and enjoy all its advantages. We are sure you will solve many business problems and save money.