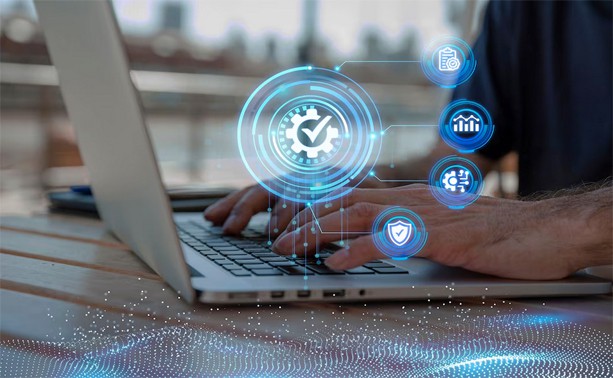 Reviews on the best free file recovery and undelete software for Windows: There are several free data recovery tools available that can assist in recovering accidentally deleted files. Deleted files can still be found on your hard drive, USB drive, media card, or smartphone. They can be retrieved using data recovery software.
We suggest all computer owners install one of these programs immediately. Doing this right after getting a computer or installing the operating system is best. These programs can recover files such as documents, videos, images, music/audio files, etc. Recover lost files using these free data recovery tools. We have listed these programs based on their ease of use and features.
20 Best Data Recovery Software in 2023
Here we lists some of the best data recovery software to recover your deleted files.
1. Recuva
Recuva is the best free data recovery software tool available. It's simple to use but also offers many optional advanced features. The tool can retrieve files from hard drives, external drives (such as USB drives), BD/DVD/CDs, and memory cards. It can also recover deleted files from your iPod! Restoring a deleted file is just as simple as deleting it! We suggest trying Recuva as your first option for file recovery.
It offers two versions of its program: one that you can install on your computer and another that you can use on the go. These versions can help you recover deleted files on various Windows operating systems, including Windows 11, 10, 8 & 8.1, 7, Vista, and XP. I tried file recovery using version 1.53.2065 of the software on Windows 11, using the portable version.
Website: https://www.ccleaner.com
2. Puran File Recovery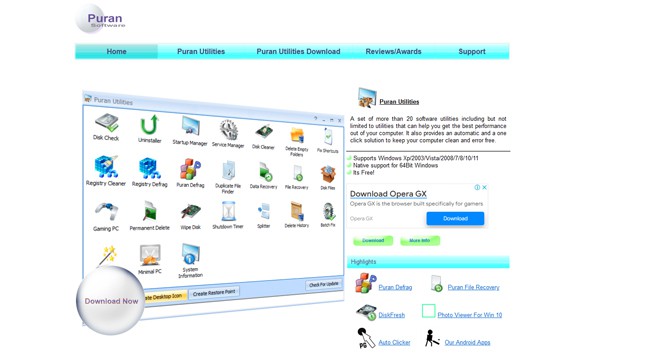 We think Puran File Recovery is a good choice. We dislike its outdatedness, but it still works fine. This data recovery software is user-friendly and can scan any drive recognized by Windows. It also offers various advanced options for those who require them.
Puran File Recovery found more files than other tools on my test machine. So, if Recuva didn't find what you were looking for, try Puran File Recovery. This tool can recover lost partitions if they have not been overwritten. It works with Windows 10, 8, 7, Vista, and XP. You can use it on Windows without installing it. It works on both 32-bit and 64-bit versions.
Website: https://www.puransoftware.com
3. FreeUndelete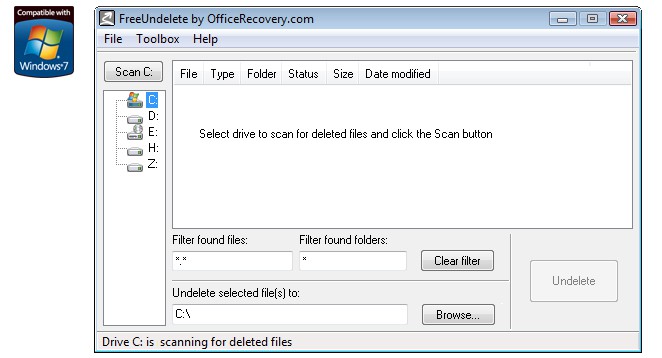 FreeUndelete is a free software that helps you recover deleted files. It's similar to other undelete tools on this list. FreeUndelete has a user-friendly interface and a "folder drill down" feature, making it easy to use. It means that the files available for recovery are displayed in a manageable way instead of shown in an extensive, overwhelming list.
FreeUndelete is a data recovery software that can retrieve files from your computer's hard drives, memory cards, and other storage devices. The operating systems supported are Windows 7, XP, and specific versions of Windows Server. I tried it on Windows 10 and had no problems. So, it should work just as well on Windows 11, 8, and other versions.
Website: https://www.officerecovery.com
4. EaseUS Data Recovery Wizard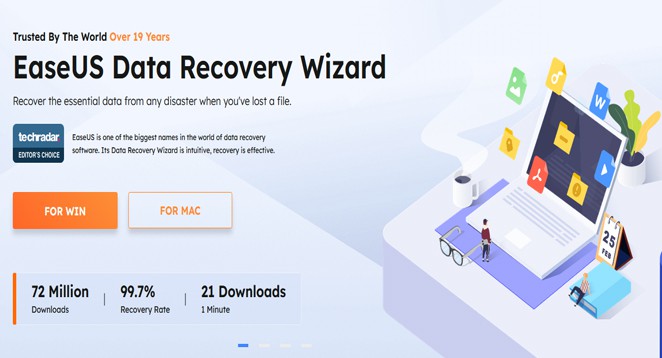 EaseUS Data Recovery Wizard is a fantastic program for recovering deleted files. Recovering files is simple and can be done with just a few clicks. We love how this program's user interface is similar to File Explorer. Although not everyone may prefer this method of file display, it is a widely recognized interface that many people find easy to use.
EaseUS Data Recovery Wizard is a software that can recover deleted files from various storage devices like hard drives, optical drives, memory cards, iOS devices, cameras, and more. It works with any storage device recognized by Windows. It can recover partitions too!
Please note that the EaseUS program can recover up to 512 MB of data for free. If you want to recover more data, you will need to upgrade. However, if you share the software on social media using the share button in the program, you can recover up to 2 GB of data.
Data Recovery Wizard supports the following operating systems: – macOS 12 through 10.9 – Windows 11, 10, 8, and 7 – Windows Server 2022, 2019, 2016, 2012, 2008, and 2003.
Website: https://www.easeus.com
5. iBoysoft Data Recovery Free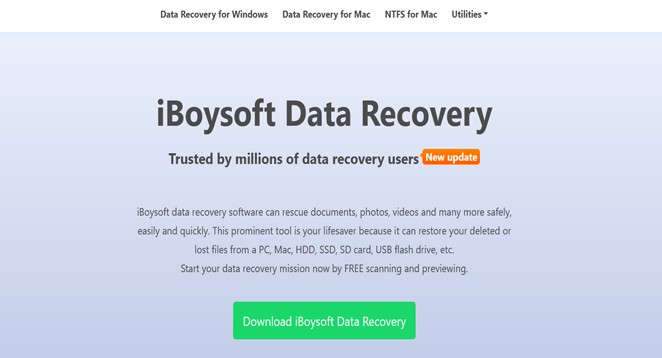 iBoysoft offers a free data recovery program. This tool has similar limitations to other tools. It can only recover 1 GB of data, it is not portable, and there is no guarantee that the undeleted file will be usable.
To use iBoysoft Data Recovery Free, first, choose the hard drive you want to scan. Then, the software will display all the deleted files in a familiar folder structure. You can browse and select files to restore, just like in File Explorer.
You can filter results by file extension and search by file name. Before recovering a file, you can preview it only if it's smaller than 5 MB. I found it helpful for images but not for anything else.
After viewing the results, you can save them as an SR file. The file can be reopened in iBoysoft Data Recovery Free to access the same list of deleted files. It is helpful because you don't need to rescan the drive to keep going through the results.
The 1 GB limitation is a small problem for most people. It's sufficient for undeleting a few files, a video, or a music collection. Don't bother with this program if you have much more to recover. Instead, choose one of these other options that don't have that limitation. iBoysoft data recovery software can be installed on Windows 11, 10, 8, 7, Vista, and XP. You can also use it on Mac computers (10.9+).
Website: https://iboysoft.com
6. Glarysoft File Recovery Free
Glarysoft File Recovery Free is a simple and easy-to-use program for recovering deleted files. To recover deleted files, select a drive, scan for the deleted files, and choose the ones you want to restore. You can undelete things while the scan runs, so you don't have to wait. You can also pause the scan.
It can easily filter your search by file type, time deleted, size, and keywords. You can customize the file extensions and their corresponding categories in the settings. For example, you can designate MP4 files as videos. You also have the option to add your file extensions. It supports FAT, NTFS, and EFS file systems. I tried version 1 on Windows 10.
Website: https://www.glarysoft.com
7. Disk Drill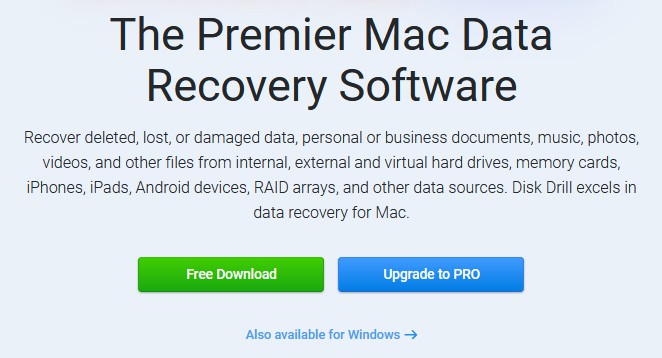 Disk Drill is a great accessible data recovery program. It has valuable features and a simple design that makes it easy to use without confusion. Disk Drill is a data recovery software that can retrieve data from various storage devices. These include internal and external hard drives, USB devices, memory cards, and iPods.
The software has many helpful features. You can preview files before recovering them, pause and resume scans, recover partitions, back up entire drives, filter files by date or size, choose between quick or full scans, and save results for future use.
The main issue is the 500 MB recovery limit. It's small, especially if you have a lot of things to get. The program is compatible with 64-bit versions of Windows 11 and Windows 10, as well as most macOS versions. Older versions are compatible with Windows 8 through XP.
Website: https://www.cleverfiles.com
8. Wise Data Recovery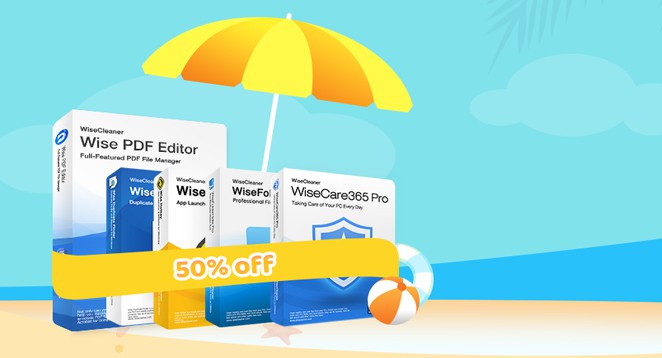 Wise Data Recovery is a user-friendly and free program for recovering deleted files. We are glad the program installed quickly and scanned my PC very fast. This tool can find deleted files on USB devices such as memory cards and other removable devices. The program has an instant search function makes it fast and easy to find deleted files. You can choose between a quick or full scan, depending on how thorough you want the search to be.
Programs often provide information about the recoverability of a file before you try to undelete it. Unfortunately, this program doesn't have that capability, which is disappointing. However, it is worth noting that there is no restriction on the amount of data that can be recovered, which gives it an advantage over some of its competitors. This app can run on Windows 11, 10, 8, 7, Vista, XP, and macOS. You can find the portable version of Wise Data Recovery on Softpedia.
Website: https://www.wisecleaner.com
9. Restoration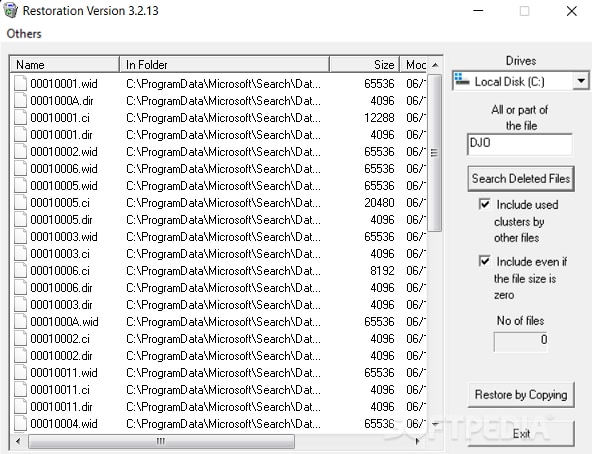 The Restoration program is like the other free undelete apps on this list. We love how easy it is to recover files with Restoration. You don't have to worry about confusing buttons or complex file recovery steps. Everything you need is conveniently located in a simple program window. Restoration can retrieve files from various storage devices such as hard drives, memory cards, USB drives, and external drives.
Restoration, like other popular data recovery software tools, is small and doesn't require installation. It can be efficiently run from a floppy disk or USB drive. However, it is difficult to recommend it over other options because it can only recover single files, not entire folders. I don't like that you can't tell if a file can be recovered before you try to retrieve it.
Restoration supports various Windows versions, including Vista, XP, 2000, NT, ME, 98, and 95. I tested it with Windows 7 and had no issues. Unfortunately, version 3.2.13 didn't work on Windows 11, 10, or 8.
Website: https://www.softpedia.com
10. iCare Data Recovery Free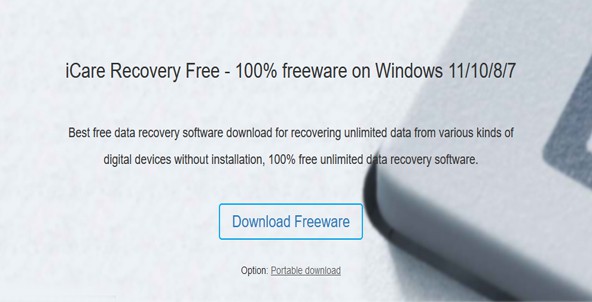 iCare Data Recovery Free offers two scan options: a quick scan that may not find everything and a deeper scan that takes longer but is more likely to locate more deleted files. This program has a great feature that We wish all file recovery tools had: the ability to preview text and image files. You can browse deleted folders in thumbnail view to quickly see which files you want to undelete. Very useful.
iCare Data Recovery Free supports hundreds of file types, making it highly likely that it can recover any deleted files. Windows users can download this program in two formats: as a portable tool or as a typical, installable program. It works with Windows 11, 10, 8, and 7.
Website: https://www.icare-recovery.com
11. ADRC Data Recovery Tools
ADRC Data Recovery Tools is a free and excellent file recovery program. Using this program for file recovery is simple and can be done by most computer users without documentation. The tool can recover files from memory cards, USBs, and hard drives. It does not work with CD/DVD storage devices.
The Data Recovery Tools software is officially compatible with Windows XP, 2000, and 95. However, I have personally tested it and found it works well on Windows Vista and Windows 7. This program is small and portable, only 132 KB in size. It can be easily stored on any removable media for data recovery purposes.
Website: https://www.softpedia.com
12. UndeleteMyFiles Pro
UndeleteMyFiles Pro includes a valuable feature called Emergency Disk Image. This tool captures your computer and organizes all the data into a single file. You can then quickly search through this file to locate and recover any deleted data you need. It is convenient because once the image file is created, you don't have to worry about new data overwriting any critical deleted files on your hard drive.
This program has a convenient search option. You can search by file location, type, size, and attributes. Compared to other software on this list, we didn't like that the recovery process doesn't indicate if a file can be successfully recovered. We tried UndeleteMyFiles Pro on Windows 8 and XP, which worked as expected. It should work on other Windows versions too. We tested v3.1 on Windows 10, and it didn't work correctly.
Website: https://seriousbit.com
13. Stellar Data Recovery Free Edition
Stellar's free data recovery tool is user-friendly. It guides you through a simple wizard to select what and where to search for deleted files. One unique feature of this program is the preview option that allows you to see the scan in progress. You can see the files the program finds in real-time while the scan is ongoing.
Another great feature of Stellar's free file recovery program is that it allows you to save the list of deleted files when you exit the results screen. This way, you can quickly resume recovering them at a later time.
We ranked this data recovery software lower on the list due to its significant limitations. You can still use it but don't expect to recover many files for free. You can use it on Windows 11, 10, 8, and 7, as well as macOS 13 and older versions.
Website: https://www.stellarinfo.com
14. Windows File Recovery
Microsoft also has a data recovery tool, which could be more user-friendly than other programs. This program operates through the command line, meaning you must manually type out all the actions you want to perform. It's still simple, though.
To easily undelete files, follow these steps: 1. Download and install Windows File Recovery. 2. Open the Start menu and search for Windows File Recovery. 3. Click on the app to open it. To recover PNG images from your C drive's Downloads folder and copy them to the Images folder on drive E:, enter the following command.
To copy all PNG images from the Downloads folder to the E:\Images folder on the C: drive, use the command:
winfr C: E:\Images /n \Users\jonfi\Downloads\*PNG
If you find navigating this process challenging, visit Microsoft's help page. You can find additional examples and more detailed information there to assist you. This guide explains how to recover single files or multiple file types at once and how to use wildcards and other helpful tips. This tool is available for Windows 10 and Windows 11 users only.
Website: https://apps.microsoft.com
15. CD Recovery Toolbox
CD Recovery Toolbox is a free and one-of-a-kind file recovery program. This tool helps recover files from damaged or corrupted optical drive discs like CDs, DVDs, Blu-Rays, and HD DVDs.
CD Recovery Toolbox is a data recovery software that can recover files from damaged discs. It works for discs that are scratched, chipped, or have surface spotting. One downside is that this program cannot retrieve files from hard drives or portable media drives. But it's not meant to do that, so I haven't held it against that.
CD Recovery Toolbox is compatible with various versions of Windows, including Windows 11, 10, 8, 7, Vista, XP, Server 2003, 2000, NT, ME, and 98. I successfully tested it on Windows 7.
Website: https://recoverytoolbox.com/cd.html
16. iBeesoft Data Recovery Free
This app is free, but you can only recover up to 2 GB of data. If you want to recover a big video file or a large amount of data, choosing an alternative option from this list is recommended. Alternatively, you can choose to purchase the full edition.
The data recovery software from iBeesoft is very user-friendly. The program is ad-free and easy to understand. On the start screen, you can select a hard drive or folder to recover files from. Alternatively, you can choose the Desktop or Recycle Bin.
The website supports over 1000 file types, so it's likely to have all the regular files you need to recover. This tool can retrieve deleted files from various devices like cameras, memory cards, music players, and standard hard drives.
Here are a few things We like about it:
The search tool works instantly.

You can sort the column headings to quickly find the largest deleted files and group file types together (like listing all MP4s).

The settings allow you to specify what to search for (such as Archives, Pictures, Video, Audio) instead of searching everything.
We tried data recovery using this program on Windows 11, and it worked exactly as promised. It can run on Windows 10, 8, and 7.
Website: https://www.ibeesoft.com
17. Orion File Recovery Software
Orion File Recovery Software is a free program from NCH Software that helps recover lost files. It is similar to other programs on this list. When you start the program, a friendly wizard asks you to scan for certain types of files. You can choose from documents, images, videos, music, or a custom file type. You can scan the whole drive to find all file types.
Orion File Recovery Software can scan any connected storage devices like hard drives (internal or external), flash drives, and memory cards to find deleted data. You can use the instant search function to search through files and quickly see the recovery potential of each file.
Orion data recovery software can also be used as a data destruction program. It means you can permanently erase all the files it finds, making them impossible to recover in future scans. The only issue was that the setup tool tried to install additional NCH Software programs along with the file undelete tool. However, I simply unchecked those options to avoid installing them. This program is compatible with Windows 11, 10, 8, 7, Vista, and XP.
Website: https://filehippo.com
18. MiniTool Power Data Recovery
Unlike other file recovery programs on this list, this one requires installation on your computer before you can use it. Working with this software in this manner is not recommended. The installation process could overwrite your deleted files, making them less likely to be recovered.
One drawback of Power Data Recovery is that you can only recover 1 GB of data for free. After that, you need to upgrade to a paid version. As I mentioned before, this limitation only matters if you need to find more information. You can store around 300 regular-sized images with just 1 GB of storage. We like that the program quickly finds deleted files and allows you to recover them from internal drives, USB devices, desktops, Recycle Bin, or a specific folder.
Power Data Recovery is a tool that helps you find and recover deleted data. It has useful features like searching for specific files, recovering multiple folders or files together, exporting deleted files, pausing or stopping the scan, and filtering files based on criteria such as name, extension, size, and date. It can be used on Windows 11, 10, 8, and 7. I tried it on Windows 11.
Website: https://www.minitool.com
19. BPlan Data Recovery
BPlan Data Recovery is a file recovery program similar to the others on this list. While it may not have the same visual appeal as other software, it can recover deleted files.
We found the program hard to use. The results layout made it difficult to understand what I was doing. Despite this, it could still locate and retrieve various files such as images, documents, videos, and more.
This program works on Windows 8, 7, and XP. I tried the newest version on Windows 7. When we used the program, the desktop shortcut created by the installer was wrong, so it didn't open the program. You may need to launch bplan.exe in this folder to make it work. The file path is "C:\Program Files (x86)\BPlan data recovery\."
Website: https://download.cnet.com
20. SoftPerfect File Recovery
SoftPerfect File Recovery simplifies the process of searching for recoverable files. This program is designed to be user-friendly and easy to use. This tool can recover deleted files from various devices like hard drives and memory cards. All data storage devices on your PC, except for the CD/DVD drive, should be supported.
SoftPerfect data recovery software is a compact and portable program with a small size of only 500 KB. You can use File Recovery from a USB drive or floppy disk. To find it, scroll down on the download page.
This program can run on Windows 11, 10, 8, 7, Vista, XP, Server 2008 & 2003, 2000, NT, ME, 98, and 95. The developer's website says Windows operating systems with 64-bit versions are also supported. We tried v1.2 on Windows 10, and it worked fine.
Website: https://www.softperfect.com
FAQ
Why have you only included 20 free data recovery programs?
Yes, more file recovery programs are available than the ones mentioned above. However, we have only included free file recovery programs that can undelete various types of files. We didn't list file recovery programs that are shareware or free trials or ones that cannot undelete reasonably sized files.
What data recovery software tools do police use?
Law enforcement agents use forensic tools to search computers for digital evidence. Forensics tools may not fully recover files, but they can detect traces of data that are useful in investigations.
Can I recover files from a failed hard drive?
File recovery programs may not be effective for physically damaged hard drives. If that's the situation, you should have it serviced by a professional.
Why does my iPhone show "Attempting data recovery"?
iOS has a bug that can make your iPhone display the message "Attempting data recovery." To fix the issue, try restarting your iPhone and updating the iOS.
Conclusion
Your computer's hard drive can get damaged, causing files to disappear. Upgrading your operating system or software can accidentally delete or remove files—simple human error, like forgetting. After emptying the trash or recycle bin, you may need a file.
If you ever lose or delete files, regardless of the reason. You'll need to use file recovery software for Windows and Mac. To avoid panicking, refrain from using the drive. You will be trying data recovery as soon as possible. Utilizing your drive or partition for an extended period can result in your files being overwritten sooner. They can recover. To make it easier, stop using the disk and install data recovery software on a different disk or partition.