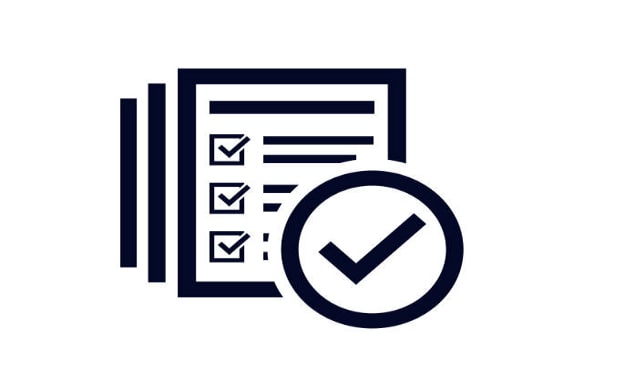 A vast range of options is available for those searching to enforce identity verification solutions for organizations, ranging from simple to highly complicated methods. These choices contain both innovative and well-established practices. Document verification is regarded as an accurate verification solution with substantial significance when integrated with other verification techniques.
What does the Process of Document Verification Involve?
Document verification process  involves the credibility of different documents, including employment records, bank statements, and more. Companies usually employ it with other verification techniques as part of their broader identity verification process.
However, document verification occurs physically and is primarily linked with digital or online document verification. Regardless of the setting, the document authentication usually follows the same pattern:
During the account-making process, users must provide personal information. The relevant information varies depending on the business but usually includes specific details such as an address, name, DOB, etc.
In a few cases, individuals must submit one or more documents to prove the information provided. For example, mail is required to verify the user's address, while a birth certificate is required to confirm their DOB and age.
To confirm the validity and authenticity of the provided documents, a verification process is required to detect any tampering and forgery signs.
After successfully passing the verification process of the document, serving as evidence that the information needed by the individual is truthful and accurate.
How Does Online Document Authentication Work?
Online document verification varies based on different factors, including the industry in which the business operates and the specific documents involved. Although the document attestation is divided into four steps:
Collection of Documents
Extraction of Data
Validation of Documents
Verification through Manual Process
Collection of Documents
Verifying a document starts with the initial task of accumulating it. There are diverse techniques to acquire it, but it usually involves requesting the user to capture and upload various document images. Once the user proposes the document, it experiences a pre-processing and analysis stage to ensure compliance with the business's specific criteria.
Does it catch the whole document or only a part of it? Does the image possess adequate quality and clarity? Are there any clear guidelines for tampering with an image or record? Does the document contain all the essential information for verification?
Extraction of Data
When an individual submits a verification document, they do it by submitting a document image. The information must be extracted to access the data stored within the document. This extraction can be easily acquired through different methods such as pattern recognition, Optical Character Recognition (OCR), and other methods.
Once all the specific data has been extracted, it is compared with any information the user provides. For instance, when a person submits a utility bill as evidence, the address mentioned in the document will be cross-referenced with the address provided by the user.
Any casualties between the user-provided data and the information within the document should provoke concern.
Validation of Documents
Moving toward the next step in the procedure entails confirming the document's authenticity. It requires working on different validation checks, ranging from a few to hundreds, depending on the certain document types being authenticated. Ordinary validation checks include:
Are all the crucial pages of a multi-page document uploaded?
Cropping Detection and Edge Analysis
Has the document's edge been altered or cropped in any way?
An image's lighting, shadows, and color offer additional information demonstrating the forgery, authenticity, and document tampering.
Recognition of Specific Features 
Official documents, including government-issued IDs, usually integrate unique features that are challenging to counterfeit. These characteristics encompass holograms, fonts, stamps, foils, and textures.
Manual Verification
When a document shows suspicion, the organization gives two choices. They prioritize caution, rejecting the document outright, involving human intervention to investigate the case carefully.
However, conventional review is secure and less efficient, it effectively eradicates the chances of false negatives. This procedure also involves gathering alternative and supplementary documents for further evaluation.
Also Read;
Conclusion
Document attestation is of utmost importance in the identity verification process for businesses. It involves assessing the authenticity and credibility of various documents, including bank statements and employment records. The document verification process follows a constant pattern, whether online or physically.
Examples of such patterns are users providing personal information, proposing relevant documents, and experiencing a verification procedure to detect forgery and tampering signs.
Online document verification involves four main steps: document collection, fetching data from them, validating their authenticity by different checks, and conducting conventional verification when required. While the formal review may be secure and less efficient, it immensely eradicates the chances of false negatives.
Overall, verification documents, while incorporated with other verification techniques, serve as an effective and reliable solution in encompassing identity verification measures for businesses.